Welcome! Whether you are a first time visitor to Disneyland or a long time fan, I hope this guide to visiting Disneyland Resort helps you plan your trip. I do my best to keep this guide up to date, so please save the link and check it before your next visit. And if you have any questions, please reach out to me via my contact page! I'm happy to help.
Last updated: October 2023
Disneyland Resort Trip Planning
Disneyland Overview
Disneyland is the park that started it all! Disneyland Park opened in 1955 under the direction and guidance of Walt Disney himself. Walt Disney dreamed of a different kind of amusement park, where "age relives fond memories of the past … and here youth may savor the challenge and promise of the future." (From Walt Disney's opening day speech.)
Today, the Disneyland Resort consists of two theme parks, Disneyland and Disney California Adventure, three hotels – Disney's Grand Californian Hotel and Spa, Disneyland Hotel, and Disney's Paradise Pier Hotel – and a shopping center called Downtown Disney District.
Disneyland Park truly is special because it is the only Disney Park that Walt designed and built himself. Not only did he oversee the construction, but he even had an apartment built for himself and his family so he could stay there overnight! The apartment is located above the Main Street Firehouse, and if you look closely you can see a lamp in the window that never turns off. Fans like to say that's the spirit of Walt Disney looking over his creation!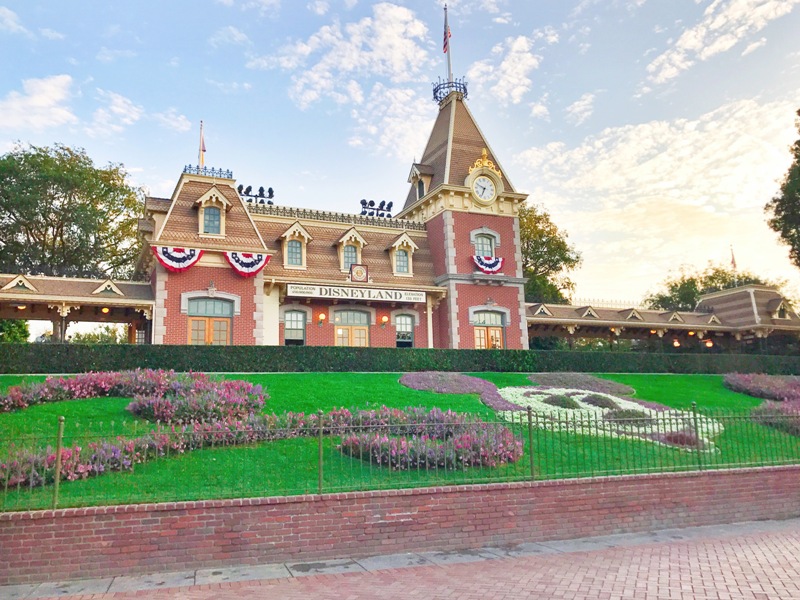 Where is Disneyland Located?
Disneyland is located in Anaheim, California in Orange County. Disneyland is located just south of Los Angeles. Many people assume Disneyland is in Los Angeles, but it is actually several miles away!
How Do You Get to Disneyland?
The closest airport to Disneyland is SNA – John Wayne Airport. However, this is a small airport and finding flights here from your location may be difficult.
Many visitors to Disneyland choose to fly through LAX – Los Angeles International airport. LAX is approximately 40 miles northwest of the Disneyland Resort, but your travel time could be 1-2 hours depending on traffic.
Other local airports are: Long Beach Airport, Hollywood Burbank Airport, and Ontario Airport.
There is no official Disneyland transportation to or from any airport. Disneyland recommends Guests use Karmel Shuttle, available for a separate fee.
If you are driving to the Disneyland Resort, you may park at one of three parking areas: Mickey & Friends parking structure, Pixar Pals parking structure, or Toy Story parking lot. Click here for details about parking at Disneyland.
Where to get Disneyland Tickets?
The Disneyland Resort offers multiple ways to experience the Parks. Guests may purchase one day tickets for one park, or multi-day "park hopper" tickets that give you access to both Parks.
Tickets may be purchased through the Disneyland app, on the Disneyland website, through a trusted travel agency, or at the Disneyland ticket booths.
Frequent visitors to Disneyland may also purchase a Magic Key pass, which is similar to an annual pass. Magic Key passes occasionally become unavailable for new purchases, so please refer to the Disneyland website for current availability.
The cost of a single day ticket will depend on the tier assigned to that day. Weekends and holidays are the most expensive tiers.
For current pricing, refer to the Ticket Calendars on the Disneyland website.
(AD) I recommend purchasing tickets ahead of time through Undercover Tourist and save a few dollars! Click here to see ticket prices and options.
Frequently Asked Questions about Tickets:
The tiers 0-6 refer to value pricing verses peak pricing, with tier 1 being the cheapest days and tier 6 being the most expensive days. For example, weekends and holidays will be tier 6 pricing. Slower days, like a winter weekday, will be a lower tier, such as tier 0 or 1. Visit the Disneyland Park Availability website to view which days fall under which tiers.
Tiers are only relevant for 1 Day tickets. The tiers do not apply to multi day tickets.
Multi day tickets must be used within 14 days of the first day of use (2 weeks).
Guests with park hopper tickets may choose which park to begin their day. Park hopping will be available after 11am.
Park hours vary for both parks. Hours are subject to change so check the Disneyland website or mobile app before your visit.
Disneyland Resort parking is not included with the price of the ticket. Parking is available at Mickey and Friends and Pixar Pals structures, as well at Toy Story parking lot. Both parking areas open 2 hours before park opening. Parking is $30, or $50 for preferred parking. Larger vehicles may require an extra parking fee.
Making Disneyland Theme Park Reservations
Once you purchase your tickets, you must make reservations to visit the theme parks. It is recommended you check the availability calendar before purchasing your tickets, to ensure you can go on the days you want!
Guests must make a reservation for each day they wish to visit the theme parks. If you have a Park Hopper ticket, you may choose Disneyland or Disney California Adventure as your starting park. Guests may park hop after 11am.
Disneyland Theme Parks
Disneyland
Disneyland opened on July 17, 1955 and today is one of the world's most popular vacation destinations!
Disneyland consists of 9 lands: Main Street, U.S.A., Adventureland, New Orleans Square, Critter Country, Frontierland, Fantasyland, Tomorrowland, Mickey's Toontown, and the newest land, Star Wars: Galaxy's Edge. The lands are connected through a hub in the center of the park, where Sleeping Beauty Castle sits.
While most Guests visit for the attractions, Disneyland also offers several wonderful dining locations and entertainment offerings. One of the best parts about visiting Disneyland is, you never know what you may expect to see when you turn a corner! You might see the Disneyland Band, led by Mickey Mouse, playing down Main Street USA, or Peter Pan playing hide-and-seek from Captain Hook in Fantasyland.
Disney California Adventure
Disney California Adventure opened on February 8, 2001, as part of a large expansion and reimagining of the Disneyland Resort.
The Park celebrates the history and culture of California, featuring several lands themed to different areas of the state. Over the years, many additions have been made to the Park using various Pixar and Marvel properties.
While Disneyland Park feels classic and nostalgic, Disney California Adventure is a bit more hip and modern.
And, since alcoholic beverages are sold throughout Disney California Adventure at various lounges, quick serve locations, and carts, the Park is a favorite for adult Disney fans to meet with friends and relax.
The lands of Disney California Adventure are: Hollywood Land, Avengers Campus, Cars Land, San Fransokyo Wharf, Pixar Pier, Paradise Gardens Park, and Grizzly Peak.
Disney California Adventure is also home to a number of food & wine festivals throughout the year.
Save Time in Line with Genie+
Genie+ is an app-based attraction reservation system that works similarly to the old FASTPASS/MaxPass system. It costs $25 per person, per day, if you purchase it ahead of your visit, and allows you to obtain a return time for some of the more popular attractions.
You can include Genie+ when you purchase your tickets, or purchase it via the Disneyland app once you enter the theme park. If you purchase Genie+ on the day of your visit, the price will vary.
In addition to Genie+, some of the most popular attractions have a paid Individual Lightning Lane option. Guests may choose to pay a one-time fee to skip the stand-by queue and have a shorter line. You must pay individually for each attraction, and you can only use this feature once per day per attraction. The attractions currently utilizing Individual Lightning Lanes are Star Wars: Rise of the Resistance and Radiator Springs Racers.
For more details on how Genie+ and Individual Lightning Lanes work, please read this post.
Where to Stay – Disneyland Resort Hotels
Disney's Grand Californian Hotel and Spa
The Disneyland Resort's most recent hotel is Disney's Grand Californian Hotel and Spa, which opened around the same time as Disney California Adventure. In fact, the hotel has its own private entrance into the Park for Guests only.
Disney's Grand Californian Hotel and Spa was designed in the arts and crafts style of the early 20th century, modeled after some of the beautiful lodges one would find in California national parks, namely Yosemite. Fun fact: the hotel was designed by architect Peter Dominick who also designed Disney's Wilderness Lodge at Walt Disney World! If you have been to both, you know the interior feels very similar.
This hotel is the closest to the two Parks and therefore is priced at a premium. While rates fluctuate throughout the year, expect to pay at least $500 a night for Disney's Grand Californian Hotel and Spa.
The property is also home to the Villas at Disney's Grand Californian Hotel and Spa, which are DVC member rooms.
Disneyland Hotel
The Disneyland Hotel has gone through a lot of changes since it first opened in 1956 (when it wasn't even owned by Disney … in fact Disney didn't own the hotel until 1988!) but remains a Guest favorite.
The hotel property features three guest towers – Fantasy, Adventure, and Frontier – as well as The Villas at Disneyland Hotel for DVC members. It also has a central pool plus The Villas pool and splash pad, restaurants, and convention center.
After a phased remodel that started in 2009, the property took on a retro Disneyland theme. The pool was renamed the Monorail Pool and features a sign resembling the old Disneyland entrance marquee. The guest rooms feature carpets with hidden Mickeys and headboards that light up with fiber optic fireworks.
The Disneyland Hotel is located on the west end of the Disneyland Resort property, but is close to the Downtown Disney Monorail station which takes you right into Tomorrowland inside Disneyland Park.
Of the three Disneyland hotels, the Disneyland Hotel would be considered the mid-tier property, with rooms starting around $400 a night.
Disney's Paradise Pier Hotel
Lovingly known as the Disneyland Resort's "value hotel," Disney's Paradise Pier Hotel is a great option if you want to stay on Disneyland property but can't swing the price of the big two hotels.
Disney's Paradise Pier Hotel is located on the far west end of the Disneyland Resort property and is the farthest walk to the two Park front gates. Walking to the Monorail Station could save you some time if you plan to go into Disneyland Park, depending on how many people are in the queue.
The hotel has a charming beach theme, with a statue of Goofy holding a surfboard greeting Guests as they enter the hotel lobby. And the rooms here are rather spacious, the largest of the three Disneyland Resort hotels.
One perk of Disney's Paradise Pier Hotel is the premium views looking into Disney California Adventure, specifically Pixar Pier. Rooms with a view come at a premium price; if the view isn't that important to you then opt for a city view instead.
Guests of Disney's Paradise Pier Hotel also may use an exclusive entrance into Disney California Adventure. The walkway is across the street from the hotel and enters right next to Pixar Pier.
A standard room with city view can be as low as $300 during the off-season.
Click here for a full review of Disney's Paradise Pier Hotel.
*It was announced in April 2022 that Disney's Paradise Pier Hotel will be getting a Pixar theme and renamed Pixar Place Hotel. The retheming is underway.
Good Neighbor Hotels
If the three Disneyland Resort hotels aren't a good fit for your budget, there are plenty of Good Neighbor Hotels located just outside Disneyland property. Good Neighbor Hotels are hotels that are located close to Disneyland, and have been granted a "seal of approval" of sorts.
Good Neighbor Hotels are listed as such on the Disneyland website, and are authorized to sell Disneyland tickets on site.
The majority of Good Neighbor Hotels are located on Harbor Blvd, the main road on the east side of Disneyland property, and many of these hotels are within a 5 to 15 minute walk to the entrance.
Other Good Neighbor Hotels can be a bit of a longer walk (20-30 minutes) or you can pay to use the ART bus system, use ride share, or drive your own car to the Disneyland Resort parking structure or Toy Story parking lot.
My #1 Good Neighbor Hotel recommendation is the Howard Johnson!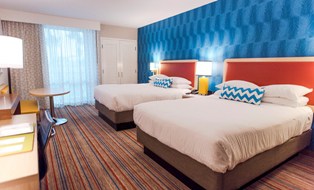 The Howard Johnson is located right across the street on Harbor Blvd, less than a 10 minute walk to the front gate.
Book with my link & corporate code and get a 15% discount off regular hotel rates, and Magic Key holders save even more!

15% off Discount for everyone! Corp code: 1000022077

20% off Disneyland Magic Key Passholder Discount – Corp code: 1000025935

Click here to book your Howard Johnson hotel stay!

Click here to read a review of Howard Johnson Anaheim
Click here to read a review of the Westin Anaheim
Click here to read a review of The Anaheim Hotel
Click here to read a review of Anaheim Majestic Garden Hotel
Click here to read a review of Grand Legacy at the Park Hotel
Dining & Shopping – Downtown Disney District
The Downtown Disney District opened with the Resort's major expansion in 2001 and has been a major shopping & dining destination ever since!
Downtown Disney is a different from the Parks because it's open to the public – no ticket needed.
Downtown Disney offers a variety of dining and shopping experiences, including a massive World of Disney store selling all sorts of Disney and Disneyland merchandise.
Shopping
Disney has several shops at Downtown Disney, including: World of Disney, Disney Home, Star Wars Trading Post, Wonderground Gallery, and Disney Dress Shop. Other shopping locations include Curl Surf, Pandora, California Sole, The LEGO Store, Sunglass Icon, and Sephora.
Dining
The large variety of restaurants at Downtown Disney certainly makes choosing a place for dinner very difficult!
Options include: Naples Ristorante e Bar, Ballast Point Brewing Co, Black Tap Craft Burgers & Shakes, Splitsville (bowling alley and restaurant), Tortilla Jo's, and Ralph Brennan's Jazz Kitchen.
Quick serve dining locations include: Jamba, Wetzel's Pretzels, Salt and Straw, Starbucks, and Sprinkles.
Don't forget to pick up some of your favorite Disneyland treats at Marceline's Confectionary before you head out!
Special Seasons and Events at Disneyland Resort
Disneyland celebrates several holidays throughout the year, including the Christmas/winter season, Halloween, and Easter.
Learn more about the Disneyland Lunar New Year Festival, which takes place in late January through mid February.
Click here to learn more about Easter & Spring at the Disneyland Resort
Click here to learn more about Halloweentime at the Disneyland Resort
Click here to learn more about the Holiday Season at the Disneyland Resort
Disneyland Dining
Some people consider the food at Disneyland to be an attraction of its own!
The Disneyland Resort offers several dining options at Disneyland, Disney California Adventure, Downtown Disney, and the resort hotels.
If you're looking for a quick snack, you can grab a pretzel or popcorn from one of the many food carts around the parks.
For an easy dining option, use the Disneyland app to mobile order from a "quick serve" location, such as Jolly Holiday, Alien Pizza Planet, or Bengal BBQ at Disneyland. Over at Disney California Adventure, popular quick service restaurants include Boardwalk Pizza and Pasta, SmokeJumpers, and Award Wieners.
Dining at a sit-down restaurant is a popular option for dinner. There's nothing better than having a great meal and relaxing towards the end of your theme park day! For sit-down restaurants, reservations are strongly recommended. You may make advanced dining reservations up to 60 days in advance of your visit via the Disneyland app or Disneyland website.
Popular sit-down restaurants at Disneyland include Carnation Cafe and Blue Bayou. At Disney California Adventure, I recommend Carthay Circle Restaurant and Lamplight Lounge.
If you're looking for a cocktail, beer, or wine, your options at Disneyland Park are limited. While a few sit-down dining locations offer alcohol, you cannot take the drinks away from your table. Those locations are: Carnation Cafe, Cafe Orleans, River Belle Terrace, Blue Bayou, and Oga's Cantina. All locations require advanced reservations, or check the Disneyland app on the day of your visit for walk-up availability.
Click here to read my review of the alcohol options at Disneyland Park.
Your options are much more plentiful over at Disney California Adventure, where pretty much every dining location offers some sort of alcoholic beverage.
Frequently Asked Questions about Visiting Disneyland
How Many Days Should I Visit Disneyland?
I personally recommend three full days to visit both Disneyland and Disney California Adventure.
Does Disneyland Resort Offer Annual Passes?
In 2020, Disneyland sunset the Annual Pass program and in 2021 introduced Magic Key passes. Right now, Magic Key passes are sold out for new purchases. Current Magic Key passholders may renew their passes once they are within 30 days of their Magic Key expiration date (subject to availability). Click here to learn more about Magic Key passes.
Can You Still Park Hop?
Guests with a Park Hopper ticket or a valid Magic Key pass may park hop after 11am. If you arrive after 11am, you may choose to enter either park. You do not have to scan into your original reserved park first.
Do You Have Any Tips for Visiting the Park Solo?
I often visit the Disneyland Resort theme parks by myself, and I've written a guide all about going to Disneyland alone! Click the link to read it!
What are your further questions about visiting the Disneyland Resort? I'm always happy to help answer questions. Please reach out to me on Instagram at – @fairytalemindy