If you've ever stayed (or simply walked through) Disney's Grand Californian Hotel and Spa at the Disneyland Resort, you know how majestic and charming the property feels.
Longtime Disneyland fans remember when this hotel used to be part of the Disneyland parking lot, and even though that was over 20 years ago (!) the hotel still feels new and fresh. Its large lobby, filled with overstuffed lounge chairs and a welcoming fireplace, is a nice place for theme park guests to take a midday break, or end the evening with a cocktail from the adjacent Hearthstone Lounge.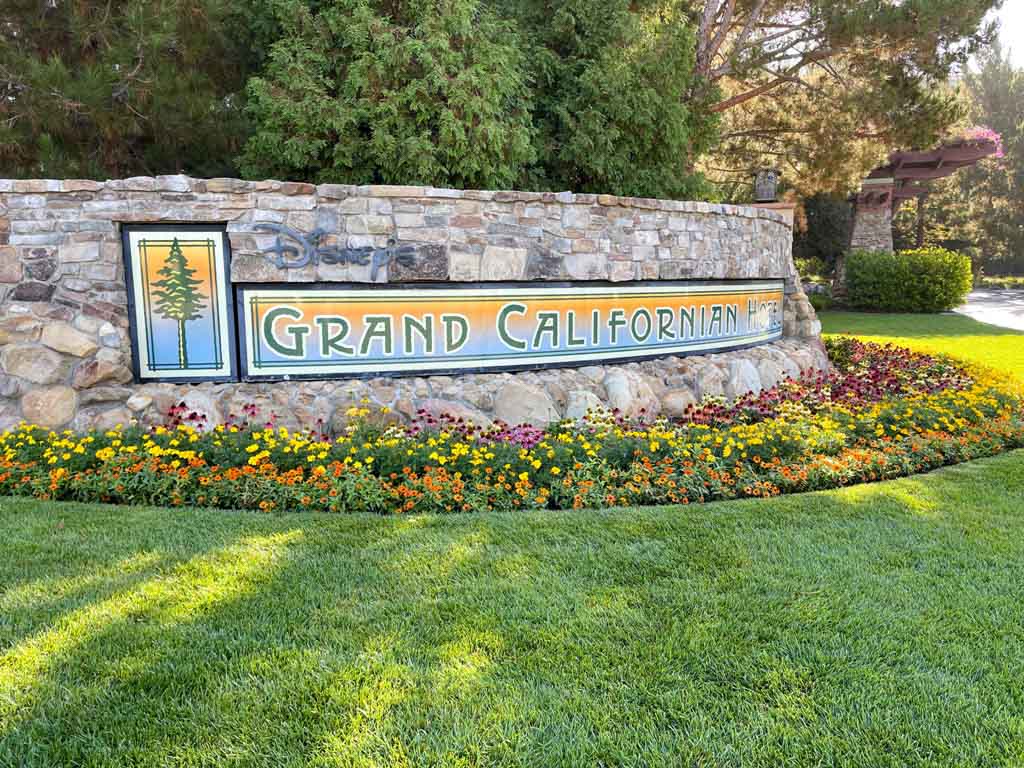 Disney's Grand Californian Hotel and Spa first opened in 2001 as part of a massive overhaul of the Disneyland Resort. It was built alongside Disney California Adventure, the Resort's second theme park. The hotel has direct entrance into Disney California Adventure and Downtown Disney. Out of the three Disneyland Resort hotels, it's the closest to the two theme parks. (Potential guests should note – even though the famous Disneyland Monorail runs alongside the hotel, it does not "stop" at Disney's Grand Californian Hotel. The closest hotel to the Downtown Disney Monorail station is the Disneyland Hotel.)
The hotel has 948 rooms, 44 suites, and 71 Disney Vacation Club villas. The building was designed by Peter Dominick, who also designed Disney's Wilderness Lodge at Walt Disney World in Florida, and features architecture popular during the 20th Century arts and crafts movement.
Disney's Grand Californian Hotel guest rooms were remodeled in 2017 and most rooms come with beautiful views of the forest-like grounds, pool area, Downtown Disney, or Disney California Adventure. (However, some standard guest rooms have views of the adjacent street or a rooftop.)
The hotel has all the amenities you'd expect from a AAA Four Diamond hotel, including an award-winning sit down restaurant, character dining, two lounge/bar areas, a "grab and go" dining spot, a gift shop, fitness center, ballrooms, meeting space, a large pool area, and a recently renovated spa.
Disney's Grand California Hotel and Spa Room Tour Video
Hotel Benefits
There are lots of benefits to staying at a Disneyland Resort hotel (Disney's Grand Californian Hotel, the Disneyland Hotel, or Disney's Paradise Pier Hotel) versus staying off-property. The best benefit is probably the Extra Magic Hour for Disneyland Resort hotel guests. Guests can enter either Disneyland or Disney California Adventure, depending on the day, an hour early and can experience select attractions and restaurants. Valid theme park admission and proof of hotel stay (your key) is required. (Note – Extra Magic Hour was suspended in 2020 with no return date.)
Another benefit of staying at a Disneyland Resort hotel is easy access to Disney California Adventure through the Disney's Grand Californian Hotel entrance.
Other perks include: wake-up calls from characters, charging purchases to the room via your key card, have purchased merchandise sent to your hotel front desk instead of carrying it around, and of course, all the Disney magic that comes with staying on property!
Lobby and Parking
If you are driving to Disney's Grand Californian Hotel and Spa, you can either valet at the front entrance, or park across the street in the self-parking lot.
If you have a lot of luggage, you can ask to drop it off at the entrance and have it checked with bell services, and then go park your car across the street.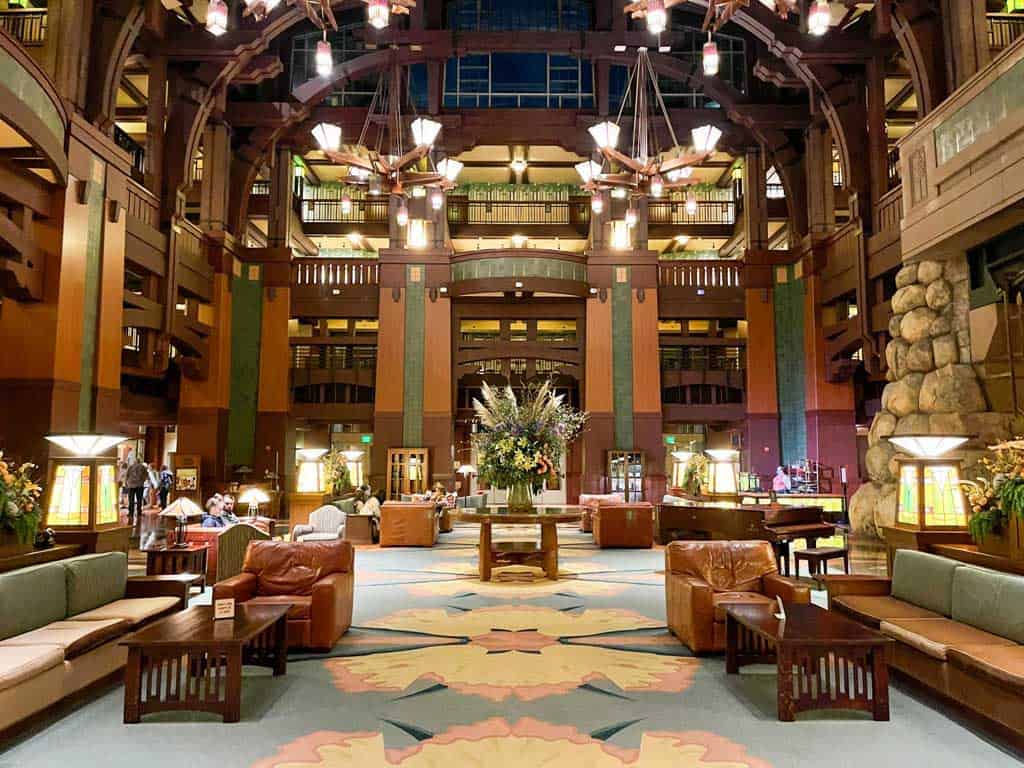 Entering the lobby of Disney's Grand Californian is an experience. Before you even enter, notice the beautiful stained glass art on the sliding doors.
It's impossible not to be wow'd by the sweeping, vast lobby, even for someone like me who has visited dozens of times. Take a moment to soak in the craftsman-style architecture before heading to the check-in area.
Room not quite ready? Head to the Hearthstone Lounge for a drink and a bite to eat. Or relax by the fireplace (indoors or outdoors) with a book.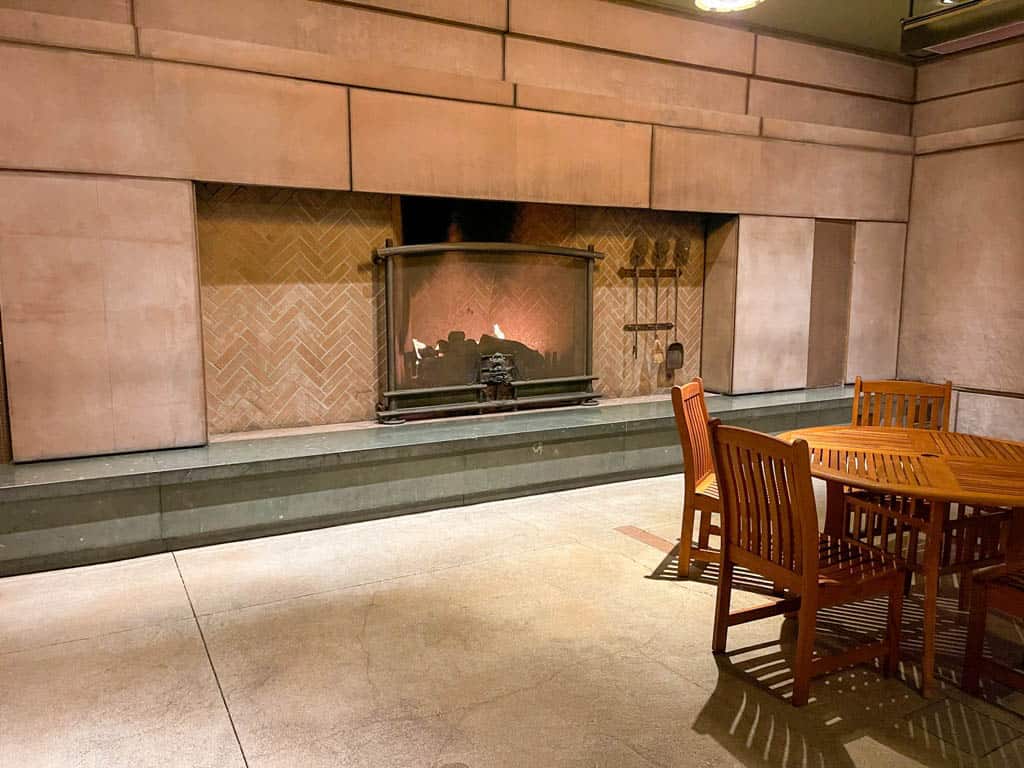 Hotel Rooms
I have stayed at Disney's Grand Californian Hotel and Spa dozens of times and I've loved every visit! The rooms were refreshed in 2017 and are always clean and pleasant.
(These photos are from 2018 and some amenities may look different post COVID.)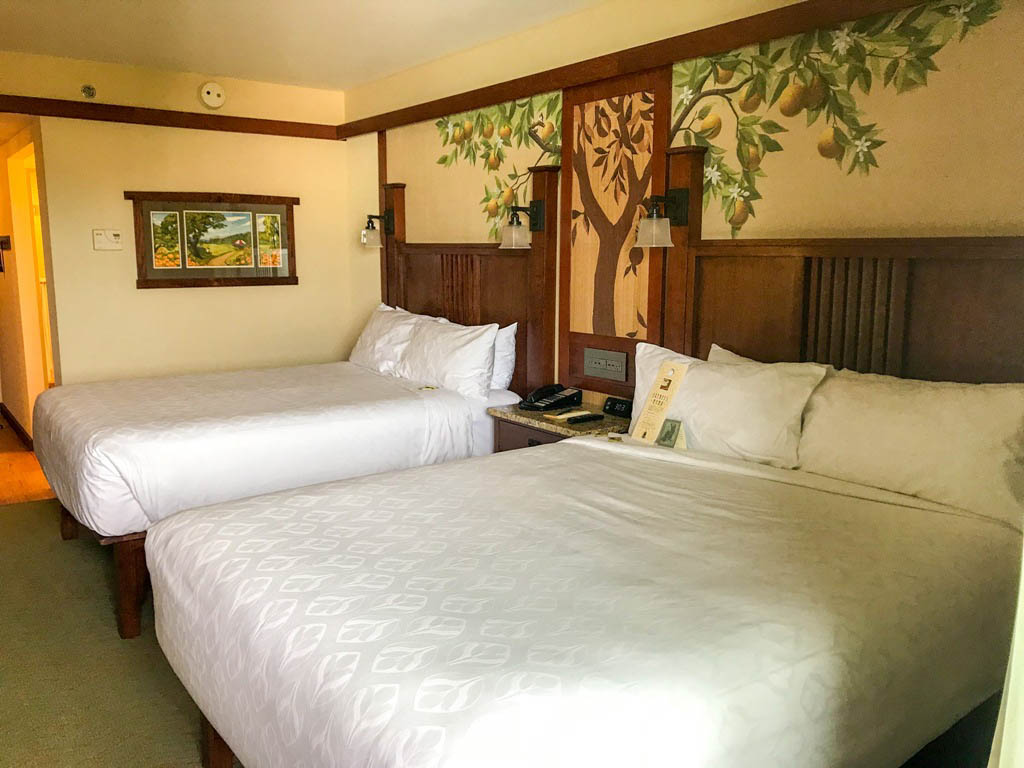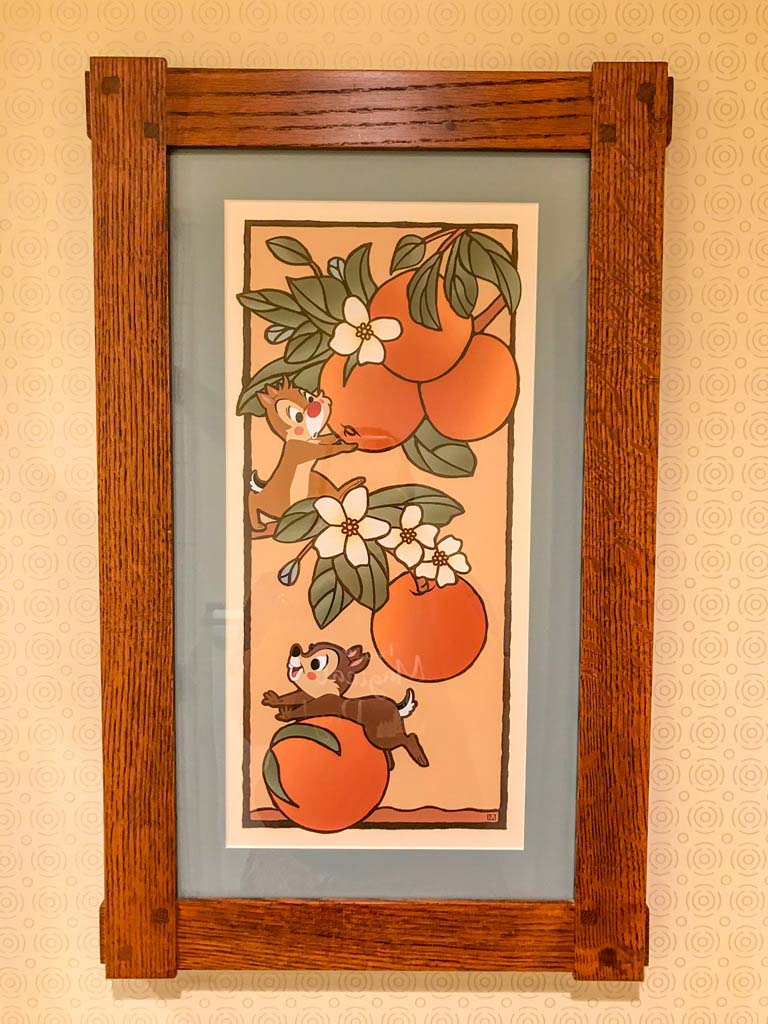 Most rooms contain either a King bed or 2 Queen beds. Some rooms have a pullout sofa.
One aspect I absolutely love about these rooms is the split bathroom. The sink area is separate from the toilet/shower which is so helpful when multiple people are trying to get ready in the morning.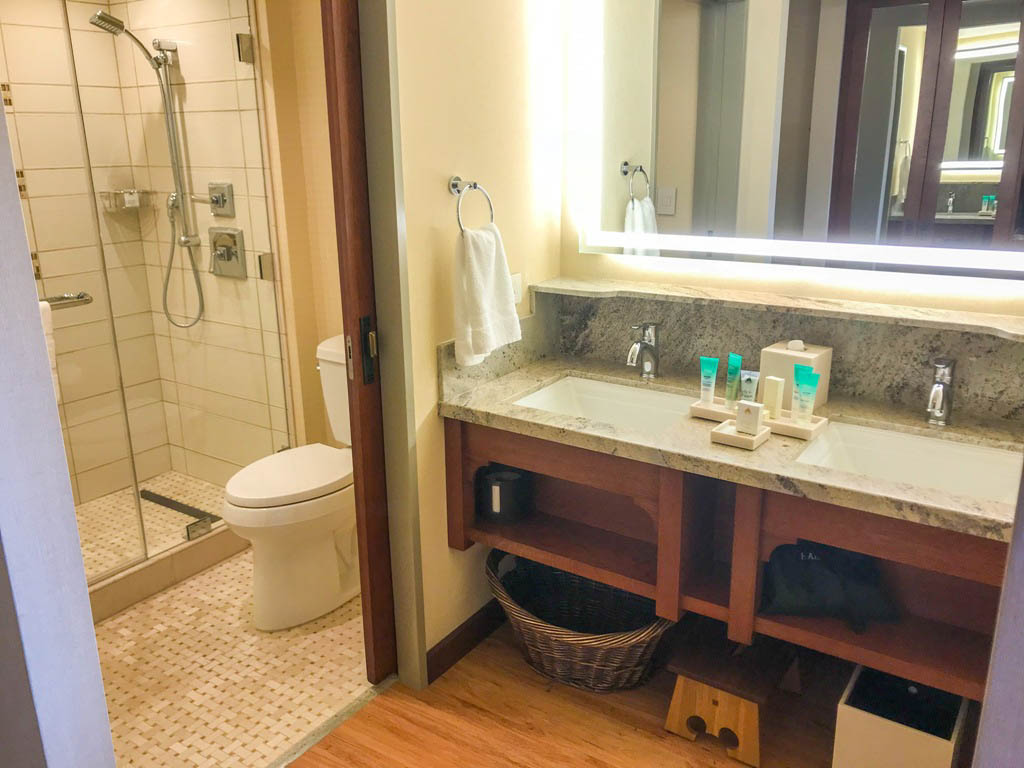 The room comes with standard hotel amenities, such as a coffee maker, mini fridge, and widescreen TV.
Another thing I always look for in hotel rooms are electrical outlets and USB ports, and since the 2017 remodel this is not an issue at Disney's Grand Californian Hotel.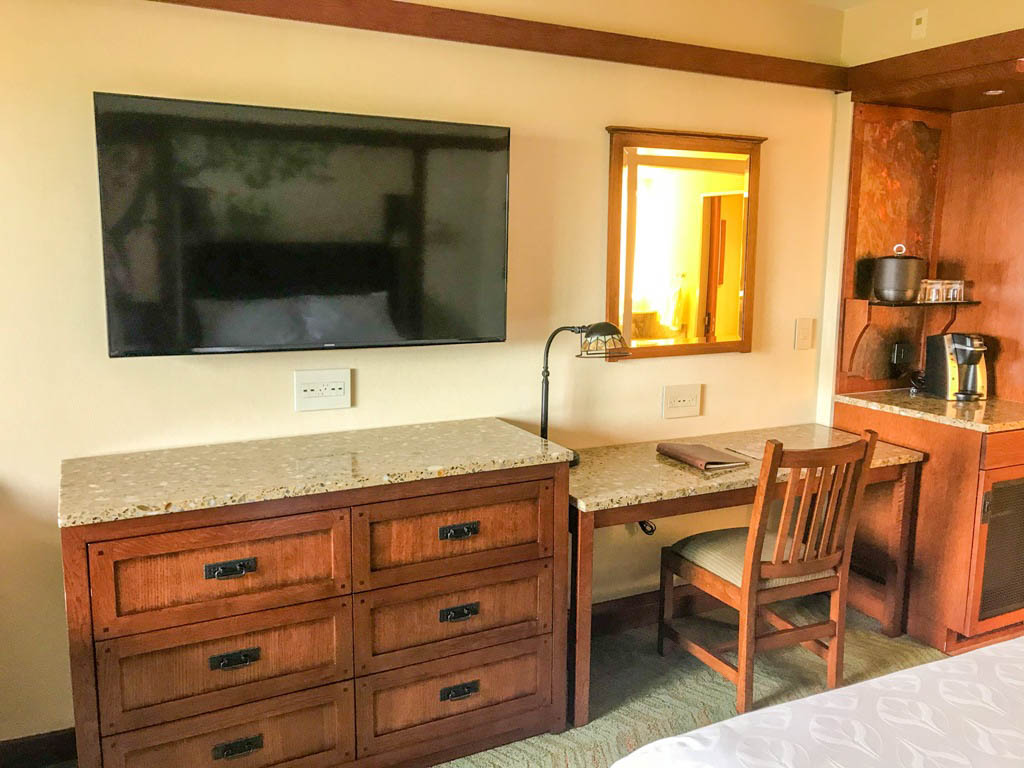 Every room has a balcony, which I personally love. If you have a theme park view room, you can open the doors and hear the sounds of Disney's California Adventure. I love to sit on the balcony with a glass of wine and enjoy the ambiance.
Pool
I really enjoy the pool area at Disney's Grand Californian. The redwoods theming is very relaxing and their lounge chairs are the most plush of the three resort hotels.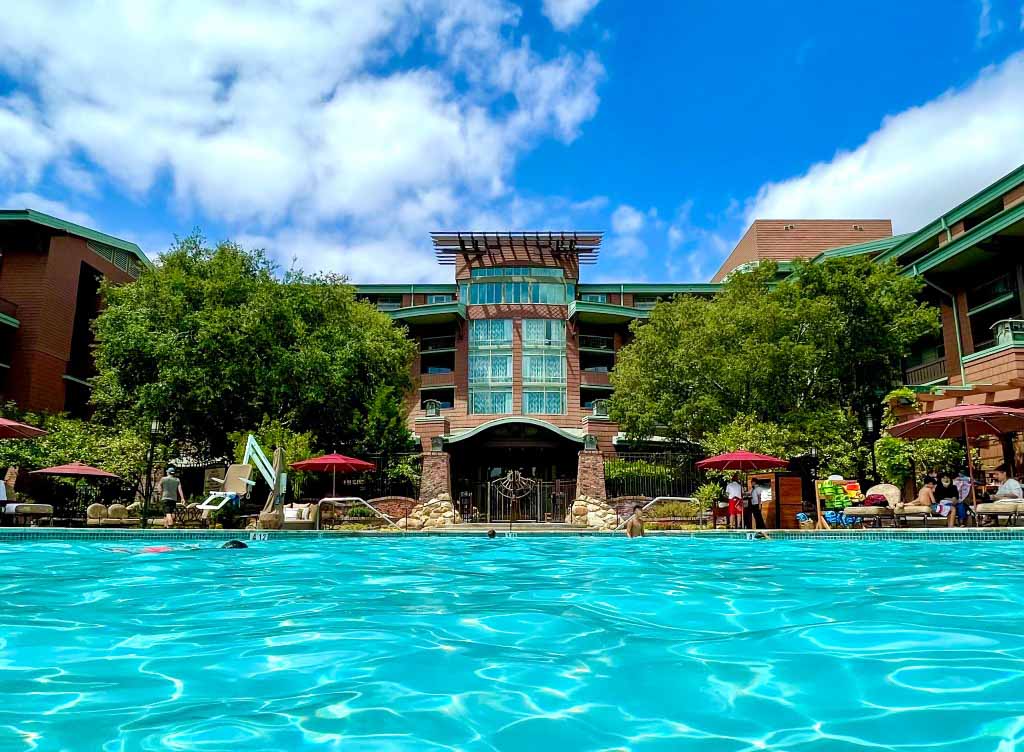 The pool is actually three separate pools, with one being more of a "kids" pool with a water slide. There are also two whirlpool spas and cabanas available to rent.
The pool is connected to Craftsman Bar, which offers a menu of specialty cocktails, mocktails, and light bites. Highly recommend the pizzas!
Restaurant and Lounge
Hearthstone Lounge
The "lobby bar" is a favorite hang of mine! If you're lucky, your group could end up grabbing one of the cozy sofas or tables by the small fireplace. If it's busy and there are no tables available, no worries! Grab your drinks to go and head to the adjacent outside patios (yes, two!) or grab a seat in the large lobby.
Storyteller's Cafe
This fun casual restaurant is home to the popular Mickey's Tales of Adventure Breakfast Buffet. Join Mickey and his pals for breakfast (or brunch on the weekends).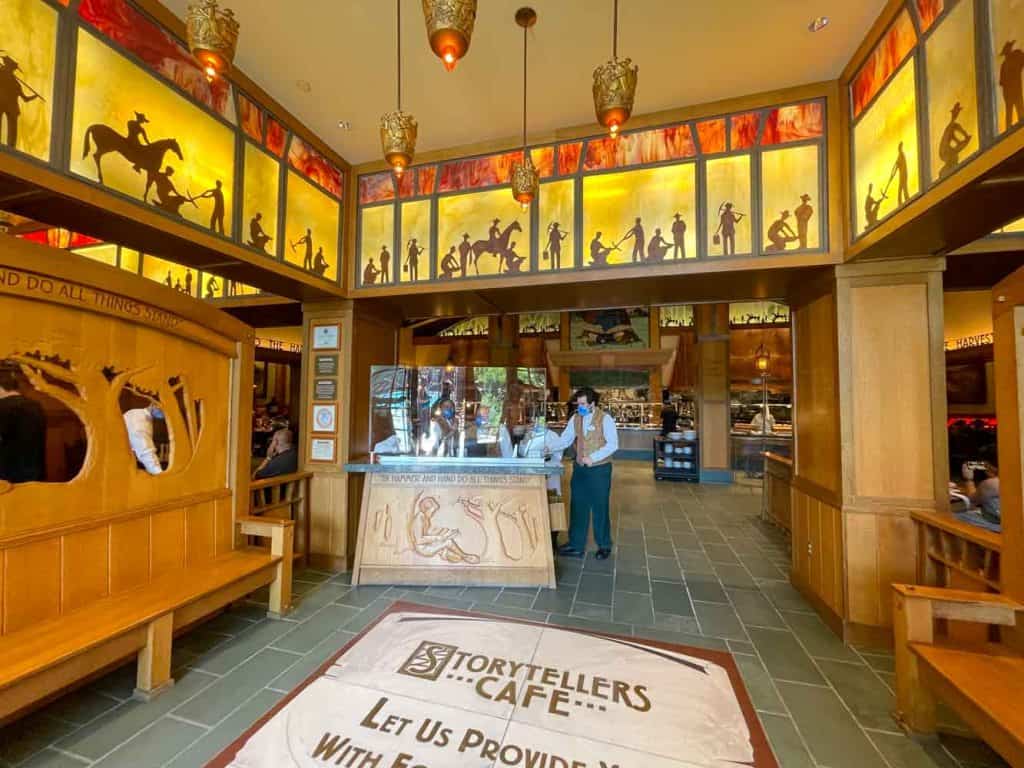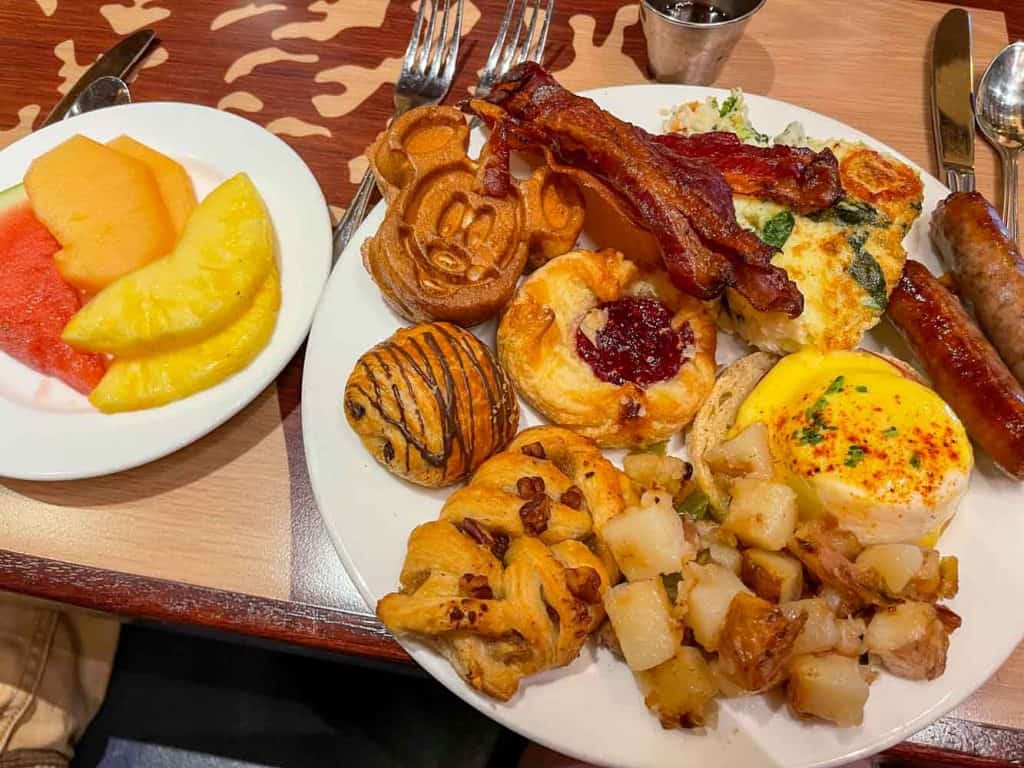 Storytellers Cafe also offers an expansive buffet for dinner, alas without character visits. Find this gem of a restaurant across from the main pool entrance.
Napa Rose
Between the three Disneyland Resort hotels, Napa Rose is by far the most upscale and opulent restaurant available. Reservations are tough to come by, but the bar top is first available. It helps to get there right at 5:30pm when the restaurant opens! Tip: If you sit at the bar, ask to see the full menu from the restaurant.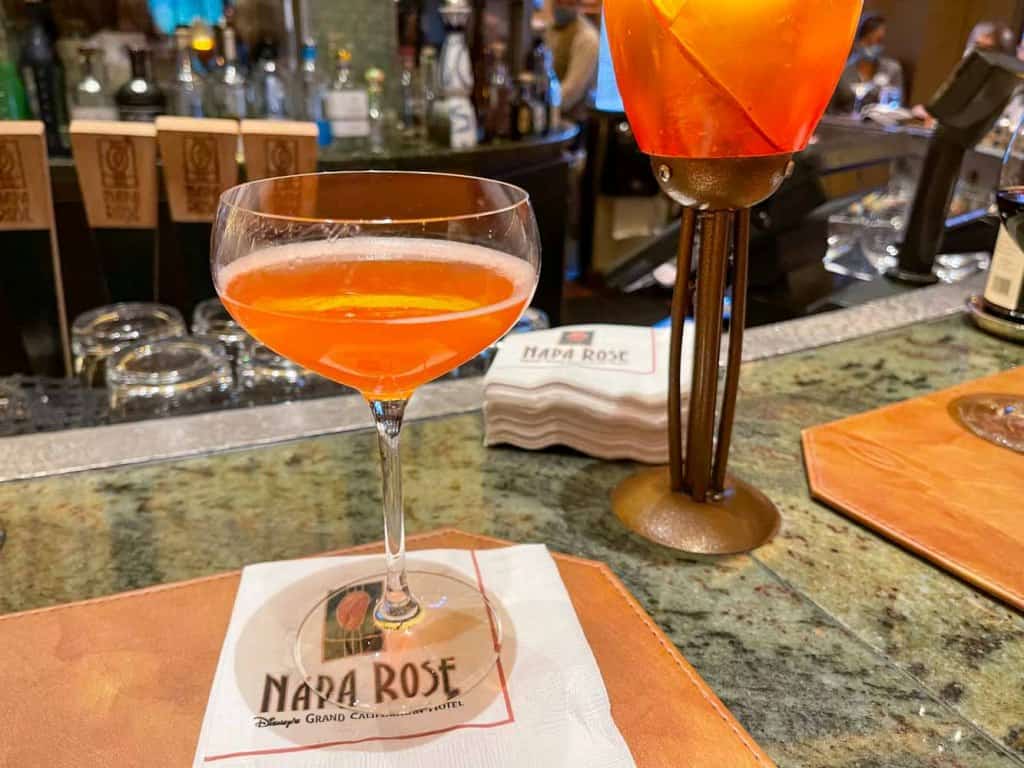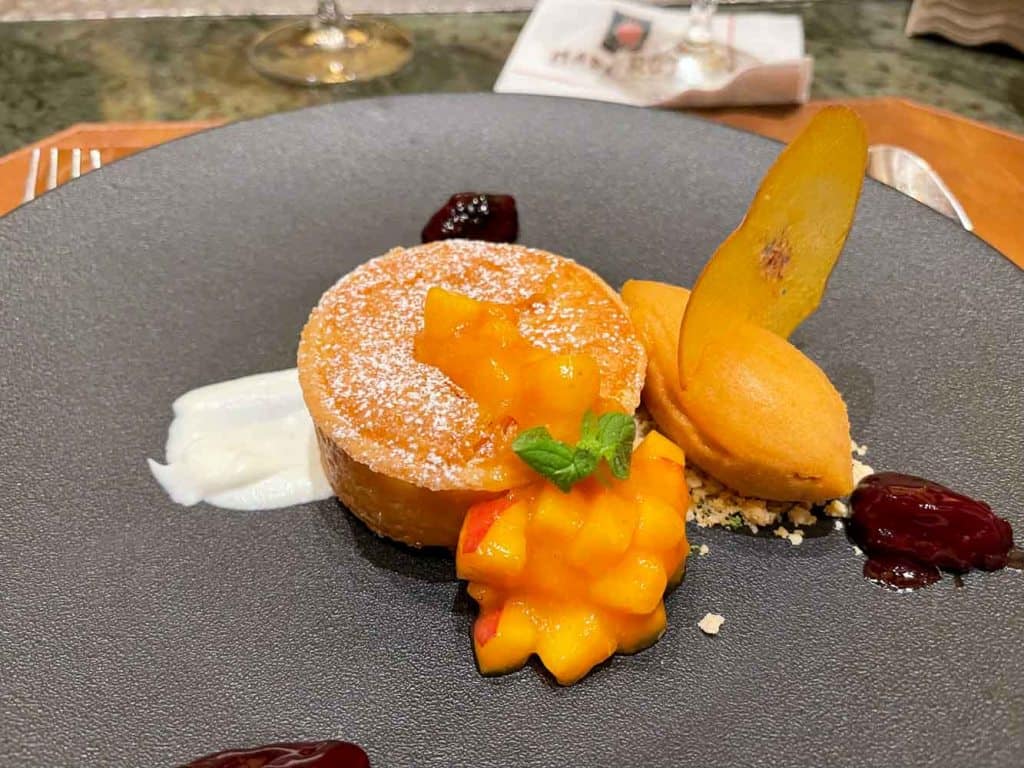 The menu changes seasonally, and the dishes are certainly much fancier than "theme park food." I've never had a bad meal or a bad drink at Napa Rose. The prices may seem a little steep but the food and service are worth it.
Craftsman Bar and Grill
Actually two dining areas in one, Craftsman Bar and Grill is an expanded version of the original Craftsman Grill, a quick serve dining location.
The Craftsman Bar table service requires reservations (inquire at the podium for walk-up availability); however, the bartop is first come, first served.
Craftsman Grill is beyond the outdoor bar, and offers a wide array of snacks, drinks, and grab-and-go meals. There are a few tables available indoors, too.
Tenaya Stone Spa
The spa at Disney's Grand Californian Hotel and Spa, which was formerly known as Mandara Spa, was recently remodeled and reopened in September 2021. The Tenaya Stone Spa is 6000 square feet of pure luxury and relaxation. The spa offers massages, body treatments, facials, manicures and pedicures, and other salon services. Check the Tenaya Stone Spa website for current services, hours, and prices.
Ballrooms and Meeting Rooms
Disney's Grand Californian Hotel & Spa has an extensive conference center with several ballrooms of varying sizes.
The largest ballroom, Sequoia ballroom, is nearly 12,000 square feet and can accommodate up to 1,200 guests.
The second largest ballroom is actually outside of the conference center, adjacent to the outdoor Brisa Courtyard. The Trillium Room is 2,660 square feet and can accommodate up to 300 guests.
There are five additional smaller rooms.
The hotel also has a Wedding Garden, off the lobby adjacent to the pool area, and the Parkview Terrace which is located on the fifth floor and has views of Grizzly Peak inside Disney California Adventure.
Summary
Disney's Grand Californian Hotel and Spa is the premier Disneyland Resort hotel for a reason. The well maintained rooms, the themed pool area, and the wide variety of dining experiences put this hotel a cut above the rest.
While the prices are steep, it's tough to beat the location. Being able to step right inside Disney California Adventure is very cool, to say the least.