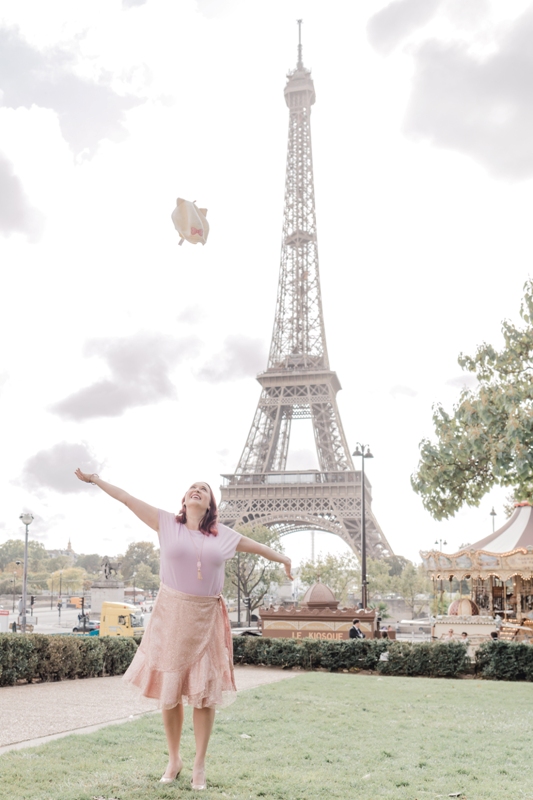 Bonjour! Welcome to my little guide for visiting Paris, France.
When my husband asked me what I wanted for my 40th birthday, I had only one small request … I wanted to fly halfway across the world and visit Paris. Specifically, I wanted to run the Disneyland Paris half marathon challenge and spend a few days at Disneyland Paris, followed by a few days in real Paris. It was a splurge and a spectacular trip.
This was my first visit to Paris and my husband's second, but as he liked to say "my first visit with money." (He backpacked through Europe after college, staying in hostels.) Even though I wanted to see as many sights as I could, I didn't want it to feel rushed, like we felt on our port days during our Mediterranean cruise, where at the end of the day I'd lie on our cabin bed with my feet throbbing, crying, "whyyyy nooooo make it stop" and then we'd do it all over again the next day in the next city.
Basically, I wanted to sightsee, eat, sightsee, drink, sightsee, eat, drink, eat, etc. I wanted lots of charming sidewalk café breaks between tourist stuff. Luckily, Paris proper is rather condensed, and with using their Metro system it was easy to visit multiple places in one day with plenty of stops for rosé.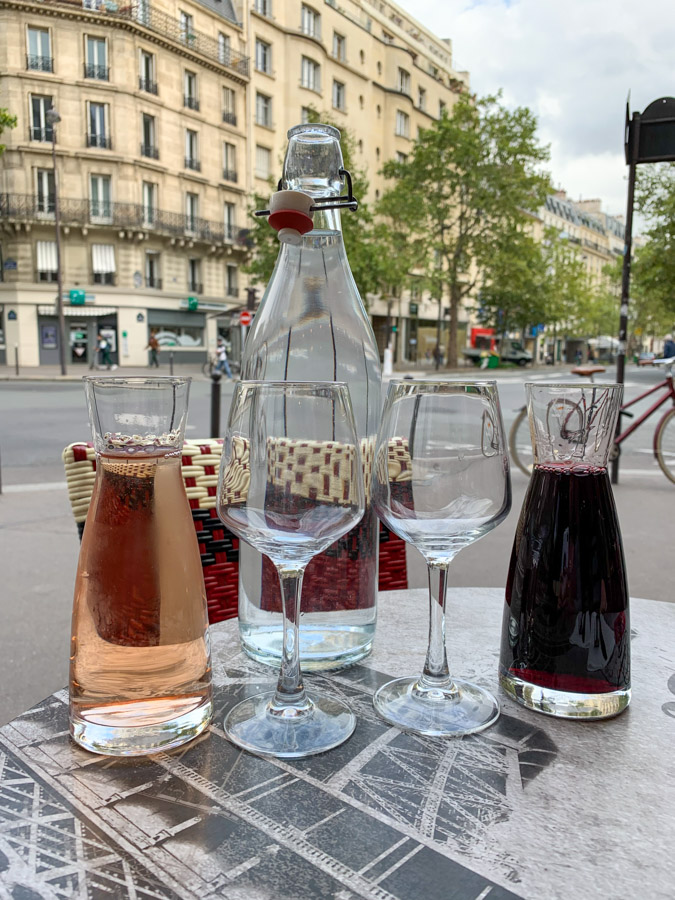 Now, the article title is "3 Days in Paris," however technically we spent 3 FULL days in Paris, not including our arrival and departure days. This is how we managed to pack in so much activity into three days. So that is what I recommend, if possible. Five days total, with three full days in Paris.
I hope this guide helps any first time visitors to Paris! Feel free to also hit me up with any questions that aren't answered here. I'm happy to help if I can! You can email me at [email protected], or find me on Instagram.
This article contains affiliate links, which means I may earn commission if you make a purchase.
Travel Guide to 3 Days in Paris, France
Where to Stay
We stayed at the most charming little hotel called Relais 12bis, which felt more like a bed and breakfast. Normally this would make me wary but I read a lot of outstanding reviews, and the location was just a couple blocks from the Eiffel Tower.
I found the hotel via Expedia, but we ended up booking directly through the hotel's website because I'm Type A and wanted to request a specific room. They were able to accommodate my request and stayed in the Braque room, which featured a King bed and a pretty purple color scheme.
All rooms have a private bathroom, which is my main concern with B&Bs. The room was a bit small and I wished there a bit more closet space but I made do. The bathroom was incredibly spacious and I was able to rearrange some of the open shelves to accommodate all my things. We had pretty favorable weather during our stay (aside for one day where it rained) and I loved opening the doors for our Juliet balcony while getting ready in the morning.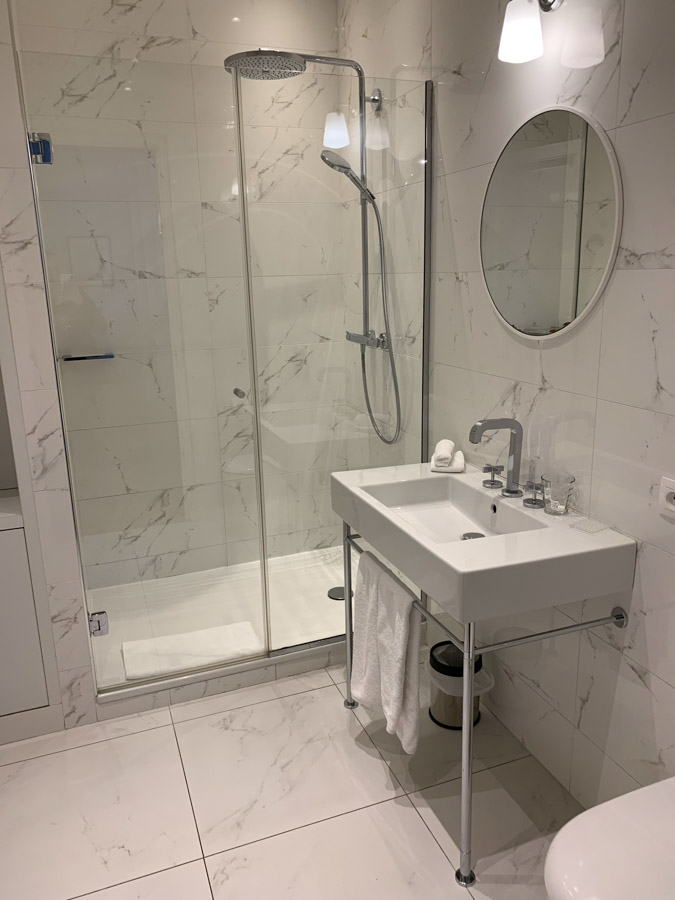 The hotel is family owned and was very cozy and private. The location is on the second floor (labeled as the first floor for Europeans) and there is a small elevator and stairs. We were given two codes to enter the building – one for the main building entrance and one for the hotel. Plus a physical key for our room.
The hotel has a common space with a sitting area and dining area, and since the hotel only has five rooms, the common areas were never crowded. I was a little concerned when I discovered our room shared a wall with the common area but we never once heard any noise from other guests.
Every morning, one of the owners, Leo, would make breakfast for the guests. Pastries (including croissants), breads, meats and cheese, and specialty jams were set out, and Leo cooked eggs to order. Fresh juice was also provided, or guests could take bottled beverages and sodas from the lobby refrigerator.
Leo also helped us with our luggage when we arrived and departed, and a housekeeping crew tidied up the rooms every day. Leo also was always available to assist with answering questions or give directions.
The location ended up being great. I was pushing more towards staying in a touristy area, such as near the Arc de Triumphe or Champs des Elysees, but Tim convinced me that staying in a quieter neighborhood would be more enjoyable.
Our location was a quick walk to the Eiffel Tower (no views from the hotel but we didn't spend much time in the room anyway) and close to Metro stations. Tim was in charge of navigating but we didn't have any issues getting to where we wanted to go. And pretty much every evening we strolled by the Eiffel Tower, which was as charming as you'd expect it to be.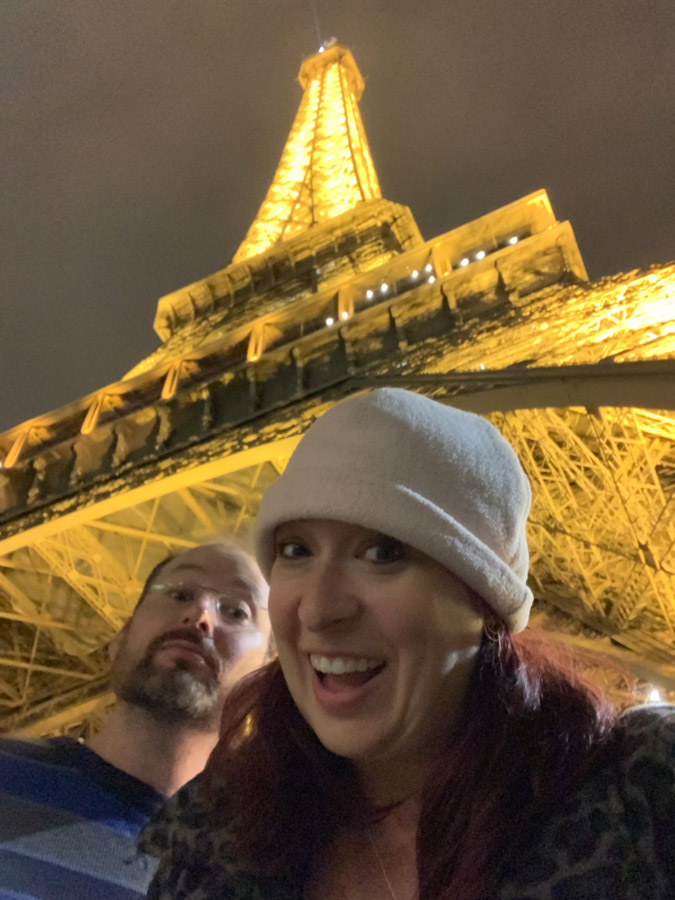 I'm not going to list the price we paid in case the pricing changes depending on the season, etc, but we felt the cost very reasonable for the location and the value we received.
So this is my five star, highest recommendation for Relais 12bis. I would love to return and stay here again. I recently found myself worried about how COVID-19 may have affected this small, family-run hotel, but their website indicates they have safety protocols in place and are still accepting guests. I'm sure times are tough for them, and anyone in the tourist industry, so I really hope they make it through. It really was the most darling place.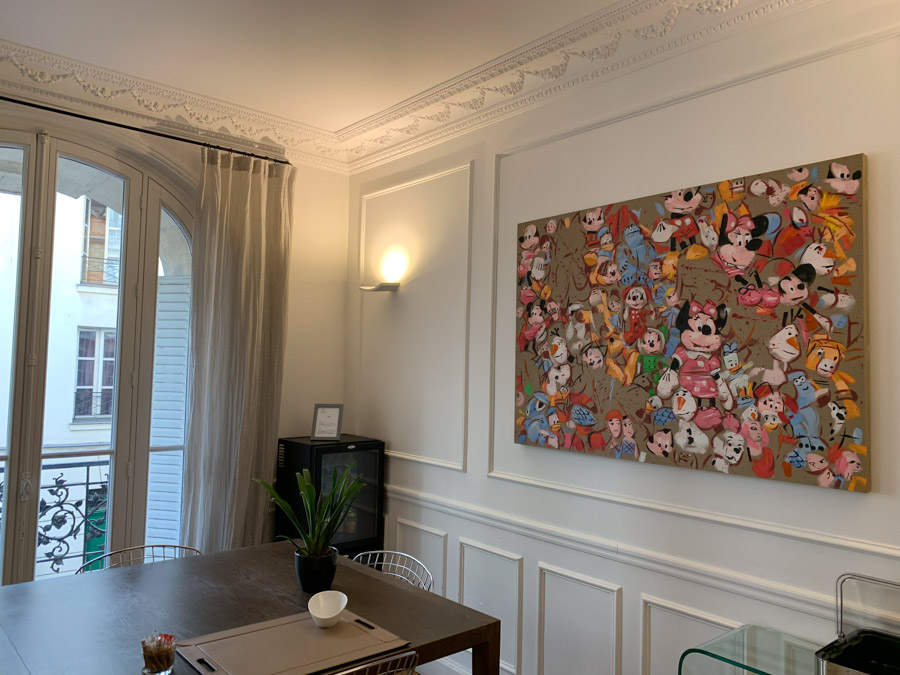 Side note – I had to laugh when we walked in and this Disney related art greeted us in the common space. We had just come from Disneyland Paris and my husband was, how do I put this … over it. It took me a couple days to realize that this artwork may not actually be pro-Disney, though.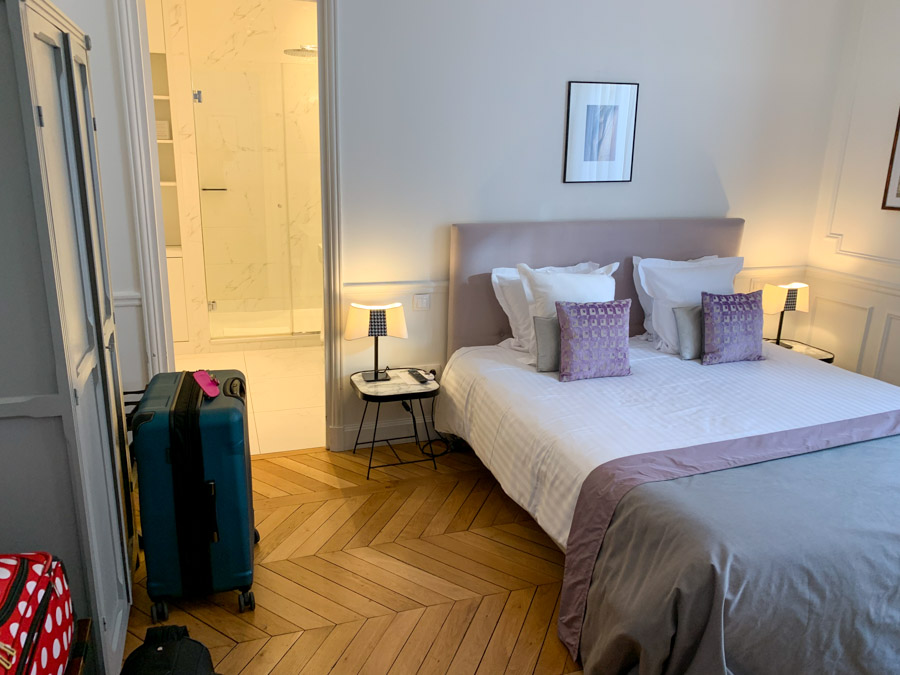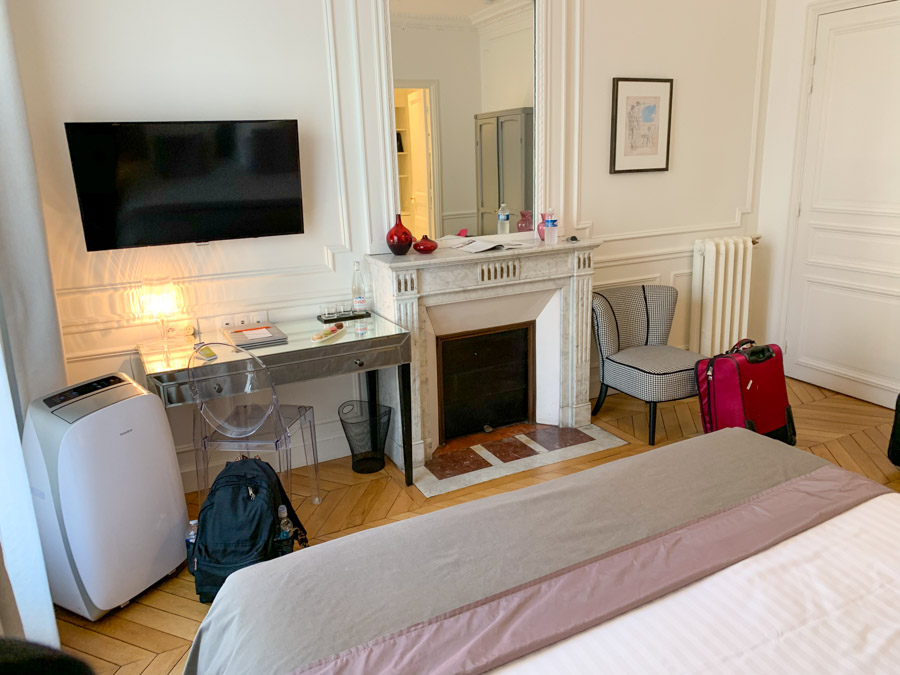 View from our window. We never got a chance to eat at the little café across the street; I wish we had.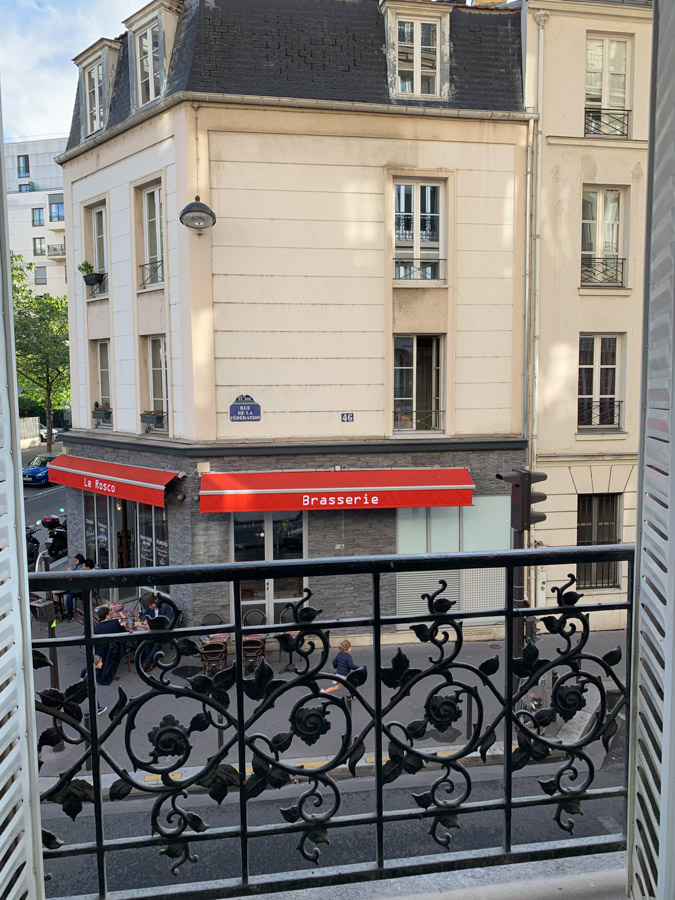 Where to Eat
One of my big concerns with staying at a B&B-type hotel was the lack of restaurant or bar inside our hotel. However, this ended up not being a concern at all since there are restaurants and cafes literally everywhere in Paris. At one point we were hungry for lunch and I told Tim, "Check the map app and see what nearby has 4 or 5 stars" and Tim said "Literally every café has 5 stars." I don't think we had one bad meal during our entire visit. But I will highlight a few of our top faves.
This Italian restaurant was our first stop after settling into our hotel. It was just one block away and the menu offered all our favorites – pizza, pasta, and wine. I forgot to take pictures (sooo hungry after our long day of travel) but we split a pizza and had a few glasses of wine and it was delightful. A great first meal in the city. In fact, the next night we tried a different café a couple blocks away and after looking at the menu, I frowned at my husband and said "I want Firmine." So we went back. And I did take a photo of my pesto pasta this time.
When we arrived in Versailles, we pulled up Google Maps to search for a good place to eat lunch before visiting the Palace. This place caught our eye because we love crepes and it's obviously very French.
This little café ended up being amazing! They offered a lunch special where you get one savory crepe and one sweet crepe for a special price, plus you could get bowls of cider that you drank like soup! (I asked the server if we were supposed to drink from the bowl as if it were a mug and she confirmed, and then probably cursed my American existence when she was in the back. The staff was really lovely to our faces, though.)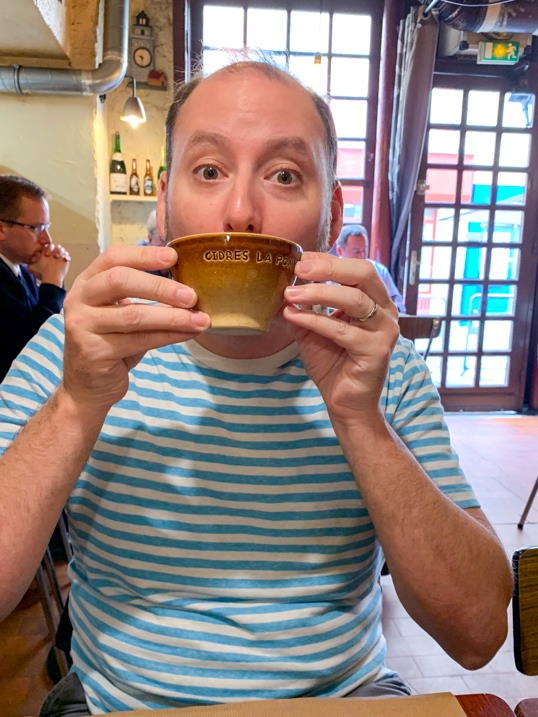 Highly recommend this cute place if you're visiting Versailles. It was about a 5 minute walk from the Palace.
This charming restaurant was a recommendation from my best friend, Adam. It's located in the 6th arrondissement, just a quick metro ride from the Eiffel Tower. Their website boasts of their "traditional and family French cuisine in a relaxed atmosphere for a modest price" and the reviews online were stellar.
This place truly is small, so be sure to make reservations ahead of time.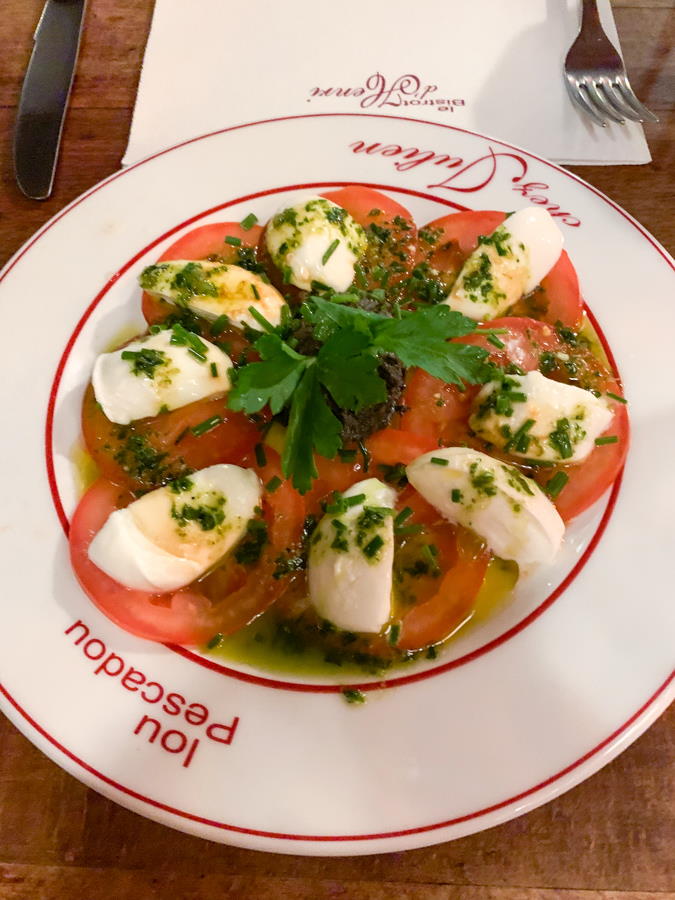 We had a lovely meal here, but the real standout experience was the extremely French couple sitting next to us. While we couldn't understand what they were saying to each other, we were still riveted by … whatever was happening.
First, it appeared it was his birthday, because his female companion brought him a gift. There was lots of kissing across the table. THEN she started crying. We have no idea why. But he reached across the table to comfort her. They then laughed and drank, and ate a bit, and then MORE CRYING. He then encouraged her to come sit next to him, which meant she was now wedged between him and me on the booth. He held her and kissed her and wiped away her tears and kissed her some more. We obviously had no idea what was happening but it was so French and I LOVED it.
What to See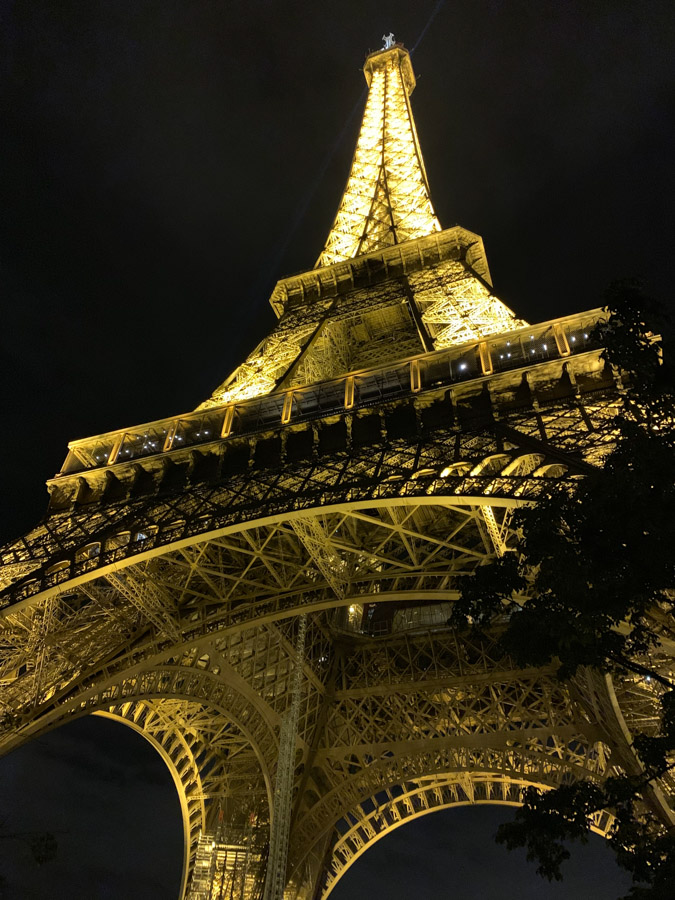 Eiffel Tower
I mean, obviously. If you're tourist visiting Paris for the first time you won't want to miss the iconic landmark. I had friends who warned me that the area feels very touristy, with street vendors and big crowds everywhere. But that's how it is at every tourist landmark, I think. We encountered street vendors on the beaches in Puerto Vallarta and also outside the Vatican. So, yes, expect to have vendors yelling at you to purchase cheap trinkets, especially in the evening. But overall the area feels safe and open and is certainly worth visiting.
There are a few types of tickets you can purchase when visiting the Eiffel Tower, and I do recommend purchasing in advance to avoid long lines. We basically just went through the security check and walked in, passing a long line of people buying tickets. You can purchase your tickets ahead of time at the Eiffel Tower website.
There are two different levels you can visit. You can get tickets to the second floor, which is 116 meters up, or the very top of the tower, which is 276 meters up. Stairs are available up to the second floor but you must take a tiny, slightly terrifying lift up to the top.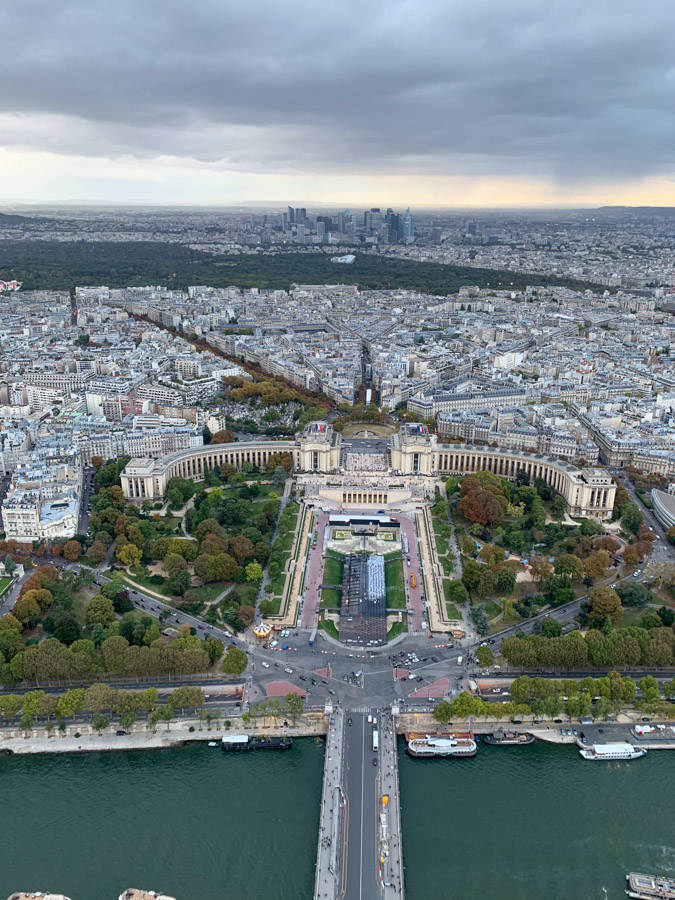 We splurged on tickets to the top (around $30 per person, at the time), and despite the panic in the elevator, I'm happy we did. The views are incredible, as you can imagine.
Once you reach your destination, there is no time limit. And if you want to go from the top back down to the second floor, you can do that. We tried our best to time our visit so we'd be there for sunset, and it's really fun to watch all the lights turn on in the city below you.
There are a couple restaurants on the lower levels but we didn't plan ahead and when we inquired about them, they were booked up. On the top there is a champagne bar (window) where you can purchase extremely overpriced plastic flutes of champagne, which we did of course.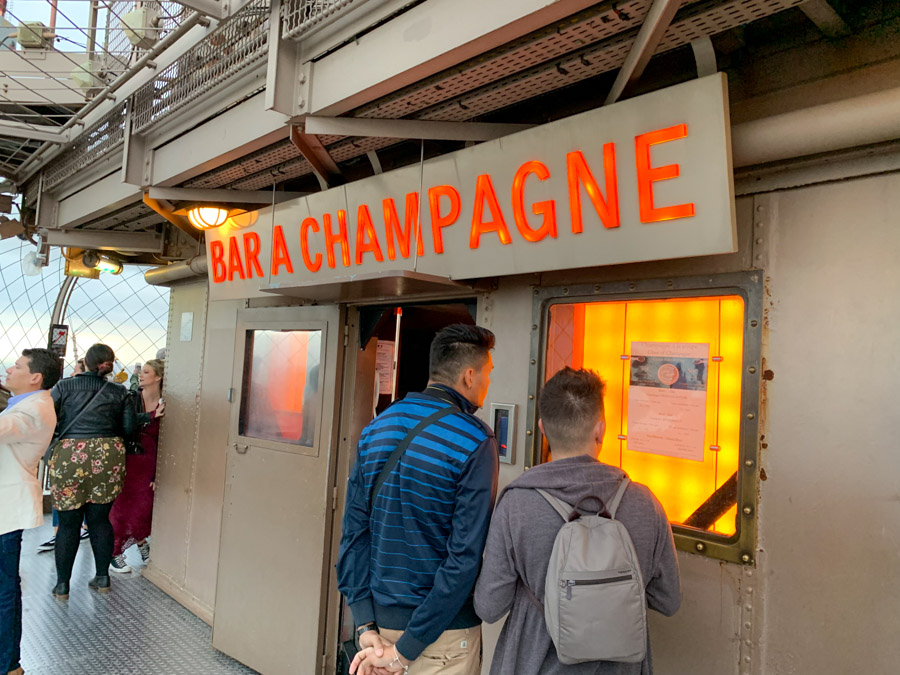 I'm so glad we went up the Tower on our first day; it was fun to see an overview of the city and Tim pointed out a few of the other places we were going to be visiting. We also were excited we could see the neon sign for our beloved Firmine restaurant.
Plan for at least an hour once inside the tower. I recommend planning your visit for just before dusk so you can get daytime and nighttime views. In that case, plan for two hours.
Louvre Museum
The Louvre is the world's largest art museum and a historic location in Paris, and also houses one of my favorite works of art (the Winged Victory statue). It's easy to purchase your tickets on the Louvre Museum website, selecting a date and time for entry. Be sure to show up early to walk around the museum grounds and take pictures with the iconic glass pyramid (which is the entrance to the museum).
The place-turned-museum building is so much larger than I could have ever imagined, and it's impossible to see it all in one day. I suggest having a basic plan to see all the works or sections you want to see.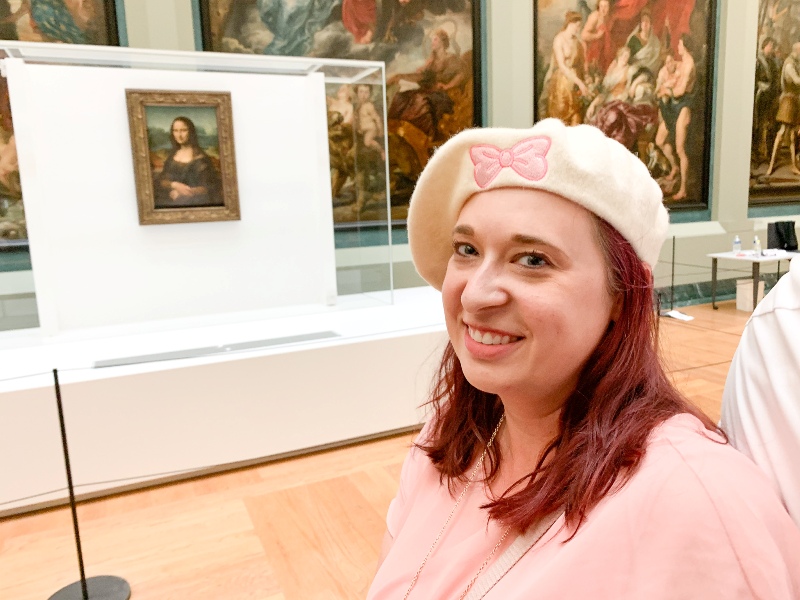 The most popular work at the museum is the Mona Lisa, which will most definitely have a lengthy queue. After waiting in line, about 20-30 guests are let into the viewing area in front of the famous painting (which is still very far away), and the group has about 20 seconds to get your photos, selfies, whatever, before being ushered out.
We decided to have lunch at their restaurant The Café Richelieu-Angelina, which was a bit pricy but had available indoor seating on what was a windy, chilly day. The menu doesn't suit you there are plenty of cafés and restaurants, ranging from sit-down to premade-takeaway to pastries to Starbucks, located within the complex.
Plan at least a half day (around 4 hours) to leisurely roam the museum, have a meal, and wander the grounds and gardens.
Atelier des Lumières
While the Louvre is spectacular, Paris is a city known for its creative arts, so I recommend also visiting a smaller museum during your stay. Based on numerous recommendations, we visited the Atelier des Lumières, which translates to "The workshop of lights." It is described as a digital art museum, where beautiful and sometimes familiar works of art are projected onto the walls, floors, and ceilings. Movement and music are added to create a totally immersive experience.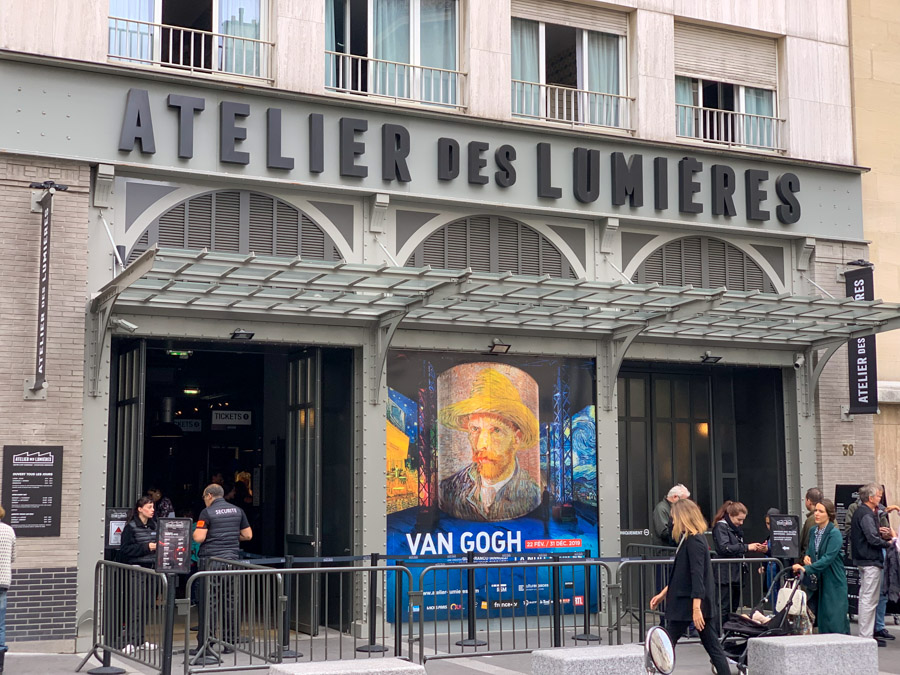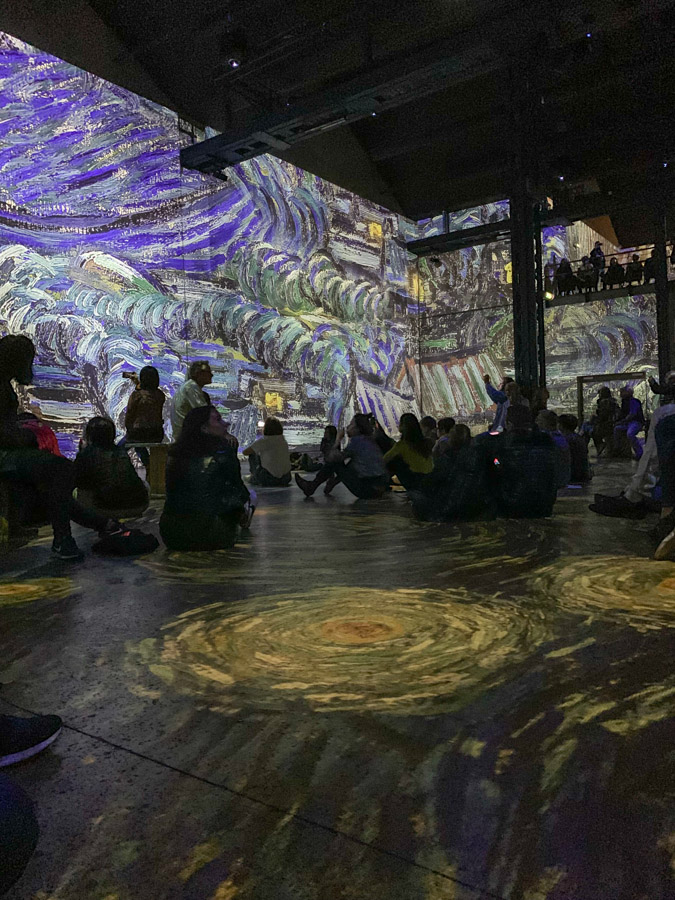 I loved this museum because it offered something different from the standard art museum experience, which – I'm sorry – I've always found a little boring. Atelier des Lumières offers a new way to experience classic works of art, as if you are living inside the art itself.
To avoid the long standby line, reserve tickets ahead of time on the Atelier des Lumières website.
Plan for at least an hour inside the museum plus small gift shop.
Palace of Versailles
Having little-to-no understanding of French history, I had really no interest in visiting Versailles. I thought it would be another stuffy museum. But, it was my husband's one thing he really wanted to see, so we allocated half a day for Versailles.
I have regrets.
The Palace of Versailles ended up being an absolutely incredible experience, and the grounds are so unfathomably large that we could have spent a whole day there and still not experience everything the palace has to offer. But mostly, I loved just sitting in the gardens, sipping wine (yes they have a wine stand there, of course!), and imagining what it would be like to live like royalty (but … without the beheading).
Some quick history – Versailles was home to the French monarchy, including Louis XVII and Marie Antoinette, up until the French Revolution in 1789. The palace is now a museum and has been restored, inside and out, to match what it may have looked like in the 18th century.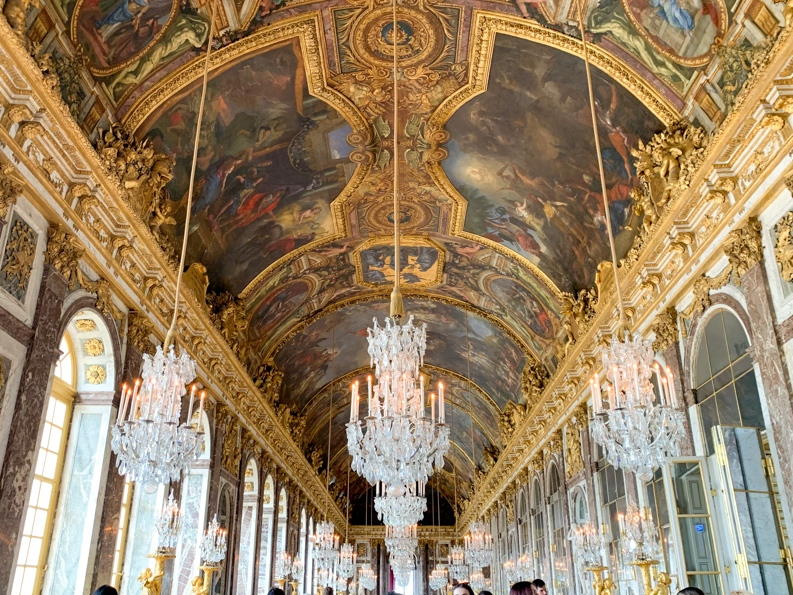 The grounds consist of the large main palace, Trianons (small villas), and gardens.
We chose the Palace Ticket with Timed Entry, which includes a self guided audio tour of the Palace, and also entry into the Gardens. In hindsight, I wish we had planned a full day and purchased the Passport Ticket which includes access to the Trianons. You can purchase tickets ahead of time on the Palace of Versailles website.
Plan at least a half day for Palace of Versailles to do the Palace tour and roam the gardens for a while. Plan a full day if you want to experience everything on the grounds.
How to Get Around
I'm gonna be real honest with you here … public transportation is not my jam. But, my husband LOVES it. I think navigating Metro systems is my husband's favorite part of traveling. So I left it all to him. Not super helpful when writing a guide about visiting Paris. BUT what I *can* tell you is Paris has an extensive and clean Metro system and it's fairly easy to get around the city. (Only once did we get on the wrong train and someone kindly helped us when we asked.) Google and Apple Map apps also offer Metro routes in their directions, which certainly helps when navigating the city.
To make things easy, my husband purchased a 5 day unlimited use for the Metro and RER train. We used the RER train twice – transferring from Disneyland Paris to actual Paris, and from Paris to Versailles. We could have also used the RER for travel to and from the airport but we decided to use ride share to make traveling with our luggage easier.
Whenever we were short on time or public transportation would have been too complicated, we were able to use rideshare like Uber or Lyft. Pretty much everyone spoke English or at least understood it enough to get us to our destination.
My main tip here would be to pick a hotel near a Metro stop, and map out your day trips ahead of time. You can visit the Paris RATP website for information about the type of tickets and passes available.
Other Highlights
Arc de Triomphe
Famous monument that honors fallen French soldiers and is the location of the Tomb of the Unknown Soldier. It is also located on a bonkers plaza that connects 12 avenues, including the famous shopping on Champ De Elysees. Bring walking shoes so you can go up to the top for great views of the city and Eiffel Tower.
Champ De Elysees
Popular shopping street in Paris and one of the busiest tourist areas. This avenue runs from the Arc de Triomphe to the Louvre Museum.
Cimetière du Père Lachaise
A strange fact about me – I love cemeteries. I especially love visiting cemeteries in foreign countries. The older the cemetery, the better. My husband actually suggested we visit this particular cemetery because it is where Jim Morrison is buried, so it's a bit of a tourist spot, and it was just a short walk from the Atelier des Lumières.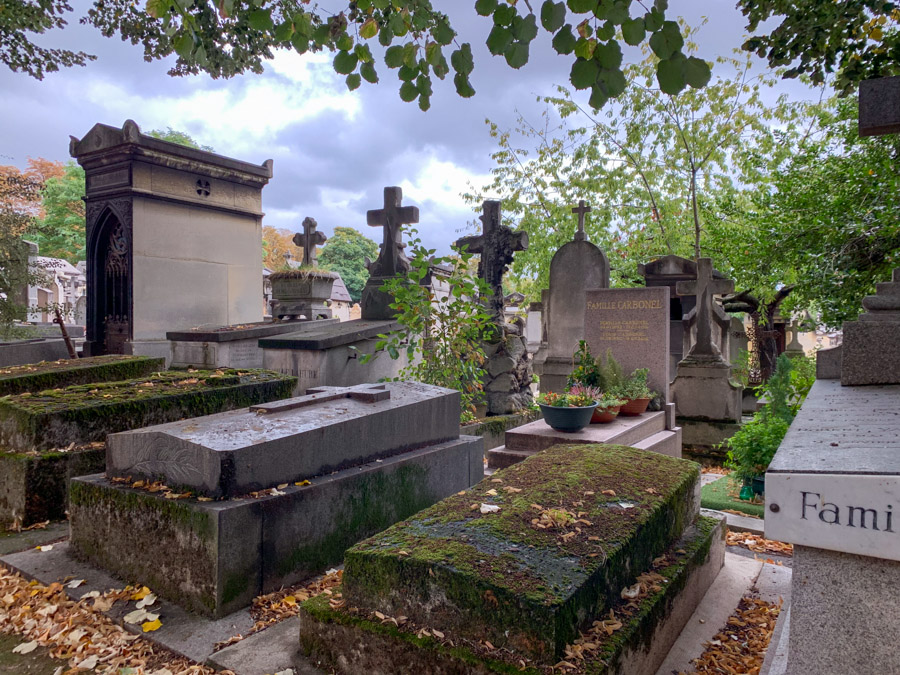 Cimetière du Père Lachaise is the largest cemetery in Paris, covering just over 100 acres. We didn't stay long; just enough to take a few photos and use GPS to locate Jim's gravesite.
Rue Crémieux
This description is a bit obnoxious, but this street is a popular Instagram location due to its colorful houses. I learned of it via Instagram and put it on my list of "maybe" places, knowing that my husband would probably give me a funny look if I asked to go. But, we found ourselves with an hour between activities so I brought it up, and he agreed!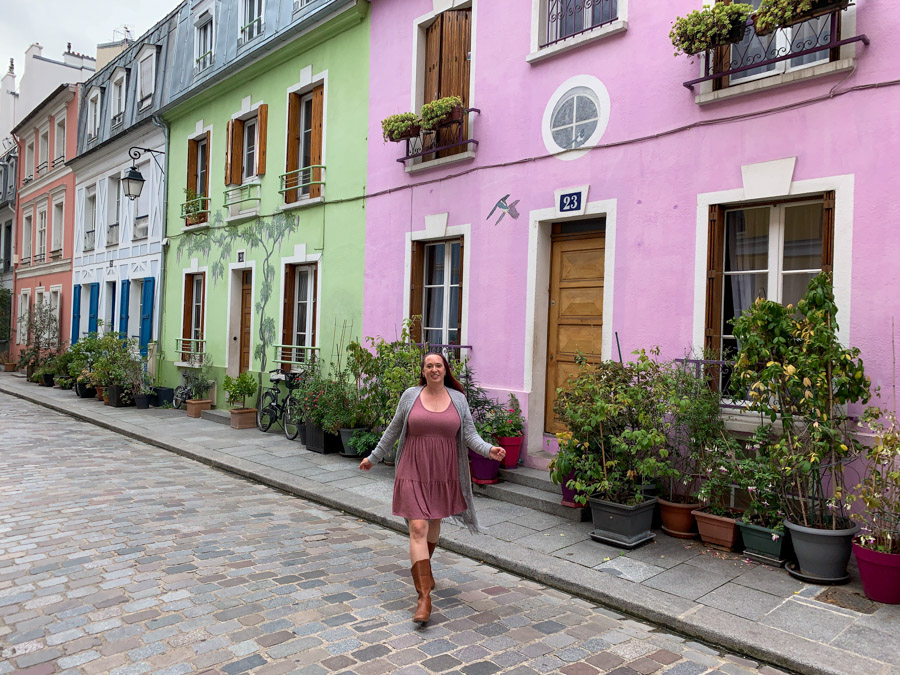 It is a residential street, so if you visit please be respectful of the residents or neighbors who are just coming or going. There were a handful of people taking photos when we arrived, including an adorable pup who was catching Frisbee toys while a professional snapped photos. That dog FOR SURE has more Instagram followers than me.
Anyway, it's certainly a cute spot if you need some social media content, or just want to soak up some color.
Rue Cler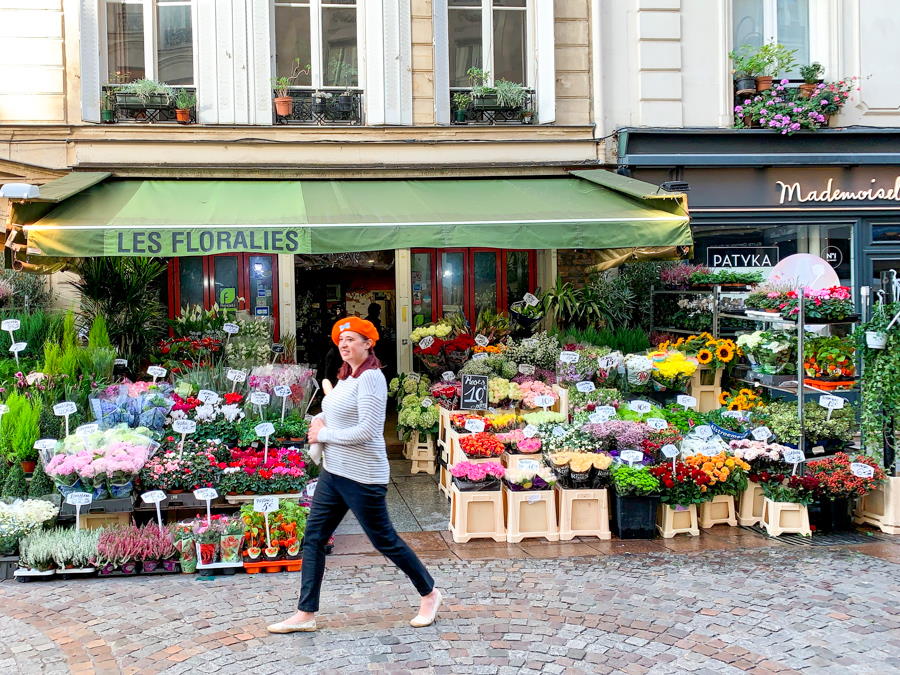 Rue Cler is a famous market street in the 7th Arrondissement. This location was on my husband's wish-list; a bit of a trade off for visiting Rue Crémieux. We took the metro here the morning of our departure, so we arrived early enough to sit outside at one of the many cafes, order coffee and pastries, and watch the businesses come to life.
Rue Cler has everything … *Stefan gif* … cafes, flower shops, cheese shops, wine shops, fish shops, produce shops … it's basically a farmers market with daily fresh foods. And since it's a pedestrian street it's easy to leisurely browse between shops.
If we are lucky enough to visit Paris again, I think this area would be a good place to stay. It would feel more like you're living in Paris verses visiting Paris.
Flytographer Photo Shoot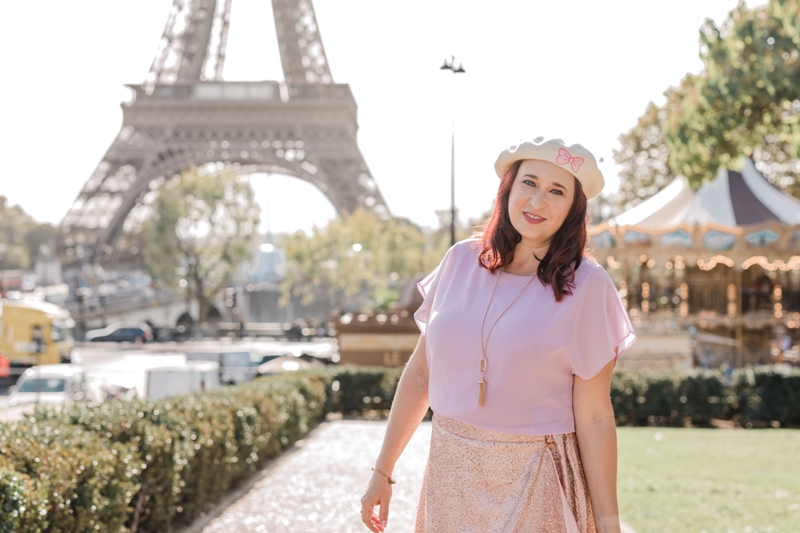 I love having professional photos taken when I visit some place new. Phone photos and selfies are fine, but I know in several years I'd wish I had more photos of the two of us together. I wrote a separate article about our experience with Flytographer and why I recommend them for travel photos! Click here to read it.
***
Recommended Schedule
Here is a breakdown of our schedule:
Day 1:
Arrive into Paris in the afternoon.
Check into hotel; unpack, relax a bit.
Dinner at Firmine.
Quick walk to see Eiffel Tower.
Day 2:
Breakfast at hotel.
Metro to 11th Arrondissement.
Brunch at café – Plein Soleil.
Atelier des Lumières.
Visit Cimetière du Père Lachaise (cemetery).
Visit Rue Crémieux.
Dinner at Café Quai 33.
Visit Eiffel Tower.
Second dinner at Firmine.
Day 3:
Breakfast at hotel.
Metro to Arc de Triomphe.
Walk/Metro along Champ de Elysees to Louvre Museum.
Tour Louvre Museum.
Lunch at Café Richelieu-Angelina inside Louvre.
Short walk to Notre Dame Cathedral.
Metro back to Champ De Elysees for dinner and shopping.
Day 4:
Early morning photoshoot at Trocadero.
Walk back to hotel for late breakfast and outfit change.
Metro/RER to Versailles.
Lunch at Les Crepes a Tonton.
Tour Palace of Versailles.
Back to Champs de Elysees to visit Louis Vuitton because it was already closed the night before.
Metro to Dinner at Bistrot d'Henri.
Back to hotel to pack. 🙁
Day 5:
Breakfast at hotel; final packing; store luggage at hotel.
Visit Rue Cler
Early lunch at a Rue Cler café (didn't note the name!)
Back to hotel to grab luggage.
Ride share to airport.
I hope you found this guide helpful! If you did, I'd appreciate if you shared it on Pinterest! Thanks!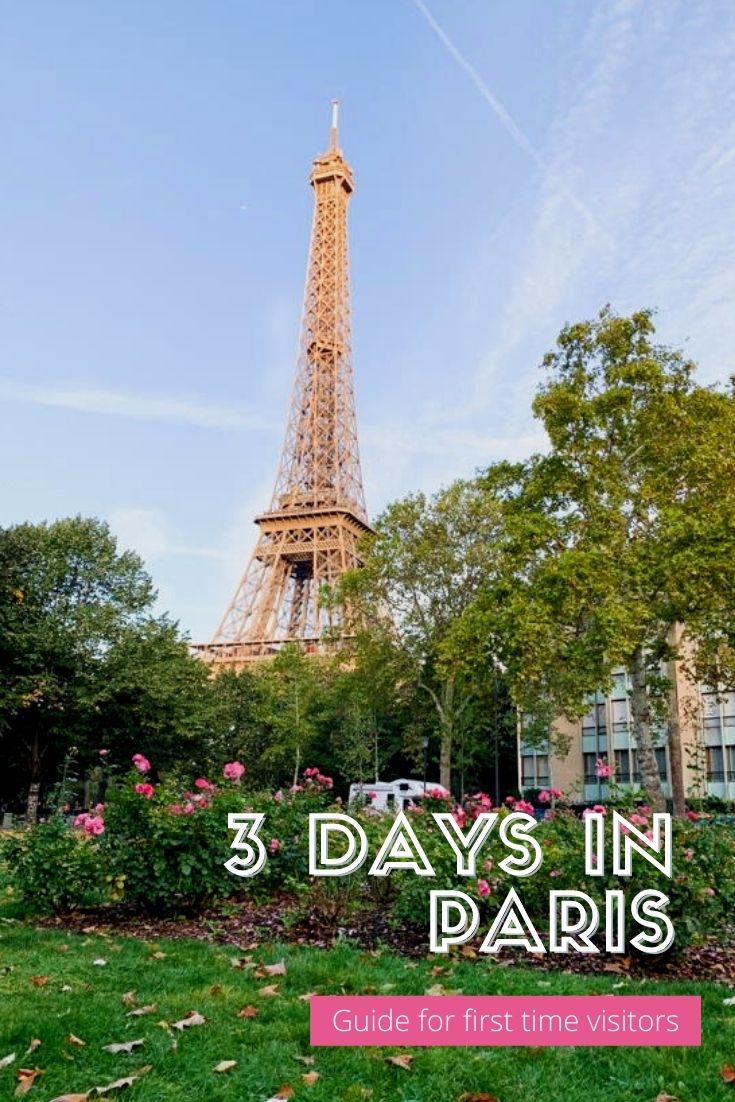 Other Recommended Travel Guides: