I was so excited for our first day in Venice, I couldn't wait to get off the ship! It felt like forever before they made the announcement we could disembark.
We got off the ship with our friends Mark and Kent. They planned to first go to the island of Murano, known for its blown glass, and we decided to tag along. We got off the ship and walked out of the port area to the first vaporetto stop by the train station. After studying the maps we found which vaporetto we needed to wait for. After 10 minutes or so, it arrived!
The vaporetto is basically a water taxi and is the best way to get around Venice. The maps are easy to read and everything is color coded and numbered, so it's easy even for dumb tourists to navigate.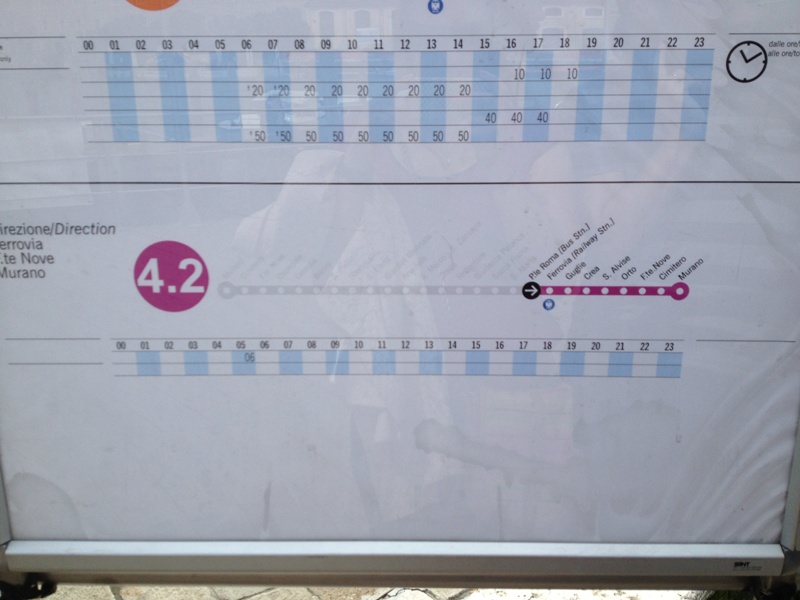 I loved taking pictures from our seat in the vaporetto, basically at sea level! After a couple stops we were off to Murano.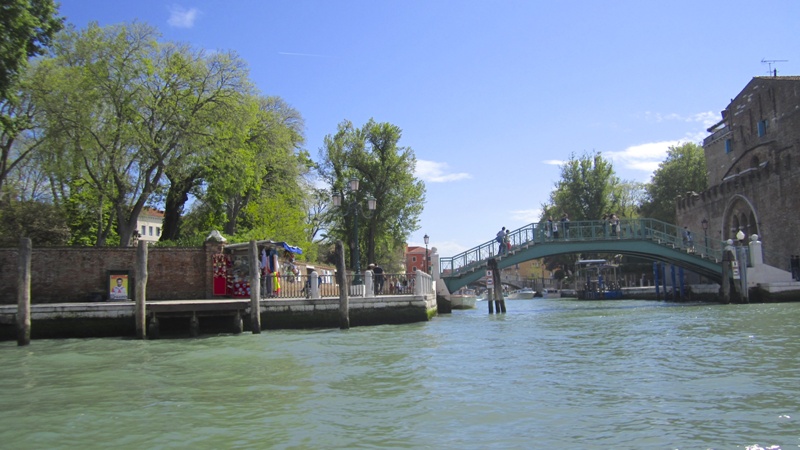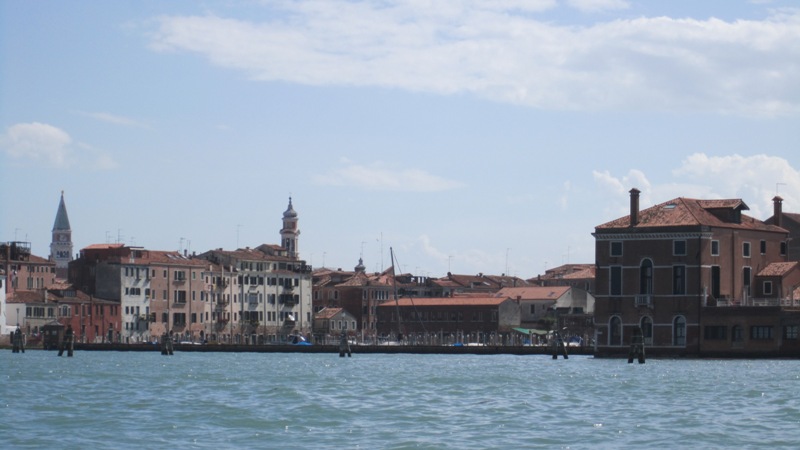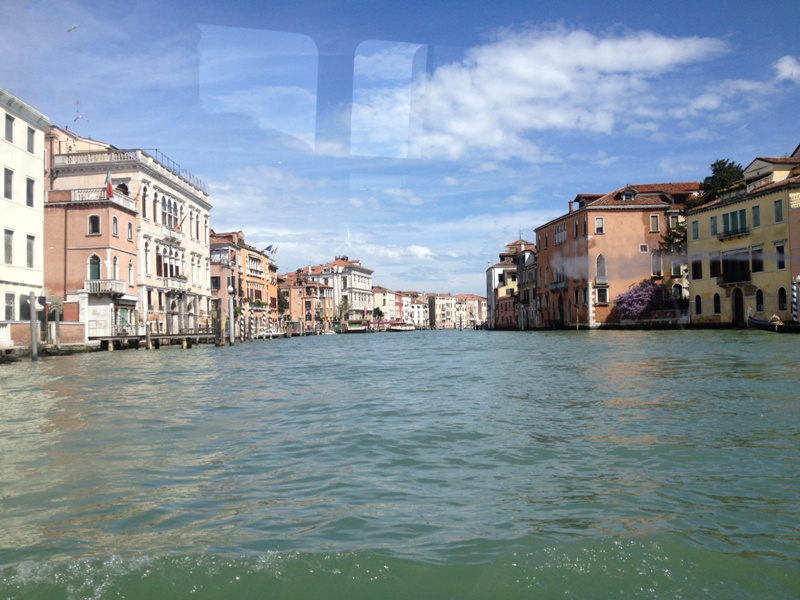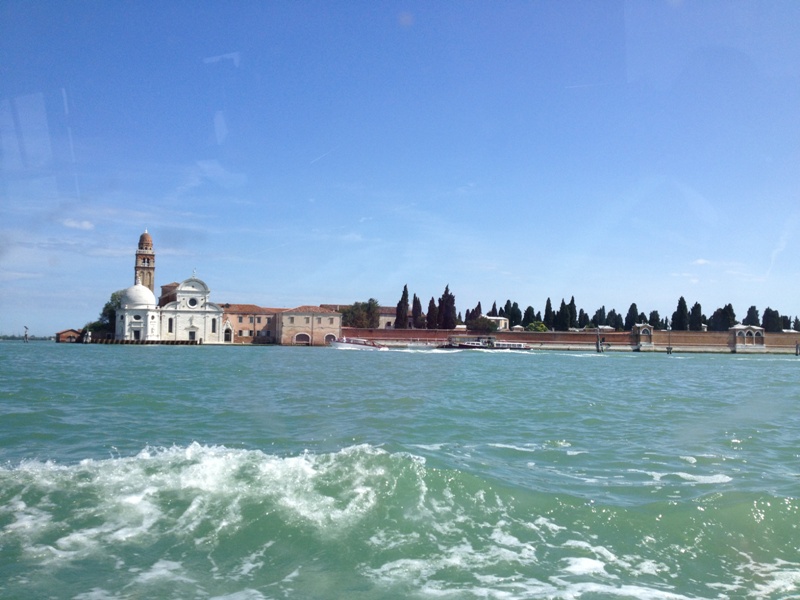 Murano was not only home to gorgeous blown glass, but I found the only cat of Venice there!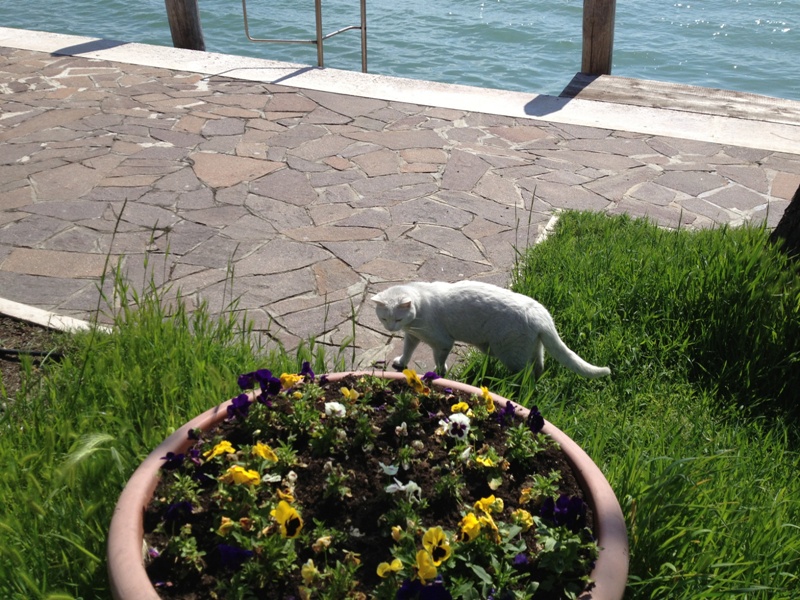 We stumbled upon a shop that had a blown glass demonstration. It's tough to see but this dude turned a lump of hot glass into a horse! It was pretty impressive. We admired the glass creations in the shop and I bought a couple things for our moms before we got back on the vaporetto.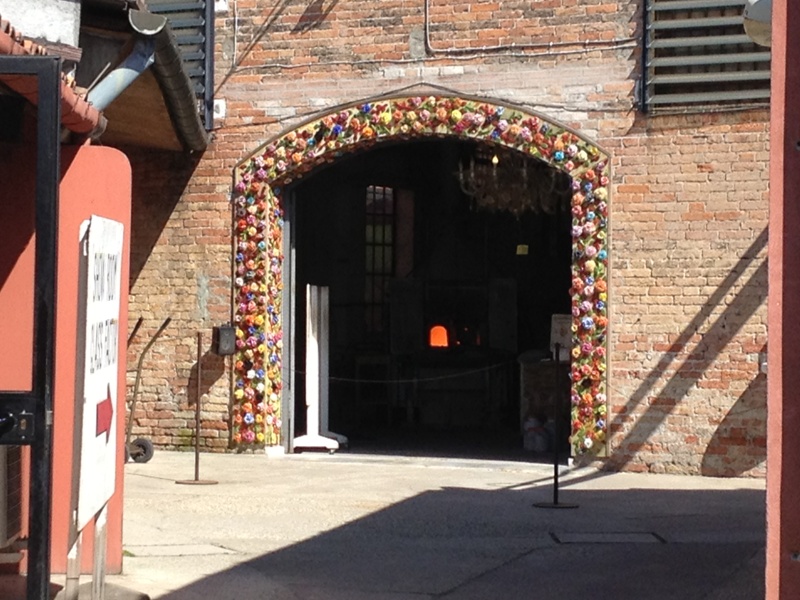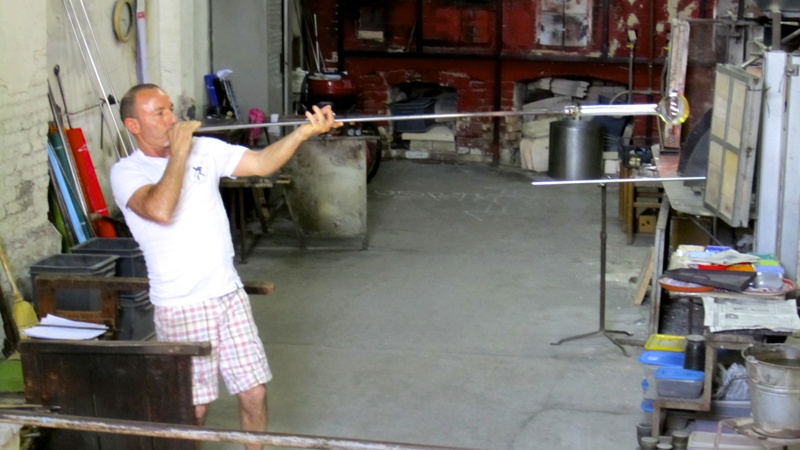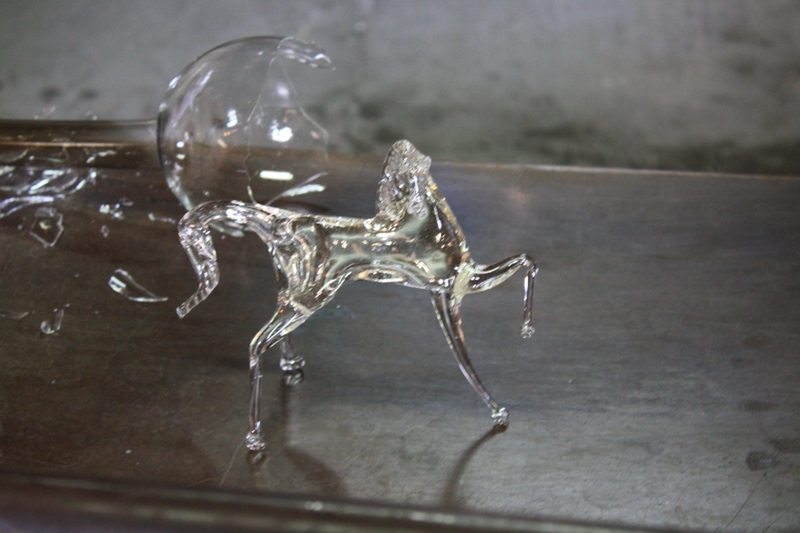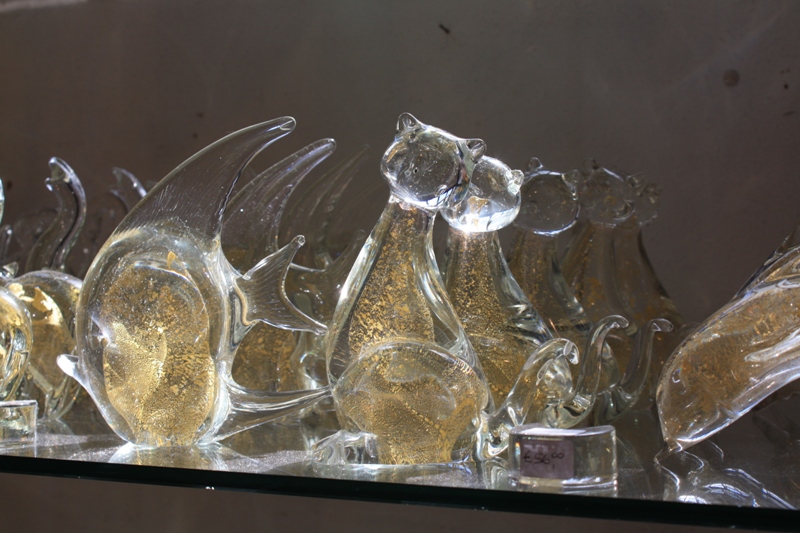 I had read about San Michele, the cemetery island of Venice, which was on the way back to the main islands. By now you know all about my creepy love of old cemeteries so the four of us decided to stop off and walk around San Michele for just a little bit. The grounds were gorgeous and so well kept. The rules strictly state no photography but I snapped just a couple shots. Hopefully the dead will forgive me.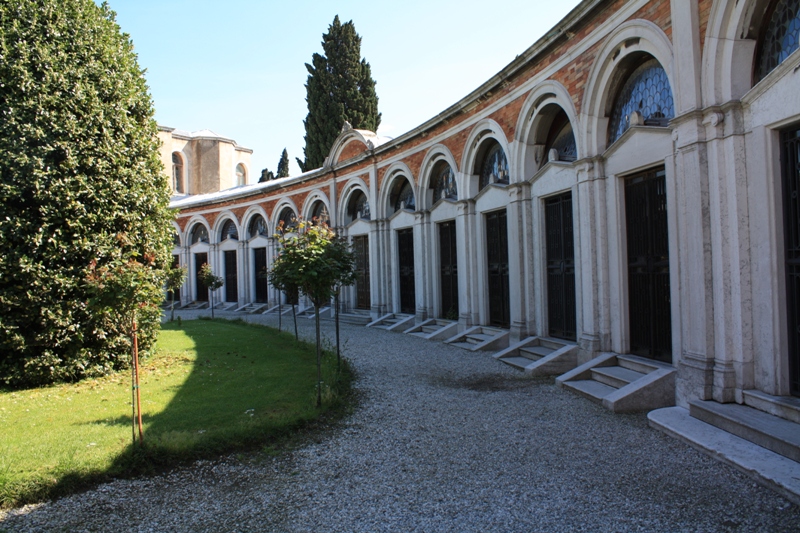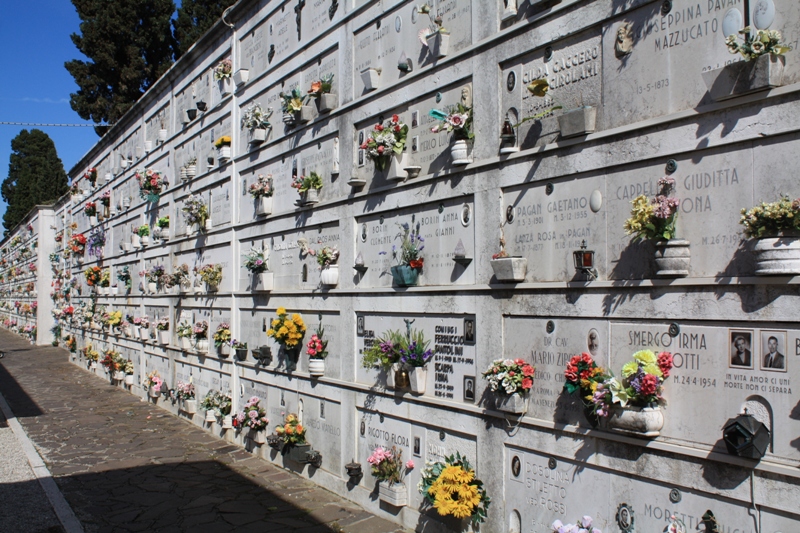 Mr. BFT was surprised to find the grave stone of a person from his college town of Boston, born and died in the 1800s!
After San Michele we jumped back on the vaporetto and headed back to the main islands. Venice is comprised of two main islands and several smaller islands. The two main islands are separated by the famous Grand Canal. There were a few things we all wanted to cross off our list on this day: See the Rialto bridge, St. Mark's Square, and go on a gondola ride. But first we needed lunch! We wandered around a bit and decided to stop at a small restaurant in one of the squares. By now it was late afternoon and I think we missed the lunch crowd, so we had a very quiet and enjoyable lunch of pizza and wine.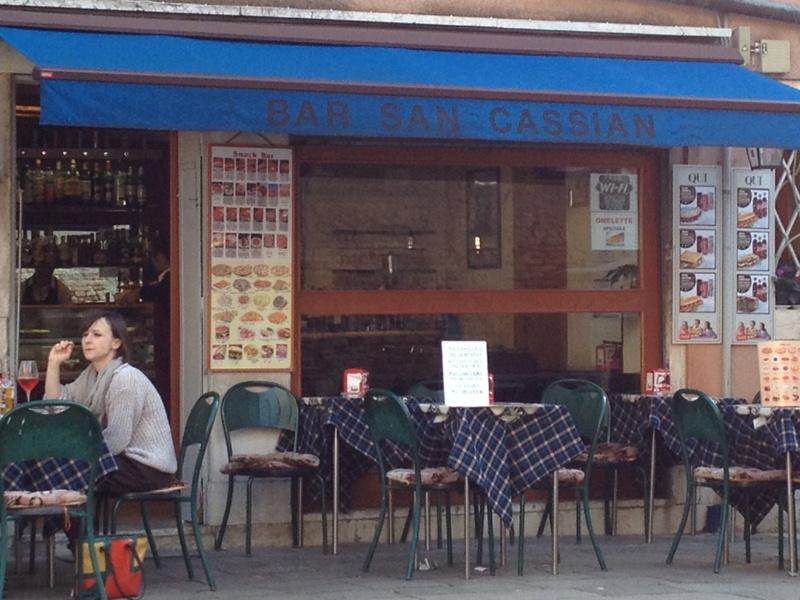 I think Tim took this picture just to freak me out when I was looking back through the images. It worked.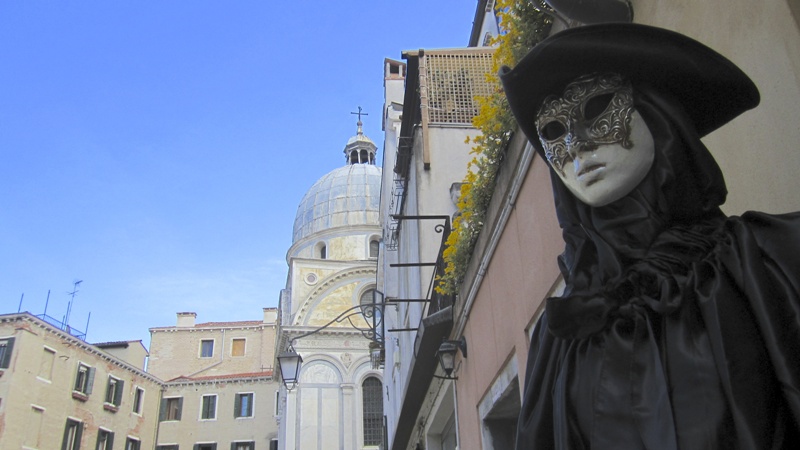 After eating, we were off in search of the Rialto bridge. It's easy to get lost in Venice but that's part of the fun … we really didn't follow any maps, we just walked along the canals until we found something interesting.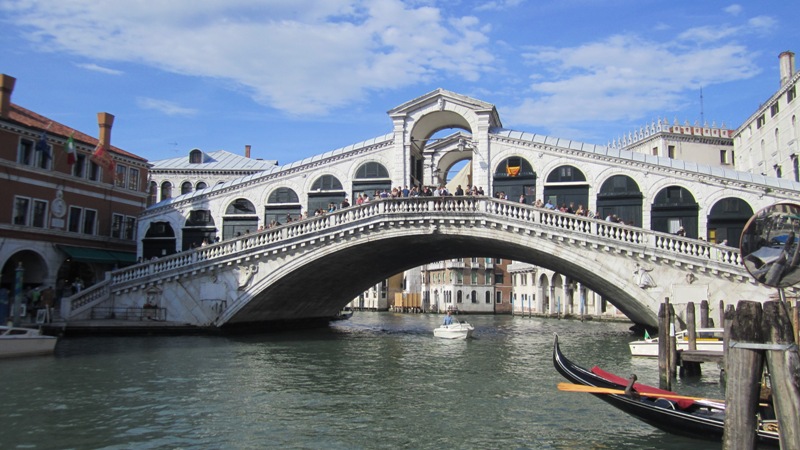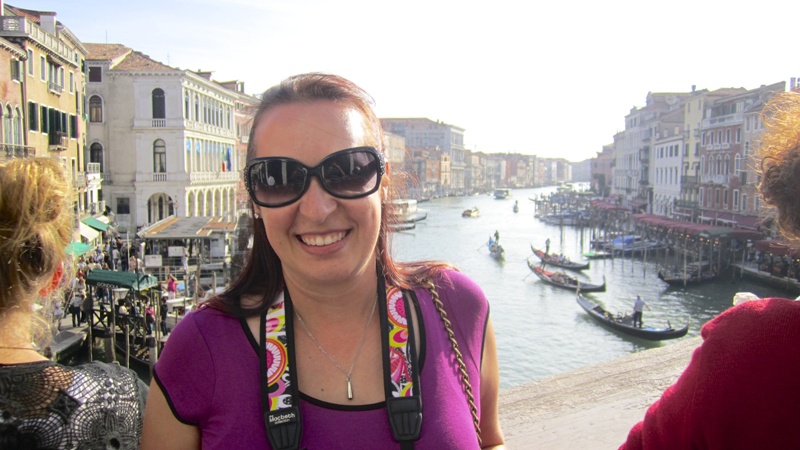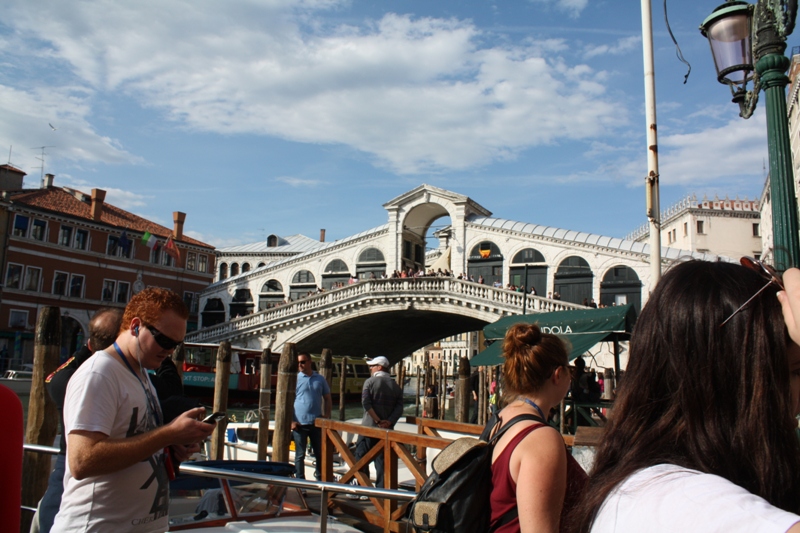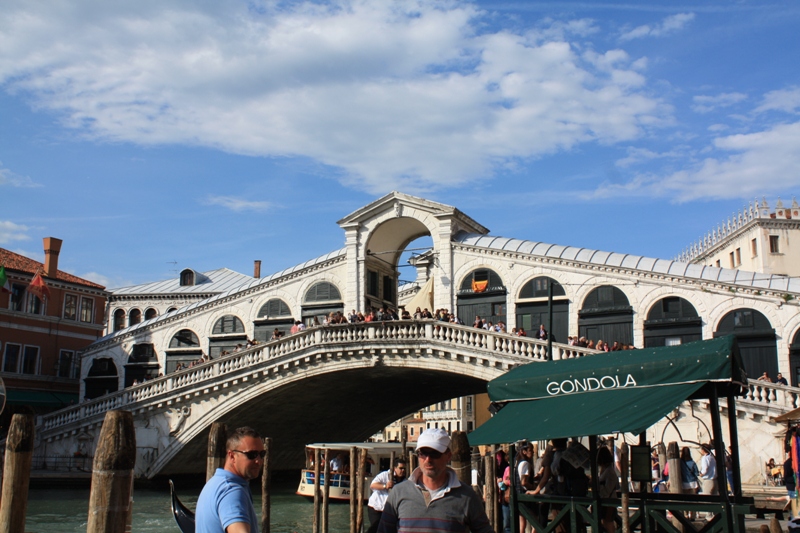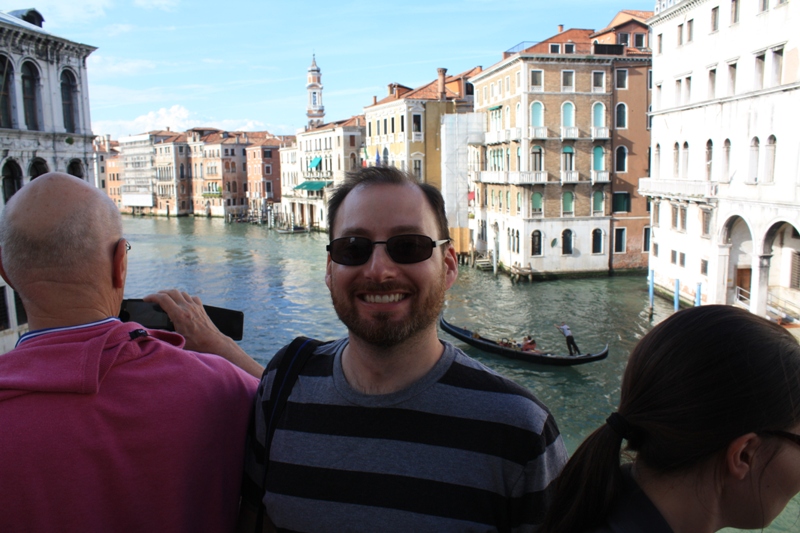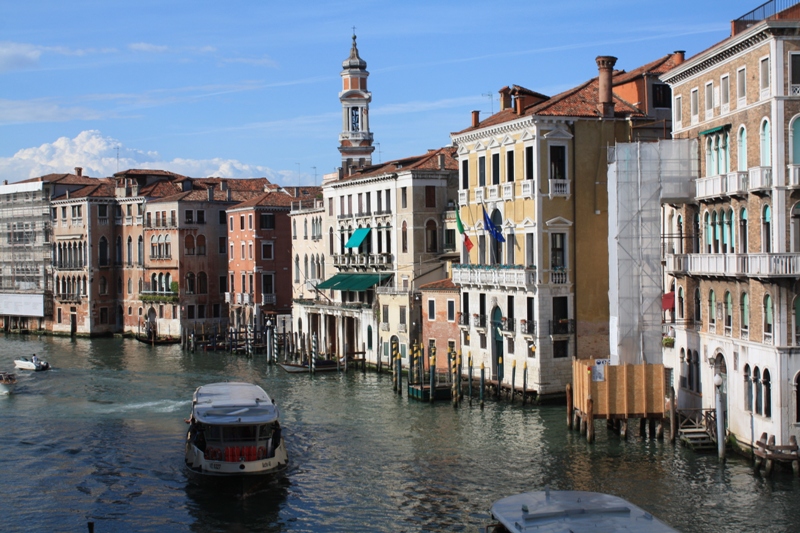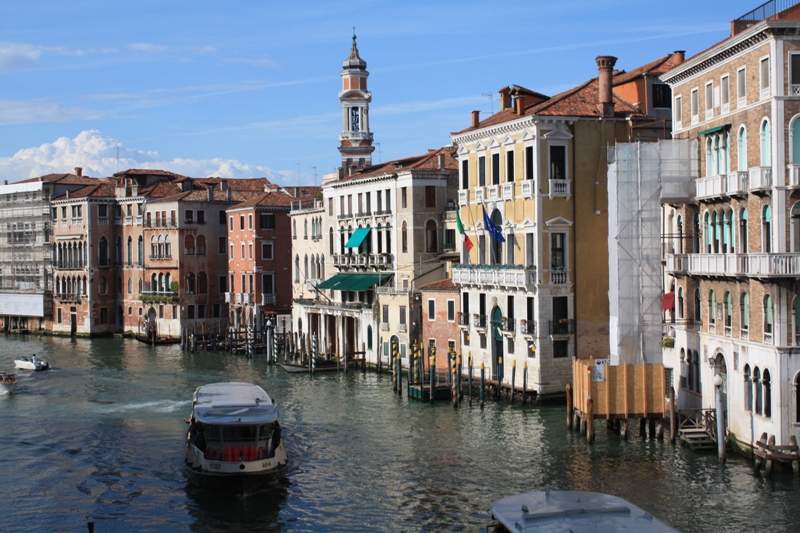 The Rialto bridge is the oldest bridge in Venice and is one of four bridges spanning the Grand Canal. It's a major tourist trap and was so crowded when we came across it in the afternoon! There are shops along the bridge but all we really wanted was to take our pictures and get out of there.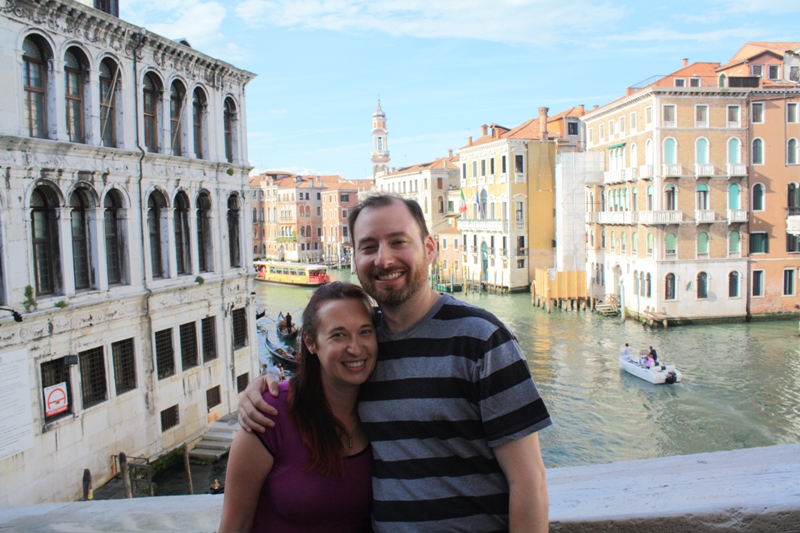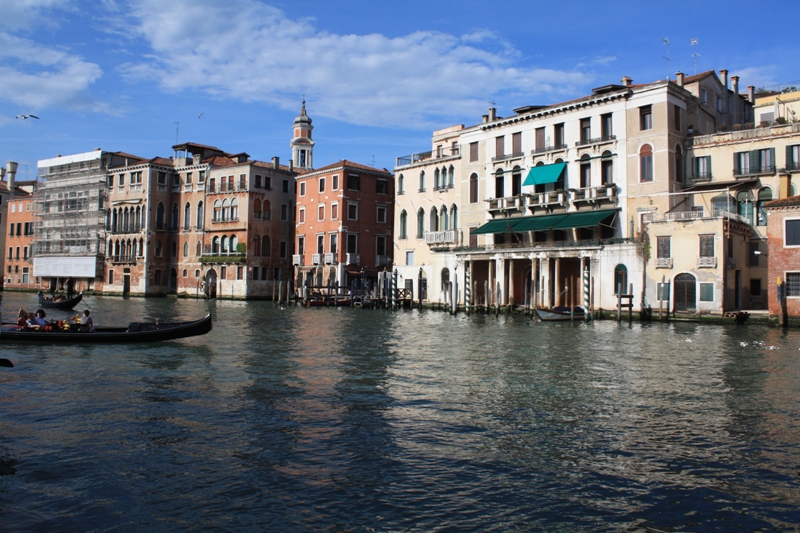 Of course, leave it to me to find the Venice Disney Store!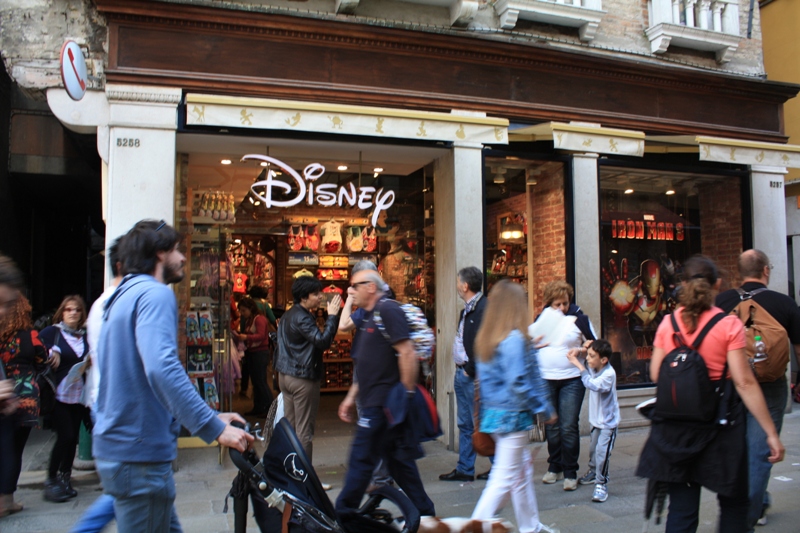 From here we made our way to St. Mark's Square. The city has signs everywhere that tell you the direction to St. Mark's Square with little arrows. It came in very handy! St. Mark's Square (or Piazza San Marco, if you're fancy) is named for the patron saint of Venice. I love the story of how this happened. BASICALLY in the 8th Century, some dudes STOLE the remains of St. Mark from Alexandria in Egypt and brought them to Venice because they thought having the relics of an apostle would make their city more powerful and popular, and it totally worked! One of the mosaic frescoes on the facade of St. Mark's Basilica totally show them smuggling the body and hiding it under food and stuff. It's a total trip.
St. Mark's is another tourist trap and I wasn't really interested in spending much time here. We didn't tour any of the museums or the basilica, and we read all the restaurants here are overpriced. We basically just walked through and took photos.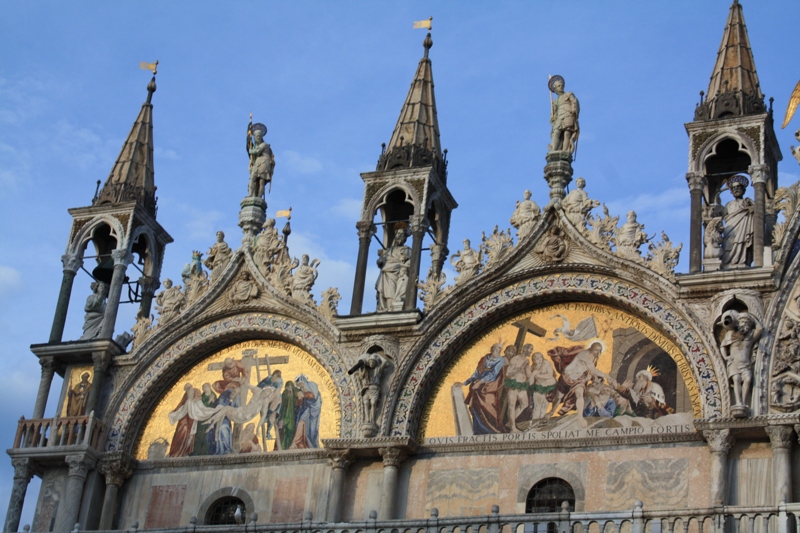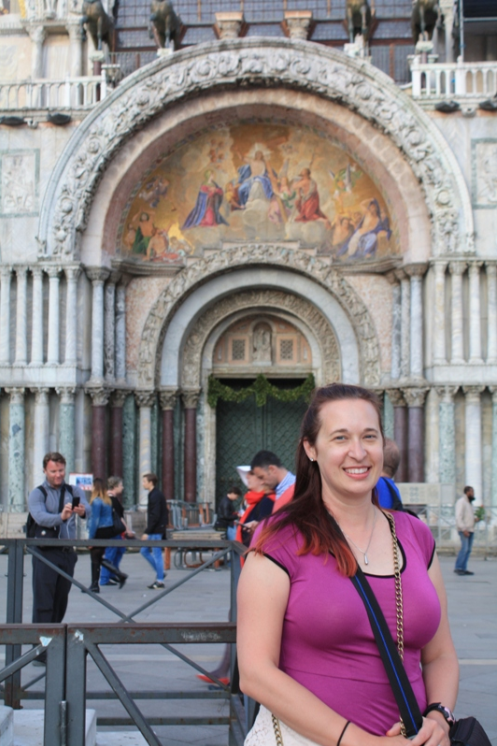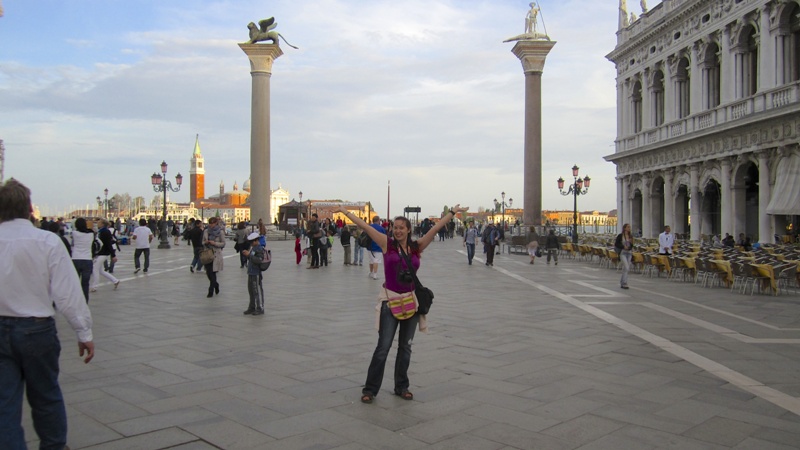 Just outside St. Mark's Square is the mouth of the Grand Canal, and a popular place to catch a gondola. It was nearing sunset and my goal was to go on a sunset gondola ride. IT WAS HAPPENING!!!
We were very happy to split the gondola (and costs) with Mark and Kent, although they kept insisting that maybe we should have a private ride for our honeymoon and all? But we were happy to share the experience with our new friends!
The gondola ride was completely amazing! It lasted about 30 minutes and our gondolier pointed out some sights and even sang a song for us. We asked to be taken off the main canal and down some quiet small canals and he did just that. I took a million photos! I just couldn't stop!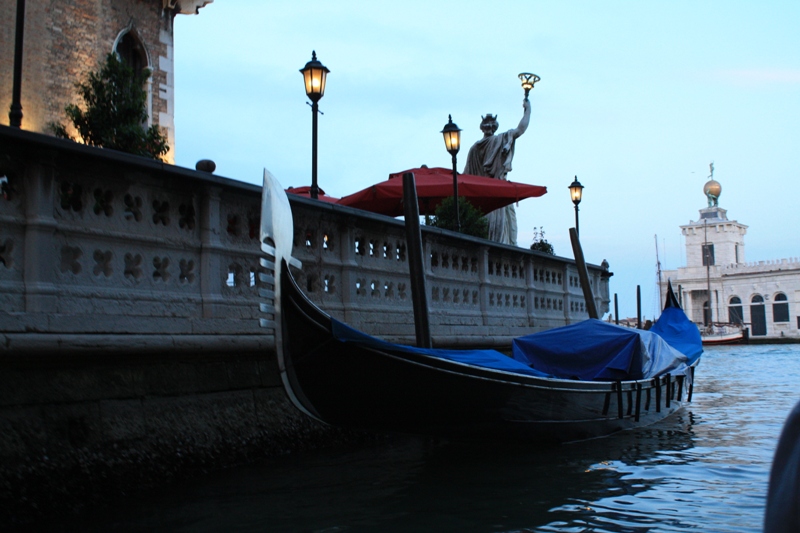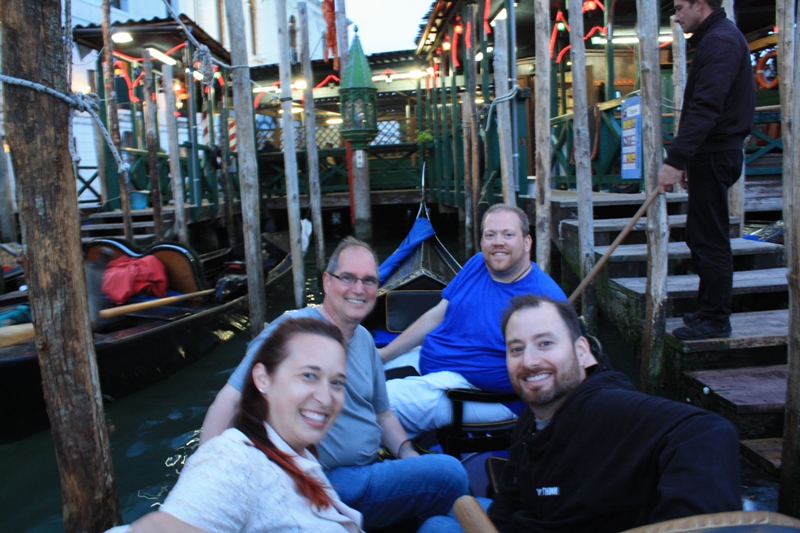 After our gondola ride we wandered around a little more and realized we needed to get back to port pretty soon! We found the only Vaparetto operating was the one that made stops every couple of minutes! We had a very long Vaparetto ride through the Grand Canal but it made for some pretty picture ops.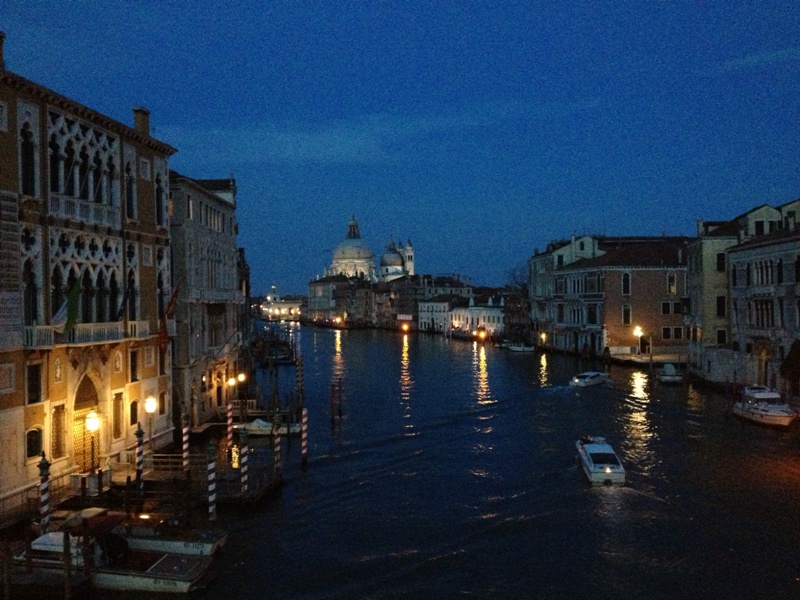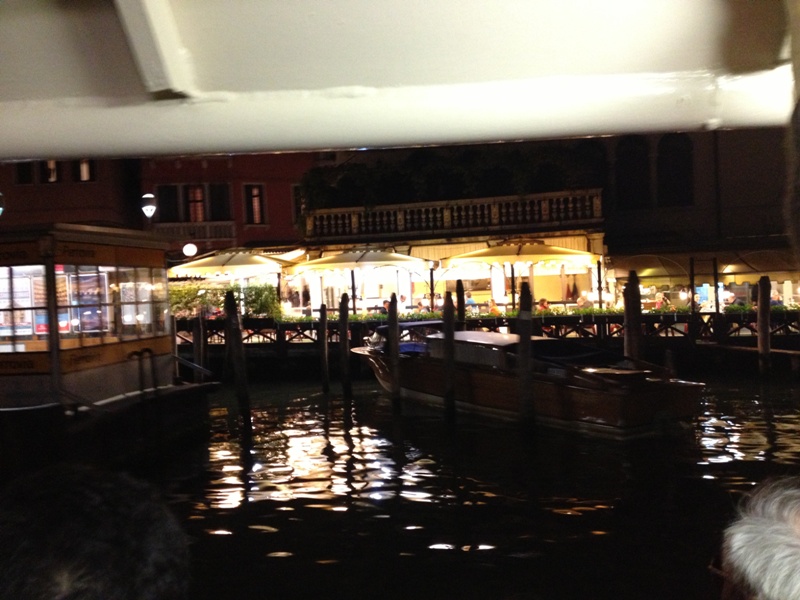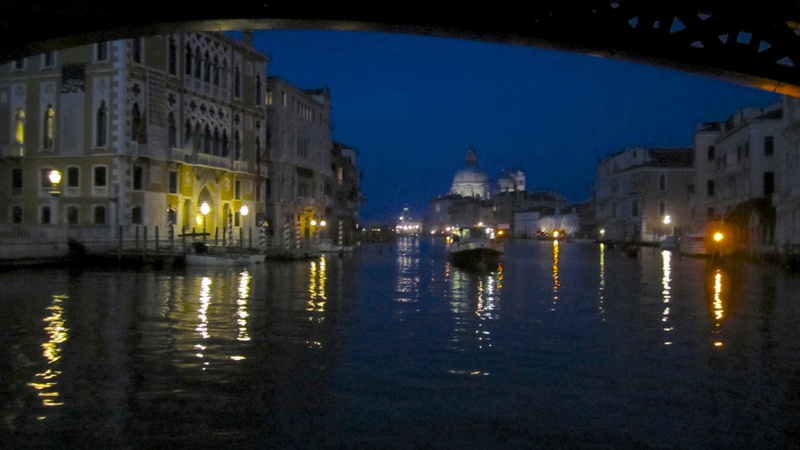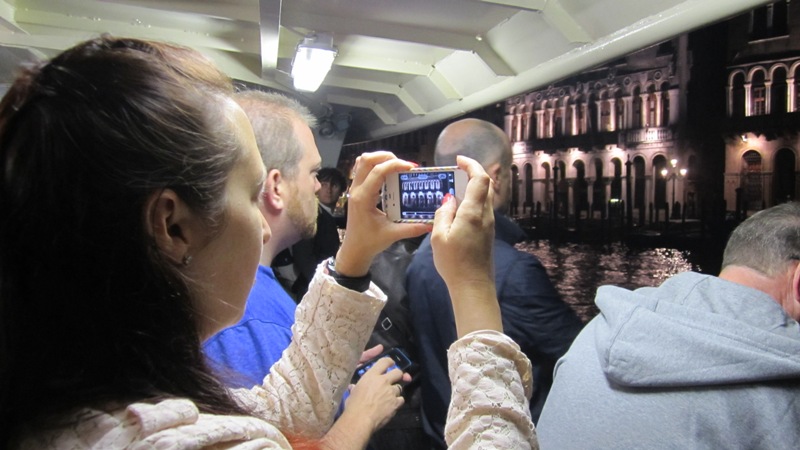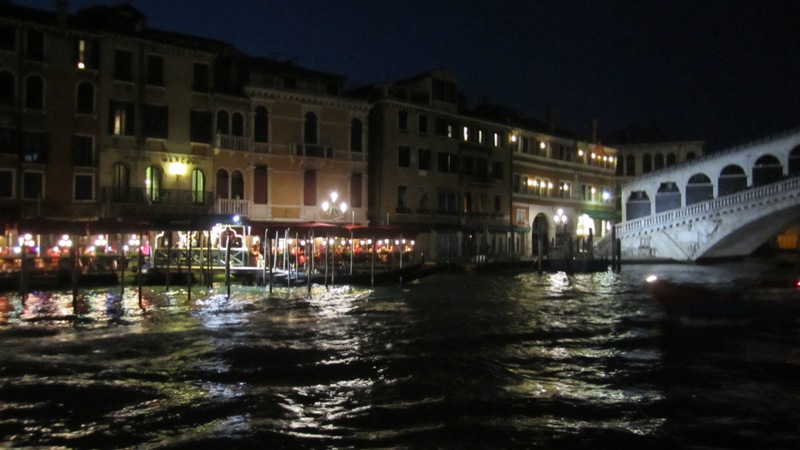 Once we got off the Vaparetto we realized we were very close to our hotel where we were going to stay the next night, so we went to find it. The Hotel Canal and Walter!
Sadly we had to get back on the ship, which looked very pretty at night.
Even though we had another night in Venice, we were sad this was our last night on the ship. We had such a great cruise! We had to be up pretty early, even with our VIP status, so we just hung out in the room and sat on our balcony, soaking up Venice!
The next chapter will be our last full day in Europe. Boohoo!
Past Honeymoon Posts:
Chapter 1 – All Aboard the Norwegian Spirit!
Chapter 2 – Barcelona, Spain
Chapter 3 – Toulon and Bandol, France
Chapter 4 – Florence, ItalyChapter 5 – Rome, ItalyChapter 6 – Naples, Italy
Chapter 7 – Sea Day 1
Chapter 8 – Mykonos, Greece
Chapter 9 – Chef's Table on the Norwegian Spirit
Chapter 10 – Istanbul, Turkey
Chapter 11 – Izmir and Ephesus, Turkey
Chapter 12 – Athens, Greece
Chapter 13 – Sea Day 2
Chapter 14 – Venice, Italy {The Arrival}