I can't believe our honeymoon trip was one year ago, and I can't believe I haven't finished my trip report yet. You guys, I'm having such a wonderful time looking back through my pictures and I kind of don't want it to end. So I'm going to drag out our last city, Venice, Italy, into three parts. I hope that's cool with everyone.
On our first day in Venice, we actually didn't arrive until 2pm, so we had a really leisurely morning on the ship. We had a late breakfast in the main dining room. Mr. BFT had a grapefruit and waffles and I had eggs and toast (which I forgot to photograph). You can see by the pictures we were the last ones in the dining room before they switched over for lunch!
After breakfast we walked around the ship and took a few pictures. We ran into our friends Mark and Kent, who told me they won some free internet time the previous night at pub trivia, and since they had purchased an internet package, they gave it to me so I could update my blog! Mr. BFT and I went back to the room and I wrote this blog post. While I was writing out on our balcony, I noticed the water started …. changing. From crystal clear to kind of sludgy. "Yep, we are getting closer to Venice," said Mr. BFT. Everyone talks about the water in Venice being super gross and it's totally true. It's really dirty and gross. But if you're not planning on going swimming in it, then who cares.
We poured ourselves a glass of wine and sat on our balcony to watch our arrival into Venice. I had done my research and picked a cabin on the Starboard side of the ship because that's the best side for sightseeing as you approach Venice. Slowly I started seeing land on the horizon, then land masses became closer and closer.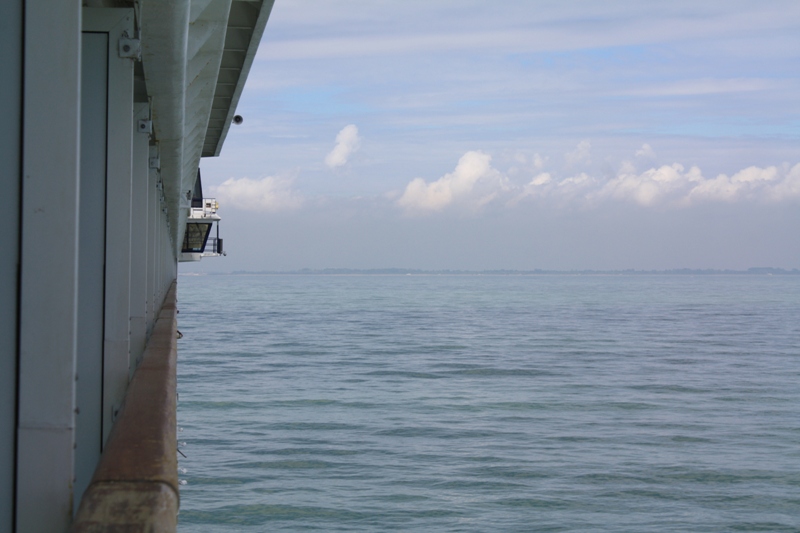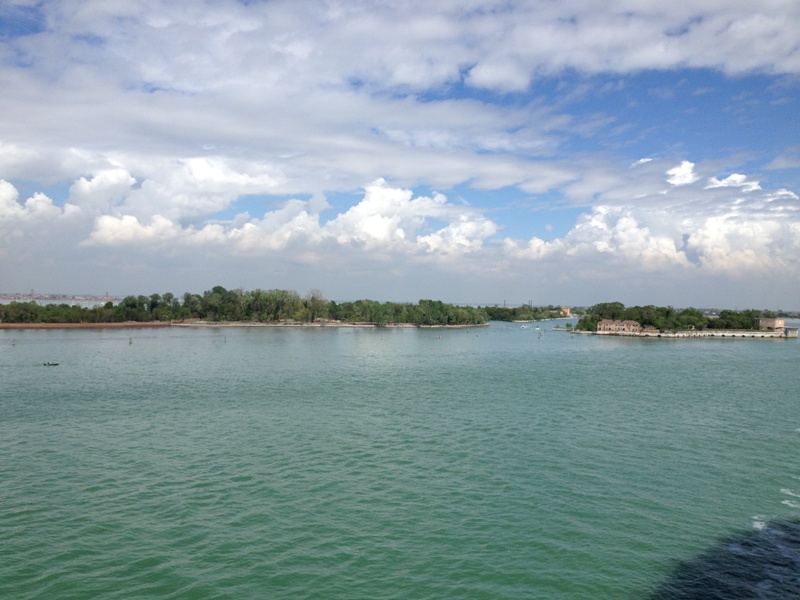 The whole approach takes about an hour and there's nothing quite like it. It was breathtaking! Even for Mr. BFT who had visited Venice before, seeing it in this way was all new to him. We took hundreds of photos before we even docked!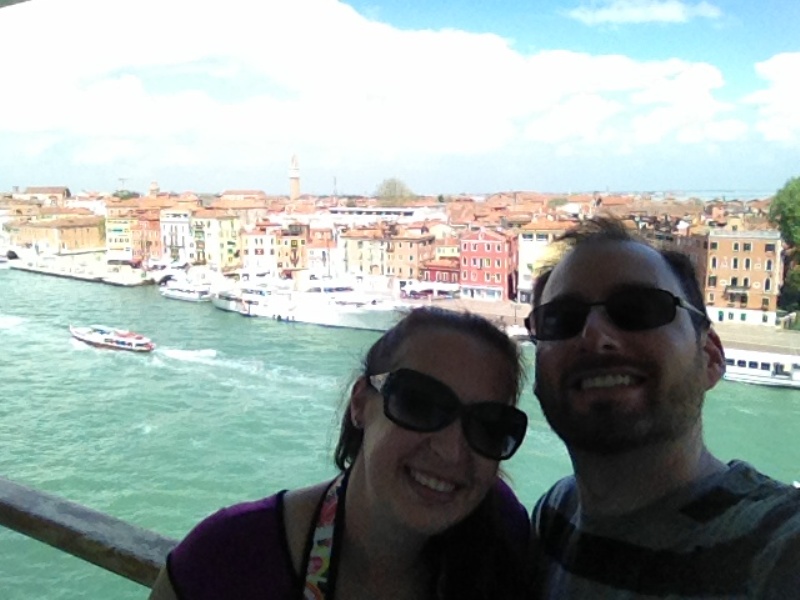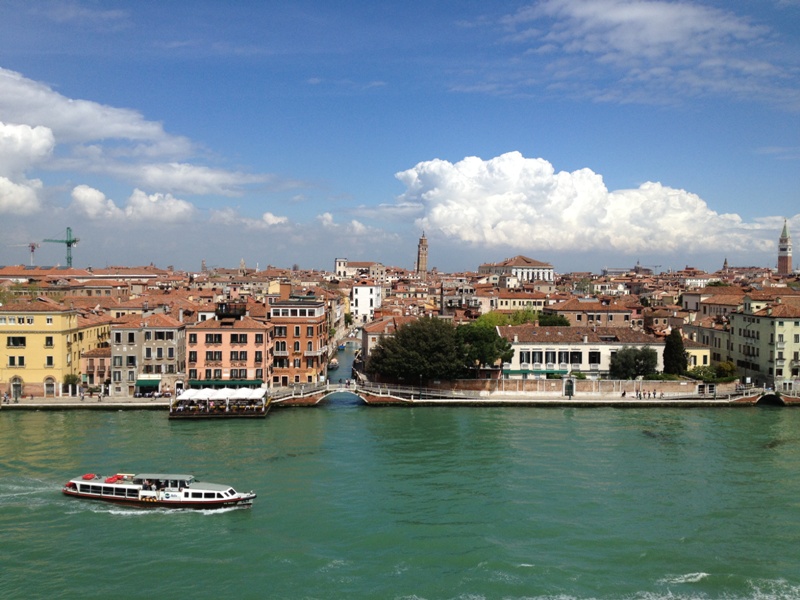 This is St. Mark's Square, the main tourist hub and the busiest part of Venice.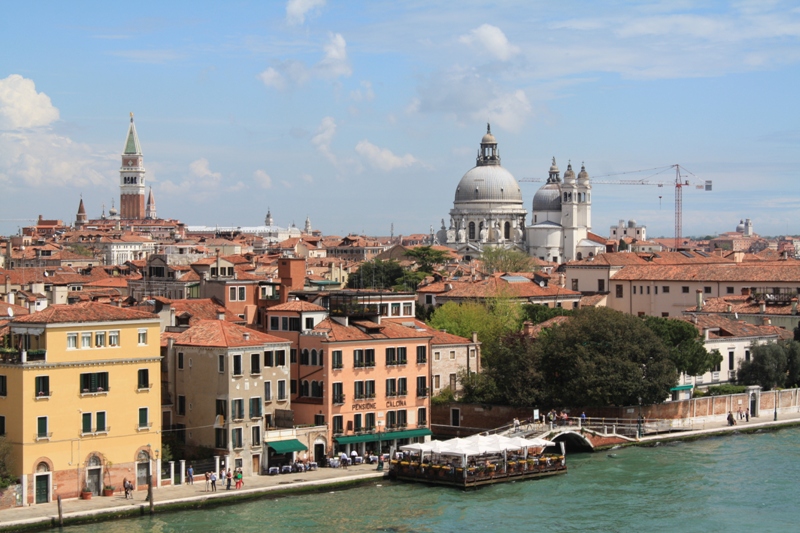 We were laughing because EVERYONE was out on their balconies! We even spotted Mark and Kent waving at us from a few cabins down!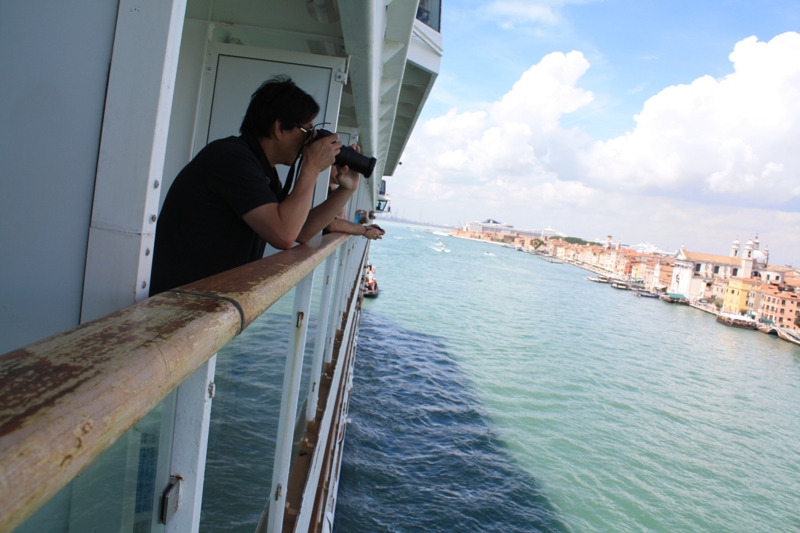 Finally we were approaching our dock. I was itching to get off the ship but we knew it would take a while for the ship to settle and clear customs so we had another glass of wine and reviewed our maps before packing our day bags. I may have gone back and looked at all the pictures I just took a few times. Sigh.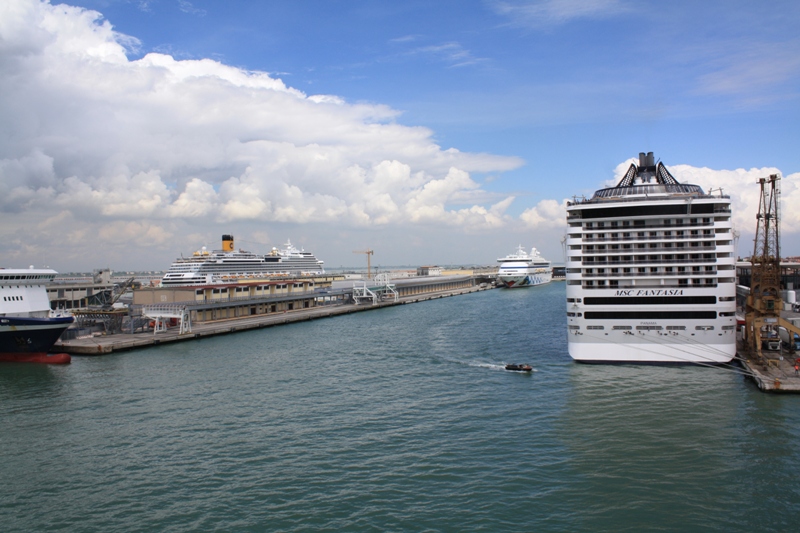 The next chapter will be our first day in Venice, and our last evening on the ship! SADNESS.
Past Honeymoon Posts:
Chapter 1 – All Aboard the Norwegian Spirit!
Chapter 2 – Barcelona, Spain
Chapter 3 – Toulon and Bandol, France
Chapter 4 – Florence, ItalyChapter 5 – Rome, ItalyChapter 6 – Naples, Italy
Chapter 7 – Sea Day 1
Chapter 8 – Mykonos, Greece
Chapter 9 – Chef's Table on the Norwegian Spirit
Chapter 10 – Istanbul, Turkey
Chapter 11 – Izmir and Ephesus, Turkey
Chapter 12 – Athens, Greece
Chapter 13 – Sea Day 2