Big news from Disney Parks!
We are getting a first look at the new Disney Genie system and the perks it will provide to Disneyland and Walt Disney World guests. Among the many features is the new "paid FASTPASS" system we have been anticipating since the Parks reopened after the coronavirus closure without the popular FASTPASS and MaxPass at Disneyland, and FastPass+ at Walt Disney World.
We now know the new system is called Disney Genie+ and will give guests the option to pay an extra fee for the opportunity to skip an attraction's standby line and use the "Lightning Lane" for a shorter wait time.
Disney Genie and Genie+ launched at Disneyland on December 8, 2021.
Let's unpack everything we know about this service so far! Since my website focuses on the Disneyland Resort in California, I am going to share information for Disneyland only.
Interested in Genie+ for Walt Disney World? Check out: Best Genie+ Choices at Walt Disney World from my friends at WDW Prep School.
***
Disney Genie and Genie Plus at Disneyland – FastPass Replacement
What is Disney Genie?
Disney Genie is a new feature within the Disneyland app that uses AI (artificial intelligence) to plan your visit.
Prior to your trip to Disneyland, you can open the Disneyland app and use Disney Genie to select your attraction, dining, and entertainment priorities.
While you're at Disneyland, you can take a look at the Disney Genie itinerary for suggestions. Disney Genie will recommend the best times to go on attractions and remind you of dining reservations and entertainment you don't want to miss.
Disney Genie is a free planning service and available for any and all Guests to use, as long as you have the Disneyland app.
What is Disney Genie+?
Disney Genie+ is an optional paid add-on to Disney Genie, that helps Guests skip the stand-by line and maximize their time in the parks.
In short, Genie+ is very similar to the former MaxPass, so if you used MaxPass in the past you're not going to have a big learning curve with Genie+.
With Genie+, guests have the option to pay an additional $25+ per guest, per day, for the ability to request a "reservation" for select attractions. If you purchase Genie+ ahead of your visit, the cost is $25. If you purchase Genie+ on the day of your visit, the price will vary (but it will never be less than $25).
When your assigned time window comes up, return to the attraction and you will wait in a shorter "Lightning Lane" queue.
As with MaxPass, guests will be able to request one Lightning Lane reservation at a time, and will be able to request another after using their current Lightning Lane reservation or having the window of time pass, or after two hours has passed since selecting your previous pass.
With Genie+, there is no limit to how many Lightning Lane reservations you can request in one day, however, guests cannot pull two Lightning Lane reservations for the same attraction in one day. That means if you select a Lightning Lane reservation for Matterhorn, you cannot select another Lightning Lane reservation for Matterhorn that day.
Some of the more popular attractions such as Star Wars: Rise of the Resistance will not be included in Genie+. Instead, an Individual Lightning Lane reservation for these attractions will be "a la carte," priced between $7 to $25 per guest per attraction, with the fee fluctuating depending on factors such as time of day, time of year, and how busy the parks are that day.
Guests will be able to request two of these Individual Lightning Lane reservations per day.
Genie+ and the Individual Lightning Lane reservations are mutually exclusive of each other. You may choose to purchase and use Genie+, or you can purchase one or two of the Individual Lightning Lane passes, or you can do both.
What is Lightning Lane?
Lightning Lane is the new name for the old FastPass lines. Same physical queue, different name.
Free FASTPASS is Being Retired
MaxPass was introduced in 2017 to give guests an easier way to access FASTPASS via the Disneyland app for an additional fee. However, guests could still use the FASTPASS kiosks to select a FASTPASS return time for free.
With the introduction of Disney Genie+, free FASTPASS will not be offered anymore. The only way to utilize the FASTPASS queues – now known as Lightning Lanes – will be to use the paid Genie+ system.
With the exception of attractions that use a virtual queue, all attractions will continue to have a stand-by line for guests who do not want to pay for the Genie+ system.
Other Genie+ Perks
As with the old MaxPass, Disneyland guests will get unlimited PhotoPass downloads for the day with their Genie+ upgrade.
How will Genie+ Affect DAS (Disability Access Service)?
The new Genie+ system and Lightning Lanes should have no effect on DAS. You can read the most up-to-date information about DAS on Disneyland's website.
What Attractions Are Included with Genie+?
Here are the Disneyland Resort attractions included with Genie+:
Disneyland
Autopia
Big Thunder Mountain Railroad
Buzz Lightyear Astro Blasters
Haunted Mansion
Indiana Jones Adventure
"it's a small world"
Matterhorn Bobsleds
Millennium Falcon: Smugglers Run
Roger Rabbit's Car Toon Spin
Space Mountain
Splash Mountain
Star Tours – The Adventures Continue
Disney California Adventure
Goofy's Sky School
Grizzly River Run
Guardians of the Galaxy – Mission: BREAKOUT!
Incredicoaster
Monsters, Inc. Mike & Sulley to the Rescue!
Soarin' Around the World
Toy Story Midway Mania
WEB SLINGERS: A Spider-Man Adventure
The following attractions will not be included with Genie+ and instead will have their own Individual Lightning Lane fee:
Disneyland Park
Star Wars: Rise of the Resistance
Mickey and Minnie's Runaway Railway
Disney California Adventure Park
How to Use Genie+
I tested Genie+ for myself and want to share some screenshots and best practices with you.
How to Purchase Genie+
If you're purchasing park tickets and you know you will also want Genie+, the most economical decision is to purchase Genie+ with your tickets.
If you are purchasing Genie+ the day of your visit, the easiest way to purchase Genie+ is to scroll down on the Disneyland app home page until you see the option for Genie+. Select it, and it will prompt you to make the purchase. You can either use your credit card on file in your app or Apple Pay.
To purchase, follow the prompts and select your party members. Make sure only the members in your party who want Genie+ that day are selected.
How to Make Genie+ Selections
Once the purchase is confirmed, the app will take you back to your Genie+ Tip Board.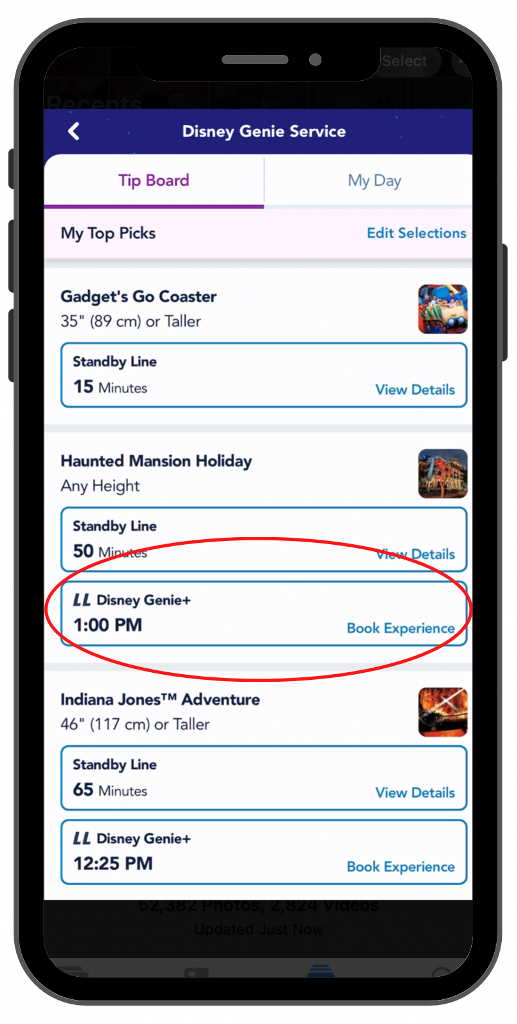 From the Tip Board, you can scroll through the list of attractions and select the one for which you want a Lightning Lane pass.
Tip: If you set up priority attractions in Disney Genie, the app will list those attractions at the top.
Alternatively, you can look at the map and navigate to the attraction you want to ride. Tap on it, and then tap on the "LL" Lightning Lane logo. The app will refresh to the Disney Genie interface where you can select your Lightning Lane return pass.
The Lightning Lane pass will give you a one hour window of time to return to the attraction. Your return time will depend on how popular that attraction is. It may be immediate or it may be a few hours later.
Redeeming Your Lightning Lane Pass
When your Lightning Lane window of time arrives, make your way to the front of the attraction and look for the "Lightning Lane" sign, which indicates the queue to enter.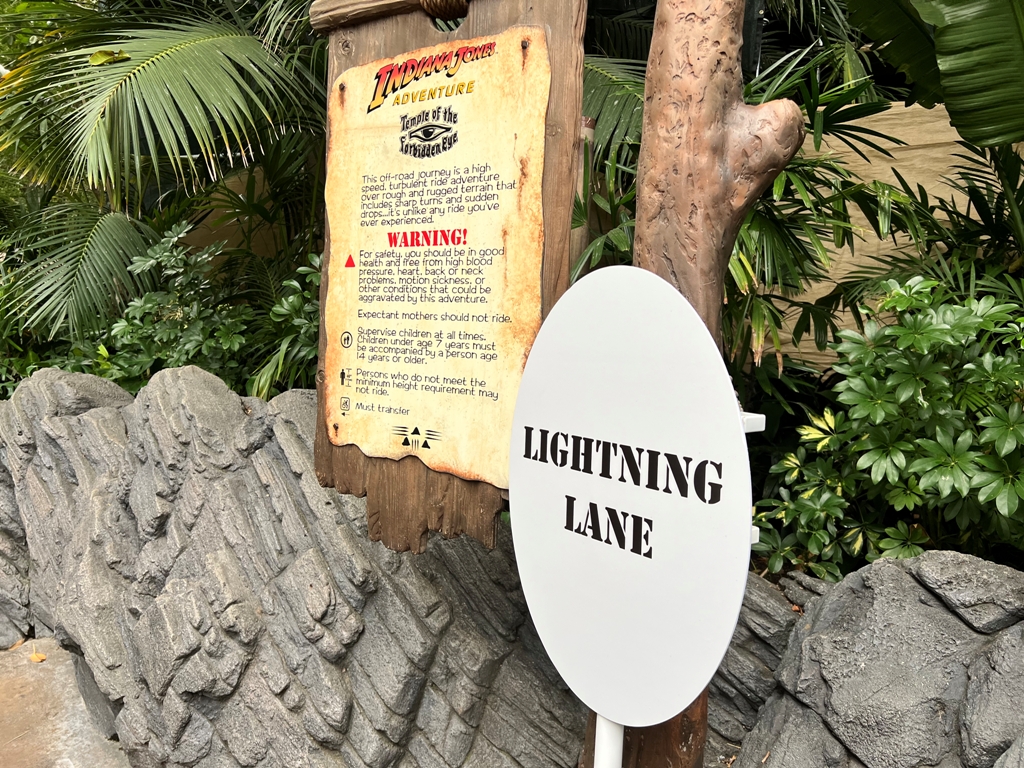 If you are confused on where to go, ask the Cast Member at the attraction entrance.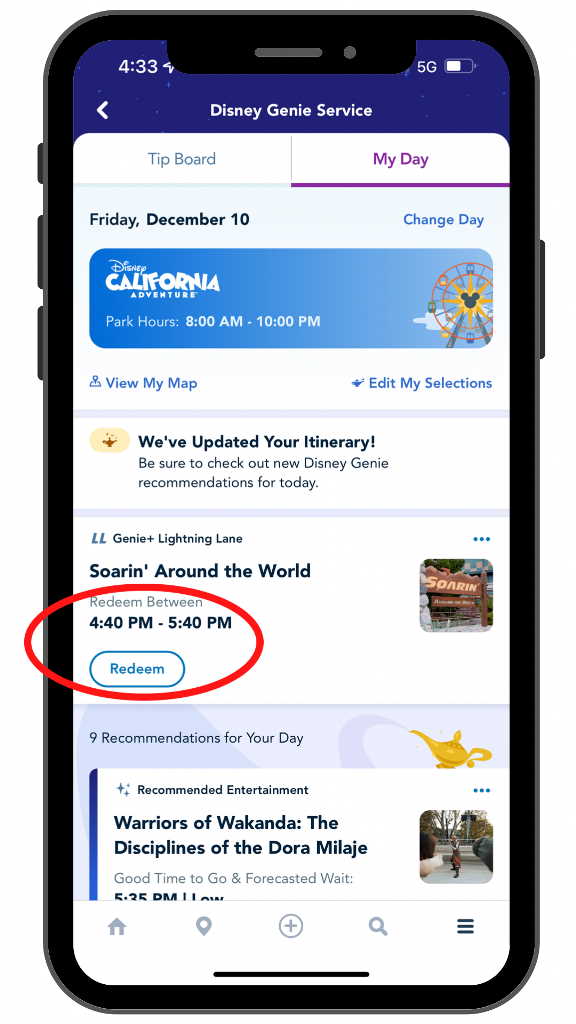 To enter the Lightning Lane queue, you will need to scan your Lightning Lane pass. In the app, go to the Disney Genie "My Day" screen, and at the top you should see your Genie+ Lightning Lane pass and a button that reads "Redeem." Tap on that and your Lightning Lane pass will come up. It will show a barcode. The Cast Member at the entrance to the attraction will instruct you on how to scan your pass. If the pass is valid, the machine will light up green.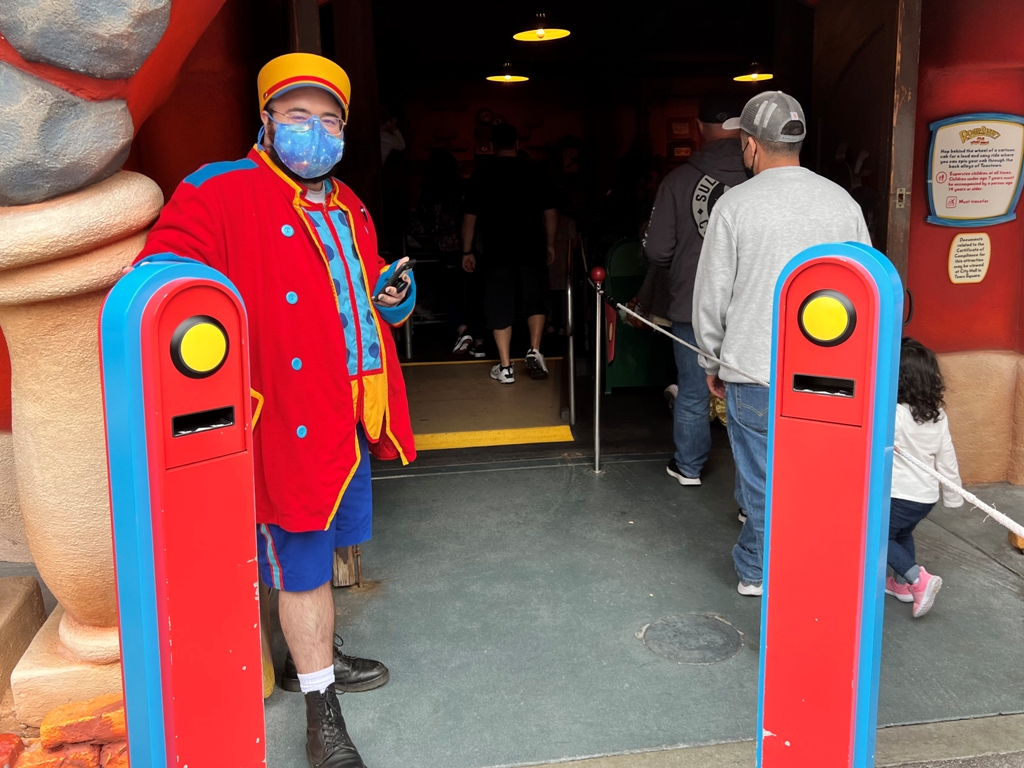 Yay! That means you may proceed through the queue. If something goes wrong, a Cast Member will assist you.
Once your Lightning Lane pass is scanned, don't forget to select your next one!
Genie Plus FAQ
I realize some aspects of the new Disney Genie+ service are confusing, so I created this Frequently Asked Questions section to help break it down.
What is Genie+ and how does it work?
Genie+ is the replacement for the old FASTPASS and MaxPass systems, which have been retired. Genie+ will be part of a new service called Disney Genie, which will be housed inside the Disneyland app. Disney Genie is a free offering that will help guests make the most out of their visit to the parks. Genie+ is an optional paid add-on to the Disney Genie technology.
How much does Genie+ cost?
If you purchase Genie+ ahead of your Disneyland visit, it costs $25 per person per day. If you purchase Genie+ on the day of your visit, the price will vary. It is recommended to purchase your Genie+ passes ahead of time so you get the best price. Guests under 3 years who don't need a ticket do not need to have Genie+.
Is there an annual add-on for Magic Key passholders?
There is no Genie+ add-on, but Magic Key passholders do get a 20% off discount.
Is free FASTPASS still available?
No, the free version of FASTPASS has been retired. The only way to get access to a shorter queue is to purchase Genie+.
Will Disney Genie be a separate app?
No, Disney Genie will be housed within the Disneyland app and the My Disney Experience app for Walt Disney World.
After purchasing Genie+, do you then have to purchase a pass for each attraction?
Nope! Paying for Genie+ gives you access to most attractions that utilize the Lightning Lane. Only a small amount of high demand attractions will require their own Lightning Lane fee, separate from Genie+.
What are Lightning Lanes?
Lightning Lane is the new name for the former FASTPASS queue.
How will guests purchase Genie+?
Guests will be able to purchase Genie+ as an add-on when buying tickets. Otherwise guests who already have tickets can purchase the Genie+ add-on the day of their park visit, after scanning into the park. Magic Key pass holders will be able to purchase Genie+ the day of their park visit with a 20% discount. Guests can make the purchase right in the Disneyland app.
Does everyone in your party need to purchase their own Genie+?
Yes, if they want to use the benefits of Genie+, everyone needs to purchase their own upgrade. If all of the Guests in your party are linked, then one person may purchase Genie+ for the entire party in one transaction.
Will Lightning Lane passes "sell out?"
Just like the old FASTPASS system, the Lightning Lane passes only work if Disney offers a limited number of them every hour. Therefore, yes, Lightning Lane availability can potentially fill up quickly.
As far as the individual paid Lightning Lane attractions, the demand may vary depending on how busy it is that day. It's possible a popular attraction like Star Wars: Rise of the Resistance will have all of its available paid Lightning Lane passes snatched up right at park opening on a peak day.
Can you modify your Lightning Lane selections?
Yes! If you decide to you want to swap a current Lightning Lane reservation for something else, pull up the Disneyland app and go to the "My Day" section. Tap on the LL reservation you want to swap out and then select "modify." From there you can choose from available Lightning Lane reservations.
Note you can only modify for another attraction in your current park. For example, if you have a LL reservation for Haunted Mansion and you want to swap it for another attraction, you can select from available LL reservations for Disneyland Park only.
Modifying selections does not apply to paid Individual Lightning Lane reservations.
***
I hope this guide helps you with understanding the new Disney Genie+ service at Disneyland! For more information about planning a trip to the Disneyland Resort in California, please visit my
Disneyland guide
.