There's nothing quite like a tropical vacation! Last month, my husband and I visited Jamaica for the first time. I love any tropical vacation spots and Jamaica has long been on our list of places to visit.
We were celebrating a milestone birthday for my mother-in-law, so it was a family vacation – six adults and two kids. Therefore, we chose a Beaches resort since we know their resorts are kid friendly and we all love that they are all-inclusive so you don't have to worry about carrying around your credit card! Everything you need – including all food and alcohol – is included in the price!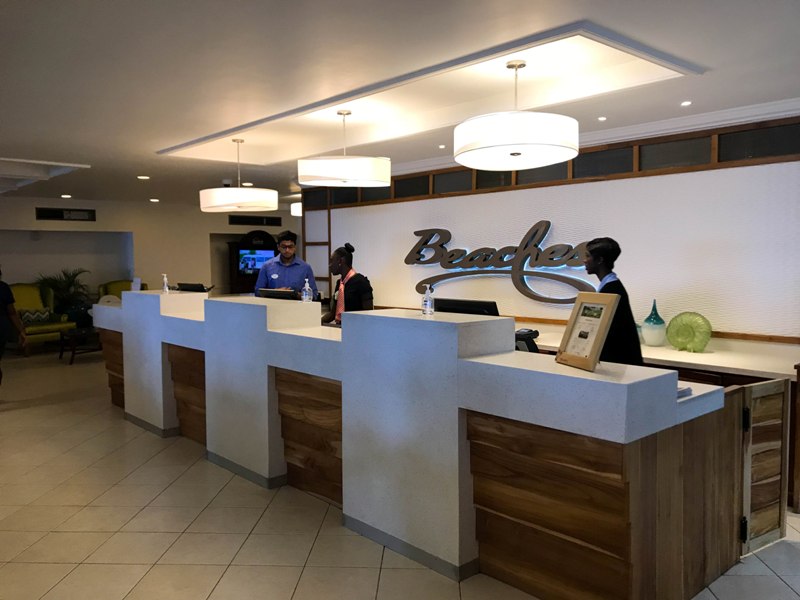 Truth be told, if it were just my husband and I we probably would have chosen Sandals, which are the couples-only resorts under the same umbrella as Beaches. But we were thrilled to spend time with our nieces who we don't get to see too often since we live on opposite sides of the country, so we were very happy to go to Beaches! However, since this was going to be our one big vacation for the year, my husband and I decided to arrive a couple days before the rest of our family so we could have a little bit of alone time.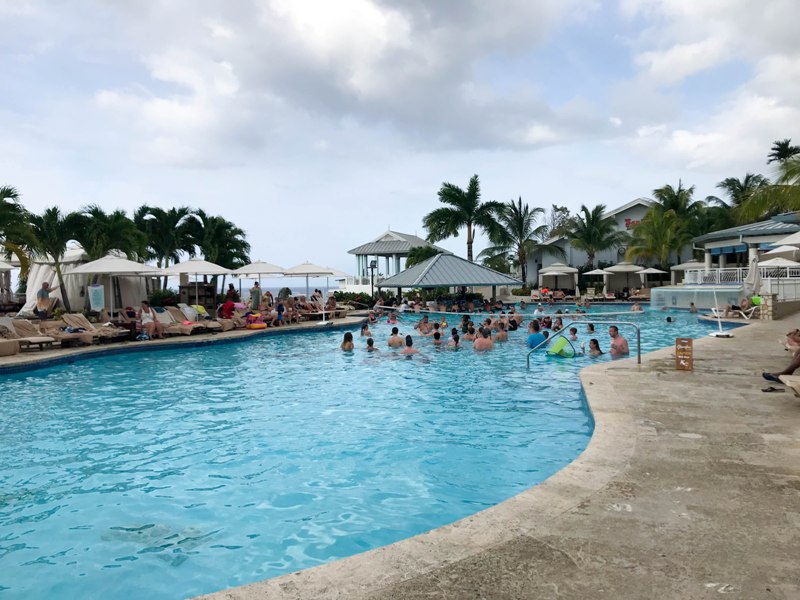 My sister-in-law picked Beaches Ocho Rios in Jamaica because they have a huge water park area that looked like a lot of fun for both kids and adults! This turned out to be a great resort with a lot of amenities for kids and adults, and we were all very happy with this choice.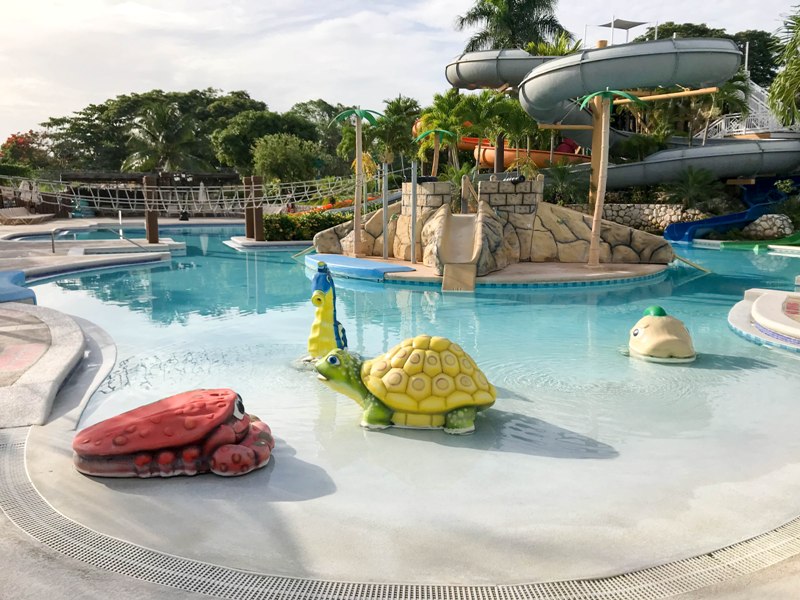 If you're planning a couples trip to Beaches Ocho Rios, either because you're traveling with extended family or you're attending a wedding or maybe you have some time to yourself while the kids are at the kids club, I have some tips to add some romance to your vacation at this family-friendly resort!
8 Ideas for a Romantic Vacation at Jamaica Beaches Ocho Rios
1. Choose your room type wisely!
There are three buildings for hotel rooms at
Beaches Ocho Rios
– the Caribbean building, the Greek Village, and the French Village. The Caribbean building is the main building, with the most rooms. It is close to the main buffet and casual restaurants and pools but is furthest from the beach. The Greek Village overlooks the ocean, and every room has prime ocean views. But it's a bit of a walk to the main restaurant and pools. The French Village is a small building on the west side of the resort, close to the ocean. It is very separated from the rest of the resort, but is close to the upscale restaurants, spa, piano bar, and quiet pool.
You also need to be aware of the various room types. There are standard rooms, honeymoon rooms, and concierge rooms. The standard rooms are just that – standard, with no extra amenities. Honeymoon rooms are designated as rooms that are good for couples. We were told these rooms are in quieter locations than the other rooms.
There are also concierge rooms, which cost a little more but you have the convenience of concierge service, who can make restaurant reservations for you or can bring you a new bottle of champagne when you discover your bottle is empty.
We spent some sleepless nights trying to decide between the Greek Village and the French Village, and ended up choosing a Greek Honeymoon Beachfront Concierge Terrace Suite. This proved to be a great decision and we LOVED our room! Once we were there in person, we determined the French Village was a little dark and isolated, plus it seemed to be very noisy from the restaurants there, and too far removed from the rest of the resort.
Our Greek Village room ended up being on the second floor (out of three), with a wonderful ocean view and just steps away from the beach and the Opa Bar which was open at night. We never heard any noise from neighbors in our room. We were worried about our terrace being connected to a walkway, but we had very little foot traffic. The only downside is that the only window looks out to that terrace and walkway so if you want privacy in the room you have to close the curtains, which is a bit of a bummer.
The room itself was perfect for us. More than enough closet and storage space for two people. The king bed was comfortable. (Side note – the pillows on the bed are down, but there are non-feather pillows in the closet.) The bathroom looked recently renovated and was spacious, with plenty of shelf space. Our terrace had a table with four chairs and one lounger. We thought we might fight over the lounger but it always worked out.
Video tour of the room: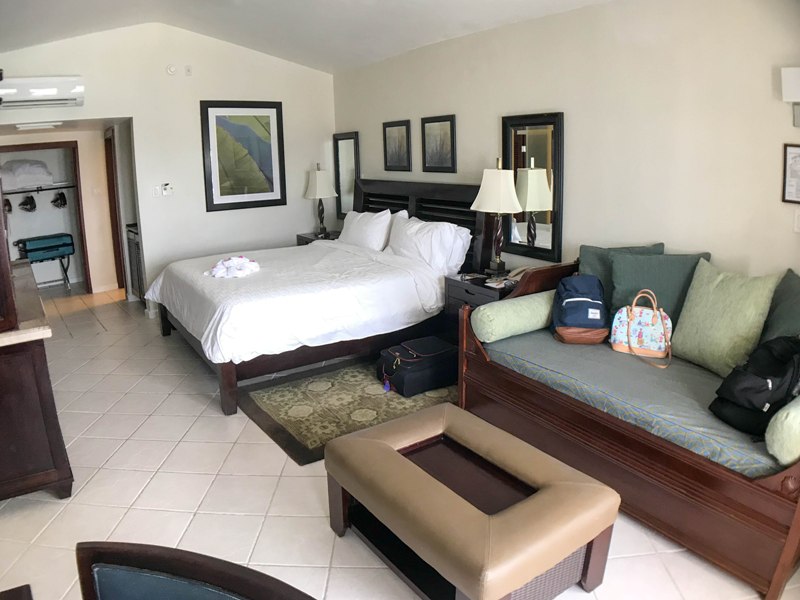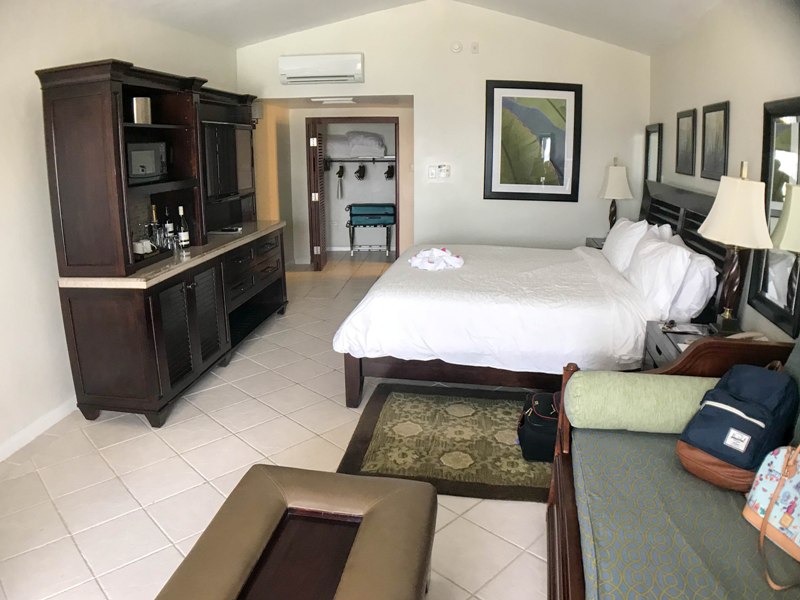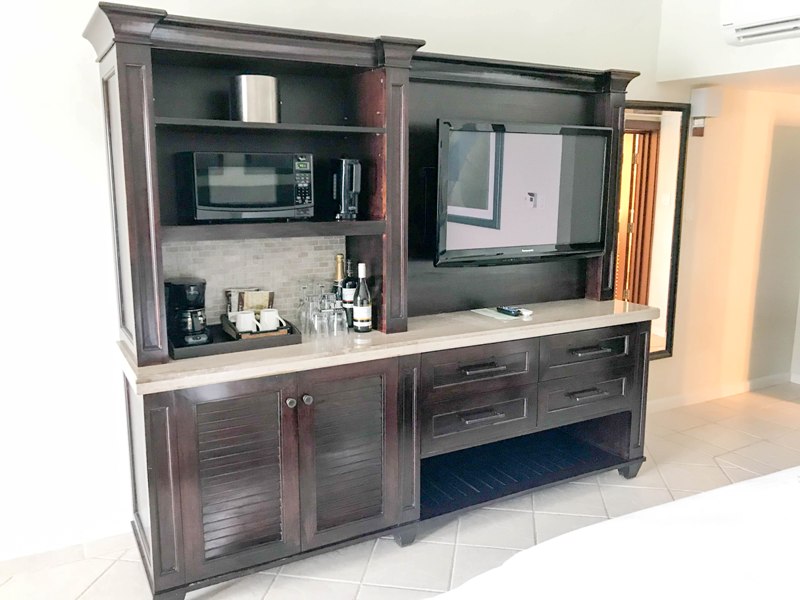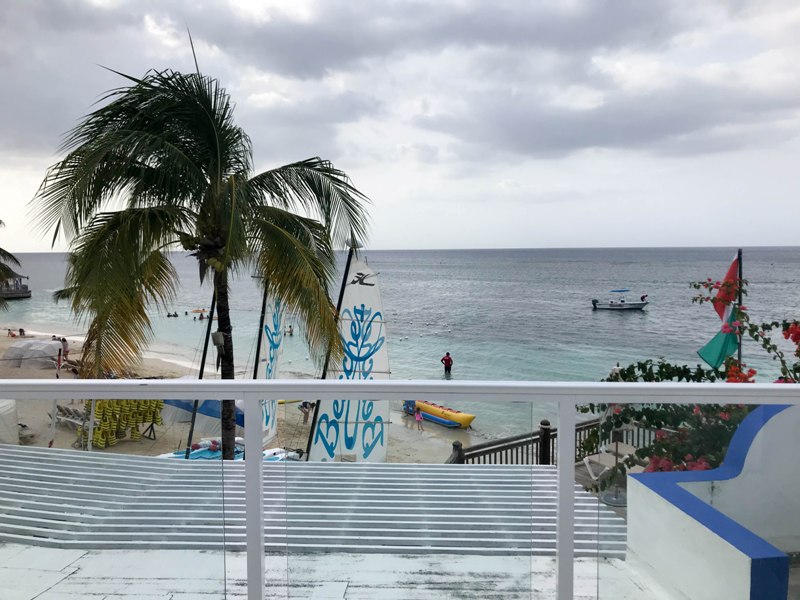 2. Scope out the quiet beach. Most guests don't know this, but aside from the main beach there's a "small" beach on the east side of the long dock. You have to walk through a hallway adjacent to the water activities window to access it. It's very small and private, and I'm willing to bet most of the guests never even know this beach is available.
The beach does have a few downsides – there is only one umbrella (aside from renting a private cabana), and it's a little far from the bar. Otherwise we loved this little quiet beach. You can see it on the right side of this photo below (where the little light blue building is).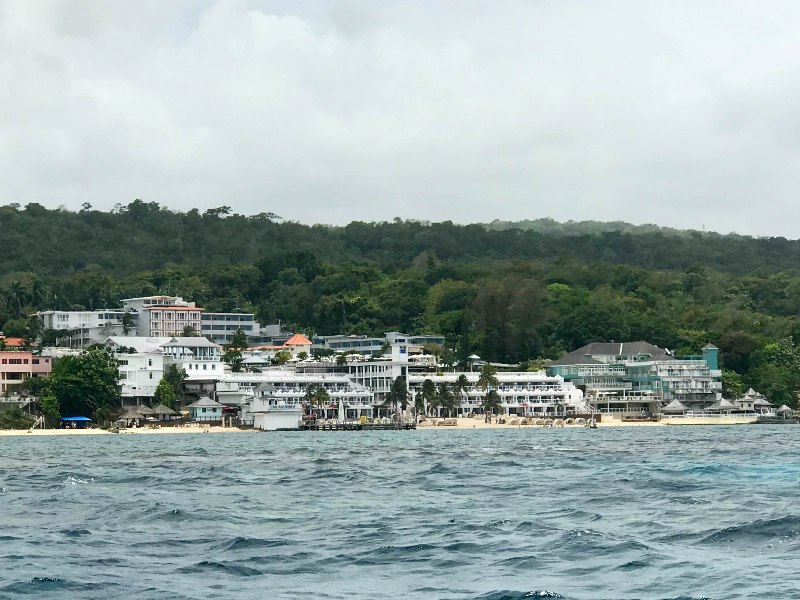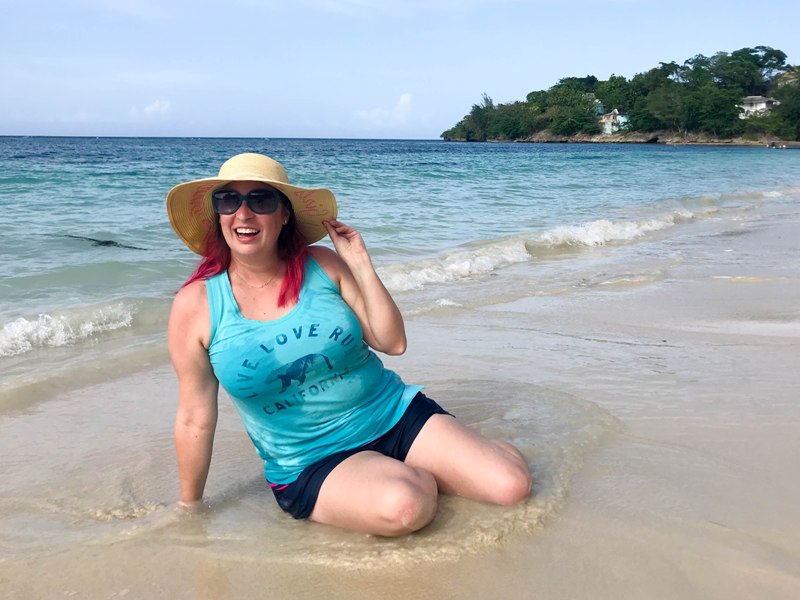 3. Skip the buffet and go to a sit-down restaurant. We loved the buffet and the quick-serve pizza while we were by the pool, but it was great to dress up (just a bit) and have dinner at a nice sit down restaurant while the sun was setting. My favorite was Neptune's, which is in the French Village and right on the beach. Great food, great view, great servers. You can see the location for Neptune's and its private dock in the below photo.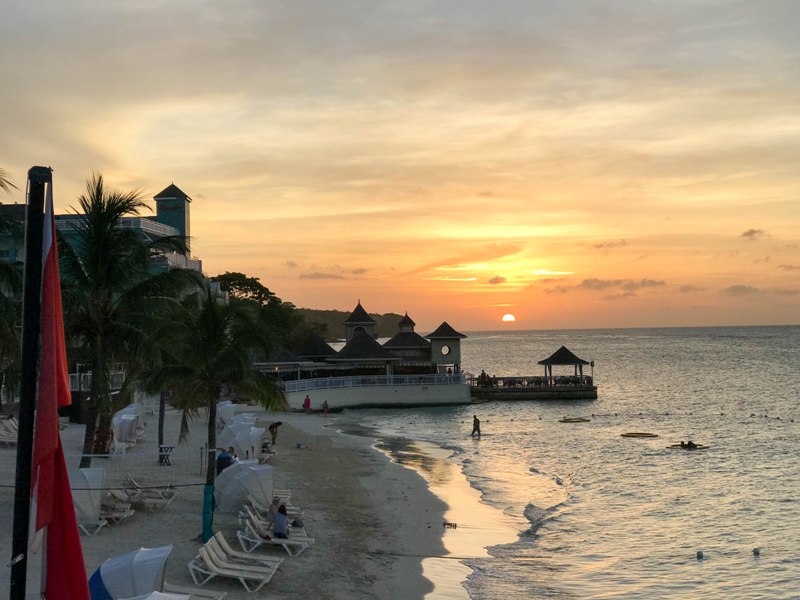 4. Or, treat yourself to a private dinner. Beaches Ocho Rios offers a private dinner experience for an extra cost. Your private dinner can be at one of several locations, including on the beach or at the end of their dock. During our week-long stay, we noticed lots of private dinners happening all over the resort, right around sunset. At the time of our trip, it cost $200 for our two person meal, which included four courses, a bottle of champagne, and a bottle of wine.
We chose our private dinner on the dock, which ended up being a great choice. However, later in the week we saw a couple having a private dinner on the "small" beach on the east side of the resort, and we got a little jealous, haha. We didn't realize that beach was an option and we totally would have requested that spot, had we known. Still, we really enjoyed our private dinner on the dock.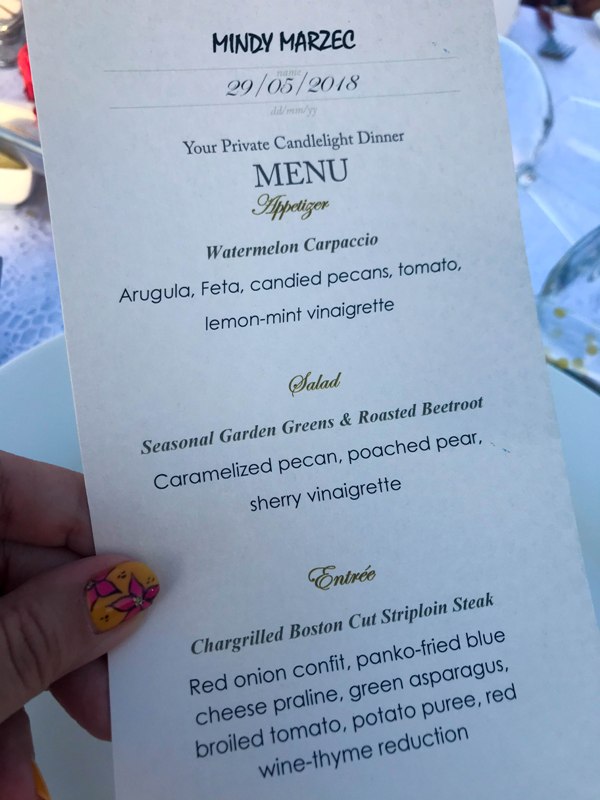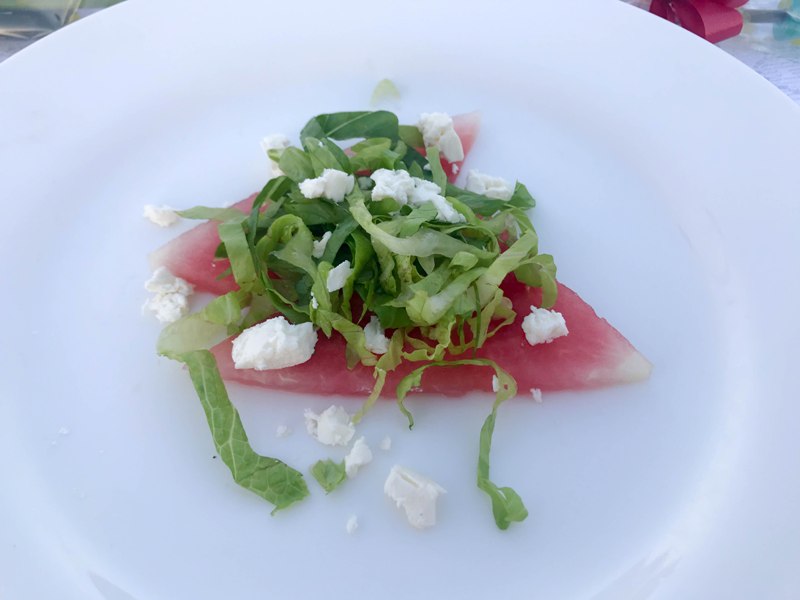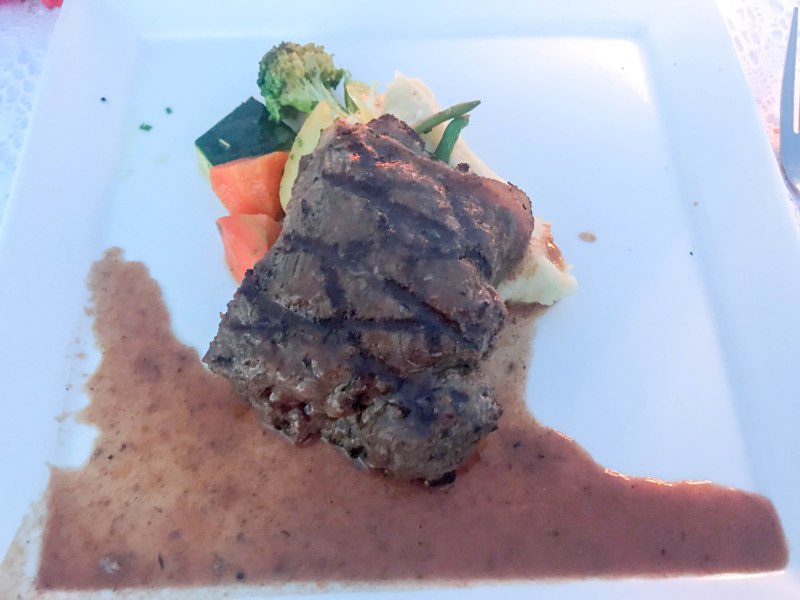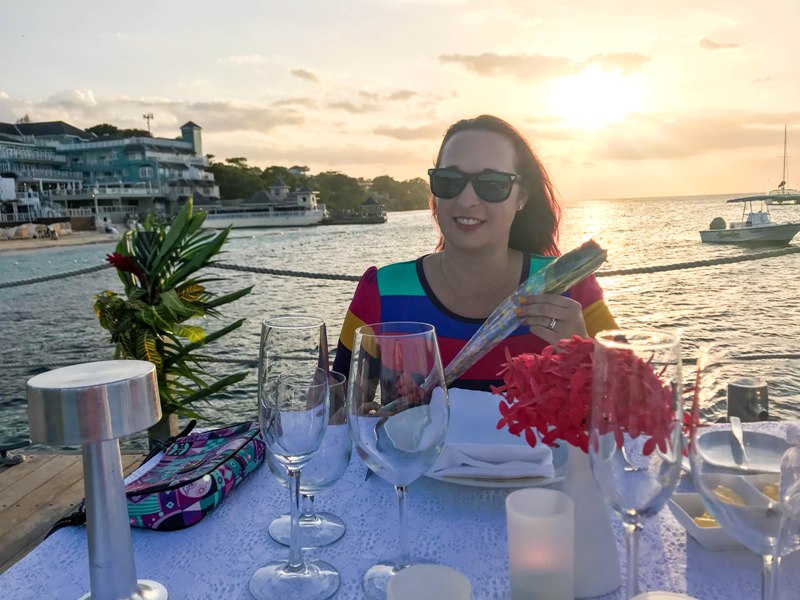 5. Take a boat ride! There are several water activities included with your stay, including a glass-bottom boat, snorkeling, and banana boats. You can also go out on a small catamaran with a guide, which seems like a fun way to get away from the bustle of the resort.
6. Belly up to the pool bar. Oh goodness, how I love a pool bar! When the sun is blazing hot it feels so good to get into the water, sit at a bar stool, and order a cool drink. I swear I spent half my vacation at that pool bar.
The bartenders are friendly and chances are you'll get to chatting with other couples who are escaping the heat as well. Pro tip: There seemed to always be loungers available near the hot tub near the pool bar. Turn the loungers around for a great view of the ocean!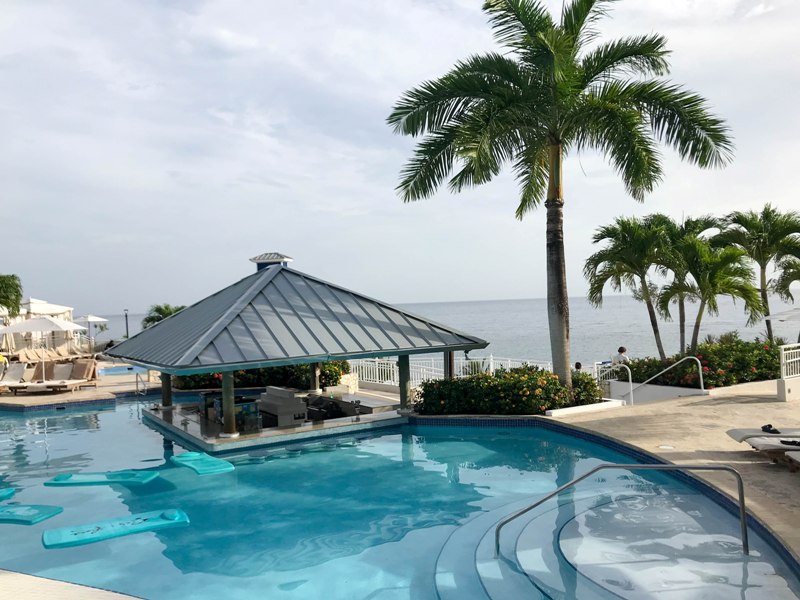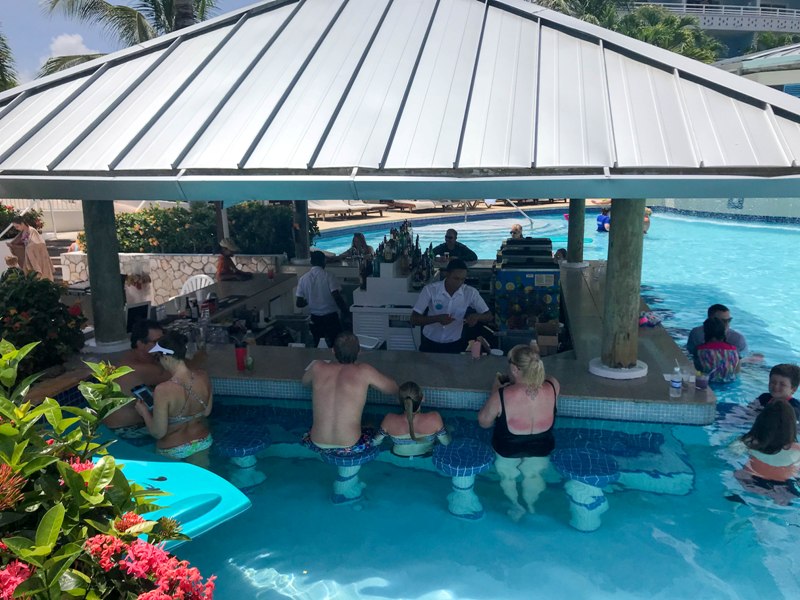 7. Book a relaxing spa treatment. Beaches Ocho Rios has a full spa on property offering massages, facials, and other pampering services. You can also book couple's services. We browsed the spa book in our room and the prices seemed really reasonable, but we just couldn't fit a spa day into our busy schedule with the family! This is definitely a great option for couples, though.
8. End the night at the disco or piano bar. To be honest … my husband and I never made it out to any of the night "clubs." We were perfectly content with sitting on our terrace, enjoying drinks from the Opa bar, and chatting with our family. And petting the occasional cat (the Greek Village had plenty of them!). But know there are a couple fun nighttime options available.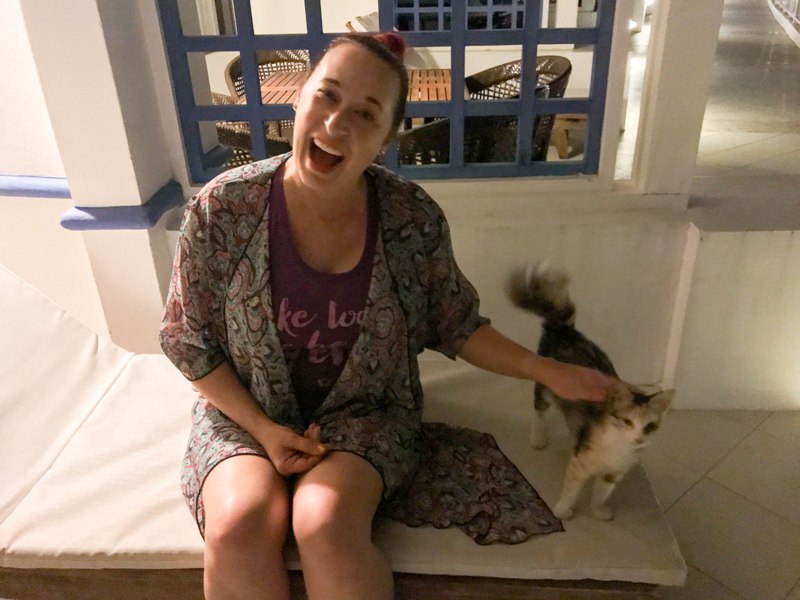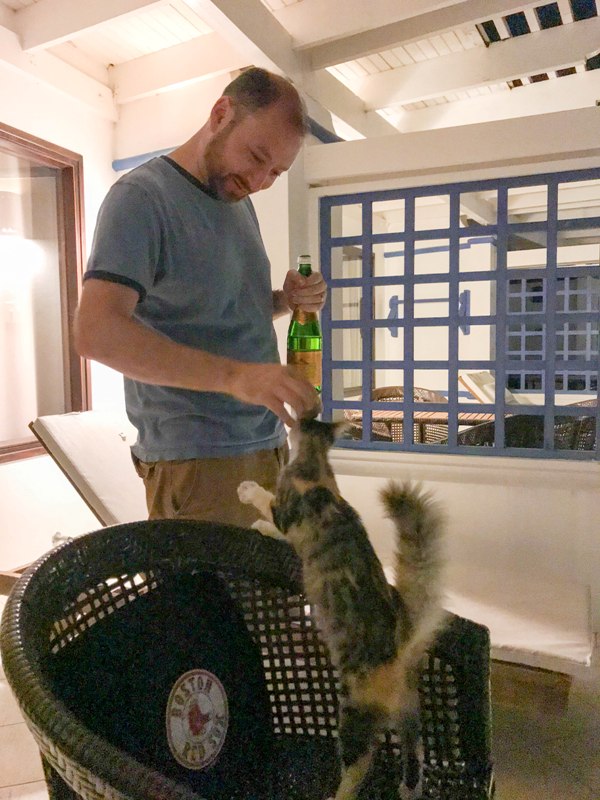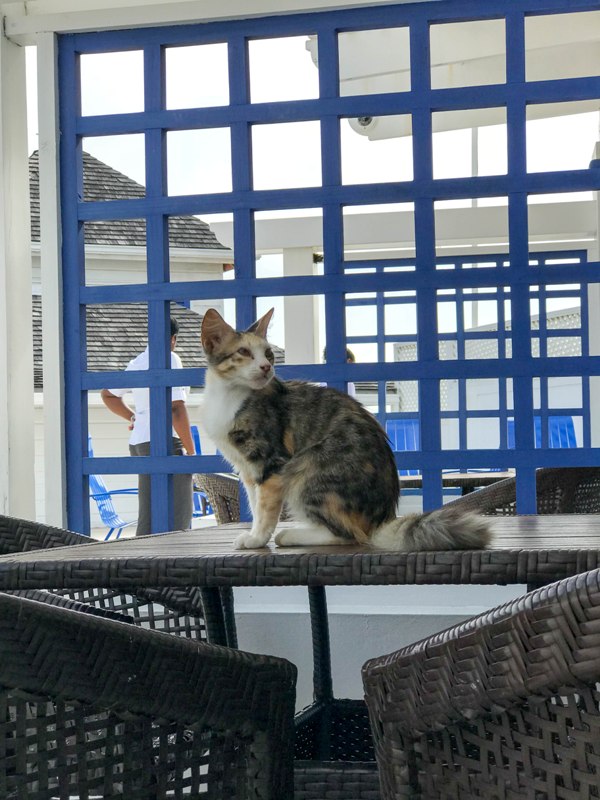 We had the best time at Beaches Ocho Rios and wouldn't hesitate to take another Sandals/Beaches vacation! Aside from the gorgeous location, we really enjoyed the friendly staff, clean rooms and grounds, and great food. We loved everything about it!
One final note, and I hate to even bring this up because it has nothing to do with the resort, but I feel like I should give a word of caution. I am not used to being so close to the equator and the Jamaica sun burns a lot brighter than the California sun. On my third day I apparently spent too much time out in the sun and developed a terrible sunburn on my legs, which caused me to become physically ill for a full 48 hours. It felt like I had the stomach flu, and it took a lot of searching on Dr. Google to discover I likely had "sun poisoning." I didn't even know this was a possibility and it was AWFUL. I was stuck in my room for two full days, and then I could only eat a mild diet the rest of my trip. Here's some advice if someone thinks they may have sun poisoning (given to me by the resort nurse): 1) Cool down your skin by taking cold baths or putting cold towels against the affected area. Showers aren't as effective because the pressure may irritate your skin. 2) Take Benadryl to calm the reaction. 3) Take Pepto to help soothe your stomach. 4) Drink Gatorade to stay hydrated (our resort gym had a cooler of Gatorade). 5) When you're ready, try mild foods like watermelon or crackers. It took a full 48 hours to work through my system and then I was back to normal. DON'T BE LIKE ME. Be sure to reapply sunscreen every 2 hours, even if you don't go in the water. #themoreyouknow