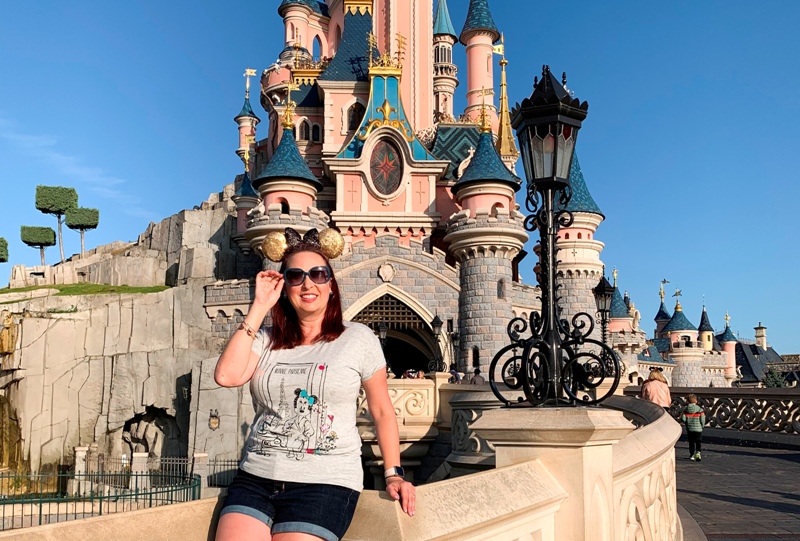 As a huge Disneyland fan living in California, it has always been my dream to visit every Disney Park in the world. I first visited Walt Disney World in 2015, and now I have checked my first international park off the list with a visit to Disneyland Paris!
I love participating in RunDisney events, and have dreamed of completing the Disneyland Paris half marathon since the inaugural race back in 2016. Since I was turning 40 this year, and my birthday was the same month as race weekend, I decided this would be the year I would GO FOR IT! There's no better excuse to visit Paris than a milestone birthday, right?
But, man … I was so intimidated when it came to planning this trip. I can plan a Disneyland or Walt Disney World trip with my eyes closed. But reading through the Disneyland Paris website was like reading a foreign language. Literally.
The beginning of our planning was a little rocky. You can read all about that here: Avoid These 5 Mistakes When Planning Your Disneyland Paris Trip.
But long story short – If at all possible, hire an experienced travel agent to help you plan your trip to Disneyland Paris. It won't cost you anything extra, and in fact it will probably save you money since they know all the booking tricks. I certainly leaned on advice from my friends who had been to Disneyland Paris before, but I ignored all the advice about using a travel agent because I'm stubborn.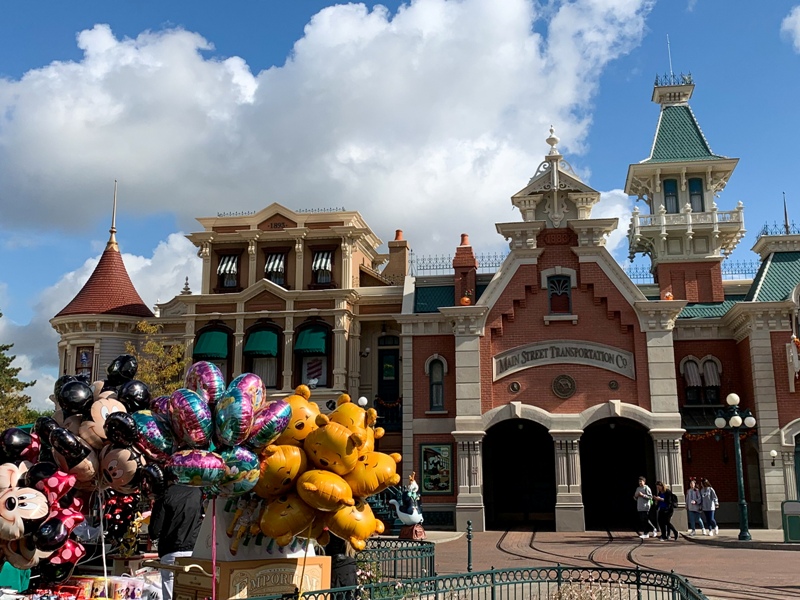 Once our plans were settled I became really excited to explore a new Disney Park. Nothing beats walking into a new Disney Park and turning the corner and seeing the castle at the end of Main Street. Am I right??
After I returned from Disneyland Paris, my friends and followers on social media had a lot of questions about planning a trip. Those questions inspired this guide. While I cover the basics here to get you started, I highly recommend reading The Independent Guide to Disneyland Paris, available on Amazon. I honestly wish I had purchased this book and read it cover-to-cover about six months before our vacation, so I could have been better prepared with planning our trip.
Visiting Paris, France with kids? Get the best hotel recommendations here!
If you're just starting with planning a trip to Disneyland Paris, I hope this guide helps you! And feel free to ask me any questions in the comments. I'm sure there is some stuff I'm forgetting to mention and I'm very happy to update this guide as new questions come up!
Guide to Disneyland Paris: Everything You Need to Know Before Your Visit!
What is Disneyland Paris?
Disneyland Paris is a Disney theme park located about 20 miles east of Paris, France in the city of Marne-la-Vallée. The park originally opened as EuroDisney in 1992 with the name change happening in 1994.
The Resort consists of two theme parks: Disneyland and Walt Disney Studios. There is also a dining and shopping district called Disney Village. There are seven Disney-operated hotels at the Resort.
How to Get There
Disneyland Paris is conveniently located adjacent to a train station, Marne-la-Vallée – Chessy station, which makes going to and from Paris proper very easy. Many visitors also choose to stay at Val D'Europe, which is one train stop from the Resort.
From Charles de Gaulle airport, we opted to use the Magical Shuttle airport bus, which takes you directly to the Disney resorts. At the time of our trip it cost 23 euros per person, one way. During the day the shuttles departed every 30-60 minutes (check their website for a schedule) and the trip took about an hour. It was very easy and I recommend using the Magical Shuttle, especially after a long flight.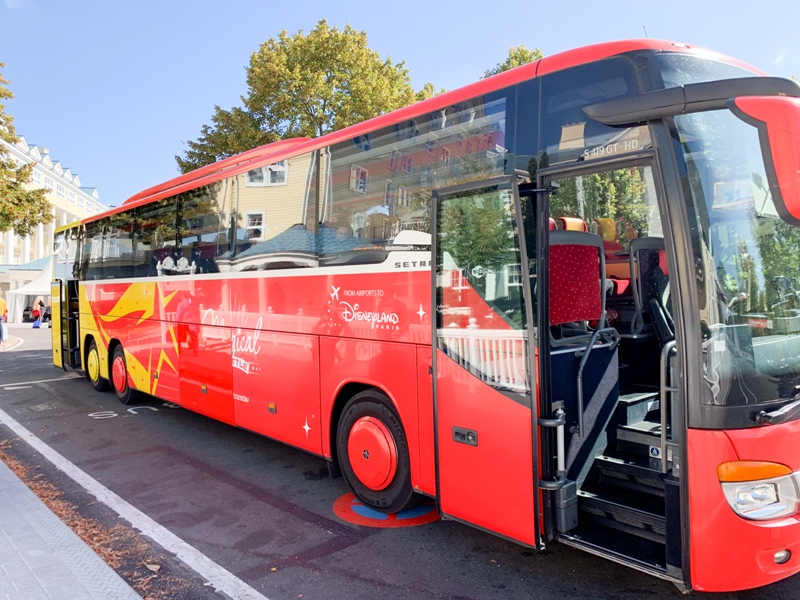 Do the Cast Members Speak English?
This is probably the most common question I got asked when chatting about Disneyland Paris on social media. I'm happy to say communication with Cast Members, and most people we encountered in Paris, was very easy. There were only a couple CMs with very thick accents which made communication a bit difficult. My husband took French in high school and actually was a bit disappointed everyone spoke English so he couldn't practice his French.
Within the Parks, the majority of signage and menus list both French and English. Attraction dialogue switches between French and English often. For example, Star Tours is pretty similar to the versions in the States, but some of the dialogue is dubbed in French, which is fun.
There are also park maps in several languages, including English (look for the British flag icon).
I never assumed someone spoke English, so I always asked "Parlez-vous anglais?" which translates to "Do you speak English?" Or I would simply say, "English?" Most Cast Members replied with "Yes" or nodded. I also learned some basic French phrases and recommend this French phrase book by Rick Steves.
However, many Cast Members would say "Hello" as we approached, as if we had "American Tourists" stamped on our foreheads. They are probably pretty skilled at picking us out.
Weather
While visiting in mid-to-late September we had a mix of overcast weather, bright sun, and scattered rain showers. It was generally in the 60s during the day. No humidity. Great running weather!
Since we went for a specific event, I didn't do much research about typical Paris weather throughout the year. But it seems winter months are generally in the 30s and 40s (Fahrenheit) and summers are generally in the 60s-80s. Rain is a possibility throughout the year, with some snow in the winter. Like California's Disneyland, it seems the best months to visit Disneyland Paris, weather-wise, would be spring and fall.
How Many Days?
Right now, I think 1 day for each park is plenty of time. If you want to do every attraction, watch every show, meet characters, and eat at several restaurants, a minimum of 3 days / 2 nights would be ideal.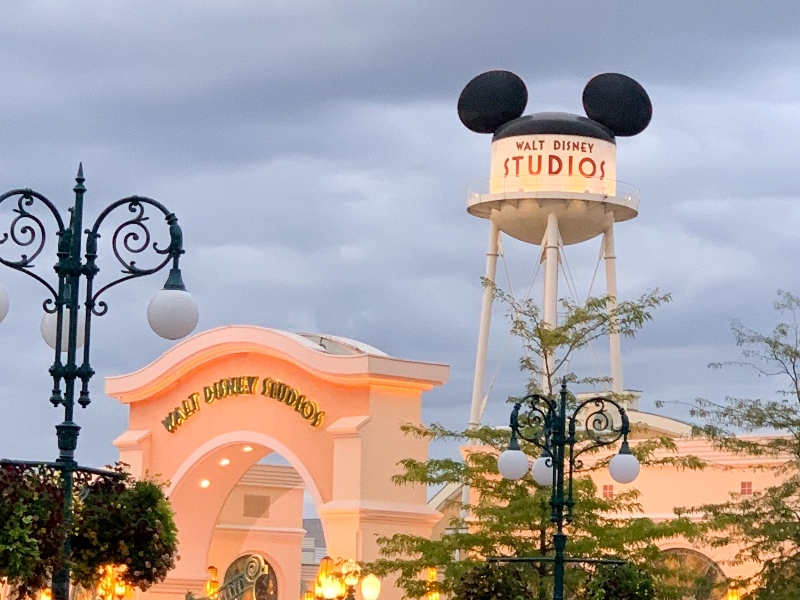 Walt Disney Studios is getting a major expansion, with the first section opening in 2021. After this time, Walt Disney Studios might become a "full day park."
We stayed for 5 nights, but only stayed that long because I was doing the RunDisney races.
If you're staying in Paris and want to do a day trip, it's entirely possible. I recommend trying to be there from open to close and definitely make dining reservations (60 days in advance).
Where to Stay
We chose Disney's Newport Bay Club Hotel for our Disneyland Paris stay, but mostly because of its proximity to the starting line for RunDisney. The hotel is right next to the RunDisney Expo area which was also the location of the corrals and starting line.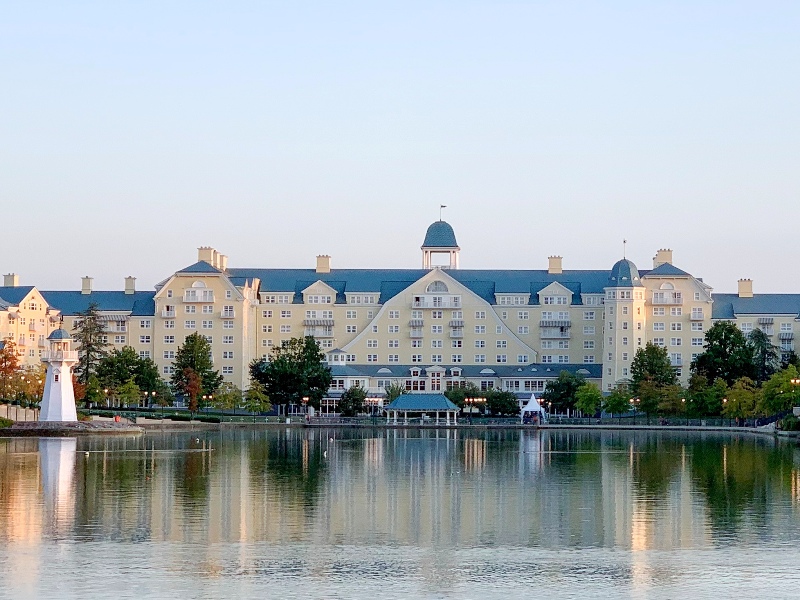 I really liked Disney's Newport Bay Club Hotel and would stay there again. The hotel was recently renovated and our room was clean and nice, although cramped (most hotel rooms in Europe are smaller than US rooms). I also liked the proximity to the Parks, as it's the second closest hotel after Disneyland Hotel.
We stayed Compass Club Level, which gave us some extra benefits. The Compass Club Lounge offered and extensive complimentary breakfast every morning, and we had our own dedicated concierge, who also assisted us with checking in and out. Compass Club also comes with a complimentary Fast Pass for each guest, each day, which we certainly used.
However, we felt the benefits for Compass Club were not worth the extra cost, so we probably would not stay club level again. We also found the quick service food to be lacking, with the lounge only providing a couple sandwiches and salads during the day.
If I had to classify the hotels like Walt Disney World Hotels, I would say the Disneyland Hotel is Deluxe. Disney's Newport Bay Club, Disney's Sequoia Lodge, and the upcoming Disney's Hotel New York – Art of Marvel Hotel are moderate. And Disney's Hotel Cheyenne and Disney's Hotel Santa Fe are value. There are also two Disney Nature Resorts – Disney's Davy Crockett Ranch and Villages Nature Paris, both of which are located farthest from the Parks.
In addition to the Disney properties, the area has six on-site partner hotels that provide a few Disney perks, such as free shuttle buses. They are: B&B Hotel, Algonquin's Explorers Hotel, Vienna House Dream Castle Hotel, Vienna House Magic Circus Hotel, Kyriad Hotel, and Radisson Blu Hotel.
If you can afford it, I highly recommend staying at a hotel within walking distance to the Parks so you don't have to mess with the shuttle buses.
What Type of Park Ticket?
I didn't do much research on park tickets because we booked a hotel/ticket package where tickets were considered "free." We received "park hopper" tickets for each day of our travel, including the day we checked in and the day we checked out.
Disneyland Paris has the types of tickets you are probably used to in the States. You can get a one-day, one-park ticket, or a one-day, two-park ticket (park hopper). You can also get multi-day tickets. They also have tiered pricing, based on peak travel times. For example, a "mini ticket" is valid Monday-Friday not including holidays. "Super Magic tickets" are valid on peak days.
Best Attractions
Disneyland Park
Disneyland Paris has a lot of attractions you're familiar with from the US Disney Parks. The main park, Disneyland, is laid out in a similar fashion to the original Disneyland and Walt Disney World's Magic Kingdom. You enter onto Main Street USA and follow the street to Sleeping Beauty's Castle, which acts as the hub to the rest of the lands: Frontierland, Adventureland, Fantasyland, and Discoveryland (similar to Tomorrowland).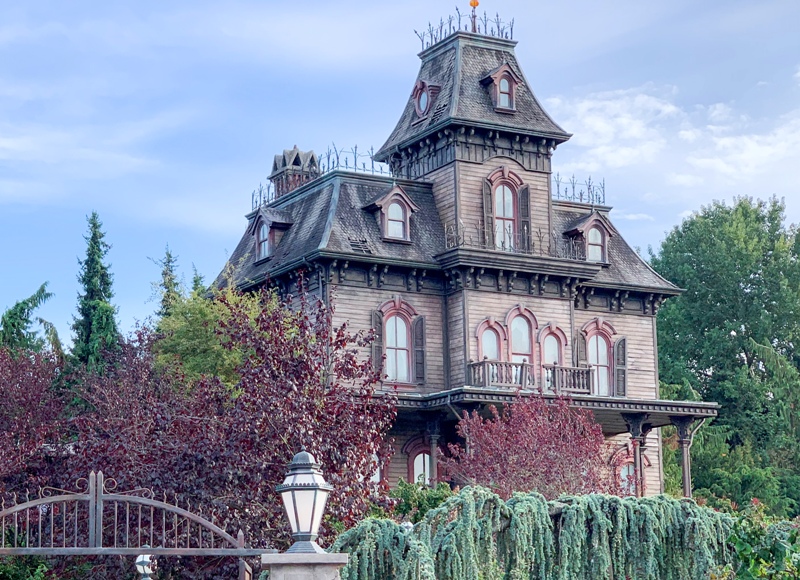 One thing I noticed is attractions are a lot more thrilling than US Disney Parks. Disneyland Paris' version of Space Mountain, for example, is a true roller coaster with corkscrews and loops. I was not brave enough to ride it, but my husband said it was pretty much pitch black and he had no idea what was happening. So keep that in mind when researching attractions!
Even though a lot of the Disneyland attractions are similar, I highly recommend trying all of them to see the small differences. I especially recommend Phantom Manor (similar to Haunted Mansion), Big Thunder Mountain Railroad, and It's a Small World.
I also recommend the nighttime show, Disney Illuminations, which features fireworks and projections on the castle. (Hot tip – grab some glasses of champagne from the cart on Main Street to sip while you wait!) And don't miss the dragon's lair underneath the castle!
Walt Disney Studios Park
Over at Walt Disney Studios Park, the main thrill ride is Crush's Coaster, which seems to be a combo roller coaster and spinning tea cups. It was a hard pass for both of us.
However, I loved the adorable Ratatouille attraction, which is currently being replicated in Epcot's France Pavilion! It's a trackless dark ride that shrinks you down to the size of a rat and takes you on a wild adventure through Gasteau's kitchen.
While Walt Disney Studios Park is kind of small right now, it is getting a major expansion over the next few years which will bring many new attractions. I'd love to visit again in a few years to see all the upgrades!
Do You Need a Meal Plan?
Disneyland Paris offers meal plans similar to Walt Disney World. They are called "Half Board" and "Full Board." Half board gives you breakfast and one additional meal. Full board gives you breakfast and two additional meals. You can also choose from Standard, Plus, and Premium, which gives you different restaurants to choose from.
Sometimes there will be special package offers with free dining included. This was not being offered during our visit, and I've never been interested in meal plans, so I didn't do much research on it.
I recommend visiting the Disneyland Paris Meal Plans website for more information and current pricing.
Where to Eat
Overall we found the food at Disneyland Paris disappointing. Our breakfasts at the Compass Club Lounge were wonderful, but lunch and dinner at our hotel left a lot to be desired. (To be fair, we never had an opportunity to try the sit down restaurants.)
Disneyland Park
We only had one meal together inside Disneyland Park, at a cute Italian "Lady and the Tramp" themed quick service spot called Pizzeria Bella Notte in Fantasyland. I had high hopes based on the cute facade but the food was bland and basic.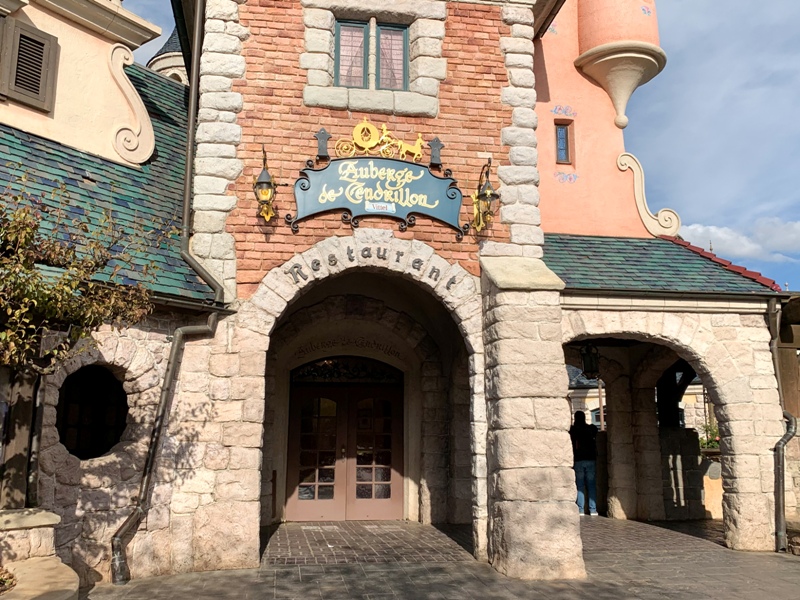 After our lunch experience, my husband decided to skip out on our dinner reservation at Auberge de Cendrillon. This location features Princess character dining, which isn't really this thing anyway. I went alone and had a great time. The food was decidedly superior to our lunch, but still not great. And not at all worth the nearly 80 Euro price tag.
Walt Disney Studios Park
As luck would have it, we happened to be visiting during a Food and Wine Festival taking place at Walt Disney Studios Park, called Le Rendez-vous Gourmand de Disneyland Paris. After our poor lunch experience at Disneyland, we decided to have the rest of our meals from the festival. The majority of the foods we tried were outstanding.
After doing a little research we found this festival typically runs from July through October. Check the Disneyland Paris website for additional information.
Hotels
Before our trip I had read the best restaurants on property are at Disneyland Hotel, but I could not find available reservations for the buffet, Inventions, or sit-down restaurant, California Grill. They book up quickly! But we did visit the Fantasia Lounge, located on the second floor. We enjoyed the food and drinks here, so I knew the restaurants had to be similar.
Here's where our Compass Club came in handy. Towards the end of our visit, I went to our club concierge and asked if they could possibly assist us with dining reservations for both Disneyland Hotel restaurants. They were able to book us at California Grill that evening, and Inventions the following morning. Success!
We really enjoyed both restaurants. California Grill is Victorian themed with California-inspired decor and meals. The restaurant overlooks Main Street USA and we had a view of the fireworks show that occurred during our meal. This restaurant is certainly on the pricier side but so worth it (for the cheese trolley alone!).
Inventions brunch was also fantastic. Their brunch buffet had a wide variety of breakfast, lunch, and dessert items. We also got to interact with five characters, including Mickey and Minnie.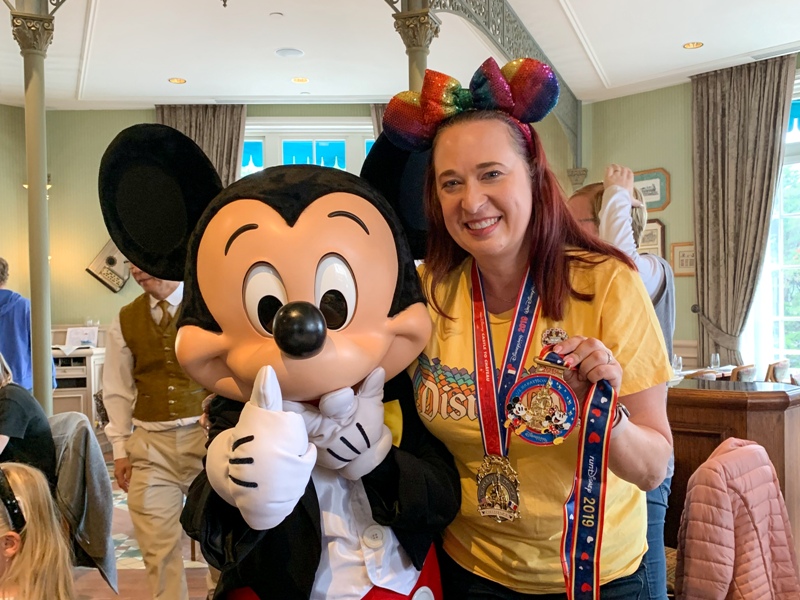 Side note – As adults, we still received lots of attention during character dining! I loved it.
As for Disney Village, we didn't eat here at all. We didn't find any of the restaurants appealing.
Overall Thoughts
As we were planning this trip to Disneyland Paris, many people told me to lower my expectations. Yes, Paris is a magical, enchanting, romantic city. But the Disneyland Paris resort does not rise to standards many people set in their heads.
While I certainly loved our time at Disneyland Paris, I can understand why I received these warnings. There are a few things that aren't as magical as the US parks. While Cast Members were pleasant enough, we rarely experienced the "above and beyond" service we are used to in the States. And while we never had any overtly rude encounters, we found our fellow guests to be unfriendly and, yes, there is cigarette smoke pretty much everywhere (except restaurants).
While the Parks are large, the offerings are small. Everything is very spread out and there isn't as much to see and experience as you would expect.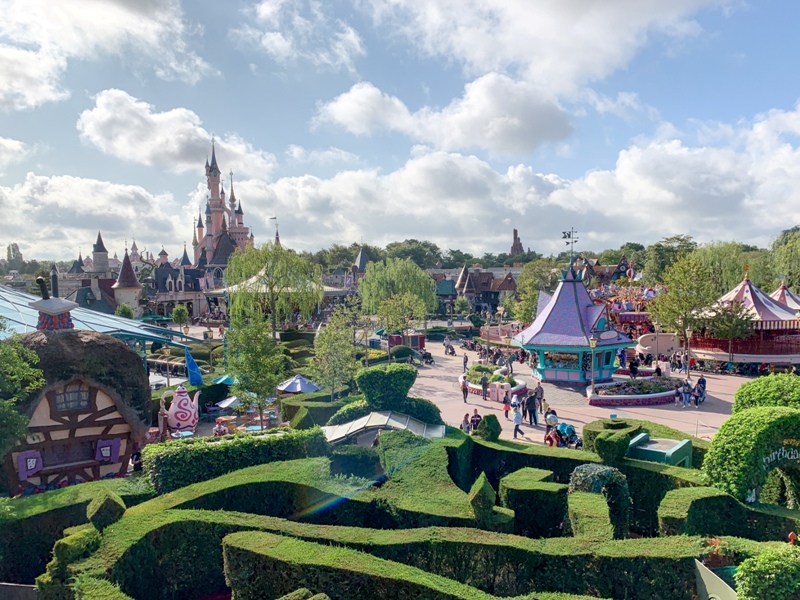 Food and drinks are expensive for what you get, and even more so with the unfavorable dollar-to-euro exchange right now. You certainly will have a better dining experience if you are willing to spend the money. But if you're okay with McDonald's, that's available for you, too.
Overall – I enjoyed Disneyland Paris and had a great time while I was there. But, I probably would not plan another vacation specifically for Disneyland Paris. I would happily return to Paris and do a day trip to Disneyland, especially now that I know the train is so convenient. And I would love to see the updates once the Walt Disney Studios expansion is complete. But since I don't enjoy thrill rides and wasn't wowed by the food, I don't see any reason to do a longer stay.
I'd love to hear your questions and thoughts about Disneyland Paris! If you have visited, what did you think of it? What were your likes and dislikes? If you have never been, what else are you curious about?