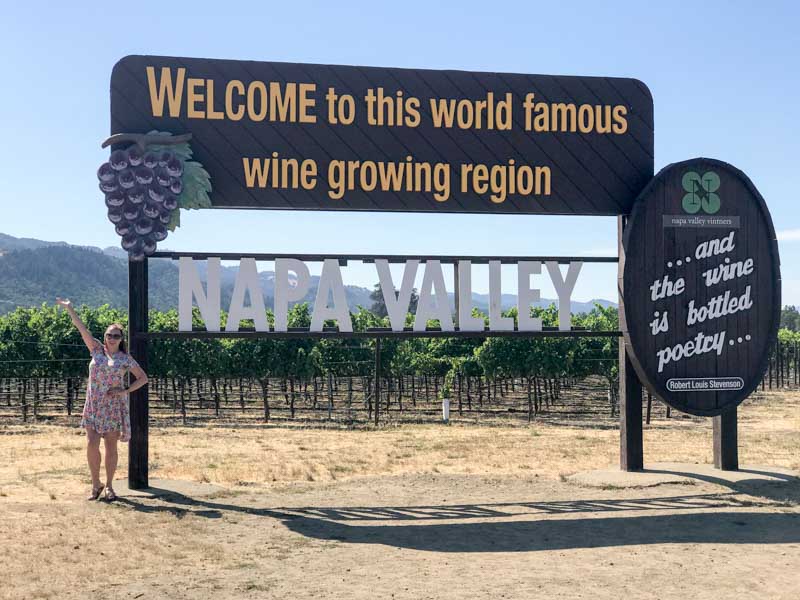 Last year, my husband and I took a 10-day road trip from Southern California up to Central/Northern California, which included a three day stop in Napa, California. We love wine tasting and neither of us had been to Napa Valley before, which seemed insane. So we finally corrected that wrong as part of our big California road trip. (Read all about our 3 days in San Francisco here.)
I absolutely loved Napa Valley. Everything is super laid back and charming. We stayed in a little town called Yountville where we walked to restaurants every night. During the day we had short car rides to various wineries, including an amazing visit to Charles Krug Winery.
I didn't want to feel rushed at all, so we didn't make too many plans or reservations. We just kind of went where our mood took us! That is why I call this a casual traveler's guide. So if that describes your style of travel, I hope this recap of our Napa trip helps you plan!
3 Days in Napa: A Casual Traveler's Guide
Where We Stayed:
Like I said earlier, we stayed in Yountville (pronounced "Yawnt-ville" – I said it wrong for two days before someone corrected me) at a cute little hotel called Vintage House. Each spacious room at Vintage House feels like its own little cabin. Just a fair warning, this is not a budget hotel, but our priority was convenience and amenities, and Vintage House provided all of that.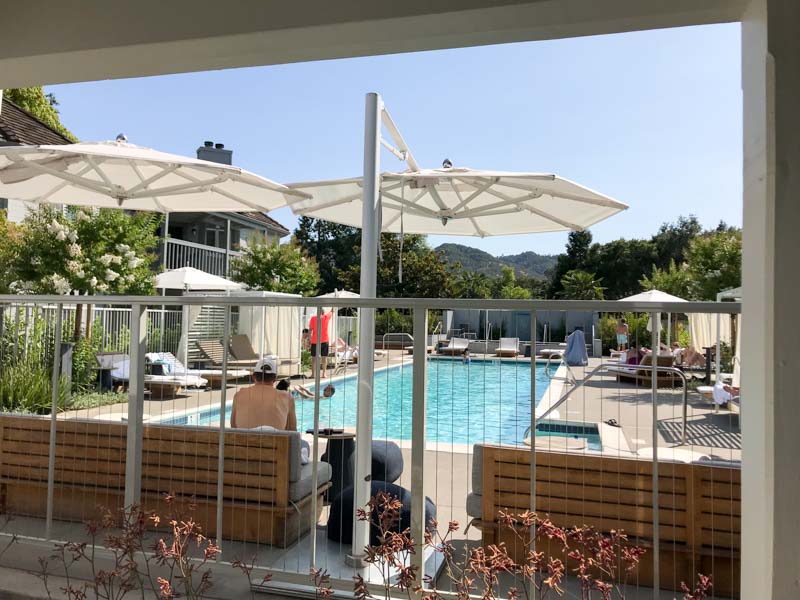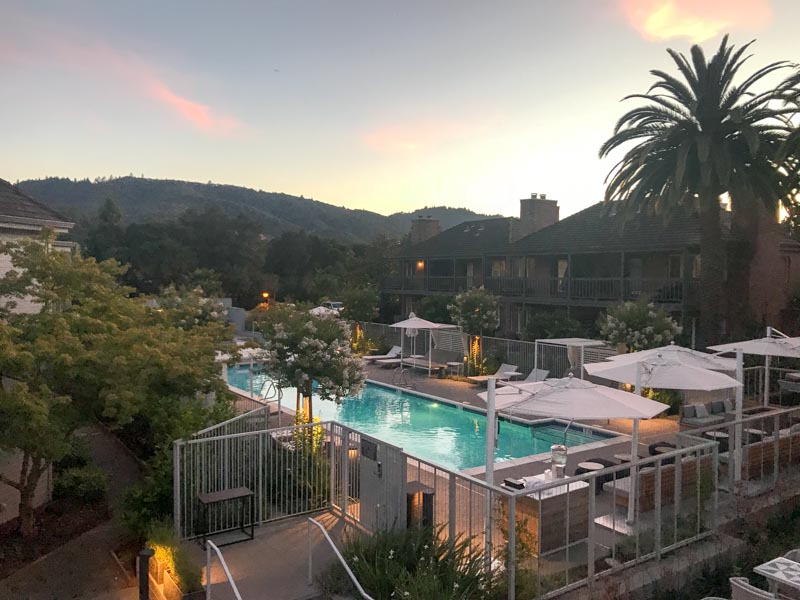 We stayed in a Deluxe King room, which is the "smallest" room available, but with nearly 500 square feet it didn't feel small at all.
Our room was on the first floor with a small patio and right next to the pool. In fact, the proximity to the pool may have been my only complaint; there are only a couple rooms right next to the pool and ours was one of them. During one evening there was a particularly rowdy group in the hot tub. So my suggestion is to request a room away from the pool in the back of the property.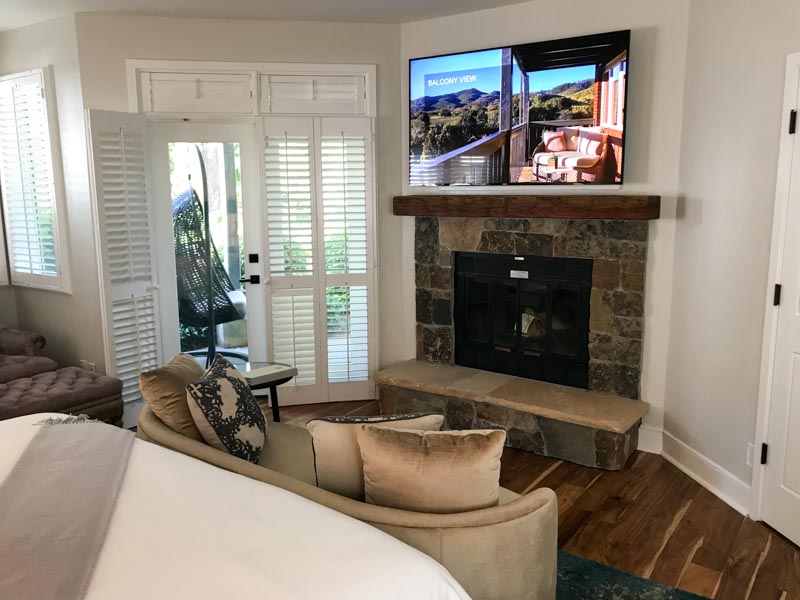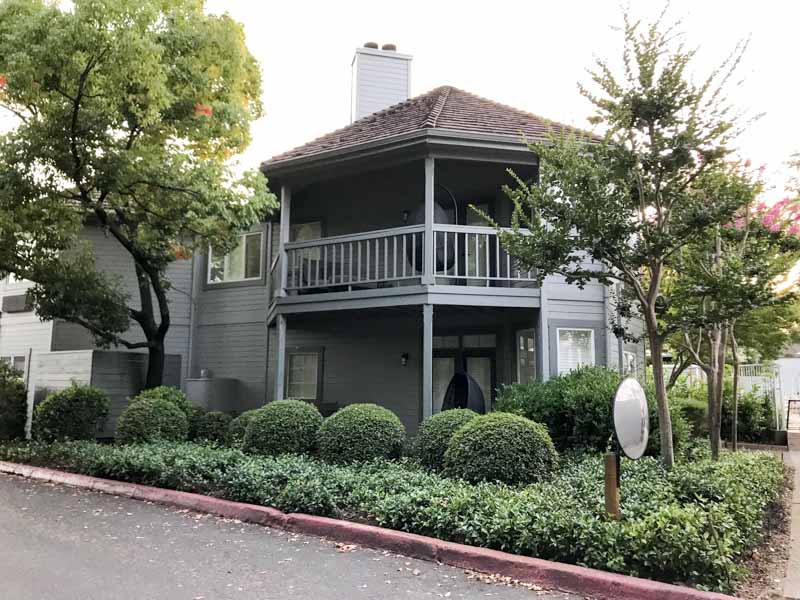 One of the perks of Vintage House is the continental breakfast. It's a pretty substantial breakfast served in a separate building across from the hotel rooms (seems like they do weddings in the same building) with outdoor seating in a pretty garden setting. We were very happy to have a relaxed breakfast here every morning before setting out to our first winery of the day.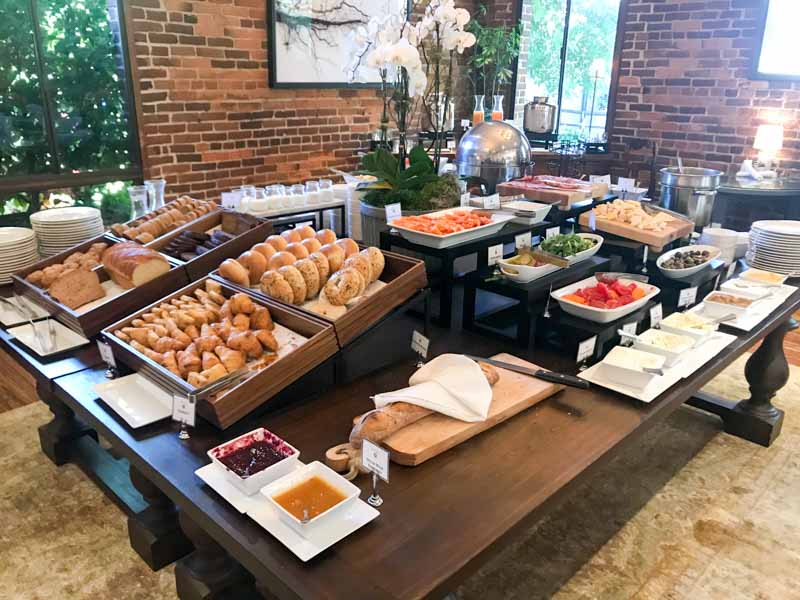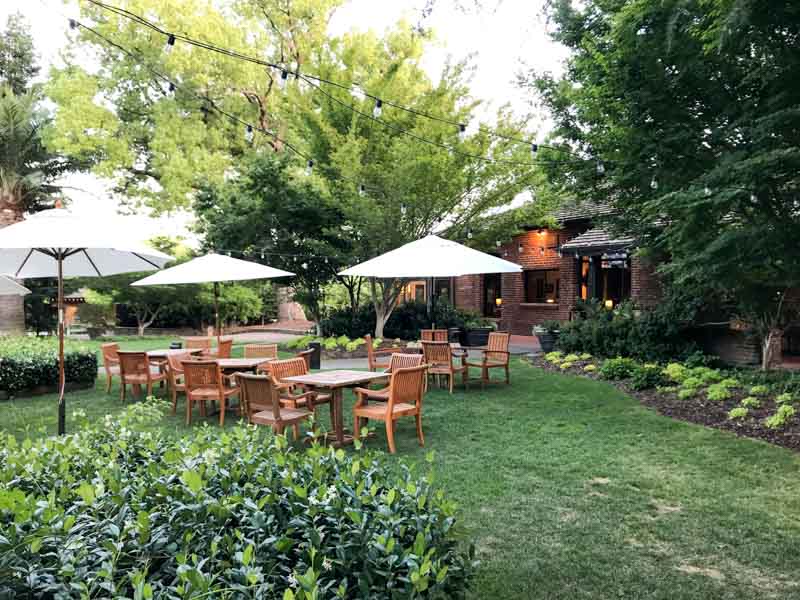 Where We Drank:
Upon arrival in Napa Valley we went straight to Domaine Chandon, famous for their sparkling wine. We stopped here first because it's located in Yountville, and it would be a short drive to our hotel after.
We arrived on a Saturday afternoon and WOW, it was busy. Long waits to order tastings and food, and we had to wait a bit for a table in direct sun. Everything we ate and drank was good but not the best experience overall. If you go on a Saturday just be prepared for lots of bachelorette parties.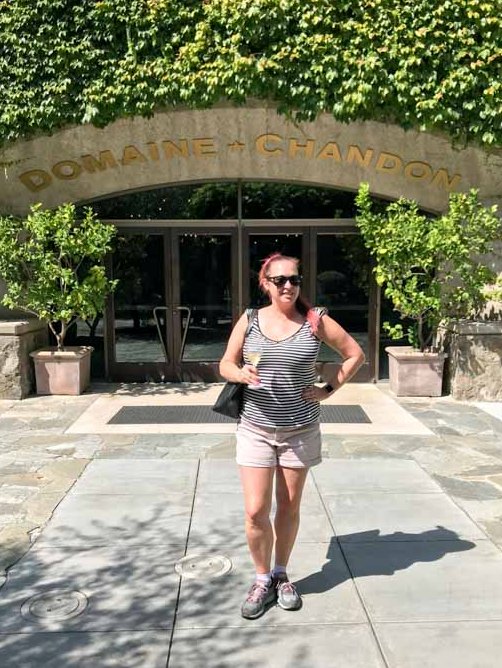 On Sunday, our first stop was Inglenook. This winery was established in the 1880s, eventually closed, and then was acquired by Francis Coppola in 1975. The Coppola family restored the property in the 1990s. I know all of this because it's on a plaque outside.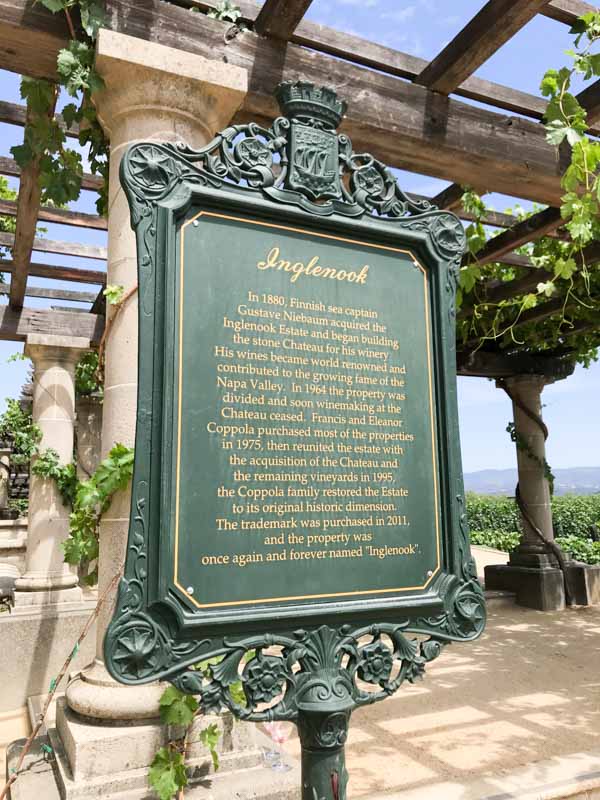 It's a beautiful property, and we had a great wine tasting inside the estate. After our tasting we ordered a glass of wine and walked around the peaceful gardens.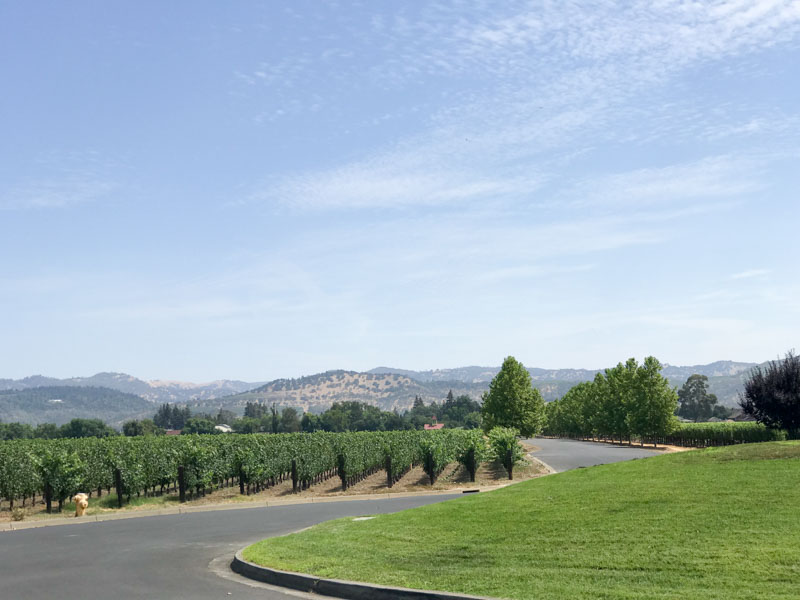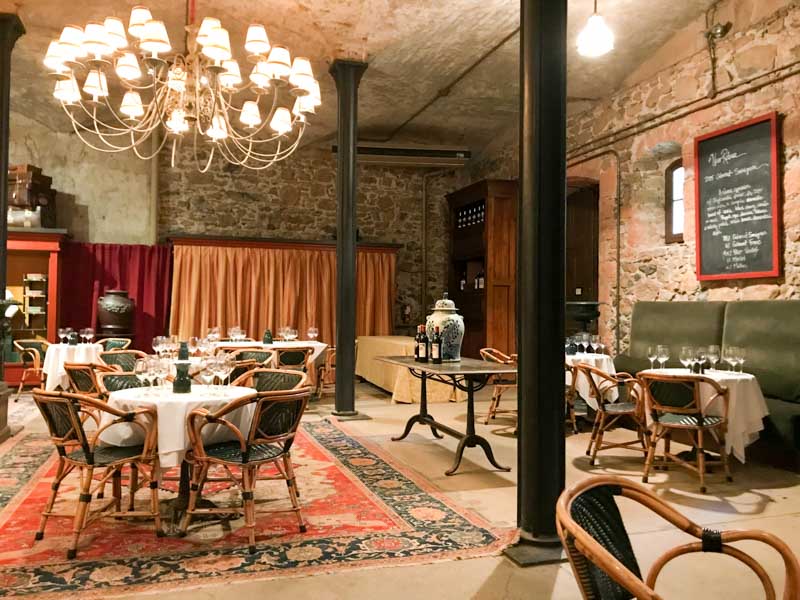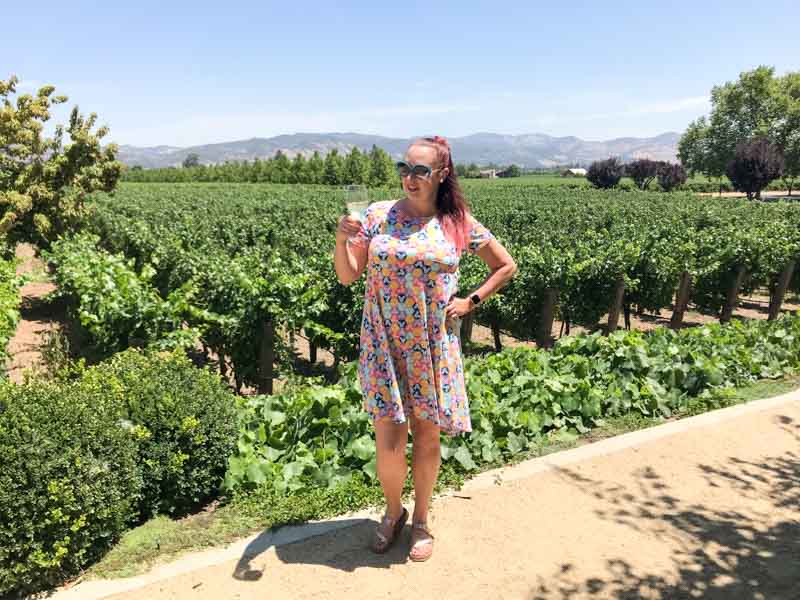 Our next reservation was at Honig. I love Honig wines (they are my go-to at Disneyland resort hotel bars) so I was excited to visit.
Honig was a much smaller operation than Inglenook but still beautiful and the employees were so nice. They even set up a little sign with my name on it!
Honig is the German word for "honey," and their specialty is a sweet Sauvignon Blanc that is amber in color, just like honey. It's not available anywhere else so of course I had to bring a bottle home!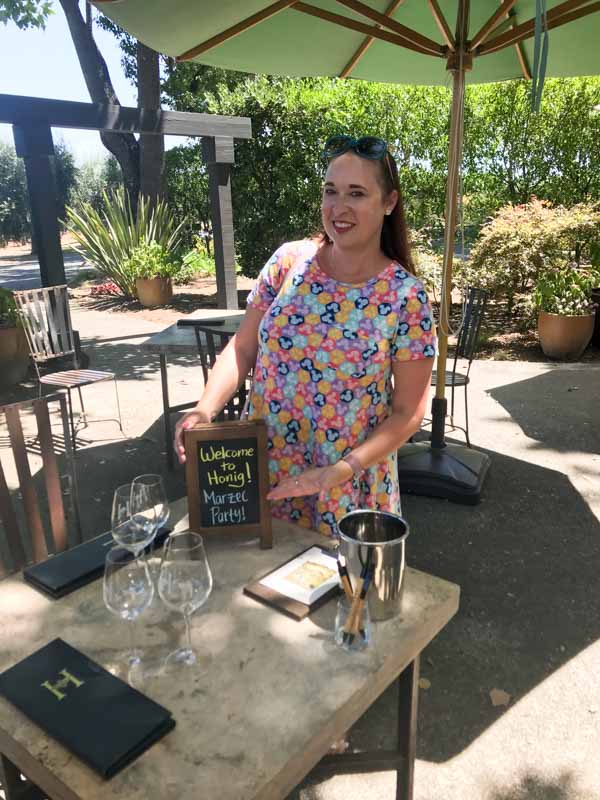 On Sunday we experienced quite a treat. Through my past collaborations with their company I was able to arrange a tour and tasting at Charles Krug Winery, one of the most historic wineries in Napa Valley!
What I did not realize until I arrived was that my tasting was going to be led by Marc and Janice Mondavi. Aaaahhhhhhhhhhh! Star struck! I couldn't believe I was being led through a tasting by the owners of the winery.
I found out Janice is a big supporter of the company's blogging and influencer partnerships, and she often speaks at conferences for our industry. They both made me feel really welcome and important and it's an experience I'll never forget.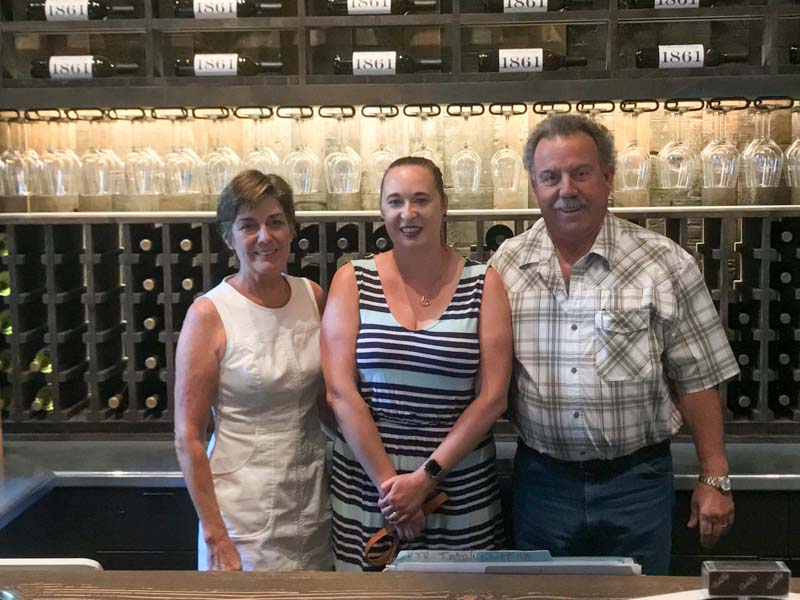 After our wine tasting (with a generous cheese and charcuterie board also), we were taken on a tour of the winery and even got a taste of a red blend straight from the barrel. So, so good. I'm just so grateful for their time and generosity, and for this amazing experience. Thank you to The Mondavis!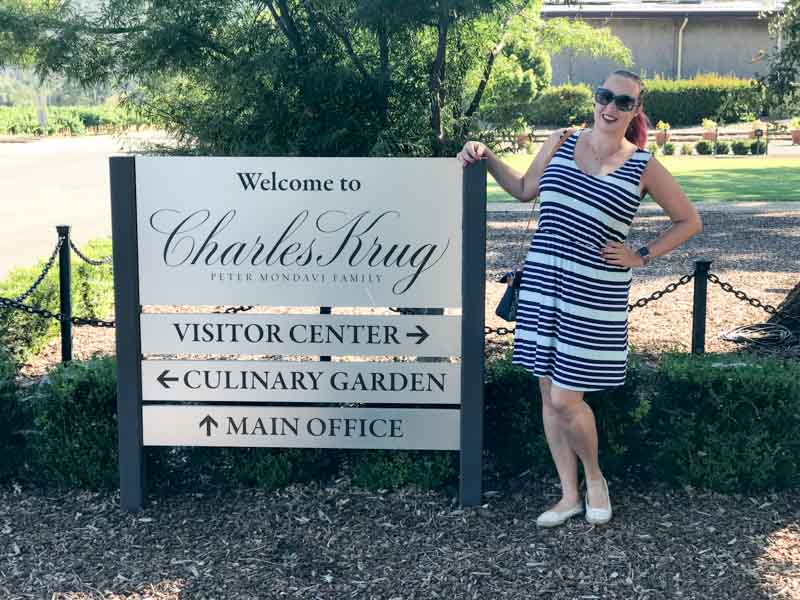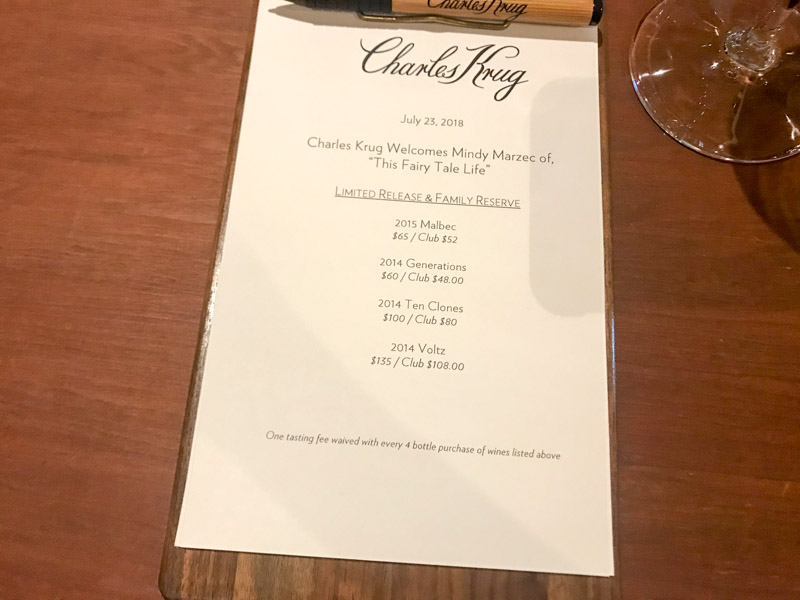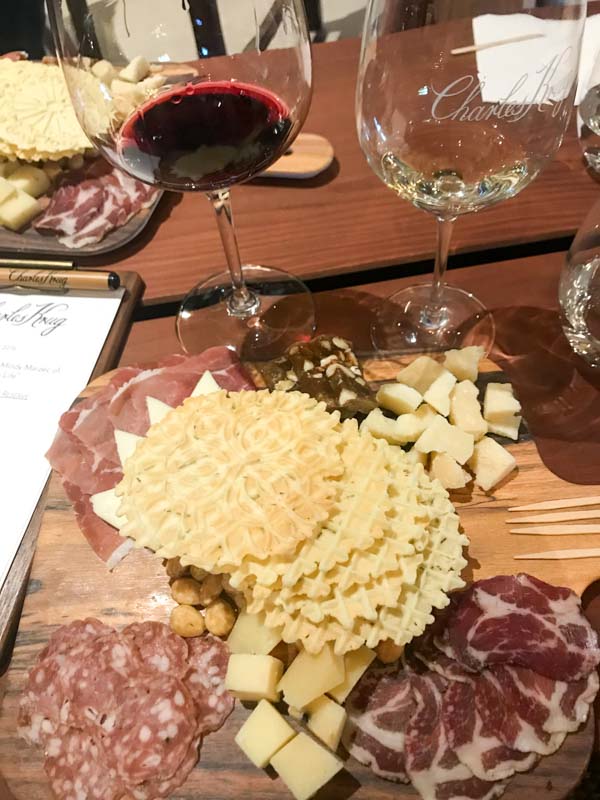 Our final winery for this trip was Castello di Amorosa. This was the winery everyone on social media told me I had to go to, since it's a castle! And, gosh, it was really impressive!
We reserved a tour of the castle which included wine tasting in the cellar. I highly recommend the tour! So much history and so many amazing things to see.
The wines were good too, although not the best of the trip. I also recommend peeking around their cute gift shop and visiting the farm animals outside.
Be sure you reserve a tour or tasting ahead of time on their website. (I recommend making reservations for any winery you want to visit, but especially for Castello di Amorosa.)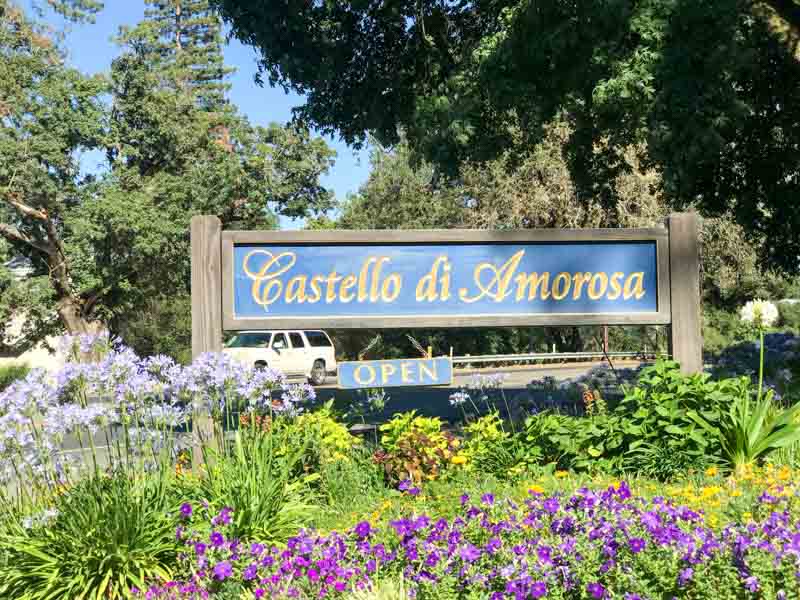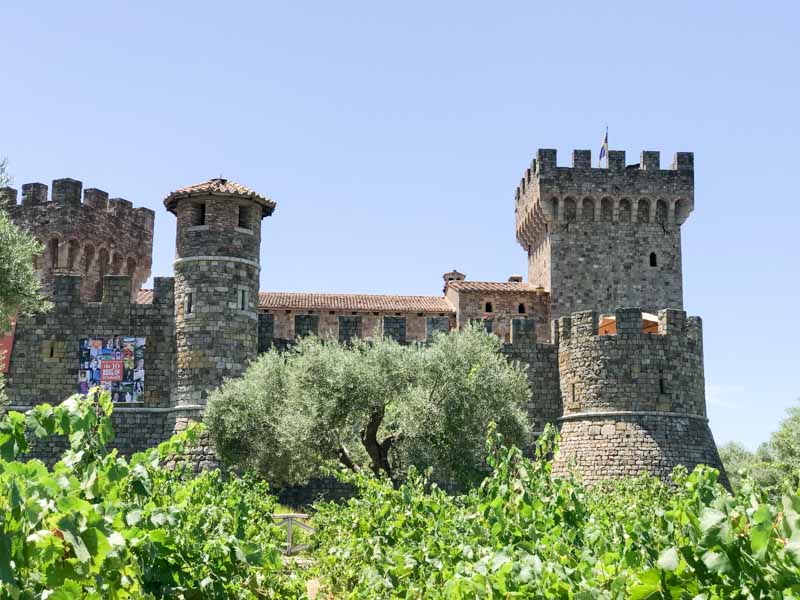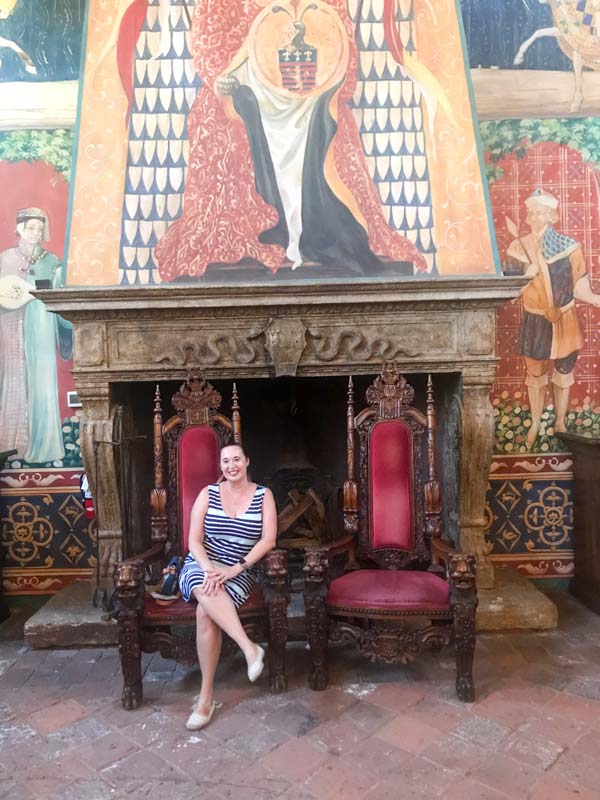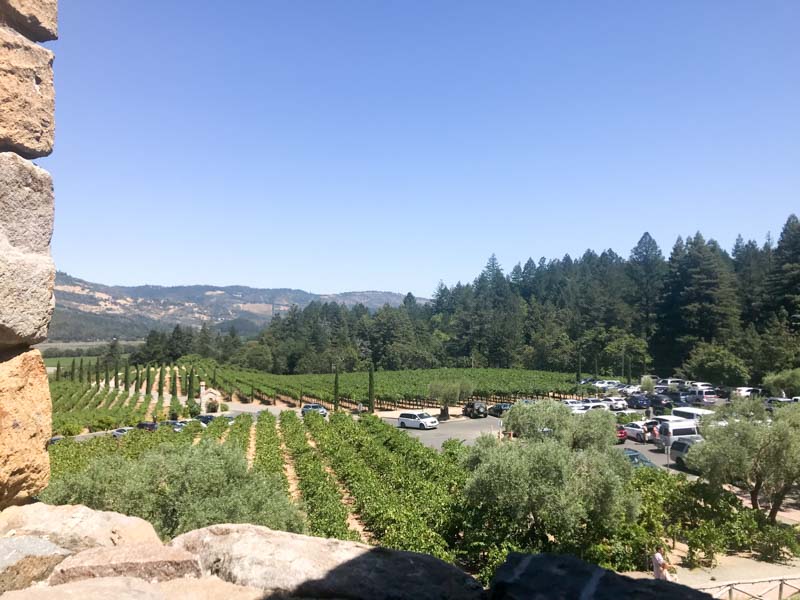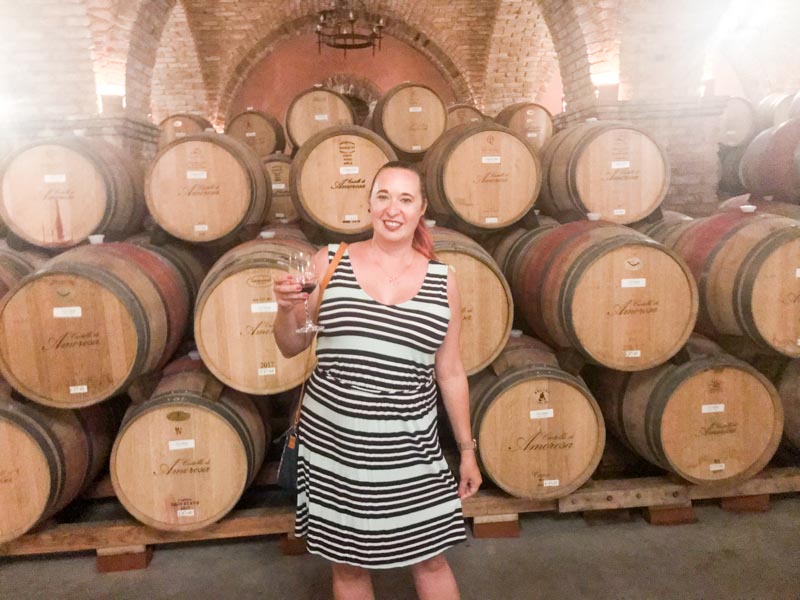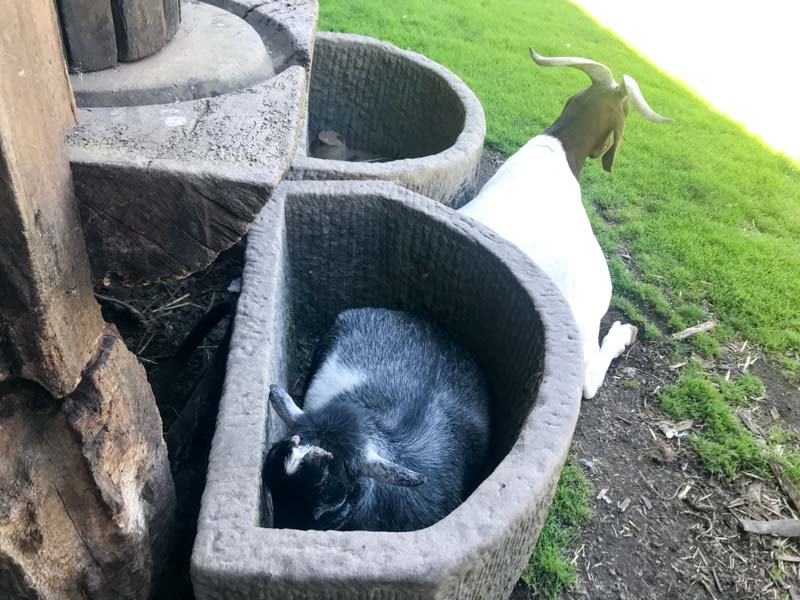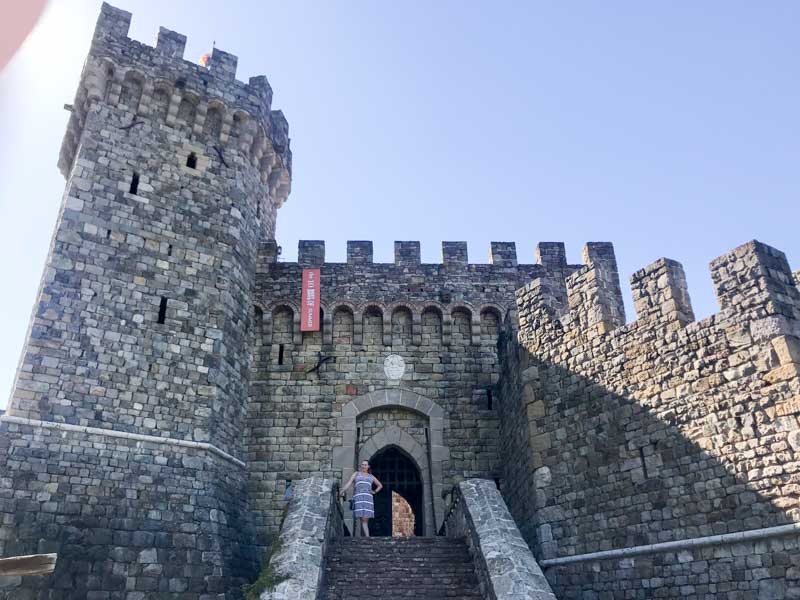 Where We Ate:
Oh boy, the food! We had lots of wonderful meals during our stay in Napa. We ate dinner in Yountville every night and were never disappointed.
Obviously we would have liked to have dined at the famous The French Laundry. But this was a last-minute trip and reservations book up there quickly. I checked online reservations every day for a cancellation, and even signed up for cancellation notifications, but we didn't have any luck. But one thing we did, that was really interesting, was walk through their open garden across the street.
For our first night in Yountville we ate at Bistro Jeanty, a french restaurant with really great reviews. We sat outside on their covered patio which was really lovely.
Making a decision on my meal was difficult, but I chose the french onion soup to start and the Beef Bourguignon short ribs with noodles. And of course, a cosmo. Everything here was really delicious.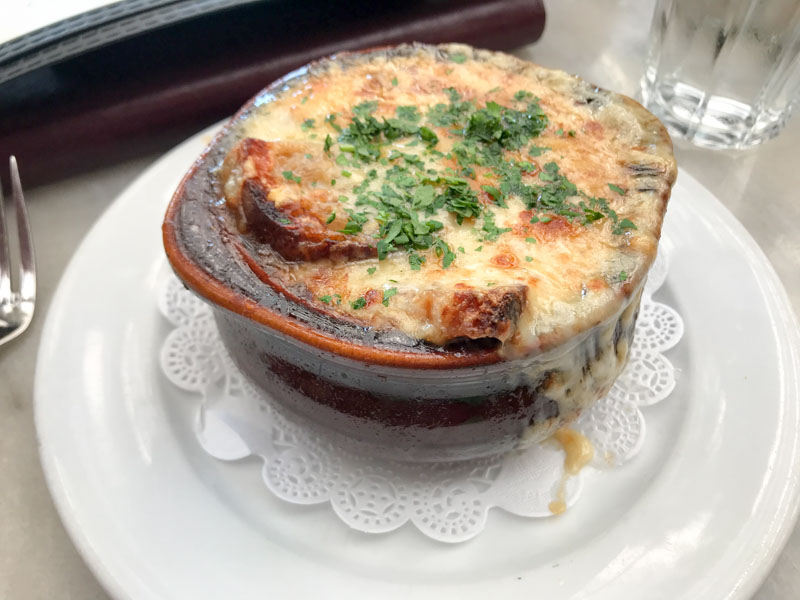 While we couldn't dine at The French Laundry, we did have dinner at Ad Hoc. Ad Hoc is another Thomas Keller restaurant that serves family-style comfort food with a fixed menu every night. Menus are released about a week in advance, so we made our reservations and crossed our fingers for a desirable menu that night.
We ended up with fried veal as the main course, but I had to laugh when I saw corn on the cob and creamy mushroom barley as the side dishes – two things I'm allergic to!
Luckily they can accommodate allergies and created two different side dishes for me: grilled zucchini and quinoa. My only complaint about the meal was the quinoa was way too salty for my taste, so I didn't finish it. There was plenty of other food!
Our full menu was:
Arugula Salad – The French Laundry garden cucumbers, blue cheese, heirloom tomatoes, pickled peppers, balsamic vinaigrette
Fried Veal Sirloin with corn on the cob, creamy mushroom barley, and stone fruit hoc sauce
Cheese Board – Bouchon Bakery seeded epi, mustard fruits
Ice Cream Sundaes – vanilla ice cream with chocolate, butterscotch, and strawberry sauces, toasted pecans, and whipped chantilly
Wow, what a meal! So good and just the perfect amount of food so you don't leave feeling like you overate.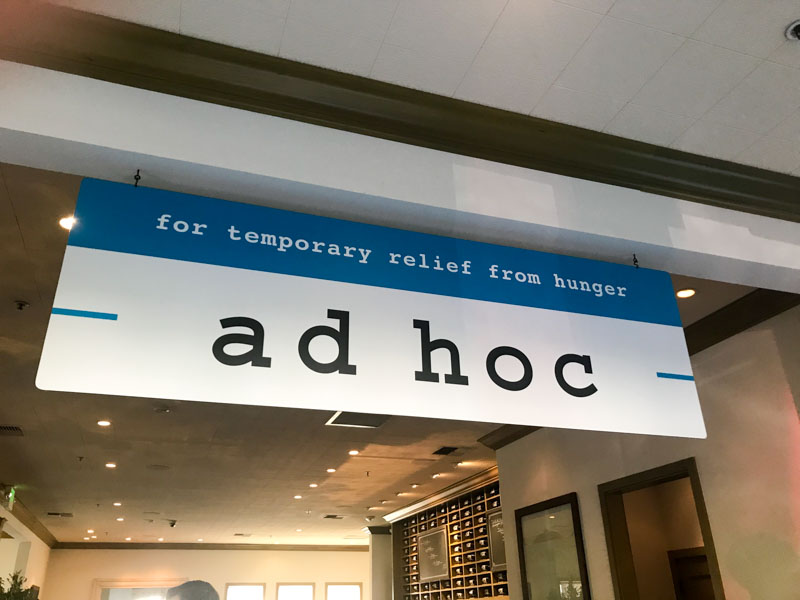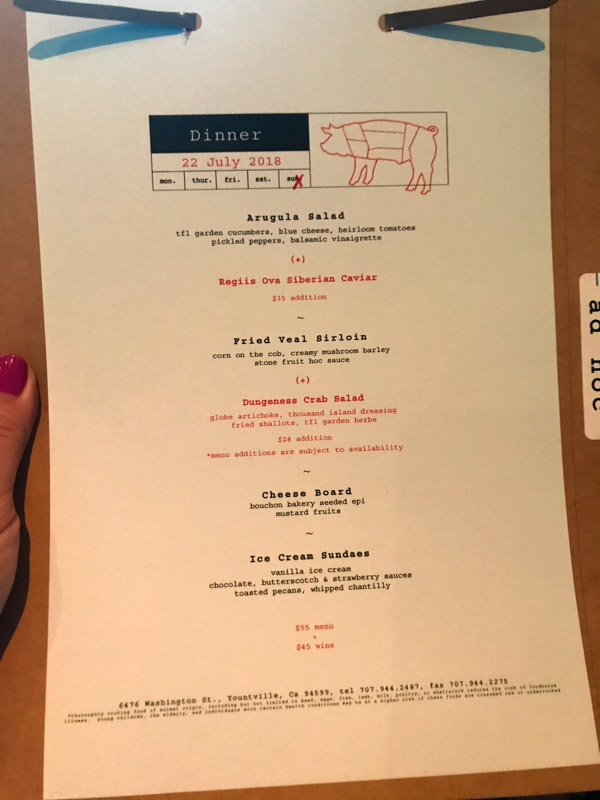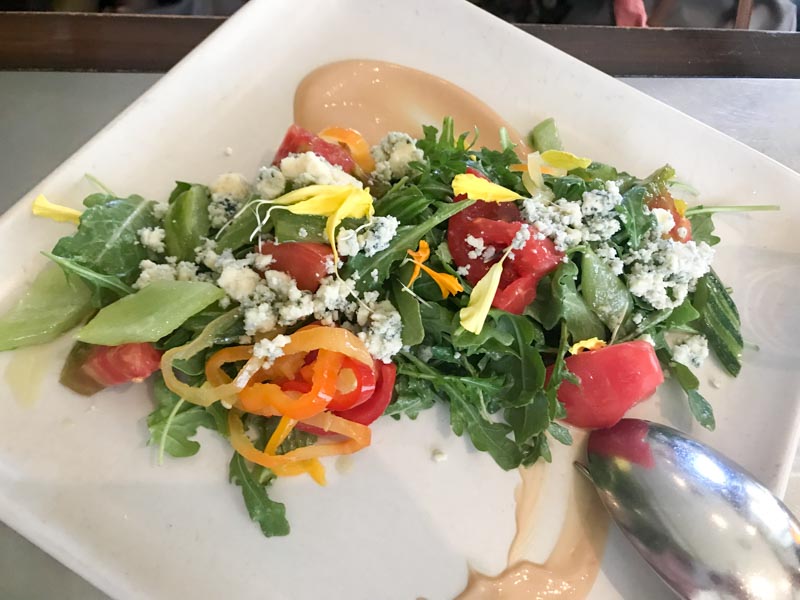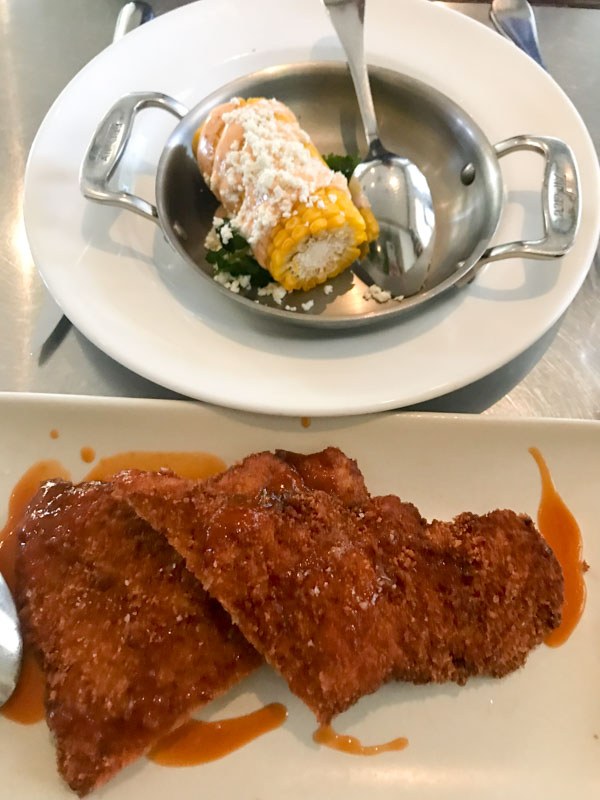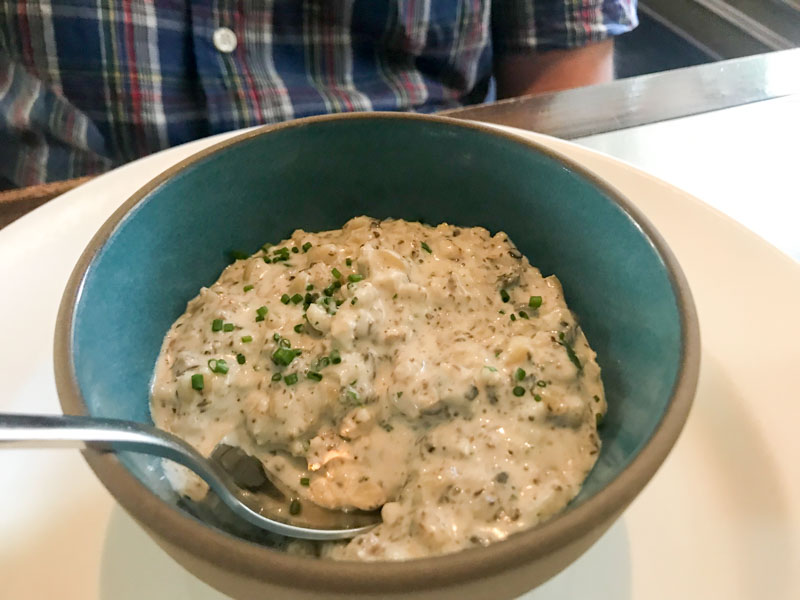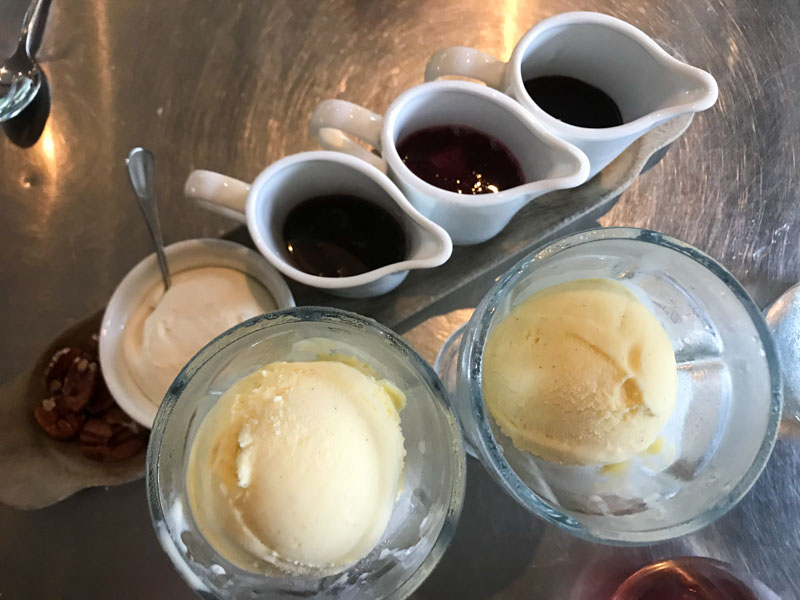 For our final meal in Yountville, we went to a restaurant recommended by The Mondavis – Bottega, which happened to be directly next to our hotel. We were able to be seated without a reservation (Monday night) and our meal was fabulous.
I got the biggest, fluffiest gnocchi I've ever seen, and Tim ordered the Spaghetti Gragnano. For dessert we ordered the trio of housemade gelato and Zeppole (Italian donuts). Thank goodness it was a short walk back to the hotel because we were completely stuffed!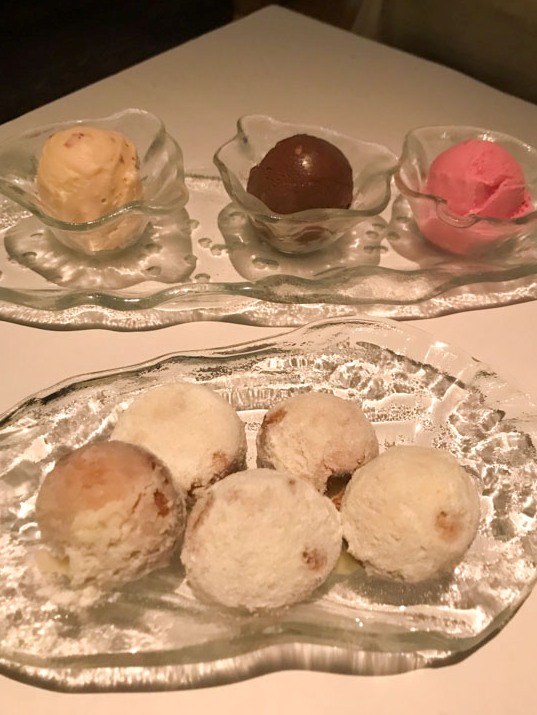 Our first visit to Napa Valley, California was a great one! I feel like we stayed in the perfect area and definitely had some great meals and of course amazing wines. Can't wait to plan our next trip, hopefully for longer than three days next time!