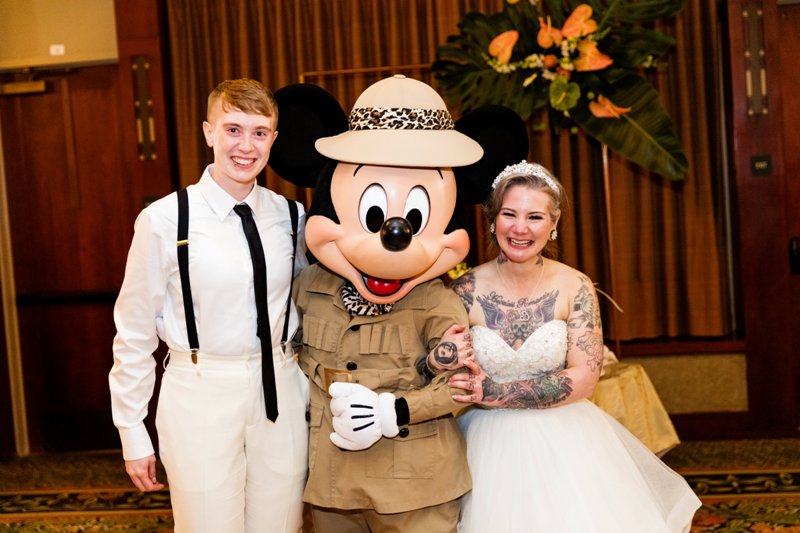 I'm so, so thrilled to finally share this beautiful wedding with you! I actually was lucky enough to be a guest at Amanda and Sara's Adventureland themed wedding a couple months ago, but instead of my usual "true guest post," Sara (with help from Amanda) has provided a beautiful recap of their day.
I loved seeing Sara and Amanda's plans come together, from their Adventureland DIY decor, to their sweet personalized ceremony, to their delicious fully vegan menu, and ending the night at the Enchanted Tiki Room. Amanda and Sara planned an event that was truly "them" and I'm so happy they chose to share it all with us!
Sara and Amanda – congrats on a beautiful wedding day and the start of your happily ever after!
Read back on Sara's planning articles here.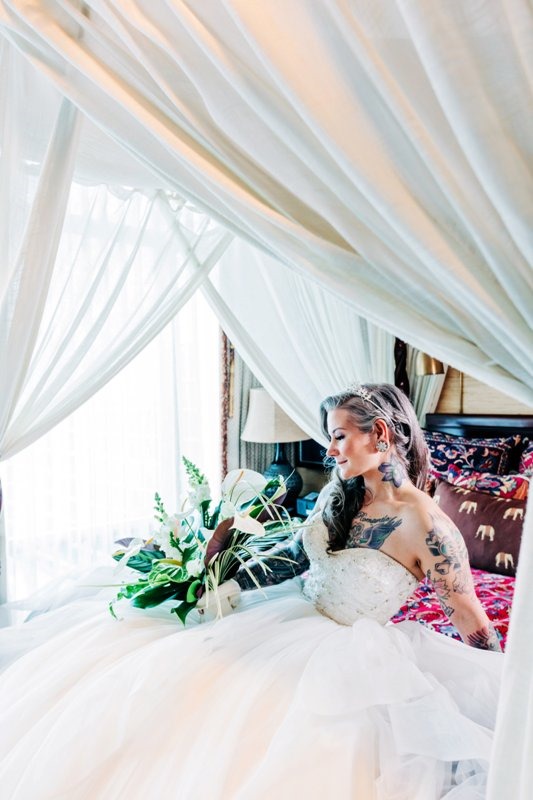 Amanda and Sara's Adventureland Themed Wedding at Disneyland
Disney Bride: Sara, 37, Seattle WA
Disney Bride: Amanda, 27, Seattle WA
Wedding date: March 5, 2019
Ceremony Venue: Brisa Courtyard, Disney's Grand Californian Hotel, Disneyland
Reception Venue: Trillium Ballroom, Disney's Grand Californian Hotel, Disneyland
Guest count: 70
Total budget: Approx $45,000
Photography: White Rabbit Photo Boutique
Why did you choose a Disney wedding?
We chose a Disneyland for our wedding because it was a place we knew we could merge our individual ideas of our perfect wedding into one magical day. We saw a wedding happening while we were there on vacation once and from then on there was no other option for us.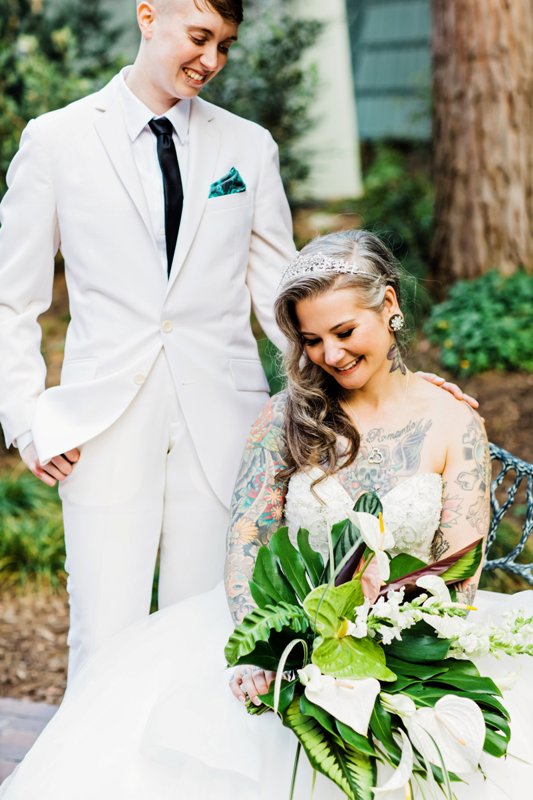 How did your family/friends react to your Disney wedding?
I don't think my friends or family were surprised but some of the people on Amanda's side were more so. Amanda was saying a lot of people didn't really understand if they have never been to Disneyland or if it has been a while. They didn't know what a magical and elegant wedding Disneyland would host. We have had so many people tell us that it was the best wedding or most special wedding they have ever been to.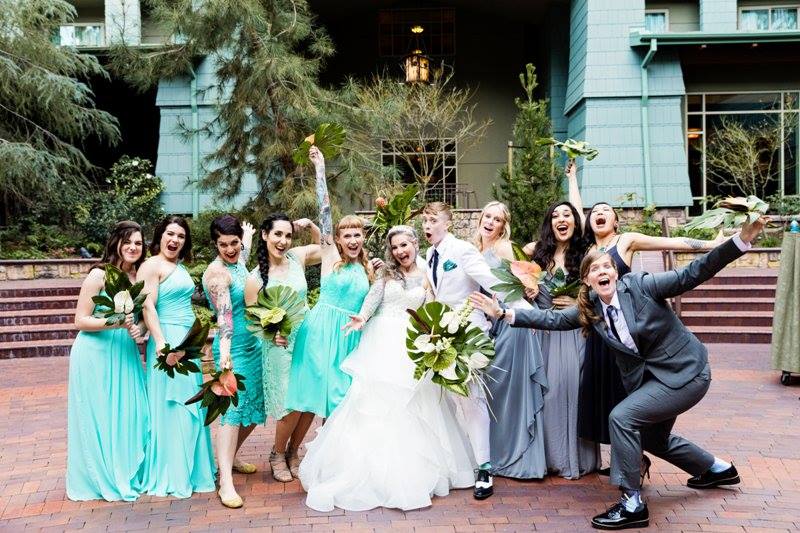 What was your theme?
Our theme was Adventureland. We initially planned on having a more broad "Disneyland" theme, but narrowed it down when we were struggling with a cohesive decor vision. Adventureland is our favorite area of the park and it has such fun and specific details that create a really strong environment.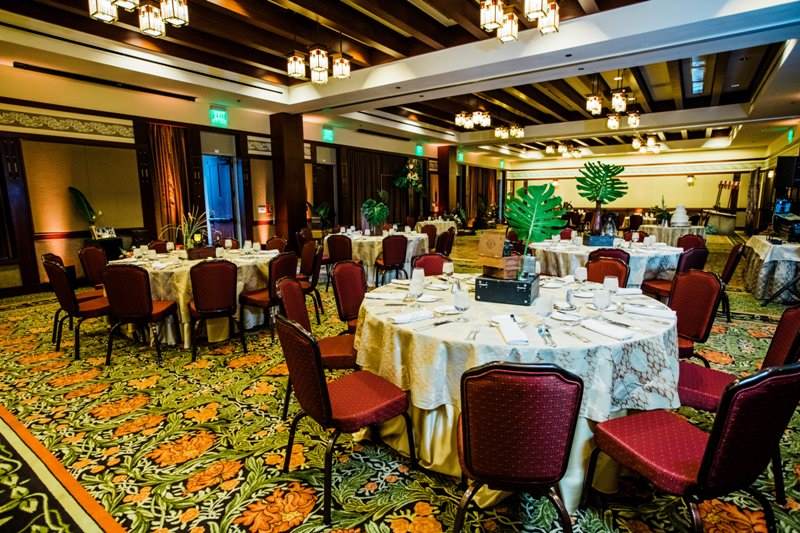 What was your biggest challenge in planning your Disney wedding?
Probably just having to trust that all the plans were in place and there was no use worrying about unforeseen issues that would probably not even occur. I designed and procured the decor and it was hard not being able to get in the ballroom frequently or really be able to test things out in advance.
Also we had a few bumps in the road when getting our menu worked out because we wanted an entirely vegan menu and we were very firm on them using mock meats and cheeses. Initially we received push back on our requests but the chefs ended up coming through with a great menu!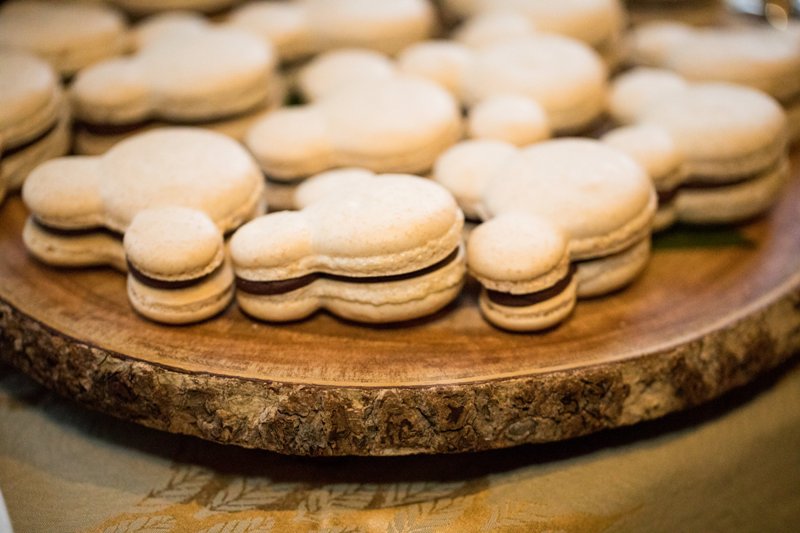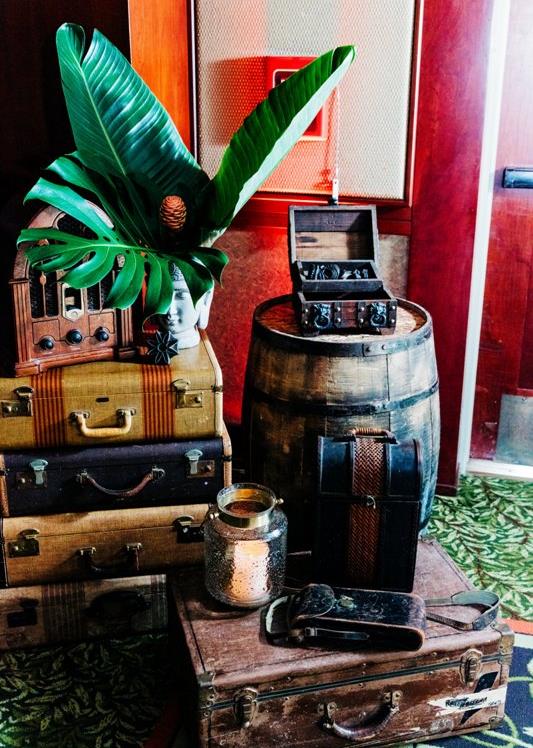 Tell us about your ceremony. Did you include any Disney touches?
Our ceremony was in the Brisa Courtyard and we didn't add any additional decor since it is such a lovely space and we wanted to save money. Our music was all instrumental Disney classics except for the processional. Our bridal party walked to "You Can Fly" from Peter Pan, and we walked to "When You Wish Upon a Star" from Pinocchio. Our Officiant, Reverend Carolyn Alexander, threw a few Disney quotes into our ceremony and vows as well. The monorail going over adds a fun Disney touch as well!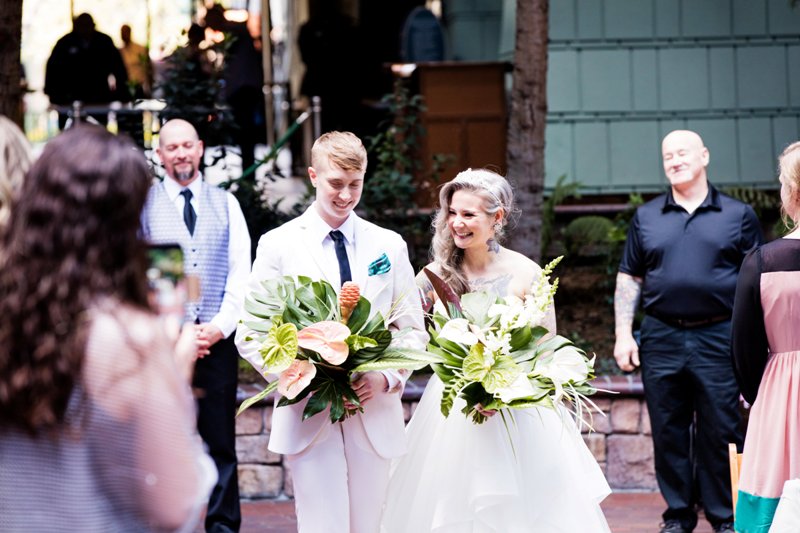 Describe your reception. Was it completely traditional or did you do anything unique?
We did a few things we thought were special. We wanted a completely vegan menu and the Disney's Grand Californian Hotel team did an amazing job on the food and the desserts. Mickey came in his Safari wear and had a special Jungle Cruise backdrop to match our theme, which was kinda tough to get. We had to do some work to make that happen as it is off-brand for Mickey to come to a wedding while not wearing formal attire. Since the decor was DIY we also had to show that our decor was on brand with Safari Mickey before we got permission to have him in the room.
What did you splurge on? Where did you save money?
We had two big splurges and they were the only thing we went into debt on. Everything else we paid for in cash. We decided to book the Adventureland Suite at The Disneyland Hotel for the night before and the night of the wedding. We were able to use it to host friends and family post-rehearsal, and as our getting ready room. It was so magical to stay in that room for two nights and made our wedding feel even more special.
Our other big splurge was adding on a visit to Walt Disney's Enchanted Tiki Room. We had initially wanted to surprise our guests with a ride on Indiana Jones after our reception but the cost was just too far out of our budget. We decided not to do anything and instead booked the Adventureland Suite.
After a few weeks of moping, Amanda encouraged me to reach out to our planner with a set budget and see if there was anything they could provide us with in-park that would fit. I think I asked about one showing at the Tiki Room and she said she would find out a cost since it had not been done before. It was just a tiny bit over our allotted budget but Amanda knew it was super important to me to go into the park so we decided to go for it. The night of our wedding we both said that our two splurges were completely worth the money and we were so glad we did them.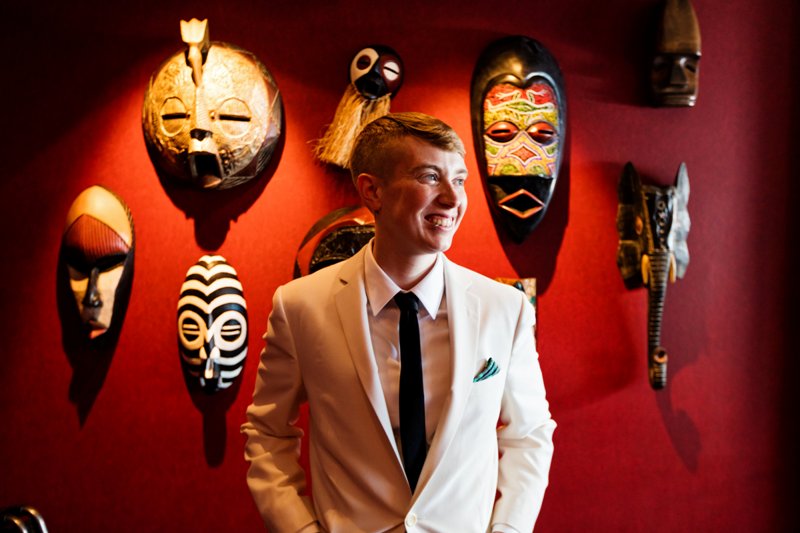 We saved money by booking some outside vendors. We had gotten an awesome recommendation for a DJ that focused on LGBT weddings and booked her immediately. We had a friend from Seattle who is a wedding florist do our floral and set up and break down our decor. Our hair and make-up artists were friends that came as guests and did our services as our wedding gifts.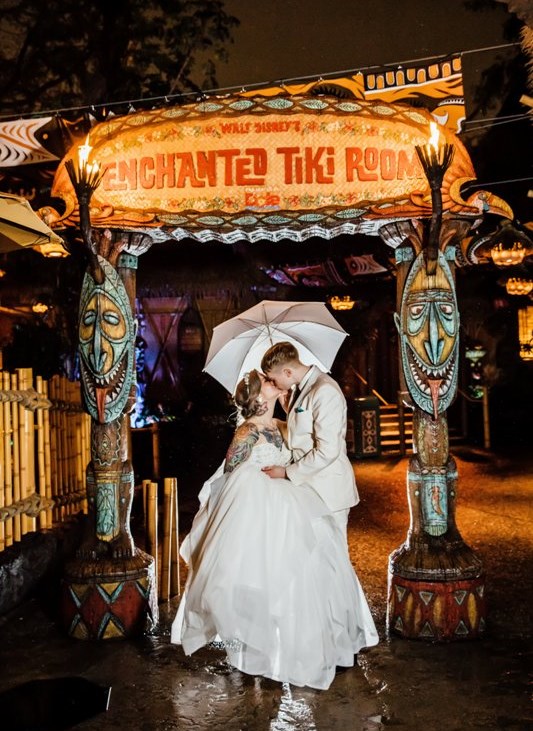 What was your favorite moment of the day?
We have the same favorite moments but when we start talking about it the list gets longer and longer! Getting ready in the Adventure Suite as a big group was so fun and special, a great start to the day. Our first look was very precious and magical for us. Mickey coming to the wedding was THE BEST!! Finally, getting to walk down Main Street in our wedding attire and visiting one of the earliest attractions in the park with all of our guests.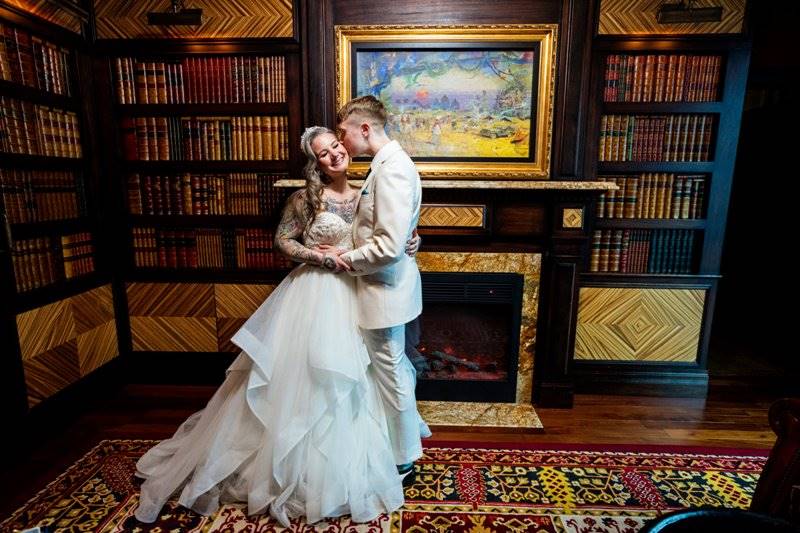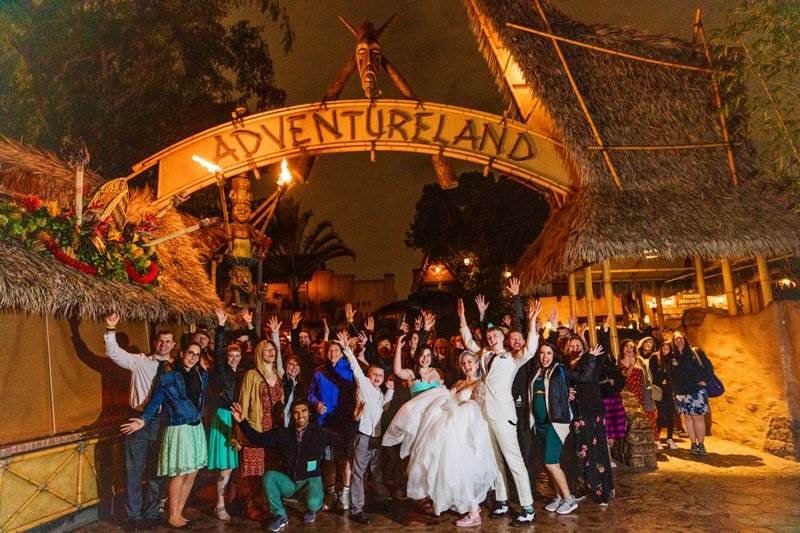 What would you change if you had to do it all over again?
Amanda says she would have had her wedding accessories more organized because when she went to get dressed she felt really rushed and stressed and it ruined the calm vibe she had up until that point.
I would have walked around to each table and asked people to sign our guestbook. I made it and it was super cool, but only around one-third of our guests noticed it and signed it.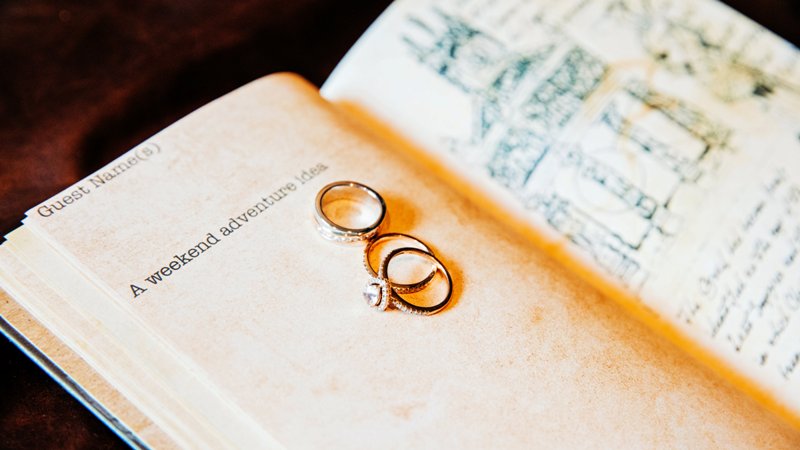 What advice would you give to couples that have just started planning their Disney wedding?
Decide on the special things you really want, within reason, and make them happen. You won't regret it! Some people say don't sweat the details but for us Disney is the details and we loved all the special little things we did for our wedding even if no one else noticed them.
Any other details you want to share?
We had an amazing experience with our photography team White Rabbit Photo Boutique and can not recommend them enough. Find your dream photographer and book them ASAP. It needs to be a priority in your budget as your photos (and/or video) are the only thing you can take with you to relive the magic of your day, and you will want to!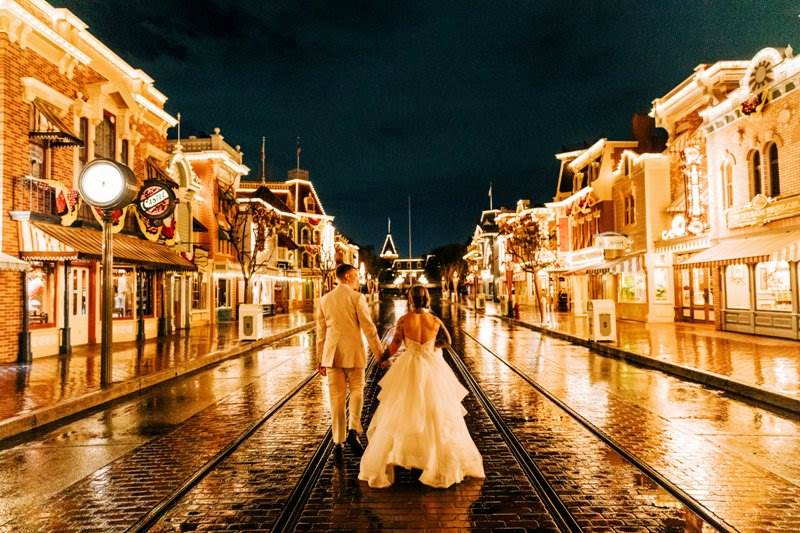 Vendor List
Wedding Coordinator: Disney's Fairy Tale Weddings
Photography: White Rabbit Photo Boutique
Videography: Sasha Perry
Officiant: Reverend Carolyn Alexander
DJ: DJ Keelez
Floral: Rusted Vase Floral Co.
Hair: Maggie Santoro
Makeup: Trish Sunderland