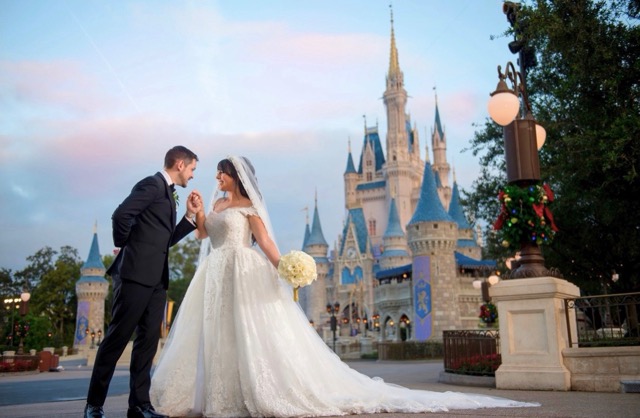 Are you ready for another magical Walt Disney World wedding? You followed along with Nicole's planning last year, and I'm excited to be sharing the result of all that planning here today! With three beautiful venues and perfect fall weather, it looks like they had the most gorgeous, happy day. I love all of Nicole's tips, suggestions, and advice for future brides, so if you're planning a Walt Disney World wedding, make sure you read every word! Thank you Nicole, and my best wishes on your happily ever after!
Read back on Nicole's planning articles here. And you can see even more of Nicole's wedding on her Instagram account!
Nicole and Chuck's Magical Walt Disney World Wedding
Disney Bride: Nicole, 29, New Jersey
Disney Groom: Chuck, 28, New Jersey
Wedding date: November 8, 2018
Ceremony Venue: Disney's Wedding Pavilion, Disney's Grand Floridian Hotel and Spa, Walt Disney World
Reception Venue: American Adventure Rotunda, Epcot, Walt Disney World
Guest count: 85
Total budget: Approx $90,000
Wedding Photography: Root Photography
Park Photography: Disney Fine Art Photography, Ali
Video highlights by Cinemedia
Nicole + Chuck
from
Cinemedia
on
Vimeo
.
Why did you choose a Disney wedding?
Disney has been such a fun part of our relationship, and when we first got engaged in Walt Disney World we immediately thought about having a Disney Fairy Tale Wedding … for about two minutes! It seemed totally impractical, too expensive, and something that would put stress on us and our guests. We began wedding planning in New Jersey, went on six venue tours, and even ended up choosing a location and a date! In the days following, I had a pit in my stomach. The wedding venue we chose was beautiful and everything I had hoped for, but something was missing. After doing some more research, making sure our families were on board, and speaking to other Disney brides and grooms, we knew that Disney was the perfect fit for us and our wedding.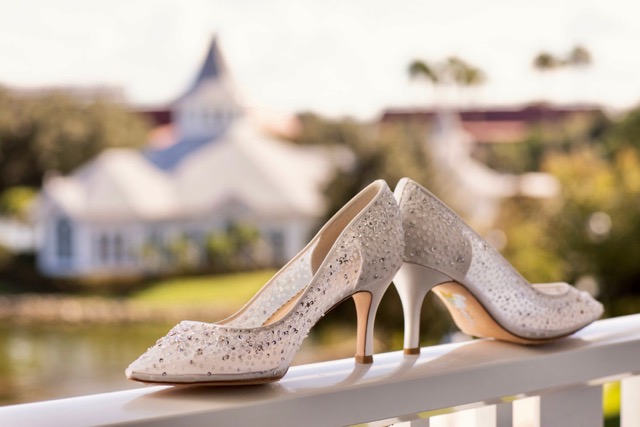 How did your family/friends react to your Disney wedding?
All of our friends were thrilled when they heard we were having a Disney Wedding, and most of them were able to make the trip! Many of our family members were also ecstatic to hear that Walt Disney World would be our wedding venue! There were only a couple of older family members that had some hesitations about traveling, but they ended up making the trip and having the best time. It did not take much convincing to get our friends and family to the happiest place on Earth!
What was your theme?
Our wedding did not have a specific Disney theme, but what we thought of as a "royal fairy tale" theme. We wanted to have some magical, Disney fairy tale elements, but also make our wedding a very formal event. We chose ivory and gold as our wedding colors for a classic and elegant ambiance.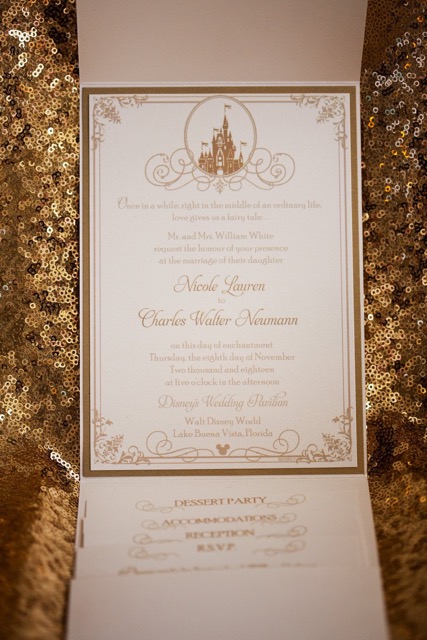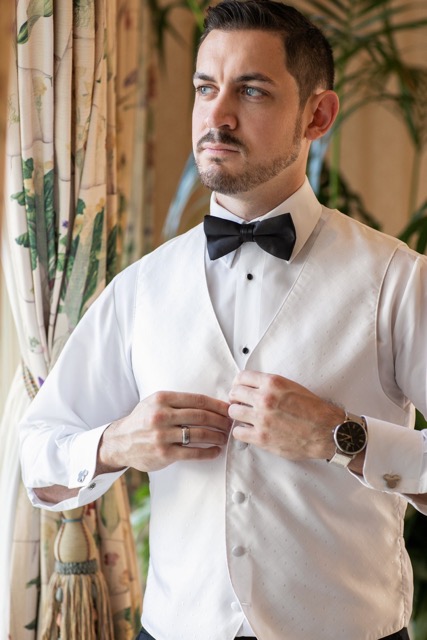 What was your biggest challenge in planning your Disney wedding?
One of the biggest challenges we faced was, of course, the fact that our planning was long distance. While Disney's Fairy Tale Weddings helps to make the planning as easy as possible, you have to have a lot of trust in your planning team. It was a bit difficult to plan out the logistics for a destination wedding. We spent a lot of time figuring out how we were going to get all of our wedding items down to Disney, and then from one place to the next. There are so many things to think about like welcome bags, gifts for the bridal party, the dresses, the tuxes, unity candle, serving set, champagne flutes, favors, and other decorations/wedding items. We actually ended up shipping quite a few boxes filled with different items down to our resort before our wedding. My best advice is to stay very organized and make lots of lists!
A second challenge planning our Disney wedding was the constant job rotation within Disney's Fairy Tale Weddings. From our experience it seemed that the Cast Members are often getting promoted from one job to the next, which makes it a little difficult when planning your event. During our year of planning we had three different planning assistants, three different florists, and two room block consultants. While this is not a HUGE deal, it makes it a little bit hard to keep track of things that were spoken about previously and make sure everyone on your wedding planning team is updated.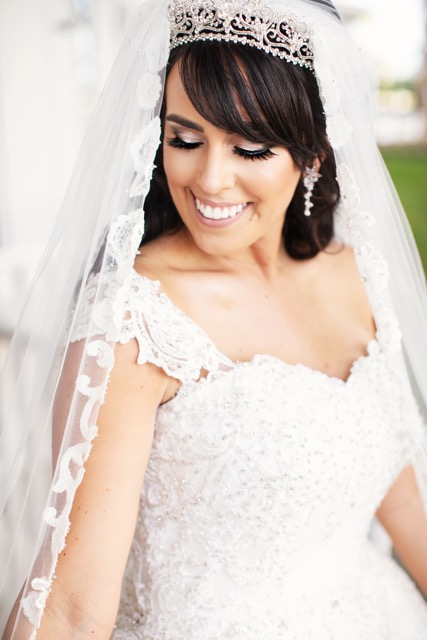 One last challenge, and disappointment, for us was actually working with our planner. From the moment we first heard from our planner we had the feeling that something was off. She seemed unenthusiastic and indifferent to us and our wedding. We debated asking for a new planner but decided that maybe her lack of enthusiasm was because our wedding was a year away, and as it got closer she would be more excited for us and more helpful. This turned out to not be the case at all. Throughout our whole planning our planner rarely reached out to us, didn't offer much advice or suggestions, and was overall apathetic, which we feel led to some mistakes on our actual wedding day. My advice to future Disney Brides would be to always go with their gut, especially when it comes to planning and your planner! If you feel like you are not vibing with your planner from the beginning, I would recommend requesting a new one before you really get into the planning process. I've heard so many Disney brides have amazing experiences with their planners, so requesting a new planner is something we wish we would have done!
Tell us about your ceremony. Did you include any Disney touches?
Our ceremony was at Disney's Wedding Pavilion, right next to Disney's Grand Floridian Hotel and Spa. The Wedding Pavilion is absolutely gorgeous! It is all white and light blue, has a big chandelier in the middle of the ceiling, and has total fairy tale vibes! Behind the altar are three beautiful stained glass windows, with a magnified view of Cinderella's Castle right in the middle! This venue honestly did not need many decorations at all! We added three floral centerpieces for the tables on the altar, the middle one held our unity candle. We also chose a personalized runner that said "And They Lived Happily Ever After" in gold glitter, our names and wedding date, and a picture of Cinderella's Coach in the middle!
An important addition to our ceremony was a memorial candle to honor our grandparents who have passed away, which was on one of the side tables on the altar.
Of course we had to add some Disney elements to our ceremony! We chose Disney songs for the bridal party processional. The guys walked down the aisle to the Imperial March from Star Wars, which was so unique and a surprise to our guests! The bridesmaids walked down the aisle to I See the Light from Tangled, which is such a beautiful and touching song! We also had Cinderella's Coach bring us to and from the ceremony, and Major Domo make a surprise appearance!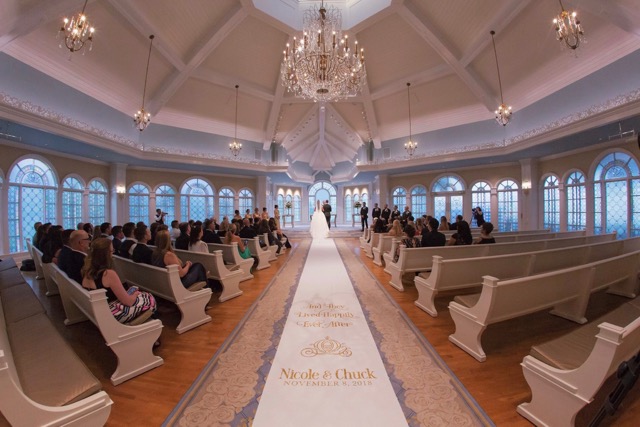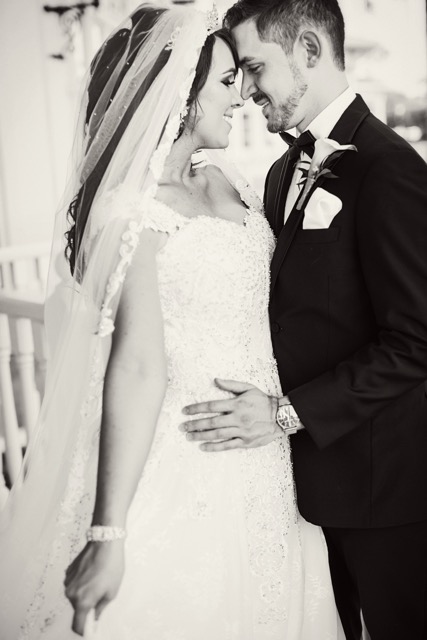 Ceremony Highlights:
1. Cinderella's Coach – How much more magical can it get!? All of the moments in that coach were so special to me. I rode in the coach with my mom and dad to my ceremony, and it was so nice to be alone with them and spend those few quiet moments with them before saying "I do." After the ceremony, Chuck and I rode the coach to our pre-reception, and it was the perfect time to take a breath and enjoy each other as newlyweds! The wedding day was so amazing, but there was so much going on, so quiet time with my new husband, riding in a beautiful, lit up Cinderella Coach, as our guests watched in awe, was incredibly magical.
2. Major Domo – Chuck and I had Major Domo as a special guest at our wedding ceremony and reception and he shocked and wowed everyone! He surprised guests when he showed up in the middle of our ceremony, to the sound of trumpets, carrying a glass slipper that held our wedding bands. When those Wedding Pavilion doors opened and our guests saw him, there was a loud gasp! They were in awe! He also announced our wedding party into the reception. He was the perfect, elegant touch to our magical day, and I am so glad we made the decision to have him!
3. As we left our wedding ceremony, a beautiful rainbow appeared across the sky, without a drop of rain! Talk about Disney magic! Rainbows symbolize blessings from heaven, so Chuck and I took this as a warm reminder that our grandparents who have passed away and could not physically be at our wedding were still with us. This was obviously not something that we had planned, but it just made our fairy tale wedding day even more magical.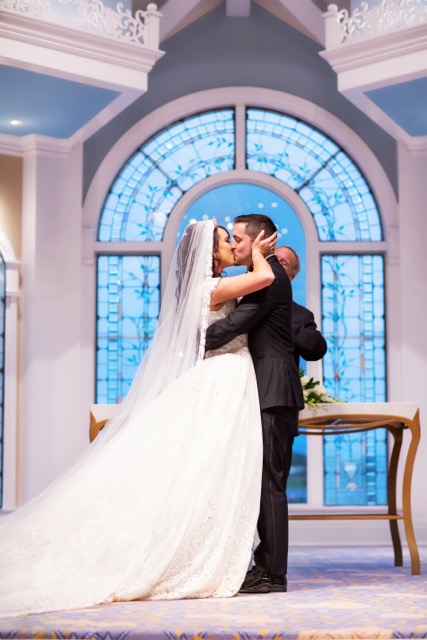 Describe your reception. Was it completely traditional or did you do anything unique?
Our reception was at American Adventure Rotunda in Epcot's World Showcase. We absolutely loved this venue! When we were choosing a reception venue we really wanted it to be unique to Walt Disney World, but also have a royal wedding feel. With it's domed ceiling, marble floors, and beautiful pillars, American Adventure was perfect for us! We carried our ivory and gold color scheme over to our reception. Our tables had very simple gold candelabra centerpieces surrounded by candles. The candelabras were great to dress up the tables without splurging on floral centerpieces, which can get super pricey! We had gold stands for our table names which were all lyrics from Disney love songs. Our charger plates were clear with gold beading around the outside and we had gold silverware. We used floral arrangements from our ceremony to decorate our sweetheart table which was a great money saver! The room had beautiful uplighting on the domed ceiling, and an image of Cinderella's Coach on the dance floor.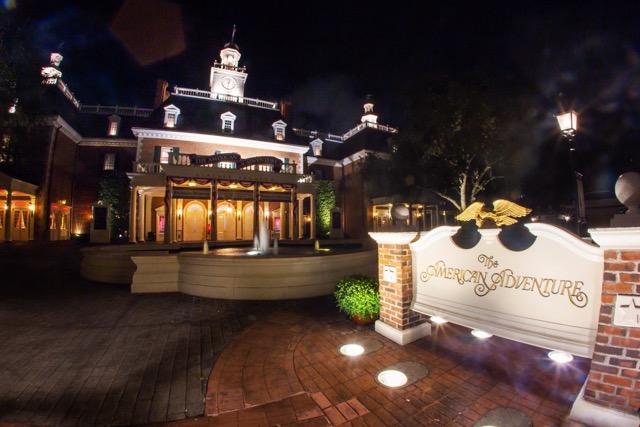 Reception Highlights:
1. Dessert Party & IllumiNations Viewing – After dinner, our guests were escorted outside to Italy Isola in Epcot's World Showcase, where we had our dessert party and VIP viewing of IllumiNations, Epcot's firework show. Our guests enjoyed Mickey shaped beignets, mini Mickey key lime pies, and bananas flambe made to order!
We used the 'floating rose' centerpieces from our pre-reception to decorate the tables at the dessert party! We had a small light added to the water to make the flower centerpiece glow. We had planned on having black table clothes on the tables at the dessert party, but a mistake was made when white tablecloths were put on. It was not a huge deal, but I think the black tablecloths would have looked awesome, and blended in better at night.
The dessert party and IllumiNations fireworks viewing was such an unforgettable, and unique to Disney, experience for our guests, and one of the reasons I love that we had an Epcot reception!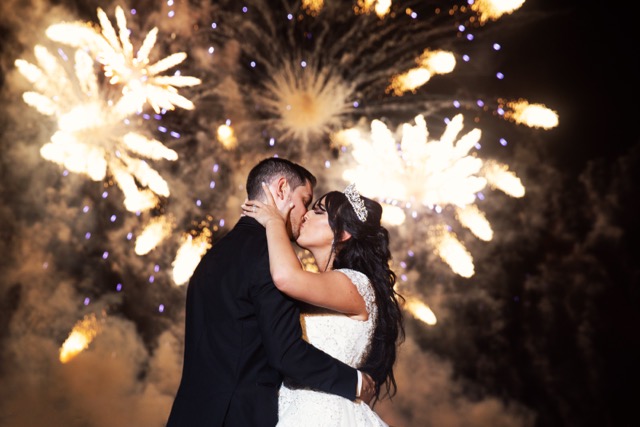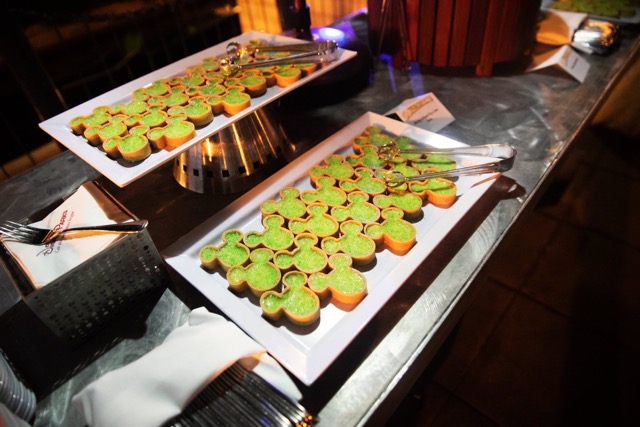 2. Waltz – Chuck and I performed a waltz to "Tale As Old As Time" at our reception, and it really wowed our guests! It was definitely one of our favorite moments. Because of the style of my dress, there was no way that I was going to be able to waltz in it so last minute I purchased a second dress for my waltz and it turned out beautiful! It was gold, which matched our wedding colors and my bridesmaids, and had sparkly roses on it which was perfect for our Beauty and the Beast waltz! We spent so much time learning and practicing this waltz dance, and we had the best time performing it together!
3. Mickey and Minnie – When Mickey and Minnie showed up at our reception, they totally got the party started! Everyone loved them! Our guests got the opportunity to dance with them and take pictures. They also helped us cut our cake. Even our guests that aren't huge Disney fans absolutely loved seeing Mickey and Minnie at our wedding! Best "wedding crashers" ever!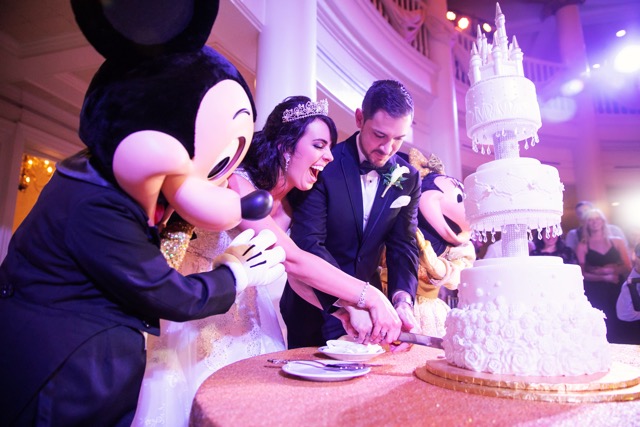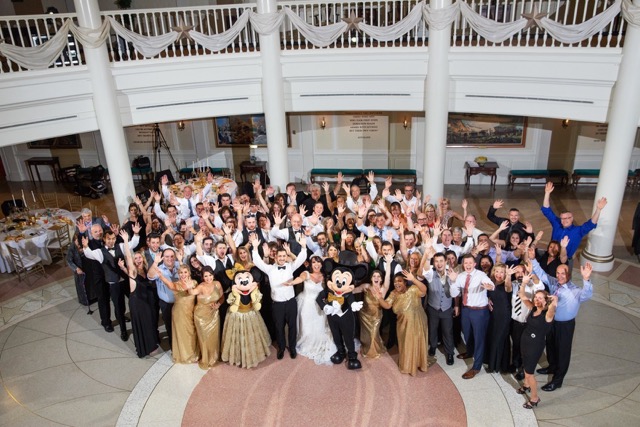 4. Magic Mirror – A last minute addition to our reception was the Magic Mirror photo booth, and we are so happy that we splurged on it! I am such a huge fan of photo booths and love that they capture such fun and silly moments, but the fact that it was a 'magic mirror' added an extra-magical, Disney element to our reception. Our guests had so much fun using the props and taking pictures all night long. We also had our guests print an extra copy of their photos, stick them into our guestbook, and write a message next to their photo. Reading through our guestbook is extra special now with all of these memories to look back on.
5. Confetti Cannons – Our last dance of the night was to the song The Time of My Life, and everyone was out on the dance floor. Towards the end of the dance our guests were totally and completely speechless when confetti cannons went off and rained down on the dance floor. It was out of a dream! It shocked our guests and was the perfect final surprise to our the most magical night ever!
What did you splurge on? Where did you save money?
Chuck and I splurged when we decided to go with an outside photography company, Root Photography, but it was one of the best decisions that we made! Photography was so important to us because we knew that we would look back on these pictures and cherish them forever. Disney will give a discount on park photos if you use Disney Fine Art Photography for your wedding day, but we were not comfortable waiting to find out who our photographer would be only a couple months before our wedding. The Roots were recommended to us by a few other Disney couples and we are both so happy with our decision. Nathan and Jensey Root are the most perfect couple, and absolutely wonderful to work with. They are so kind and patient and made everything so easy! Our wedding pictures are straight out of a fairy tale. Although it was a splurge to go with outside photographers, we couldn't have asked for anyone better to capture the most special moments of our day.
We saved some money by reusing floral arrangements and centerpieces at different events during our day, and also by using the gold candelabra centerpieces on our reception tables instead of floral arrangements. Other than that, Chuck and I agree that when you have a Disney Wedding, everything is a splurge! There were definitely other ways we could have saved and things we could have eliminated, like Major Domo, Cinderella's Coach, the dessert party, IllumiNations viewing, the characters, the Magic Mirror, and the confetti cannons, but we felt like these were the things that made our wedding a DISNEY wedding! Without these extras and enhancements, we feel our wedding would have been just like a New Jersey wedding, except in Florida. We wanted our guests to have surprises and really feel like the wedding was a magical Disney experience, and we also wanted our wedding to be everything we had ever dreamed of, so we definitely splurged. We are so happy with how everything turned out!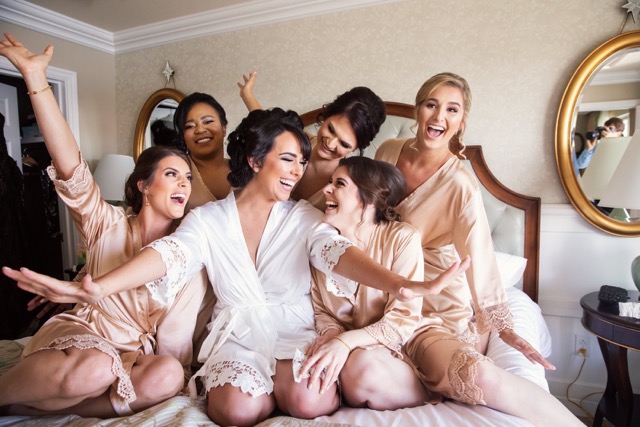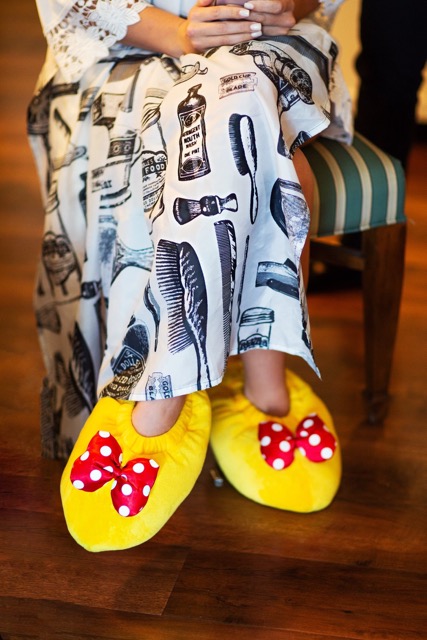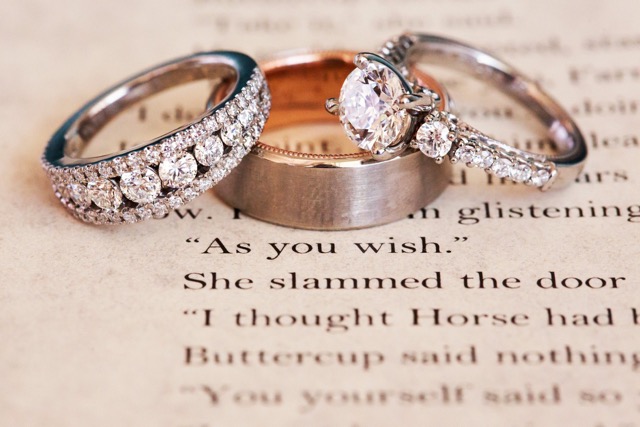 What advice would you give to couples that have just started planning their Disney wedding?
1. Make sure you have a good relationship with your wedding planner. Your wedding planner is someone who you will want to be in constant communication with and the one helping you plan the most special and important day! It is definitely important to have a positive and trusting relationship with this person to make your wedding planning experience a smooth and enjoyable one!
2. Don't rush making decision during your planning process. When you are planning your wedding it is such an exciting time, so it's easy to get ahead of yourself and make impulsive decisions for your day! During our planning, I made so many hasty decisions just because I was so eager and happy to plan! I bought a wedding dress impulsively because the bridal salon was offering a discount and it ended up not being the one. I picked out and purchased jewelry before my first fitting, just to find that it did not compliment my dress. I also hired the first hair and makeup artists I tried, just to realize they were not what I wanted and had to find a new cosmetologist only three months before my wedding! (TIP: Have hair and makeup trials with multiple cosmetologists before signing a contract!) When I look back, I find I could have saved myself a lot of stress, and A LOT of money, if I just took my time making decisions and made sure they were what I wanted! I would definitely advise current and future brides to relax and take it slow when it comes to making decisions. It definitely won't hurt to sleep on things, even if you're pretty sure its a good decision at the time. It's totally worth it to make sure you are 100% positive when saying "yes" to any decision regarding your wedding day!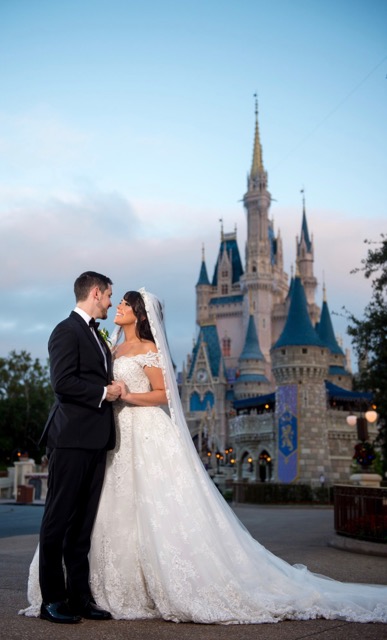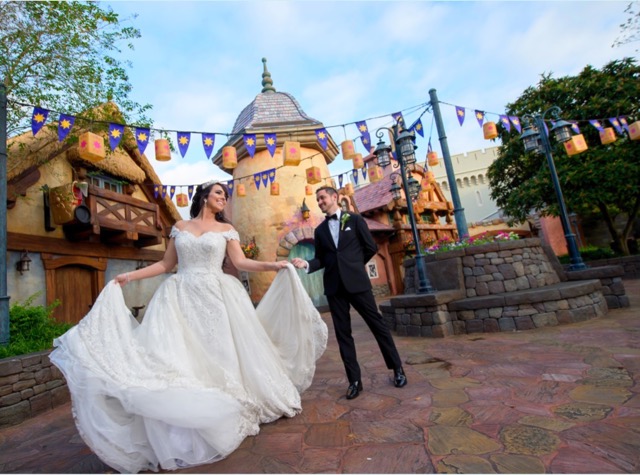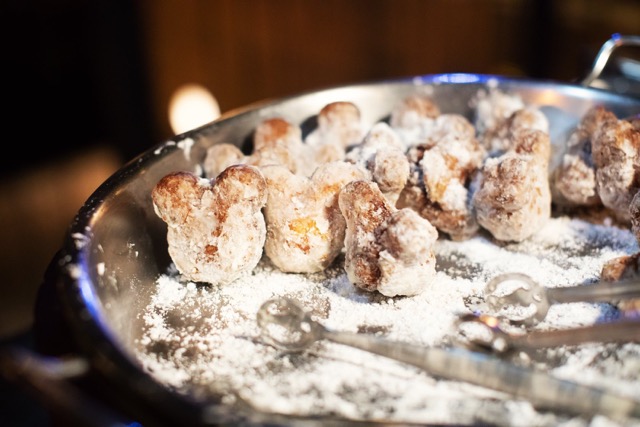 3. Trust your vendors! Every bride wants her wedding day to be absolutely perfect and go according to plan, so it's easy to want to control every little detail of the day. Leading up to my wedding I found myself stressing over every little detail and trying to micromanage every little thing. I remember having a conversation with my photographers in one of the days before my wedding about where our first look would be. I wanted to have a first look on the balcony of the Grand Floridian lobby, but my photographer was explaining to me that there are some outside places that may be better because of all of the natural light and less people interfering with photos. It was at that moments I decided to stop micromanaging every little thing, and trust my vendors. We hire vendors for a reason, because they are professionals! It would be silly for my to try to control everything about photography, videography, reception music, hair, makeup, etc., when I am not an expert in any of these fields. Once I decided to trust my vendors and let go of trying to control everything, not only was I much less stressed, but everything turned out more beautiful than I could have hoped for! (I absolutely LOVED our vendors, and would highly recommend them all! )
4. Don't let anything ruin your day! There are so many elements to a wedding, which means there is a lot that could potentially go wrong! I made the decision going into my wedding to not let the little things that go wrong put a damper on my day. There were a few, small details at our wedding that got overlooked and some mistakes were made, but I was so incredibly happy and I refused to let anything bother me. Now when I look back I'm so glad that I didn't focus on those small mistakes! It would have been a waste of energy to focus on such little details that no one even noticed but my husband and me! My advice to future brides would be to put all of your energy and focus on your marriage and take in every single moment. Don't let anything ruin what is truly going to be the most magical day of your life!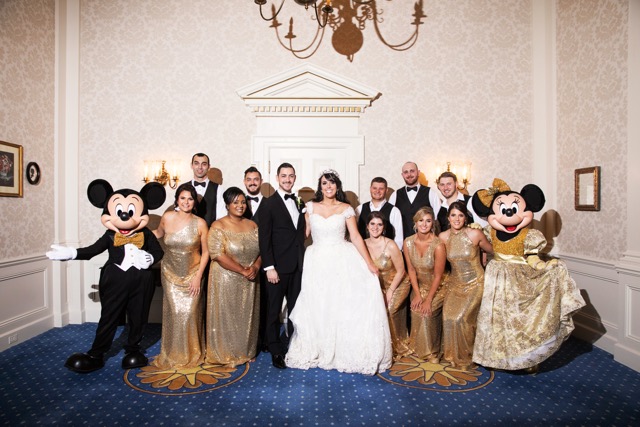 Budget breakdown
(Pricing is subject to change.)
Disney's Wedding Pavilion: $5,000
Transportation: $3,500
Major Domo: $950
Cinderella's Coach: $3,200
Pre-Reception: $9,200
Decor/Floral: $9,500
Officiant: $250
Reception Venue: $2,900
Reception Food/Drink: $16,000
Wedding Cake: $1,800
DJ: $2,350
Magic Mirror Photobooth: $3,000
Characters: $1,800
Favors: $500
Confetti Cannons: $820
Dessert Party: $5,300
Wedding Photography: $6,000
Park Shoots: $2,425
Videography: $3,800
Bride's/Groom's attire: $9,000
Hair/Makeup: $2,000 (for all wedding hair and makeup & park shoot)
Vendor list
Wedding Photography: Root Photography
Park Photography: Disney Fine Art Photography, Ali
Videography: Cinemedia
Officiant: Kirk Bane
DJ: Charles Miles
Hair/Makeup: Lea Montes
Stationery: Themes Come True