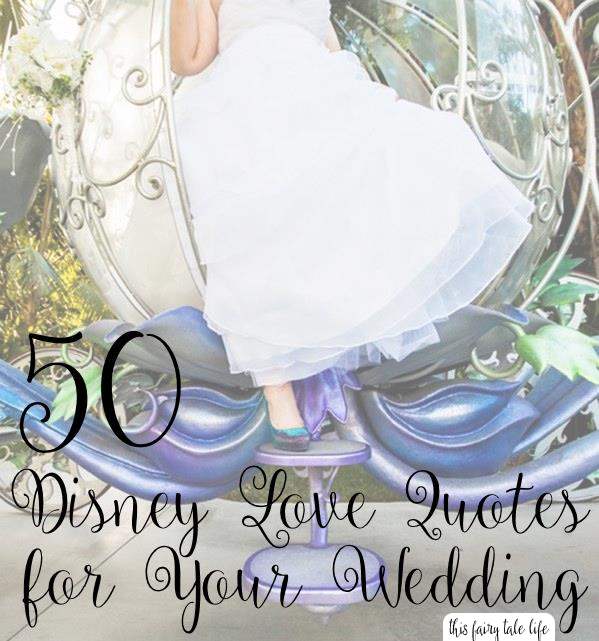 So this is love, hmmm hmmm hmmm hmmm, so this is love … This song from Cinderella is just one of the many memorable Disney love quotes given to us by Disney movies and songs over the years, and if you're having a Disney themed wedding, incorporating one of these quotes into your celebration will give your guests that warm and fuzzy feeling that only Disney can provide. Even if you're not having an all-out Disney wedding and you're just looking for a subtle way to incorporate your love of Disney, a simple quote on your invitation or program is a great way to pay homage to your fandom.
Using the Internet and my fellow Disney brides and grooms, I've put together this collection of 50 Disney love quotes you can incorporate into your wedding festivities. Feel free to use one, or a few! When my mother designed our wonderful photo guest book, she put a Disney love quote on every other page. I love it so much! A few other ideas for incorporating your favorite Disney love quotes:
At the top or bottom of your wedding invitation.
In your ceremony/vows.
On a sign displayed on your welcome table.
On a sign carried by a flower girl or ring bearer.
On your wedding website.
As table names.
In your program.
Embroidered on parents or wedding party gifts (like handkerchiefs or photo frames).
In your wedding photo album.
On post-wedding announcements.
On your Thank You cards.
And remember, these aren't just for weddings! You can also work these into your bridal shower, bachelorette party, engagement party, etc.
50 Disney Love Quotes for Your Wedding
"So this is love, so this is what makes life divine." – Cinderella
"Every once in a while, right in the middle of an ordinary life, love gives us a fairy tale." – Anonymous
"Adventure is out there." – Up
"People do crazy things when they're in love." – Hercules
"Everything is different now that I see you." – Tangled
"One song, my heart keeps singing, of one love only for you." – Snow White
"To face the future with another, who means more than any other, is to be loved." – The Rescuers
"You must be true to your heart." – Mulan
"I'd rather die tomorrow than live a hundred years without knowing you." – Pocahontas
"As sure as rivers flow, I'll never let you go." – Pete's Dragon
"You'll be in my heart, from this day on, now and forever more." – Tarzan
"Now I'm in a whole new world with you." – Aladdin
"You're the best thing I never knew I needed." – The Princess and the Frog
"This is the miracle I've been dreaming of." – Cinderella
"There isn't anything I wouldn't do for you, you've got a friend in me." – Toy Story
"Some people are worth melting for." – Frozen
"Love is a song that never ends." – Bambi
"You mean more to me than anyone in this whole world." – Peter Pan
"How do you spell love? You don't spell it, you feel it." – Winnie the Pooh
"I don't know when, I don't know how, but I know something's starting right now." – The Little Mermaid
"Can you feel the love tonight?" – The Lion King
"I wouldn't have nothing if I didn't have you." Monsters, Inc.
"Tale as old as time." – Beauty and the Beast
"I look at you and I'm home." – Finding Nemo
"You are my greatest adventure." – The Incredibles
"I know you, I walked with you once upon a dream." – Sleeping Beauty
"Love is an open door." – Frozen
"I was hiding under your porch because I love you." Up
"We're simply meant to be." – Nightmare Before Christmas
"As soon as I saw you, I knew an adventure was about to happen." – Winnie the Pooh
"When you wish upon a star, your dreams come true." – Pinocchio
"I made a wish upon a star, I turned around and there you were." – Bolt
"Side by side with your loved one, you'll find enchantment here." – Lady and the Tramp
(continued below)
"They say if you dream about something more than once, it's sure to come true." – Sleeping Beauty
"Each happy ending's a brand new beginning." – Enchanted
"If you live to be 100, I want to live to 100 minus one day so I never have to live without you." – Winnie the Pooh
"Ohana means family, and family means no one gets left behind." – Lilo and Stitch
"My love for you will always burn." – Pete's Dragon
"You are my new dream." – Tangled
"Together there's no end to what our dream can start." – Pocahontas: Journey to a New World
"Any day spent with you is my favorite day." – Winnie the Pooh
"To spend a life of endless bliss, just find who you love through true love's kiss." – Enchanted
"Trust your heart and let fate decide." – Tarzan
"You're the one! The one I have been looking for." – The Little Mermaid
"My dream wouldn't be complete without you in it." – The Princess and the Frog
"All you need is faith and trust, and a little bit of pixie dust." – Peter Pan
"I love you … I know." – Star Wars
"Sometimes the smallest things take up the most room in your heart." – Winnie the Pooh
"Love goes on and on." – Robin Hood
"And they lived Happily Ever After." – Anonymous
Photos by White Rabbit Photo Boutique; edits by me.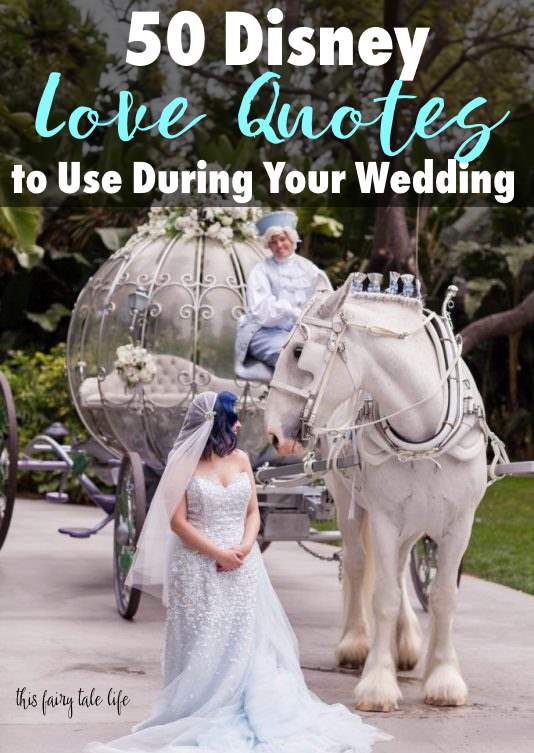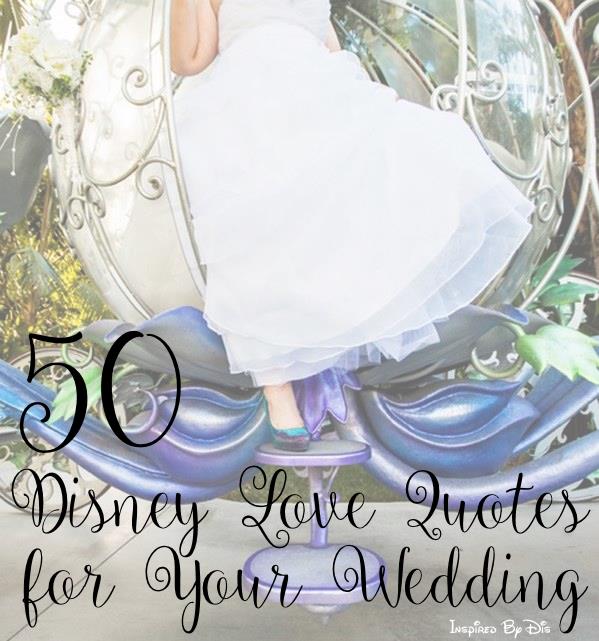 Shop Disney Wedding products:
(Advertisement)