This post contains affiliate links.
Disney Bride Nicole is planning a Walt Disney World wedding at the Wedding Pavilion and American Adventure Rotunda Ballroom for December 2016.
From the start, I decided I wanted to do something fun and different for my bridal shower. I LOVE planning themed parties! Therefore, I did not want my bridal shower to be a surprise. I had so many ideas and I wanted to be a part of the planning and decision making. I've admitted it before in past articles; I am a bit of a control freak. My bridal shower would be no exception to my crazy planning ways. After some brainstorming, the idea of drinking wine, mingling with friends, and painting came up. The concept seemed really unique appealing to me and. Of course Disney needed to be incorporated in many ways. I am so incredibly fortunate to have such creative and talented groups of family and friends who carefully weaved Disney elements all throughout the shower. My entire bridal party and our mothers truly made the day as magical and one-of-a-kind as it was. I can't thank them all enough!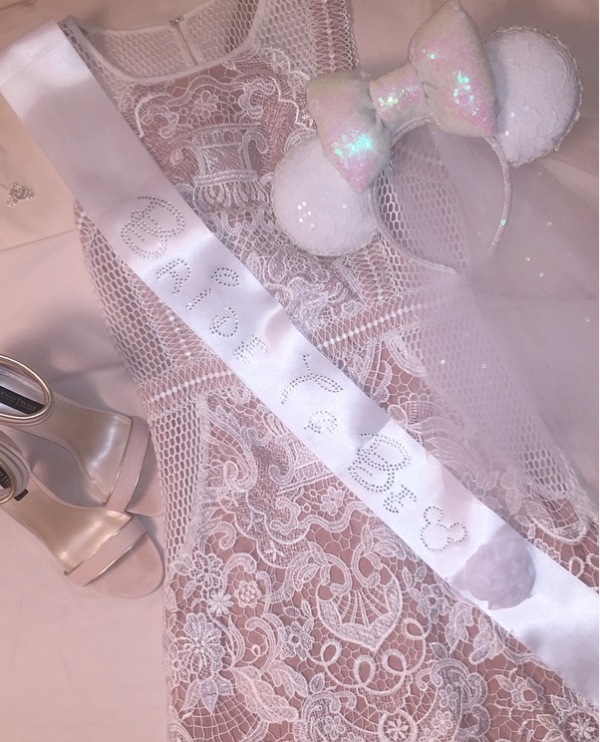 Putting a Disney Spin on a Traditional Bridal Shower
Picking a Theme & Location:
The atmosphere of your bridal shower location sets the tone. I decided I wanted to have a bridal shower painting party at our local paint studio, Pinot's Palette. The studio is bright and cheerful with colorful art lining the walls; I knew the environment was just right for the feel I was going for. I also wanted my guests to have a great time and not get bored during my shower. I felt like painting would get everyone out of their comfort zone and maybe even be relaxing for some, considering there would also be plenty of wine to enjoy!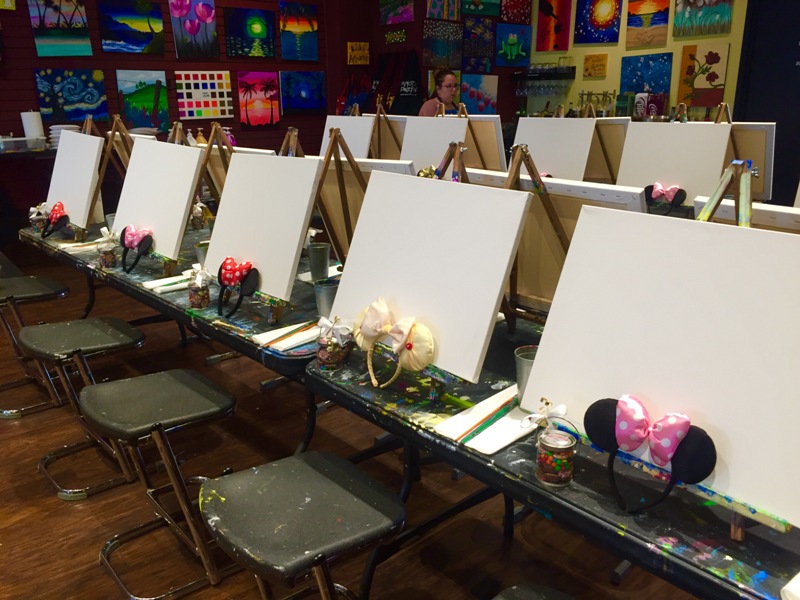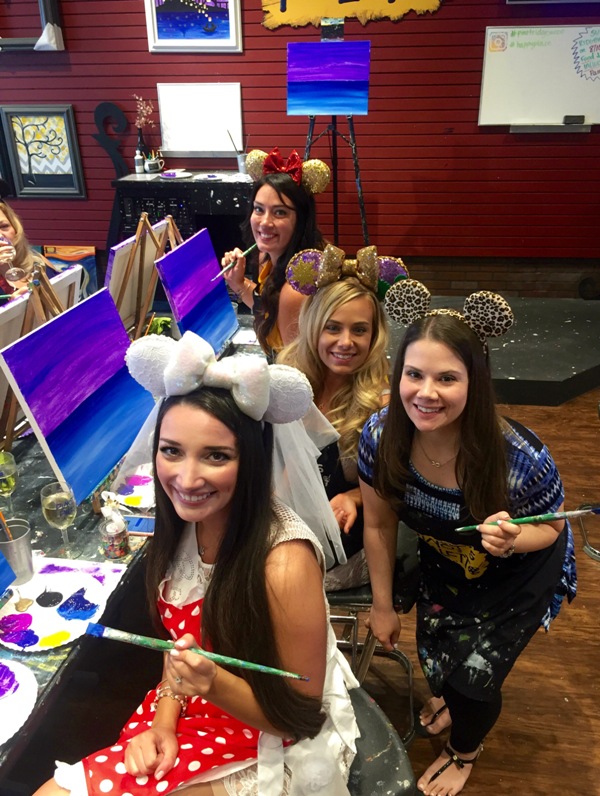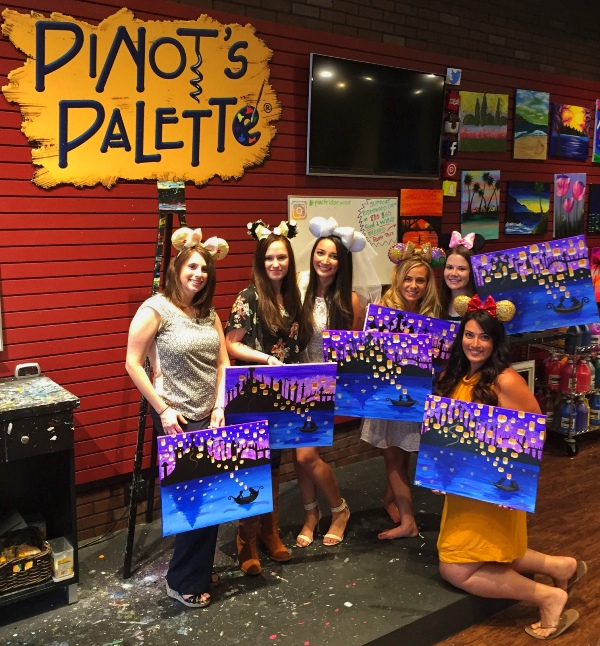 Incorporating the Disney Details:
I was especially excited about being able to work with an artist before the shower to design a custom painting. I knew right away what I wanted the artist to create. The paper lantern scene from Tangled, where Rapunzel tells Flynn that he is "her new dream," is very special to my fiancé and I. The song "I See the Light" which plays during that scene in the movie is going to be incorporated into our wedding day, so it seemed really cool that I could find a way to include it in my shower as well.
More than half of the guests who came to my shower are also making the journey to Florida for our Disney wedding in December. I really wanted everyone to have their very own pair of mouse ears. Each guest received special custom ears. Some my mother and I created on our own, and others we ordered through Etsy. I made sure each of my bridesmaids received a pair that represented their favorite Disney princess or character. I purchased my custom bridal ears from the2mouseketears shop on Etsy, and they were perfect!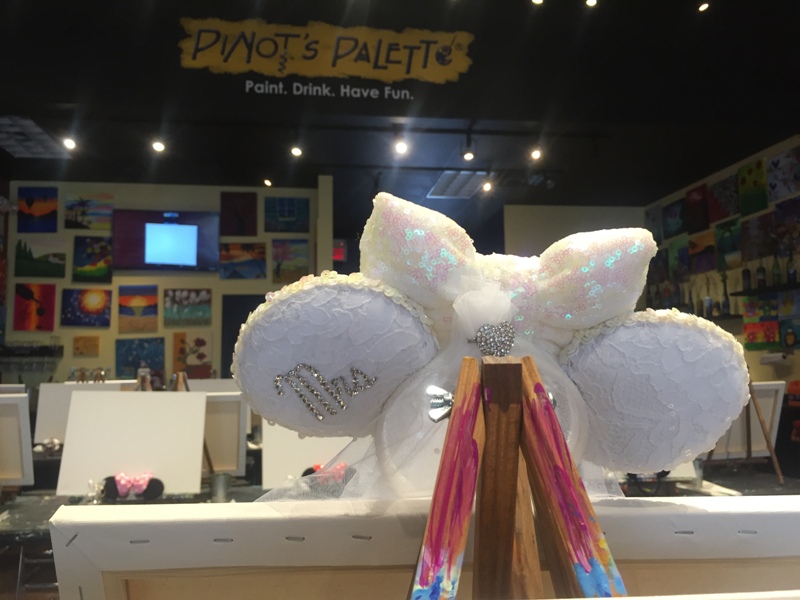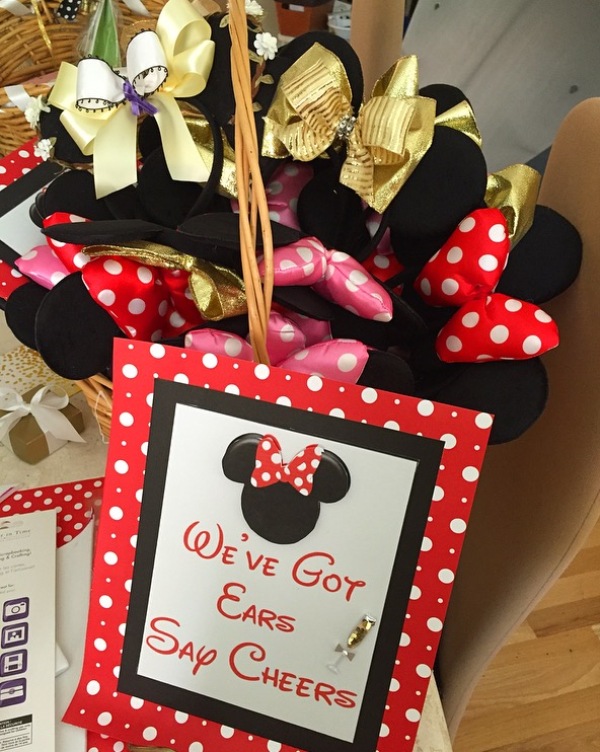 I'm really so lucky to have my mom. She is so crafty and should really have her own DIY channel on YouTube. If I show her a picture of something online I know she can customize it and make it even better than the picture. She created about 35 custom bows for the mouse ears, signs for all the tables and food items, and a beautiful "Disney Bride-To-Be" banner.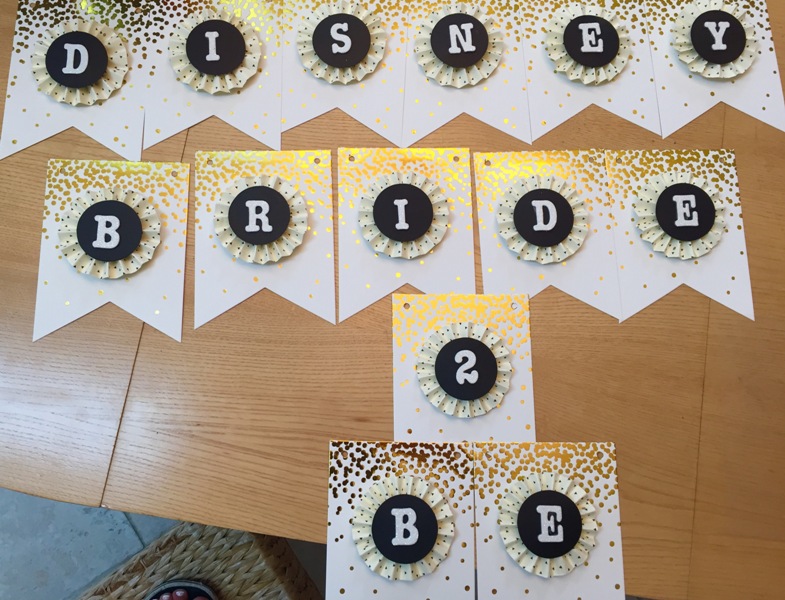 She also came up with the awesome idea for the favors that went so well with the paint party theme. She purchased 50 miniature paint cans from Michael's craft store and filled them with multi colored chocolate nonpareils and mini M&Ms. My lovely mother-in-law then printed out custom labels from Vistaprint which featured a fairy tale castle on them. This tied the Disney element into the favors perfectly.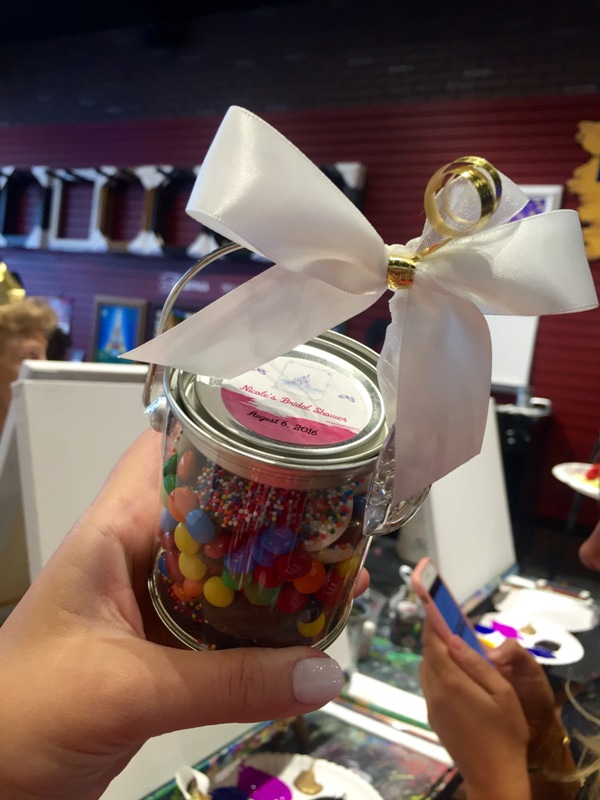 The Food & Wine:
Pinot's Palette is BYOB and food. My bridal party created a menu that would be easy for people to pick up and eat while painting or walking around. They provided finger sandwiches, wraps, fruit, veggies, and my personal favorite, sushi! We offered a selection of different wines, my favorite bottle being the "Once Upon a Vine" wine which fit perfectly with our Disney theme.
The bridal shower cake had to be Minnie Mouse inspired! That was the easiest decision of all, since Minnie is my favorite! She's sweet, fun, and totally iconic. I also needed other Disney themed dessert items to surround the cake. Luckily for me, my great friend and bridesmaid, Ashley Ellinger, owns and runs her own bakery, Millinger's Bakery.
She made for me a variety of truly unique Disney inspired desserts. The biggest hit had to be the Little Mermaid Dinglehopper cake pops! They were almost too beautiful to eat and were absolutely delicious!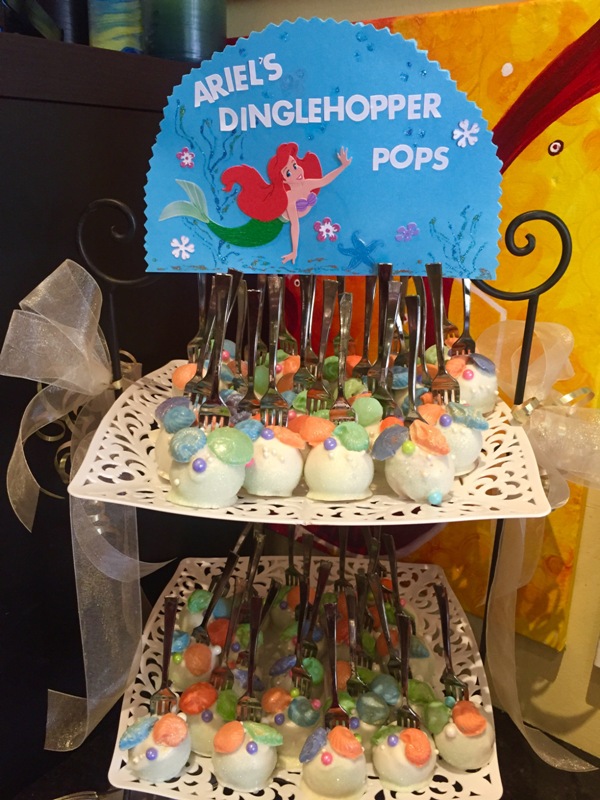 She made painter's palette sugar cookies, which we named "World of Color Sugar Cookies."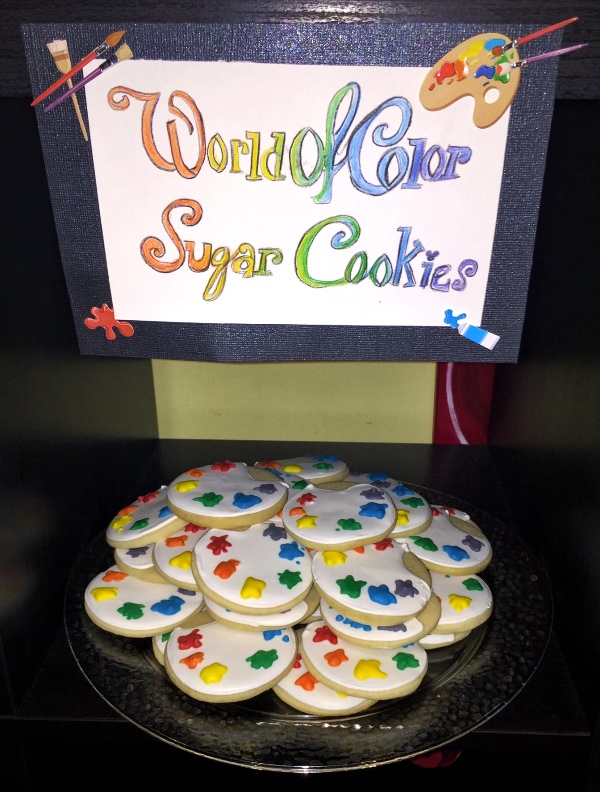 If that weren't enough she also baked chewy chocolate chip cookies and Ghirardelli fudge brownies, which were appropriately Mickey shaped. A Disney shower wouldn't be complete without some Mickey shaped food, in my opinion.
All of the desserts were devoured by our guests!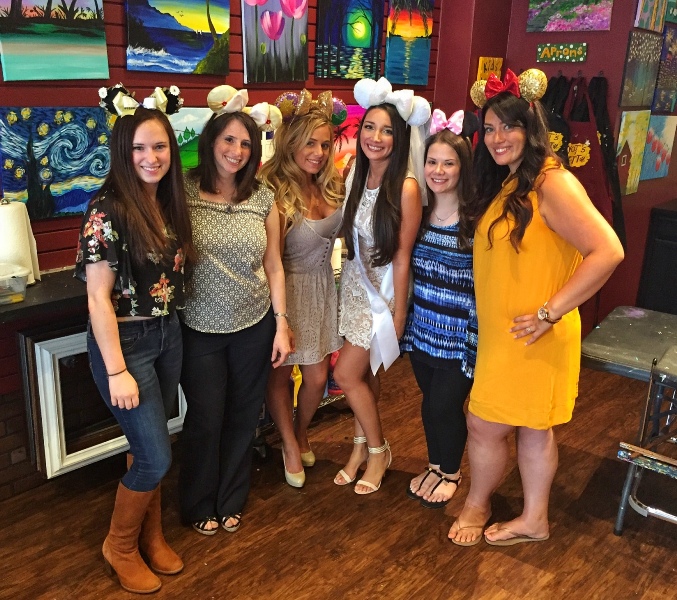 I still can't believe how perfectly everything came together. The mouse ears were a big hit and everyone loved the Tangled inspired painting! I had an amazing time and felt completely relaxed. I wanted to have great memories of the day and look back and love it and I'm so happy to say, thanks to my amazing family and friends, we achieved the shower we set out to create. My Disney bridal shower far exceeded my expectations and was better than I could have ever hoped for!