This post contains affiliate links.
This weekend marked another Disneyland Half Marathon weekend. This race weekend was kind of special because it's my fifth anniversary of doing runDisney events! My first race was 2012, the same year of our wedding. So I've officially participated in FIVE Disneyland Half Marathon weekends! This year I completed the Disneyland 10K on Saturday and had a really fun race.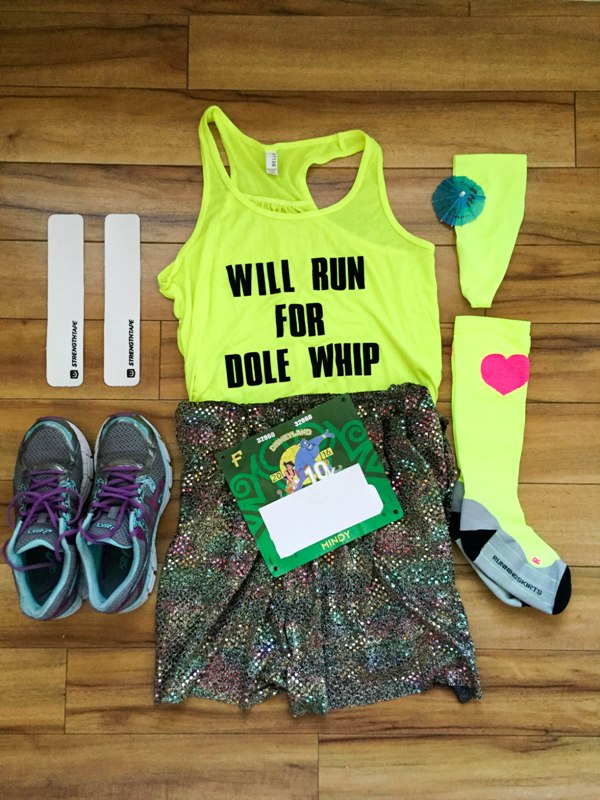 My costume this year kind of came together by accident. I had this yellow Bella tank top that was shipped to me in error but I kept it anyway hoping I could use it for a costume in the future. About a week ago I thought about putting together some kind of Dole Whip costume. I bought the iron-on letters and made the skirt overlay, as well as making a tiki umbrella barrette for my hair (but ended up clipping it to my shirt instead). While at the expo on Friday, I came across a neon yellow Bondi Band and these neon yellow compression socks from RunLove. They matched so perfectly I couldn't resist buying both of them! I feel like the extra accessories really brought my outfit together. In hindsight I don't think any type of neon is the most flattering color on me, so I'll probably try to stay away from it in the future!
This picture is not the best but I actually really like it because it looks like I'm actually trying to run!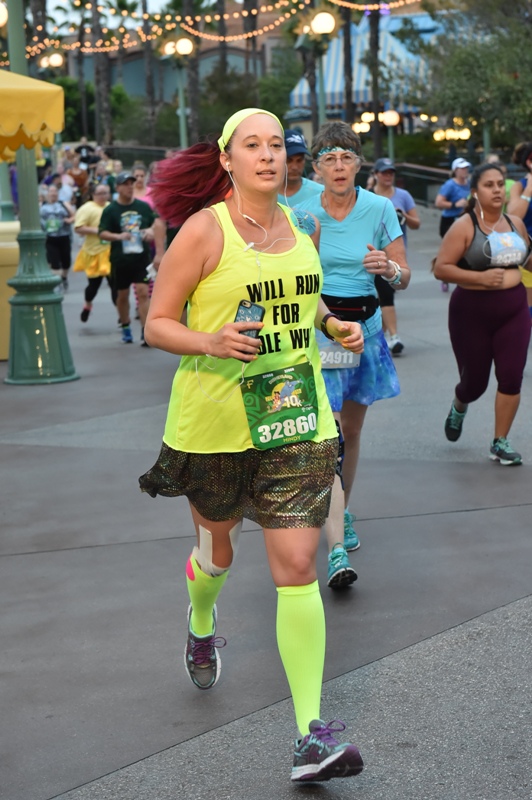 One thing that was especially great about this race weekend was the weather! Usually it is one million degrees in Southern California during Labor Day weekend but this year we had gorgeous 80° temperatures and overcast skies every morning. It's so much easier to run without the sun beating down on you.
As for me personally, I had a great race! I didn't beat my best time, I missed it by actually just a few seconds. But I had a very little pain in my knees and hip during this race, which I consider to be a major victory for me! I got a little concerned between miles 1 and 2 when I started feeling a little twinge of pain in my knee, but it actually disappeared as the race went on. Bodies are weird!
Race Time – 1:32:02
Pace – (not provided in the results this time!)
The course itself was a little bit different this year versus past Disneyland 10ks. The race always starts out with the first couple miles going through the streets of Anaheim and through the Convention Center area before working our way into Disney's California Adventure. For this race it felt like we spent a lot of time inside DCA and not a lot of time inside Disneyland. In fact I kind of felt like we were rushed through Disneyland to get back outside to Downtown Disney.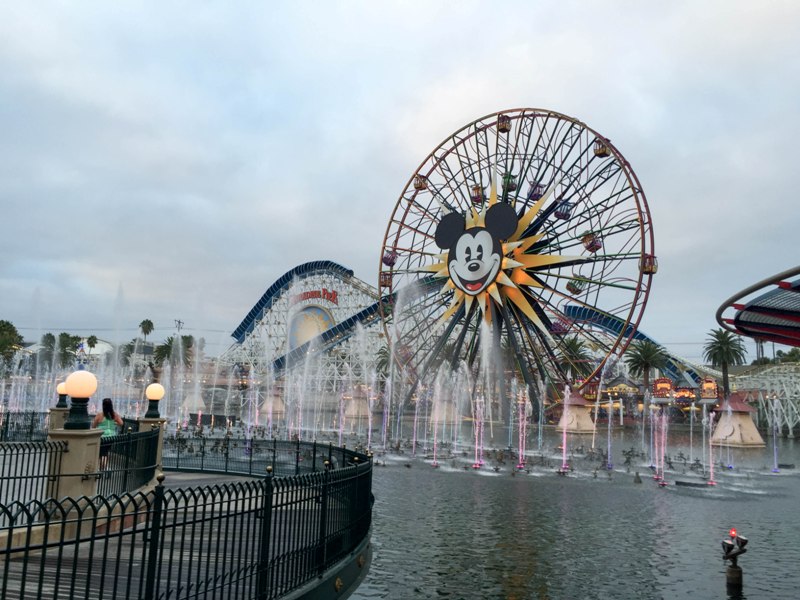 Running through Downtown Disney at the end of the race is always fun because there are a lot of people cheering you on. I actually did a Facebook Live broadcast for the last half mile of the race which you can watch here. I will warn you, it's very shaky and it might make you feel a little dizzy!
Always a welcome sight – the finish line!
Another great part of runDisney – people's cute costumes! Here are just a couple:
Clever Aladdin themed shirts.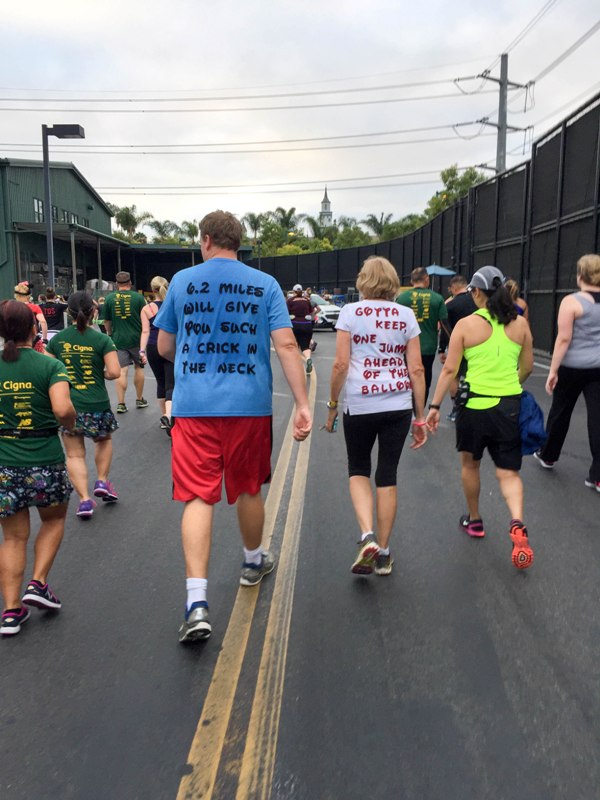 Nick and Judy!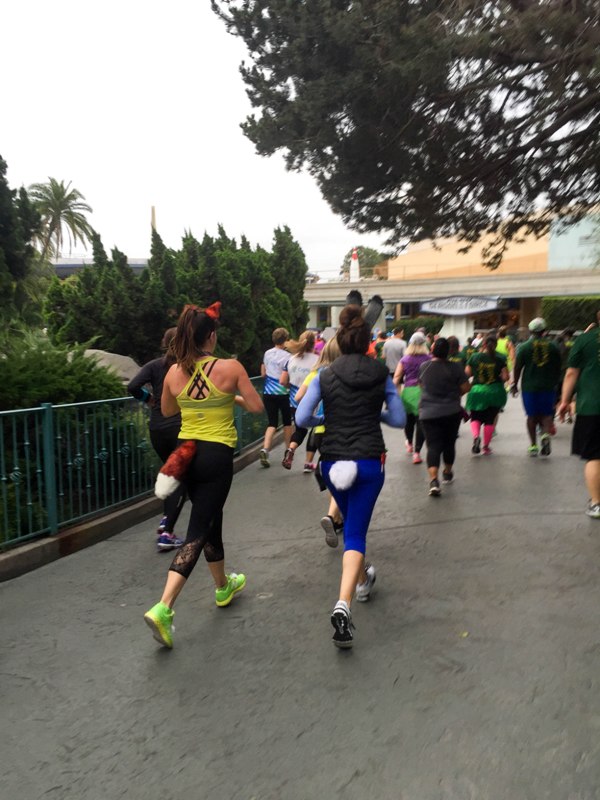 We also ran by the under-construction Star Wars Land. You can't really see anything, but … it's just nice to know it's there!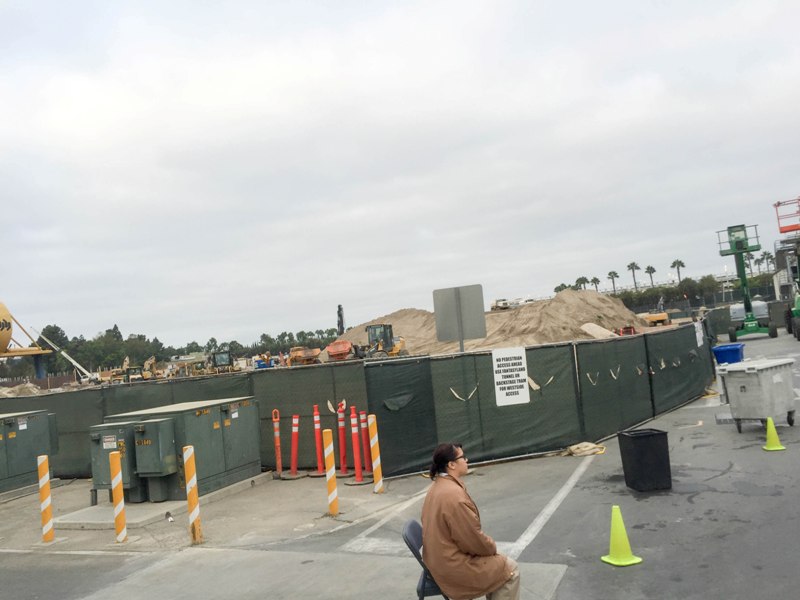 Overall I had a wonderful race, and I'm feeling really good about signing up for January's Star Wars Rebel Challenge. Yep, I just made a big announcement … I am doing another half marathon. And on top of that I'm doing the two race challenge. My injuries have gotten so much better, so couple that with my Star Wars obsession and I felt like this was the right time for me to try to go for that pretty challenge medal. I still have a lot of training and rehabilitation in front of me, but I'm feeling really good about getting back into participating in half marathons.
Aside from the race, on Friday I had the opportunity to attend the CIGNA blogger meet up on behalf of Babes in Disneyland. My blog post will be up on her site shortly and I'll link it here when it's ready.
Congratulations to everyone who participated in the Disneyland Half Marathon weekend, enjoy that bling!