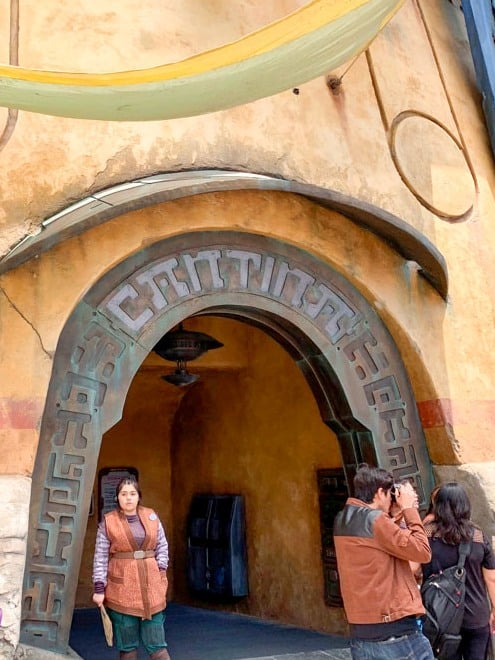 One of the most exciting areas of Star Wars: Galaxy's Edge is Oga's Cantina. This Batuuan watering hole is the first public location inside Disneyland Park to serve alcohol, which makes Oga's Cantina drinks a worthy destination in their own right.
In fact, Oga's Cantina was so extremely popular during the first days of operation the line had to be closed off multiple times throughout the day, which caused guests to linger in the area, waiting for the signal that the line was open again. The result was crowded walkways and frustrated guests as everyone stampeded into the line.
Now, Oga's Cantina takes reservations, just like a sit-down restaurant. You can make reservations up to 60 days in advance and it fills up quick! And if you don't have a reservation, you can check the walk-up availability on the Disneyland app.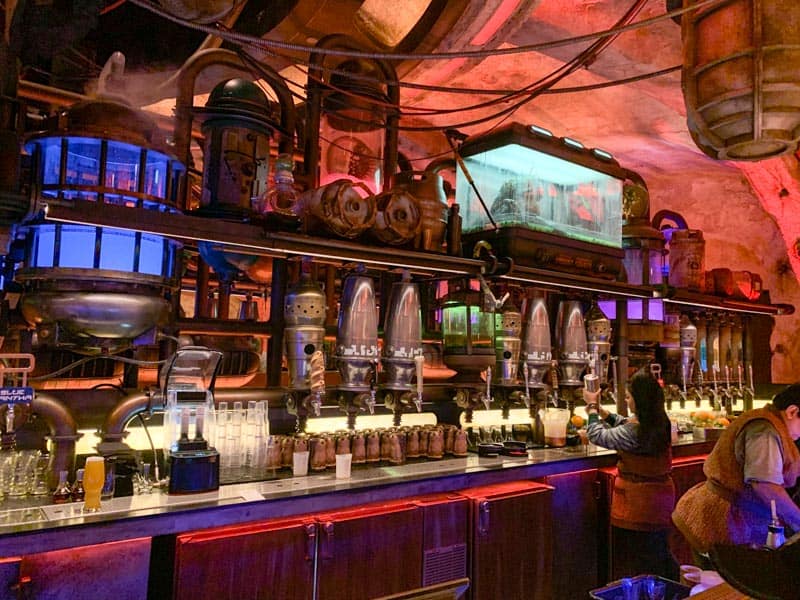 I was lucky enough to visit Star Wars: Galaxy's Edge on opening weekend and have been dozens of times since then, which means I've tried nearly every cocktail concoction on the menu at Oga's.
Here are my favorite Oga's Cantina Drinks Ranked from Best to Worst!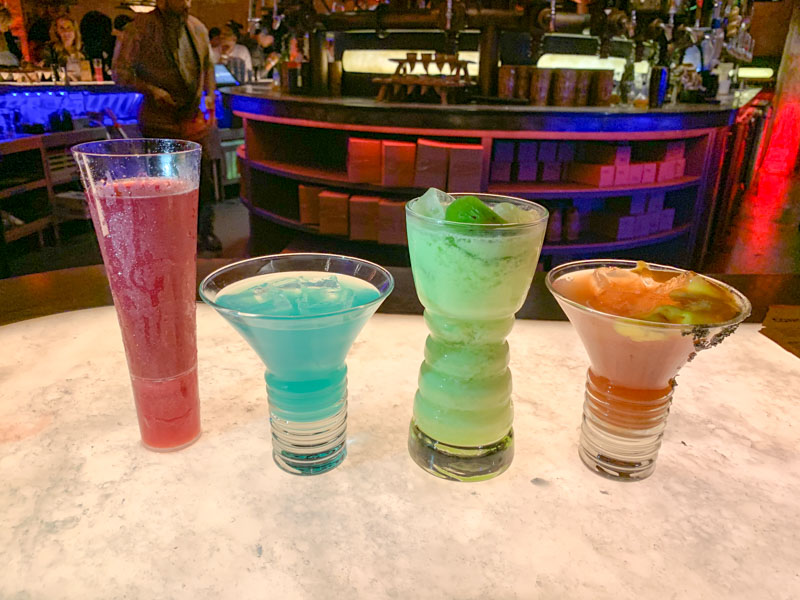 The Best Oga's Cantina Drinks
The Outer Rim: Silver tequila, acai liqueur, lime juice, pure cane sugar, black salt and exotic fruit purée
– Number 1 with a bullet for me was The Outer Rim cocktail! I love margaritas and out of the two tequila drinks, this one hit all the right buttons for me.
Jedi Mind Trick: Ketel One Botanical Grapefruit & Rose Vodka, John D. Taylor's Velvet Falernum, Bols Blue Curaçao, White Grape Juice, Lime Juice, and Grapefruit Bitters
– After margaritas, I enjoy vodka drinks. Not only is the Jedi Mind Trick very tasty, but in my opinion it's the strongest drink on the menu.
***
Shop Similar Glassware!


***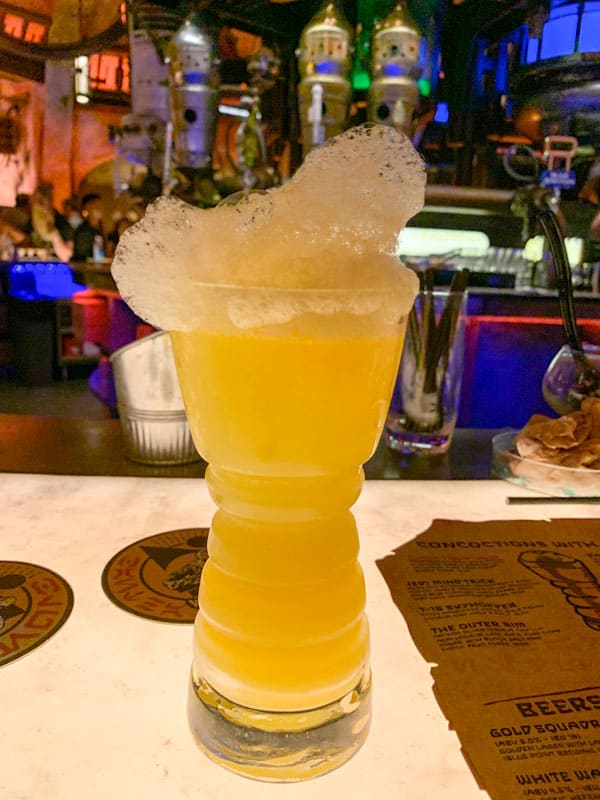 Fuzzy Tauntaun: Cîroc Peach Vodka, Bols Peach Schnapps, and Simply Orange® topped with Tangerine, Pure Cane Sugar, "Buzzz" Foam
– Based on Instagram Stories I've watched, this is one of the most popular drinks at the cantina. It's definitely tasty and very sweet, but watch out for that Buzzz Foam. It will leave your lips and tongue tingly, like you just ate a bunch of Pop Rocks.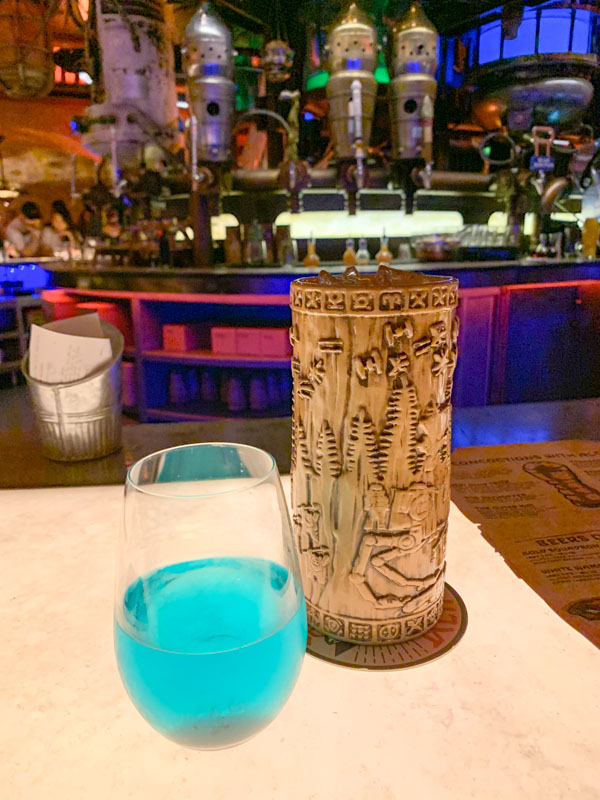 Toniray Wine and Yub Nub
Yub Nub:
Malibu Pineapple Rum, Sailor Jerry Spiced Rum, Citrus Juices, and Passion Fruit (available with souvenir mug, while supplies last)
– I hate to rank this one close to last due to it's adorable Endor tiki style mug, but it's just … not good. Like a bland Mai Tai. You can still purchase the mug (if available) for the same price, but sans drink.
Takodana Quencher: Bacardi Dragonberry Rum, Bols Blue Curacao, Simply Orange with Pineapple and Kiki flavors.
– This tropical drink tasted too much like cough syrup to me. Not a favorite.
Bloody Rancor: Tito's Vodka, spicy Bloody Mary mix, and a Rancor bone
– A typical Bloody Mary style drink, which I know some people enjoy in the morning (Oga's opens when Disneyland opens!) but at the Cantina I'd opt for something a little more unique.
Oga's Cantina Drinks I haven't tried (and why I haven't tried them):
Jet Juice: Maker's Mark Bourbon, Ancho Reyes Chile Liqueur, Cedilla Açaí Liqueur, White Grape Juice, and Lemon Juice
– I don't drink bourbon (bourbon is made from corn AND barley, and I have an intolerance to both). I sniffed it and it sure smelled strong. But, even the bourbon lover in our group didn't rank this among their favorites. Be advised this drink is served like a shot and it's meant to be sipped.
Coruscant Cooler: Maker's Mark Bourbon, Maraska Maraschino Liqueur, Carpano Antica Sweet Vermouth, Cranberry Juice, Lime Juice
– This is the Star Wars take on a classic Manhattan. Another bourbon drink I can't have, but my friend really enjoyed it.
Dantooine Tonic: Del Maguey Vida Mezcal, Passion Fruit Syrup, Ginger Beer, Lime
– This sounds delicious but I had a bad experience with mezcal once. Need I say more? If anyone tries this one, let me know how you liked it!
Ginger Lime Tea Lemonade with Soju: Soju, Minute Maid Lemonade, Gold Peak Unsweetened Ice Tea, Habanero Lime and Ginger Flavors, topped with Macha Foam
– Aside from being disappointed they couldn't come up with a more clever name for this one, the Habanero scares me away.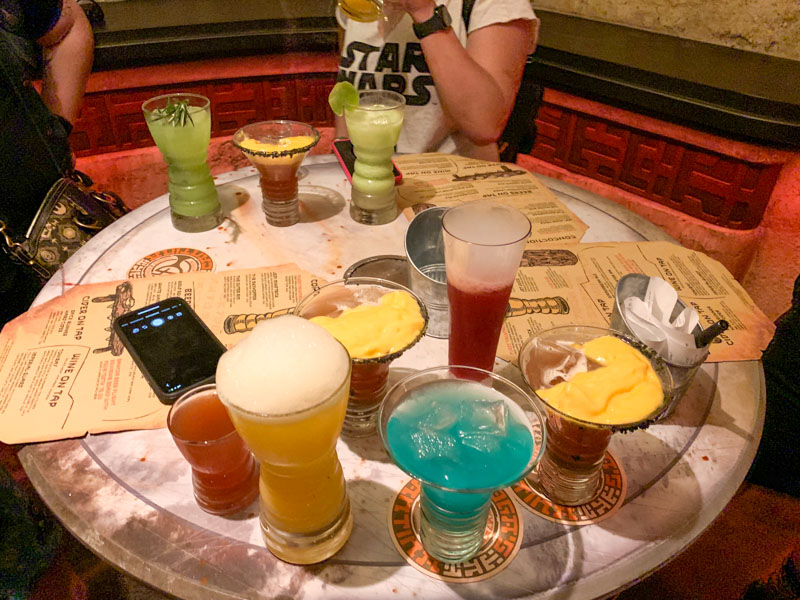 Oga's Cantina Beer and Wine
Oga's Cantina has a rotating selection of beers on tap, and you can also purchase a beer flight that is served in Rancor teeth (that you get to keep)!
As for wine, there is one red wine available as well as the Toniray teal (white) wine. This teal wine was popular on Alderaan before … you know. I was excited to drink this one but I was a little let down. The wine had a bit of a sharp floral taste that I wasn't into. But it looks pretty in photos.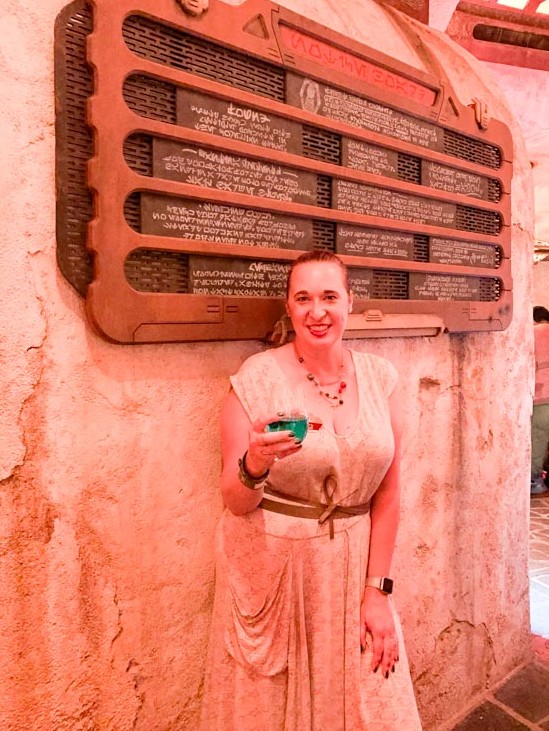 Oga's Cantina Alcoholic Drinks of Yesterland
The menu at Oga's Cantina has changed a bit since it opened in 2019. The following are drinks that were once offered at Oga's Cantina but sadly are not available anymore.
Dagobah Slug Slinger: Herradura Reposado Tequila, Bols Blue Curaçao, Citrus Juices, Ginger, Herbs, and Bitters
– This tequila based drink just didn't cut it for me. The ginger is a bit overpowering and I'm not sure I like the combo of ginger, tequila, and bitters. But if The Outer Rim sounds too sweet for you, this one might be up your alley.
T-16 Skyhopper: Vodka, melon liqueur, kiwi and half and half
– Probably the most tropical tasting drink of the bunch. The melon taste is very strong, and the cream makes it a heavy drink. This is one you'll want to sip for a bit.
Bespin Fizz: Rum, yuzu purée, pomegranate juice, white cranberry juice, and cloud swirl
– The Bespin Fizz is a fun drink AND it's tasty! This drink is made with dry ice so it arrives bubbly. So bubbly you can feel your glass vibrating. Once the vibration wears off, you're left with a strong drink similar to hurricane, but more tart than sweet.
Tarkenian Night Flower: Gin, Elderflower Liqueur, ginger flavoring, and huckleberry flavoring
– Be advised, this drink has a bite! The Tarkenian Night Flower has become one of my favorites but the ginger makes it a little spicy. If you enjoy mules you'll like this one.
A lot of people have asked me if Oga's Cantina is worth the hassle and the wait. I say, yes! It's certainly a novelty to have an alcoholic drink inside Disneyland.
Don't expect the drinks to be craft cocktail quality – they are premixed – but most of them are tasty and unique.
Also, the inside of the Cantina is really cool. DJ R3X plays some good galactic jams (and one tune you'll likely recognize), and the detail around the bar is fun to study. Keep an eye on those creatures above the taps! You never know what might happen.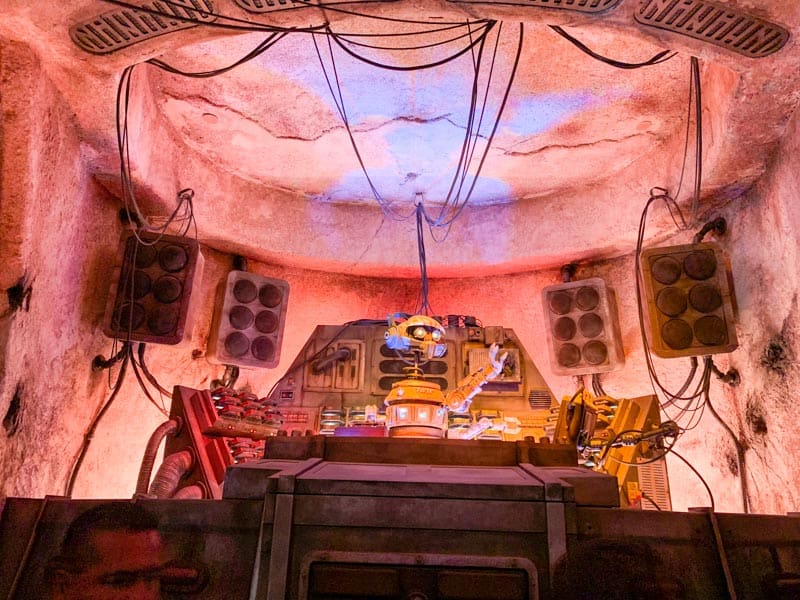 Have you been inside Oga's Cantina? What was your favorite drink?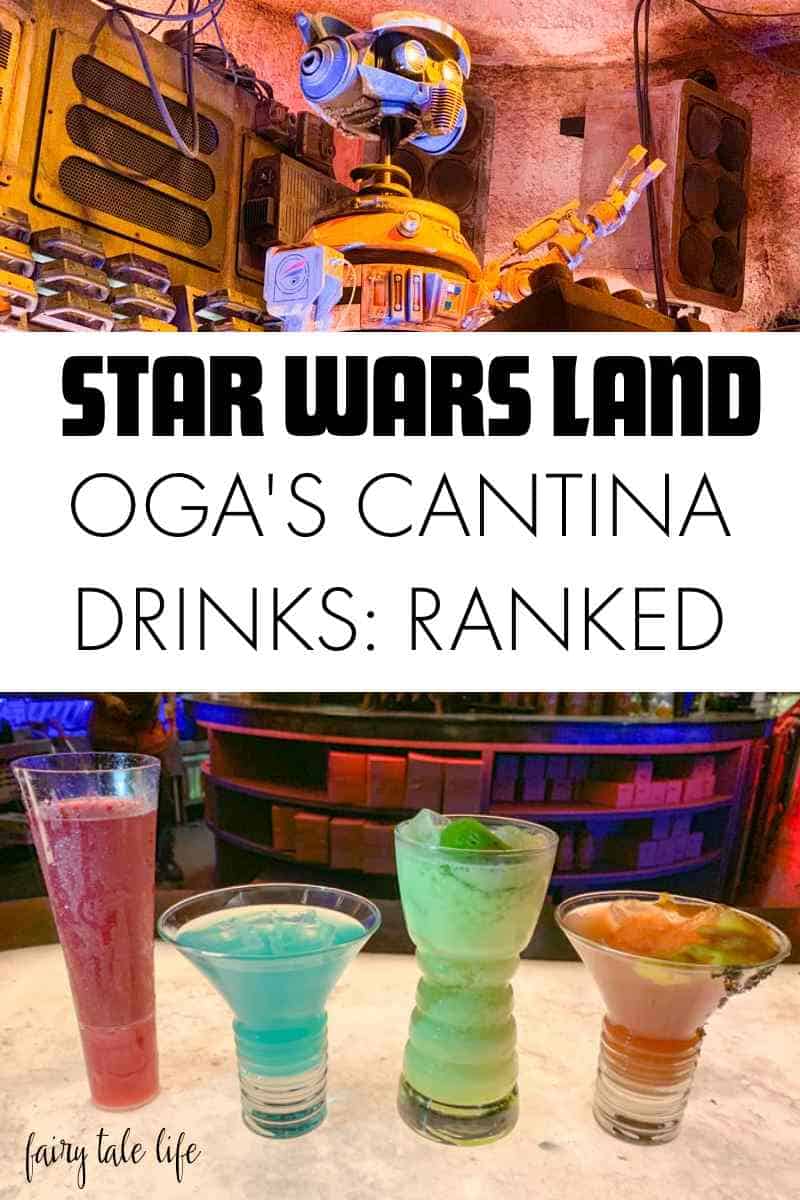 This article was originally published in June 2019 and has been updated.