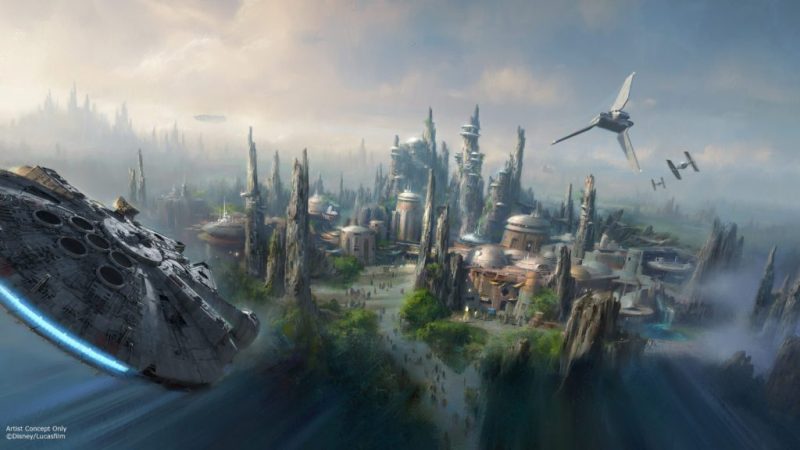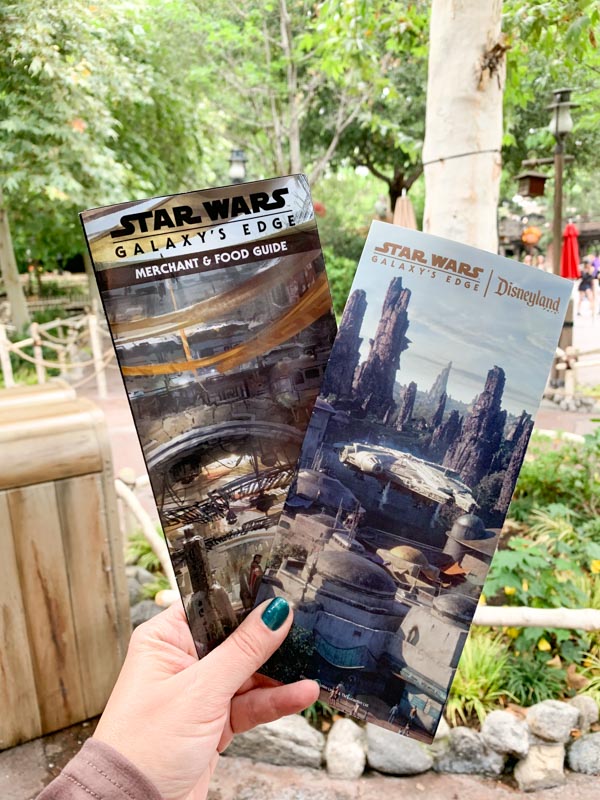 After years of anticipation and planning, Star Wars: Galaxy's Edge at Disneyland is finally here! The official opening day was May 31, 2019, and I was there to see it all!
See my reaction walking into Star Wars: Galaxy's Edge for the first time!
Disneyland last welcomed a new land in 1993 with Toontown. Things have changed a lot in the last 26 years, and now with social media and cell phones and Youtube and a million blogs like this one, the hype is … out of this
galaxy
. (Sorry.)
Considering how limited the land is around Disneyland Park, we may likely never see an expansion of Disneyland like this again in our lifetimes. It's truly a special time to be a Disneyland fan!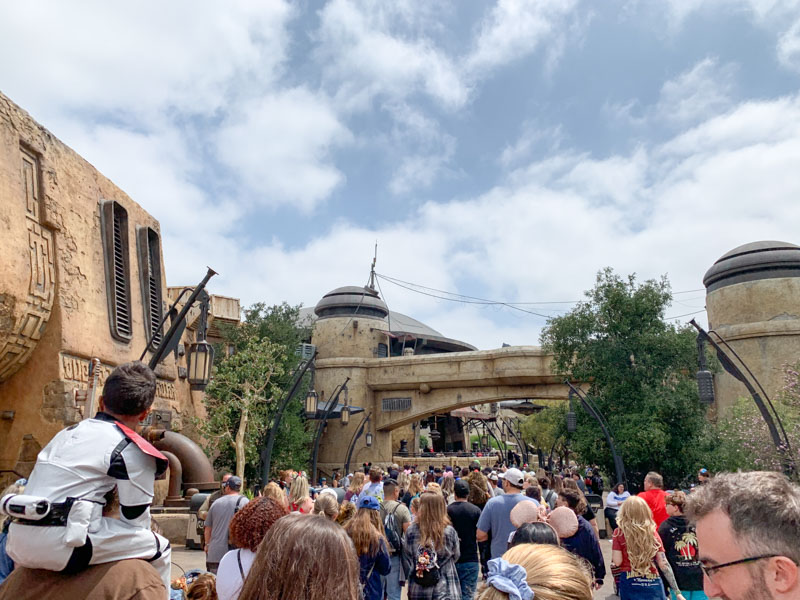 This guide will be broken up into sections, and will cover what you need to know before you arrive to Star Wars Land, what to do once you get there, what to ride, what to eat, what to drink, what to buy, etc! Keep checking this guide because it will be updated frequently over the next few weeks!
Star Wars: Galaxy's Edge at Disneyland – Complete Guide
This article contains affiliate links.
Basic Information
Star Wars: Galaxy's Edge is the first major expansion of Disneyland Park since 1993. The new land will be 14 acres (for reference, Disneyland Park is 85 acres without the new land, and appears to be at least three times the size of Mickey's Toontown). Star Wars: Galaxy's Edge is built on land formerly occupied by Big Thunder Ranch and a portion of the Rivers of America, as well as backstage area.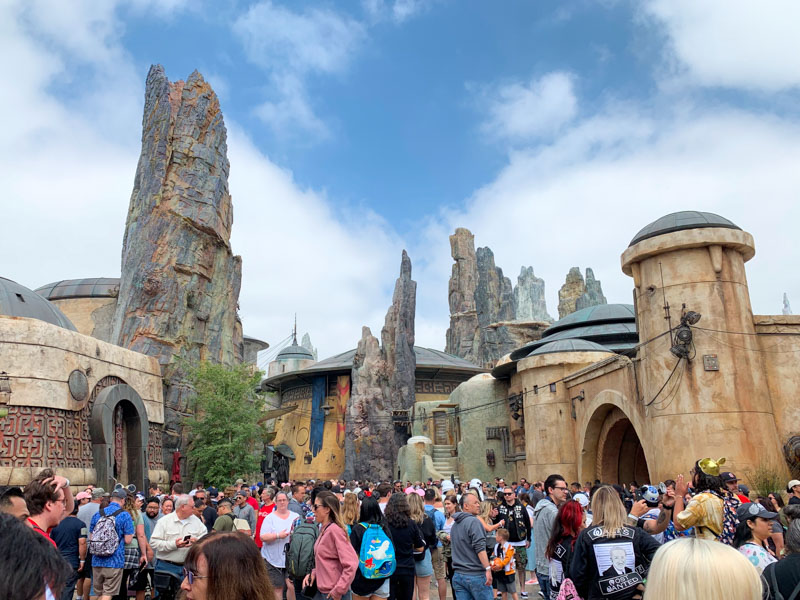 Star Wars: Galaxy's Edge is set on the planet of Batuu. It's a new planet never before seen in Star Wars movies; however, it has been discussed and visited in some of the more recent Star Wars novels and comic books. (If you want to learn a lot about the planet of Batuu, read Thrawn: Alliances.)
Batuu is a planet on the outer rim of the galaxy and its main village, Black Spire Outpost, is frequented by smugglers. You'll encounter members of both the Resistance and the First Order, so be careful what you wear and say when in certain parts of the land, or you may find yourself being grilled by a Stormtrooper!
Star Wars: Galaxy's Edge is incredibly immersive, with Cast Members really getting into their roles as residents of Batuu. You may encounter Resistance sympathizers, First Order spies, or even smugglers. It will serve you well to learn some of the Batuuan lingo before you visit:
Hello: "Bright suns" (morning) / "Rising moons" (evening)
Goodbye: "'Til the spire," "May the spires keep you," or "Good journey"
Cell phone: Data pad
Restrooms: Refreshers
Water fountain: Hydrators
Don't ask about Mickey ears in Batuu; they don't have them in their galaxy!
If you need help translating Batuuese, download the Play Disney Parks app to access the "Galaxy's Edge Data Pad," where you can find a translator and play games.
**My personal opinion: It appears Star Wars Land is going to focus more on the newer trilogy, which makes sense. The Walt Disney Company developed and brought the newest trilogy to life. I think Star Wars Land will represent the newer trilogy while the "classic" Star Wars will still be represented in Tomorrowland with Star Tours and character meet-and-greets with Darth Vader and Boba Fett. However, this is just based on my own speculation!
Before You Arrive
Please note that between May 31 and June 23, you must have 1) valid theme park admission, and 2) a no-cost reservation, to access Star Wars: Galaxy's Edge. Online reservations sold out within two hours! Which means the only way to secure a reservation during this period is to stay at a Disneyland Resort hotel.
Every guest that stays at a Disneyland Resort hotel during the reservation period is guaranteed one reservation window for Star Wars: Galaxy's Edge. Please note all reservation windows are four hours.
You can book a hotel reservation here.
If you need to buy admission tickets, I strongly suggest purchasing tickets before you arrive to The Disneyland Resort.
Remember: Between May 31 and June 23, you must have both valid theme park admission and a reservation to access Star Wars: Galaxy's Edge. There will be NO stand-by line to visit Star Wars: Galaxy's Edge.
Starting June 24, guests wishing to visit Star Wars: Galaxy's Edge may need to join a "boarding group" once they arrive inside Disneyland Park, depending on the expected capacity of the land. I think it's safe to assume this boarding group system will be in place for the first few months of operation, at the very least.
Think of it as a FastPass for Star Wars Land. This can be acquired via the Disneyland app or at select physical FastPass locations throughout the park. But you cannot access the boarding pass until you are actually inside Disneyland, just like the MaxPass system. Once your boarding group is ready, you will receive a push notification via your phone and you'll have two hours to make your way to Galaxy's Edge. Once you are inside Galaxy's Edge, there is no time limit as far as how long you can stay.
Additionally, if you want to visit Oga's Cantina or Savi's Workshop, you must make a separate same-day reservation for these experiences. You can do this through the Disneyland app once you are inside the park, starting at 7am. A credit card guarantee is required for both reservations. If you secure a reservation for Oga's or Savi's, you do not need a separate boarding pass to enter Galaxy's Edge. Your reservation will allow you entry to the land.
Read more about the boarding pass system on the Disney Parks Blog.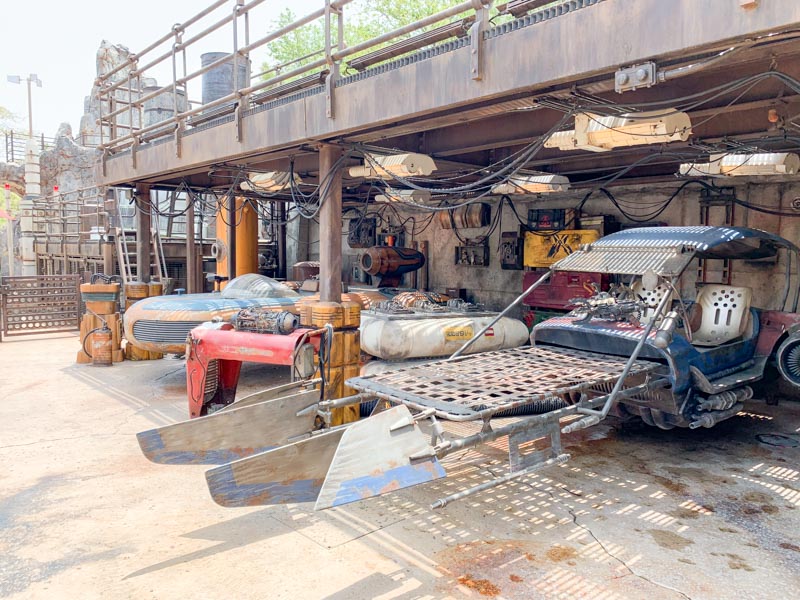 Info About Reservations
Guests with valid reservations to Star Wars: Galaxy's Edge are instructed to check in at Launch Bay in Tomorrowland up to two hours before your reservation time. So if your reservation window is 11am to 3pm, you may check in at Launch Bay as early as 9am.
If your reservation time is 8am, you can check in as early as 6am. There will be a special line at the gate for those guests with 8am reservations. Note Disneyland attractions and shops will not be open at 6am so plan accordingly.
When you check in, you must show the reservation QR code sent to you via email, along with a government issued valid ID. The QR code can be scanned from your phone, or you can print it. If you have guests with you, they all must check in with you and show their IDs as well. Everyone will be given wrist bands and will be directed to one of the three Star Wars Land entrances.
For guests staying at one of the Disneyland Resort hotels, you also go to Launch Bay to retrieve your wristbands. If you need assistance with your Star Wars: Galaxy's Edge, each hotel has a special area set up to assist guests or print QR codes if you can't find your email.
*** My experience checking in went incredibly smooth, and took no longer than 10 minutes from start to finish. When you arrive at Launch Bay, you must show your reservation email and valid ID for everyone in your party. You entire party MUST enter together. Once inside Launch Bay, there are several stations with Cast Members checking guests in. You must show your QR code a second time, and IDs are checked again before your wristband is issued. You will also be told which of the three Star Wars: Galaxy's Edge entrances to go to. This is NOT listed on your wristband so pay attention and remember! Finally, before you leave Launch Bay, be sure to get your wristband scanned and activated.
Disneyland is discouraging guests from lining up at the entrance to Star Wars: Galaxy's Edge before their reservation time. However, we saw a lot of people "hovering" in the area. Half an hour before our reservation time, guests were allowed to gather at the entrance to the land.
If Disneyland Park reaches capacity prior to your reservation time, Disneyland officials are saying you will still be allowed inside the Park as long as you already have valid admission and proof of reservation.
Parking
Disneyland parking lots will open at 5:30am on days where Disneyland Park opens at 8am (which should be every day through the summer). The two main parking areas are Mickey & Friends, and Toy Story lot. The new Pixar Pals lot is scheduled to open sometime this summer.
If the lots get full, which is very likely for opening weekend, overflow lots at the Anaheim Convention Center or Anaheim Gardenwalk may be utilized. Keep an eye on Disneyland Today on Twitter for updated parking information.
Attractions
Star Wars: Galaxy's Edge will open in May with one attraction operating: Millennium Falcon: Smuggler's Run. The second Star Wars Land attraction is Rise of the Resistance, and will open in fall 2019.
*** I'm not a huge fan of motion simulator rides, they tend to make me feel nauseated, but I had a lot of fun on Smuggler's Run! It's a very smooth ride and doesn't jerk you around too much. I was in the Gunner position, and I set mine to Automatic so I could pay attention to everything happening during the ride. And being INSIDE the Falcon, wow. It's so realistic. I loved everything about this attraction.
A note on wait times. During our 4 hour window, the wait time for Smuggler's Run was anywhere from 30 minutes to 120 minutes. If you see a wait time under 45 minutes, just jump in.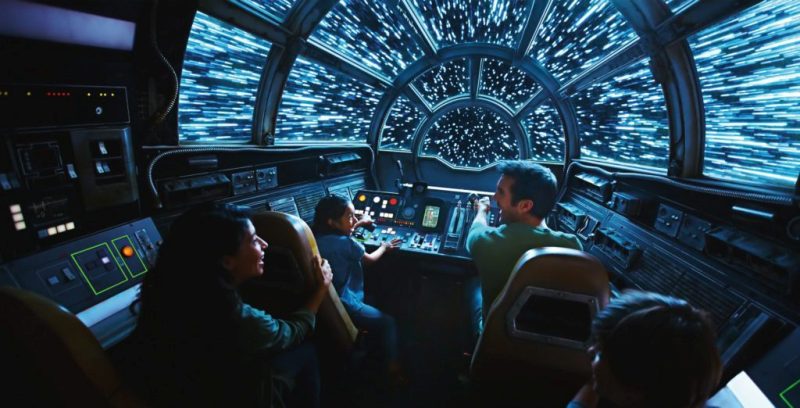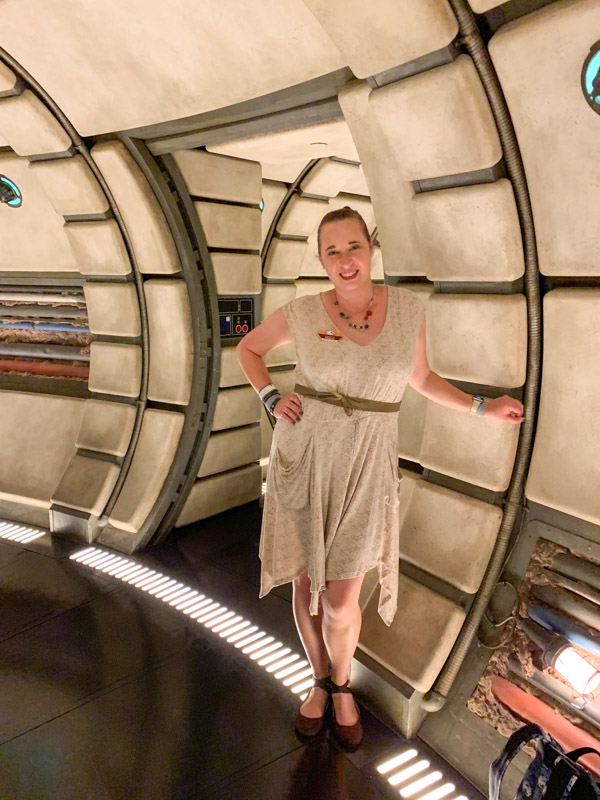 Character Interactions
There are no formal meet and greets, but characters are roaming around Batuu. I saw Chewbacca, Rey, and Kylo Ren, as well as Stormtroopers and members of the Imperial Army and Rebel Spies.
Food and Drink
The most important thing, right? One exciting aspect of Star Wars: Galaxy's Edge is the introduction of alcohol being served in Disneyland Park (outside of the private members-only Club 33).
Aside from drinks at Oga's, a couple other options for refreshments are available at Star Wars: Galaxy's Edge.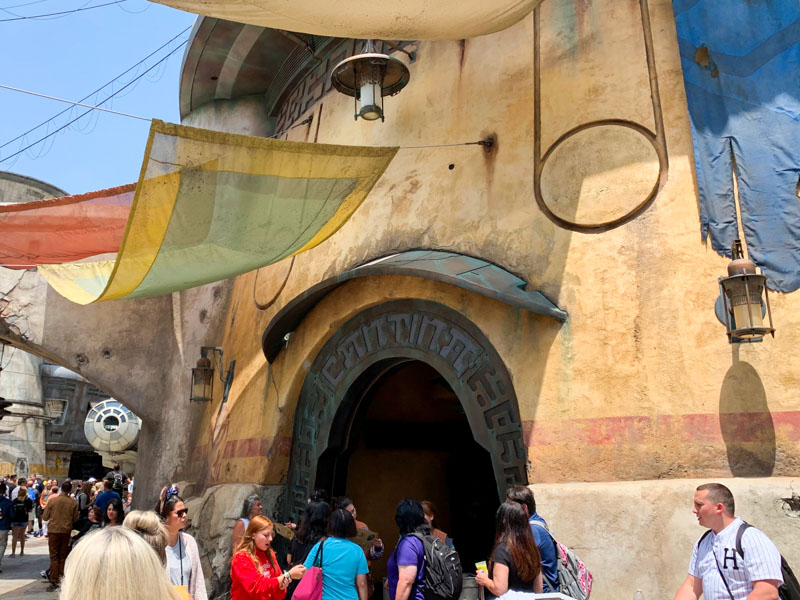 Docking Bay 7 Food and Cargo
Docking Bay 7 is the official quick service restaurant inside Star Wars Land. You'll find unique options for breakfast, lunch, and dinner, including (but not limited to):
Breakfast – Rising Moons Overnight Oats, Bright Suns Morning breakfast platter, Moof juice
Lunch – Felucian Garden Spread, Smoked Kaadu Ribs, Friend Endorian Tip-yip
Dinner – Braised Shaak Roast, Ithorian Garden Loaf
Ronto Roasters
This walk-up stand serves the Ronto Wrap: Roasted pork, grilled sausage, peppercorn sauce, tangy slaw wrapped in pita. It's pretty tasty! Also, take a look at the droid roasting the meat under the podracer engine.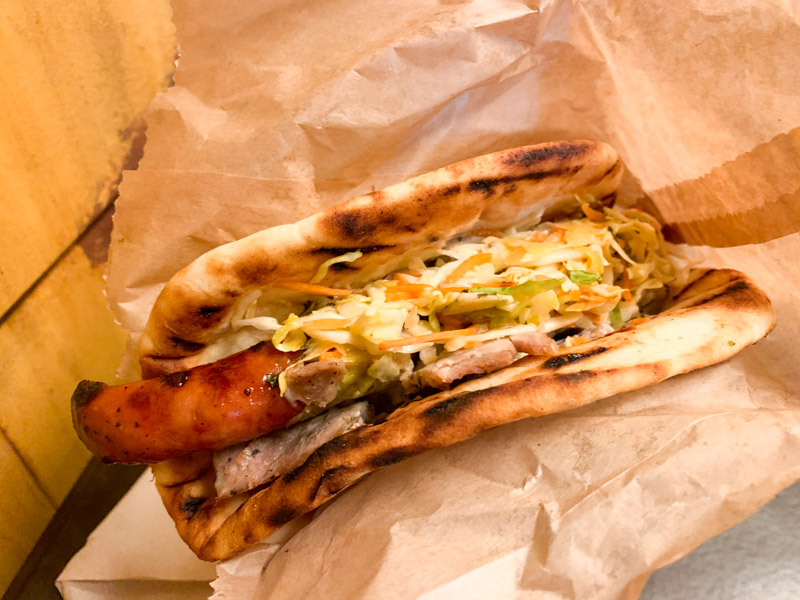 Kat Saka's Kettle
This small food stand will sell kettle popcorn and bottled drinks (such as the specially packaged Coke products).
Milk Stand
One of the most anticipated refreshments at Star Wars Land is the ability to purchase and drink the famous Blue Milk. Both Blue and Green Milk are available here. They are completely vegan, made with rice and coconut milk, and have the consistency of a smoothie. I tried both; they are both sweetly flavored. I preferred the blue milk, which tasted a bit like pineapple.
Oga's Cantina
Oga's Cantina is sure to be one of the most popular spots inside Star Wars: Galaxy's Edge. This is where you can order "Concoctions without Alcohol" and "Concoctions with Alcohol."
**Be advised this is not a full bar. The only drinks available are what's on the menu, and the drinks are pre-mixed so there will be no substitutions.
There is no food menu at Oga's except for a snack mix, called Batuu Bits. For breakfast (before 10am) you can order Overnight Oats or the Mustafarian Lava Roll. Here is a sampling of the "Concoctions with Alcohol" menu:
Yub Nub – Malibu Pineapple Rum, Sailor Jerry Spiced Rum, Citrus Juices, and Passion Fruit (available with souvenir mug, while supplies last)
Fuzzy Tauntaun – Cîroc Peach Vodka, Bols Peach Schnapps, and Simply Orange® topped with Tangerine, Pure Cane Sugar, "Buzzz" Foam
Dagobah Slug Slinger – Herradura Reposado Tequila, Bols Blue Curaçao, Citrus Juices, Ginger, Herbs, and Bitters
Jedi Mind Trick- Ketel One Botanical Grapefruit & Rose Vodka, John D. Taylor's Velvet Falernum, Bols Blue Curaçao, White Grape Juice, Lime Juice, and Grapefruit Bitters
Jet Juice – Maker's Mark Bourbon, Ancho Reyes Chile Liqueur, Cedilla Açaí Liqueur, White Grape Juice, and Lemon Juice
Bad Motivator IPA
White Wampa Ale
Spice Runner Hard Cider
Toniray Wine
One thing to know about Oga's is the queue to get in fills up fast and they will close the queue to new guests. You kind of have to hover in the area until they announce the queue is open again, then everyone rushes into the line like crazy people.
For my first visit to Oga's, I "hovered" for about 20 minutes, then spent 30-40 minutes in the queue.
***UPDATE: As of June 2, Oga's has started implimenting a virtual queue. This will be MUCH BETTER than the chaotic system I experienced. However, spots for the 4 hour reservation windows will fill up fast. Go the Cantina host stand first thing and try to secure a reservation time.
Once you get your text message to come back to Oga's, a host will lead you to a spot inside the Cantina. There are a few tables but it's mostly standing room only. You don't get to choose your spot; you get what you get.
We stood at the bar and I tried two drinks. The Yub Nub with souvenir mug, and the Toniray wine. Both were good … not great but not bad. Can't wait to try more drinks.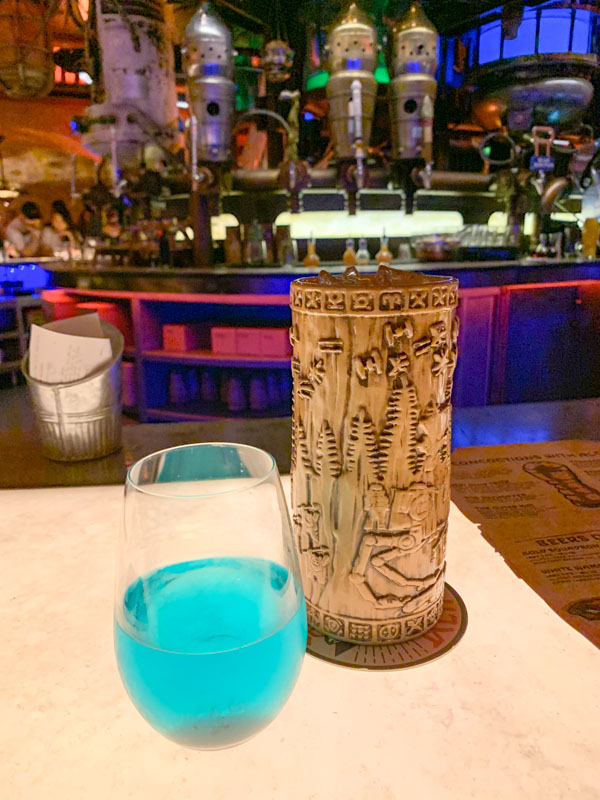 Merchandise
The main shopping area is the Marketplace, with different stalls selling different goods including clothing, toys, collectibles, and jewelry. There are also some unique and popular merchandise opportunities: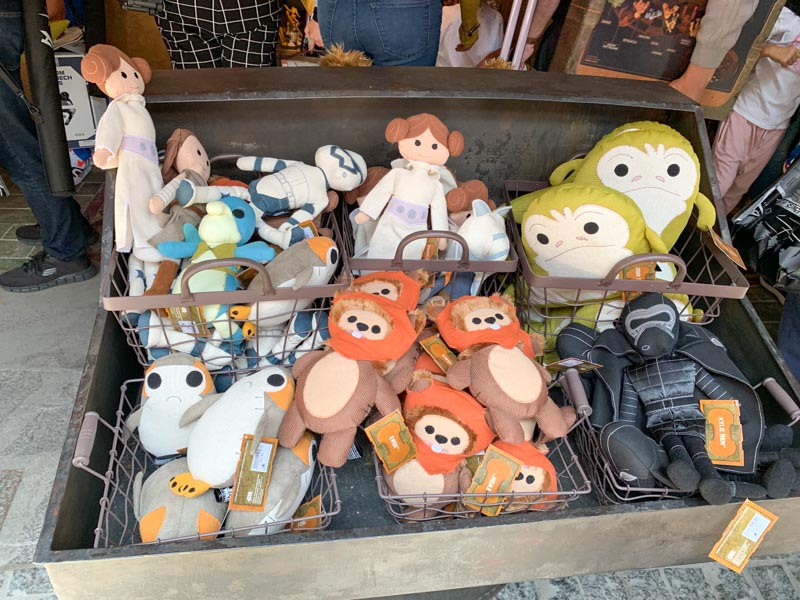 Savi's Workshop: Handbuilt Lightsabers
The lightsaber building experience sounds really cool. A "Gatherer" will help you construct a one-of-a-kind lightsaber from a mish-mash of parts they have collected over the years. You can pick the type of lightsaber you want, the color of the kyber crystal, and the different components on the hilt. Building your own lightsaber will cost $199 and no discounts available.
Droid Depot
If you don't have enough galactic credits for a custom lightsaber, consider building your own droid. Both R and BB units are available for customization, choosing from blue, red, orange, and purple parts. Add a personality chip to bring your droid to life and watch it interact with various areas of the land. Starting at $99 and no discounts.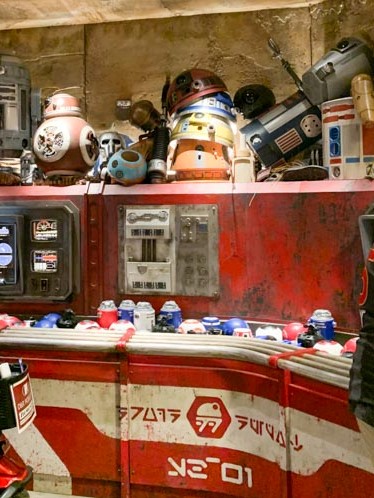 What To Do First?
Once you're actually inside Star Wars: Galaxy's Edge, I'm sure you'll feel a certain level of overwhelm! Here's what I recommend based on my 4 hour experience:
If going inside Oga's Cantina is important to you, head there first, and quickly. Now that there is a reservation system in place, you can expect the time slots to fill up FAST.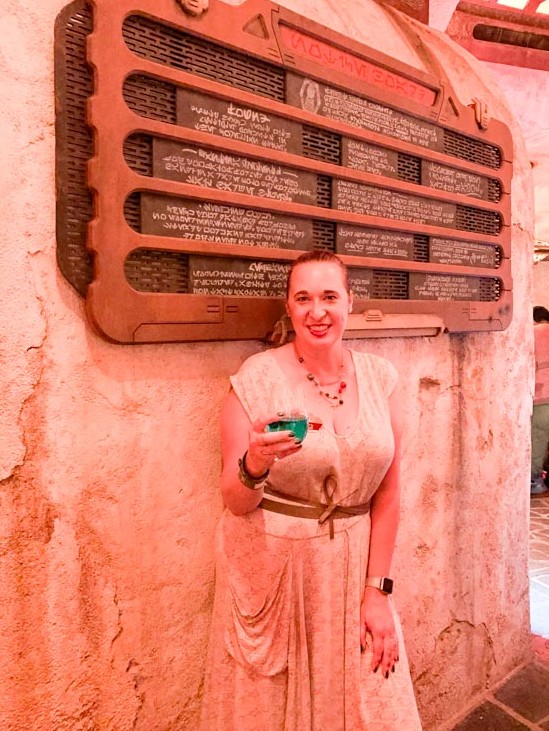 Anyone who didn't go straight to Oga's likely went to the Millennium Falcon: Smuggler's Run attraction. My recommendation is to head here first (if you don't care about seeing Oga's) or wait until hour 3 of your reservation. Your wait time should be around 20-30 minutes, as long as the ride hasn't had any operational issues.
Savi's Workshop (building a lightsaber) also has a similar reservation system to Oga's, and fills up just a quick. You may not be able to do both during one reservation, so decide on your priority before entering the land.
If you want to eat I recommend using mobile ordering. Mobile order wait times were sometimes 1-2 hours out, so plan ahead. Mobile ordering will save you TONS of time.
If you want to walk around and take pictures, I recommend doing this either during hour 1 while you're waiting for your reservation text messages, or wait until hour 3 when crowds are potentially at their lowest. This would probably be a good time to take your obligatory Falcon photo.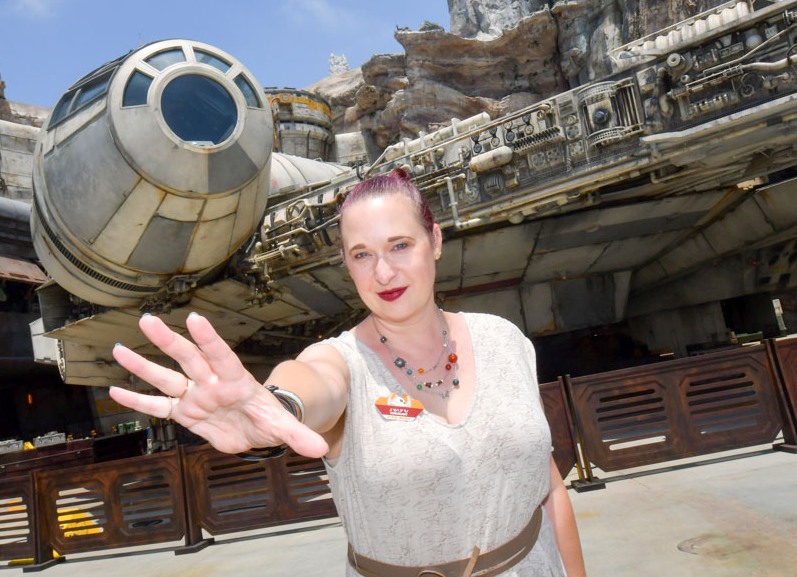 If you plan to purchase a ton of merch (guilty!), it's recommended you wait until the end of your reservation period so you don't have to juggle your items while on the attraction or ordering at Oga's. Kind of like how Main Street USA stays open an hour after Disneyland closes, you are probably safe to shop after your reservation window is officially over. But if Batuuans notice your expired wristbands, they will gently remind you that your "transport is waiting and you should hurry to catch it."
**Bottom line: You can't possibly do every single experience in 4 hours, so prioritize before you arrive on Batuu. Expect the area to feel very crowded, even with the crowd control during reservation periods. It's not unbearable, but there will be waits for just about everything. Be patient with Cast Members and guests who are all getting used to something new and feeling overwhelmed.
That's it for now! What are your thoughts and feelings on Galaxy's Edge? Do you have a reservation? Will you try your luck after June 23? Or will you be holding out and hoping for reduced crowds in 2020? Let me know your plans!