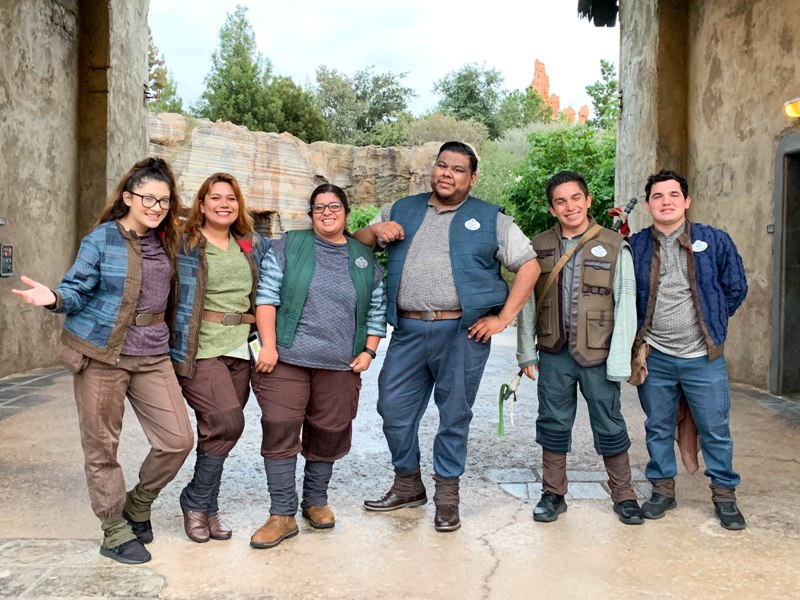 One of the best aspects of Star Wars: Galaxy's Edge is how immersive it is, and that has a lot to do with the wonderful Cast Members who work there!
Yes, they are Disneyland Cast Members but they are also Batuuans … residents of Batuu, the planet location of Galaxy's Edge. And Batuuans have their own way of dressing and talking. This article will teach you how to act like a Batuuan at Star Wars: Galaxy's Edge, and get the most of your time visiting Batuu!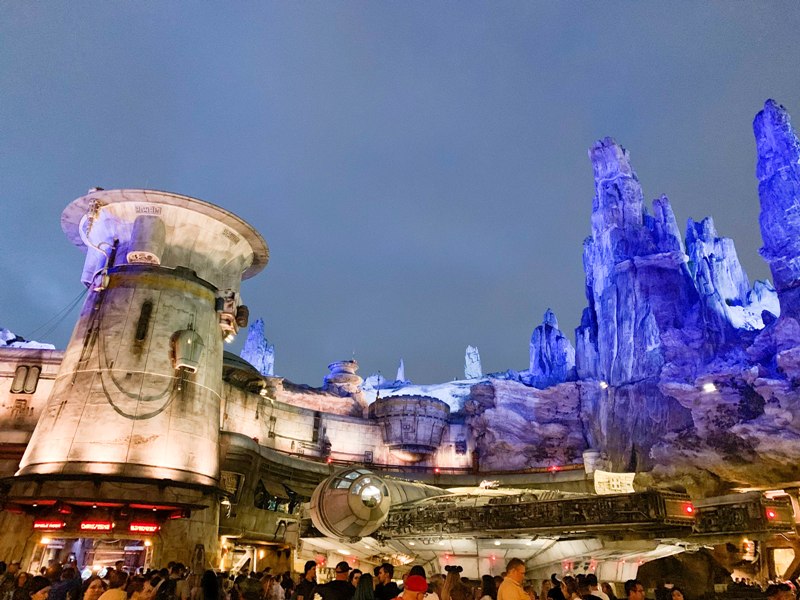 Get to Know the Batuuans at STAR WARS: Galaxy's Edge
The Planet of Batuu
Batuu is a fictional planet in the Star Wars universe created specifically as the location of Star Wars: Galaxy's Edge. Since the land was announced, you can now find references to Batuu in other Star Wars materials, such as novels and comic books.
Batuu is located in the Outer Rim Territories, at the very edge of the known galaxy (aka … the Galaxy's Edge). The planet boasts mild temperatures (despite its three suns!) and is covered with forests and mountains.
Batuu is known for its towering petrified trees, also known as spires. The planet's most popular city, Black Spire Outpost, was named for one of those spires (look for the actual black spire by Dok-Ondar's Den of Antiquities).
Black Spire Outpost used to be a prominent location for traders and travelers before hyperspace travel was invented. After hyperspace paths were established, the planet was largely avoided and became known as a port for smugglers and other undesirable types.
In the years after the Galactic Civil War, Black Spire Outpost became a safe place for the Resistance to hide from the First Order. However, the First Order discovered this location and now has their own presence on the planet. (Batuu references found on Wookieepedia)
Batuuan Behavior
Batuuans are not your typical Disneyland Cast Members! Remember Star Wars: Galaxy's Edge is meant to be a totally immersive experience. You are no longer at Disneyland, you are visiting Batuu!
Batuuans had a certain way of life before the Resistance and First Order started hiding out on their planet. Now their normally-sleepy Black Spire Outpost is a hub of activity, with lots of travelers wandering through! Feel free to ask any Batuuan about their alliances with either the Resistance or First Order, or how they feel about so many travelers visiting their planet … every Batuuan has a backstory! And they love to chat about it (as long as they aren't busy doing an important task like serving drinks at Oga's Cantina or loading travelers onto the Millennium Falcon).
Don't expect Batuuans to say "please" and "thank you." Batuuans are very busy and don't have much time to deal with us travelers! Especially the Batuuans who work for Oga at the Cantina. They deal with a lot of unsavory characters every day! Batuuans are a no-nonsense group, but if you need help and have a question, they will assist you.
(If you haven't figured out by now … the Cast Members who work at Star Wars: Galaxy's Edge become very immersed with their character. Keep in mind their attitude and body language are part of the immersive experience and have fun with it.)
Batuuan Attire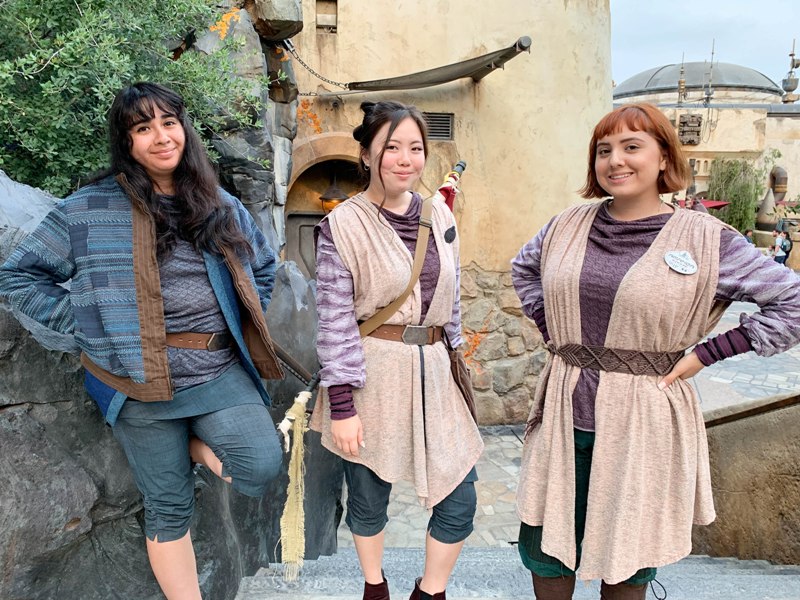 Batuuan villagers dress in several layers of clothing to protect themselves from the suns. They utilize comfortable fabrics such as cotton and nylon, and accessories such as belts, scarves, and hats.
The colors are generally muted neutrals – shades of brown, gray, blue, green, and purple. While Batuuans wear a variety of clothing, they can always be identified by their silver name tag, which lists their name in Basic (Star Wars speak for "English") and Aurebesh (the common written language of the Star Wars universe).
If you wear certain clothing that shows an alliance to either the Resistance or First Order, you can expect to be questioned about it by Stormtroopers or Rey. They are often wandering around the outpost looking for allies.
Batuuan Language
Batuuans speak Basic, but they have their own special phrases that might be confusing if you haven't studied up. Here are some popular terms and phrases you'll hear on Batuu:
Bright Suns – a greeting, similar to "good morning" or "hello."
Rising Moons – a greeting used at night, similar to "good evening."
'Till the Spire – a farewell phrase, also a rallying cry
Good Journey – a farewell phrase
May the Spires Keep You – a more formal farewell phrase
Only the Ancients Know – I don't know
Happy Origin Day – Happy Birthday
Travelers – That's you! Guests are referred to as Travelers, or Off-Worlders.
Off-World – Places outside of Batuu, such as other areas of Disneyland
Credits – Money. You won't be asked to "swipe your card," you'll be asked to produce credits.
Credentials – Discounts, such as Magic Key pass, Disney Visa, DVC, or Employee. If you are purchasing something and are asked if you have any credentials, they are referring to discounts.
Refreshers – Restrooms
Hydrator – Water fountain
Datapad – Phone or tablet
Image Scan – Photo. There are many PhotoPass photographers inside Galaxy's Edge, but if you ask for a photo they won't know what you're talking about! They take image scans with their equipment, or can take an image scan with your datapad.
Hologram – Magic shots. Ask a PhotoPass photograher near the X-wing or TIE Echelon if they can do a hologram image scan.
Youngling – Child or baby
Youngling Transport – Stroller
Landspeeder – ECV or scooters
For the Order – a rallying cry in support of the First Order
Ignite the Spark – a rallying cry for the Resistance
Light the Fire – a typical response to "Ignite the spark"
May the Force be With You – a phrase to show you are sympathetic to the Resistance
Visiting Batuu is truly like stepping into another world! Don't forget to make some friends with Batuuans during your journey there. For now, may the spires keep you, always!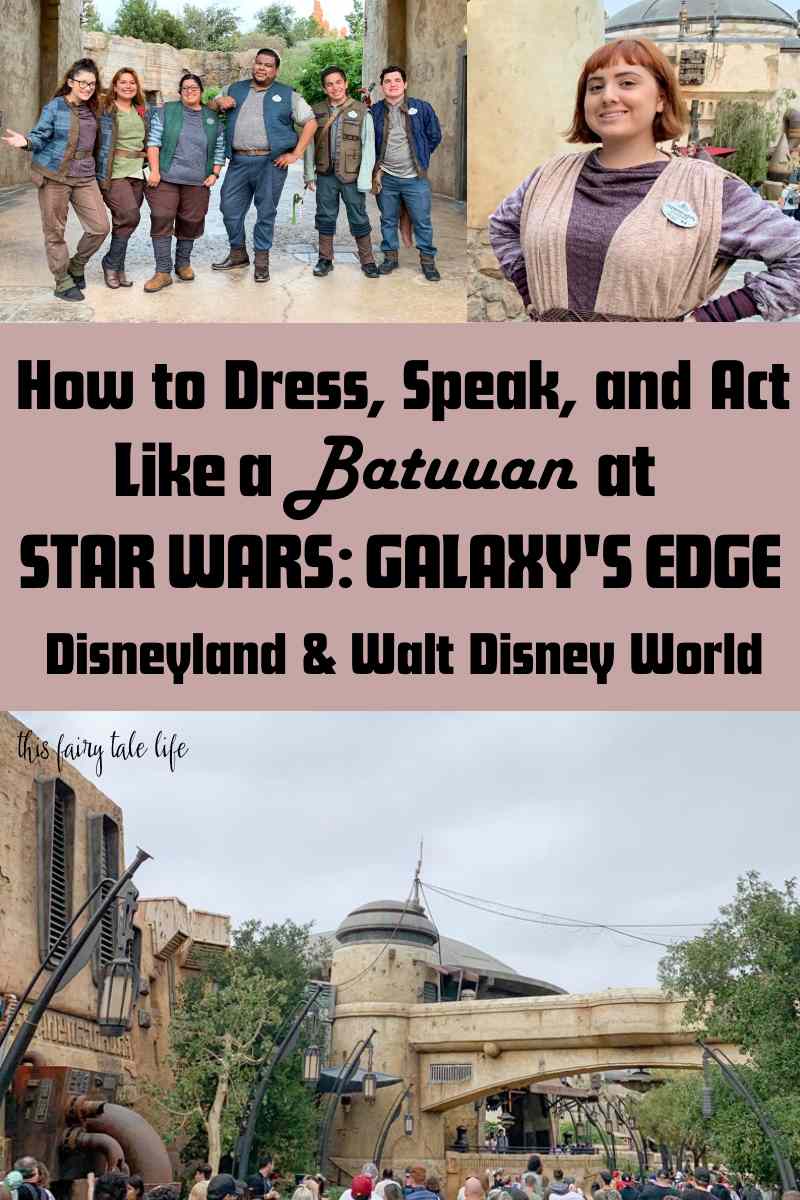 [mv_create key="4″ layout="hero" title="You may also like:" type="list"]