Photo by White Rabbit Photo Boutique
I can't believe it has been almost one full year since I was a guest at not one, but TWO Disneyland weddings in September 2015, and I'm so embarrassed I haven't written about them here yet. But that embarrassment ends this week!
Today I'll be sharing all about Michelle and George's in-park Disneyland wedding, one of the sweetest weddings I've ever attended! This was the ninth Disneyland wedding I had attended (aside from my own) and each one is just so special.
All photos in this post, aside from the top photo, were taken by me.
Michelle and George had their ceremony at The Disneyland Hotel's Rose Court Garden, and their reception in the Animation Building at Disney California Adventure. Hard to believe this was actually my third time attending a wedding reception inside the Animation Building, and even though it's a distinct venue, each wedding was uniquely different!
Since in-park receptions have to start after the park closes to the public, this wedding ceremony had a later-than-normal start time of 8pm. I love the Rose Court Garden at night!
On their welcome table they had a cute sign, the Mickey ears they used in their engagement photos, custom buttons, and copies of their engagement photos.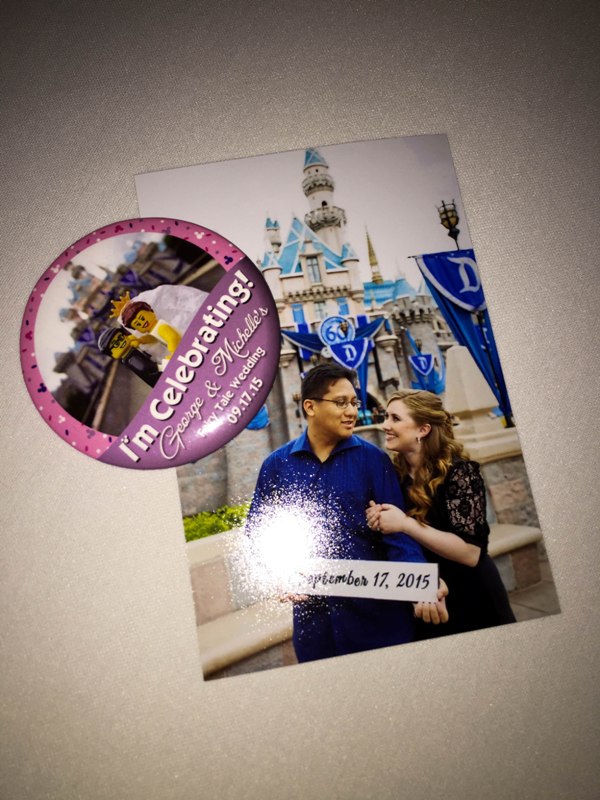 My phone camera is not the best in low light, so my ceremony pictures did not come out great. But Michelle made a beautiful grand entrance in the Cinderella Crystal Coach.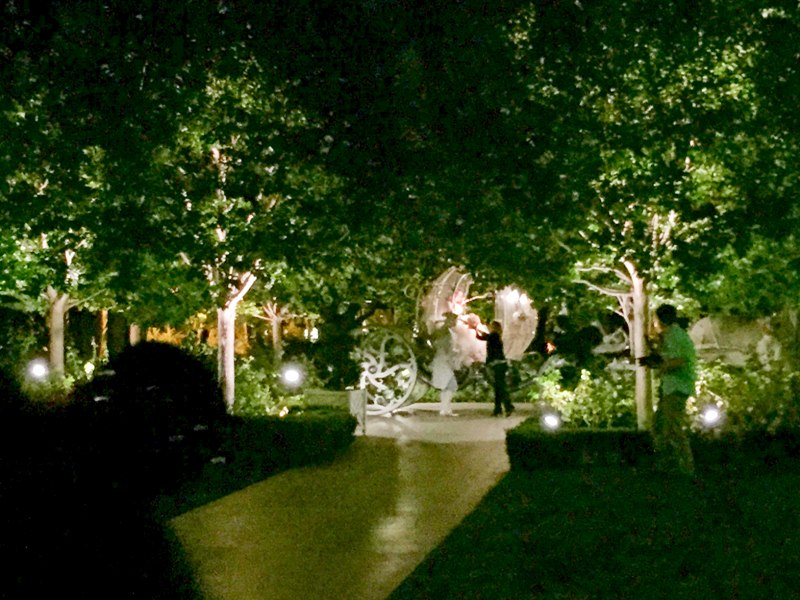 Michelle and George read each other some personalized and heartfelt vows which were really sweet!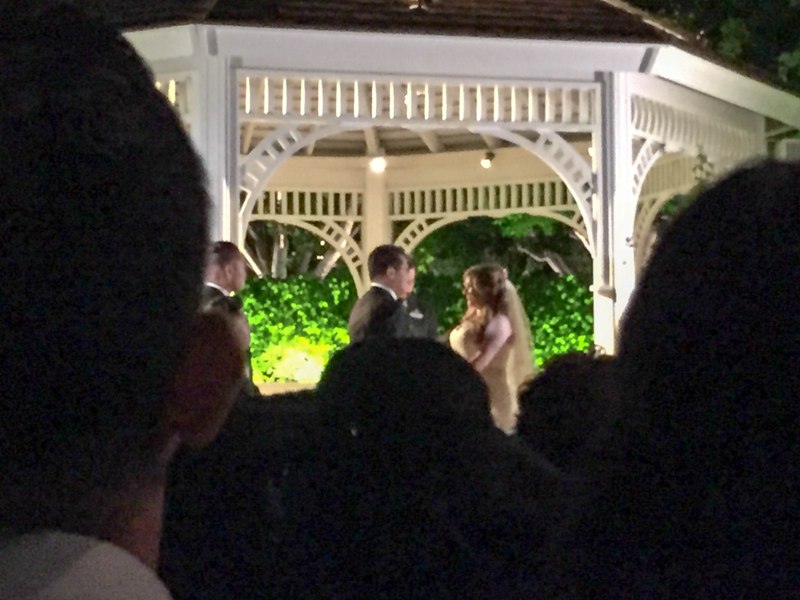 I was also excited to see they used my free printable Reserved Seating signs!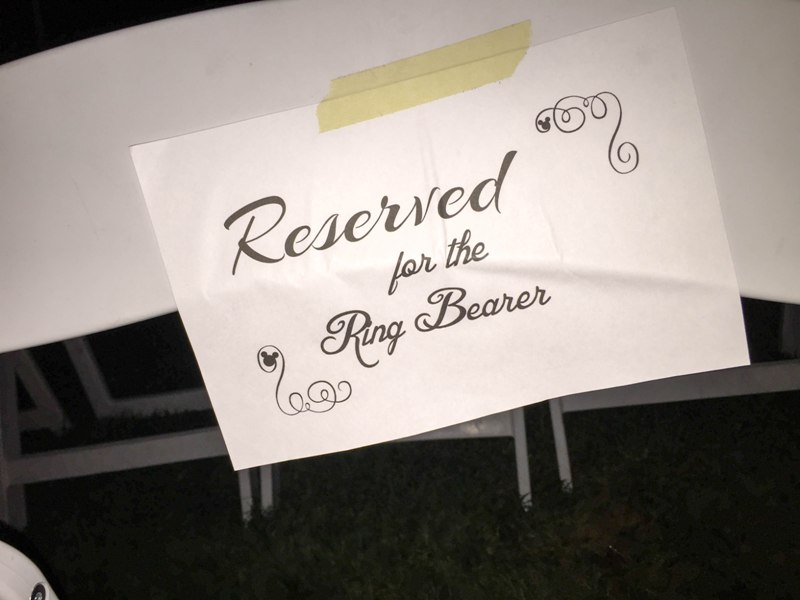 After the ceremony, we were escorted through Downtown Disney into Disney California Adventure for the pre-reception and reception.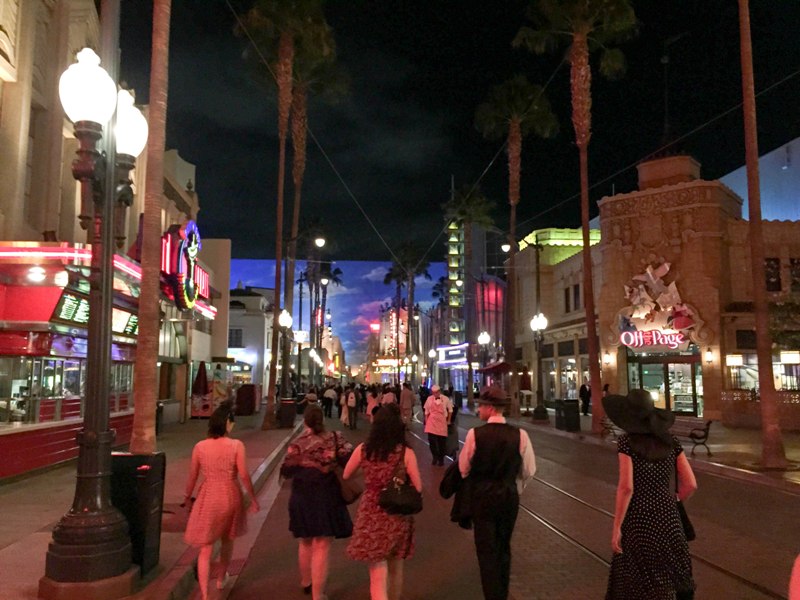 The pre-reception was stationed outside of the Animation Building in Hollywoodland.
There were a ton of food options! The Artisan Cheese Platter is always a favorite – it comes with an assortment of cheeses, breads, crackers, and fruit. They also served mini pizzas and shrimp lumpia.
Michelle and George had a fun surprise for their guests – the Tower of Terror attraction was open during the pre-reception! Unfortunately for me, I hate free-fall rides so I didn't get to partake. Gelatoni and I passed the pre-reception time by taking photos.
Soon we were being welcomed into the Animation Building. The chocolate escort cards led the way to our tables which were named after years, one table for each year Michelle and George had been dating.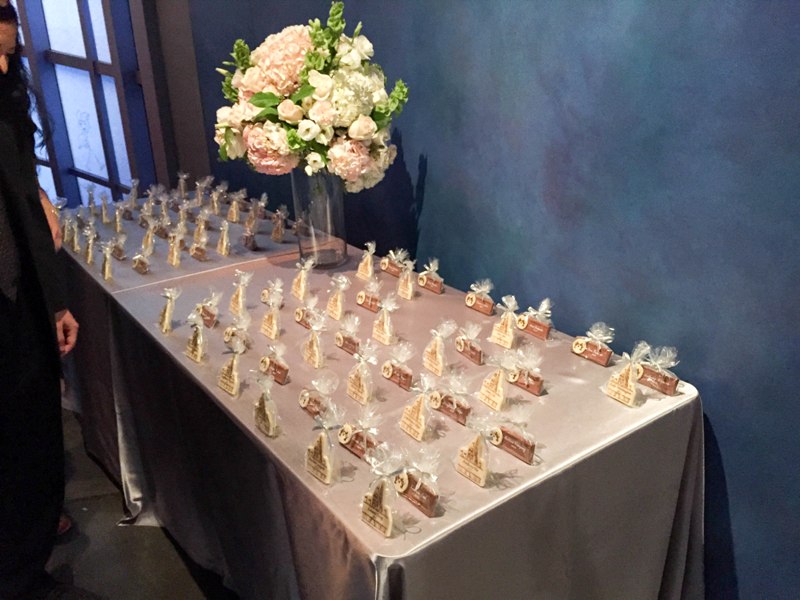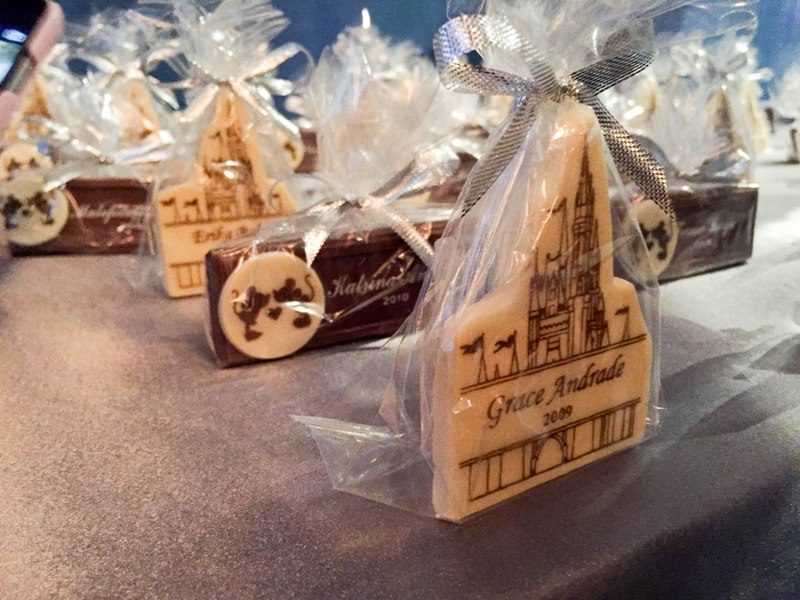 The Animation Building doesn't need much by way of decor! Michelle and George opted for a light palette with low centerpieces with light pink and ivory flowers in simple square vases.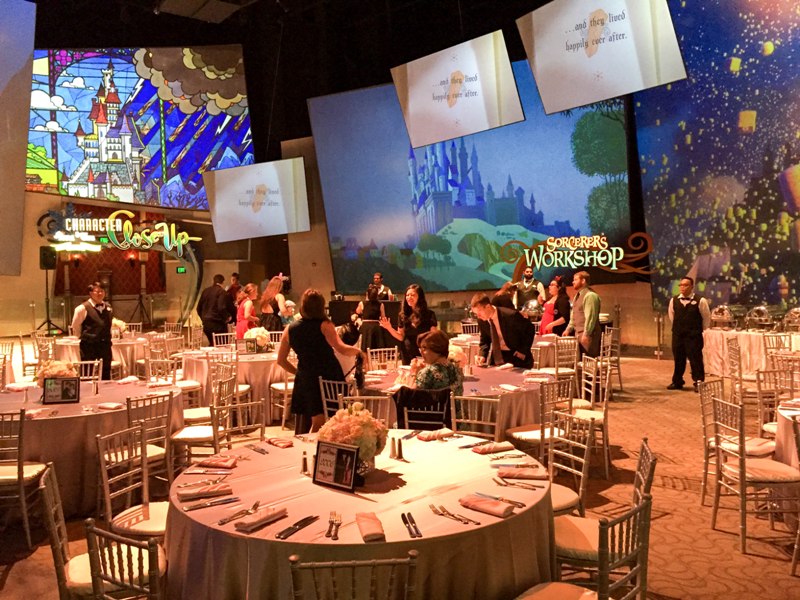 Their gorgeous five tier cake matched the palette, with Groom Mickey and Bride Minnie on the top.
The table signs depicted a year which was side-by-side with a photo of the couple from that year. We were seated at the 2015 table!
After the couple did a sweet choreographed first dance and we listened to some toasts, the buffet was opened! And the food was plentiful!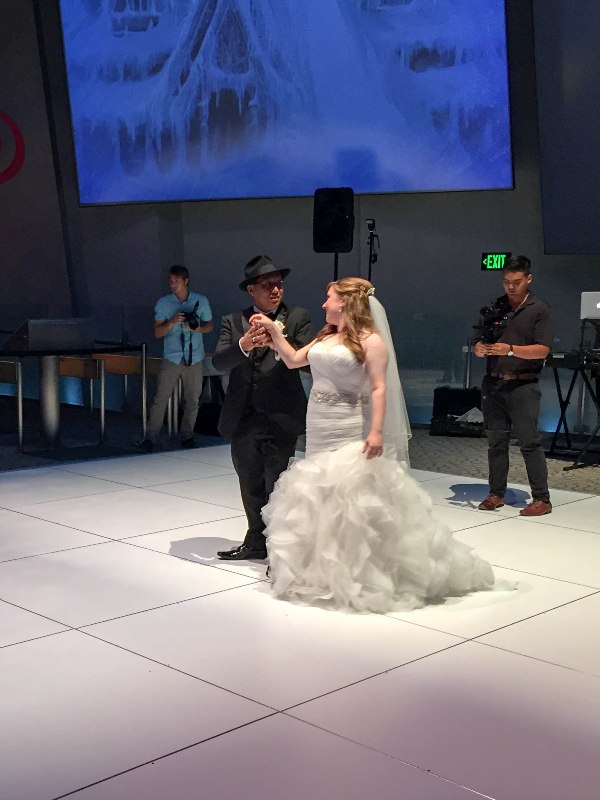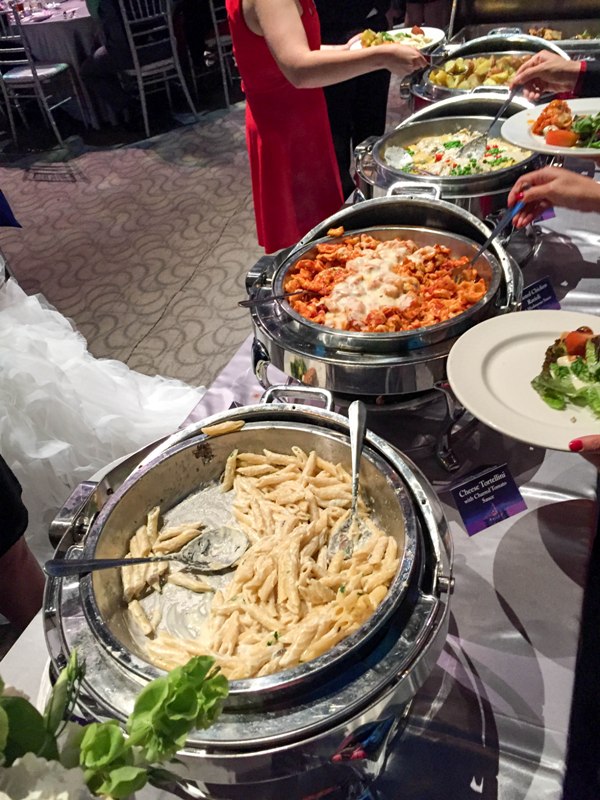 Disney food is my favorite, so I had to try a little bit of everything!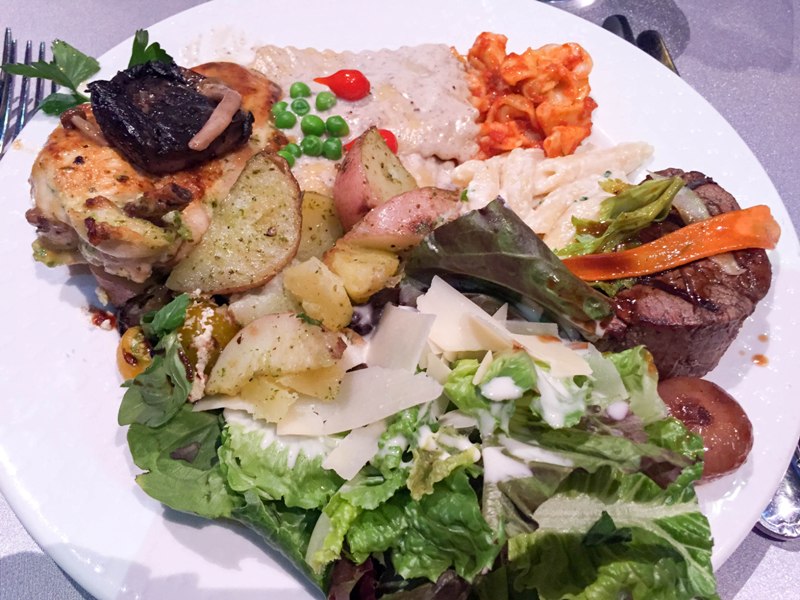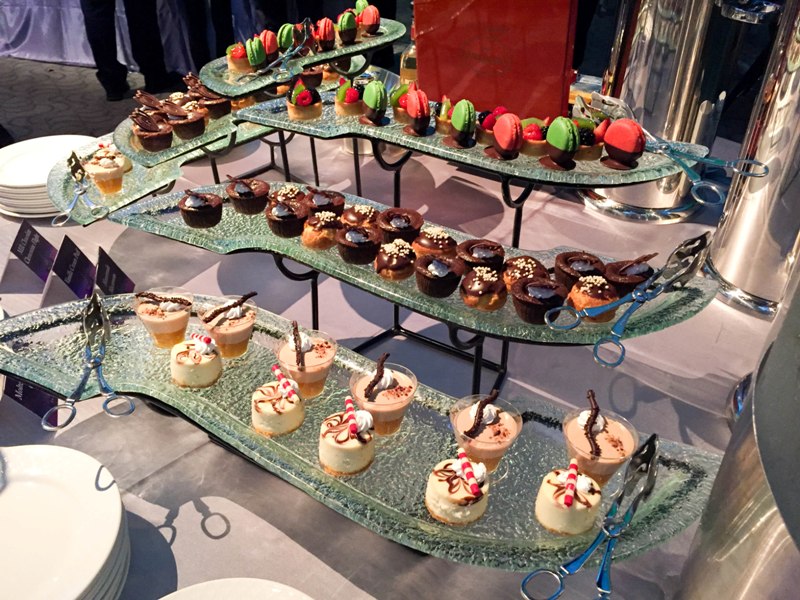 It wasn't too long after that when we had some special guests arrive – Mickey and Minnie showed up to help cut the cake!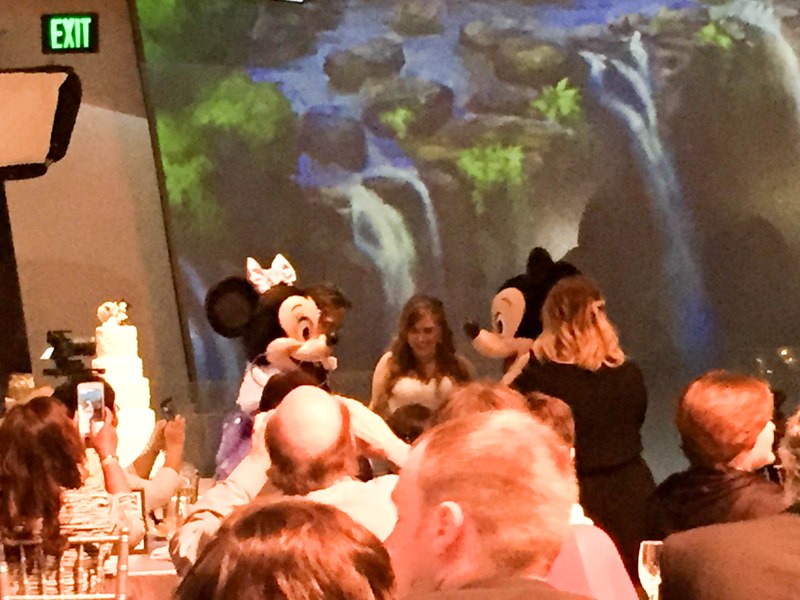 The night ended with eating lots of cake and dancing with my friends.
Congrats to Michelle and George! I hope your first year of marriage was blissfully happy! Thank you for inviting me to celebrate with you!