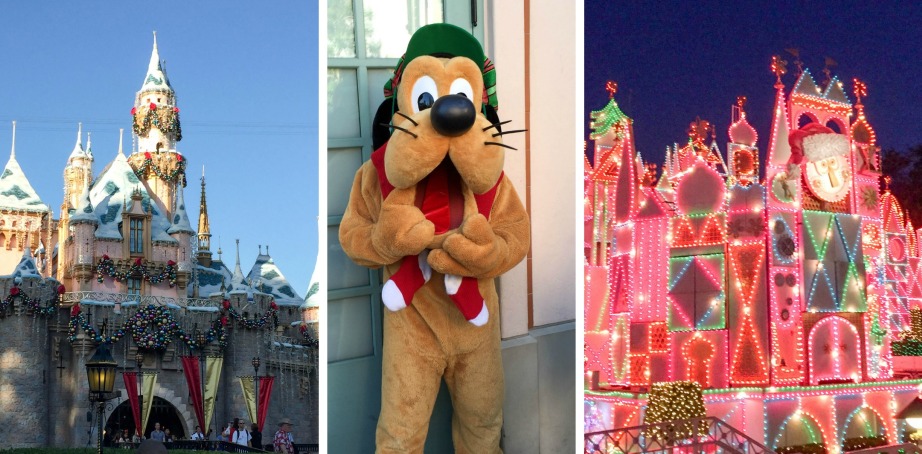 It's the most wonderful time of the year! I'm talking about the Holidays at Disneyland, of course!
There's something very special about Christmas at the Disneyland Resort. The decor, the music, the lights on the castle, the "snow" fall … for Disney fans it's simply magical. If you're planning a trip to Disneyland during the winter holidays, you're in for a treat! (Figuratively and literally!)
Read on for everything you need to know about the holiday season at Disneyland!
Guide to Christmastime at Disneyland in California
The holidays start early at Disney Parks. In 2023, the holiday season begins on Friday November 10, 2023 and ends on January 7, 2024. The celebration lasts for 8 weeks so there's plenty of time to experience everything!
No matter where you go at Disneyland park or Disney California Adventure park, you'll be swept up in holiday cheer. Expect both Main Street and Buena Vista Street to be decked out with Christmas Trees, wreaths, and twinkling lights. Even Downtown Disney and the three Disneyland Resort hotels get into the act.
Holidays at Disneyland Park
As you arrive to the Disneyland park gates, you'll be greeted by giant snowflakes and snow flurries, and the sound of festive music.
Right in Town Square, you'll find a 60 foot-tall Christmas tree! As you can imagine, this is a popular spot for photos. Look for the PhotoPass photographers and be sure to ask about "magic shots."
Mickey and Minnie and their pals are often out greeting Guests in Town Square, wearing special winter outfits. You may also find the Disneyland Band or the Dapper Dans performing in this area!
Keep going down Main Street and look up! Beautiful garlands and wreaths stretch across Main Street. And of course, everything twinkles at night!
Your reward for walking down main street is Sleeping Beauty Winter Castle, one of the most breathtaking sights of the holiday season! Impressive during the day, she really shines at night, with more than 126,000 twinkling lights.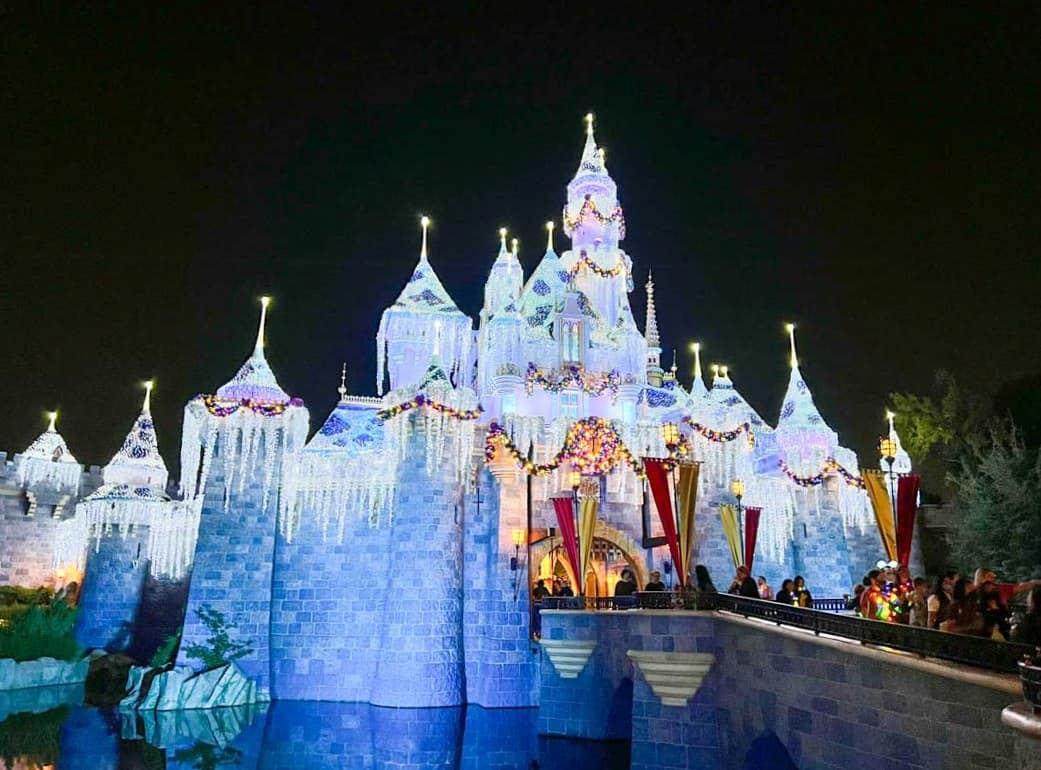 Turn left into Frontierland to celebrate Dia de Los Muertos, with colorful and festive decor and visits with Miguel from Coco!
Attraction Overlays
Haunted Mansion Holiday
Over in New Orleans Square you won't want to miss Haunted Mansion Holiday. Haunted Mansion Holiday is a Nightmare Before Christmas overlay added to the Haunted Mansion attraction. It is very impressive how the ride is transformed every year, yet the same Haunted Mansion you're used to is still peeking through! Guests can enjoy this overlay during both Halloween Time and the holiday season at Disneyland.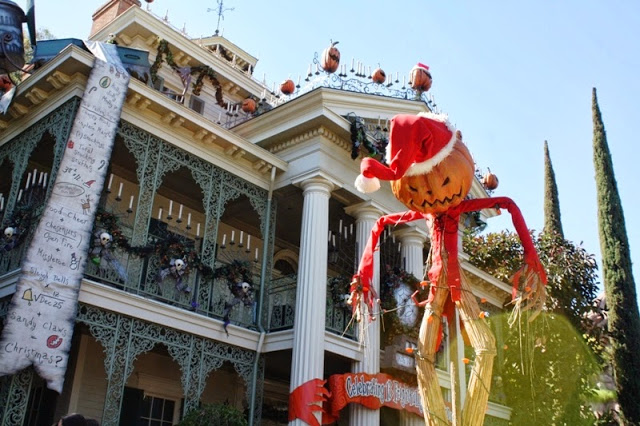 "it's a small world" Holiday
Celebrate Christmas on the most merriest cruise around the world! "it's a small world" gets a holiday makeover both inside and out. After the sun goes down, you won't want to miss the special light show on the building's facade, which runs nightly every 30 minutes (check the Disneyland app for exact show times).
A Christmas Fantasy Parade
The fan favorite returns again this year! A Christmas Fantasy parade will go through the park twice a day, from "it's a small world" to Town Square and back again. This parade is very popular so you'll want to grab a seat at least 30 minutes prior to the start of the procession. Check the Disneyland app for show times.
"Believe … in Holiday Magic" Fireworks
The beautiful "Believe … in Holiday Magic" fireworks show is returning in 2023. The best spots to watch are in front of the castle, along Main Street, and at "it's a small world."
The show culminates in a "snowfall" on Main Street USA and near "it's a small world" while "White Christmas" plays. I get chills just thinking about this magical moment! If you pay close attention you'll even notice the scent of gingerbread wafting through the air!
Additional Shows
Check the Disneyland app for exact show times on the day of your visit, but keep in mind the following presentations:
Main Street USA Christmas Tree lighting around dusk.
Sleeping Beauty Winter Castle lighting around dusk.
"it's a small world" Holiday lighting around dusk and every 30 minutes until closing.
Star Wars – Life Day
They don't celebrate Christmas or Hannukah in the Star Wars universe, but they *do* celebrate Life Day! During the holiday season, visit Docking Bay 7 or Oga's Cantina for some special limited-time food items, and don't forget to pick up your Life Day merch at the Marketplace. If you see Chewie walking around, be sure to wish him and his wookie family a Happy Life Day!
Limited Time Food and Treats
Every year, the Disneyland Resort offers a bunch of limited time foods, snacks, drinks, and treats especially for the holiday season.
The main stops for winter holiday treats are Candy Palace and Jolly Holiday, but pretty much every sit-down and quick-serve restaurant will have special holiday offerings.
Holidays at Disney California Adventure
Across the Esplanade, Disney California Adventure is celebrating the holidays too!
Stop inside Elias & Co to shop winter holiday merchandise and hop on over to Trolley Treats for specialty food items. You also won't want to miss the huge Christmas tree across from Carthay Circle Restaurant.
Cars Land
Aside from winter decorations, the residents of Cars Land have their own holiday celebration with special attraction overlays for "Mater's Jingle Jamboree" and "Luigi's Joy to the Whirl."
Festival of Holidays
There is truly so much to see and experience at the Festival of Holidays! The festival pays tribute to the many culturally diverse holiday celebrations around the world, including Christmas, Hanukkah, Diwali, and Kwanzaa.
Some of the entertainment offerings at Festival of Holidays include:
Mickey's Happy Holidays – dance along with Mickey Mouse and pals to the magically merry rhythms of the Holiday Toy Drummers
Mariachi Divas put their own festive spin on classic holiday tunes
Mostly Kosher honors Hanukkah with an eclectic blend of musical styles from klezmer and jazz to Latin and rock
The spirited Blue13 Dance Company salutes Diwali with traditional dances during an unforgettable Bollywood party
Phat Cat Swinger presents brassy, classy, swinging holiday music selections with a fresh new twist
The Suffragettes, an exciting festival cover band, rock our holidays with chart-topping hits from favorite musical artists
Holiday Toy Drummers march to their own beat while drumming up smiles wherever they go
Food & Drink Marketplaces
Visit eight different Festival Marketplaces to try snack-size food and drinks related to the holiday celebrations around the world. For full menus and detailed information about the food festival, visit my Festival of Holidays guide.
Disney ¡Viva Navidad!
Visit Paradise Gardens to celebrate Navidad with Donald Duck and the Three Caballeros! There's a street performance with folklórico dancers, character appearances, and specialty foods at Paradise Garden Grill.
And visit Paradise Gardens from January 2 to January 8, 2024 to celebrate Three Kings Day!
Santa's Holiday Visit
Find Santa and his elves at Redwood Creek Challenge Trail between November 10, 2023 and December 24, 2023.
World of Color – Season of Light
You don't want to miss this beautiful holiday nighttime show taking place in Paradise Gardens after dark! I recommend joining the virtual queue for a reserved viewing spot when they become available at 12 noon.
Buena Vista Street Tree Lighting
The beautiful Christmas tree on Buena Vista Street sits right outside Elias & Company, across from Carthay Circle Restaurant. Visit the plaza at 5:30pm to watch the towering tree twinkle to life (check the app for exact time)!
Festive Foods
Aside from Festival of Holidays, there are plenty of other festive food and drink options around the park.
Holidays at Downtown Disney
Guess what … you don't even need a park ticket to celebrate the holidays at the Disneyland Resort! Downtown Disney and the Disneyland Resort Hotels have their own decorations and special treats.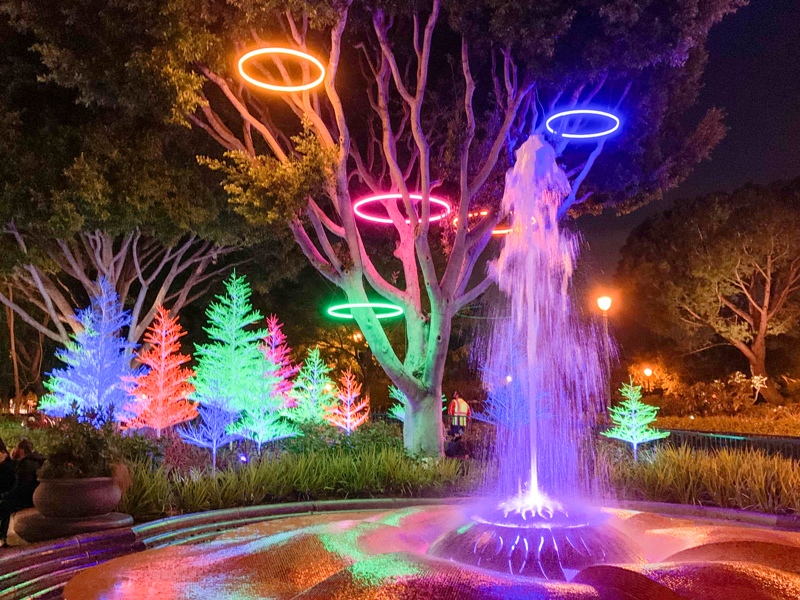 No winter holiday visit is complete without merch! World of Disney has a huge display of shirts, mugs, and ornaments right at the front of the shop. You'll also find plenty of merch at the Emporium and Plaza Point Holiday Shoppe inside Disneyland and on Buena Vista Street inside Disney California Adventure. To shop holiday merchandise online, click on this link to go to ShopDisney. (PS – You can shop for ornaments year round!)
Don't forget to stop in Marceline's for some of the same winter treats you can get inside Disneyland and Disney California Adventure.
A few of the Downtown Disney restaurants have holiday food and drink specials, so be sure to ask!
Holidays at the Disneyland Resort Hotels
All three Disneyland hotels have their own Holiday decorations, too!
Visit Disney's Grand Californian Hotel to see their amazing hotel gingerbread house, created by the Disney Bakery staff using real ingredients. Yep, it's incredible AND edible!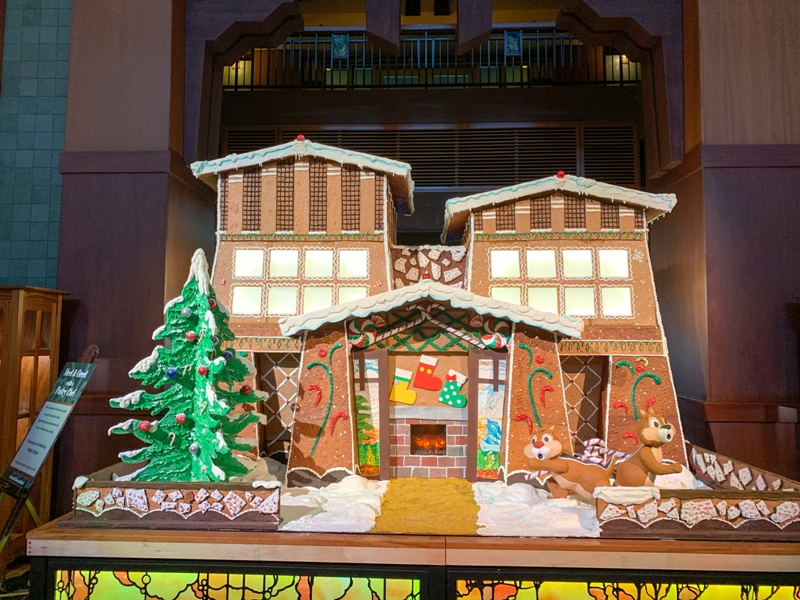 Right next to the gingerbread hotel you'll find the seasonal cart, serving yummy holiday treats and my personal favorite: cookie shots!
And over at the Disneyland Hotel you'll find lots of Christmas trees and pretty decorations. Stop by Trader Sam's to ask about their holiday libations!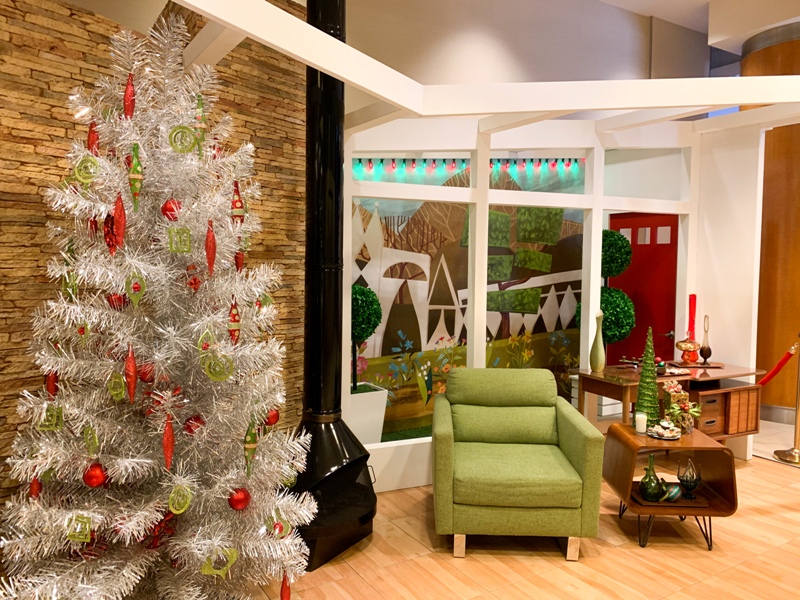 Have you experienced the Holiday Season at Disneyland? What's your favorite part?