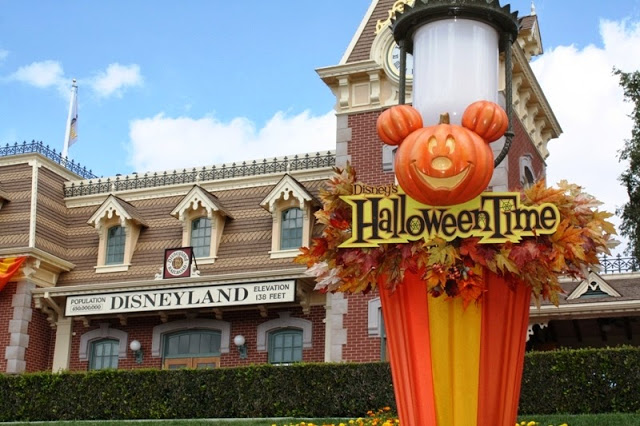 Do you feel that chill in the air? Probably not, because you're likely reading this article during spring or summer. BUT you're here because you want to learn all about Halloween Time at the Disneyland Resort, and this guide will tell you everything you need to know to plan a frightfully fun trip!
Celebrating Halloween at Disneyland
Disney starts celebrating Halloween a little early, usually the weekend after Labor Day, and the celebration lasts through Halloween day or the following weekend.
For 2023, Halloween Time starts on September 1, 2023 and runs through October 31, 2023.
Disneyland really started getting into the Halloween spirit over the last decade. It started with a some candy corn colored bunting on Main Street USA facades, then a big Mickey pumpkin in Town Square for picture ops, then a special fireworks show, then, BOOM — orange & purple explosion everywhere.
A few years back, Disneyland Resort started offering private Halloween parties on select nights in September and October. Guests are allowed to wear costumes (not allowed for adults during regular park hours), and there is trick-or-treating, rare character interactions, and special entertainment offerings.
Is Oogie Boogie Bash coming back to Disneyland in 2023?
In 2023, the Halloween party is taking place at Disney California Adventure and is called Oogie Boogie Bash. This is a separate ticketed event and is already sold out! Click here for more details on Oogie Boogie Bash.
Even without a ticket to Oogie Boogie Bash, there is still plenty of fun to be had at Disneyland and Disney California Adventure! Let's take a look at everything you can see and experience with regular admission.
Halloween Time at Disneyland Park
The Halloween overload starts before you even enter the parks, with giant "carved pumpkins" in the likeness of the Fab Five.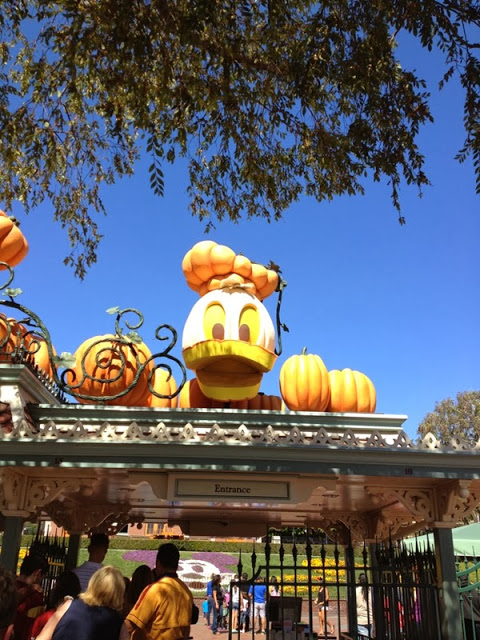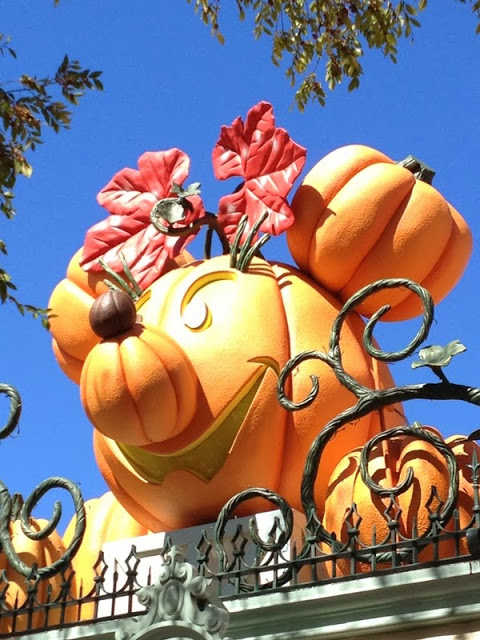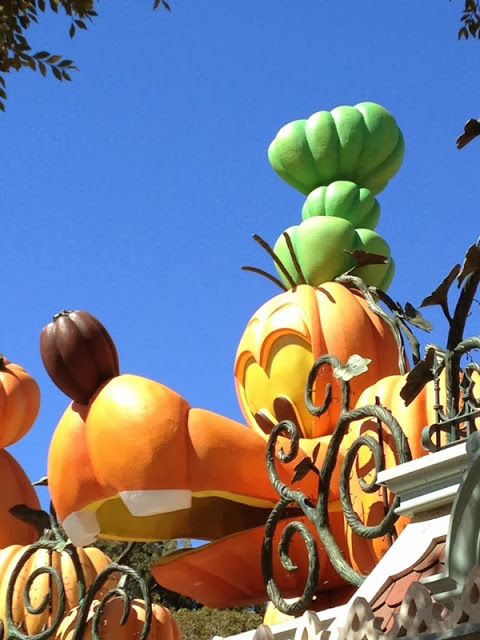 Once you enter the park, be sure to stop by City Hall to pick up a park map, times guide, and food guide! (Photos from 2019 and availability is subject to change.)
The food guide lists all the seasonal food and snack offerings at both Disneyland and Disney California Adventure.
Down Main Street USA there are jack-o-lanterns staged on all the balconies. No two are alike!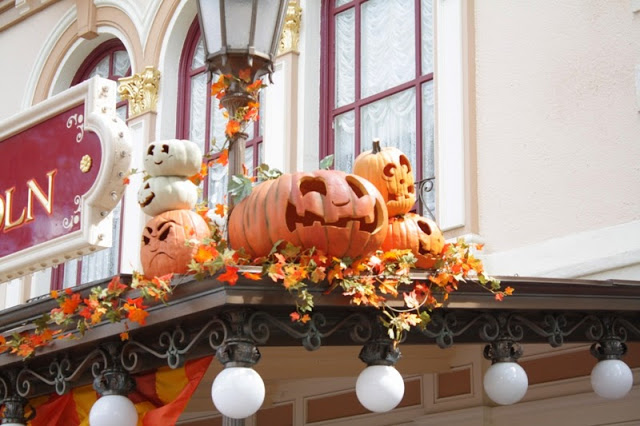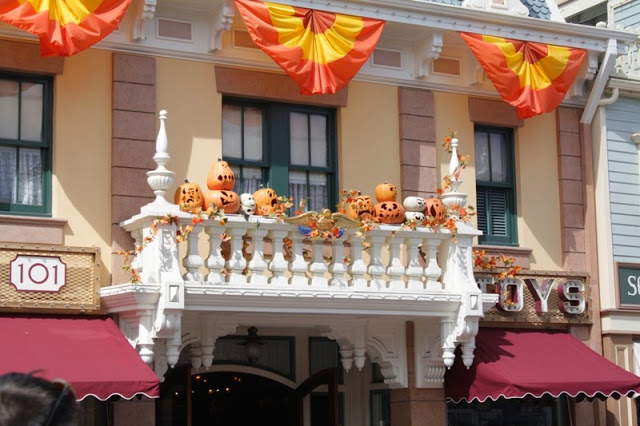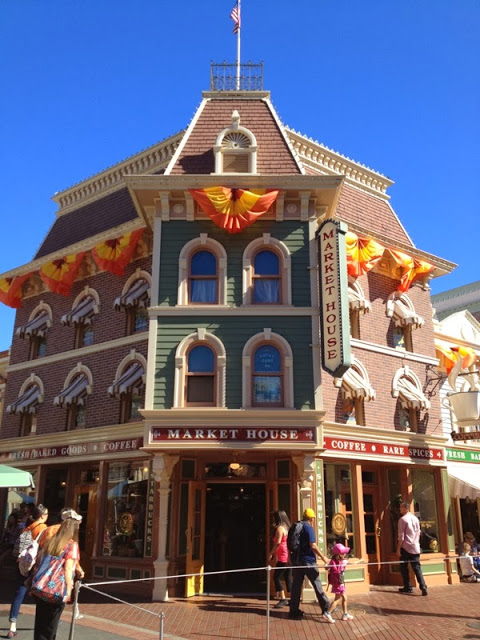 An impressive winking Mickey jack-o-lantern greets you right at Town Square, by the flag pole. You can't miss it! This is a really popular photo op and lines form for both sides near the flag pole.
Depending on the time of day, the lighting might be better for pictures on one side or another (and that line is usually the longer of the two). Tip: Ask the PhotoPass photographer for a magic shot here!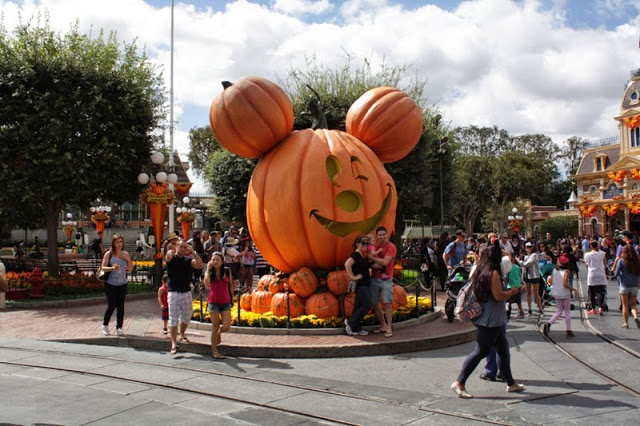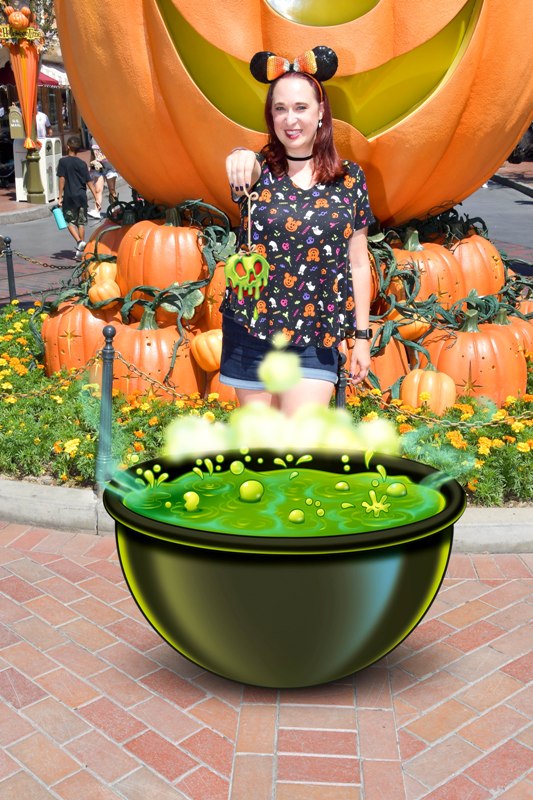 Take a look around Town Square and you might see some friendly and not-so-friendly faces! Mickey, Minnie, and pals often are out greeting guests in special Halloween outfits, and villains are known to prowl the area as well.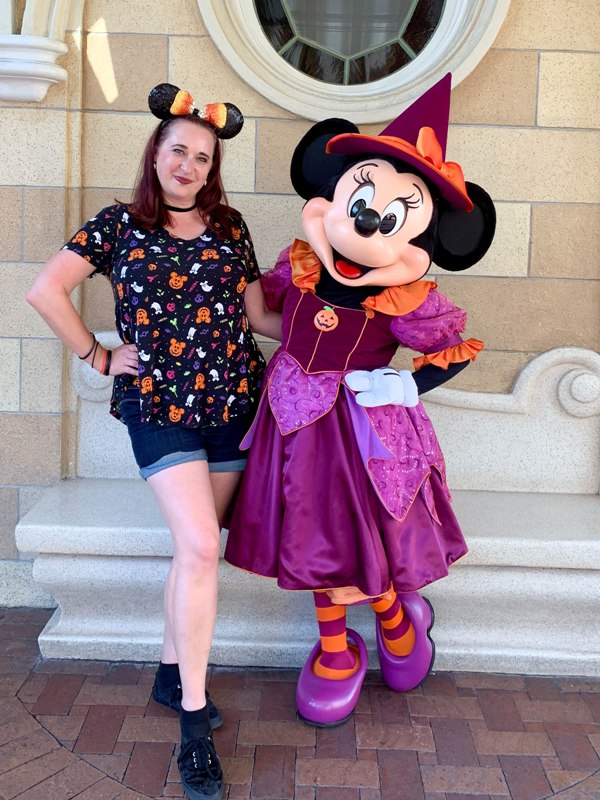 At the hub, the Partners statue is surrounded by carved pumpkins, each depicting a character that represents a Land inside Disneyland. All the flowerbeds are planted with fall hues – yellows, oranges, and reds. I love these little details that add so much ambiance to the park!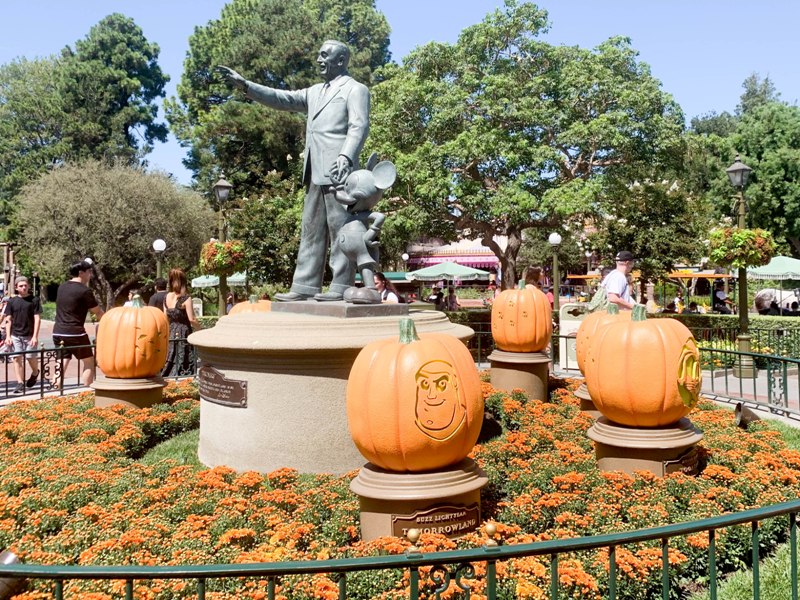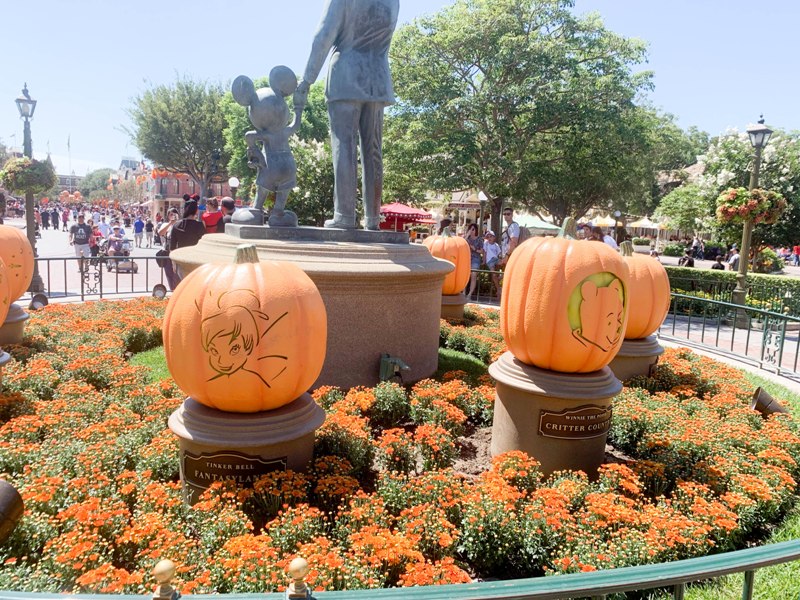 Be sure to stop in Frontierland to see the famous Halloween Tree, with unique jack o'lanterns hanging from the branches. At night it is lit up with brilliant orange and purple hues. It's truly gorgeous at night.
The plaque reads, "On the night of Halloween 2007 this stately Oak officially became The Halloween Tree, realizing famed author Ray Bradbury's dream of having his symbol for the Holiday become a part of Disneyland." (Read more about Ray Bradbury's book The Halloween Tree here.)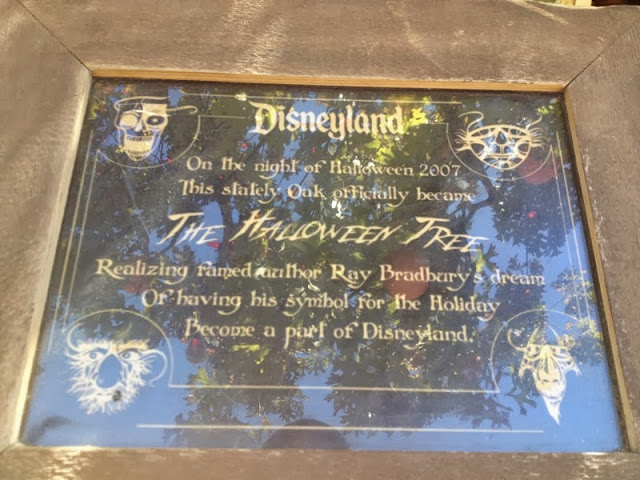 Frontierland also has a lot of Coco merchandise and fun photo ops!
Attraction Overlays
Moving on to Haunted Mansion Holiday, the attraction that launched the Halloween Time craze at Disneyland. It's tough for me to grasp that Haunted Mansion Holiday has been happening for over 20 years since I so clearly remember the first year. Haunted Mansion Holiday is a Nightmare Before Christmas overlay added to the Haunted Mansion attraction. It is very impressive how the ride is transformed every year, yet the same Haunted Mansion you're used to is still peeking through.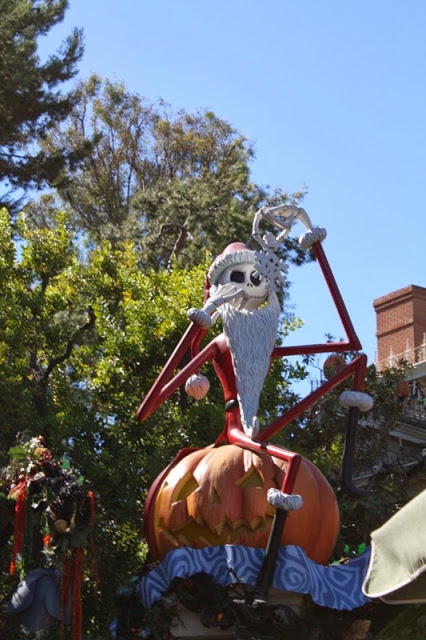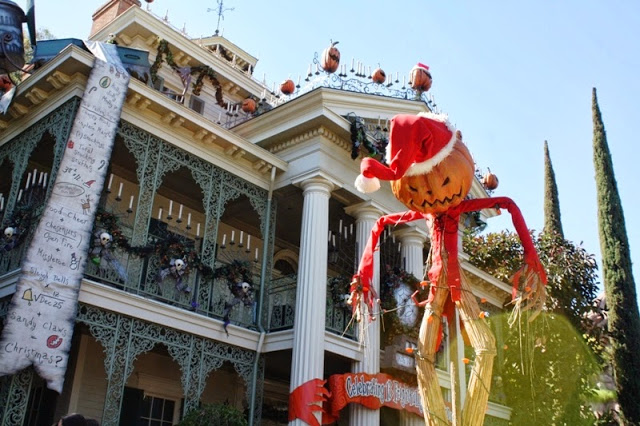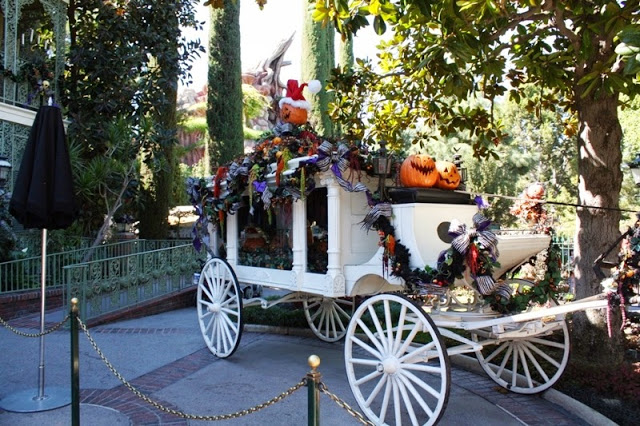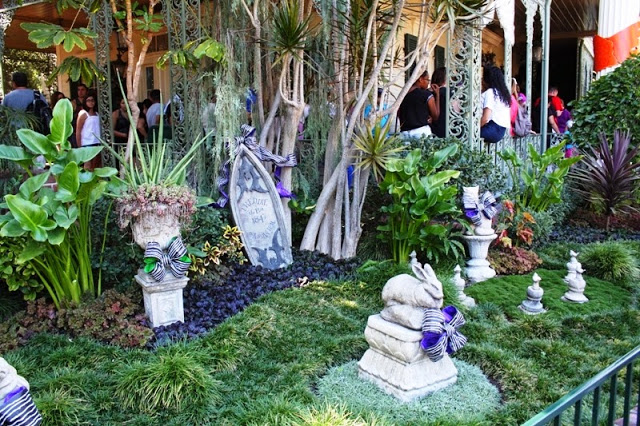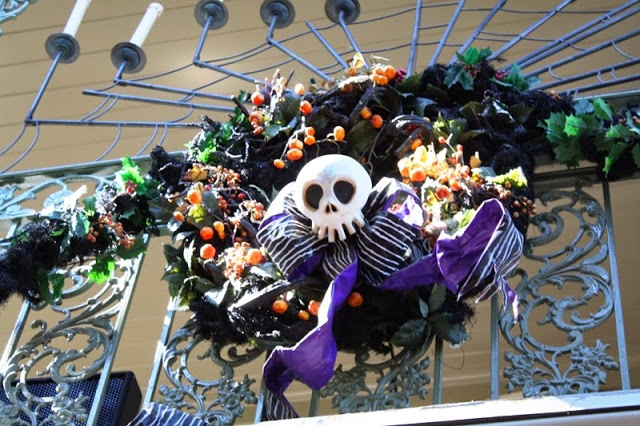 Taking pictures inside is a little tricky, but here is one I was able to snag. This is towards the end. Oogie Boogie takes over where the Hitchhiking Ghosts usually hang out.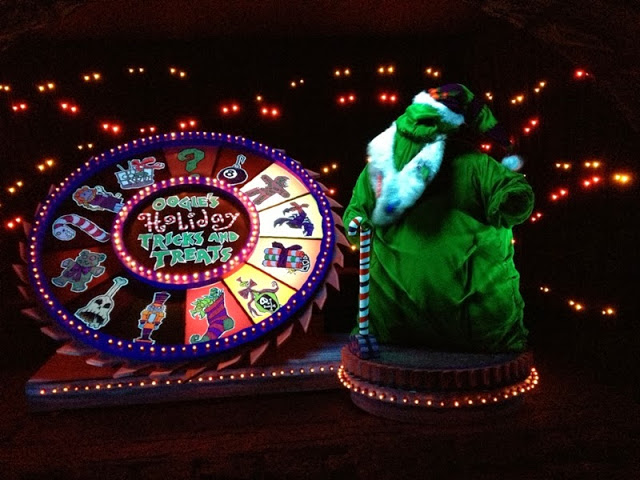 You can usually find Jack and Sally posing for pictures in New Orleans Square. Check the app for times or ask a Cast Member.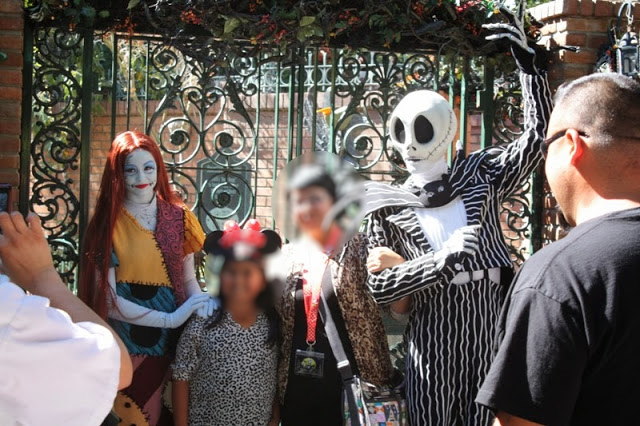 In 2007, Disneyland added a second attraction overlay for Halloween Time, with Space Mountain becoming Ghost Galaxy. Scary (no, seriously scary) supernatural images are projected onto the black walls of the dark attraction. They seem to pop out of nowhere and are usually accompanied by a loud WHOOSH or some other kind of creepy noise. In 2023, Ghost Galaxy is not returning to Disneyland but I'm hopeful it will return someday.
Halloween Screams Nighttime Show
The return of a crowd favorite! "Halloween Screams" returns to Disneyland Park every night starting September 2 through October 31, 2021. On weeknights, guests will be enchanted by special music and projections on Sleeping Beauty Castle and Main Street USA facades. On weekends, the show is enhanced with fireworks!
Limited Time Food and Treats
And a Halloween Time at Disneyland article is not complete without mentioning the FOOD! Every year, the Disneyland Resort offers a bunch of limited time foods, snacks, and treats.
The main stops for Halloween Time treats are Candy Palace and Jolly Holiday, but pretty much every sit-down and quick-serve restaurant will have special Halloween Time offerings.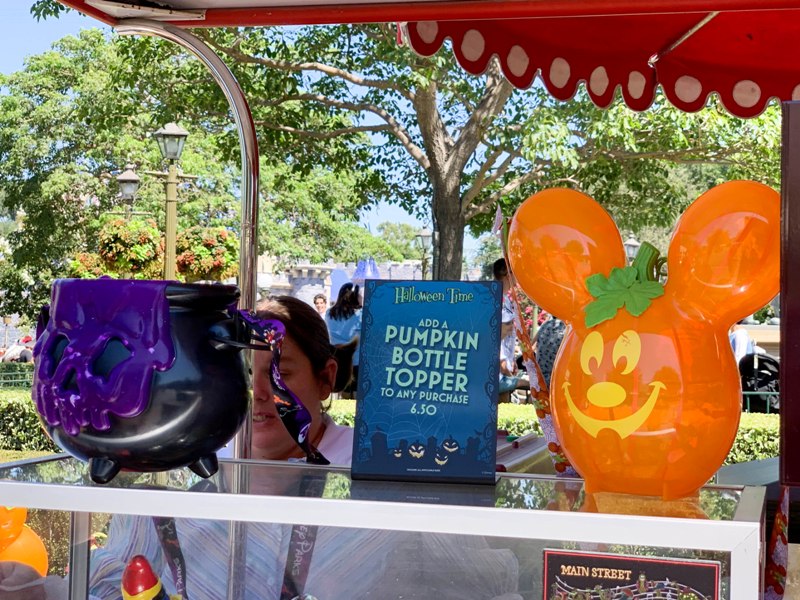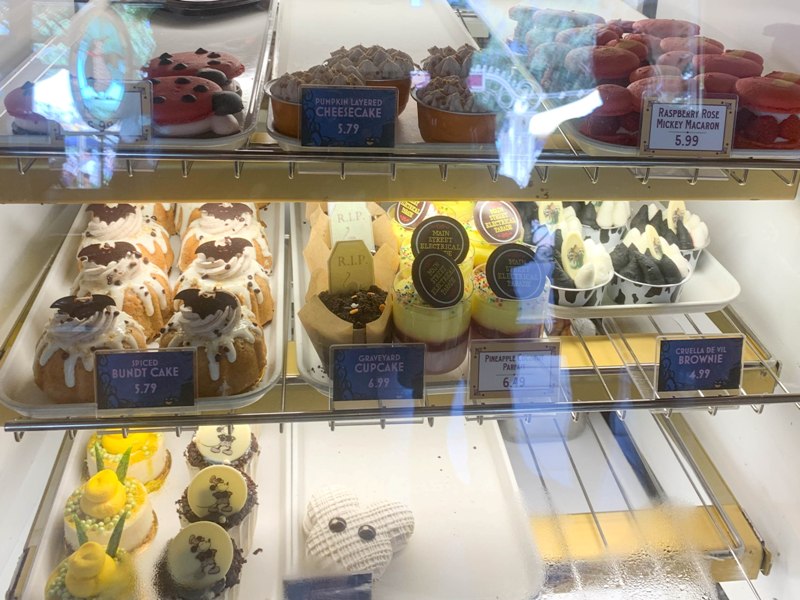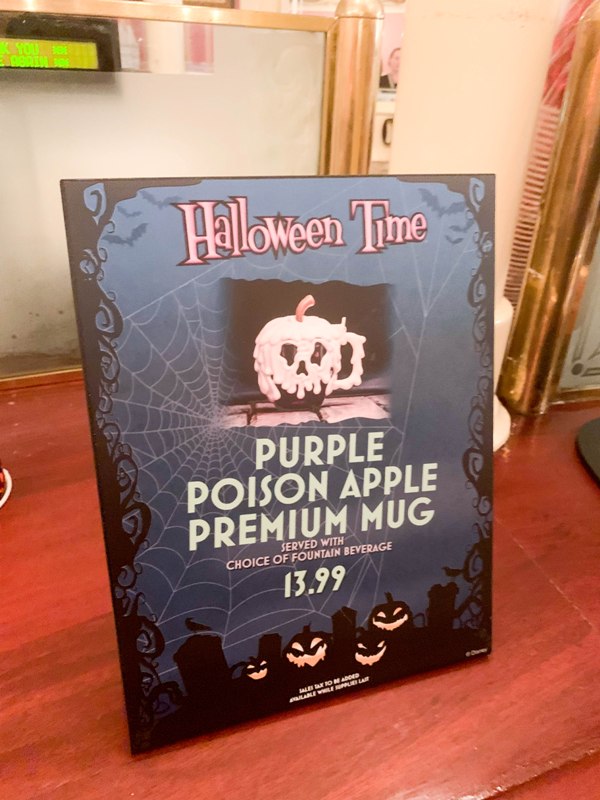 This is the churro sundae from Golden Horseshoe, made with cookie dough ice cream and caramel, with filled churros. One of my faves!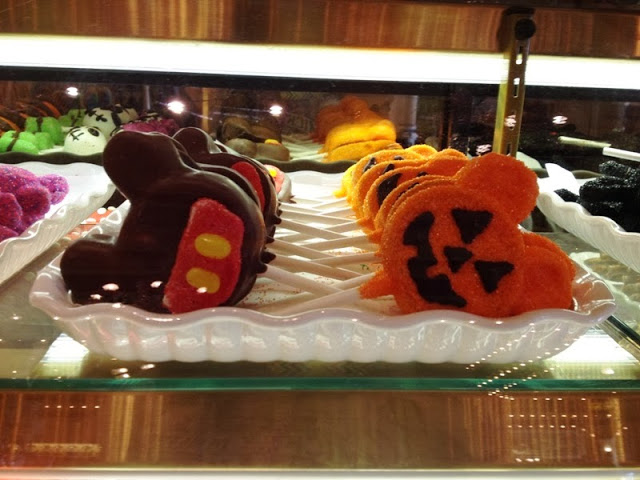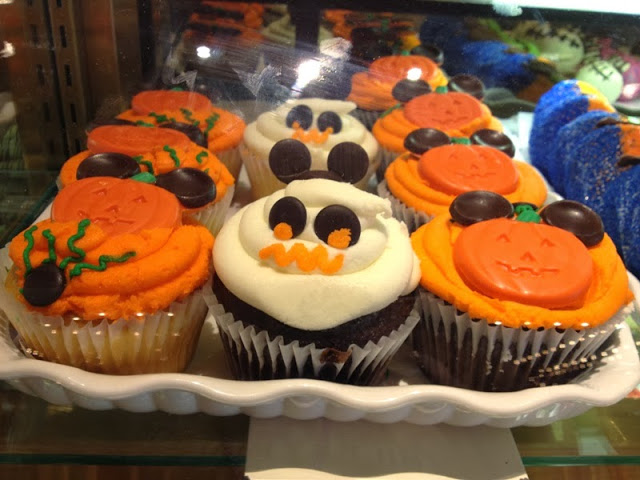 Halloween Time at Disney California Adventure
Not to be outdone by Disneyland, Disney California Adventure celebrates Halloween in its own way, too! Black and purple decorations cover Buena Vista Street and Carthay Circle Restaurant.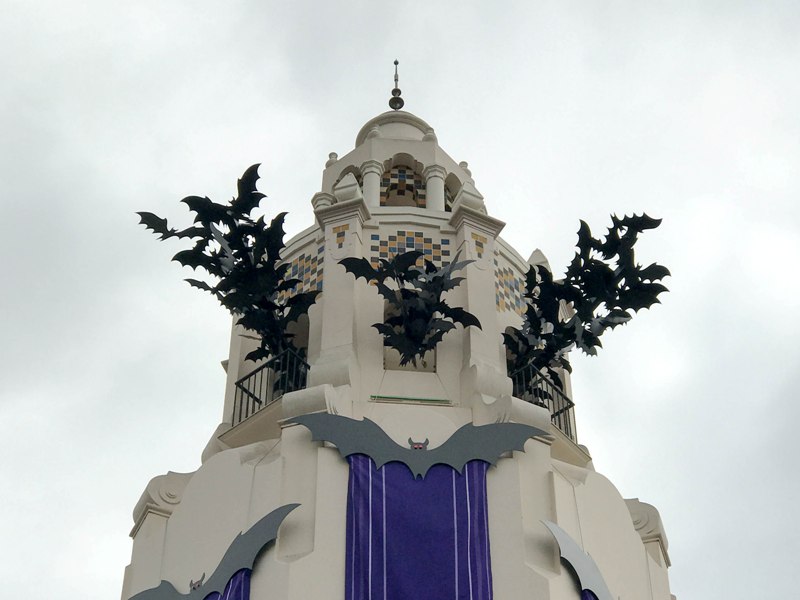 Stop inside Elias & Co to shop Halloween Time merchandise and keep your eyes peeled for specialty food items. One of my favorites I tried this year is the Caramel Apple Churro available in Hollywoodland. It's messy, but delicious!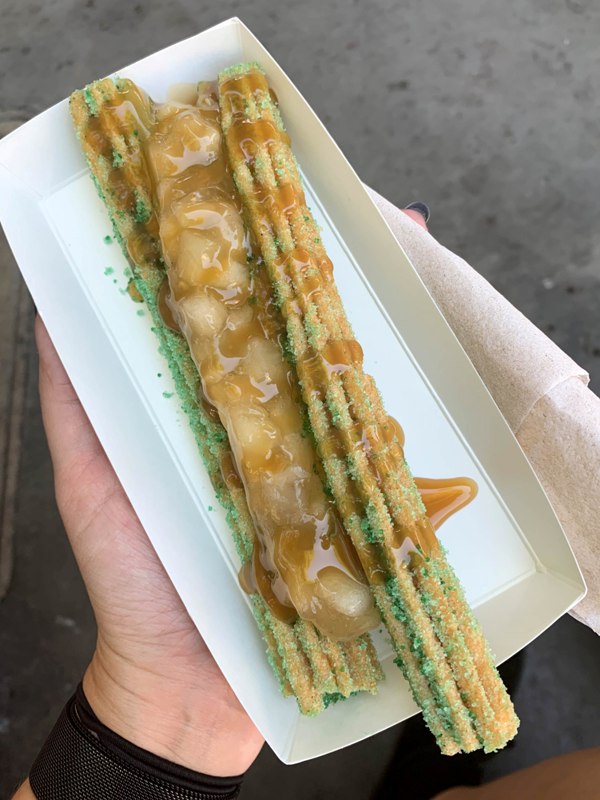 Cars Land is one of the must-see places for Halloween Time. Their decor is all vehicle-themed and really impressive!
During Halloween Time, Mater's Junkyard Jamboree becomes "Mater's Graveyard JamBOOree" and and Luigi's Rolickin' Roadsters will change into Luigi's Honkin' Haul-O-Ween. Both attractions have special soundtracks for the season! Click here to see more photos of Cars Land at Halloween.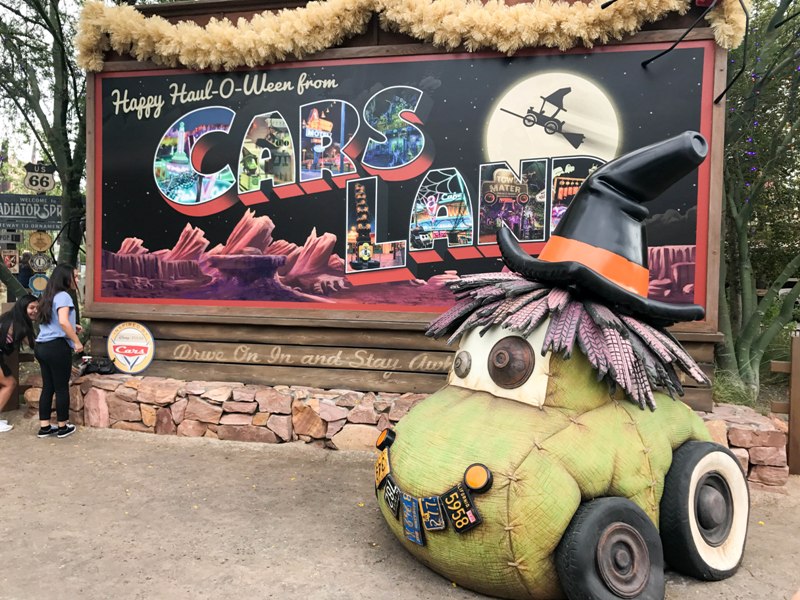 If you love thrill rides, be sure to check out "Guardians of the Galaxy – Monsters After Dark," which transforms at night into a Halloween adventure with creepy creatures and thrilling drops.
Another spot to check out is Paradise Gardens, which is transformed into Plaza de la Familia! This is where you'll celebrate Dia de Los Muertos with Miguel from Coco! Check the times guide or app for show times.
One of my all-time favorite annual treats (it's more like a tradition at this point!) is the Poison Appletini, available at Carthay Circle. At $19 this specialty drink comes with a Pumpkin Mickey glow "cube."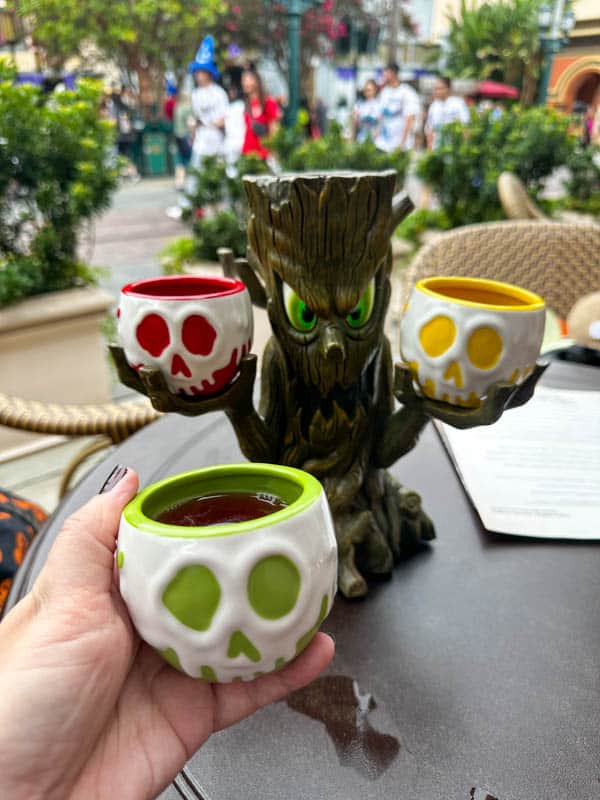 New in 2023 is the Spooky Tree Flight, which is exclusive to Carthay Circle. It's a 4 piece ceramic drink set, featuring three poison apple "mugs" that come filled with Poison Appletinis. The set plus drink is $89 before tax. (No discounts apply).
This is a very limited piece so if you want one, hurry up! It's available at both the lounge and restaurant, but you have to order it with a drink. Once you are done dining, you're given a new set in the box.
Oogie Boogie Bash
Oogie Boogie Bash is returning to Disney California Adventure in 2023! This is a separate ticket, after-hours event celebrating all things Halloween.
What can you expect from Oogie Boogie Bash? Aside from the chance to dress up in costume (something adult guests are not typically permitted to do), here are some details from the Disneyland website:
Immersive Treat Trails – Collect candy along moonlit trails and spot your fave Disney villains!
Character Sightings – See Mickey and friends in their Halloween finest. (The return of character meet-and-greets has not been announced yet.)
Frightfully Fun Parade.
Mickey's Trick & Treat live show.
Villains Grove takes over Redwood Creek Challenge Trail.
Lights and effects on Carthay Circle's Bell Tower.
Unique photo opportunities, and your PhotoPass downloads are included with the price of your event ticket.
While not mentioned on the website just yet, often the Oogie Boogie Bash features unique food and drink offerings you can't get anywhere else!
Even though the event starts at 6pm, your ticket will allow you entry into Disney California Adventure starting 3 hours early.
Click here to learn more about Oogie Boogie Bash at Disney California Adventure.
Halloween Time at Downtown Disney
Guess what … you don't even need a park ticket to celebrate Halloween Time at the Disneyland Resort! Downtown Disney and the Disneyland Resort Hotels have their own decorations and special treats.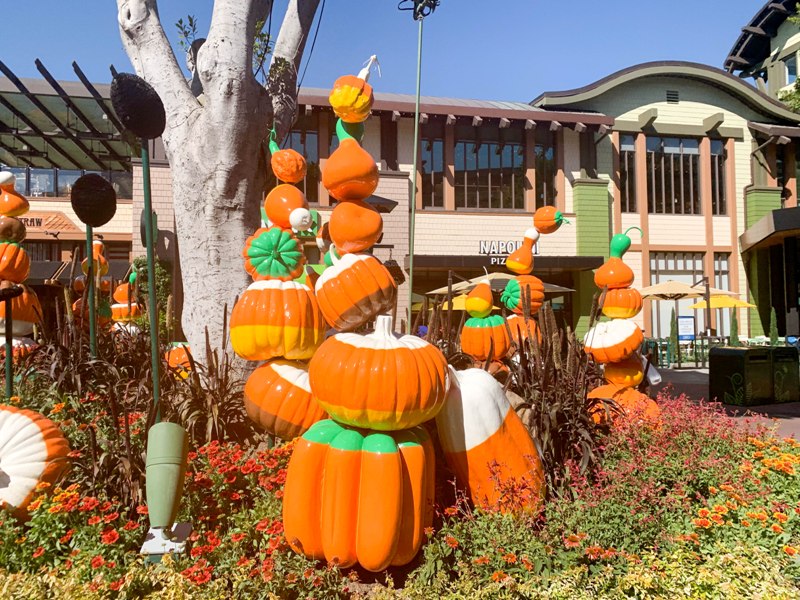 No Halloween Time adventure is complete without merch! World of Disney has a huge display of shirts, mugs, and containers perfect for holding candy right at the entrance to the shop. You'll also find plenty of Halloween merch at the Emporium inside Disneyland and on Buena Vista Street inside Disney California Adventure. To shop Halloween Time merchandise online, click on this link to go to ShopDisney.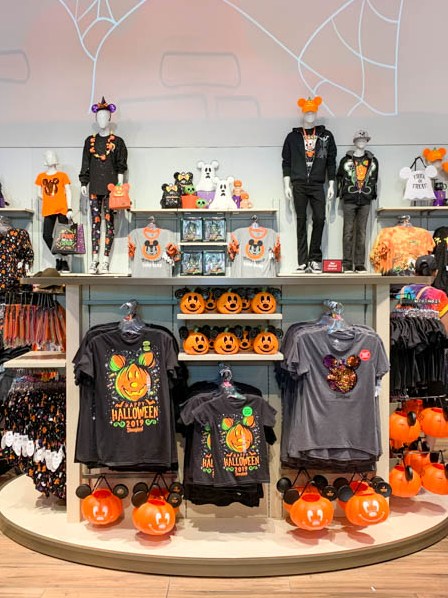 Stop in Marceline's for some of the same Halloween Time treats you can get inside Disneyland and Disney California Adventures.
A few of the Downtown Disney restaurants have Halloween specials, so be sure to ask!
Halloween Time at the Disneyland Resort Hotels
All three Disneyland hotels have their own Halloween celebrations!
Disney's Grand Californian Hotel and Spa has a very impressive edible display featuring Miguel and Dante from Coco. The display takes a team of pastry chefs several days to build using cereal treats, icing, and fondant. (Note the picture below is the display in progress and not finished!) And right next to that is a treat cart where you can pick up decorated cookies, macarons, and marshmallow pops, as well as "cookie shots" which is a shot glass made of cookie filled with either cotton candy milk or select alcoholic beverages.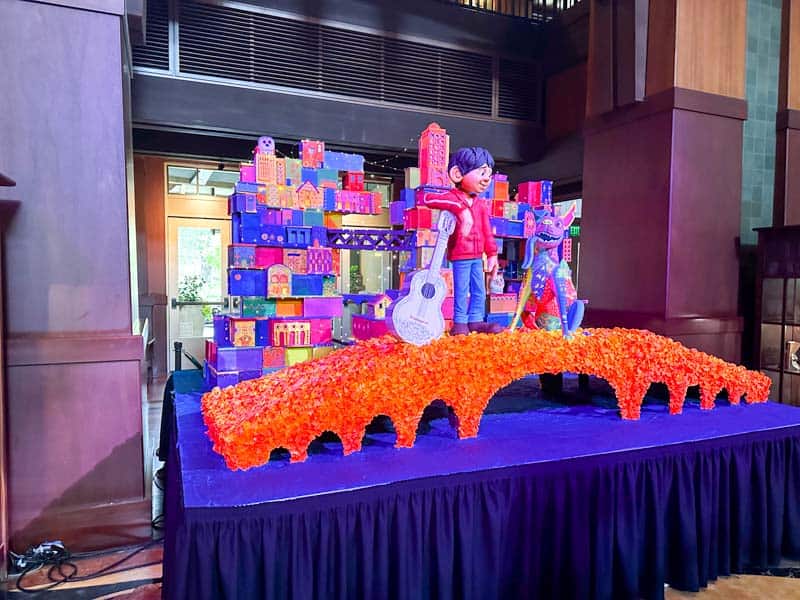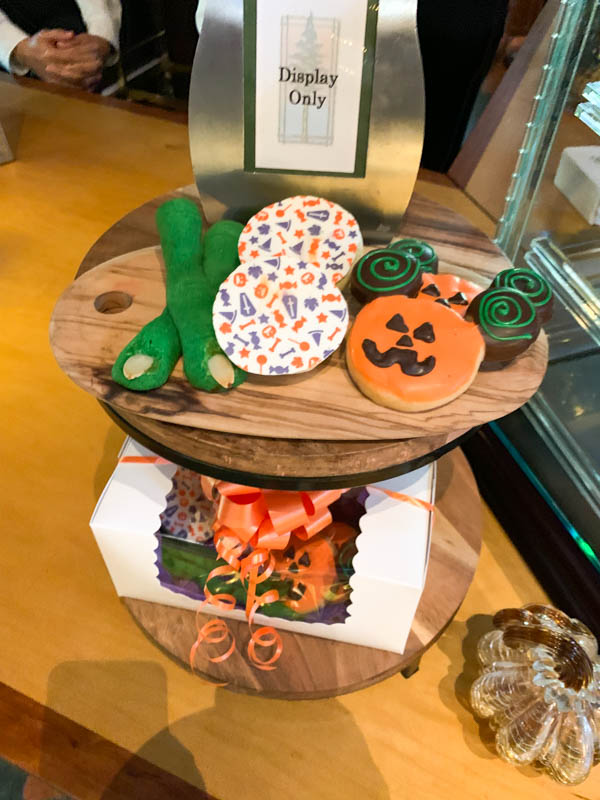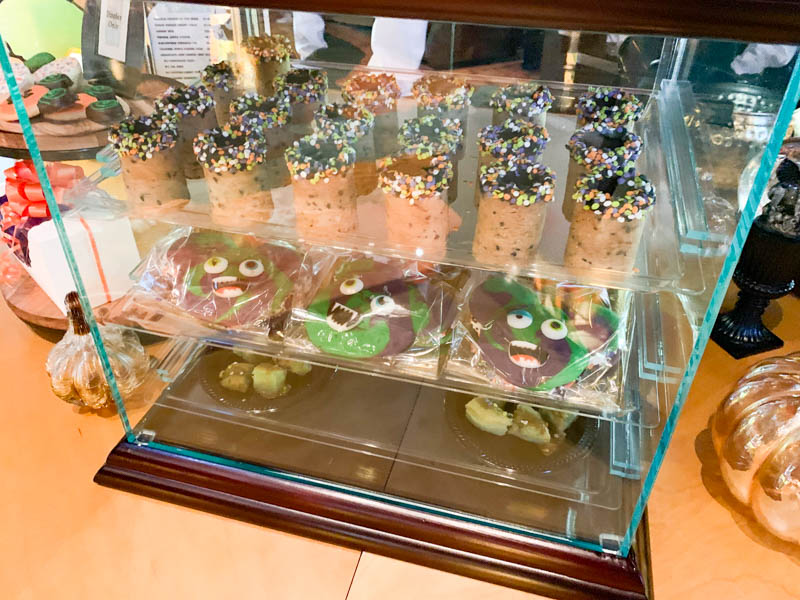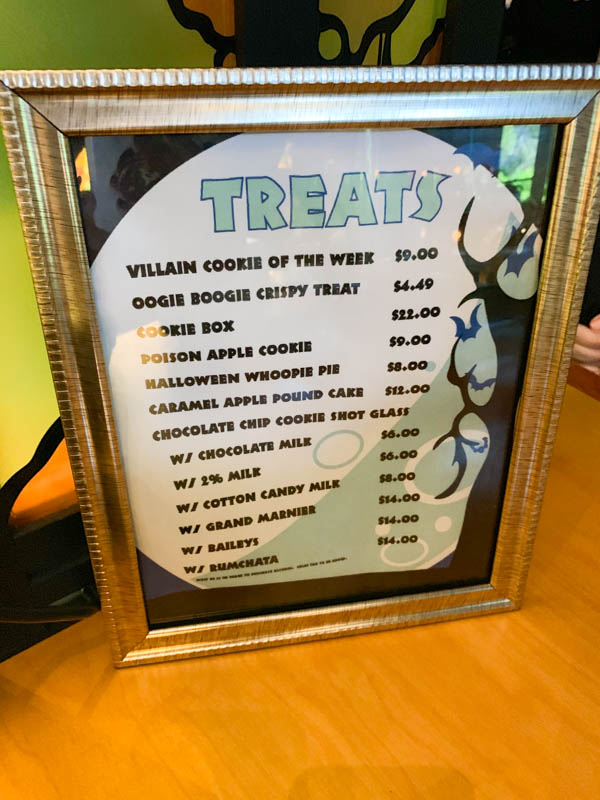 During select afternoons in October, all three Disneyland hotels offer trick-or-treating and activities for hotel guests! Be sure to sign up in advance at the Guest Services desk. (Note – this activity is only available for overnight hotel guests.)
Have you experienced Halloween Time at Disneyland? What's your favorite part?