Oogie Boogie Bash is a private ticketed Halloween event at Disney California Adventure that celebrates all things spooky and scary! Oogie Boogie Bash replaced Mickey's Halloween Party at Disneyland in 2019 and is returning in 2023. While most people associate Disneyland with kids and families, adults can have a lot of fun at Oogie Boogie Bash as well! In this guide I'll share everything you need to know to make the most of your time at Oogie Boogie Bash.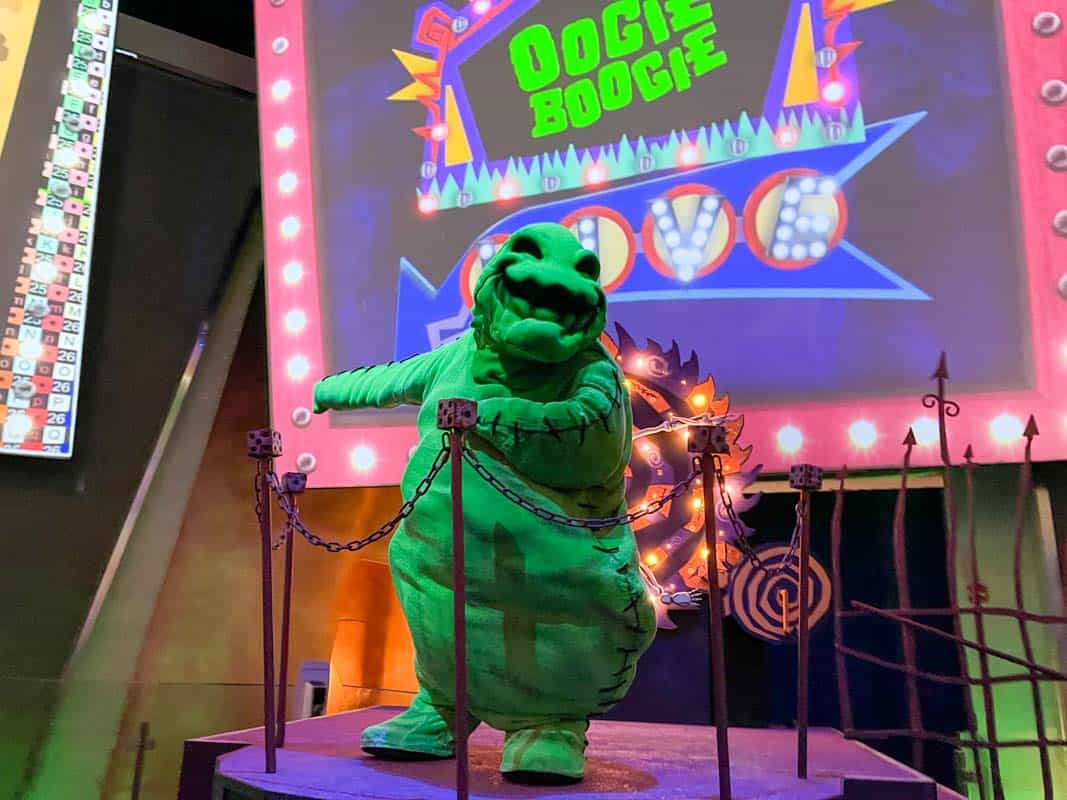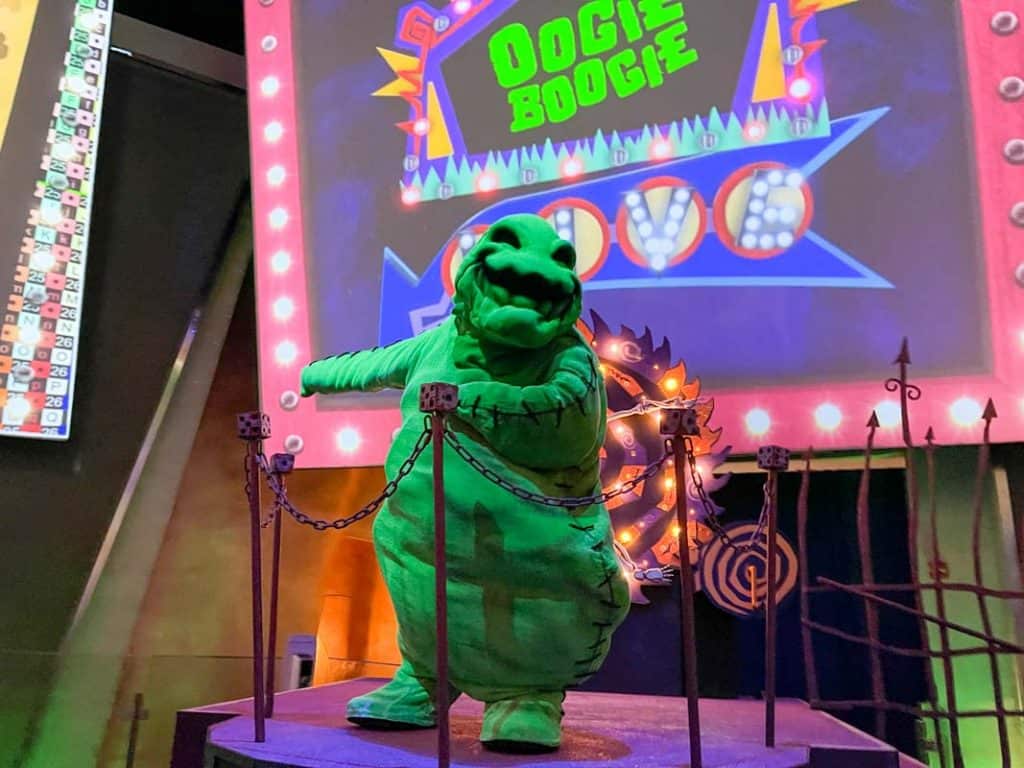 The popular Oogie Boogie Bash is Disneyland Resort's most popular after hours event. This special Halloween party debuted in 2019 to rave reviews. Tickets went on sale in July, and many fans spent all day in the virtual queue waiting "more than an hour" (IYKYK) to purchase their coveted party tickets.
When I say the Disneyland Halloween party is popular, I mean it! Tip number one is plan ahead because Oogie Boogie Bash sells out very quickly. Most people aren't thinking about Halloween in July, but Disney fans have to!
Oogie Boogie Bash for 2023
Disneyland Resort recently announced the details for Oogie Boogie Bash in 2023! Here are the party dates:
September – 5, 7, 10, 12, 14, 17, 19, 21, 24, 26, 28,
October – 1, 3, 5, 8, 10, 12, 15, 17, 19, 22, 24, 26, 29, 31
Prices in 2023 will range from $134 to $189, with weekends and Halloween being the most expensive dates, for guests ages 3 and up.
Even though the Oogie Boogie Bash party technically runs from 6pm to 11pm, ticket holders can enter Disney California Adventure starting at 3pm. The time between 3pm and 6pm is known as "mix in," where party guests and regular guests are both in the parks at the same time.
Tickets for Ooogie Boogie Bash are sold out for 2023.
Some quick notes about purchasing tickets:
Parking is not included
Limit 8 tickets per person
Tickets are not required for Guests ages 2 and under
Tickets are non refundable
Disneyland's Oogie Boogie Bash Party Guide
Since I am a childfree adult, I'm writing this guide for my fellow adults who love Disney! Even though Disneyland is certainly for families, I feel like the Oogie Boogie Bash really caters to us adults. There is PLENTY to see, do, and experience!
Continue reading for my best Oogie Boogie Bash party tips.
Before You Arrive
Parking
As I stated before, make sure you pay attention to when Oogie Boogie Bash tickets go on sale and purchase them early. This party generally sells out well ahead of time, so do not expect to be able to purchase tickets the day-of.
Disneyland parking is not included with your Oogie Boogie Bash ticket. You can park at either Mickey and Friends parking structure, or Toy Story parking lot. The price at the time of publication is $30 per vehicle, or $45 for preferred parking. You can purchase standard parking when you buy your ticket, or pay at the lot.
If you are a Magic Key holder and your Magic Key type includes parking, you may use that to park.
Tickets
Be sure to either add your ticket to your Disneyland app, or print them out. Each guest should add their own ticket to their own app. Do this BEFORE you arrive, ideally at least a couple days before your visit, in case you have any technical issues.
Costume Guidelines
Part of the fun of Oogie Boogie Bash is dressing up in costume! Typically, guests over the age of 14 are not permitted to wear costumes inside Disneyland or Disney California Adventure, so getting to wear a costume at the party is a real treat.
However, there are still a few costume guidelines guests should know about. I'm sharing the guidelines copy and pasted directly from the Disneyland website:
All Guests may dress as their favorite character during the event, but may not pose for pictures or sign autographs for other Guests
Costumes must be family-friendly and may not be obstructive, offensive, objectionable or violent
Costumes may not contain any items that resemble (or could easily be mistaken for) an actual weapon
Costumes may not contain sharp/pointed objects or materials that may accidentally strike another Guest
Layered costumes or costume props that surround the entire body are strongly discouraged and may be subject to additional security screening
Costumes may not reach or drag on the ground (e.g., full-length Princess dresses)
For Guests Ages 14 and Older
Capes may be worn if the length does not go below the waist
Themed T-shirts, blouses, sweatshirts and hats are permitted
Acceptable accessories include transparent wings, plastic light sabers, toy swords and tutus
Headwear may be worn as long as it does not cover the face
Costume masks of any kind may not be worn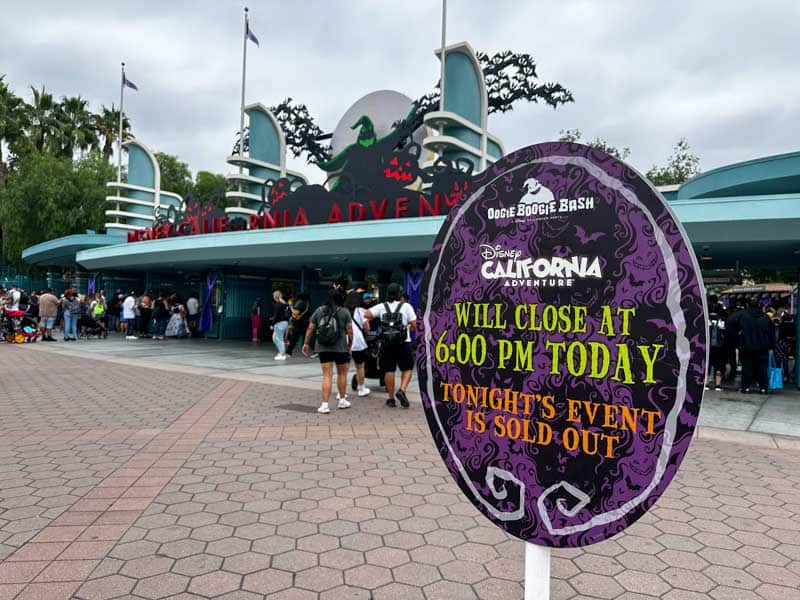 Entering the Park
Guests may enter Disney California Adventure starting at 3pm. There are separate entrances for regular guests and party guests, so look for the signage which will direct you on where to go. (Hint – if you see people in full costumes waiting in line, it's safe to say that's the line you want.)
Have your digital ticket (or paper print out) ready to scan when you reach the front of the line.
Once inside, a row of Cast Members will be waiting to give you a wristband. You will then be directed to a station where you'll be given an event map and a bag for candy.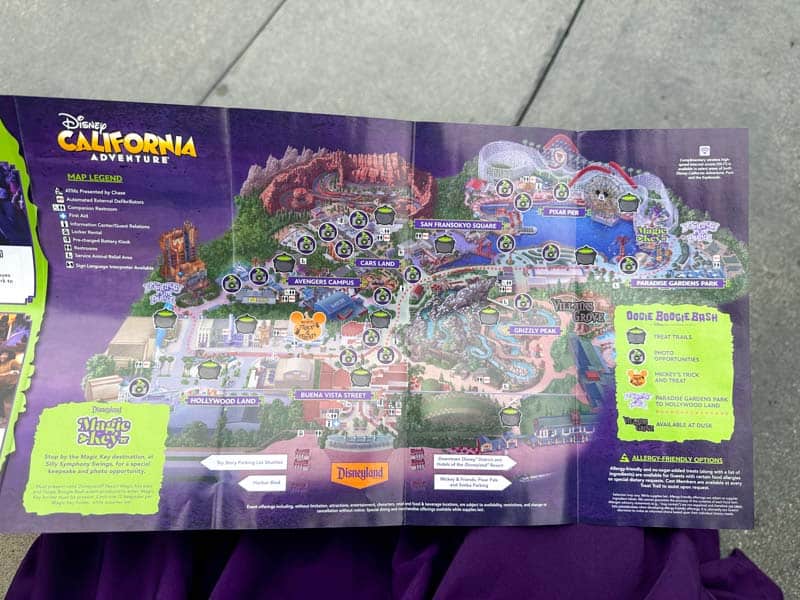 Tip: The bags they hand out are comically tiny. Bring your own tote bag.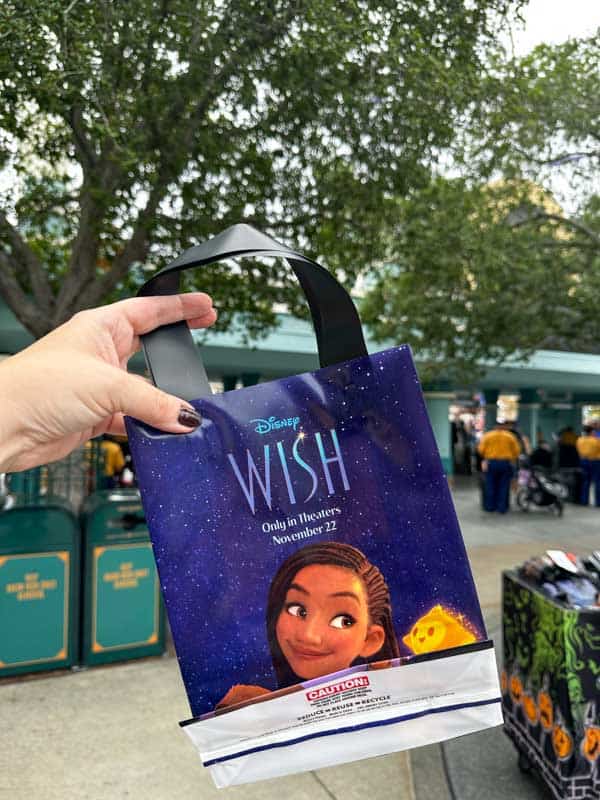 Oogie Boogie Bash Events
Here's a quick rundown of everything available during Oogie Boogie Bash!
Treat Trails (trick or treat for candy – adults, too!), including Immersive Treat Trails with rare characters
Frightfully Fun Parade
Mickey's Trick or Treat show at Disney Jr theater
Villains Grove
Appearances by popular characters in Halloween outfits
Photo backdrops and unlimited PhotoPass downloads (between 6pm and 11pm)
Select Attractions
Specialty food and drinks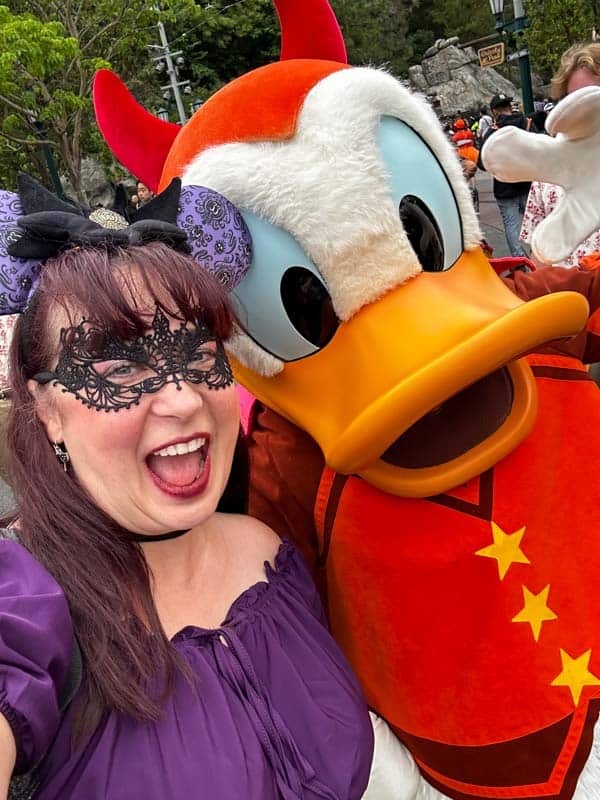 Treat Trails
Arguably the best part of the party! Lines for the Treat Trails get long but you can go through them as many times as you want!
Most of the Treat Trails are Immersive Treat Trails with a character experience, but the map provided by Disneyland doesn't distinguish them from the regular treat trails. You have to check fan websites like this one to get the scoop! So here it is:
Avengers Campus- Ancient Sanctum featuring Agatha Harkness

Near Avengers Campus entrance – Bountiful Valley Hideaway featuring Madam Mim

Hollywood Land- Disney Animation featuring Oogie Boogie

Hollywood Land- Hollywood Backlot featuring Cruella De Vil

Hollywood Land- Hyperion Theatre featuring Ernesto de la Cruz

Pixar Pier – Near The Pixar Pal-Around featuring Sid from Toy Story

Grizzly Peak Airfield featuring Judge Doom from Who Framed Roger Rabbit

Grizzly Pass featuring Mother Gothel

San Fransokyo Square featuring Yokai
Non-character trails (aka the best places to load up on candy quickly) are at the following locations:
Buena Vista Street
Cars Land near Radiator Springs Racers
The Treat Trail highlights for me were seeing the new characters – Judge Doom from Who Framed Roger Rabbit?, and Yokai from Big Hero 6. Both interactions were really fun and even though the interactions are distanced, I still had conversations with both of them.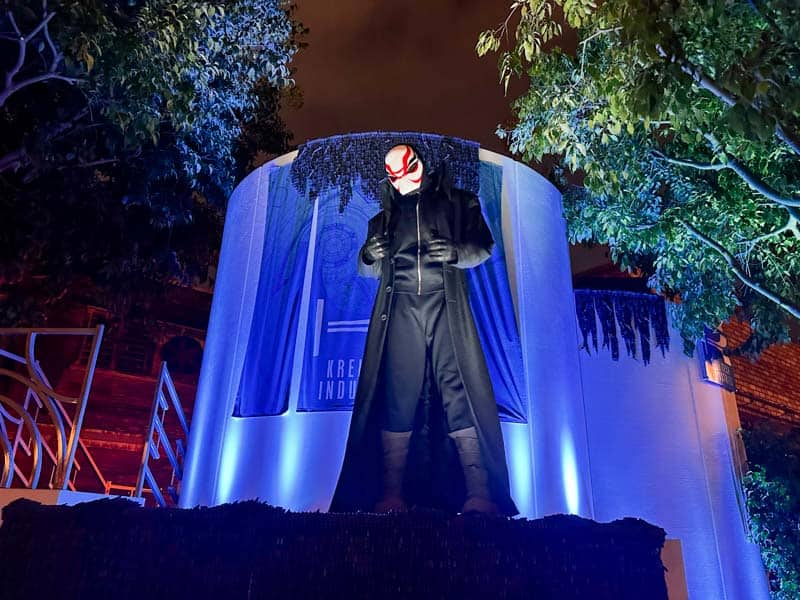 I also really enjoy the interactions with Sid and Agatha! But all the Treat Trail villains are so fun to see.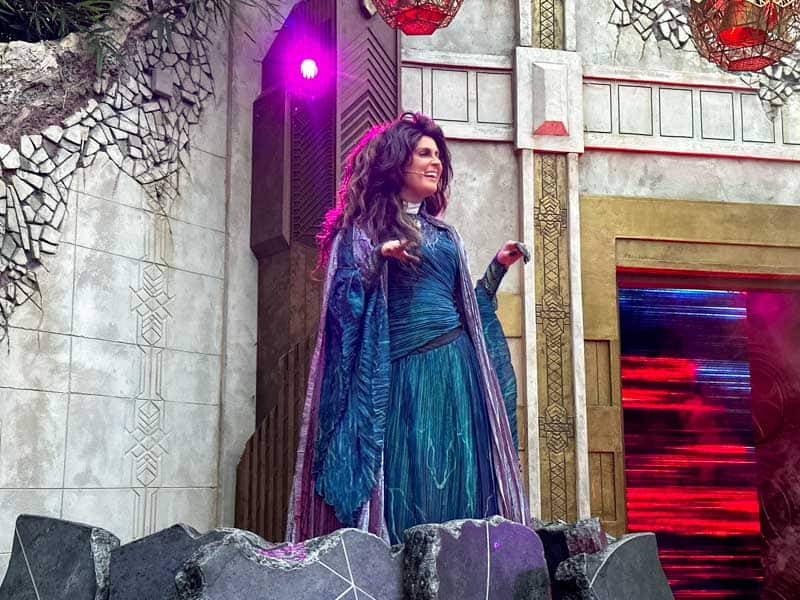 Frightfully Fun Parade
One of the best parades Disneyland has ever done! They really pull out all the stops for this one. Feel free to watch a video I recorded back in 2021.
There are two parade times: 7:45pm and 10pm. Both parades start at Paradise Gardens and run along the parade corridor, ending next to Guardians of the Galaxy: Mission Breakout.
For us adults, I recommend watching the 10pm parade. It will be less crowded and getting a seat on the curb will be easier. Our large group picked out a spot at 9:30pm, but the standing-room space behind us never filled up. If you're okay with standing, it should be easy to stroll up at 10pm and find a spot. We watched from Hollywood Land.
For information about dining packages that include reserved parade viewing, check the Halloween Food & Drinks section below.
Mickey's Trick or Treat
This is a fun show for kids and families, inside the sweet air-conditioned Disney Jr theater. When I say this is a show for kids, I really mean it. I love seeing Mickey and Minnie and pals up on stage but I bailed after 5 minutes. The kids I know loved it. And, like I said, if you need an AC break, this could be it.
Show times are at 6:00, 6:45, 7:45, 8:45, and 9:30
Villains Grove
This entertainment feature received rave reviews back in 2019 and I'm glad it's back! Redwood Creek Challenge Trail is transformed into a spooky villains hideout, complete with immersive lights, sound, and projection mapping displays.
There are no character appearances and no candy, but it's the longest queue of the event. It's *that* good.
Keep in mind this experience doesn't open until dusk, so do not rush to it right at 6pm. It won't be open! Instead, I recommend doing Villains Grove during one of the parade times, or at the very end of the party.
Truely, there are no photos or videos that can capture just how freakin' cool this experience is. It has to be seen to be believed!
Note: There are stairs in this experience. If you need DAS assistance, consult with the Cast Member at the entrance before getting in line. Strollers are not permitted inside.
Character Appearances & Photo Backdrops
One of the key elements of an after-hours event like Oogie Boogie Bash is the opportunity to see some rare characters that typically don't make appearances at the Disney Parks! At this party, expect to see lots of villains and spooky friends.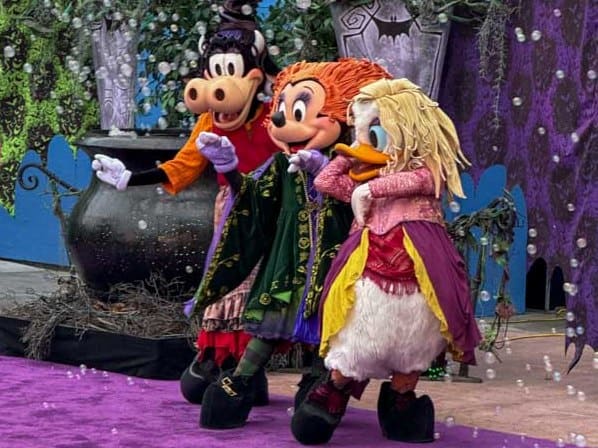 Here's who was out during the 2023 Oogie Boogie Bash:
Paradise Gardens: Kingdom Hearts Mickey & Donald
Grizzly River Rapids: Bruno from Encanto
Hollywood Land: Minnie, Daisy, and Clarabelle as the Sanderson Sisters
Pixar Pier: Lotso from Toy Story 3
Select Attractions
If you love rides and attractions, then you'll enjoy the short wait times during Oogie Boogie Bash! However, there's already so much to do and see during the party, you may not want to spend precious time doing rides you can do during a normal visit.
Halloween Food & Drinks
If you are a foodie, you'll have a wealth of options to choose from. BUT, plan ahead because most dining locations close DURING the party.
Personally, I did not order any Halloween treats simply because I ate an early dinner at Carthay Circle Lounge and wasn't hungry until around 9pm. At that time, there were very few options available and I ended up ordering Chicken Tenders from Smokejumpers. And I did it right on time; when I was picking up my food they were closing down.
I have no idea why so many dining locations close before the party ends, but they do. So that's why I warn you to plan ahead, especially if you want a specialty item that's only available during the party.
Wine Country Trattoria Dining Package
One way to guarantee dinner is to purchase the Wine Country Trattoria dining package, which comes with reserved viewing for the Frightfully Fun Parade (standing room only). This dining option is available from 11:00am to 6pm on your party date.
A 3-course, prix-fixe meal (starter, entrée, dessert, plus a non-alcoholic beverage) for adults and a 2-course, prix-fixe meal (entrée, dessert, plus a non-alcoholic beverage) for children at Wine Country Trattoria prior to the parade
Access to a reserved standing viewing area separate from the dining location for the Frightfully Fun Parade
Your meal options include:
Adult Meal: House Salad or Soup Del Giorno; Roasted Vegetable Lasagna, Spaghetti Bolognese, Chicken Parmesan, Salmon, Spaghetti Aglio Olio, Fettucine Shrimp Alfredo, Trattoria Salad with Shrimp or Rib Eye Steak; Mistress of Evil Chocolate Cake; a choice of Fountain Beverage, Assorted Juices, Coffee and Tea
Child Meal: Chicken Breast, Whole-Grain Pasta with Marinara and Meatballs, Salmon, or Cheese Pizza; Fresh Fruit, Broccoli or Roasted Potatoes; Gravestone Lava Cake; Dasani® Water or Milk
Pricing Packaging
$62 per adult ($10 upcharge for those ordering the rib-eye steak)
$37 per child (ages 3 to 9)
Click here to check availability and make reservations.
Oogie Boogie Bash Dessert Party
A second option is the Dessert Party at Sonoma Terrace, which includes parade viewing right at your table. The cost is $89 per person and can be booked ahead of time via the Disneyland app or website. The party is offered twice a night, starting at 7pm for the first parade, and 9:30pm for the second parade.
The party includes unlimited desserts and beverages, including one select specialty cocktail, beer, or wine for guests over 21 years of age.
Click here to check availability and make reservations.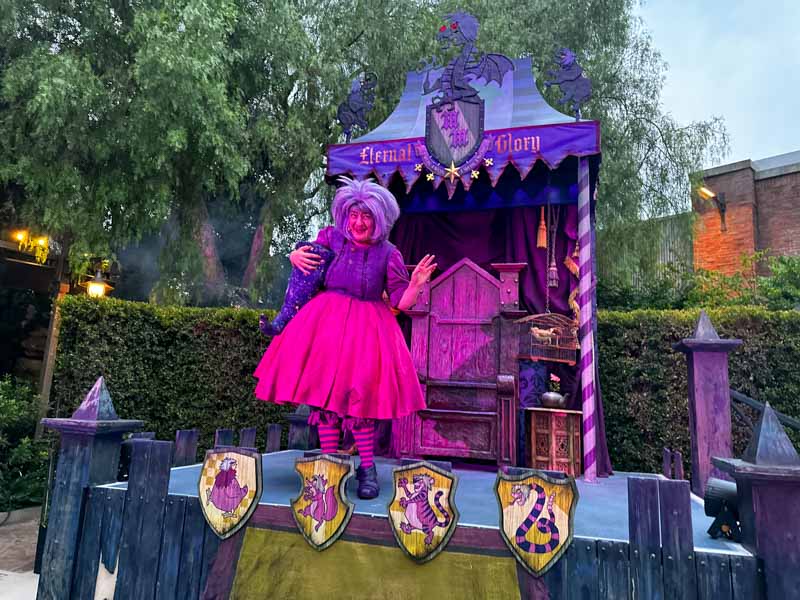 What to do First?
I got asked this question a lot on my social media posts – "What do you recommend doing first?"
That's a tough question to answer because it depends on your priorities! But I'll give a couple suggestions.
If you enter the park between 3pm and 6pm and you're not doing the dining package, I recommend eating. Carthay Circle Lounge is a popular spot for us Disney Adults since they serve their yummy Poison Appletini during Halloween Time. You can try to join the waitlist via the app once you get close to the restaurant, or ask at the podium if there is seating at the bar.
Note: Carthay Circle Lounge stops seating at 4pm, so if you want that Poison Appletini make sure it's your first stop of the afternoon.
When the party starts at 6pm, I recommend doing some of the Treat Trails first. A few look better at night (Agatha, Cruella, Ernesto de la Cruz) but most can be done during the daylight hours. We started out at the Oogie Boogie treat trail inside the Animation Building and that seemed to be a good choice. The line was only about 10 minutes for us, but when we walked out it was much longer.
If character photos are important to you, I recommend doing those first, as the lighting will be better.
Save Villains Grove, Agatha, Sid, Judge Doom, and Cars Land for nighttime.
Also, my friend Sally, who owns the website Lovestalgia, went to Oogie Boogie Bash with her young daughter and posted their itinerary in her recap. Read it here!
Is Oogie Boogie Bash Worth the Money?
This is the second question I get asked the most. Again, I can't really answer that for everybody.
I had a great time, so I would say, yes! It was worth the money for me. I also picked one of the lower priced dates to "save" some money.
If it helps, I like to break down the ticket price by hour (5 hours plus the 3 hour mix-in) and you're paying between $15-$20 per hour per person. A little more expensive than going to a movie but way better value than a popular concert ticket.
Anyway, if you love Halloween and Disneyland, attending this party seems like a no-brainer.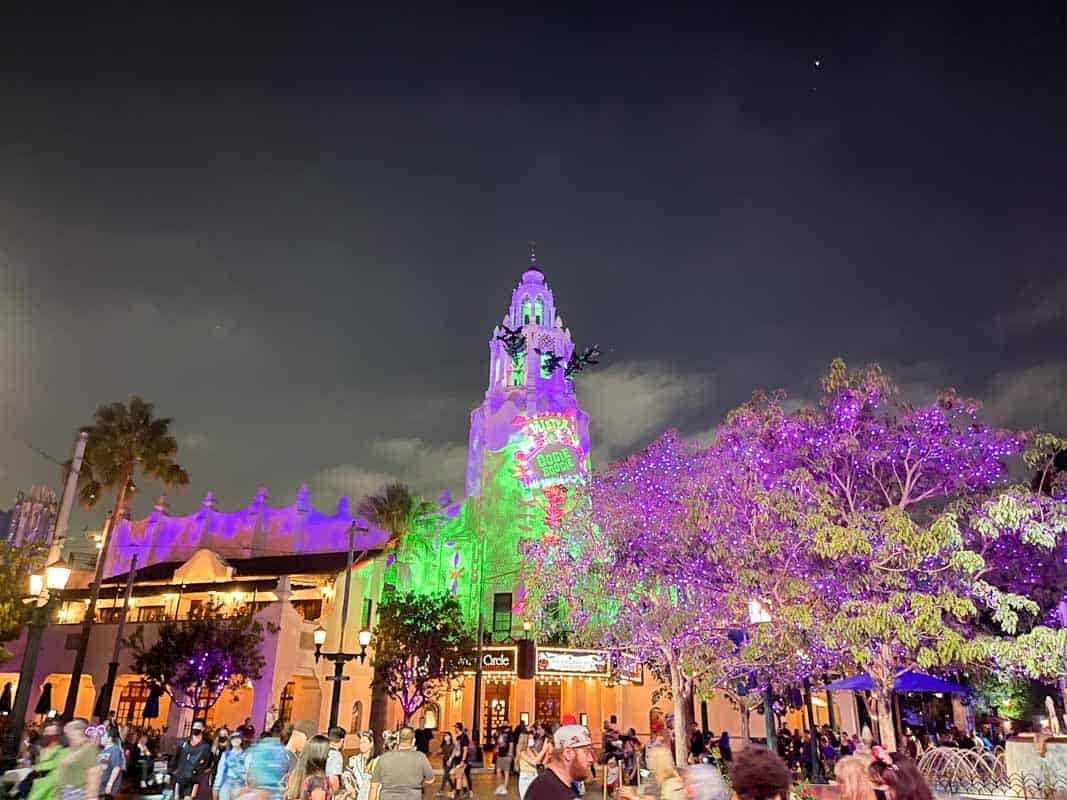 Tips for Making the Most of Your Party
Did you skip ahead to this section? It's okay, I don't blame you. There's a lot going on.
Here are my tips and recommendations for maximizing your party time!
You can enter Disney California Adventure from two places – the front gates, or the Disney Grand Californian Hotel entrance. However, keep in mind the hotel could limit this entrance to hotel guests only at any time, so use that entrance at your own risk.
If you enter through the Disney's Grand Californian Hotel entrance, you will still need to get a wristband. They will either provide one right at the entrance, or proceed to a designated location to get one.
If you are a Magic Key holder, you can make a park reservation for that day and enter Disney California Adventure earlier than 3pm. You don't have to leave the park and re-enter for the party. However, you cannot wear a costume inside the park before 3pm.
Eat early! Unless you are doing a dining package, try to eat before 6pm so you can spend your party time doing party-exclusive things. Also, a lot of dining locations close early. Plan ahead and use the mobile app.
If you want to watch the Frightfully Fun Parade, watch the second showing at 10pm. It will be less crowded. The parade starts at Paradise Gardens and ends near the Hyperion Theater in Hollywoodland for both showings.
Villains Grove and the Treat Trail with Judge Doom have the longest lines. Do these while a parade is happening, or towards the end of the night.
Do not waste your time "rope dropping" any of the character Treat Trails. The characters often do not come out right at 6pm. Jump in a line right at 6pm and you'll start moving pretty quickly.
Plan ahead! Read up on all the offerings and look at the event map online ahead of time. Know what your priorities are so you can get them done first instead of scrambling at closing.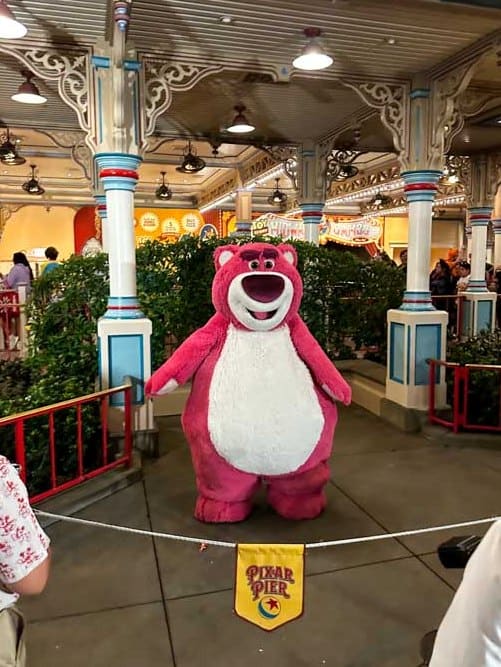 Frequently Asked Questions about Oogie Boogie Bash
Does Oogie Boogie Bash take place at Disneyland Park?
No. Oogie Boogie Bash is at Disney California Adventure, which is just across the Esplanade from Disneyland Park.
How do I get tickets for Oogie Boogie Bash?
Tickets for the 2023 Oogie Boogie Bash are now sold out.
Does my Oogie Boogie Bash ticket grant me admission into Disneyland Park?
No. The party takes place at Disney California Adventure only.
Where should we park for Oogie Boogie Bash?
Parking is available at Mickey & Friends and Pixar Pals parking structures, and Toy Story parking lot. Parking is an additional fee; parking is not included with your party ticket. If you are a Magic Key holder and your pass includes parking, you may use that even if you don't have a Magic Key reservation for that day.
Are lockers available inside Disney California Adventure?
Yes! Lockers are open and available inside Disney California Adventure and in the Esplanade.
Since PhotoPass is included with the Oogie Boogie Bash ticket, can it only be used after 6pm?
Correct. Only photos taken after 6pm will be complimentary.
Is there anything special for Magic Key holders?
Magic Key corner is offers a free gift (while supplies last) and exclusive photo location under the Silly Symphony Swings.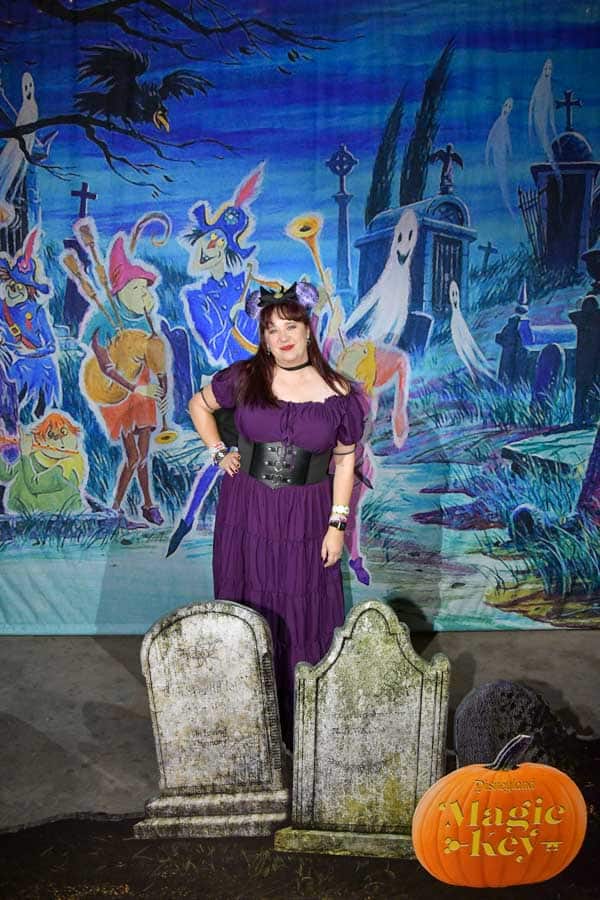 Are there any COVID restrictions?
At this time all COVID safety restrictions have been lifted.
If you have any further questions about Oogie Boogie Bash, please join my Facebook Group – Disney Trips for Adults. I'm happy to answer any questions there!