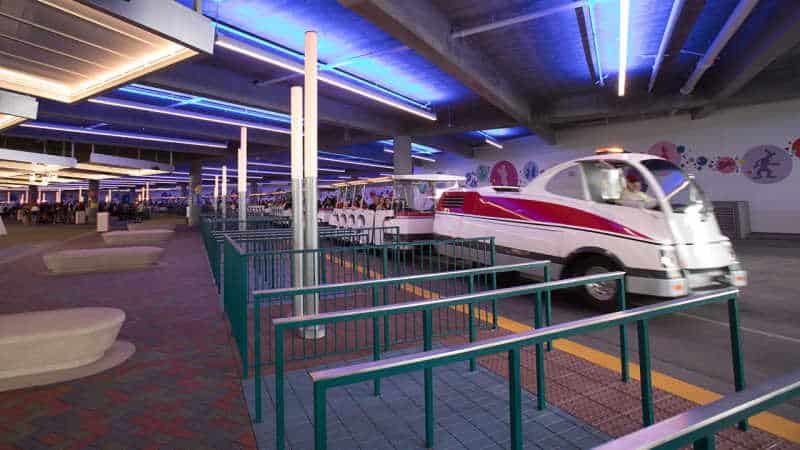 Planning a trip to The Happiest Place on Earth? Chances are, you'll need a place to park!
Unlike Walt Disney World in Florida, Disneyland in California is known as a "local's park," which means most visitors won't be staying at a hotel.
Luckily Disneyland has a few parking options for anyone who needs to park their car while enjoying the Parks!
This Disneyland parking guide will also cover parking at the Disneyland Resort hotels, rules about parking in the surrounding neighborhoods, and how to use ride share when visiting Disneyland.
Disneyland Parking Guide – Disneyland Resort in California
Disneyland Parking Locations
Mickey & Friends Parking Structure
The Mickey & Friends Parking Structure is the easiest place to park for your Disneyland visit. The large structure is located west of Disneyland and Guests may utilize the included tram service, which drops them off near the Esplanade near the front gates of both Disneyland and Disney California Adventure parks. Guests can also board the trams after their visit for a return trip to Mickey & Friends parking structure.
Guests may also choose to walk from the parking structure to the west end of Downtown Disney District.
Mickey & Friends parking structure is easily accessible from the South 5 freeway, exiting Disneyland Drive and follow the signs. There is also a direct carpool lane exit for Disneyland Drive.
Prior to 11am, there is an "express overpass" that takes Guests directly into the parking structure. In the evening, this overpass changes directions to help with traffic flow. If the overpass is open, you'll see green lights. If it is closed, you'll see a red "X" and cones will be blocking the access.
For additional directions to Mickey & Friends parking structure, please utilize a GPS map service.
Pixar Pals Parking Structure
The Pixar Pals parking structure opened in 2019 and is connected to the Mickey & Friends parking structure, effectively doubling the capacity of the lot.
You will enter Pixar Pals through the same entrance of Mickey & Friends. There is also a small entrance to Pixar Pals parking structure off Magic Way which is usually open in the mornings.
Toy Story Parking Area
The Toy Story Parking Area is a large one-level parking lot located at Harbor Blvd and Convention Way. Buses are available to take Guests from the parking lot to the Esplanade between the two Disneyland Resort theme parks. Guests may also walk along Harbor Blvd to the front entrance.
Keep in mind, this is a large open lot with no covering, so cars can get very hot in the summer! It may also be a long walk to the busses, depending on which area you are directed to park in.
Note: Apple Maps and Google Maps, for some reason, direct you to a closed entrance to Toy Story Parking Area! You want the entrance off Harbor Blvd. Be sure to fix this on your app or GPS before you start your drive.
How much does parking cost at the Disneyland Resort?
Parking costs $30 per car for standard parking, $35 for oversized vehicles, or $50 for preferred parking which gives you a spot close to the escalators and elevators.
If you have an Inspire Magic Key, standard parking is included.
If you have a Believe Magic Key, parking is half price.
Guests may purchase a parking voucher ahead of their visit via the Disneyland website, which will save you a bit of time at the structure. Note parking vouchers are non-refundable.
If paying directly at the structure, Guests may use cash, credit card, Disney Rewards redemption card, or a Disney gift card.
What time does parking at Disneyland open and close?
The parking areas open one hour before the earliest Park opening time, but may open up earlier.
Technically the parking areas do not have a closing time, however Disneyland states overnight parking is not allowed. Note that shuttles and buses to the parking areas stop running one hour after the latest park closing time.
Does Disneyland offer parking for disabled Guests?
Yes, both Mickey & Friends parking and Toy Story Parking Area have designated posts for Guests with disabilities. A valid disabled parking placard or license plate is required. Once you purchase your parking pass, a Cast Member will direct you on where to park.
Does Disneyland parking accommodate larger vehicles?
Yes, Guests with larger vehicles such as RVs, motor homes, or trailers may park at Toy Story Parking Area. The cost for oversized vehicle parking is $35.
Does Disneyland parking have chargers for electric and hybrid cars?
There are a limited number of ChargePoint charging stations at all three parking areas. When you purchase or scan your parking pass, let the Cast Member know you would like to use an electronic charging port. Guests must use their ChargePoint card to park in an electronic parking spot. Guests may leave their car in the same spot for the entirety of the day.
Do the Disneyland parking lots have restrooms?
Yes. Mickey & Friends has a large restroom on the first level, near the escalator. Guests who park in Pixar Pals parking may also utilize these restrooms.
Toy Story Parking Area also has restrooms near the bus loading area.
Can you leave the Disneyland parking area and come back?
Once you pay the daily parking rate, Guests have "in and out" privileges. Be mindful the parking areas do close in the evening, right before the Parks close.
Downtown Disney District Parking
If you're visiting the Downtown Disney District for just a few hours, you can use their parking area. It is located in the Simba lot, between Disney's Paradise Pier Hotel and Katella Avenue. The lot is just south of Disney's Paradise Pier Hotel.
The first hour of parking is $10. You can get an additional 3 hours of complimentary parking with a $20-minimum purchase and validation from any Downtown Disney location. Or up to an additional 5 hours of complimentary parking with validation from any Downtown Disney table service restaurant.
Remember to ask for validation before you leave the store or restaurant!
One easy way to get the $20 minimum purchase is to buy a $20 gift card from Starbucks or World of Disney.
Without these validations (or beyond the validation time limit), each additional hour costs $14, with a max daily fee of $66.
Car Locator – Remember your parking spot!
Have you ever lost your car in a large, expansive parking lot or structure? Yeah, me too! Disneyland has a solution to this within their app, called "Car Locator."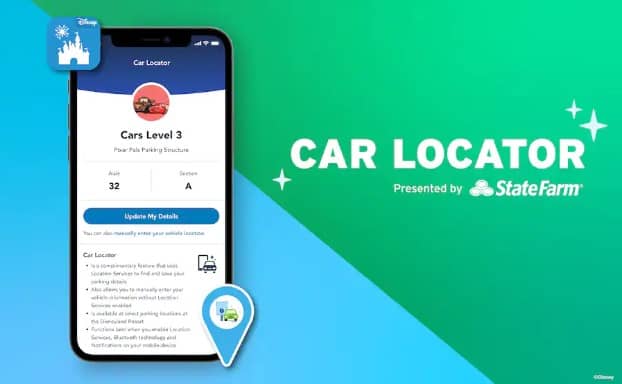 Once you park at Disneyland Resort, pull up the Disneyland app and navigate to the last menu icon – the 3 stacked lines. Tap that and scroll down to "Car Locator." As long as your location services is on, the app should recognize your parking lot location, or you can manually enter it. Then manually enter your section information and save. At the end of your visit, you can visit the same section on the app to retrieve your parking info.
Disneyland Resort Hotel Parking
Each of the three Disneyland Resort hotels have their own parking areas. Only Guests who are staying at the hotels may park in the hotel parking areas.
The cost per car is $35 per night, or valet for $65 per night.
If you are dining at one of the hotels, you may be entitled to free validation for up to 5 hours. Please check the Disneyland website for the current list of participating restaurants.
Guest Drop Off / Pick Up Locations (Ride Share)
If you are having someone drop you off or pick you up from the Disneyland Resort area, or you are using a ride share service such as Uber or Lyft, there are two options available:
For the Parks – There is a drop off area on Harbor Blvd between South Manchester Avenue and Disney Way.
For Downtown Disney District – There is a drop off area off Downtown Drive (the old Downtown Disney parking lot).
Off Property Parking Options
If you're up for a bit of a walk or a short Uber ride, there are some off property parking options in the Anaheim area.
Gardenwalk
The nearby Gardenwalk outdoor shopping area has a large underground parking lot which offers all-day parking for $30. This is the same rate as the Disneyland parking structures, but you'll have less traffic getting in and out.
Anaheim Hotel
There are very limited parking spaces available at Anaheim Hotel on Harbor Blvd, which is a short walk from the front entrance to Disneyland Resort. The parking is the same as Disneyland's rates at $30; however, it's very easy to get in and out of the Anaheim Hotel parking lot. Be advised these spaces are usually taken up before the park officially opens for the day, so get there early!
SpotHero
You can take your chances with SpotHero, a website that helps people find parking spaces. Your mileage may vary with this! I personally have had negative experiences with SpotHero (not for the Disneyland area) and would not personally recommend them.
I hope this Disneyland parking guide helps make your visit to Disneyland much easier! Please reach out if you have any questions that were not answered here!