Great news! The reimagining of Disney's Paradise Pier Hotel into Pixar Place Hotel will officially be complete on January 30, 2024. The hotel is currently undergoing a phased remodeling, with areas of the hotel still under renovation. However, the pool area and lobby have been fully remodeled and are open!
Have you ever stayed at a Disneyland Resort hotel? I've been lucky enough to stay at all three, multiple times, and yet I've never written a review! Until now! I'll be writing reviews of all three Disneyland Resort hotels – Disney's Grand Californian Hotel and Spa, The Disneyland Hotel, and Disney's Paradise Pier Hotel in the coming weeks. First up – Disney's Paradise Pier Hotel review (which is currently undergoing a reimagining into Pixar Place Hotel).
Disney's Paradise Pier Hotel is unique in that it wasn't originally a Disney property! It opened in 1984 as the Emerald Hotel of Anaheim, owned by the Tokyu Group. The Walt Disney Company purchased the property in 1995 and it was renamed Disneyland Pacific Hotel. When Disney's California Adventure opened in 2000, the hotel was renamed Disney's Paradise Pier Hotel after the Paradise Pier (now Pixar Pier) area of the park. Some of the rooms at Disney's Paradise Pier Hotel even overlook the pier area, and you can watch World of Color from your room!
The hotel consists of one tower with 481 rooms, which includes 25 suites. I once received a magical upgrade and got to stay in the Newport Suite, which was incredible!
Disney's Paradise Pier Hotel is the smallest of the three Disneyland Resort hotel properties, and is also the furthest distance from the main gates of Disneyland and Disney's California Adventure. For these reasons, this hotel often has the lowest prices of the three Disneyland Resort hotels. The hotel has an overall beach/nautical theme but still has plenty of Disney touches, and is a great option for guests wanting to stay on Disneyland property but save a few dollars.
Even though Disney's Paradise Pier Hotel has the smallest hotel footprint overall, its rooms are very spacious and the hotel has all the amenities you could want, including a sit-down restaurant, a lounge/bar, a gift shop, fitness center, ballrooms, meeting space, and a "rooftop" pool and waterslide. Disney's Paradise Pier Hotel even has an arcade, which is a big hit for teens and adults!
I often read a lot of negative opinions of Disney's Paradise Pier Hotel. It's true the hotel isn't as fancy as the newer Disney's Grand California Hotel and Spa, or as magical as the original Disneyland Hotel. The hotel is due for some renovations and perhaps a theme re-imagining (everyone is expecting a Pixar theme eventually) but overall I have enjoyed every stay I've had at Paradise Pier Hotel. Plus it's one of the best places to grab a drink, as their lounge is seldom crowded. (But, shhhh, don't tell anyone!)
Paradise Pier Hotel Room Tour Video
Disney's Paradise Pier Hotel Review
Hotel Benefits
There are lots of benefits to staying at a Disneyland Resort hotel verses staying off-property. The best benefit is property the Extra Magic Hour for Disneyland Resort hotel guests. Guests can enter either Disneyland or Disney California Adventure, depending on the day, an hour early and can experience select attractions and restaurants. Valid theme park admission and proof of hotel stay (your key) is required.
Another benefit of staying at a Disneyland Resort hotel is easy access to Disney California Adventure through the Disney's Grand Californian Hotel entrance.
Other perks include: wake-up calls from characters, charging purchases to the room via your key card, have purchased merchandise sent to your hotel front desk instead of carrying it around, preferred access reservations, and of course, that full immersive Disney magic!
Lobby and Parking
If you are driving to Disney's Paradise Pier Hotel, you can either valet at the front entrance, or park behind the hotel in their parking structure. Enter the parking structure via the guard gate for Paradise Pier off Disneyland Drive (turn east for Disney's Grand Californian Hotel valet; turn west for Disney's Grand Californian Hotel and Disney's Paradise Pier Hotel self parking).
Parking in the structure will put you at the back of the hotel, and be advised there are no elevators, so if you have a lot of luggage you may want to drop it off at the front before you park, or unload it on level one and have a member of your party wait with it.
When you enter the hotel on level one from the parking structure, you need to walk through the hotel corridor, past the arcade, meeting rooms, and elevators, to get to the front desk on your right side. A Cast Member will assist you with checking in.
This is a fairly small hotel, so everything is easy to find. Adjacent to the lobby you will find a sizable gift shop. There is space for a sit-down restaurant and a grab-and-go cafe, but those are still under renovation.
The hotel utilizes "smart" elevators. Press your destination on the central screen and you'll be assigned an elevator – A, B, C, or D. This was my first time using an elevator assignment system like this and it seemed to work efficiently for me.
To walk to Downtown Disney and the parks, exit the rear of the hotel (near the parking structure) and go right towards the Disneyland Hotel. Keep going right adjacent to the Disneyland Hotel until you reach the security checkpoint for Downtown Disney.
Hotel Rooms
Disney's Paradise Pier Hotel has 15 floors, and nearly half of the rooms have park views. Many of the suites are located on level 3 and do not have park views, but do have balcony access to the pool.
During my most recent stay (in May 2019) my room was on the 13th floor. I stayed in a 2 Queen Bed room with a standard view (aka the parking lot). But I was not there for the views! Park views may be fun, but I spend so little time in my hotel room when I'm at Disney that the views don't matter much to me.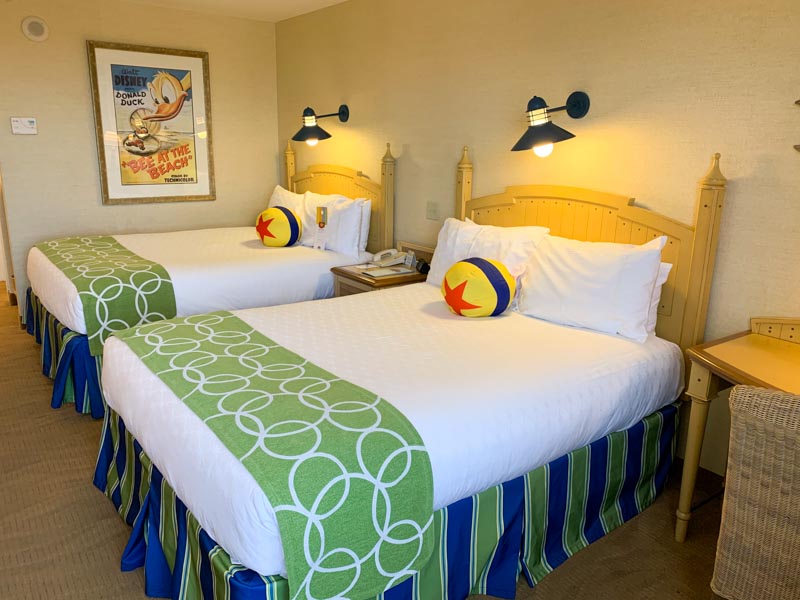 As I stated earlier, the hotel is overdue for a bit of a refresh. But everything in the room was clean and neat. The beds were very comfortable and the amenities were adequate.
My one complaint is that the room could use more outlets, something that is increasingly important as we all carry around more and more electronic devices. The room did have an updated alarm clock with two USB ports, and two outlets on the desk, but it pales in comparison to more modern hotels that have a plentiful supply of USB ports.
Luckily for me, I have learned to always travel with an extension cord and USB outlet adapter/hub, but I'm looking forward to the day when all hotels have been updated and I don't have to.
My second minor complaint is the washroom area. I prefer a split washroom, which makes mornings easier when sharing a room with other ladies. One person can shower while the other does their makeup at the sink. This room did not have a split bathroom, which is common at the other two Disneyland Resort hotels.
Pool
The newly remodeled Pixel Pool is themed to "Finding Nemo" and looks like a lot of fun for kids. They have a waterslide and a splash pad as well. There is also extensive lounge space next to the pool that includes firepits. A cafe and bar will open in 2024.
Restaurant and Lounge
Great Maple – This popular franchise will take up residence at Pixar Place Hotel in November 2023.
Ballrooms and Meeting Rooms
Disney's Paradise Pier Hotel has one main ballroom and several smaller meeting rooms. The Pacific Ballroom is the most popular spot for wedding receptions at Disney's Paradise Pier Hotel. There is also an outdoor space, Pier Side Pavilion, adjacent to the pool. This space is just a plain patio and could be a great spot for a welcome reception.
I definitely recommend staying at Disney's Paradise Pier Hotel if you are on a bit of a budget but still want to immerse yourself in the Disney magic. While the hotel is not as upscale as the other two Disneyland hotel properties, it still has its perks and charm.
Have you ever stayed at a Disneyland Resort hotel? Which one is your favorite?