This weekend, Disneyland celebrated the opening of Pixar Pier at Disney California Adventure. Over the last few months, the Paradise Pier area has been re-imagined into Pixar Pier, which is comprised of different Pixar themed "neighborhoods." While Paradise Pier held a lot of nostalgia for me and I was sad to see it go, I knew Disney wouldn't let us down with Pixar Pier! I really enjoy the energy and offerings of this new area, and I think you will, too.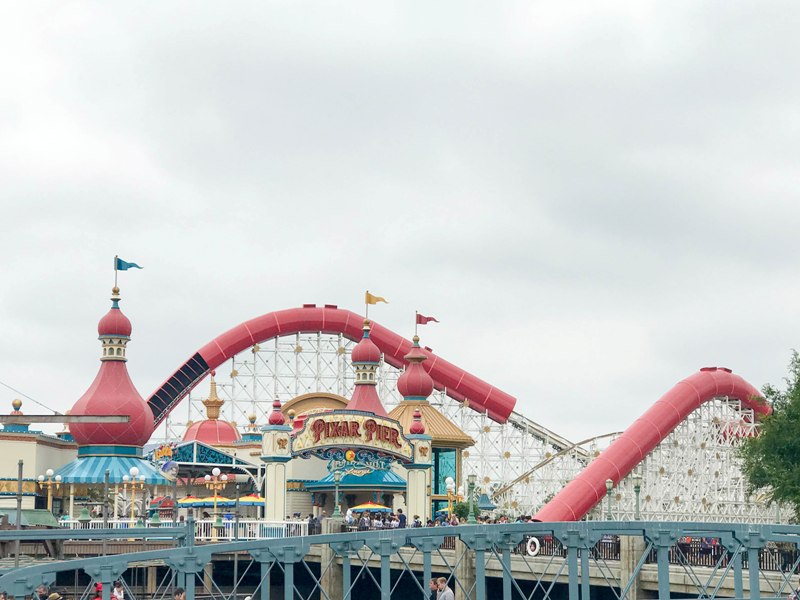 One of the long-time short comings of the Paradise Pier area was that it was themed for adults. While they had carnival games and fun snacks, there wasn't too much to hold a child's attention. As an adult, I have always loved it. I felt the seaside theming was very romantic and calming. But I also remember when the area first opened, it was empty. There was a stand that sold chicken strips and french fries, and it was my favorite place to grab something to eat because there was never a line. (After a little Internet searching I found it was called Strips, Dips, and Chips, and it closed to make way for Toy Story Midway Mania.)
But I digress a bit …
As much as Disney tried, they just couldn't make this are a "bustling" destination for families. That has certainly all changed with Pixar Pier. Kids will be drawn to the colorful characters, yummy new food choices, and might be more willing to ride the roller coaster if their Incredibles pals make an appearance.
But adults who loved the charm of Paradise Pier can rest assured that there are still lots of exciting adventures for adults, including the new Lamplight Lounge and Insta-worthy spots.
Join me, and let's take a walk together through the newly re-imagined Pixar Pier!
Get to Know the New PIXAR PIER at Disney California Adventure!
First of all, check out this Facebook Live video walk-through I did on opening day.
As you walk along the Pier you are greeted by a new colorful sign. I bet this looks gorgeous at night!
Beyond that, you'll find the Knick's Knacks souvenirs shop to the left and the new Lamplight Lounge to the right. I was lucky enough to dine here on opening day and will have a full review up on a separate post (because there is THAT much to share!).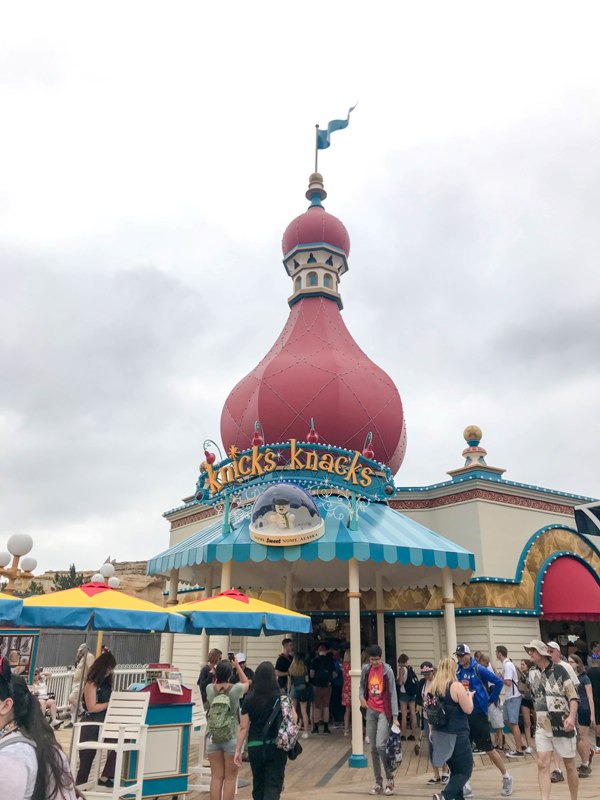 Continuing on the Pier you'll find the Adorable Snowman Treats and new Pixar themed billboards. The four new billboards celebrate Up, Finding Dory, WALL-E, and Coco. So far, on opening day, the Coco billboard was the most popular for photos!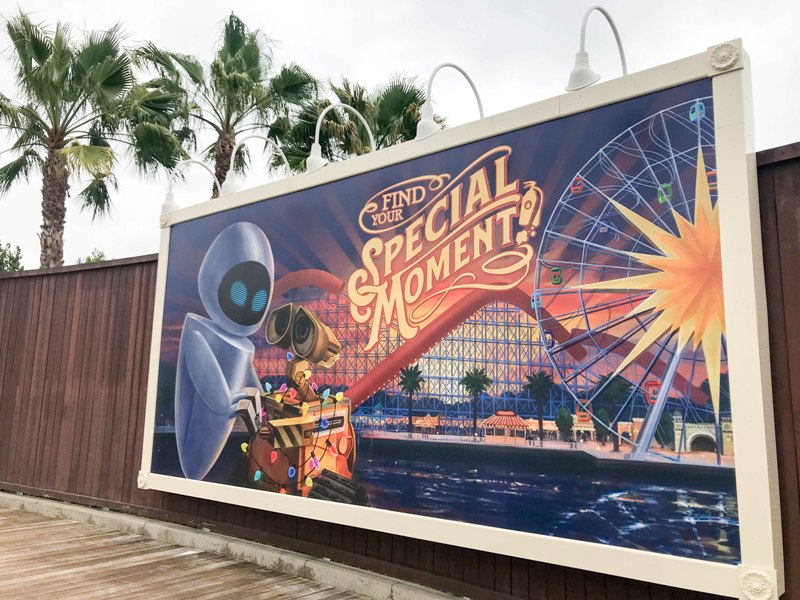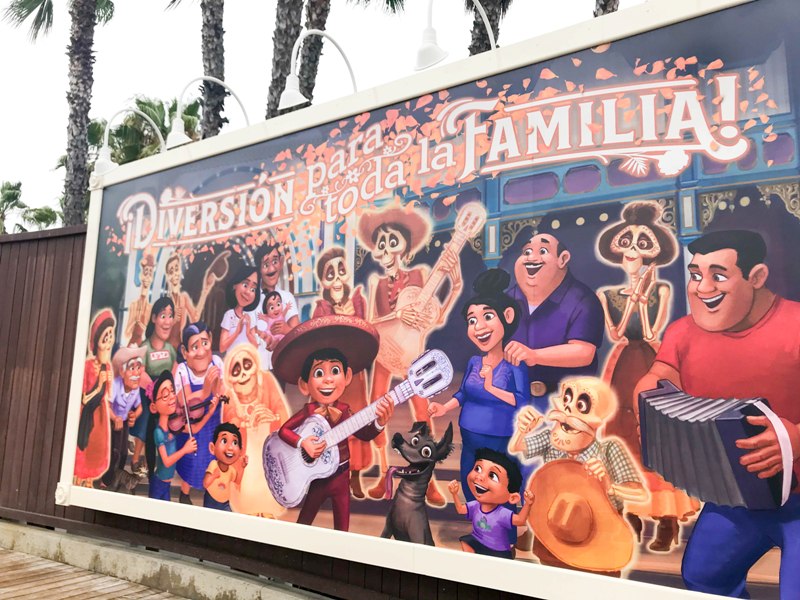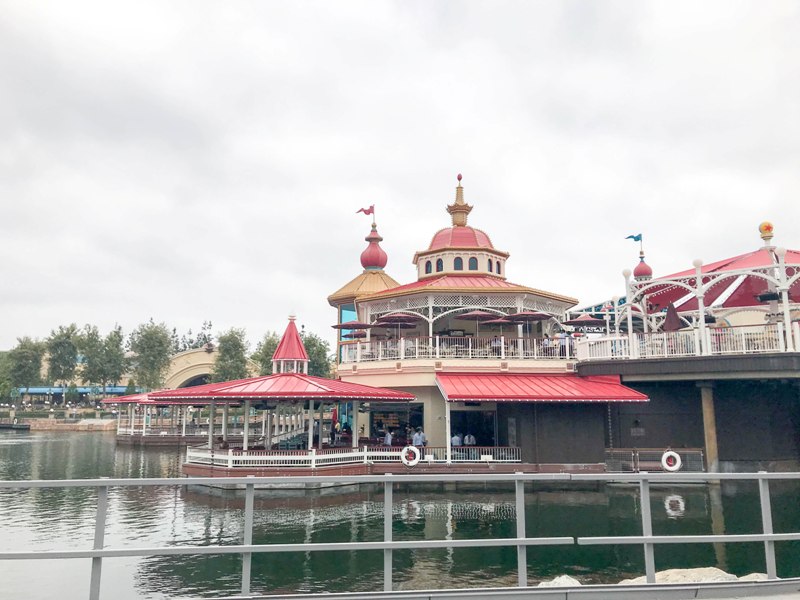 At this point you'll find it difficult to ignore the presence of the Incredicoaster, the centerpiece of this land. Every few minutes you'll hear Dash's voice counting down the next set of riders. The area around the entrance to the former California Screamin' attraction has been completely revamped, with new signage and a new, larger, shadier queue area.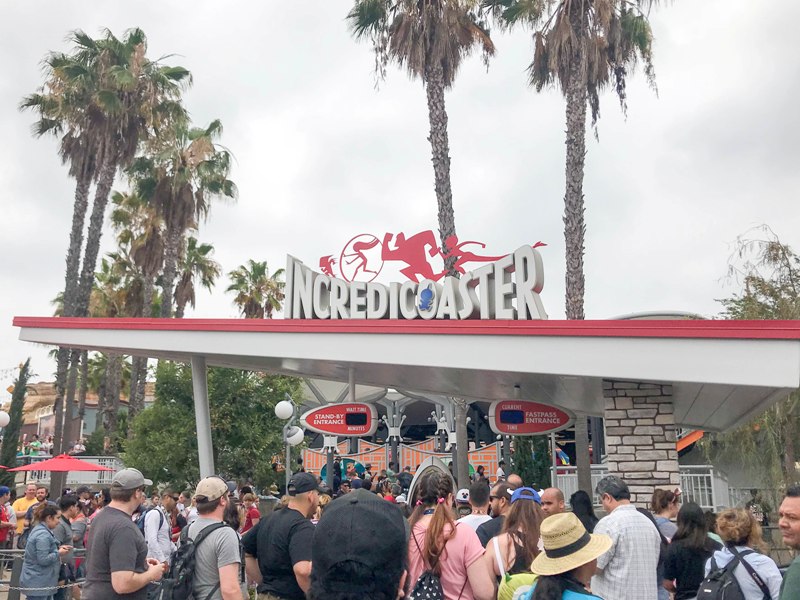 Other features of the Incredibles neighborhood include a new character photo spot and Jack Jacks Cookie Num Num cart. A large arch defines the entry to this neighborhood.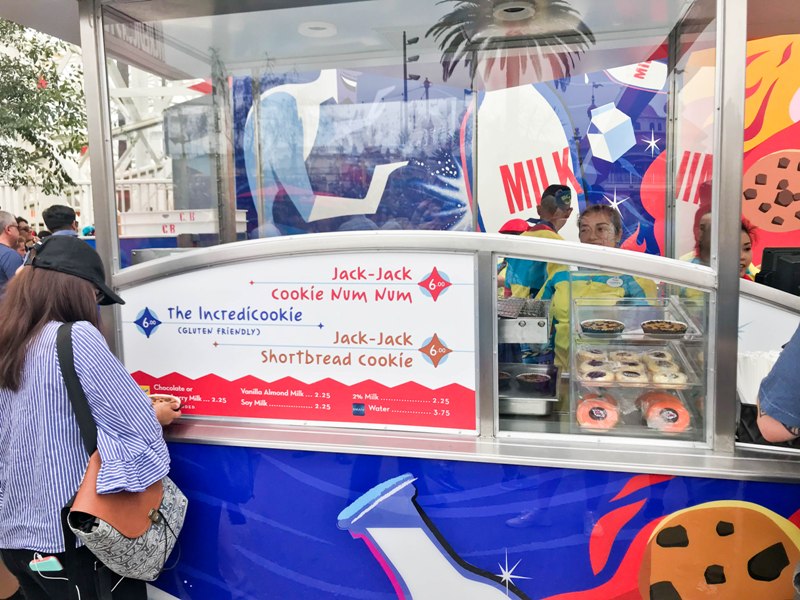 Jessie's Critter Carousel is still under construction and won't open until 2019.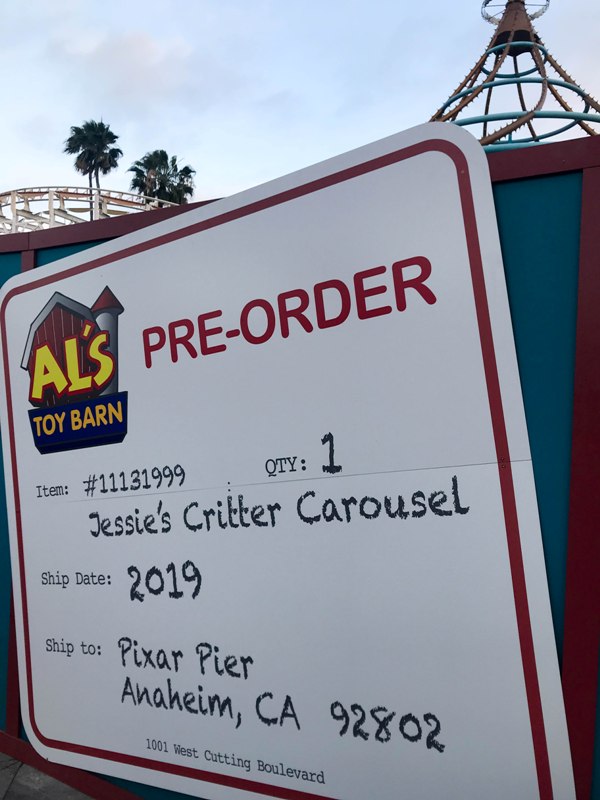 Keep going and you'll see some familiar sights – Toy Story Midway Mania and the adjacent souvenirs shop. Across the walkway you'll find the Poultry Palace and Senor Buzz Churros. It's really nice to get some food back in this area but, man, the addition of these snack stands sure does take up valuable walking space.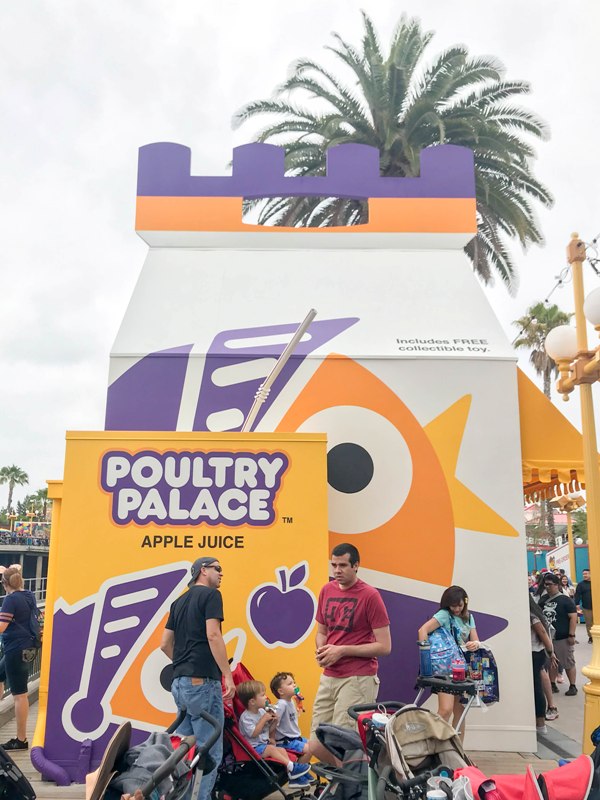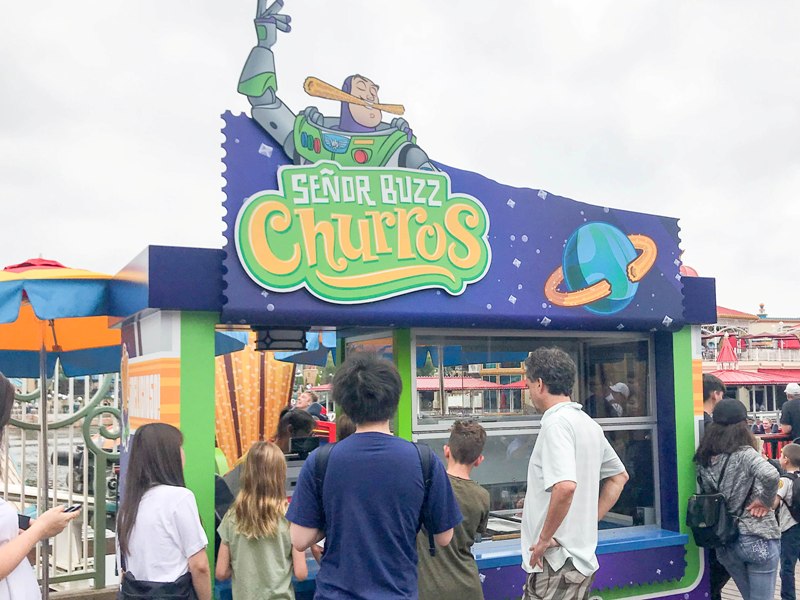 Leaving the Toy Story neighborhood, you'll see the re-imagined carnival games. La Luna Star Catcher, WALL-E Space Race, Heimlich's Candy Corn Toss, and Bullseye Stallion Stampede.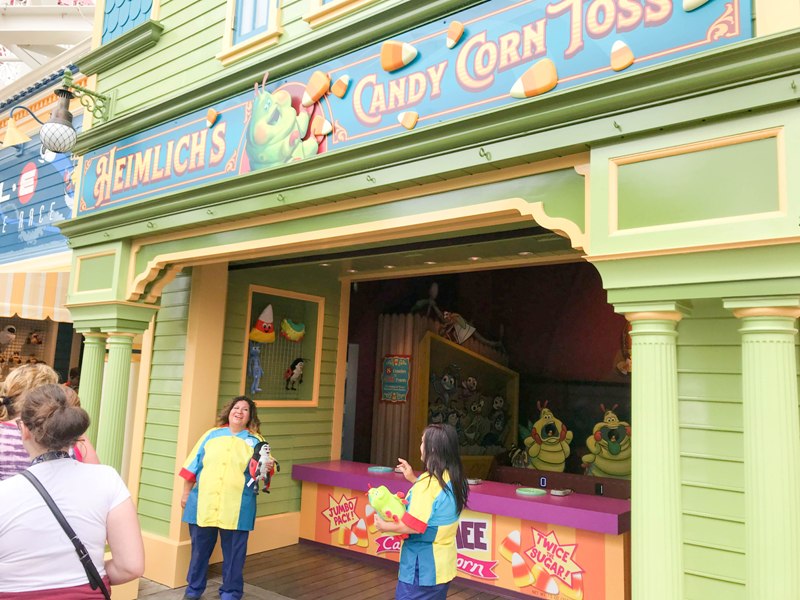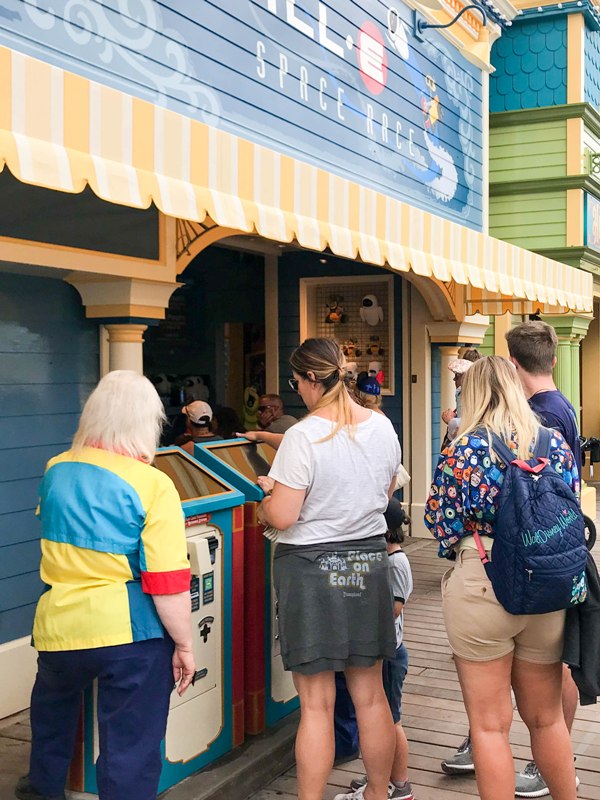 Across from the carnival games you'll find the Angry Dogs snack cart. Which means, we are entering the Inside Out neighborhood!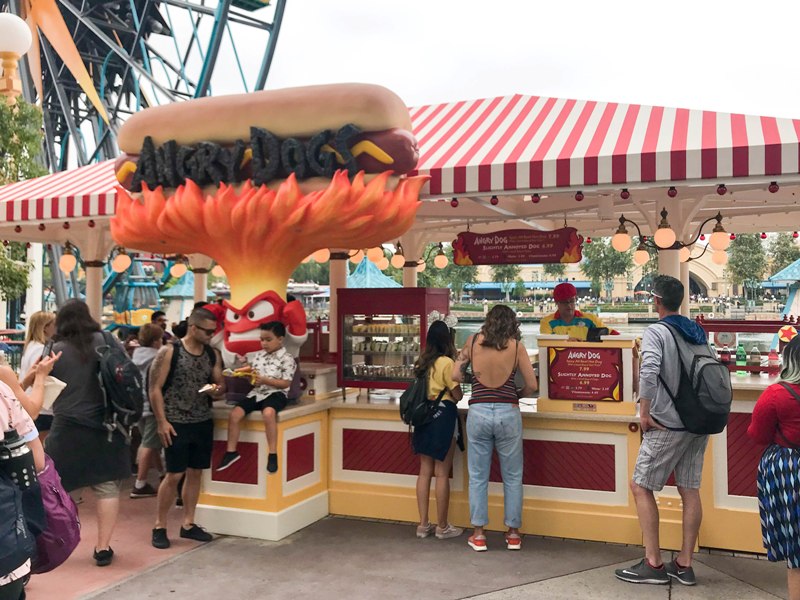 Bing Bong's Sweet Stuff confectionery will be located next to the carnival games and is opening later this year. For now there is a very popular mural / photo spot.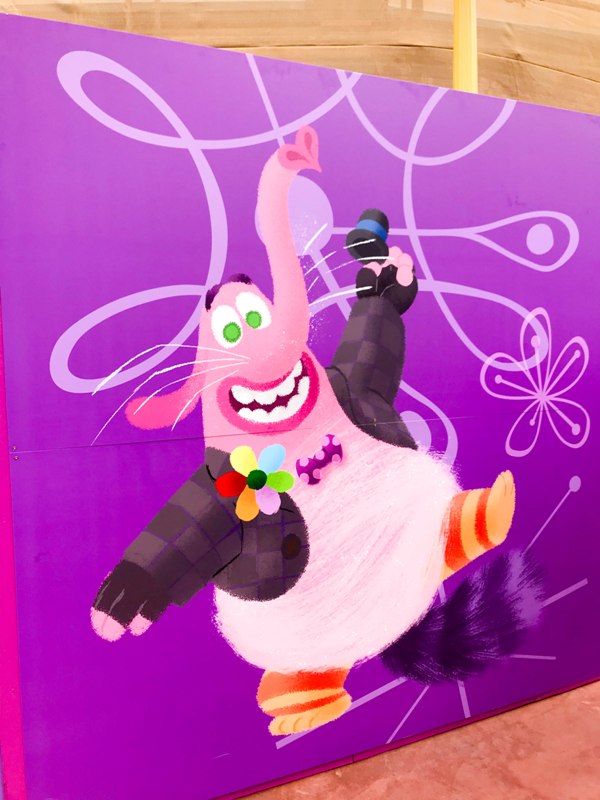 Adjacent to Bing Bong's you'll find the entrance to the Pixar Pal-Around, replacing Mickey's Fun Wheel. Every gondola represents a different character!
Past the Pal Around is the future home of the Emotional Whirlwind attraction (being re-purposed from A Bug's Land). For now there are a lot of colorful walls and character photo ops in this area.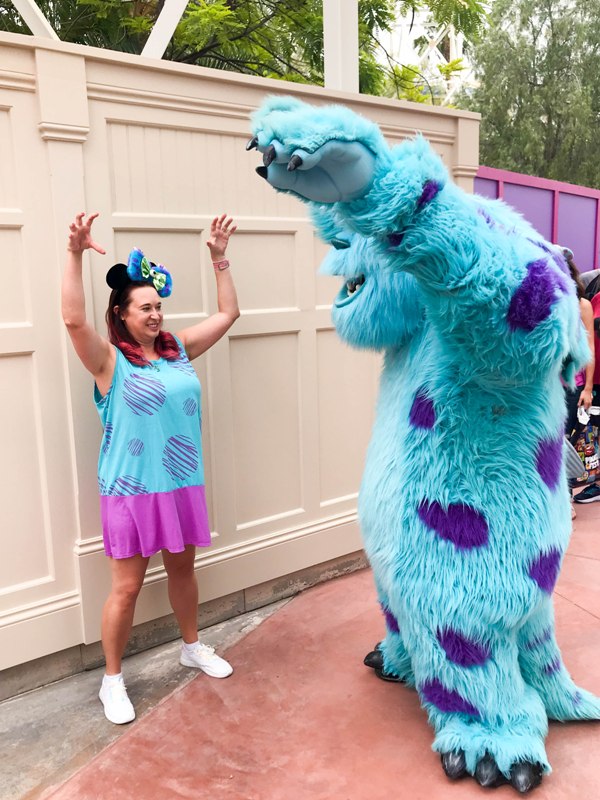 And that's the complete walk-through of Pixar Pier! I hope you enjoyed it. I can't wait to go back (on a hopefully less crowded day) and spend more time in this cute new themed area of Disney California Adventure.