Most Disneyland fans struggle with change and were broken-hearted when Ariel's Grotto and Cove Bar closed at Disney California Adventure. I've always been optimistic about Lamplight Lounge because the cozy atmosphere they were promising seemed right up my alley. And although Ariel's Grotto was a popular dining spot for families, the constant long lines for the Cove Bar upstairs proved a need for more casual adult lounge space.
Lamplight Lounge is the answer to our Adult Disney Fan prayers and exceeded all of my expectations!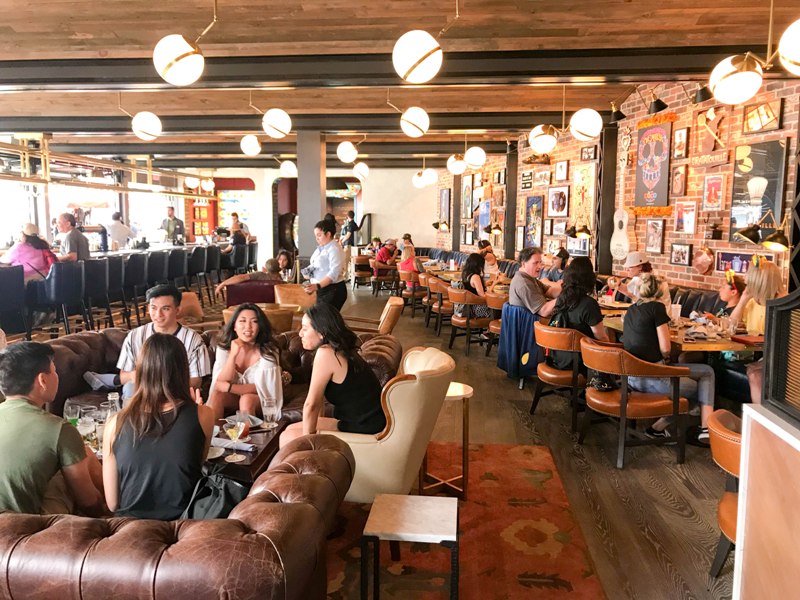 LET'S START WITH THE THEME
Lamplight Lounge is meant to feel like you're dining where the Pixar artists hang out, and there is evidence of this everywhere. From the art on the walls to the cozy club furniture, you'll feel like if you listen hard enough you'll hear the guests at the table next to you whispering about upcoming movie ideas.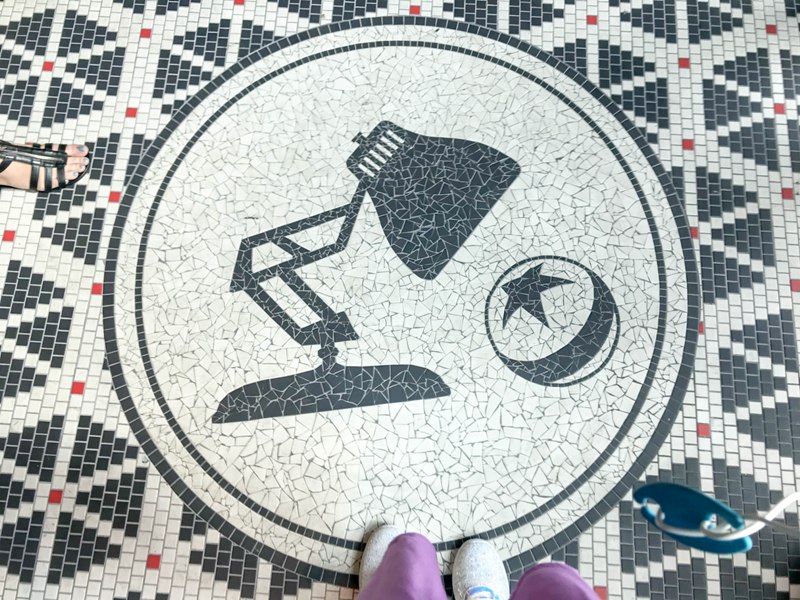 When you first walk in you will find the Lamplight Lounge logo on the ground, and the sketch chandelier overhead. The sketches are meant to represent every stage of the creative process so you'll find some color art, lots of pencil sketches, some thoughts jotted down, and even blank pages.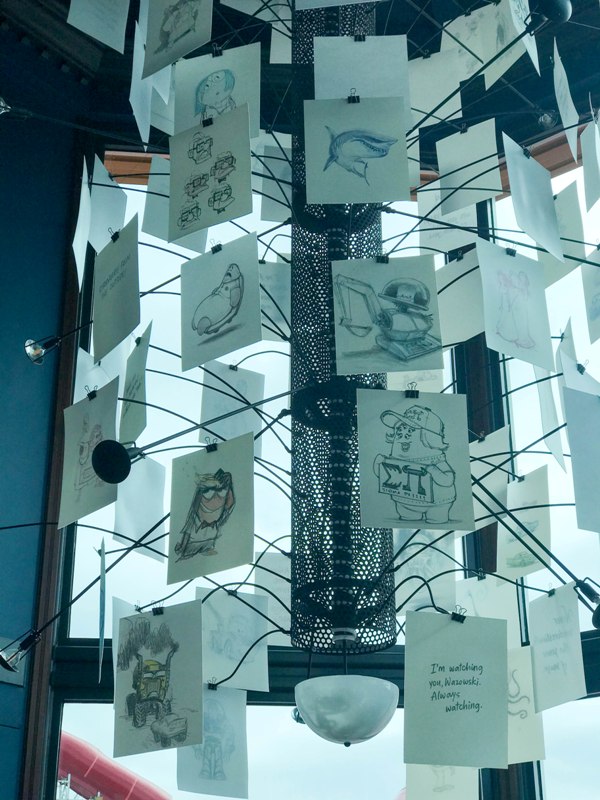 When you ascend the stairs, you'll find yourself staring at a wall of Luxo balls, which actually is the backside of a REALLY cool booth …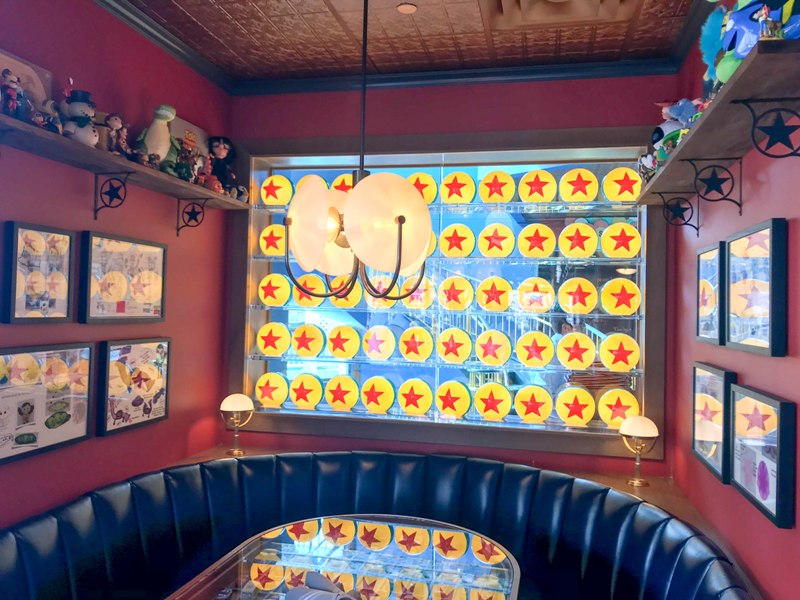 One could spend hours and hours and hours just looking at all the art, decor, and memorabilia on the walls, with fun new surprises at every turn. For example, the CARS booth! The glass table top reveals rows and rows of die-cast cars, while the shelves above display toys and plushies from Pixar movies and shorts. I bet these toys will be rotated in and out regularly so every visit will reveal something new!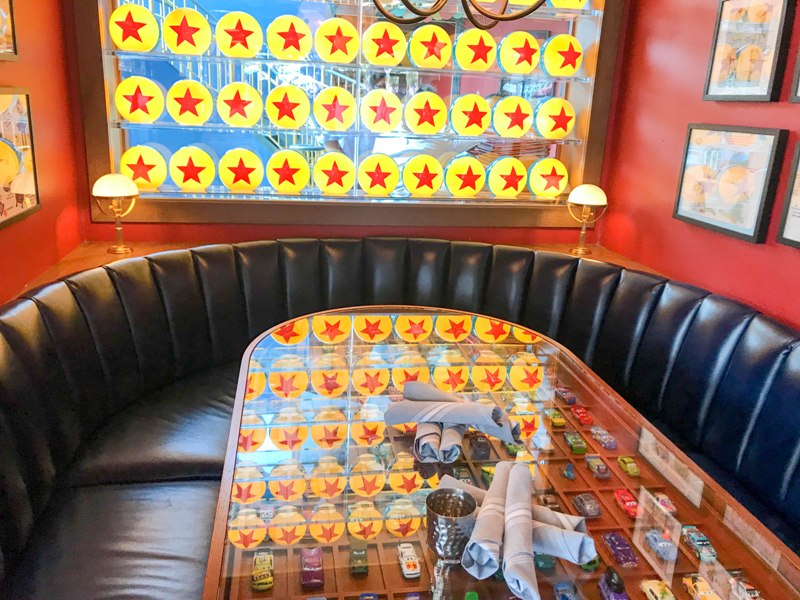 Be sure to also pay a visit to the restrooms. On the way you'll see lots of Pixar movie quotes and fun signs on the doors.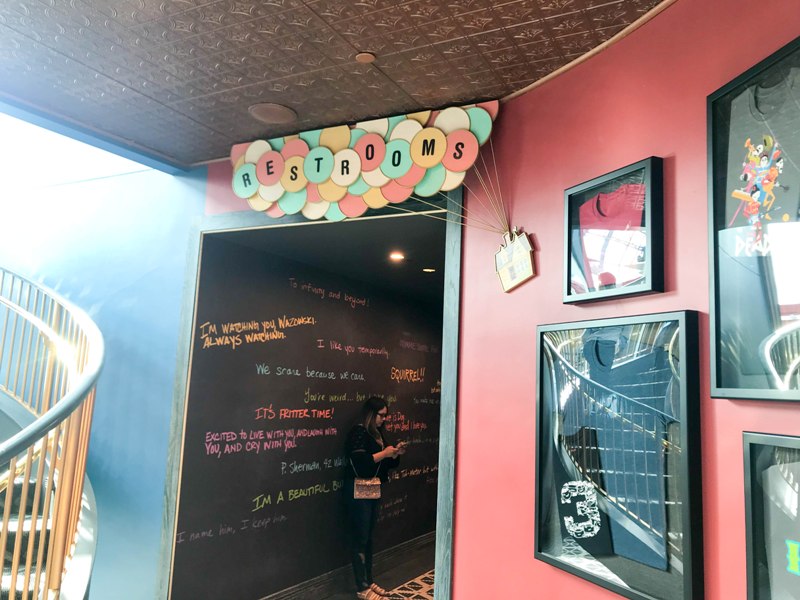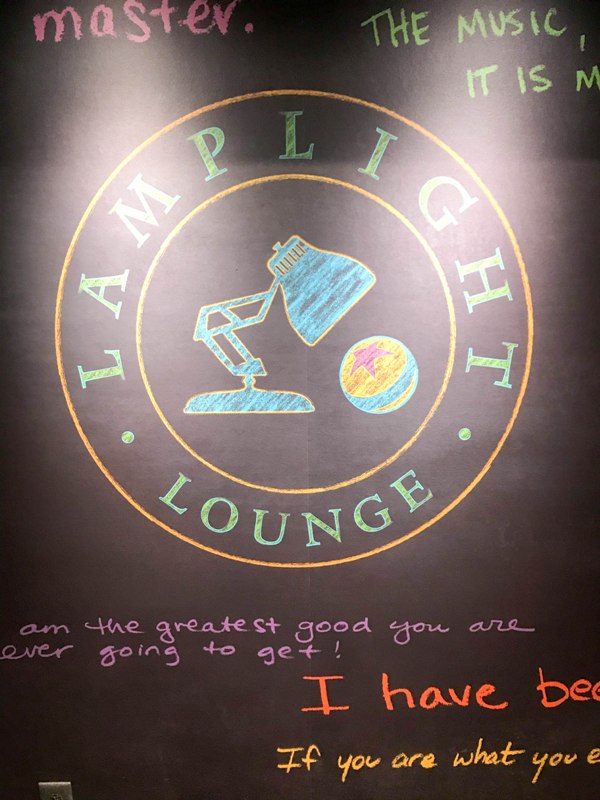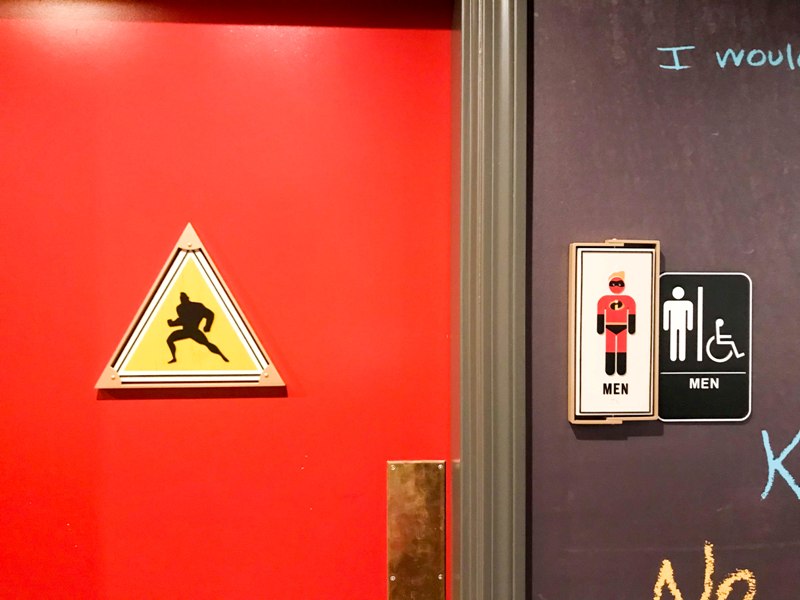 The space itself feels much bigger than before, helped by the addition of a huge bar space that replaced one of the walls. Between the tables inside, the seating outside, and the huge new bar, the capacity downstairs is 261 guests.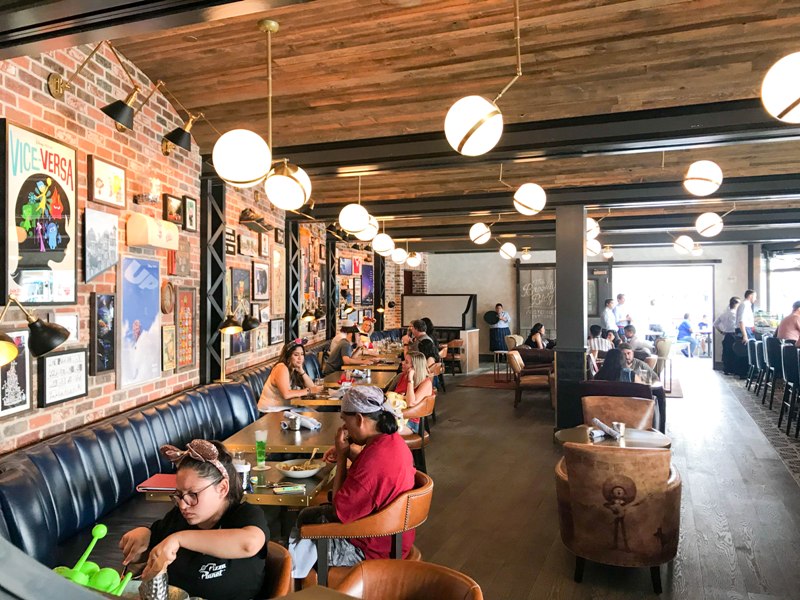 (Even the chairs have hidden surprises!)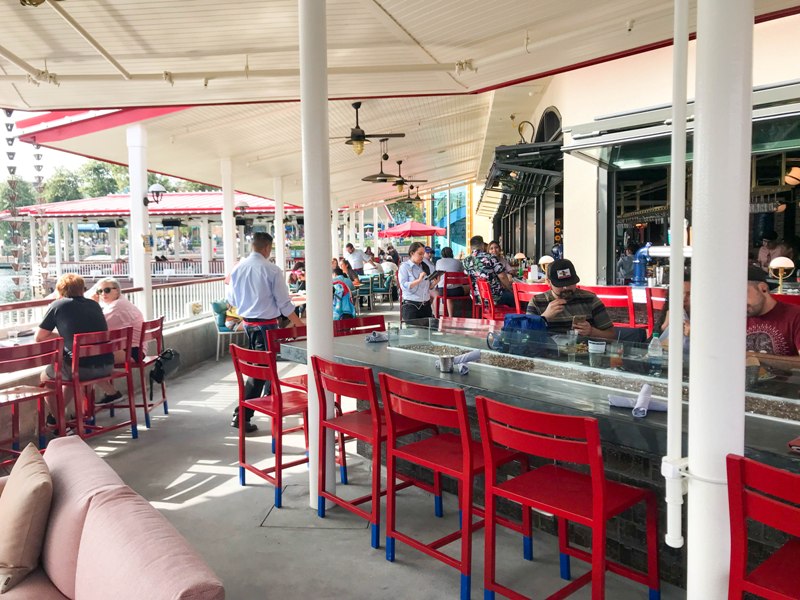 The outside area has been transformed from regular tables to lounge furniture and bar tops. There are even some gas fireplaces in the center of some of the tables! And of course, that view is still spectacular … or should I say, incredible.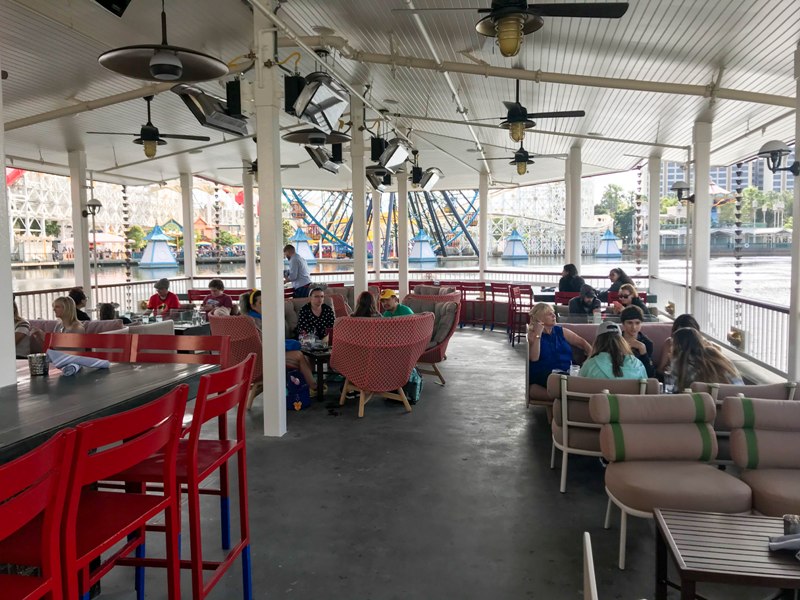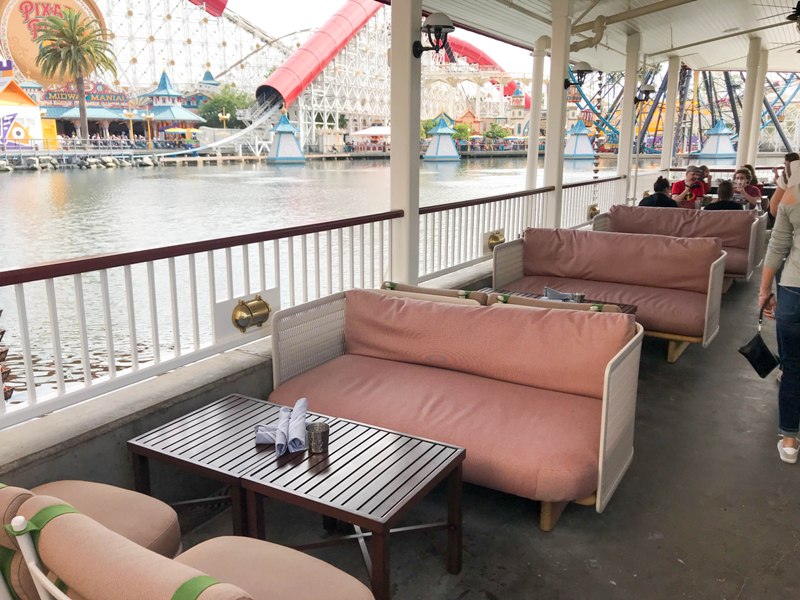 And, you guys, I haven't even told you the best part yet …. there's a SECRET DINING ROOM. It's so secret, our hostess wouldn't tell me how to get seated there and our server wouldn't show us how to find it. It's open to the public, but it sounds like it really takes some faith, trust, and pixie dust to get seated there. What I do know is this secret dining room, called The Office, seats 13 people and has a private patio that looks towards the Pier. It's also decorated with sketches of Pixar artists and old fashioned board games on the wall. I must … MUST figure out how to get inside!
Before I get into the menu and my thoughts on the food, let's talk about the old Cove Bar space. This space is now part of the Lamplight Lounge but the atmosphere has not changed much. It still has that "old timey sea side" atmosphere which I really loved. I was told the old Cove Bar section is still all walk-up seating, but now they will take your phone number and text you when your table is ready, so no more waiting in lines – which is fantastic! They also used a text notification when we checked in for our reservation for the downstairs area, which keeps the lobby area clear and more organized.
FOOD & DRINK
Both the food and drinks menu here have been revamped. No more "standard" Disney drink options (although I'm assuming the bartenders can make nearly anything found on the old menu, including the "secret" Cove Bar menu drinks). The new menu is very impressive, with fusion food and really creative drinks.
Note the restaurant downstairs serves a full menu, while upstairs only offers the small bites. The drink menu is the same for upstairs and downstairs.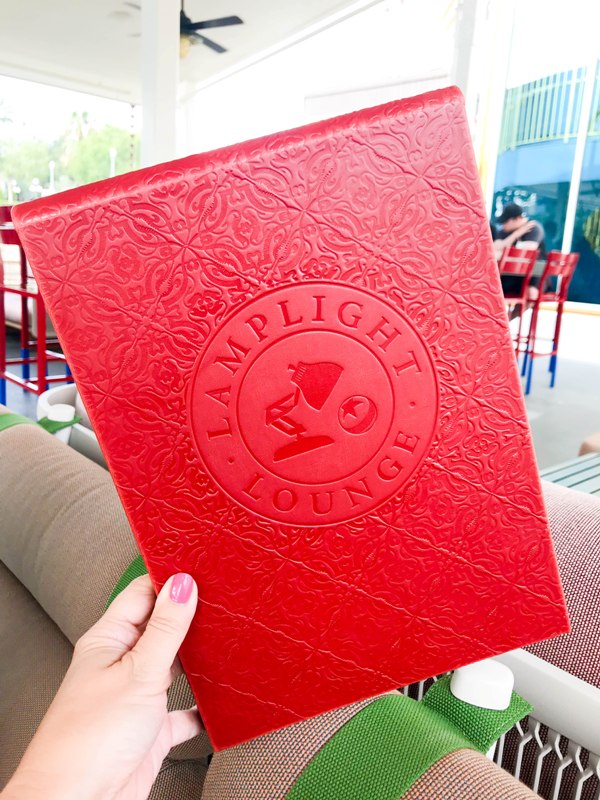 The drink menu is a work of art in itself. Our server had to keep coming back because were too busy looking at all the cute sketches.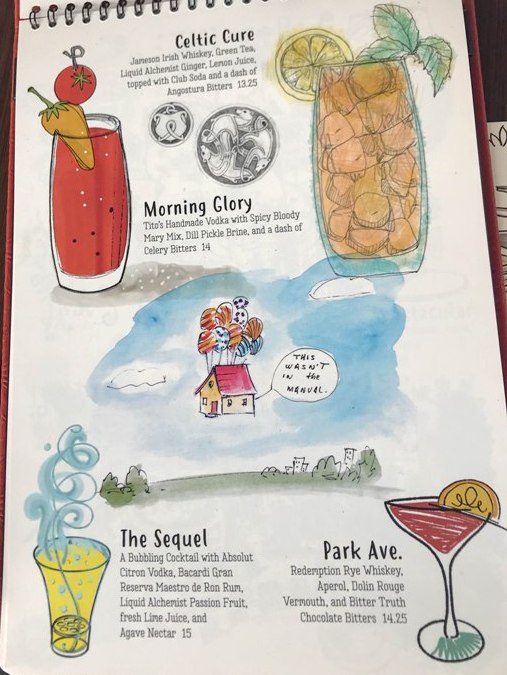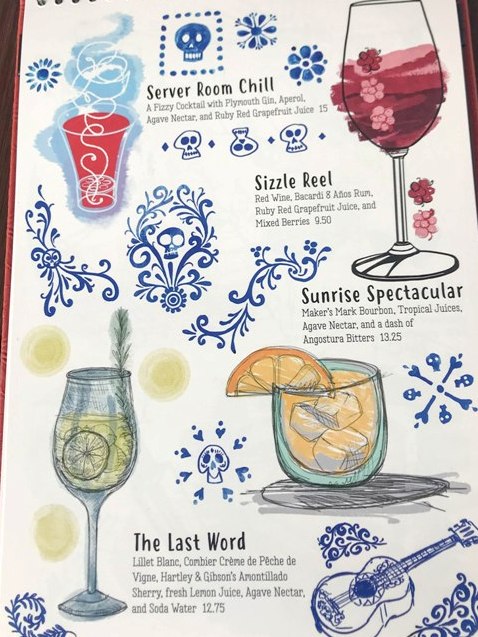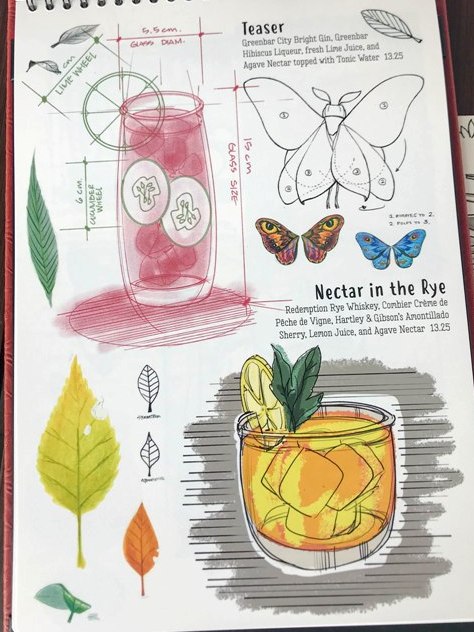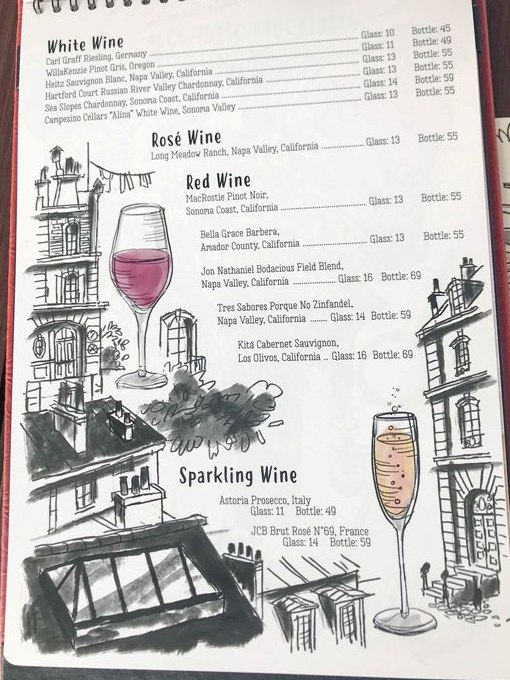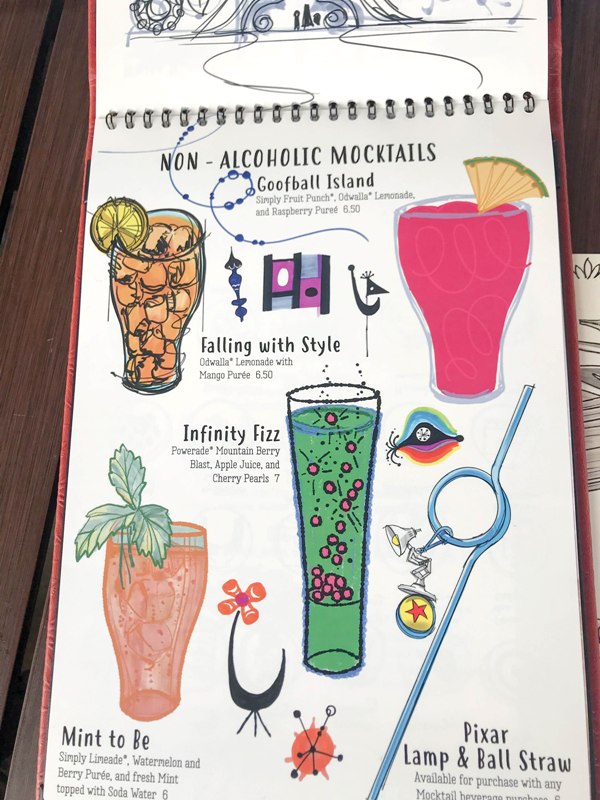 Even the coasters are cute!
For my first drink I tried the Six Tentacles, which is made with Japanese Whiskey, passion fruit, lime juice, and agave. As you can imagine it was very sweet and delicious.
Deciding to stick with whiskey, next I tried the Park Ave, which is made with whiskey, Aperol, vermouth, and bitters. Wow, that was a mistake. This drink is all booze and it tastes like it. My husband would have loved this. Me? Not so much. The waiter graciously took it back and replaced it with something more my speed – a glass of rosé.
As for food, our group tried the following: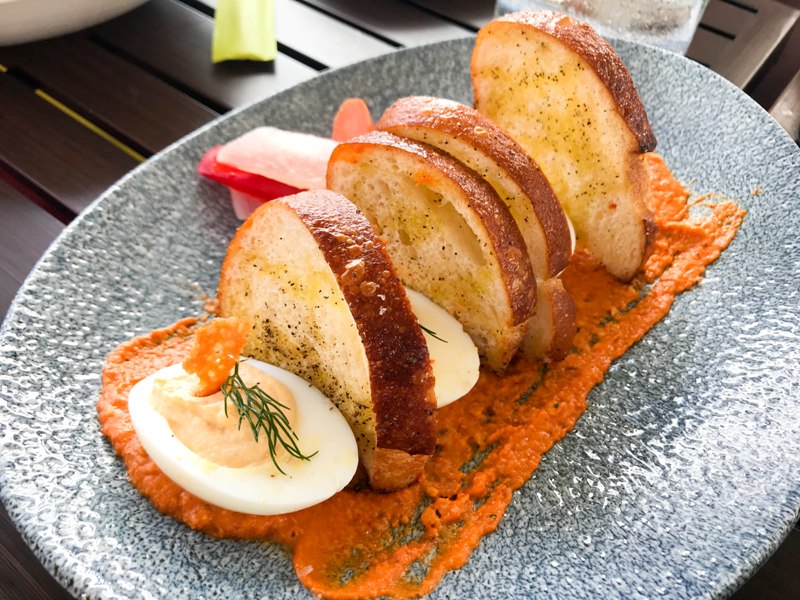 Deviled Eggs & Toast – Loved this one! But I'm a big fan of deviled eggs in general. We ordered one with the almond romesco sauce on the side since I'm allergic to almonds.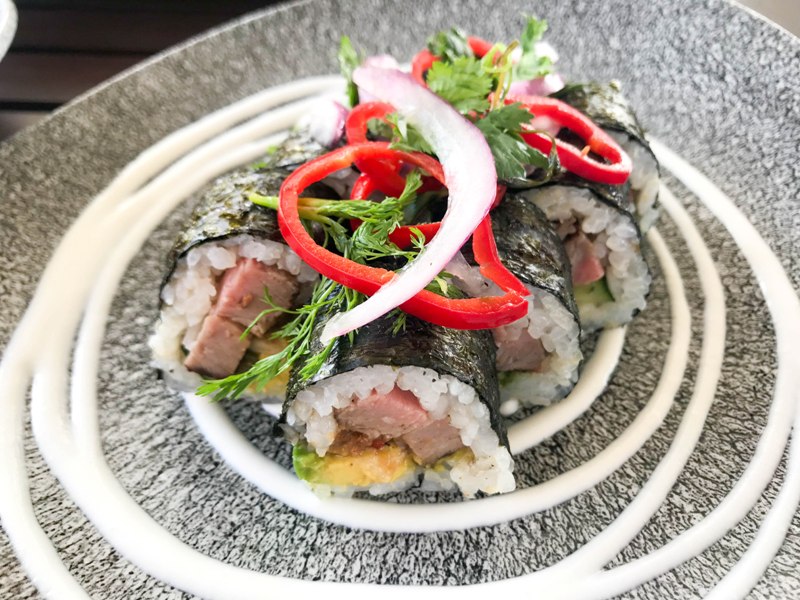 Carne Asada Roll – Another tasty menu item. Since I don't eat seafood I was happy to see a non-fish roll on the menu. The steak was high quality and you get eight rolls. It's made with fresno chilis and every now and then I'd get a sharp spicy bite, but otherwise it was very mild. I would happily eat this as my entire meal.
Potato Skins – Not your traditional pub food! These are more like thick potato pancakes; crispy on the outside and soft on the inside. Request extra sauce because they don't give you enough!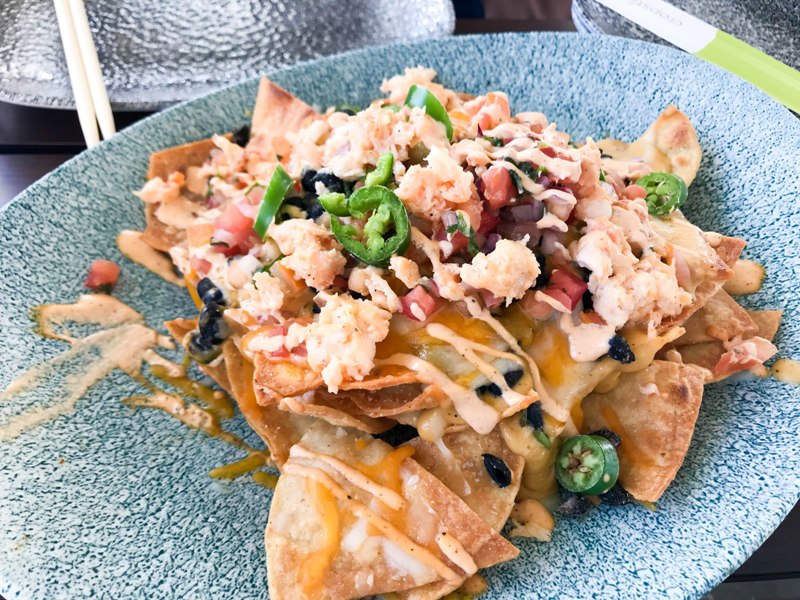 Lobster Nachos – Yes, this Cove Bar favorite is still around! I don't eat them (corn & seafood) but the rest of my group still gives them two thumbs way up.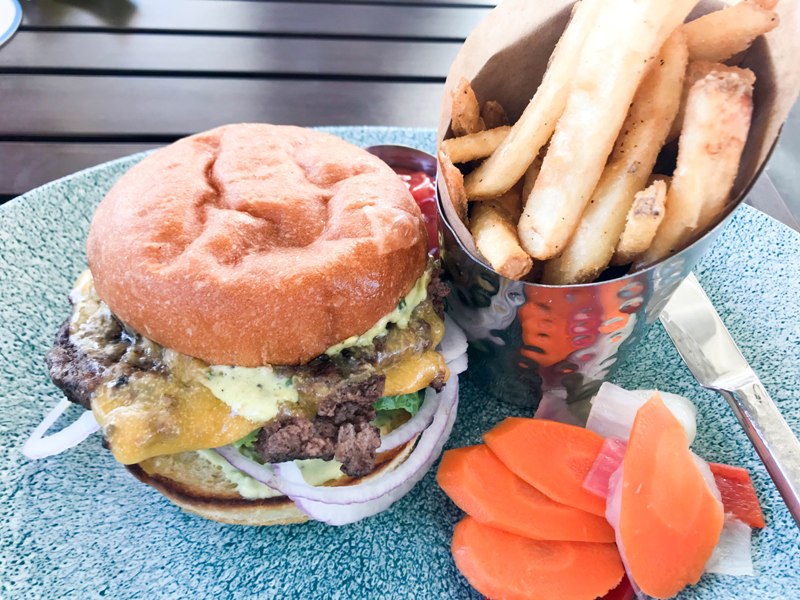 Cheddar Burger – A standard fancy hamburger. While it tasted delicious, it was very greasy and messy, and I'm not really a huge fan of messy foods. After my visit I heard there's a secret menu veggie burger and I'm gonna give that a go during a future visit.
Side note: Those french fries? Perhaps the best fries I've ever had in my life. I've heard you can order just a side of fries and I plan on ordering them every time I visit.
Donuts – There is only one dessert item at Lamplight Lounge, but one is enough! These mini donuts are, as the menu states, warm and fluffy and completely delicious. They come with chocolate and raspberry dipping sauces. Perfection!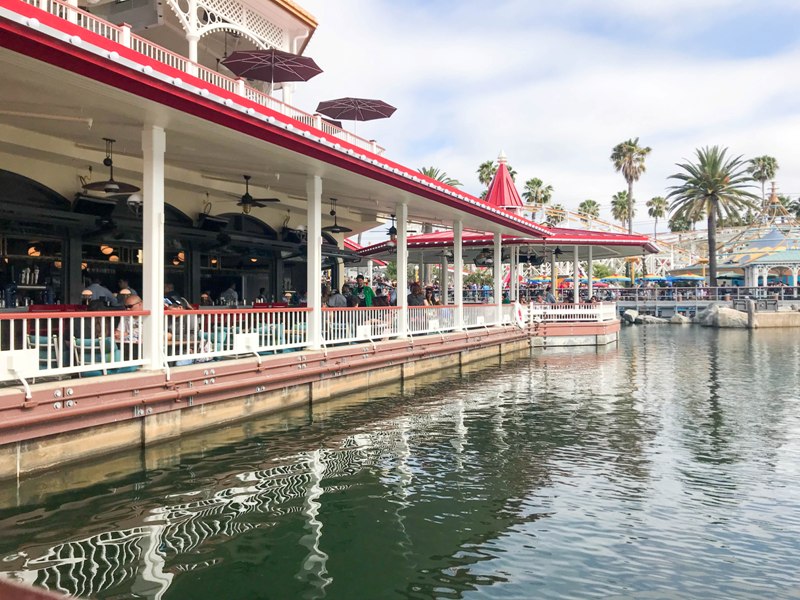 Overall I'd say Lamplight Lounge is a very welcome addition to Disney California Adventure. I see many visits in my future, relaxing at the waterside bar and listening to the sounds of the Pier in the background. My only concern is how they are going to manage reservations because guests are NOT going to want to leave this place!
You can make reservations for Lamplight Lounge via the Disneyland website or by calling (714) 781-DINE. Walk-ups are possible, so it doesn't hurt to swing by and ask what the wait time might be.
Are you excited to visit Lamplight Lounge? Which menu items are you excited to try?