Disney Bride Laura is planning an "At-Home" Disney wedding for July 2018.
Weddings come with many different stressful facets: wedding dress shopping, guest lists, cake tastings, budgets, décor … I could go on. However, add in abnormal (or simply dysfunctional) family dynamics and that creates a whole other slew of hurdles to jump through. One of the biggest problems that I personally have endured throughout wedding planning is how to correlate my blended family. For this article I will take you on an articulated journey about handling the stresses of navigating wedding planning with divorced parents.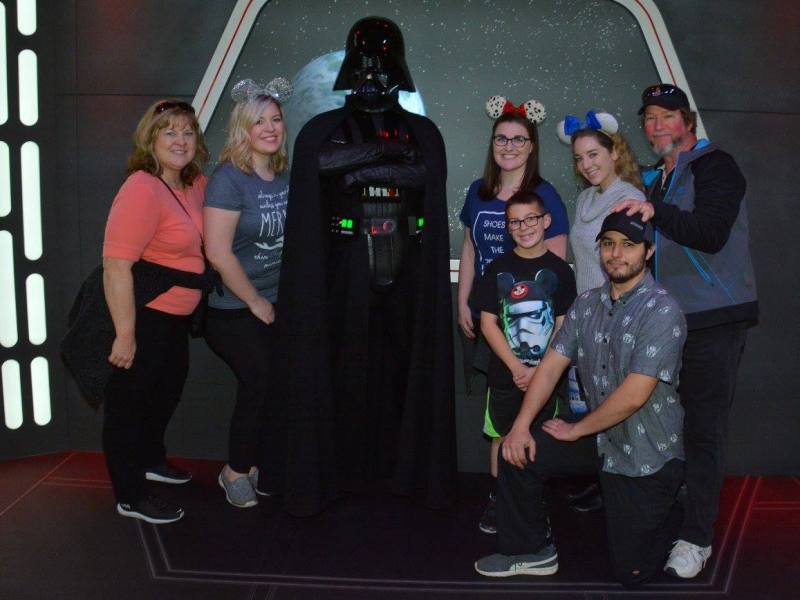 Dad's Side of the Family
My parents divorced when I was only seven years old. My mother and father both remarried and I adore both my step parents. Growing up with two "bonus" parents was not an easy transition, but as we have all aged and matured we have figured out how to make these new family units function to the best of our abilities. Now at the sprightly age of 26 I am planning a wedding and attempting to include not only my parents wishes but my stepparents as well. The biggest hurdle I have come across is with my father and stepfather. Both my "dads" get along cordially and respectfully. However, like normal, emotional human beings they also can easily get feelings hurt. There was a couple instances were I needed to decide who to include in what portions of the wedding day.
The first (and most difficult) problem I encountered was who was going to walk me down the aisle. When my dad first approached me with this he said, "I am going to be walking you down the aisle, right?" And of course my immediate response was "Yes of course." But this was me speaking without thinking about how this would affect my stepdad.
Now as a quick disclaimer, I cherish both my father and stepfather. However, it would be fair of me to say my stepfather had more of an impact in raising me. Not only did he take on the challenge of raising me (and succeeding!) but he is also funding our entire wedding. This isn't due to my father's lack of trying, but more so to the fact that he lives two hours away and can only assist with so much.
After my talk with my dad, I came home and discussed this with my mom and stepdad. After telling him all that was discussed I could see in his eyes and face that he was deeply hurt. He is the type of person who does not like to create drama and would keep this information to himself for fear of making it stressful on me. My mom pulled me aside and informed me of how much it truly did impact him and he was hurt he was not even included in the discussion. Once I had time to think I came to the conclusion that he needed to be included more in our wedding day. Then came the next hardest part: informing my father he wouldn't be alone in the wedding traditions. The talk with my dad went actually much more smooth then originally expected. He was surprisingly very receptive to including my stepdad not only in walking me down the aisle, but sharing the "father-daughter dance."
Mom's Side of the Family
The next issue I came across was my father wanting to have his band play the music for our wedding. While we were at dinner discussing this, my dad kept insisting his band would be a good fit. It was hard to dodge the question and I wasn't entirely sure how to let him down easily. My dad and his band are really good but it is not exactly what I envisioned for our wedding. I wanted a DJ who would be able to play Disney songs, Hip Hop, Rap, etc. I tried explaining this to him but he wouldn't budge. Finally my stepmom intervened (as she could see I wasn't wanting him to play) and said, "I don't think she wants you to be 'working' and setting up on the day of their wedding as well." After her buffering, my dad started to understand but I could see he was slightly defeated. I decided to compromise and told him he could play one song on his guitar as a dedication to my fiancé Johnny and I. His face lit up like the Disneyland fireworks and I knew this would be a comfortable compromise for all of us.
Unfortunately these hurdles don't always go as smooth for some couples with divorced parents. I happened to get very lucky. I didn't discuss all the problems I encountered with having divorced parents because that would take up another five pages. But for those out there who are having trouble with how to approach a situation with your blended family, just understand you are not alone. The best advice I can give is to be honest and truthful with what you want and desire for your day (because after all it is your and your fiancé's wedding). Be sure to have an open dialogue with your parents and attempt to include them as much as possible in your wedding endeavors. Lastly, don't forget that whether or not your parents had a massive impact or not in your life, they are still your parents and their advice and requests should always be taken into consideration.