One of the major perks about having a Disney Fairy Tale Wedding is that a wedding coordinator is included in your package, and if you chose you can let Disneyland source all of your vendors except photography and personal beauty. It can take a lot of stress out of the planning if you aren't a couple where either person loves having to stay focused on details. There are many of us who end up being more "hands-on" in the planning process either because you love to plan, you are sourcing a lot of outside vendors, or because you do a lot of DIY projects. If you are that person you will most likely want a way to stay organized.
How to Create Your Own Personalized Wedding Planning Binder (with Disney Touches!)
My fiancée and I don't have a huge budget and we want to stretch it as far as it will go, so we knew we could probably get lower vendor rates with some hunting around verses going through Disney. I thought about different ways to manage all of the information I was gathering about Disney Fairy Tale Weddings, vendor pricing, and venue details.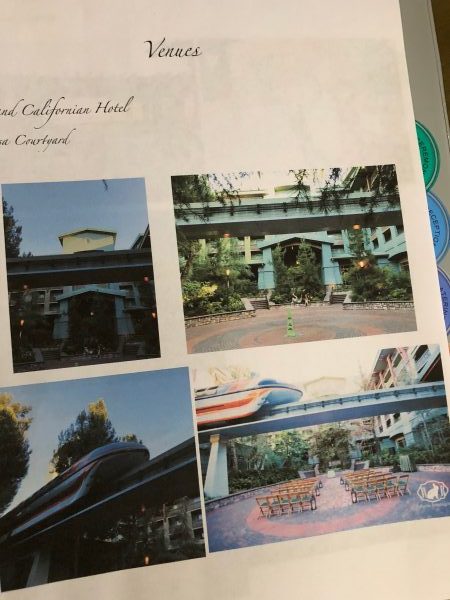 Some of my research was saved on the computer, some written down, and some was printed. I ultimately decided to keep most of my planning in physical format using a 3-ring binder. It seemed like it would be easier and quicker to find specific things but mostly it would be a more accessible way to share the planning with my fiancée. She can look at things without having to ask me where a file is saved or having to get on my laptop. I am the nerd in the relationship so if there isn't an easy way for her to see my lists and spreadsheets she won't have much idea what is going on. I don't know if there is a program one can download that acts as a digital wedding planning album; that might work well for some people who prefer to stay digital. I also like the feeling of something physical that I can hold in my hands and write in.
I looked at purchasing a wedding planner/binder online but ultimately I decided a Disney wedding requires slightly different planning and none fit my needs exactly, plus they would cost more than assembling my own.
I did some research on Pinterest and looked at some printable binders on Etsy, I also printed out the timeline checklist that This Fairy Tale Life offers and made a list of what I would need to include in our wedding binder.
My sections are:
General Information
Planning (schedules and calendars)
Vibes (colors, themes, atmosphere)
Misc
Serious Business
Guests
Guest List (contact info and rsvp)
Invitations (ideas and drafts)
Guest Experience (enhancement ideas, favors, etc)
Wedding
Venues (ideas and photos of possible venues for both ceremony and reception)
Ceremony (schedule, decor, rehearsal info, music)
Reception (decor, ideas, timeline, music)
Catering (food, cake, bar)
Attire
Clothes (for both of us)
Rings
Wedding Party Attire
Once I had my outline created I set out to find a good binder. After some trial and error, here is what I recommend you get:
*This will most likely require you to have access to a printer so if that is not a possibility in your world stick to mostly digital planning.
I used the Avery dividers and they provide an online program to print your label tabs, which is totally not necessary but made things feel more tidy to me. I printed out my labels and assembled my binder.
(For the Disney clip art – Search Google or Pinterest for "Disney clip art" or get more specific: "Mary Poppins clip art." Some can be found here. Note these are not available for COMMERCIAL purposes but are totally fine for personal use, such as creating this DIY wedding planning binder, as long as you don't intend to sell them for profit.)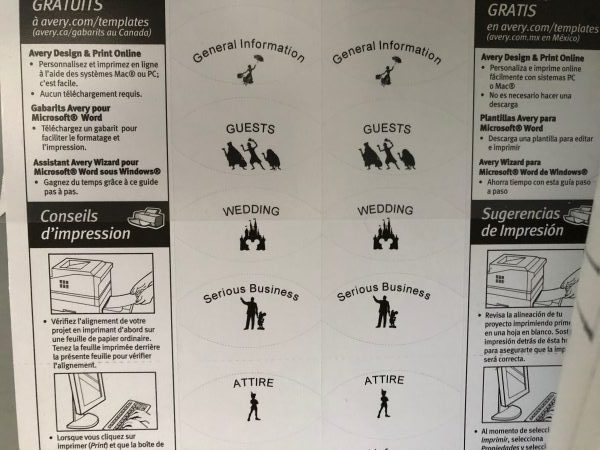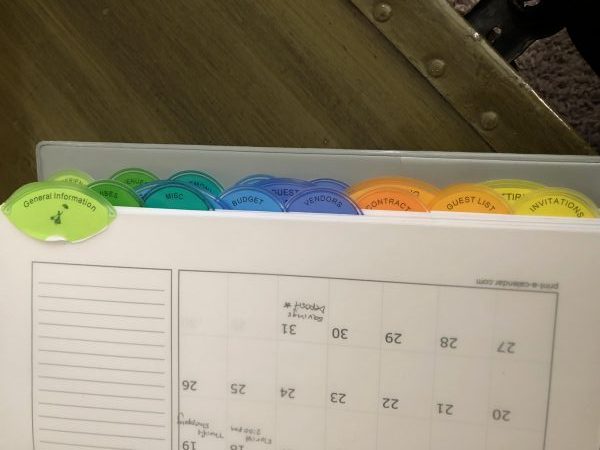 One thing that really helped in making the binder easy to sort through was using paper clips to group large documents, like contracts, so that it is easy to find each individual vendor contract rather than pages and pages of contracts all stacked together.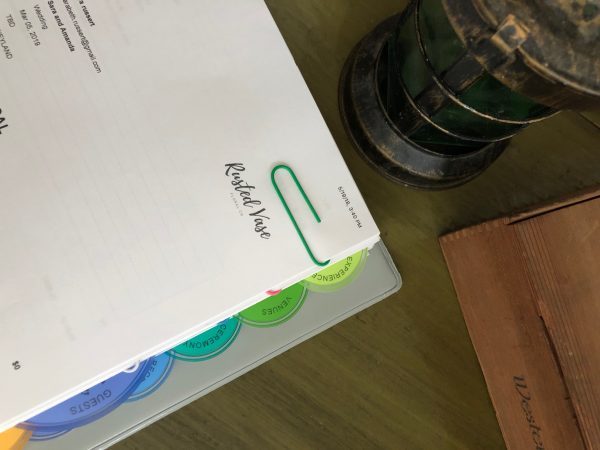 I printed out monthly calendars from the present month until the month of our wedding and I use them to keep track of payment due dates, planning deadlines, DIY project schedule, and savings goals.
There are some things I keep on the computer, such as constantly changing documents like the revised budget and the updated guest list, because I would have to reprint them frequently to stay current, but once we are closer to our wedding date and have those things more locked down I may print those as well. I was also trying to be mindful of how much paper we use so we also keep a Pinterest board for inspiration photos and ideas and only print the things that are very specific and relevant.
I hope this was a helpful tutorial for those of you planning a Disney wedding!