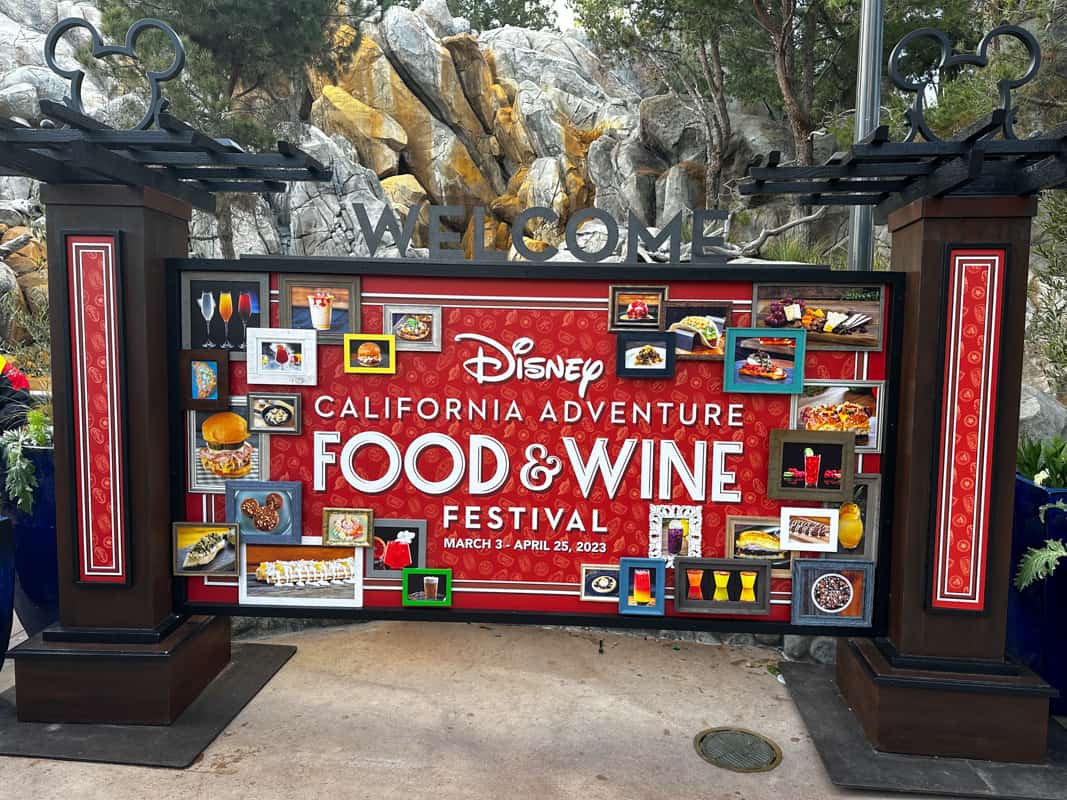 Disney California Adventure Food and Wine Festival has returned to The Disneyland Resort!!
The Disney California Adventure Food & Wine Festival is my favorite time of the year. As a huge foodie I'm always excited to try new foods and sample new wines.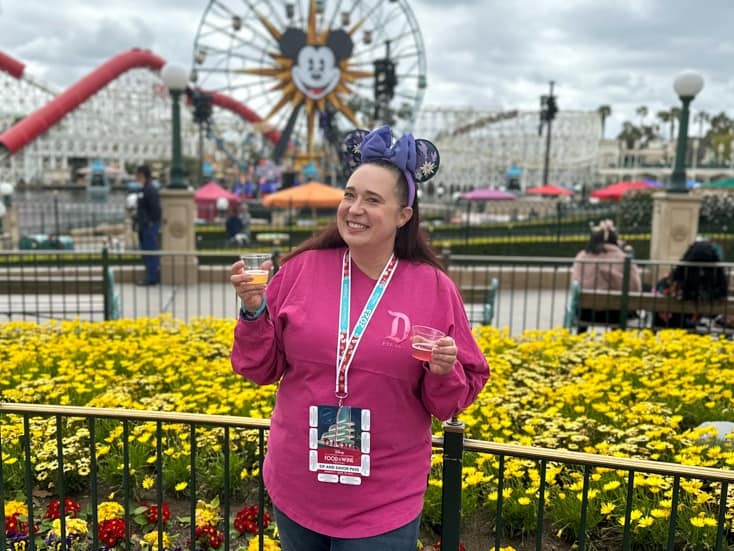 PS – Love the food festivals? Then you won't want to miss the Disneyland Lunar New Year Festival and Festival of Holidays during Christmastime!
Disney California Adventure Food and Wine Festival 2023 – Everything You Need to Know
What and When is it?
Disney California Adventure Food and Wine Festival is a celebration of the delicious foods and spirits of California. Guests can purchase samples of a variety of delicious foods, wines, beers, and other drinks. Seminars, demonstrations, and guided tastings are also available, some free and some for an additional price.
The Disney California Adventure Food and Wine Festival is being offered every day between March 3, 2023 and April 25, 2023. Regular Park admission AND a park reservation for Disney California Adventure is required, and food and drink items are an additional cost.
Disney California Adventure Food and Wine Festival – Where to Go
Enter Disney California Adventure and head down Buena Vista Street towards Carthay Circle Restaurant. Right at the entrance to the Festival Corridor is a Welcome Center where you can pick up a tasting passport and ask a Cast Member any questions you may have.
Most of the food and wine Marketplaces are located along the Festival Corridor (aka the parade route) in between the hub and the Golden Zephyr attraction. The festival itself extends all the way to Paradise Gardens and also into the Hollywood Land area, so there is lots to explore!
In addition to all that, some Downtown Disney restaurants are serving special dishes and drinks during the festival season.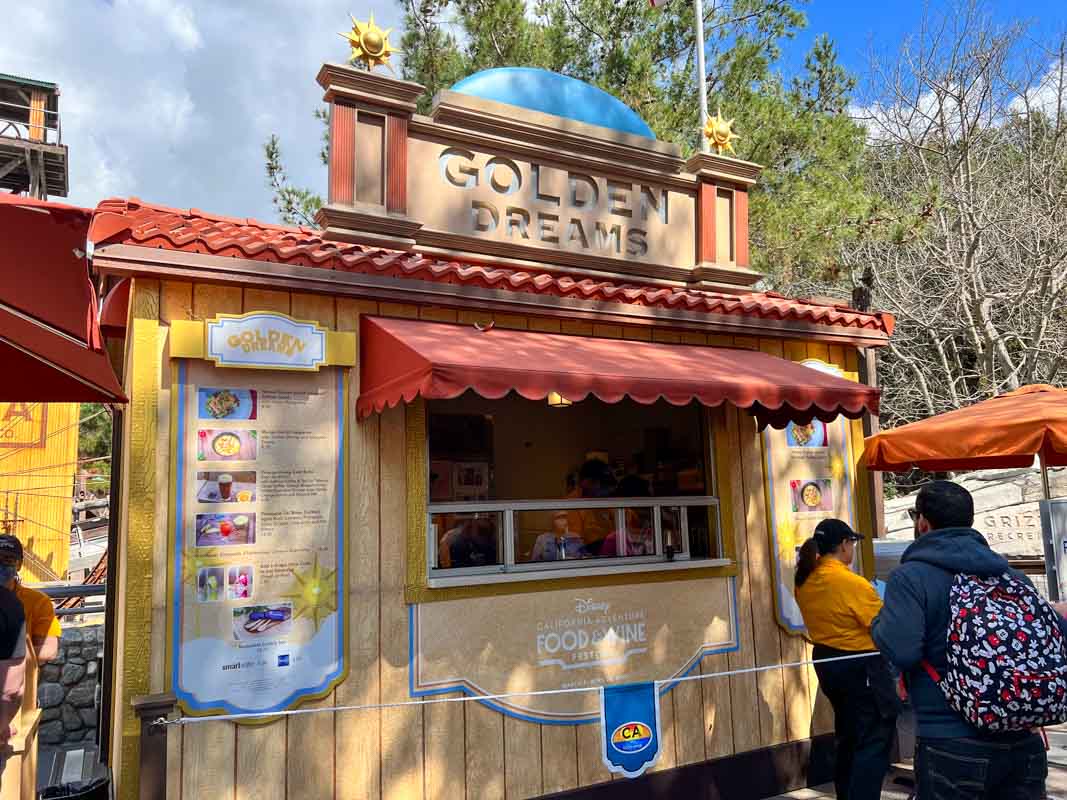 Throughout the Festival area, look for these displays with maps and entertainment guides.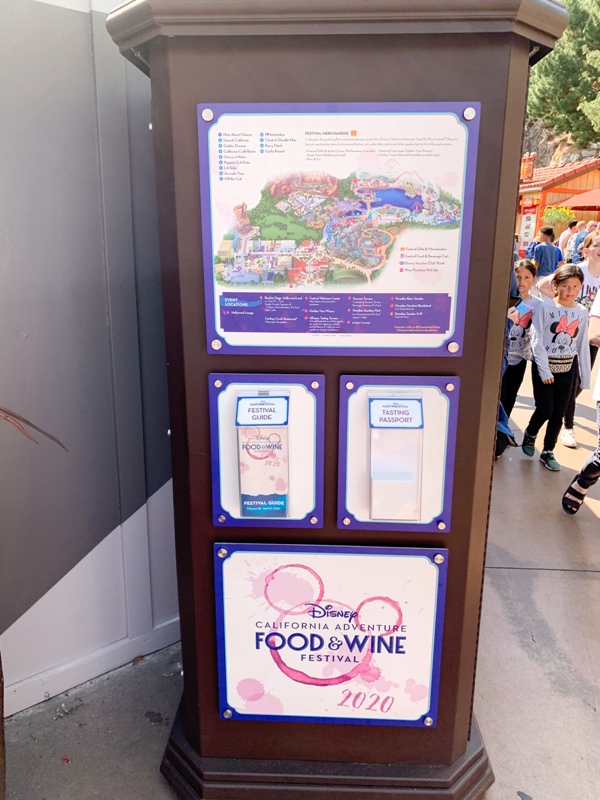 There are 12 Marketplaces total, with 3 or 4 food items and 2 or 3 drink options at each.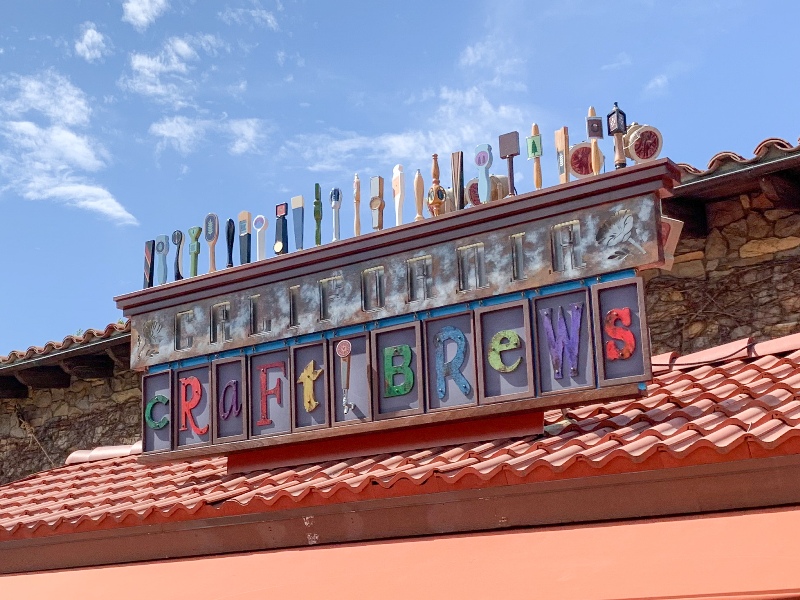 Adjacent to some of the Marketplaces are hi-top tables where you can stand and eat your food. Utensils and napkins are available from self service dispensers. In between Marketplaces you'll also find kiosks selling official event merchandise as well as some third-party products.
To order, approach the registers next to the Marketplace, pay for your order, then take your receipt to the window of the Marketplace. Your food and drink items will be prepared quickly, and you'll be given a cardboard tray if needed/requested. You can take your food to the nearby wooden counters or a nearby table. Don't forget to grab napkins and utensils!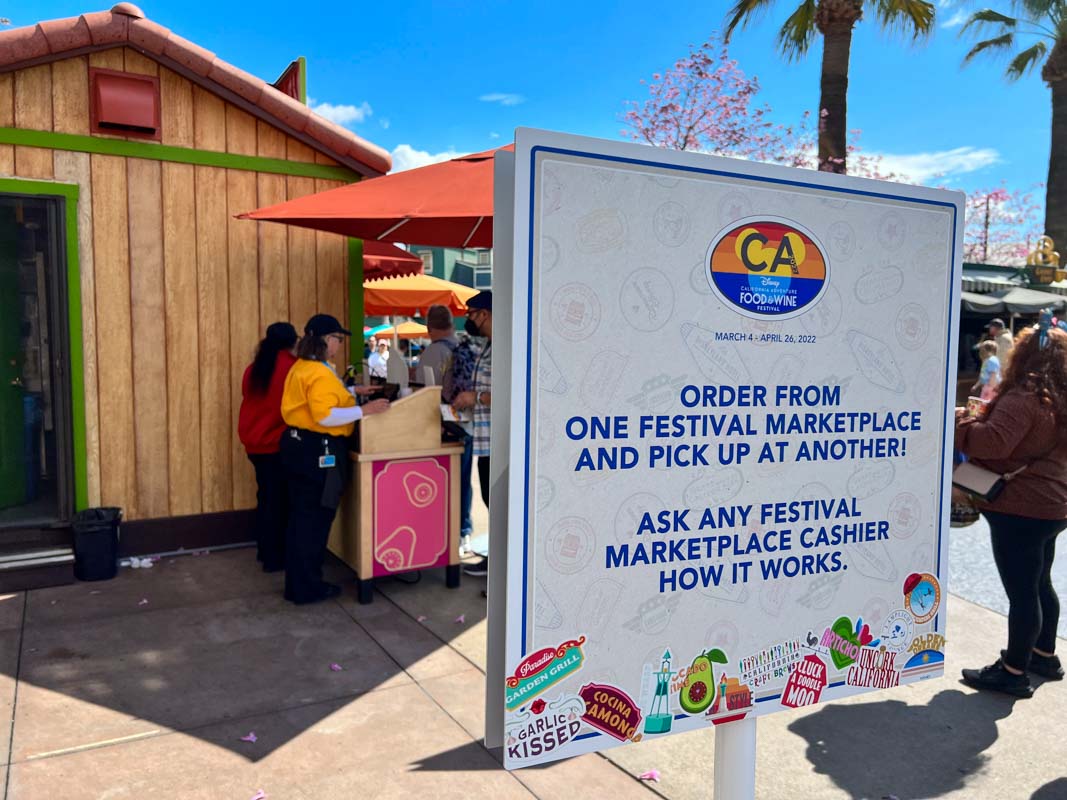 You can order any marketplace food item from any marketplace register! Order all your food at once, and then take your receipts directly to the pick-up window of the marketplace. Look for the shortest line and order all your food from there! This is such a time-saver!! Just be prepared with a list of all the foods you want so you don't forget anything.
Disney California Food and Wine Festival – Mobile Order
You can also mobile order for select locations. Marketplaces do not offer mobile ordering, but you can mobile order some of the festival offerings from the following locations:
Paradise Garden Grill
Sonoma Terrace
Cocina Cucamonga
Pacific Wharf Cafe
Disney California Food and Wine Festival – Sip and Savor Pass
Be sure to also pick up the Sip and Saver Pass! Each tab on the Pass can be redeemed for one food or one non-alcoholic drink item at any of the marketplaces. The lanyard is $59 for eight tabs, making each tab worth $7.38 (or $54 for Magic Key passholders – $6.75 per tab). Food prices range between $5 to $9, so if you use the tabs on the right items this is certainly a good deal.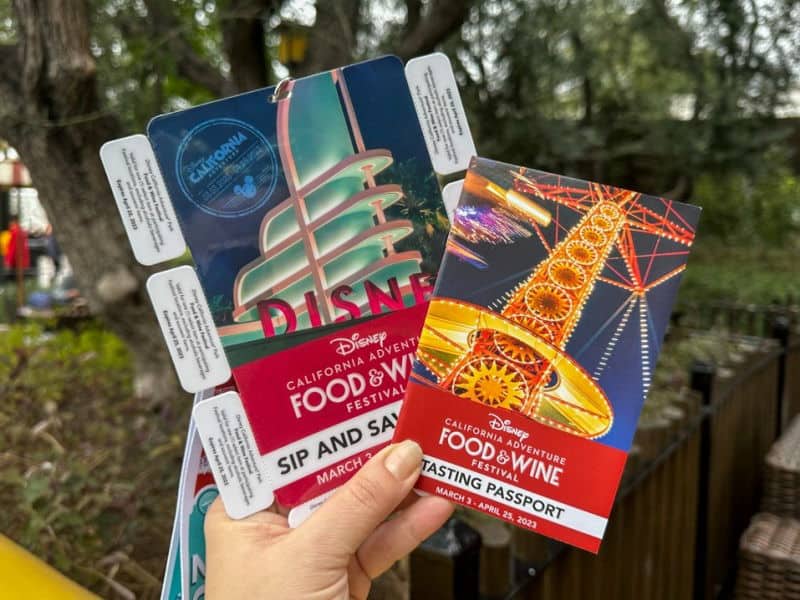 You can also pick up the Sip and Savor pass at multiple locations throughout the Festival. Lines are longest at the entrance to the festival; I suggest picking up your Sip & Savor at either Elias & Co on Buena Vista Street or Rushin' River Outfitters.
(FYI – Sip and Saver passes cannot be used with mobile ordering.)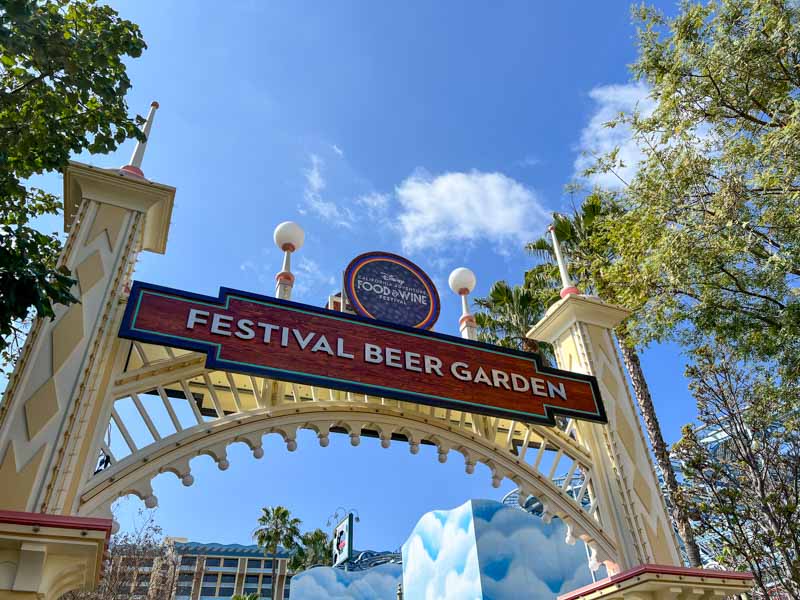 Keep walking into Paradise Gardens and you'll find the Festival Beer Garden. The Paradise Garden Grill also received a menu makeover for the festival and will exclusively offer plant-based items in 2023 (see below for the menu).
This year the Culinary Demonstrations and Jr Chef experiences are taking place at the Backlot Stage in the Hollywood Land area. The character photo op has also been moved to this area.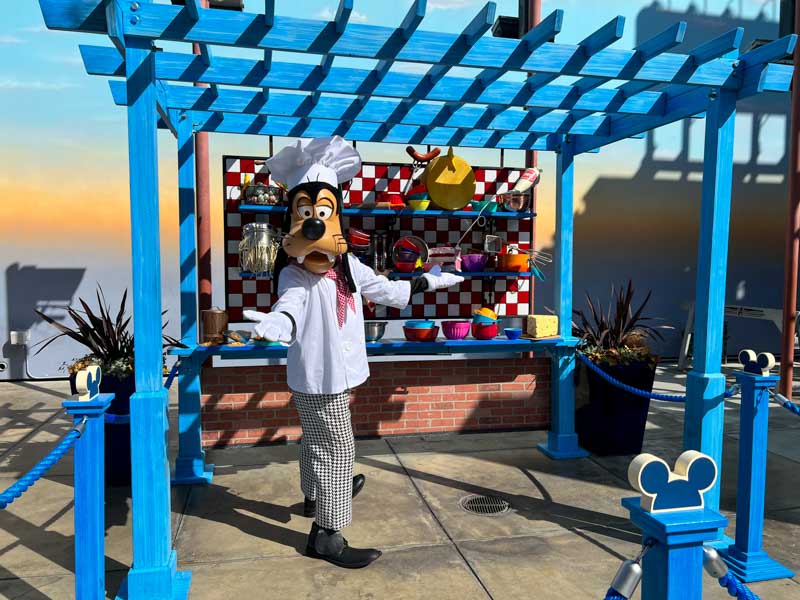 This year's Jr Chef is the Alice's Wonderland Bakery Unbirthday Party and looks really cute!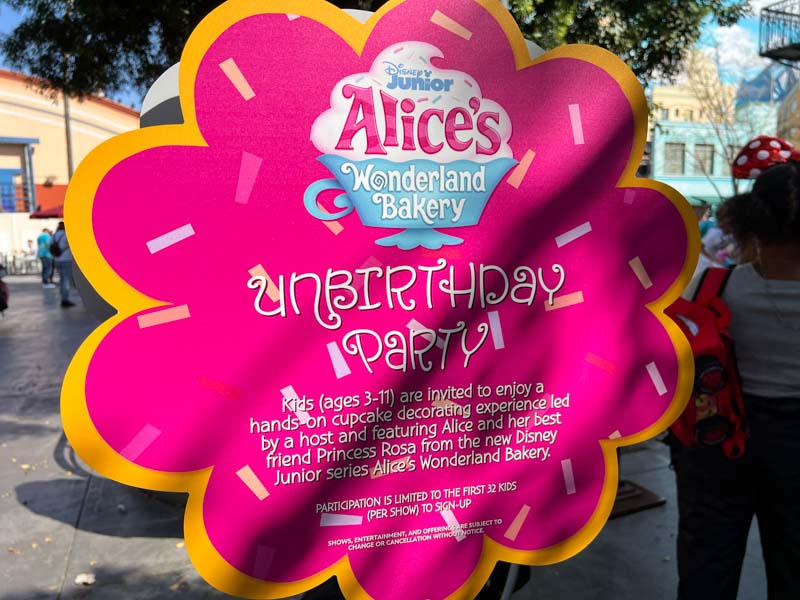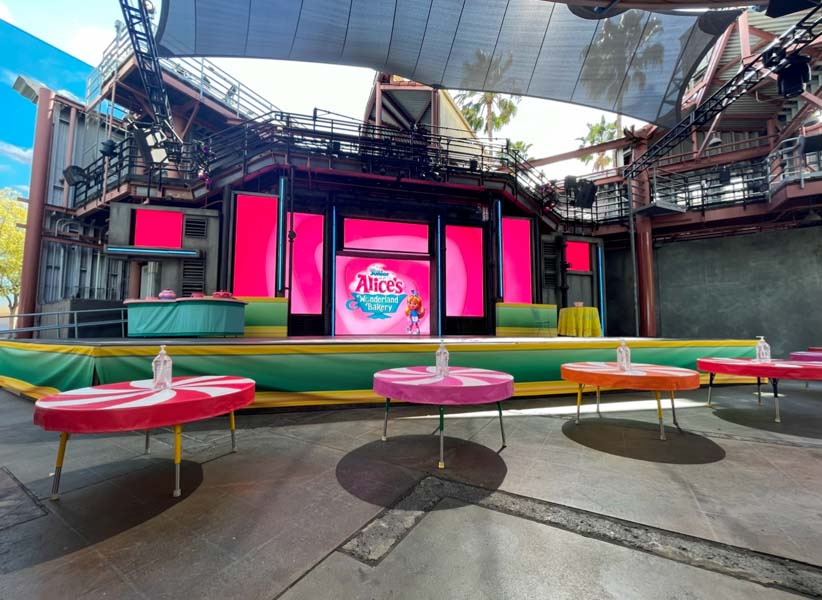 There's also a fun show with the Jammin' Chefs that takes place in Paradise Gardens a few times a day.
Speaking of photo ops, a few of the Marketplaces have cute murals which are perfect for Insta photos!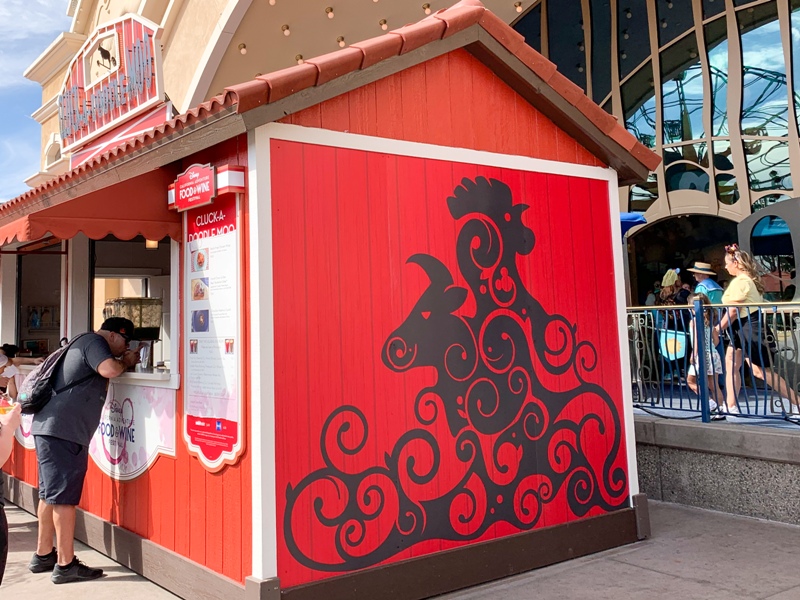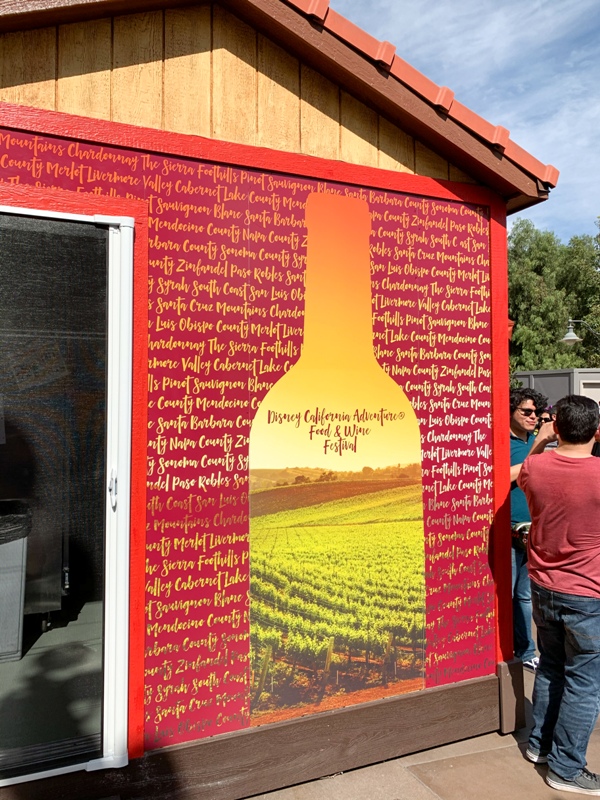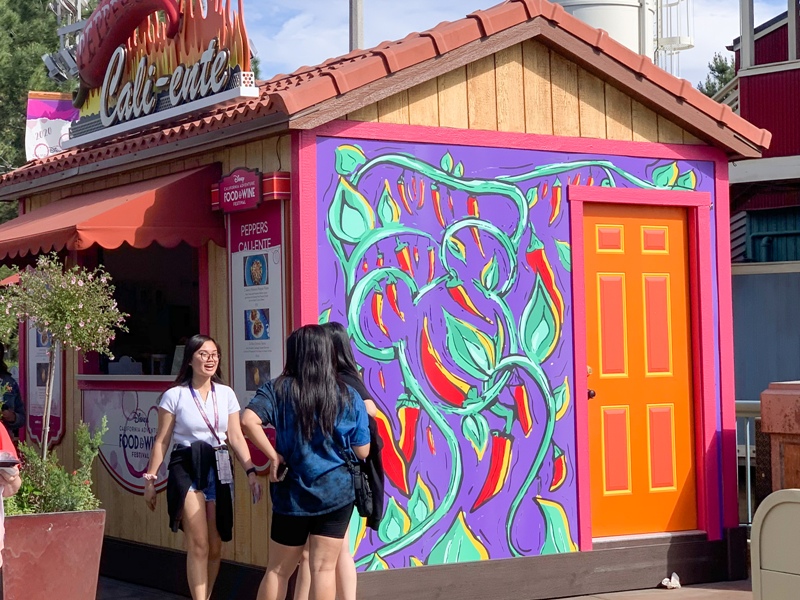 Look for merchandise kiosks along the Performance Corridor and the Hollywood Land area, where you can buy Disney California Adventure Food and Wine Festival branded items such as T-shirts, kitchen accessories, and wine glasses.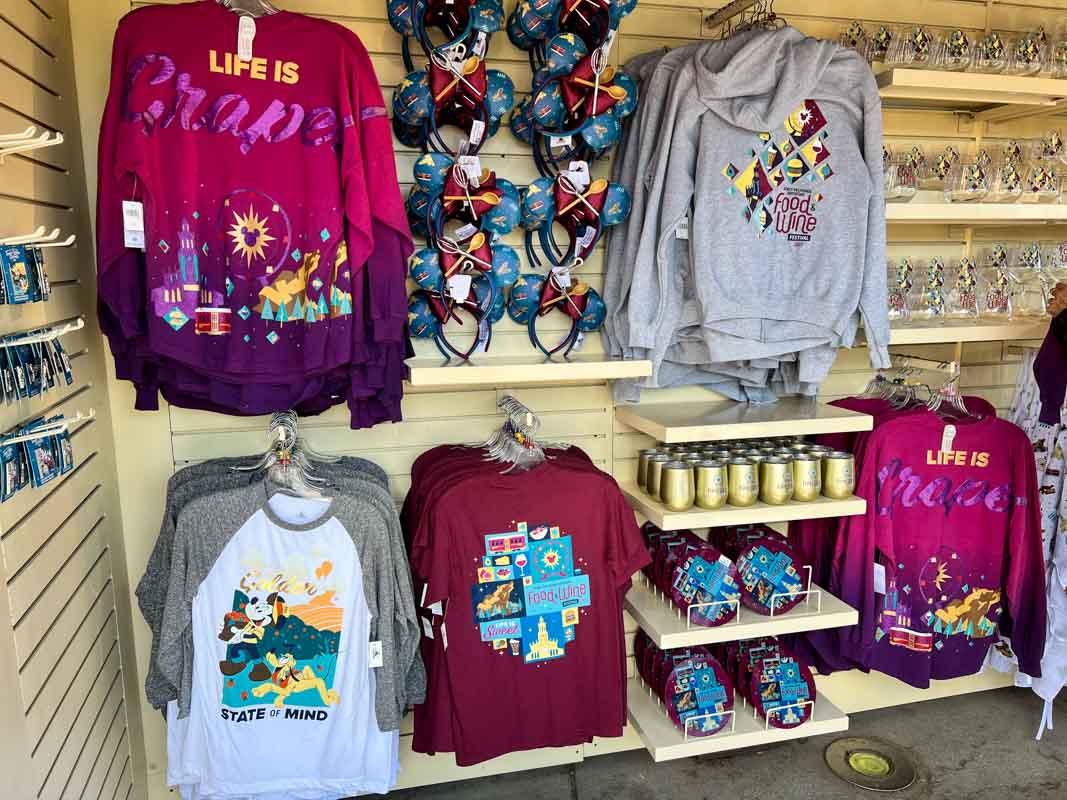 What to Do
Aside from sampling food, wine, and beer, you can participate in instructor led tastings located at Sonoma Terrace or the Disneyland Resort hotels. You can make reservations for these tastings online here.
You can also watch seminars, including celebrity and Disney chefs, or attend special receptions at Carthay Circle Restaurant. Please visit the official Disneyland website for full details/schedule of what's available during Food and Wine Festival.
What to Eat & Drink
Obviously you should eat everything! Here's what's available, and what I've tried so far:
D*Lish
The Cubano here was really good; don't let the name fool you because it's a solid sized sandwich.
Food Items:
Beef & Barley Poutine: Potato bites with braised beef short rib, cheese curds, stout gravy, and lager micro sponge (New)
Cubano Slider: Slow-roasted, mustard-crusted pork, and sliced smoked ham with melted Swiss cheese and pickle served on a Hawaiian roll
Beverages:
Sake Melon '75: Sake, ginger liqueur, prosecco, rock melon syrup, and lemongrass citron purée garnished with an edible purple orchid
Apricot Tequila Colada: Reposado Tequila, Aperol, apricot purée, coconut cream, and orange and lime juices garnished with a lime wheel
Nuts About Cheese
I loved both the Petite Burrata and the Crackers & Cheese. The jam is slightly different this year compared to last year, and it's got the slightest kick of heat. The SNICKERS Macaron is as good as it sounds! You can certainly share with a friend or two (or keep it all for yourself)!
Food Items:
Petite Burrata: Grilled ciabatta with tomato and olive jam, burrata cheese, pesto, and freeze-dried balsamic (New)
Crackers & Cheese: House-made herb crackers with white cheddar fromage blanc, spicy salami spread, and cherry jam
Mickey Mouse-shaped Macaron made with SNICKERS: Chocolate Mickey macaron filled with caramel ganache and SNICKERS cookie bar pieces
Beverages:
Flowers & Bees: Gin, elderflower liqueur, lemon juice, and honey, hibiscus, and lavender syrups garnished with a purple pansy (New)
Uncork California
OOF skip the brownie at this one! It was hard and crumbly. The white wine flight contained solid selections, but the big winner for me was the mimosa flight. Such unique flavors this year and I loved every single one!
Food Items:
California Artisan Cheese Plate featuring Marin French Cheese Co. Jalapeño Triple Cream Brie, Fiscalini Farmstead Purple Moon Cheddar, and Craft Beer Cheddar
Celebration Chocolate Fudge Brownie: Gooey Chocolate Brownie with Pecans, topped with Chocolate Pecan Glaze and finished with Chocolate Pearls and Silver Stars
Beverages:
1923 Mimosa: Prosecco, white cranberry juice, white peach syrup, and lemon juice (New)
1939 Mimosa: Prosecco, pineapple and orange juices, and passion fruit and guava nectar (New)
1955 Mimosa: Prosecco, dragon fruit and rose syrups, hibiscus water, and lemon juice (New)
Century of Magic Mimosa Flight (New)
Daou Vineyards Chardonnay (New)
Meiomi Rosé (New)
Duckhorn Vineyards Sauvignon Blanc (New)
McBride Sisters Wine Company Red Blend (New)
Garnet Vineyards Pinot Noir (New)
Robert Mondavi Vineyards, Private Selection
Cabernet Sauvignon aged in bourbon barrels (New)
Scharffenberger Cellars Brut (New)
White Wine Flight (New)
Red Wine Flight (New)
Golden Dreams
Food Items:
Elote Paleta: Sweet corn paleta with parm crema, chile-lime seasoning, corn crunch, and cilantro (New)
Roasted Beet and Goat Cheese Flatbread with basil pesto (New)
Beverages:
Central California Cooler: Peach purée, apple, orange and lemon juices garnished with an apple chip
Ficklewood Ciderworks Guava Grove: Grapefruit, guava, and tropical flavors with Nelson Sauvin Hops (New)
California Craft Brews
Food Item:
IPA Sausage Dog on a soft pretzel roll with onion-pepper Jardinière, cheddar cheese sauce, and malt vinegar-onion crunch
Beverages:
Beer:
La Bodega Brewing Company Helles Lager (New)
Unsung Brewing Co. Light Ale (New)
Harland Brewing Co. Double Dry-Hopped Pale Ale (New)
Altamont Brewing Maui Waui IPA (New)
Barrelhouse Brewing Mango Fruited IPA (New)
Delahunt Brewing Co. 1924 Raspberry Blonde (New)
Brewery X Pineapple Vanilla Milkshake IPA (New)
Bottle Logic Brewing Co. Aurora Borealis (New)
Chapman Crafted Beer Zodiac Series Hazy IPA (New)
Crowns & Hops Brewing Co. The Dopest Hazy IPA (New)
Golden Road Brewing Strawberry Cart Wheat Ale (New)
Ballast Point Brewing Co. Watermelon Dorado Double IPA (New)
Russian River Brewing Company Happy Hops IPA (New)
Bright & Balanced Beer Flight (New)
IPA Beer Flight (New)
Our group wasn't a huge fan of the IPA Sausage Dog.
Peppers Cali-ente
Food Items:
Chile Relleno Empanada with arbol pepper salsa and Oaxaca and cotija cheeses
Camarones a la Diabla: Spicy shrimp with California chile and cilantro rice (New)
Beverages:
Cantarito-Style Paloma: Reposado Tequila, habanero-infused pineapple juice, lime juice, rock melon syrup, and Fresca garnished with a pineapple wheel and chile-lime seasoning
LA Style
Food Items:
Glazed BBQ Pork Belly with Furikake-Togarashi mac salad
IMPOSSIBLE Gyro-inspired Naan: Gyro-inspired flatbread featuring IMPOSSIBLE ground beef with chipotle hummus, tzatziki, and spiced crispy chickpeas
Beverages:
Echo Park Cooler: Joffrey's Coffee & Tea Co. Ceylon & Raspberry Rose Tea, raspberry purée, lychee and rose syrups, and lime juice garnished with a lime wheel (Non-alcoholic) (New)
I really wanted to love the flatbread but it was too spicy for me.
Avocado Time
Food Items:
IMPOSSIBLE Nacho Mac & Cheese: Cheddar mac featuring seasoned IMPOSSIBLE ground beef, tomatoes, olives, jalapeños, and guacamole (New)
IMPOSSIBLE Al Pastor Tacos: Al pastor taco featuring IMPOSSIBLE pork with grilled pineapple and avocado-tomatillo sauce (New) (Plant-based offering)
Beverages:
Blackberry-Lavender Lemonade: Blackberry purée and syrup, lavender syrup, and pineapple and lemon juices garnished with a lemon wheel (Non-alcoholic) (New)
I <3 Artichokes
Food Items:
Artichoke Pizzetta: Artichoke and roasted garlic cream cheese with sun-dried tomatoes, pickled onions, and lemon olive oil-drizzled micro greens (New)
Artichoke Toast with Olive Tapenade: Toasted sliced baguette with artichoke cream cheese topped with olive and artichoke tapenade and drizzled with olive oil
Beverages:
Passion Fruit Rum Cocktail: White rum, Italian amaro, passion fruit nectar, orange and lime juices, and guava purée garnished with an orange wedge
I enjoyed the Passion Fruit Rum Cocktail. Reminds me of a drink from Trader Sam's!
Cluck-a-Doodle-Moo
Food Items:
Smoked Honey-Habanero Chicken Wings: Chicken wings tossed in honey-habanero seasoning (New)
BBQ Beef Brisket Slider featuring Fiscalini Farmstead Smoked Cheddar with dill pickles on salt and pepper brioche (New)
Beverages:
Chipotle-Pineapple Bourbon Sour: Bourbon, pineapple and lime juice, honey syrup, and chipotle sour purée garnished with a dried red pineapple wheel (New)
Smoked Cherry Mezcal-iki Cocktail: Dark rum, mezcal, cherry purée, grapefruit and lime juices, vanilla syrup, and bitters garnished with a dried grapefruit chip (New)
Berry Patch
Food Items:
Kenny's Family Cheesecake topped with mixed berry compote (New)
Blueberry Buttermilk Pie
Beverages:
Blueberry Pancake Cold Brew: Joffrey's Coffee & Tea Co. Mexico Origin Coffee, brown butter, maple and demerara syrup, and oat milk with a blueberry sweet cream made with cream, oat milk, vanilla syrup, and purée garnished with cinnamon-flavored cereal crumble (Non-alcoholic) (New)
Garlic Kissed
Food Items:
Grilled Top Sirloin with roasted garlic, gruyère smashed potatoes and black garlic chimichurri
Carbonara Garlic Mac & Cheese featuring Nueske's Peppered Bacon
Beverages:
Raspberry Limoncello-Ade: Limoncello, grapefruit liqueur, house-made mint syrup, raspberry syrup, and lemon juice garnished with a white orchid (New)
Guava-Lychee Mule: Vodka, guava nectar, ginger and lychee syrup, and lemon juice topped with guava and grapefruit hard cider and garnished with a lemon wheel (New)
This whole Marketplace is a winner! The returning garlic mac is always a crowd favorite. The top sirloin with potatoes was a filling dish, and not overly garlic-y. No wonder this pick up line is always long, but it's worth the wait!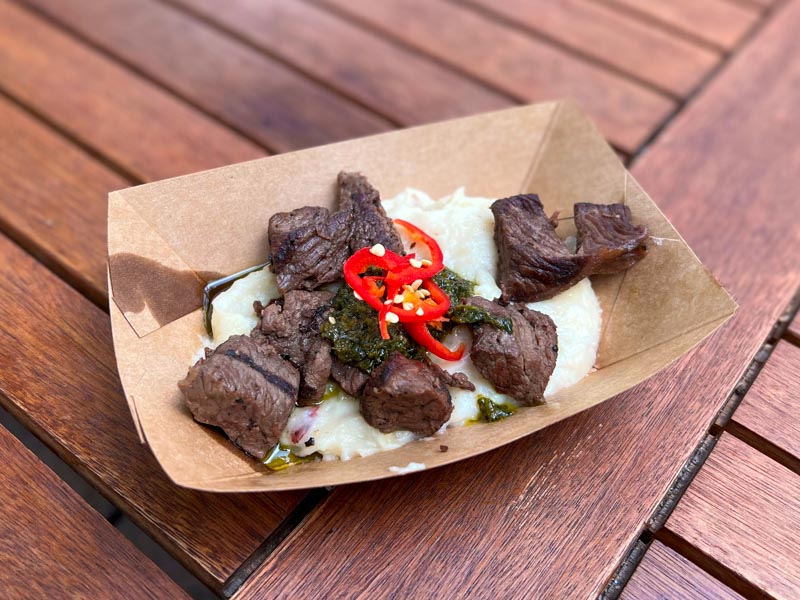 Be sure to pick up a Tasting Passport which you can get stamped as you go from Marketplace to Marketplace. They are free and should be available to get at any Marketplace or the information booth. The Tasting Passport also has a listing of all the Marketplace menus, plus gluten-friendly, kid friendly, vegetarian, and planet-based items.
Paradise Garden Grill
Food items:
Torta de Chilaquiles: Fresh-made Telera bread with green chilaquiles, chorizo beans, chipotle crema, pickled onions, cilantro, and avocado spread (New) (Plant-based offering)
Bulgogi Fried Rice with kimchi, egg, pickled cucumbers, green onions, and sesame seeds (New) (Plant-based offering)
IMPOSSIBLE Gyro Fries: Waffle fries topped with gyro-spiced IMPOSSIBLE ground beef, cauliflower cheese sauce, tomatoes, cucumbers, onions, tzatziki, and pita bread (New) (Plant-based offering)
Buffalo Mac and Cheese topped with roasted buffalo cauliflower, ranch, and a carrot and celery salad (New) (Plant-based offering)
Peach-Blueberry Cobbler (Plant-based offering)
Beverages:
Wine Float Cocktail: Tequila, Triple Sec, Agave and Lime & Orange Juices with a Red Wine Float
Note there are Sip and Savor sizes for some of the menu items.
Paradise Garden Grill Beer Garden
Beverages:
Stereo Brewing Co. Perfect Day IPA
Stone Brewing Co. Buenaveza Salt & Lime Lager
Golden Road Brewing Get Up Offa That Brown Ale (New)
Golden Road Brewing Ride On 10 Hop Hazy IPA
Mother Earth Brew Co. Cali Creamin' Vanilla Cream Ale
The Bruery Or Xata Blonde Ale
Rincon Reservation Road Brewery Rez Dog Hefeweizen (New)
Smog City Brewing Co. Coffee Porter
Beer Flight: Create your own flight of four beers
Paradise Gardens Special Event Cart
Food Items:
Pretzel Bites with beer cheese sauce (available with Sip & Savor Pass) (New)
Berry Cotton Candy (New)
Beverage:
Lamplight Lounge Boardwalk Dining
Beverages:
Lamplight Lounge Food & Wine Cocktail: Gin, elderflower liqueur, peach, basil simple syrup, lemon, blue curaçao, and fresh basil
Tip – You can do walk up "to go" cocktails from Lamplight Lounge Boardwalk! There may be a bit of a line at busier times but it is possible to get these festival drinks without waiting for a table.
Lamplight Lounge (downstairs)
Food Items:
Cookies & Cream Donuts: Fresh, glazed donuts topped with chocolate cookie crumble, with vanilla and chocolate crème cookie dipping sauce
Ribeye for Two paired with a specially selected glass of wine: Share a 28oz bone-in ribeye with glazed baby carrots, poblano-potato bake, roasted mushrooms, cipollini onions, and bourbon-bacon compound butter with Cookies & Cream Donuts for dessert
Beverages:
Lamplight Lounge Food & Wine Cocktail: Gin, elderflower liqueur, peach, basil simple syrup, lemon, blue curaçao, and fresh basil
Sonoma Terrace (mobile order available)
Black Forest Ham Grilled Cheese: Sourdough grilled cheese with black forest ham, smoked mozzarella, and red wine-poached pear jam served with sun-dried tomato-cheese sauce (New)
This sandwich was incredible! I dipped it in the cheese sauce and the flavors all worked great together.
Studio Catering Co.
Korean Fried Chicken topped with gochujang sauce, kimchi, coleslaw, and pickled onions served on sweet Hawaiian bread
Watermelon Punch: Korean-style watermelon punch with Sprite and oat milk
Terran Treats
"Like a Lemon-Raspberry Pie" Churro: Raspberry-flavored spiral churro topped with a lemon and marshmallow glaze and pie crust crumbles (New)
Willie's Churros
Pineapple-coconut Churro with pineapple sugar, pineapple topping, coconut cream icing, and toasted coconut
Churro Cart in Hollywood Land
Tiramisu Churro rolled in vanilla-cocoa sugar and drizzled with espresso sauce
Cocina Cucamonga (mobile order available)
Strawberry Horchata: House-made rice and cinnamon beverage with strawberry sauce (Non-alcoholic) (Available with Spiced Rum)
Seasonal Mango Margarita
Pacific Wharf Café (mobile order available)
Grilled Peach Toast with ricotta-mascarpone spread and arugula salad on toasted sourdough bread (New)
Berries and Cream Bread Pudding: Seasonal berry bread pudding with whipped topping, strawberry sauce, and crème anglaise (New)
Pacific Wharf Cappuccino Cart (mobile order available)
Horchata Cold Brew: Creamy blend of cold brew and house-made rice and cinnamon beverage
Outdoor Vending Carts Throughout the Park
Pretzel Bites with beer cheese sauce (New)
Ballast Point Brewing Co. Speedboat Salt & Lime Blonde Ale (New)
Brewery X Orange Electrolyte Hard Seltzer (New)
Magic Key Holders
There aren't too many perks for Magic Key holders this year. Aside from the discount on your Sip and Savor Pass, Magic Key Holders have a private area with standing tables in the shade, but it's small and does fill up quickly. Look for this covered area between the entrances to Avengers Campus and Cars Land.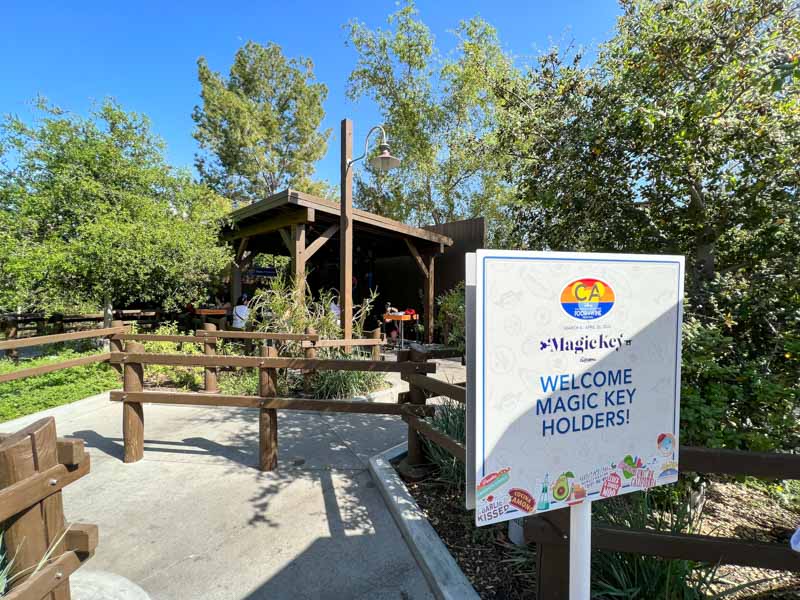 Downtown Disney
Downtown Disney is also getting in on the act this year! A few locations will be offering special food and drink items during the duration of the Festival. (Note – Sip & Savor and mobile ordering do not apply to Downtown Disney locations.)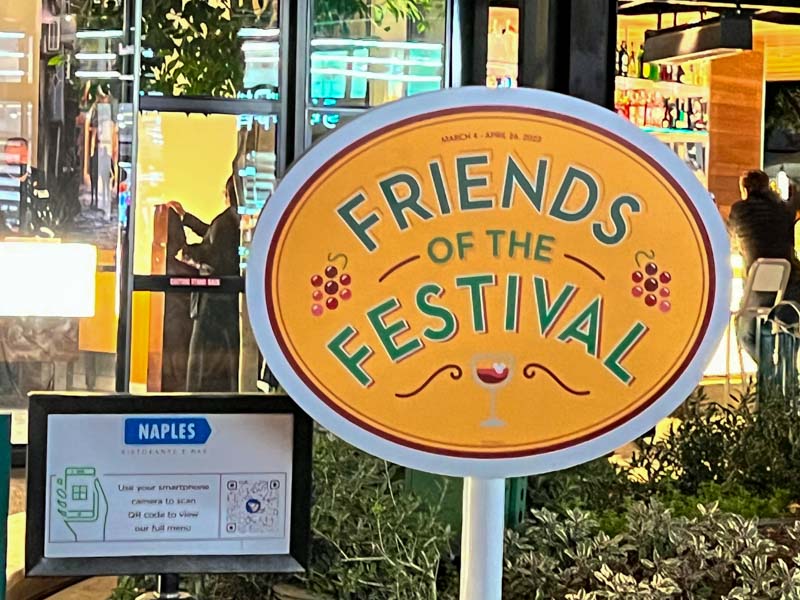 Ballast Point Brewing Co.
Tomato & Burrata: California grown heirloom cherry tomatoes, California burrata, parsley, garlic, shallots red wine vinegar, and olive oil (New) (Available March 3 through 31)
Coconut Curry Shrimp: Marinated shrimp served on white rice with curry broth and nori leaf (New) (Available April 1 through 24)
Splitsville Luxury Lanes
Grilled Ahi & Avocado: Seared buttery ahi tuna tossed in kimchi ponzu and stuffed into a scored and grilled avocado plated with sushi rice and drizzled with additional kimchi ponzu and spicy mayo and garnished with sesame seeds finished with wonton chips
Ralph Brennan's Jazz Kitchen
BBQ Shrimp & Grits: Gulf shrimp simmered in a New Orleans BBQ sauce with roasted garlic, lemon, Worcestershire sauce, and Creole seasonings served over andouille sausage and parmesan grits
Naples Ristorante e Bar
Pizza Caprina: White pizza, fresh mozzarella, and bruschetta tomato mix topped with fresh arugula and goat cheese (New)
***
I'm really excited about this year's festival! I love the new additions and the unique food options. I'm planning to visit a lot and try as much as I can! When you go, don't forget to plan your menu ahead so you can order all at once, bring a hat and sunscreen in case you have to stand in the sun while snacking, and drink plenty of water!