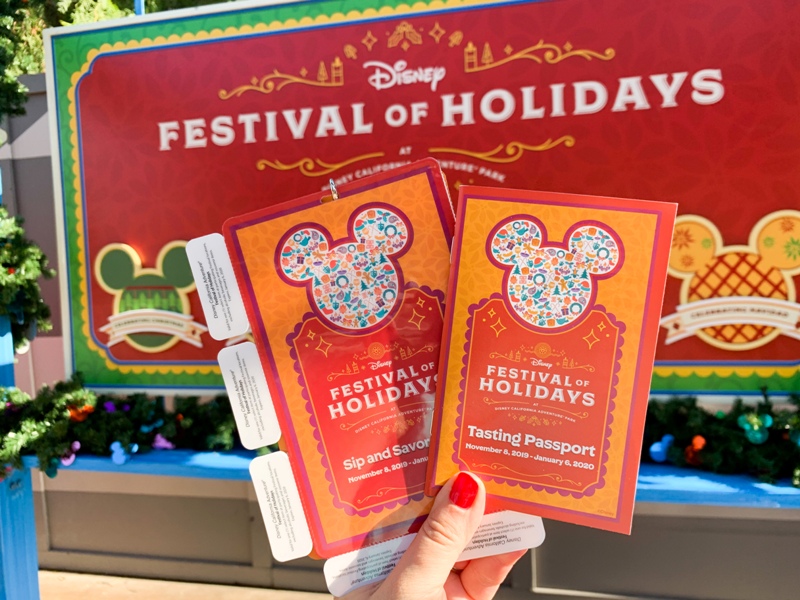 Once again, Festival of Holidays is BACK at Disneyland Resort this year! This is a really fun holiday celebration that takes place inside Disney California Adventure and includes music, dancing, shows, and lots and lots of food & drinks!
For 2022 we are seeing a lot of our favorites returning, plus some exciting new offerings. A lot of the new food offerings seem really great and I can't wait to try them out!
But first, a quick introduction to Festival of Holidays if you're not familiar with it.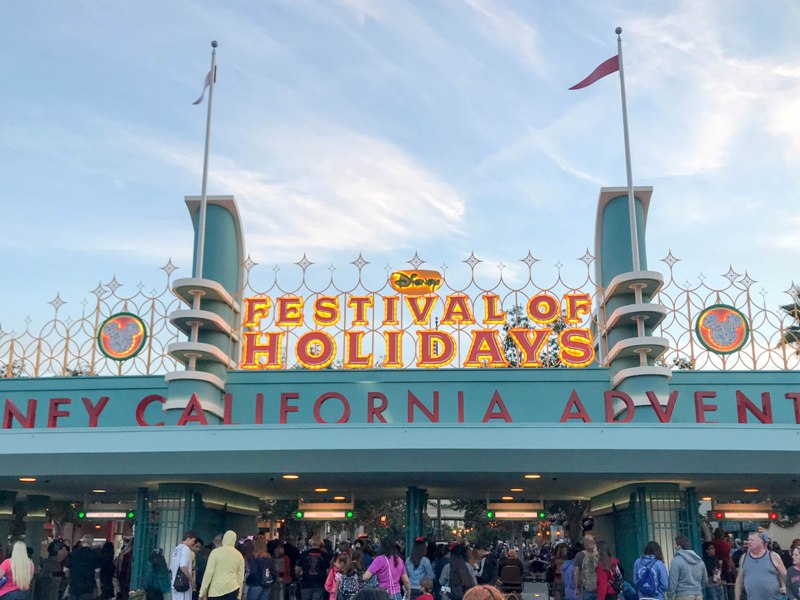 Festival of Holidays 2022 at Disney California Adventure
What and When is it?
Disney Festival of Holidays is a celebration of the cultural diversity of Southern California, and features music and dance performances, crafting for kids and adults, Disney character interactions, and, of course, a visit with Santa!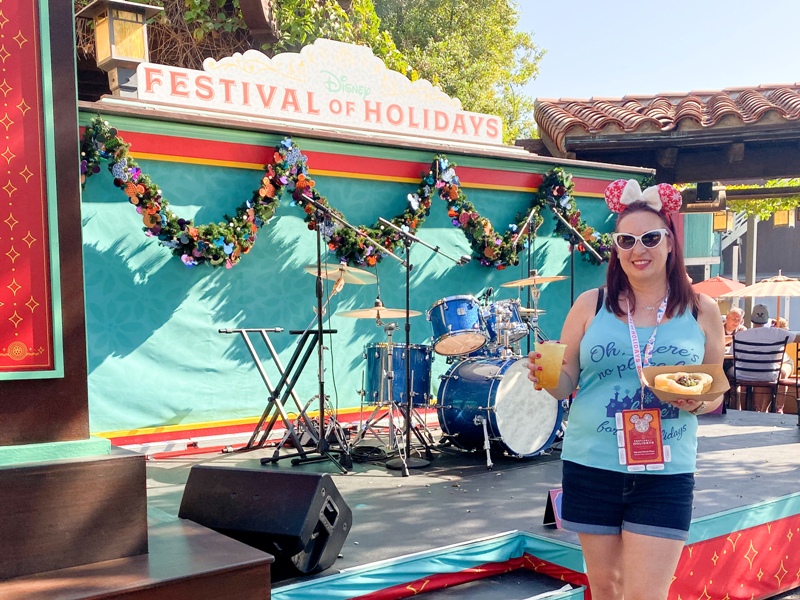 For this guide, I will mostly be focusing on the amazing Festival Foods Marketplaces, which showcases delicious foods and spirits of the holiday season from around the world. Guests can purchase small plates of a variety of delicious foods, wines, beers, and other drinks.
Festival of Holidays is being offered every day between November 11, 2022 and January 9, 2023. Regular Park admission for Disney California Adventure PLUS a theme park reservation is required, and food and drink items are an additional cost. Food Marketplaces open at 11am.
Need Disneyland Tickets?



Get discount Disneyland or Walt Disney World tickets from my recommended travel partner, Undercover Tourist! Click here to check prices for your trip!
Where to Go
Festival of Holidays takes place at Disney California Adventure. Once inside the park, make your way to the Festival Corridor, starting adjacent to Carthay Circle Restaurant and ending at Paradise Gardens.
Note – If you have a park hopper ticket and you're starting your day at Disneyland Park, you can park hop to Disney California Adventure starting at 1pm.
There are 8 Marketplaces along the Festival Corridor, with 3 or 4 food items and 2 or 3 drink options at each. Adjacent to each Marketplace are cocktail tables where you can stand and eat your food.
Utensils and napkins are available from self service dispensers.
There are also several tables with chairs and cocktail tables set up along the corridor. In between Marketplaces you'll also find kiosks selling official event merchandise, as well as some third-party products.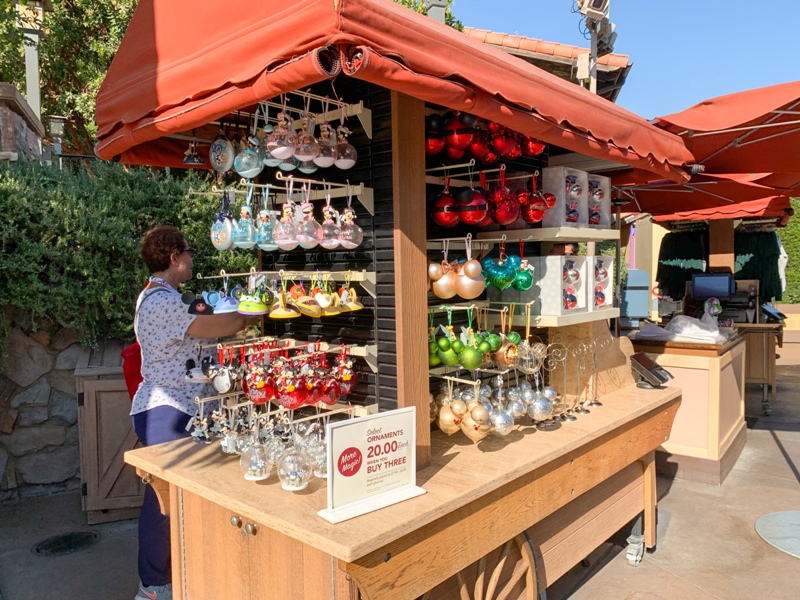 How It Works
Tasting Passport
When you first enter the Festival Corridor, grab a paper map and free "Tasting Passport." These Tasting Passports are also available at every Marketplace in case you miss grabbing one when you first arrive.
The Tasting Passport shows you the location of the marketplaces and the list of foods. When you order from a Marketplace, they can stamp your Passport. When you collect all the stamps, stop by the Holiday Central Pergola located near The Little Mermaid – Ariel's Undersea Adventure) to receive a completion stamp.
Allergy Info
The Passport is also very handy because you can check off items as you go and also make tasting notes in the back of the book. The last page of the book also indicates which items are "kid friendly," vegetarian, and "plant-based."
For more allergy information, ask at a Marketplace register for an allergy guide. You'll find food lists for gluten-friendly, dairy-friendly, and other common food allergens.
How to Order
To order food and drink items, approach the registers next to the Marketplace, pay for your order, then take your receipt to the window of the Marketplace. Your food and drink items will be prepared quickly, and you'll be given a cardboard tray if available. You can take your food to a nearby table. Don't forget to grab napkins and utensils!
**Note: Know what you want ahead of time? You can order all the food items you want from ONE register, and then take the receipt straight to the pick-up window of the corresponding Marketplace. So look for the shortest register line! Based on my observation, it's usually the Grandma's Favorites marketplace.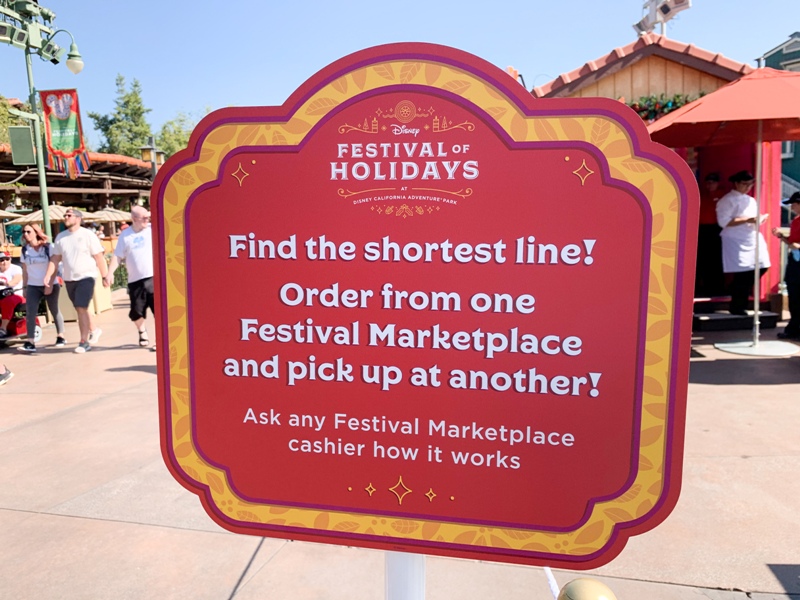 Mobile Order
This year, *select* offerings will be available via mobile order in the Disneyland App. Check the app before ordering because using mobile ordering makes life so much easier!! (Note – You can not use Sip and Savor tabs via mobile ordering. Mobile ordering is not available for any of the festival marketplaces.)
Sip and Savor Pass
Keep an eye out for the "Sip and Savor Pass" lanyards, which can be a great deal if you use them wisely. Each tab (8 of them) on the lanyard can be redeemed for one food item at any of the kiosks (excluding alcohol). The lanyard has eight tabs and costs $54 for Magic Key holders, and $59 regular price. That makes each tab worth $7.38, or $6.75 for Key holders. Food prices range between $6.50 to $9, so if you use the tabs on the right items this can a good deal. (Tip – tabs can be shared among multiple people or multiple visits, BUT you must keep the tabs attached to the lanyard until you pay!)
This pass can be purchased at various locations throughout the park, including Festival Merchandise Carts.
(Tip – do not wait in the long line at the entrance to the festival! Go a little further down to the merchandise kiosk for a much shorter wait.)
What to Eat
Obviously I recommend trying everything! This year there are eight marketplaces along the Festival Corridor, and additional items available in the Paradise Gardens area.
1. Holiday Duets – The only item I tried here so far is the Huckleberry Sake Sangria and it was my favorite drink of the festival! Very refreshing and not overly sweet.
Southern Mac 'n Cheese: Cajun-style mac & cheese with andouille sausage and spiced panko crunch (New)
Pork Belly Adobo: Garlic fried rice with braised pork belly, chicharron pieces, and green onions
Ceylon Splash: Joffrey's Coffee & Tea Co. Ceylon Black Tea, passion fruit juice, coconut syrup, and calamansi purée garnished with an edible purple orchid (New)(Non-alcoholic)
Huckleberry Sake Sangria: Merlot, sake, huckleberry syrup, orange juice, and cinnamon syrup topped with sparkling water and garnished with an orange wheel (New)
2. Brews and Bites – Always a popular spot! Here you can order glasses of beer, or flights, as well as the popular returning favorite Chorizo Fundido with chips.
IMPOSSIBLE Chorizo Queso Fundido topped with chopped cilantro served with house-made tortilla chips
Two Coast Brewing Co. Saint Father Festbier: Authentic Oktoberfest Festbier; a Deep Golden Strong Lager with a robust body, a fine balance of spice, hints of floral notes, and a gentle bitterness (New)
North Coast Brewing Red Seal Ale (Nitro): Full-bodied copper-red pale ale with notes of hops and a spicy finish (New)
Stone Brewing Imperial Stout: Rich stout with notes of chocolate, coffee, black currants, anise, and roasted malts (New)
Golden Road Brewing Christmas Cart Wheat Ale: Wheat ale bursting with bright cherries and spiced cinnamon, nutmeg, clove, and allspice (New)
Brewery X Happy Holihaze Blood Orange Hazy IPA: Hazy IPA with simcoe, citra, and mosaic hops flavors and aromas of blood orange and citrus (New)
Stereo Brewing Love Buzz Coffee Amber Ale: A coffee-forward, light-bodied amber ale with El Salvadorian coffee, whole vanilla beans, and a touch of sweetness with aromas of toffee and hazelnut with a smooth finish (New)
Sierra Nevada Celebration Fresh Hop IPA: Blend of cascade and centennial hops for aromas and flavors of citrus, pine, and floral notes (New)
Alesmith Brewing Nut Brown Ale: Deep brown color with rich, malt-forward flavor with notes of biscuit, mild cocoa, and earthy hops (New)
Ficklewood Ciderworks Bramblebark: A creamy and aromatic cider with blackberries and a touch of vanilla aged in Hungarian and French oak barrel (New)
Juneshine Hard Kombucha Açaí Berry: Brewed with organic açaí and blueberries for a subtle earthiness (New)
Allagash Brewing Curieux Bourbon Barrel-Aged Golden Ale: Notes of vanilla, caramel, oak, and hints of bourbon (New)
Bottle Logic Pumpkin Spice Latte Stout: Fresh pastry stout with pumpkin, lactose, spices, and coffee (New)
Seasonal Special Beer Flight: North Coast Brewing, Red Seal Ale, Stereo Brewing, Love Buzz Coffee Amber Ale, Alesmith Brewing, Nut Brown Ale, Bottle Logic, and Pumpkin Flavored Stout (New)
Festive Favorites Beer Flight: Two Coast Brewing Co., Saint Father Brewery X Blood Orange Dictionary Hazy IPA Allagash Brewing, Curieux Barrel-Aged Golden Ale Stone Brewing, and Imperial Stout (New)
Holiday Hoppiness Beer Flight: Ficklewood Ciderworks, Bramblebark Juneshine Hard Kombucha, Açaí Berry Golden Road Brewing, Christmas Cart Wheat Ale, and Sierra Nevada Celebration Fresh Hop IPA (New)
3. Winter Sliderland – I enjoyed the Holiday Ham Slider but I'm not sure it's worth the $9. These sliders are the most expensive food items at the marketplaces and they aren't even that much food! I also had the Tiramisu Yule Log Cocktail and it was delicious and VERY strong. It has a consistency like a White Russian but with a strong hazelnut flavor. I really enjoyed it.
Holiday Ham Slider with cranberry-bacon jam and Gruyère on a salt and pepper brioche bun (New)
Brisket Slider with smoked onions and horseradish ketchup on a pretzel roll (New)
Cherry-Mango Punch: Cherry syrup, mango, and peach nectars with lemon juice garnished with a frozen peach (New) (Non-alcoholic)
Tiramisu Yule Log Cocktail: Vodka, hazelnut liqueur, oat milk, tiramisu syrup and chocolate bitters, garnished with Valrhona chocolate powder (New)
4. Grandma's Recipes – Surprise hit of the festival for me was the IMPOSSIBLE Meatloaf! I'm a carnivore and don't love IMPOSSIBLE burgers but man, this "meatloaf" was extra yummy. It paired well with the mashed potatoes and gravy. The Pumpkin Layered Cheesecake was also really good, but it's very pumpkin-y (a good thing for me). Also I didn't get the chocolate decoration on top; maybe they ran out of them early on?
Finally from this booth I tried the Hummingbird Cocktail and strongly disliked it. I'm typically not a bourbon drinker but I enjoy tiki drinks so I gave it a try. However, it had an overwhelming coconut flavor, which is weird because coconut is not listed on the list of ingredients. We passed it around the table and unfortunately no one in the group enjoyed it. Bummer because it *sounds* really good.
IMPOSSIBLE Meatloaf with Mashed Potatoes with classic gravy and crispy shallots (New)
Pumpkin Layered Cheesecake: Layers of New York-style cheesecake, pumpkin gooey cake, and graham cracker topped with spiced Chantilly and a chocolate decoration (New)
Hummingbird Cocktail: Bourbon, créme de banana Liqueur, pineapple juice, banana purée, butter pecan syrup, cinnamon sugar, demerara, and vanilla bean garnished with a pineapple wedge (New)
Blood Orange-Pom Limeade: Pomegranate and lime juices with cookie butter and blood orange syrups garnished with a lime wheel (New)
5. A Twist on Tradition – I really loved the Curry Mac n Cheese, but I'm a big fan of the taste of curry. I know some people might be nervous about the cilantro oil but I've heard reports from cilantro haters that it's not an overpowering flavor. Be warned the crispy garbanzos have some heat in them, if you're super sensitive like I am.
Curry Mac 'n Cheese with cilantro oil and crispy garbanzos (New)
Lox & Everything Bagel Nachos: Bagel chips, cream cheese, diced smoked salmon, everything spice, and mixture of onions, tomatoes, and capers
Guava-Melon Lassi: Guava nectar, rock melon syrup, nonfat yogurt, and honey garnished with cinnamon whipped cream and honey-flavored cereal (New)
6. Making Spirits Bright – I tried the White Wine Flight and it was fine! Nothing too special about it. I won't get it again when there are so many other interesting cocktails to try. The Mickey Mouse shaped Gingerbread Cookie was very yummy, but not quite the same taste as the "Gingerbread Man" Mickey cookie they sell at the candy shops & Starbucks.
Mickey Mouse-shaped Gingerbread Cookie
Santa's Milk & Cookies Hot Cocoa: Inspired by the Disney+ series The Santa Clauses, whole milk with flavors of cookies & cream and white chocolate topped with flavored whipped cream (New) (Non-alcoholic)
Maple-Hazelnut Hot Buttered Rum: Rum, maple, hazelnut, demerara, butter, cinnamon, nutmeg, and clove garnished with salted caramel whipped cream, sea salt, and demerara sugar sprinkle
Red Wine Flight: Sebastiani Cabernet Sauvignon, Kunde Merlot, and Alexander Valley Vineyards Syrah (New)
White Wine Flight: Zaca Mesa Viognier, Fess Parker Winery Chardonnay, Dr Loosen, Riesling, and Domaine Ste Michelle Brut Sparkling (New)
7. Favorite Things – I was excited for the Chicken Tikka Masala, one of my favorite meals in general, but this one was way too spicy for me (even though Masala is not usually spicy and there was no indication that this dish was spicy). The Hot Cocoa Macaron is a festival favorite although it looks a little different this year (haven't tasted it yet). And the Churro Toffee Cold Brew Latte was a crowd pleaser last year, and this time they added coffee liquor!
Chicken Tikka Masala with cardamom basmati rice, lemon raita, cilantro, and garlic naan crumble (New)
Mrs. Claus' Hot Cocoa Macaron: Inspired by the Disney+ series "The Santa Clauses," features a red macaron filled with chocolate hot cocoa filling and ganache finished with a chocolate decoration
Churro Toffee Cold Brew Latte Cocktail: Joffrey's Coffee & Tea Co. Mexico Origin Blend Coffee, coffee liqueur, demerara, cinnamon sugar, vanilla bean, and almond milk garnished with churro syrup, whipped cream, and chocolate toffee crumbles (New)
8. Merry Mashups – I haven't tried anything from this marketplace yet but I have my eye on that Turkey Poutine.
Turkey Poutine: Layers of roasted turkey, sweet potato bites, cheese curds, and gravy topped with frosted cranberries (New)
Esquites Carnitas Mac & Cheese: Esquites-inspired mac & cheese with carnitas, salsa macha, spiced puffed rice, freeze-dried corn, and chopped cilantro
Spicy Apple Cider Margarita: Reposado tequila, apple cider, house-made ghost pepper-cinnamon syrup, raspberry syrup, and lime juice garnished with an apple chip (New)
The "Treats for Santa" cart is back this year, but it is not an official marketplace. You can find it at Redwood Creek Challenge Trail, where you can also get a picture with Santa!
Santa's Milk & Cookies Hot Cocoa Inspired by the Disney+ series The Santa Clauses: Whole milk with flavors of cookies & cream and white chocolate topped with flavored whipped cream (New)
Hot Buttered Rum: Rum, maple, hazelnut, Demerara sugar, butter, cinnamon, nutmeg, clove, and salted caramel
Cookie Decorating Kit: Mickey Mouse snowman cookie decorating kit (New)
There are also some seasonal offerings at Paradise Garden Grill, celebrating Viva Navidad! with traditional items such as arepas and Pozole.
IMPOSSIBLE Albondigas Soup: IMPOSSIBLE meatballs in a vegetable soup (New) (Plant-based offering)
Loaded Yucca Fries topped with arbol chile cheese sauce, carne asada, guacamole, sour cream, and pickled red onion (New)
Pozole Dip Torta: Pozole-braised pork torta with hominy spread, cabbage, radish, cilantro, and jalapeño served with a side of pozole consommé
Chicken Tinga Arepa: Handmade arepa topped with refried beans, chicken Tinga, cabbage, avocado, and queso fresco (New)
Chicken Tinga Burrito: Chicken Tinga, rice, and beans in a flour tortilla served with corn tortilla chips (New)
Mango Tres Leches: Tres leches parfait with white cake and mango purée topped with caramel Chantilly, green whipped topping, and sprinkles (New)
Watermelon Candy Cocktail: Tequila, watermelon schnapps, and pineapple juice with a Chamoy and chile-lime seasoned rim
Paradise Gardens Seasonal Cart
Gingerbread Cake topped with a molasses glaze, a gingerbread man, and sprinkles (New)
Bean & Cheese Pupusa with a side of curtido and tomato sauce (New)
Calidad Spiked Sparkling Agua Fresca: Sweet prickly pear and tangy pomegranate flavors (New)
You can also visit these additional locations for special Festival of Holidays treats!
Cocina Cucamonga (Mobile order available)
Capirotada: Mexican bread pudding with raisins, peanuts, walnuts, and green apples topped with fresh bananas, sweetened condensed milk, and toasted coconut (New)
Holiday Ponche: Holiday-spiced guava drink served with fresh fruit and sugar cane (New) (Non-alcoholic)
Holiday Ponche Cocktail: Holiday-spiced guava drink served with fresh fruit, sugar cane, and a shot of tequila
Willie's Churro Cart
Grizzly Peak Churro Cart
Pacific Wharf Café (mobile order available)
Holiday Sandwich: Black Forest ham, whole-grain mustard spread, cranberry mayo, and arugula on a stuffing roll served with chips (New)
Chicken Tortilla Soup with grilled corn, fresh onion, and cilantro topped with crispy tortilla strips and served in a bread bowl (New)
Peppermint Bark Bread Pudding: White chocolate, chocolate chips and peppermint with whipped topping and crème anglaise (New)
Pacific Wharf Cappuccino Cart (Mobile order available)
Caramel Toffee Horchata Cold Brew: House-made rice and cinnamon beverage flavored with toffee and finished with whipped topping, caramel drizzle, and toffee (New)
Smokejumpers Grill (mobile order available)
Loaded Latkes: Traditional latkes loaded with smoked brisket and topped with dairy-free horseradish cream and scallions
Sonoma Terrace (mobile order available)
Colombian Empanadas: Colombian-style beef empanadas, served with aji verde and cabbage salad tossed with cilantro dressing and escabeche (New)
Mistletoe Mule: A twist on a classic mule with cranberry juice and agave garnished with a sprig of rosemary and a cape cranberry
Pym Tasting Lab (mobile order available)
Snack Molecules: Mini pretzels, honey-roasted peanuts, and popped sorghum with winter flavors (New)
Terran Treats
Hot Chocolate Churro: Hazelnut chocolate, spicy chocolate streusel, and mini marshmallows (New)
My Favorites This Year (2022)
These are my recommendations!
IMPOSSIBLE Meatloaf
Curry Mac n' Cheese
Huckleberry Sake Sangria
Pumpkin Layered Cheesecake
"Hot Cocoa" Marshmallow Macaron
Also be sure to visit with Mickey and friends in their festive Viva Navidad outfits and see the little parade they do! It's really cute.
The Festival of Holidays is a fun addition to Holidaytime at Disneyland Resort. If you're a foodie like me, you won't want to miss it!
PS – If you love food festivals you will also want to check out Lunar New Year Festival at Disneyland, and Disneyland Food and Wine Festival!