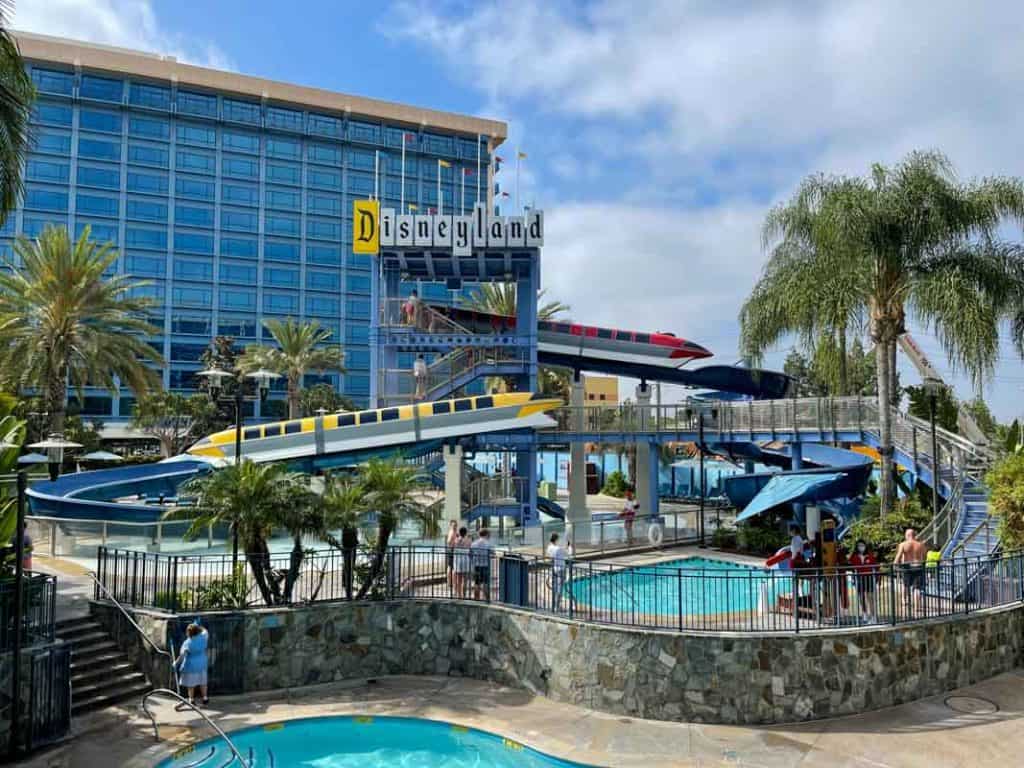 The Disneyland Hotel has a long, rich history, dating back to 1955 – the same year Disneyland Park opened.
When the Disneyland Hotel first opened, it wasn't even owned by Walt Disney! Disney contracted with a film producer and hotel operator named Jack Wrather. Wrather and his business partner, Maria Helen Alvarez, agreed to own and operate the hotel, as Walt had all of his finances tied up in the creation of Disneyland Park.
The first version of the Disneyland Hotel opened in October 1955 had just over 100 rooms in 5 two-story buildings. These buildings actually remained until the massive remodel and expansion of The Disneyland Resort in 1999, when they were demolished to make room for Downtown Disney.
The hotel grounds were expanded and upgraded over time, eventually resulting in the 3 thirteen-story towers that stand today. Currently the hotel has 990 rooms and suites, including 5 signature suites with themes such as Fairy Tale, Adventureland, Big Thunder Mountain, and Mickey Mouse.
In 1988, The Walt Disney Corporation purchased the entire Wrather company which included the Disneyland Hotel. The hotel is now fully owned and operated by Disney.
The hotel was remodeled during 2010-2012 and features a fun mid-century modern theme that throws back to the opening era of 1955.
Disneyland Hotel at Disneyland Resort – Review
Hotel Benefits
There are lots of benefits to staying at a Disneyland Resort hotel verses staying off-property. The best benefit is property the Extra Magic Hour for Disneyland Resort hotel guests. Guests can enter either Disneyland or Disney California Adventure, depending on the day, an hour early and can experience select attractions and restaurants. Valid theme park admission and proof of hotel stay (your key) is required. (Note – Extra Magic Hour was suspended in 2020 and may return at a later date.)
Another benefit of staying at a Disneyland Resort hotel is easy access to Disney California Adventure through the Disney's Grand Californian Hotel entrance.
Other perks include: wake-up calls from characters, charging purchases to the room via your key card, have purchased merchandise sent to your hotel front desk instead of carrying it around, preferred access reservations, and of course, that full immersive Disney magic!


Disneyland Hotel Room Tour Video
Lobby and Parking
Disneyland Hotel has its own self parking lot adjacent to the Fantasy Tower, or valet is available. If you have a lot of luggage you can pull around to the front, check the luggage with bell services, then go to self-park.
When entering the Disneyland Hotel, the check-in area is to your left. There is a small lobby with fun chairs. Take a note of what attraction they resemble!
The hotel has a mid century modern vibe, very much inspired by the art of Mary Blair.
Aside from the lobby, the Fantasy Tower also houses two gift shops, a coffee shop, Goofy's Kitchen restaurant, and the convention center.
To walk to Downtown Disney and the parks, head east towards the big blue Sorcerer Mickey hat. Downtown Disney's security checkpoint will be right in front of you.
Hotel Rooms
All rooms at the Disneyland Hotel were fully remodeled between 2010-2012, and carpet was refreshed in 2021. Standard rooms are spacious enough for a family of 4 without feeling too cramped.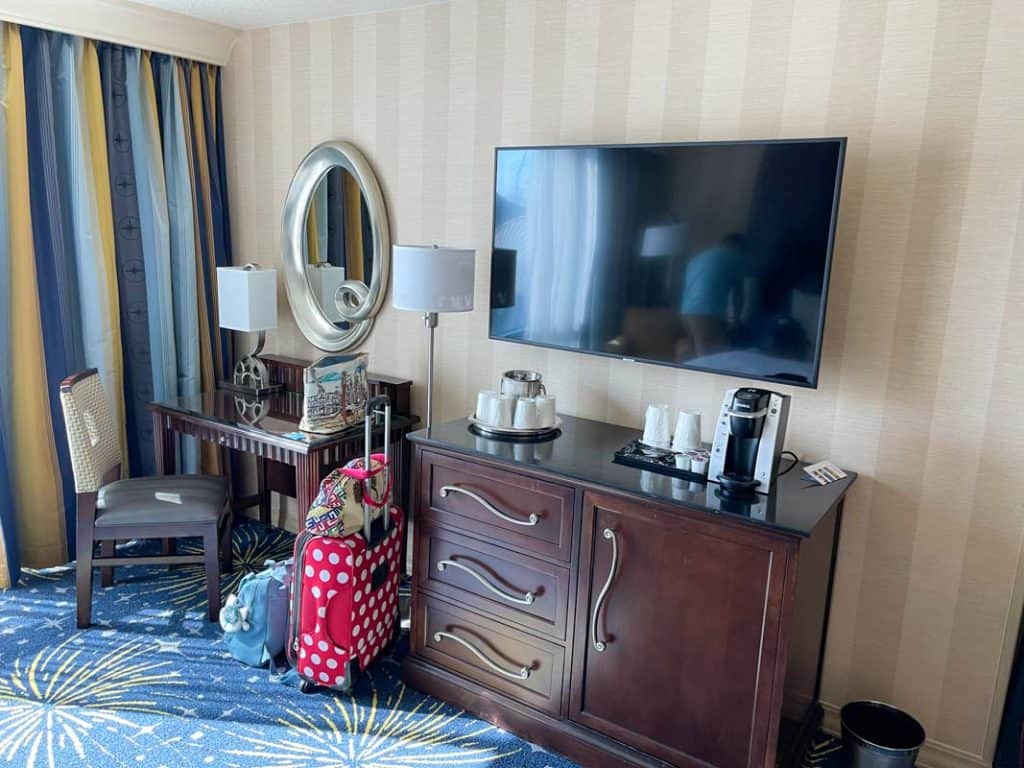 Views from the rooms include parking lot, city views, pool, or theme park. Obviously rooms with theme park views have a higher price tag.
Even though the three towers have distinct themes – Fantasy, Adventure, and Frontier – with corresponding theming on the first level, the hotel rooms are all the same.
Decor features subtle references to Mickey Mouse and the Disneyland parks. Each standard room also features a magical headboard with fiber optic lights. Flip a switch on the bedside lamp to activate the "fireworks" and a charming lullaby.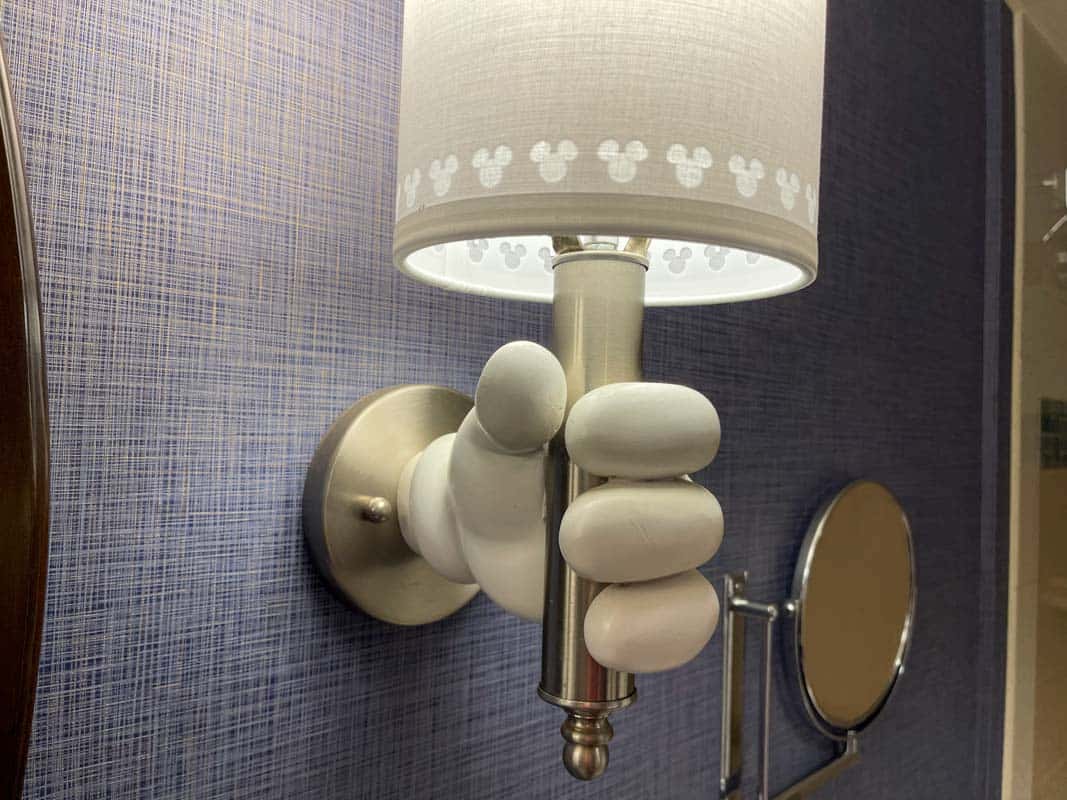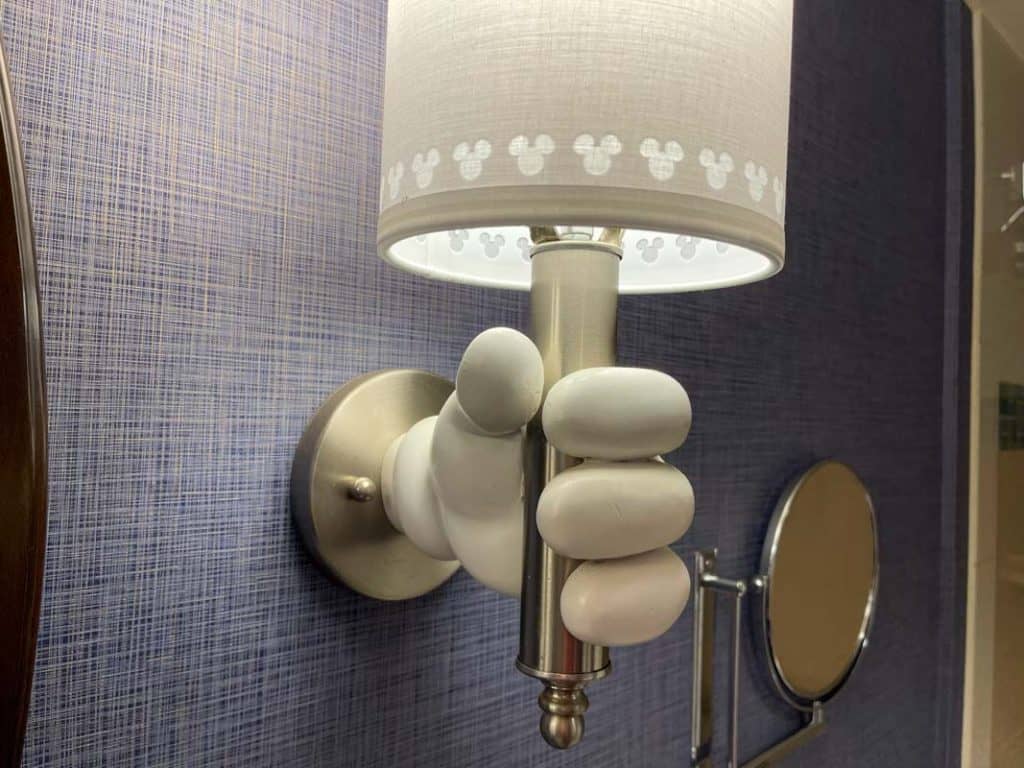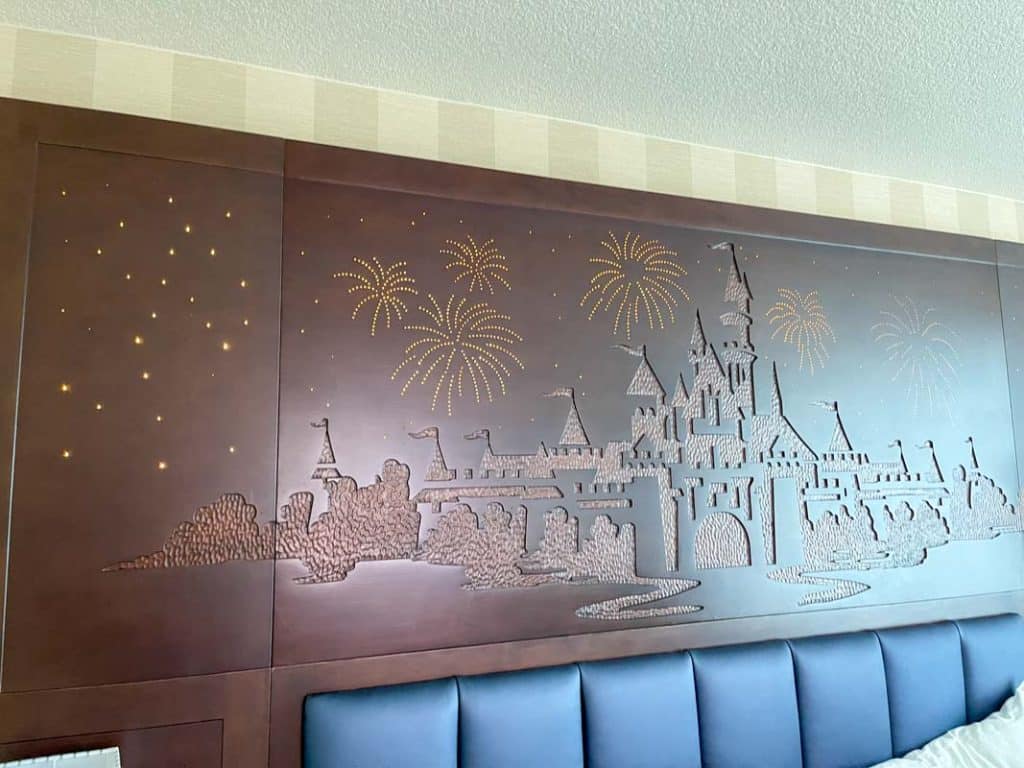 The rooms have all the amenities you would expect from a modern hotel – wall mounted TV, mini fridge, toiletries, coffee maker, and plenty of storage. Select standard rooms in the Frontier Tower have balconies.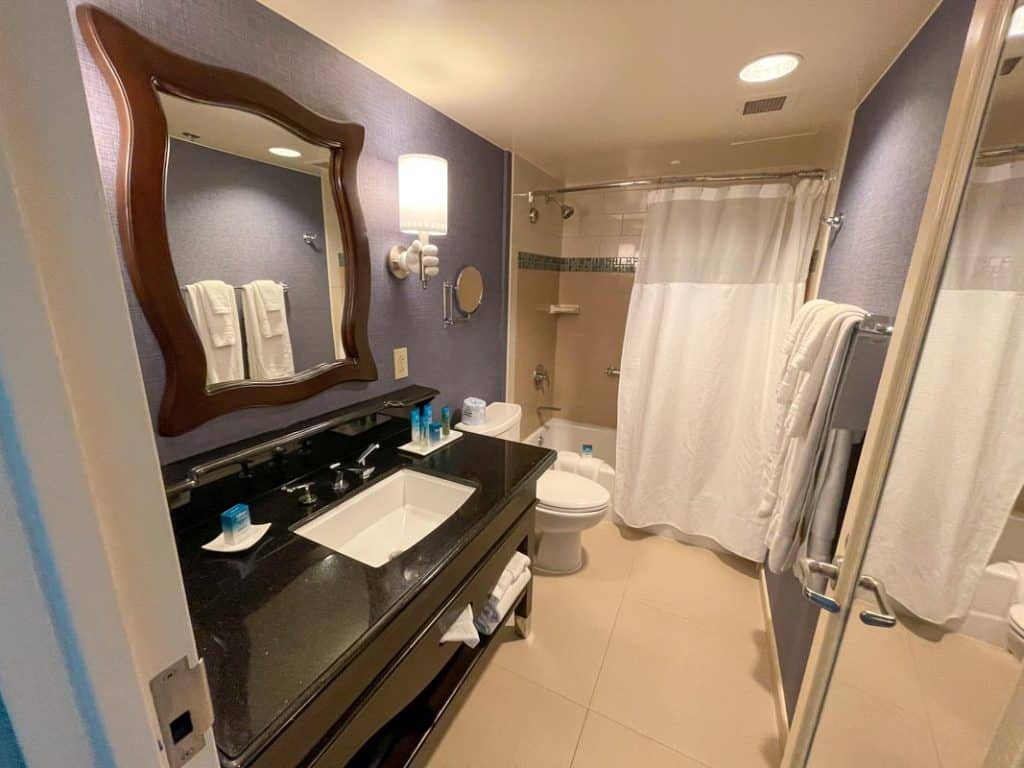 Bathrooms are spacious with a standard sink area, shower/tub combo, and toilet.
Pool
Disneyland Hotel has one pool area with three separate pools. The E-Ticket Pool is the main attraction with lots of lounge chairs and tables for families to relax. It is located near the entrance to Fantasy Tower. Walk around to the Frontier Tower side and you'll find the Monorail Pool, a splash pad with two water slides. The slides are pretty mild and great for both kids and adults.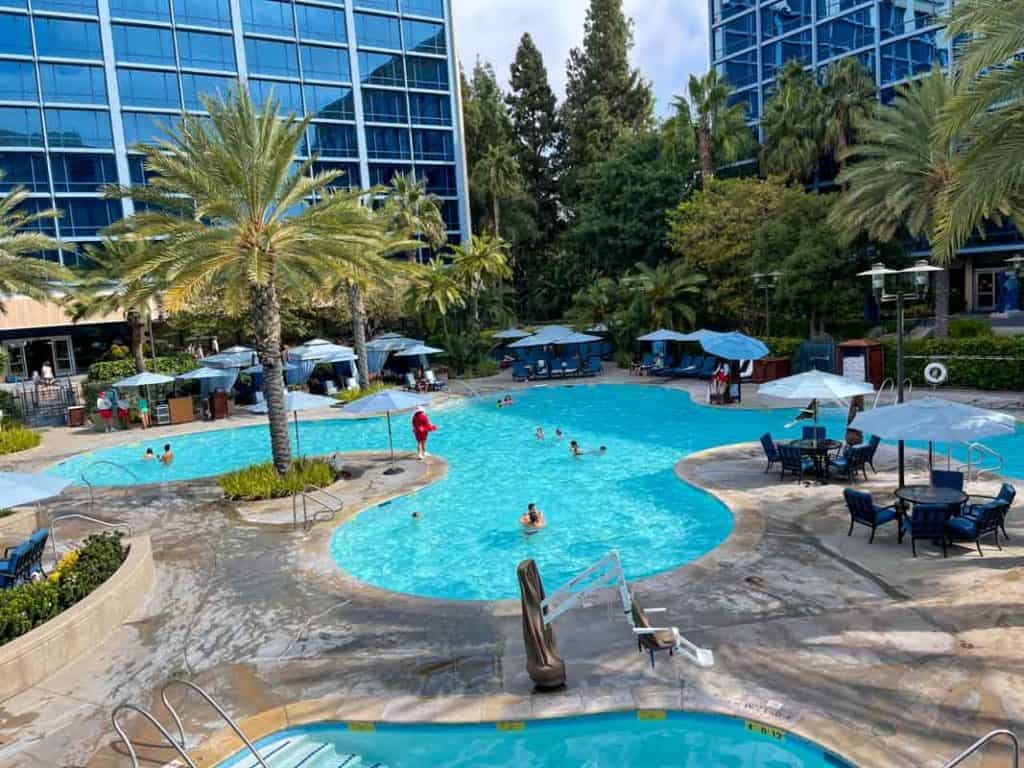 Between the two is the D-Ticket Pool, which is a little smaller than the main pool and tends to be quieter.
Aside from the pools and the slides, there are two whirlpool spas and private cabanas available to rent.
During select hours, food and beverage service from Trader Sam's and Tangaroa Terrace is available.
Restaurants and Bars
Goofy's Kitchen
This fun spot offers character dining, which makes it a family favorite! Goofy's Kitchen is open for breakfast and dinner (and brunch on the weekends) and features a hearty buffet. Don't miss Goofy's favorite – peanut butter and jelly pizza! Actually tastes much better than it sounds.
Trader Sam's Enchanted Tiki Bar
Alooooooohaaaa! Trader Sam's is a small tiki bar themed to the Jungle Cruise attraction, featuring fun drinks and a party atmosphere. Can't get a seat inside? The outside patio serves the same food and drinks, you'll just miss out on some of the "show" inside.
Make your reservations early or join the walk up list. You'll have a better chance of getting a seat inside if you visit during the afternoon on a weekday.
Tangaroa Terrace
Located next to Trader Sam's across from the pool area is quick service restaurant Tangaroa Terrace. This location is open for breakfast, lunch, and dinner, and features casual polynesian fare. They also have some quick serve items (sandwiches, salads, bottled drinks).
There is also a walk up counter where guests can order drinks (including the same cocktails served at Trader Sam's) or Dole Whips … yep, the same kind they serve inside Disneyland!
Tangaroa Terrace offers mobile ordering, which is really helpful at busier meal times. Grab your food to go and enjoy it back in your hotel room or at one of the many lounge areas offered around the hotel grounds.
Coffee House
If you need a coffee fix in the morning, head to the Coffee House located near Goofy's Kitchen in the Fantasy Tower. They sell coffee and quick serve items such as muffins and bottles of juice or soda.
Ballrooms and Meeting Rooms
Disneyland Hotel has a dedicated convention center with numerous meeting rooms, ballrooms, and event spaces. They host hundreds of conferences, trade shows, weddings and events every year!
For Disneyland Hotel weddings, there is a beautiful outdoor space called Rose Court Garden, which features a private gazebo and dozens of rose bushes. And check out the romantic Sleeping Beauty Pavilion ballroom for the reception.
For large events, the Grand Ballroom is the star, with a full stage, twinkling fiber optic backdrop, and sunken dance floor. The space can accommodate up to 1000 guests.
Summary
Truth is, the Disneyland Hotel is the original and remains my favorite of the three Disneyland Resort hotels. Staying here just feels very magical and relaxing. I'll never pass up an opportunity to grab a meal here or lounge by the pool!
Other hotel reviews:
Disney's Grand Californian Hotel and Spa
Disney's Paradise Pier Hotel
Anaheim Hotel
Westin Hotel in Anaheim
Grand Legacy at the Park
Anaheim Majestic Garden Hotel