If you are searching for a luxury hotel experience that's also walking distance to Disneyland, I have great news for you – the Westin Anaheim is now open!
The Westin, located on Katella Avenue on the site of the former Anabella Hotel, is a AAA Four-Diamond hotel that sits just south of the Disneyland Resort and directly next to the Anaheim Convention Center.
I visited this hotel shortly after its grand opening in June 2021, and I was so impressed! Read on for my full review.
Westin Anaheim Hotel Review
Overview
If you have never experienced a Westin, you are in for a real treat. Westin is my favorite hotel chain for many reasons, including their Heavenly® Beds and soothing decor. I have rarely had a bad experience at a Westin. Their service and experience is always top notch.
While you can certainly pay less for one of the smaller hotels on Harbor Blvd, I believe the Westin is worth every penny for their amenities.
Quick Info
Address: 1030 West Katella Avenue, Anaheim, California 92802 USA
Telephone: 657-279-9786
Opened: June 2021
Rooms: 618
Floors: 8
Restaurants/bars: 7
24-hour room service
Pool and fitness center
Check-in: 3:00 PM
Check-out: 11:00 AM
Parking: $35/day for guests; $45 for valet
Pet-friendly
Smoke-free hotel
Pros and Cons
Pros:
Comfortable, clean rooms
Friendly staff
Great bar/lounge with plenty of seating areas
Many dining options available
Mobile room key for Bonvoy members
Hi-tech room features
Short walk to Disneyland Resort hotels and Downtown Disney District
Cons:
On the pricey side compared to other convention center hotels
Very small pool area
Mobile room key does not work on outdoor keypad
Long walk to Disneyland's Harbor entrance
Hotel Grounds and Amenities
Westin Anaheim covers eight acres of land near the southeast corner of Katella Avenue and Disneyland Drive. The hotel has 618 guest rooms, including 121 suites. The hotel also offers a fitness center, pool, meeting and event space, and seven restaurants and bars.
The hotel is located adjacent to the Anaheim Convention Center, and just south of the Disneyland Resort. Also nearby: Angel Stadium, the Honda Center, and the Anaheim ARTIC Metrolink station. John Wayne Airport is less than 20 minutes away.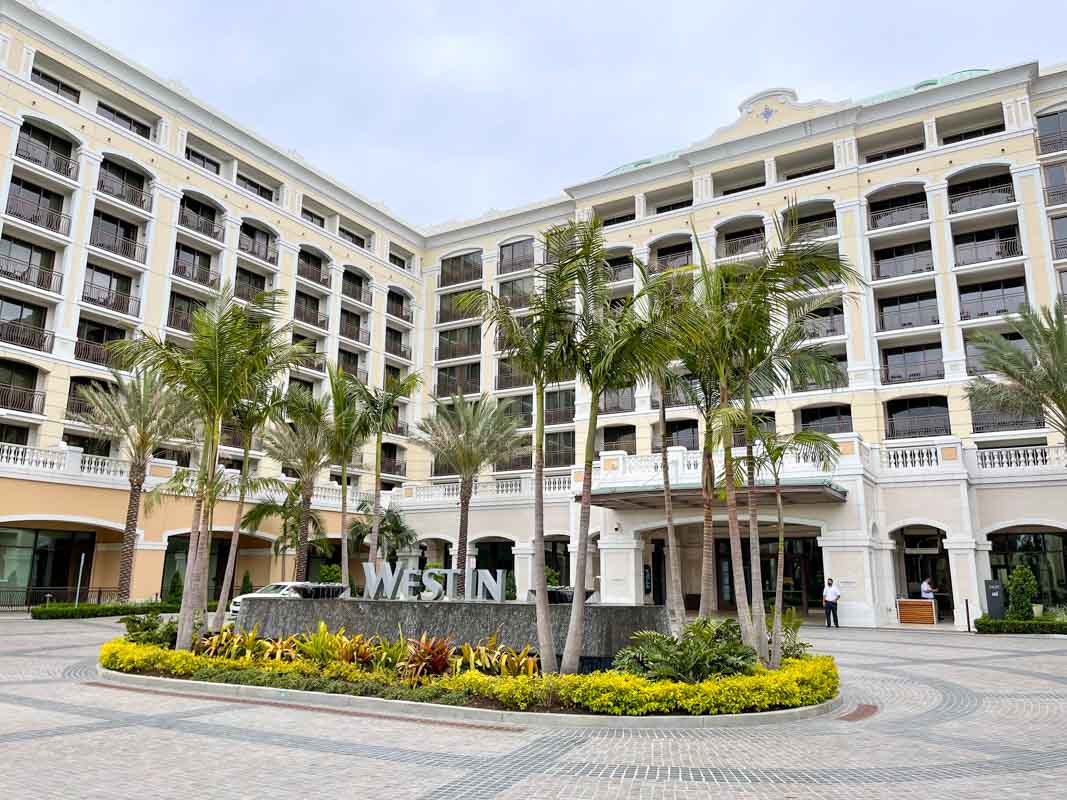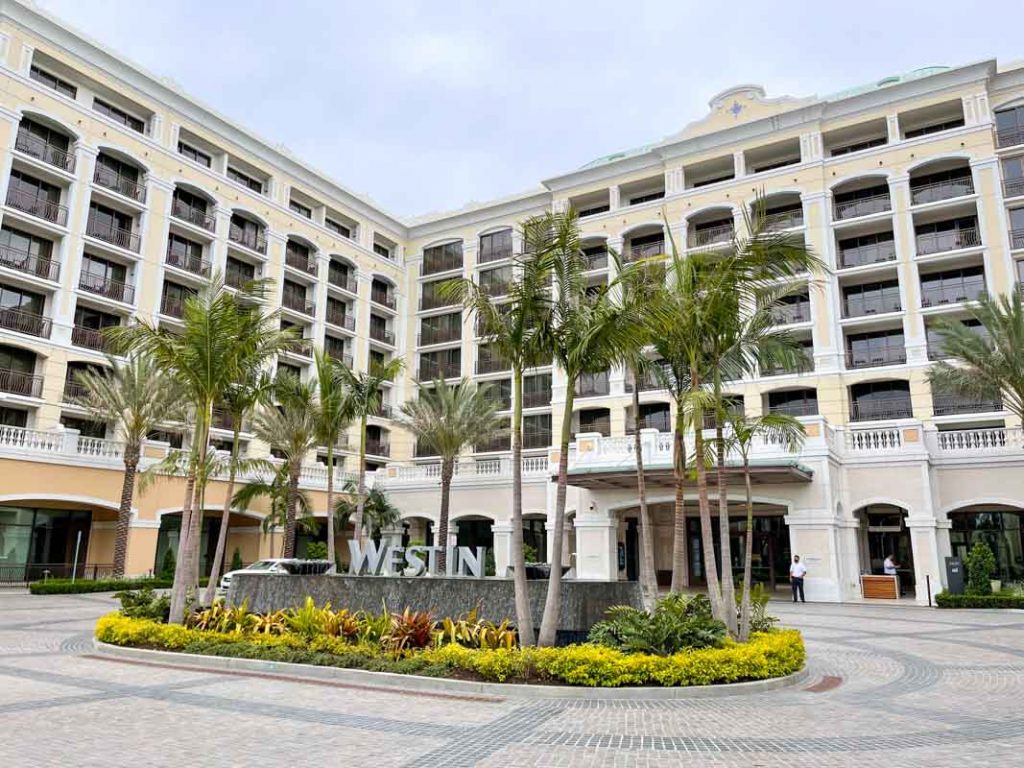 Rooms
There are several different types of rooms to choose from! Traditional rooms are offered with 1 King bed or 2 Queen beds, with or without a stand balcony. These will typically have a city view or parking structure view. (Note – On the Westin website, the room type says "stand balcony." Be advised this means Juliet balcony. There are sliding doors with an iron railing, but no actual balcony to walk out onto.)
Pool view or park view rooms have either a stand balcony or a full balcony.
"Studio" rooms include club lounge access.
One bedroom and two bedroom suites are also available.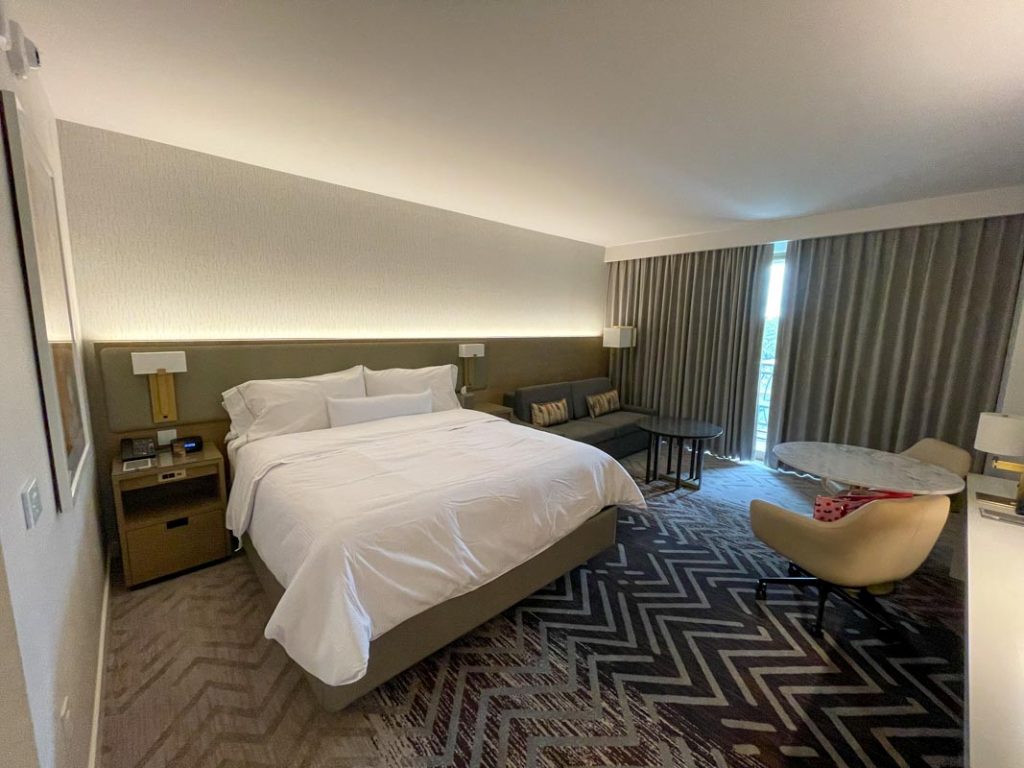 For my stay, I was in a Park View King Guest Room with full Balcony. The room faced north, towards Disney California Adventure. I could see the Incredicoaster and Pixar Pal Around from my room (and could even hear the theme park sounds when out on my balcony).
The room was spacious and modern, and very clean, which I suppose is to be expected when you stay at a hotel that just opened to the public four days prior. It's possible I was the very first guest in that room!
The King bed room also had a sofa bed, alongside a good size table and chairs.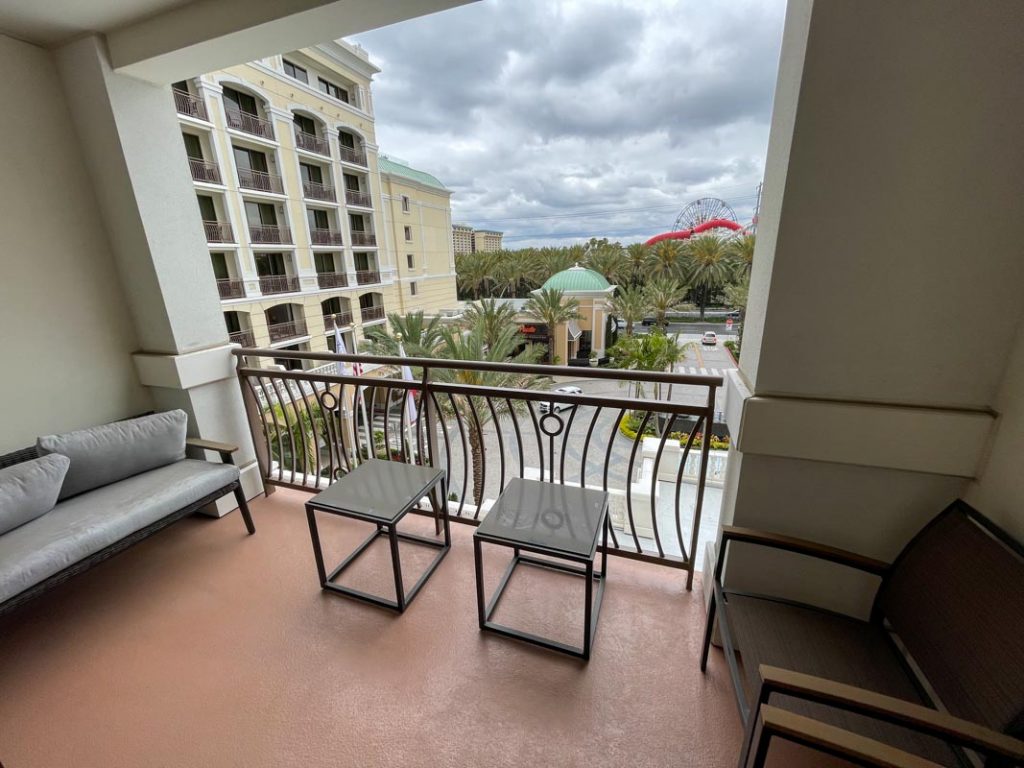 It turns out, with a Park View Full Balcony room, you have a chance of getting three different types of balconies.
The balcony for my room was HUGE, with a loveseat sofa, two chairs, and two small tables. A family of four could chill out on the balcony with plenty of space.
Other rooms have a smaller balcony (about half the size of the one pictured above), but are closer to Katella Avenue. And there's yet another balcony option that is more like a huge patio.
If having a specific type of balcony with your park view room is important to you, I suggest you call to book your room instead of booking via the website or app.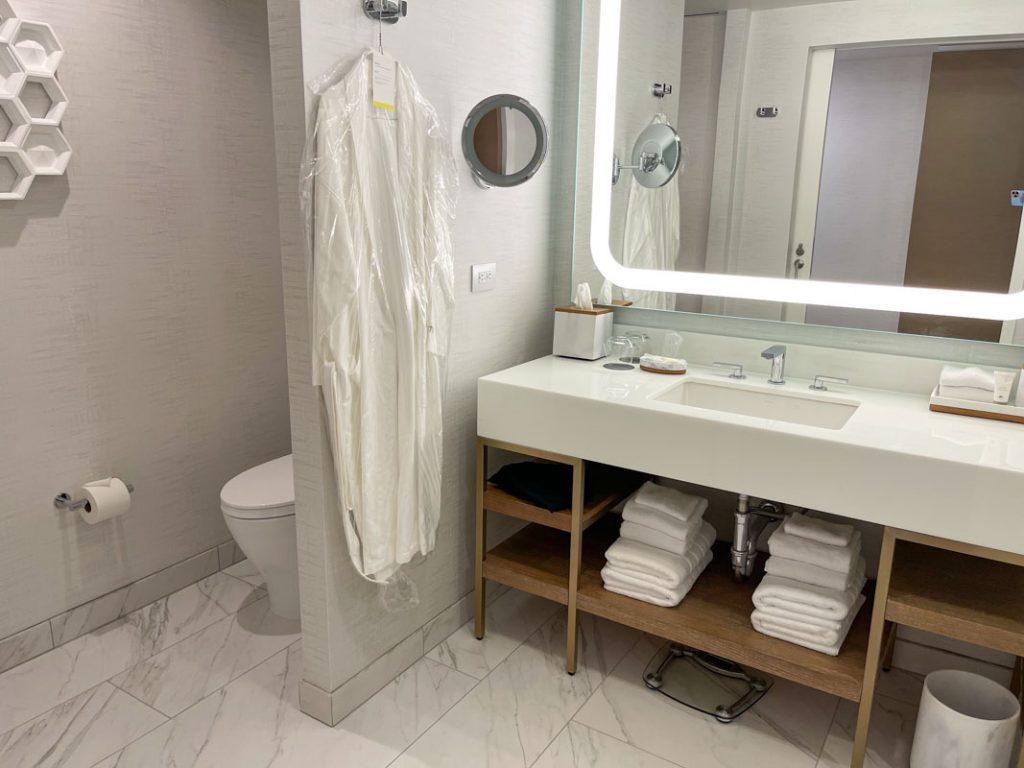 The bathroom area is right off the entrance. I have two small complaints about the bathroom. One, I wish there was a bathtub (I read a small handful of standard rooms DO have bathtubs, so if this is important to you be sure to call and ask about it). Two, I always prefer when the bathroom is split so guests can get business done while others can use the sink. Whenever I see bathrooms like this I assume they weren't designed by someone who needs 30 minutes to do their hair and makeup.
Otherwise the bathroom was spacious and comfortable. Look for the Heavenly® bath towels which are far, far superior to the regular bath towels.
Expected amenities such as a coffee maker, glassware, safe, and mini fridge are all included. There were also robes and slippers for guests to use during their stay.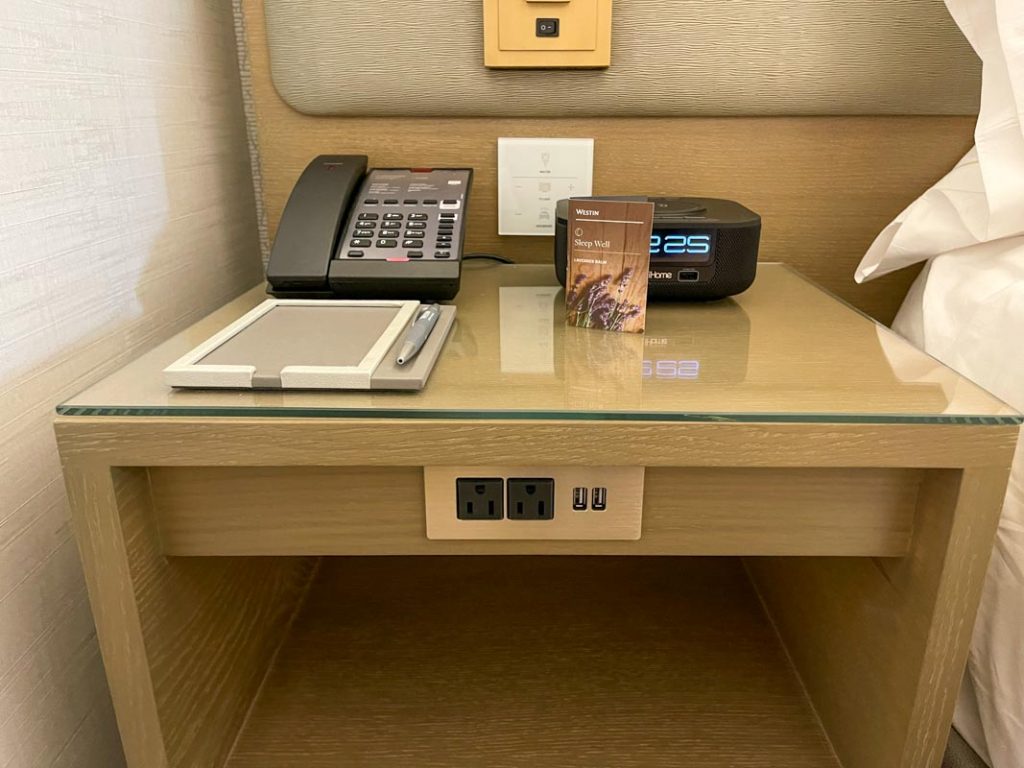 Let's talk modern technology. If you've been following me for a while you know my obsession with electrical outlets near the bed. I've found that MOST modern hotels have caught on to this necessity and Westin Anaheim is no exception. Each nightstand included two regular outlets as well as two USB outlets. PLUS there is one wireless charging pad, which is the first time I've seen one in a hotel room!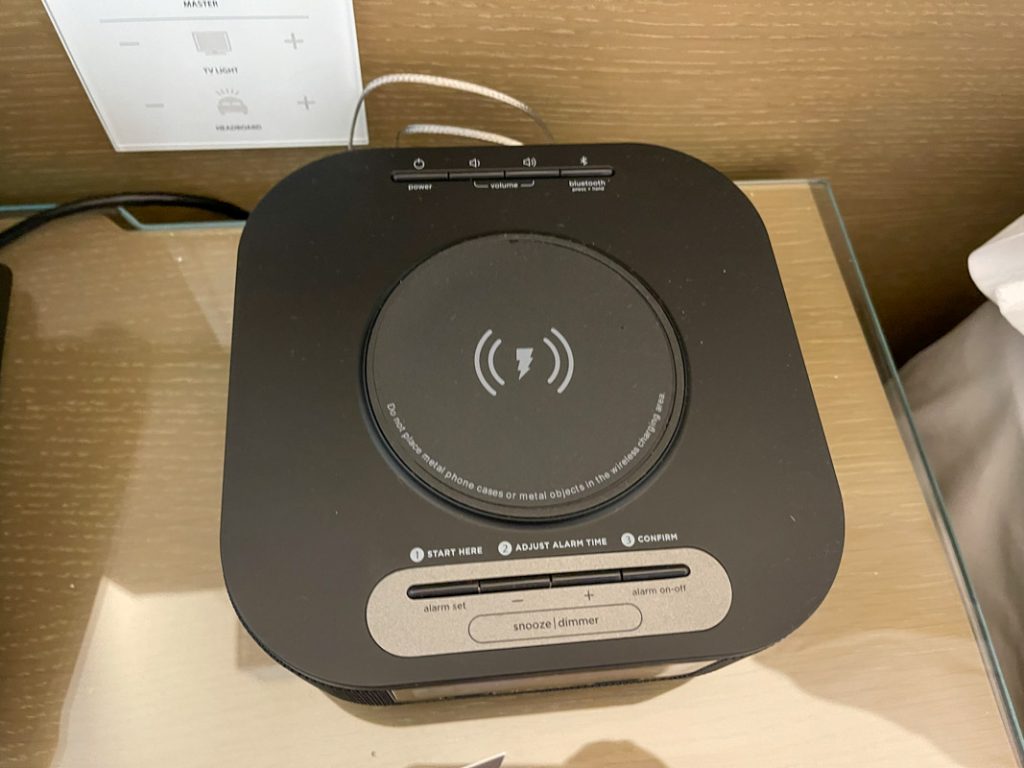 The temperature control is all touchscreen and easy to use. One neat feature is the system will pause when the balcony door is open, which saves energy.
By the front door is a touch panel control pad which controls the lighting in the room, as well as gives the option for "do not disturb" or maid service, eliminating the need for door hangers.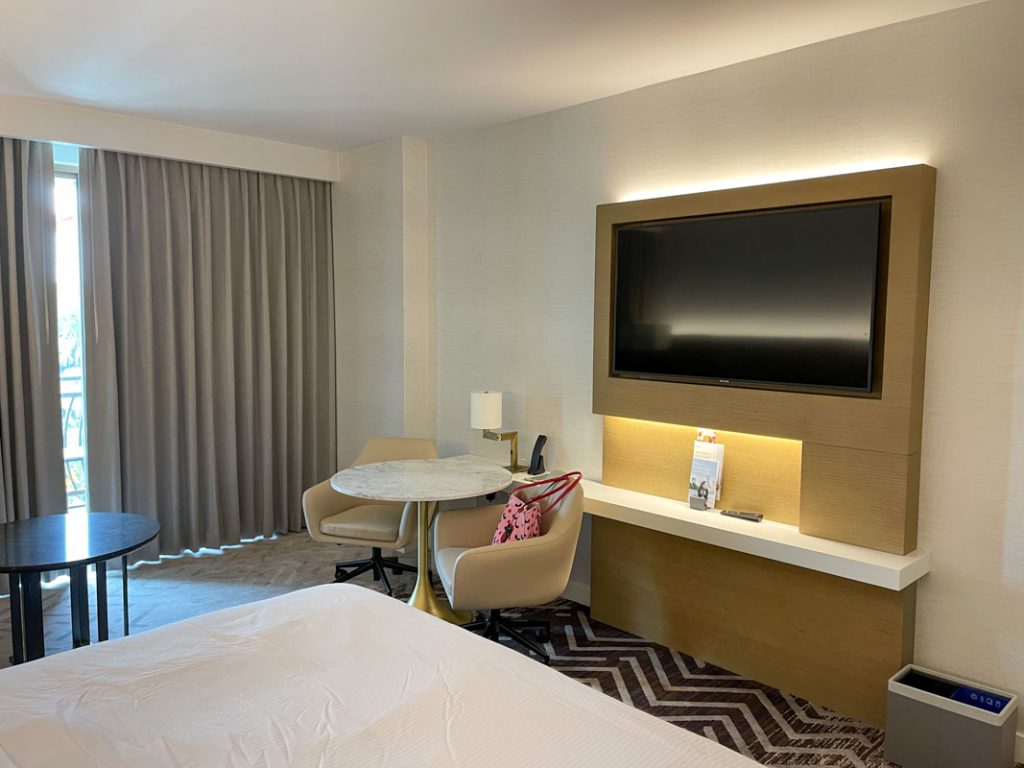 Aside from being quite large, the television also has the option of logging into your own Netflix and other subscription services. You can also get hotel information on your phone.
Finally, a couple nice perks for Marriott Bonvoy members (which is free). Members get free WiFi (otherwise $14.95 per day), mobile key access (the app will also state your room number), and mobile check-in and check-out. Skip the lines in the lobby!
Pool Area and Activities
The Westin Anaheim pool area is perhaps the one amenity that really falls short of expectations. Perhaps I am unfairly comparing it to the pool of its predecessor, the Anabella Hotel, which had a secluded, tropical, large pool area. But, even compared to the pools of neighboring convention center hotels like the Hilton and Marriott, the Westin pool is just plain disappointing. I can imagine on a very warm, full hotel capacity summer day, the pool grounds will be uncomfortably packed.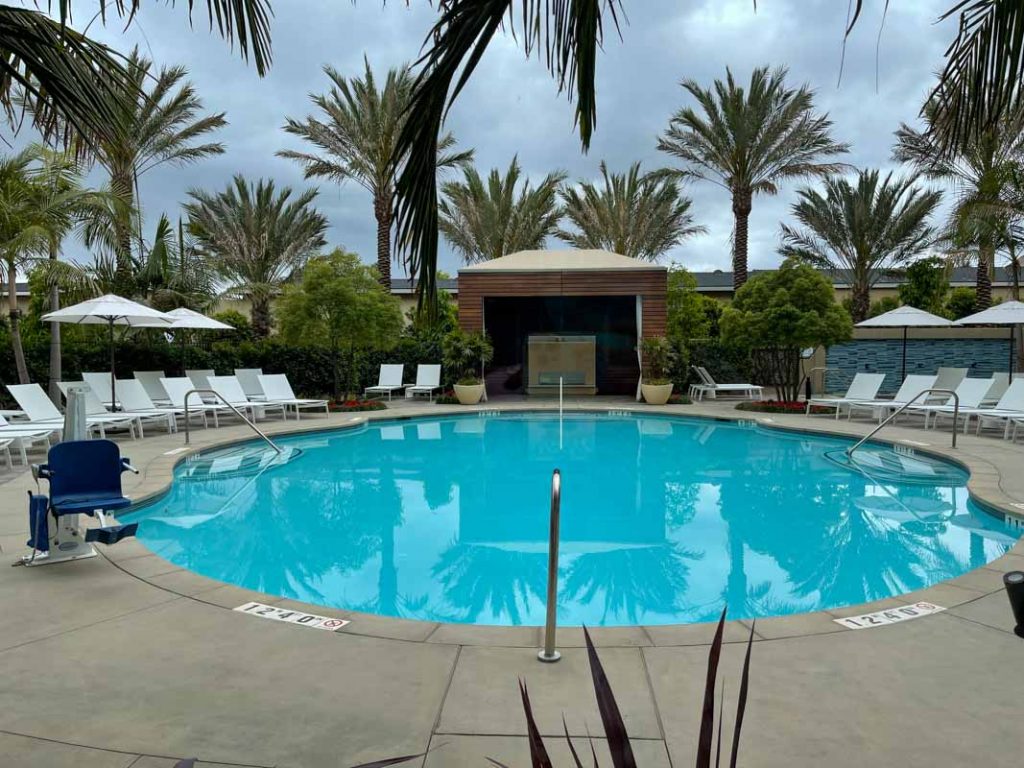 One upside to the pool area is a bar/restaurant named Bella's Splash Pool Bar (one of a few cute Westin nods to the hotel it replaced) which will serves breakfast, dinner, and craft cocktails. My only complaint about this area is there is absolutely ZERO shade on hot, sunny days. Westin, if you're reading, please get some patio umbrellas out here!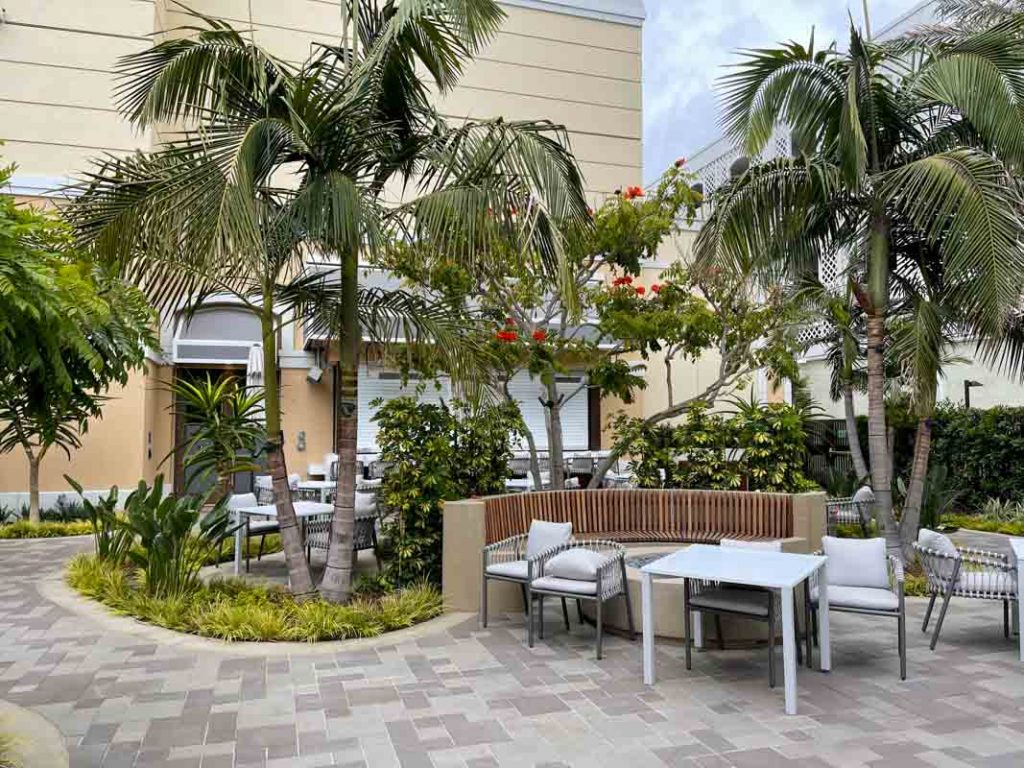 Restaurants and Food Options
Tangerine Room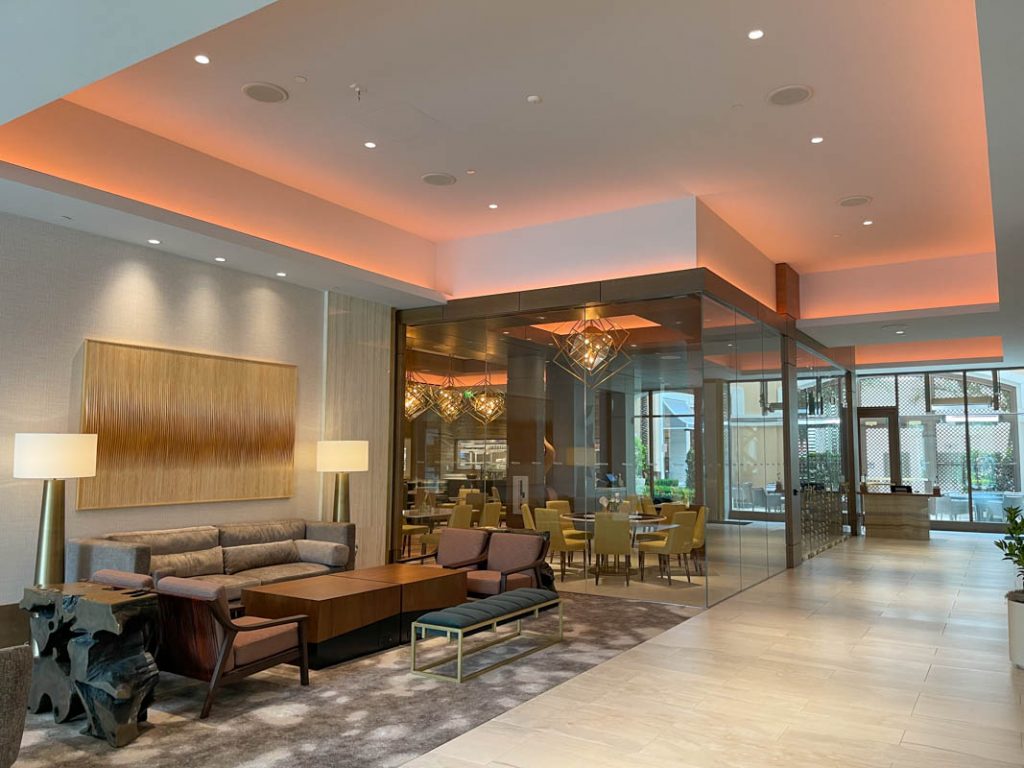 This is the main restaurant for Westin Anaheim. Located on the main floor near the lobby, the Tangerine Room offers "modern Californian dishes celebrating local, seasonal ingredients from Anaheim-area providers." It is open for breakfast, lunch, and dinner and offers indoor and outdoor dining.
Bar 1030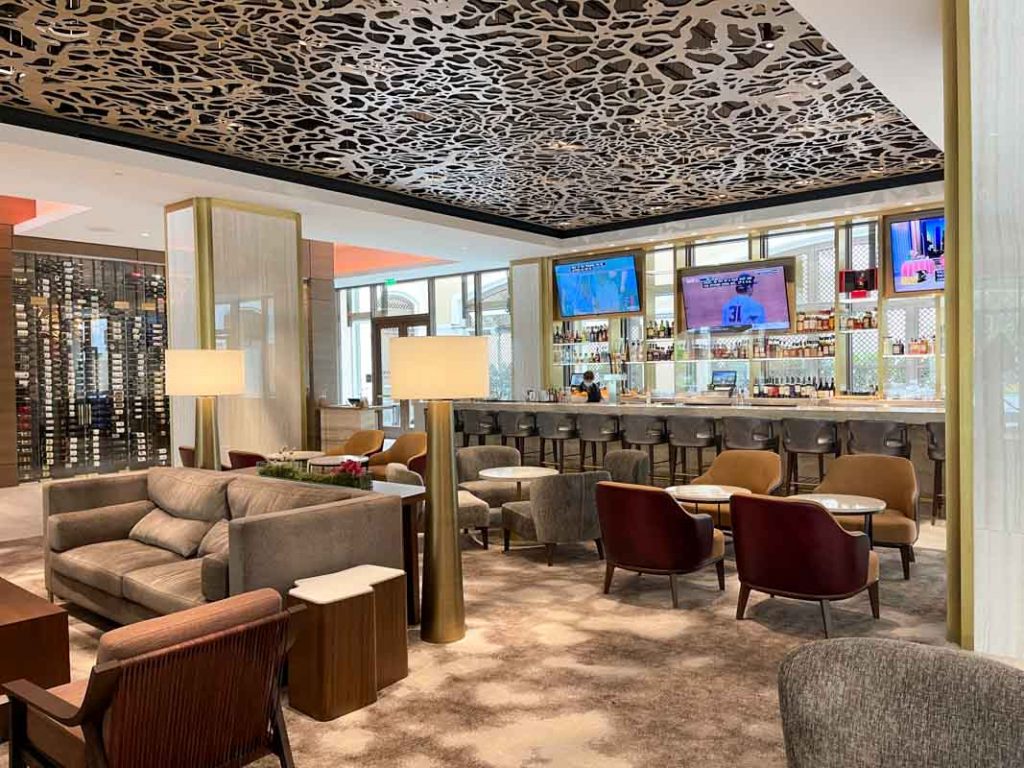 Located directly in front of you as you enter the hotel's front entrance, Bar 1030 (named for the Westin's street address – 1030 West Katella Avenue) offers unique cocktails, small bites, and a full bar. I had a great time sitting at the bar and chatting with the bartenders. If you see Viet, tell him Mindy says hi!
RISE Rooftop Lounge
RISE sits 9 floors up and overlooks the Disneyland Resort, which means a fireworks view! You can access RISE via the lobby elevators, but you cannot activate the elevator without a room key. However, if there's no one with a room key in your elevator, you can go to the concierge desk and ask if they can let you up.
The RISE Lounge is very spacious, with delicious cocktails and food. I had the Mango Margarita and a San Marzano pizza (with no mushrooms). Both were great.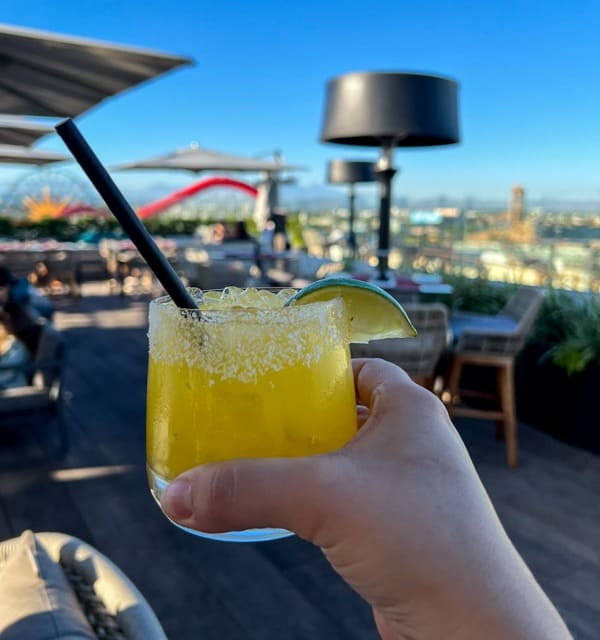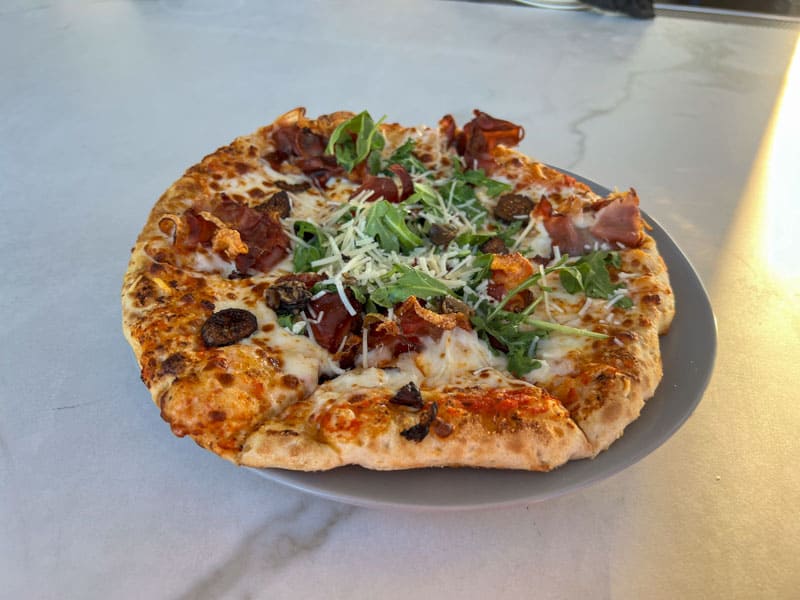 Bella's Splash Pool Bar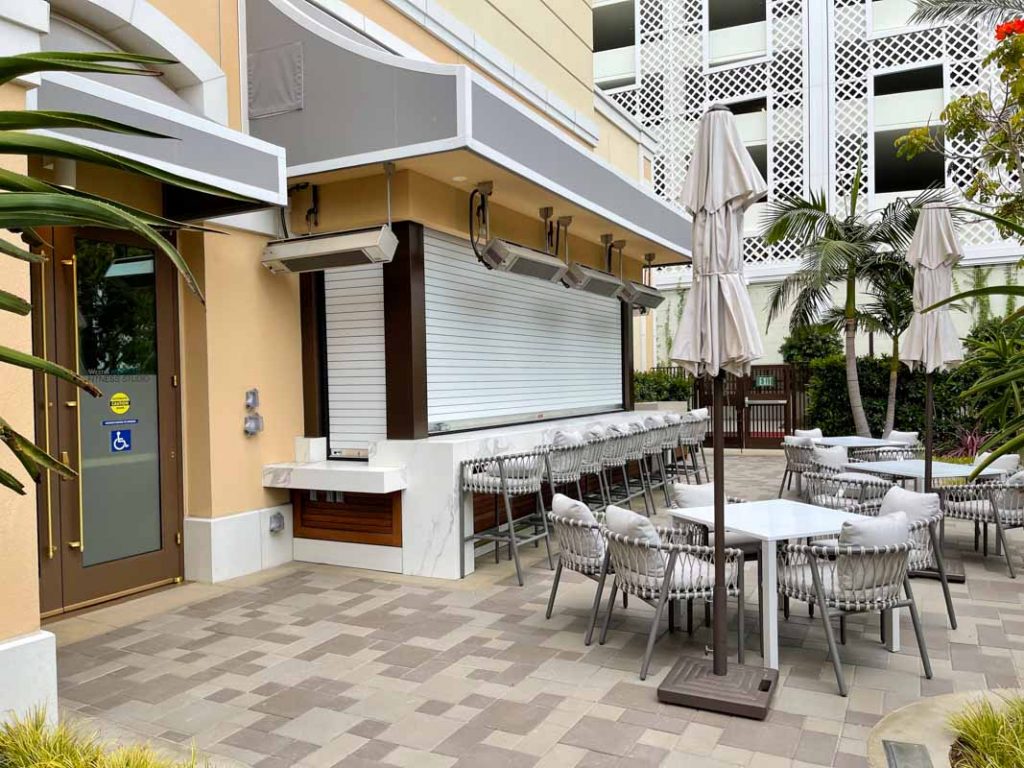 The place for lite bites and cocktails by the pool!
Blossom Café and Market
This location will offer grab-and-go foods, coffee, and snacks. (Note – Blossom Café has its own entrance off Katella.)
Fleming's Prime Steakhouse & Wine Bar
One of my absolute favorite restaurants has arrived near Disneyland! Fleming's offers great steaks and a wide selection of wines. Its only flaw is that it's only open for dinner. (Note – Fleming's has its own entrance off Katella.)
Puesto
Serving Mexican food for lunch and dinner, Puesto appears to be part sports bar as well.
Parking
Westin Anaheim has its own large parking structure located behind the hotel (entrance on Katella just west of the hotel). Parking is $35 daily for guests who self park, or $45 daily for valet.
When self parking, be sure to bring your parking ticket to the front desk so they can validate it. During your stay, you can use your room key to tap in and out of the parking structure. But, the key gets deactivated once you check out. In order to leave the structure without paying, you'll need to insert your validated ticket.
Electric car charging stations are available, but you have to leave your car with valet so they can rotate the cars around.
One great perk is you can leave your car there until midnight after you check out. With many of the smaller hotels on Harbor Blvd, guests must move their car by 3pm to make room for incoming guests. Not a problem at the Westin! Just exit with your validated parking ticket or return to the valet stand before midnight to avoid paying another daily fee.
For non-guests parking is $16 per hour (charged in 15 minute increments), with a max of $200 per 24 hours.
Weddings and Events
Westin Anaheim does offer wedding and event space! Their largest room, Anabella Ballroom, can fit a whopping 1000 guests for a reception. They also have several smaller rooms for weddings and events of all sizes. It looks like they can also offer event space up on their rooftop lounge. Click here to learn more about planning a wedding at Westin Anaheim.
Summary
Yep, it's a little pricier than surrounding hotels, but I believe the Westin Anaheim is worth every penny. It offers a great middle ground for guests who want something more upscale than the Harbor hotels but can't justify the price of a Disneyland Resort hotel.
I personally love the location (I was a frequent guest at the former Anabella Hotel) because it's a short walk to the Disneyland Resort hotels and Downtown Disney District. If you're visiting the Anaheim Convention Center, Westin Anaheim is a great choice.