Marvel fans, assemble! Welcome to Disney Parks very first land dedicated to all things Marvel Cinematic Universe – Avengers Campus at The Disneyland Resort!
While Marvel has had a presence at Disney California Adventure for several years now, this is the first time the Avengers & company will have a home of their very own.
Get ready to become the newest Avengers recruit and immerse yourself in the world of Marvel at Avengers Campus!
This article contains affiliate links, which means I may earn a commission if you make a purchase.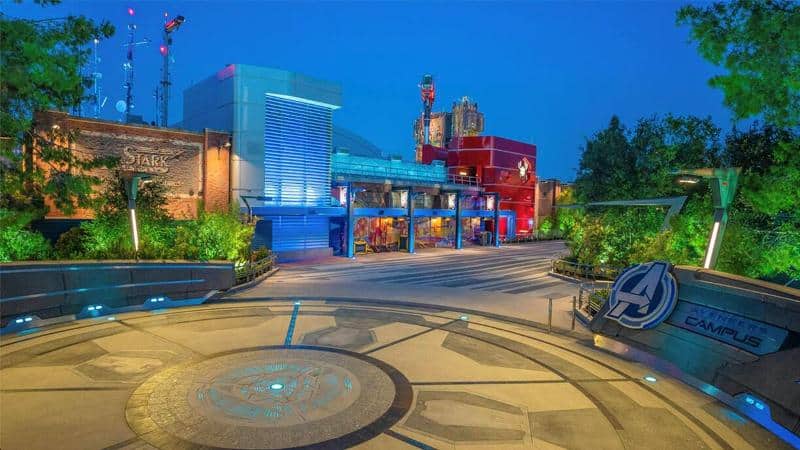 Everything to Know about Avengers Campus at Disney California Adventure
What is Avengers Campus?
Avengers Campus is a brand new land themed to Marvel. Disney promises guests the opportunity to train alongside their favorite superheroes as they search for new recruits.
Aside from Marvel character interactions, the land will feature two major attractions – Guardians of the Galaxy: Mission BREAKOUT! and WEB SLINGERS: A Spider-Man Adventure – and one new E-ticket attraction opening at a later date.
Avengers Campus will also provide guests with a new quick-serve dining location and two food carts.
Where is Avengers Campus located?
Avengers Campus is a new land at Disney California Adventure park, located between Hollywoodland and Cars Land. Avengers Campus replaced A Bug's Land, which closed in 2018.
There will be three entrances to Avengers Campus: From Hollywoodland by the Hyperion Theater, a pathway from Car Land near Luigi's Rollickin' Roadsters, and off of the Festival Corridor next to Carthay Circle restaurant.
For now, due to crowd control procedures, the only entrance to the land will be next to Carthay Circle restaurant. Once inside Avengers Campus, guests can use any of the three entry points to exit the land.
When does Avengers Campus open?
Avengers Campus at The Disneyland Resort opened to the public on June 4, 2021. A theme park ticket AND park reservation for Disney California Adventure are required for entry. Click here to check the park reservation calendar.
Save money on Disney California Adventure Park tickets with my travel partner Undercover Tourist!
What is there to do at Avengers Campus?
Attractions
WEB Slingers: A Spider-Man Adventure – This new attraction will be the premiere experience at Avengers Campus! In this 3-D attraction, guests of all ages (there is no height requirement) will use their hands to "sling webs" and collect rogue Spider-Bots. Guests can enhance their experience by purchasing "WEB Tech accessories" which interact with the attraction and changes your web-slinging powers!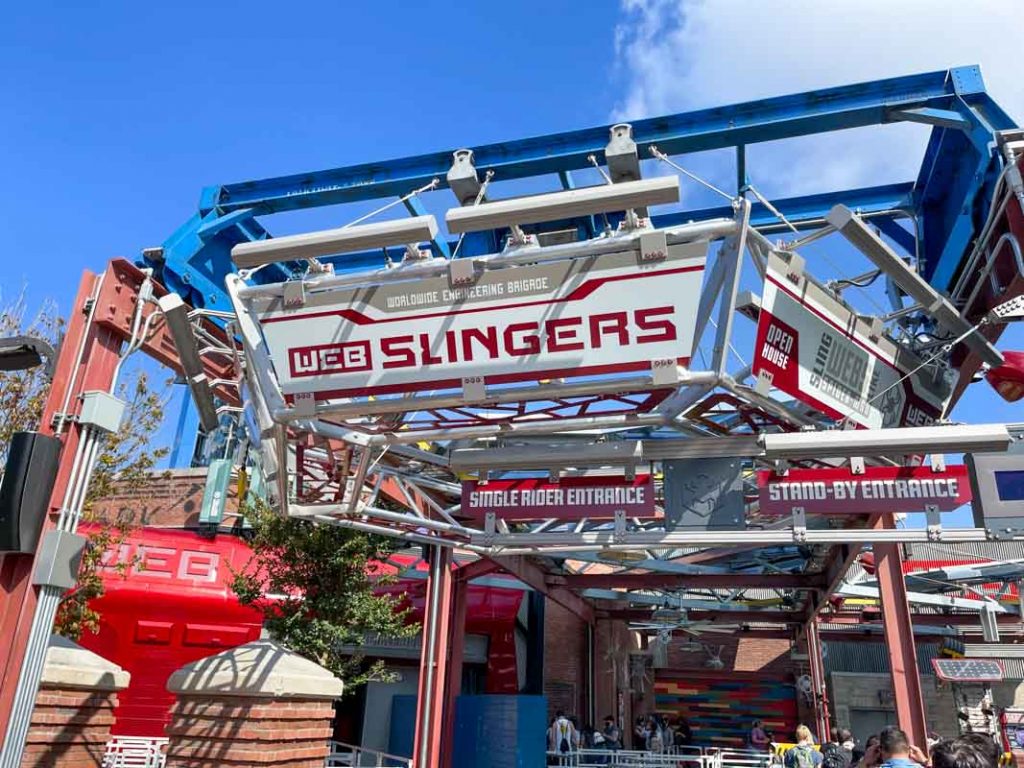 *In order to experience WEB Slingers: A Spider-Man Adventure, guests will need to join a virtual queue via the Disneyland mobile app. Distribution times for virtual queue enrollment are daily, 7:00 AM and 12:00 PM. Guests can enter the queue only once per day. Furthermore, guests will not be permitted to hold a virtual queue boarding group for both WEB Slingers and Rise of the Resistance at the same time.
For guests unfamiliar with the virtual queue system, I suggest reading my virtual queue guide for WEB Slingers, which teaches you everything you need to know!.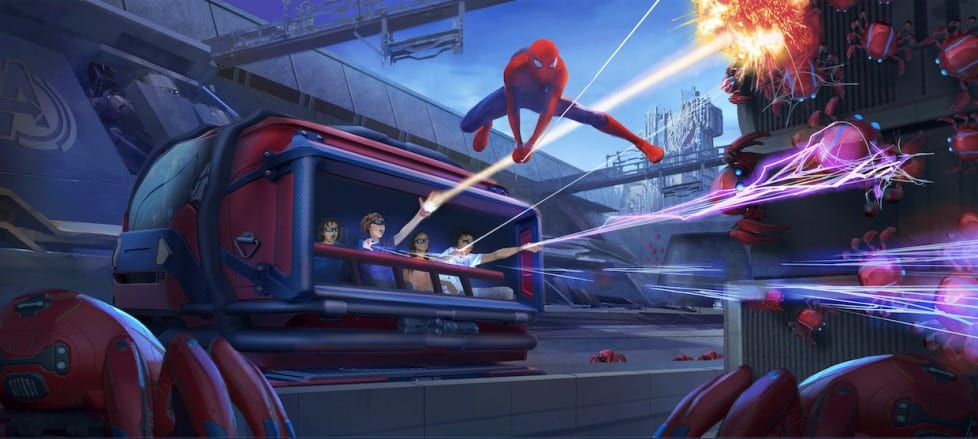 Guardians of the Galaxy — Mission: BREAKOUT! – Not a new attraction, but this fan favorite will now "move" over from Hollywoodland and fit in very well as part of Avengers Campus. It is important to know that Guardians of the Galaxy — Mission: BREAKOUT! will only be accessible to guests once they are inside Avengers Campus.
Character Encounters
While Marvel character meet and greets used to be scattered around Hollywoodland, now they will take place solely within Avengers Campus. Aside from a random sighting here and there, there are three main locations where guests can see their Marvel heroes.
*Note – Due to pandemic restrictions, guests cannot closely interact with characters, but can take photos with them from a distance.
Ancient Sanctum – See ancient ruins and learn about the Orb of Cagliostro from Doctor Strange. At night, the Orb glows with magical energy! This show takes place in the afternoon and evening hours, and guests must queue up in advance. Please see an Ancient Sanctum Cast Member for that day's show times and queuing location.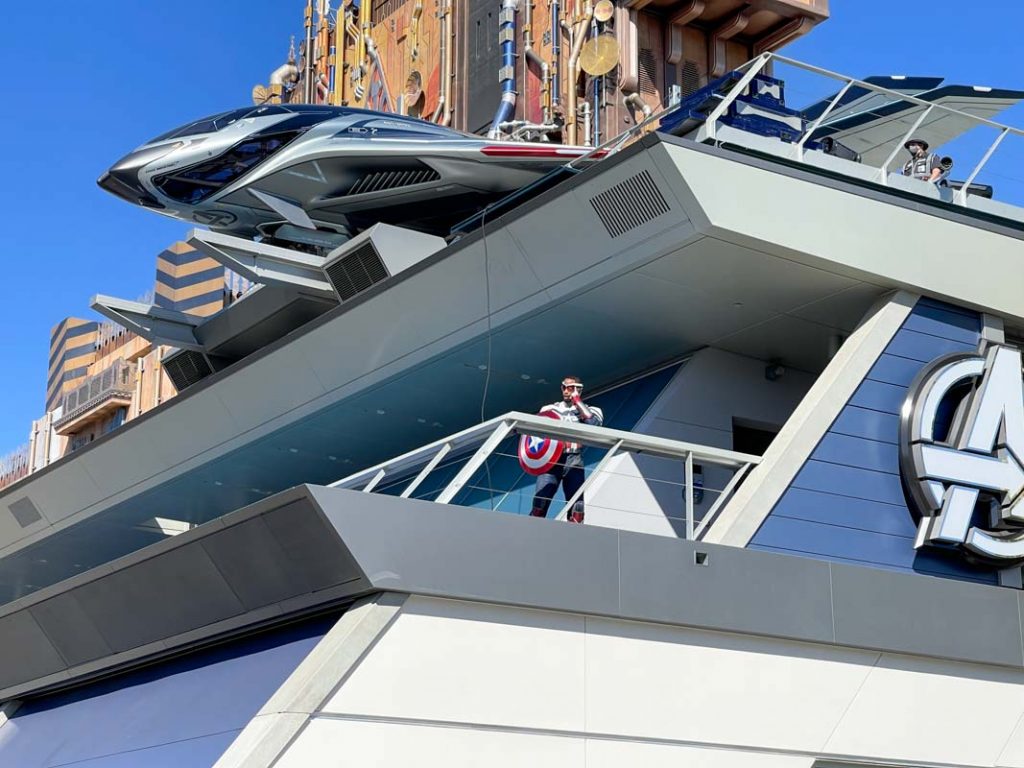 Avengers Headquarters – Marked by a Quinjet on top of the building, the Avengers Headquarters will be brimming with activity from superheroes such as Iron Man, Black Panther, Black Widow, Captain Marvel, and Ant-Man, just to name a few. Aside from a stunt show that happens on the roof throughout the day, guests may catch Marvel characters walking around the top level of the building, waving to guests. Characters may also make appearances by the Jeep to the right of the building, and in a small meet-and-greet area to the left of the building doors.
Also near Avengers Headquarters you'll find the Dora Milaje training show, which is a must-watch! They are amazing!
Flying Spider-Man – Don't forget to look up once in a while to catch a glimpse of the amazing flying audioanimatronic Spider-Man! At the top of the hour (times subject to change) in the morning and afternoon, Spiderman performs a stunt show on the top of the WEB building. (Side note – Guests outside of Avengers Campus can catch a glimpse of the flying Spiderman "stunt-tronic" – it goes REALLY high.) After the show, Spiderman will pose for photos with guests.
Photo Opportunities
There are a couple fun spots for photos that I want to point out!
Ancient Sanctum – Off to one side of the Ancient Sanctum you'll find this really cool optical illusion floor. Don't fall in!
Entrance Sign – A photo by the Avengers Campus sign at the main entrance (near Carthay Circle restaurant) makes a great momento of your visit! You'll often see a PhotoPass photographer snapping pics, or a selfie works just fine, too.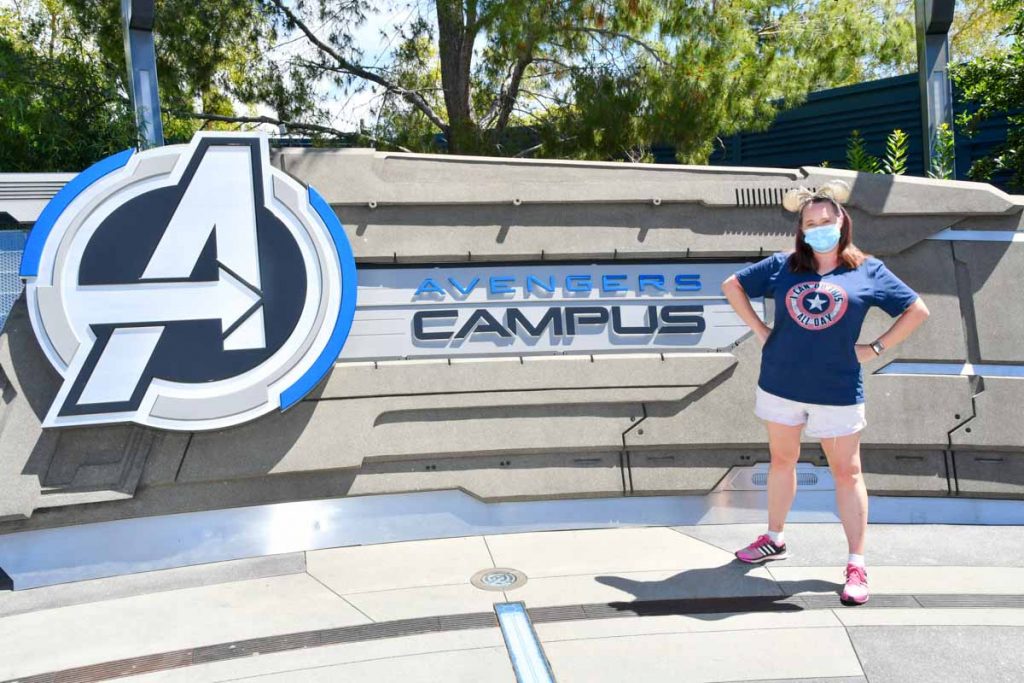 Exclusive for Legacy Passholders – Back at the entry/exit point near Cars Land, you'll find a photo spot just for Legacy Passholders! Look for the purple sign. A PhotoPass photographer is stationed there at various times during the day. (You do have to purchase the photos if you want them!)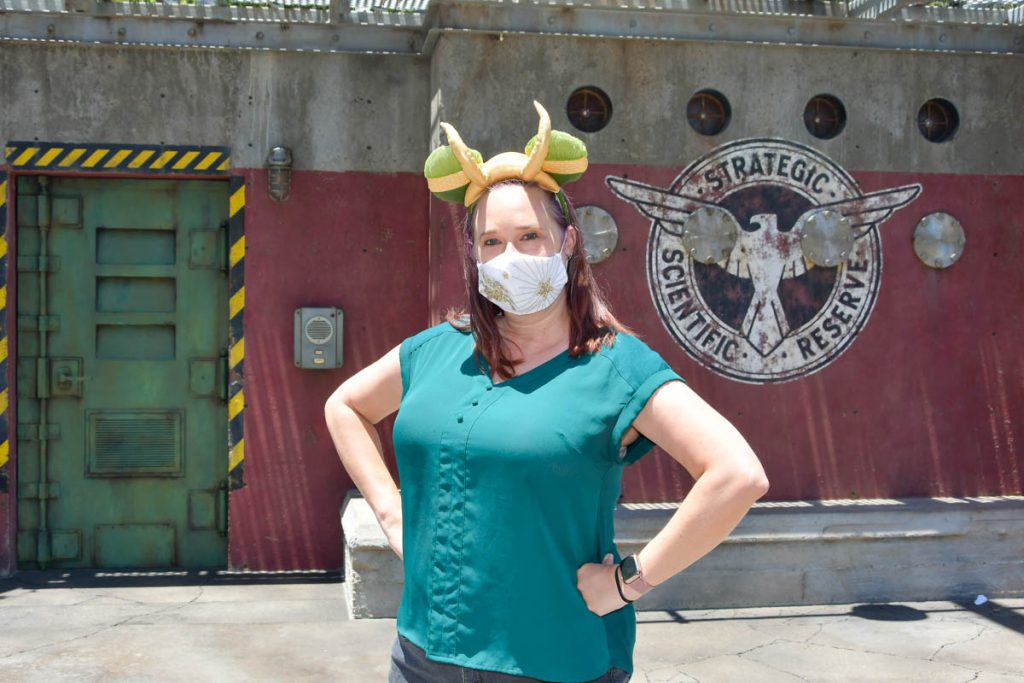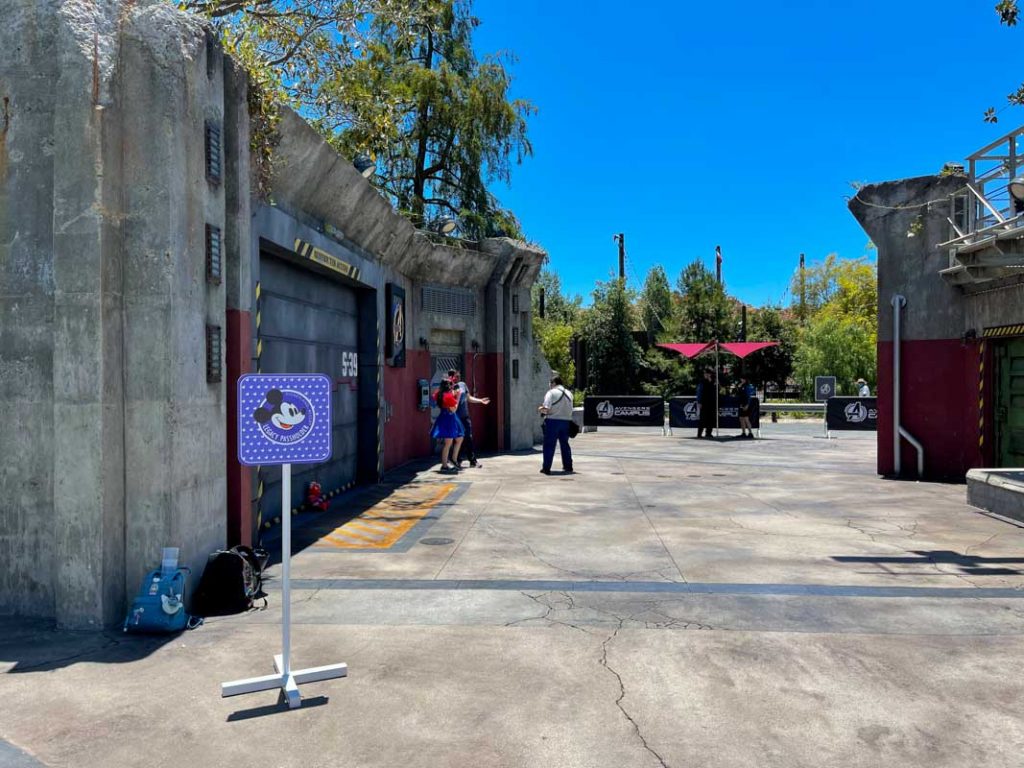 Dining
Pym Test Kitchen featuring Impossible™ Foods – As featured in Ant-Man and The Wasp, "Pym Particles" are used grow and shrink foods, creating a unique dining experience unlike anything else in the park. Pym Test Kitchen features breakfast, lunch, and dinner and will utilize mobile ordering.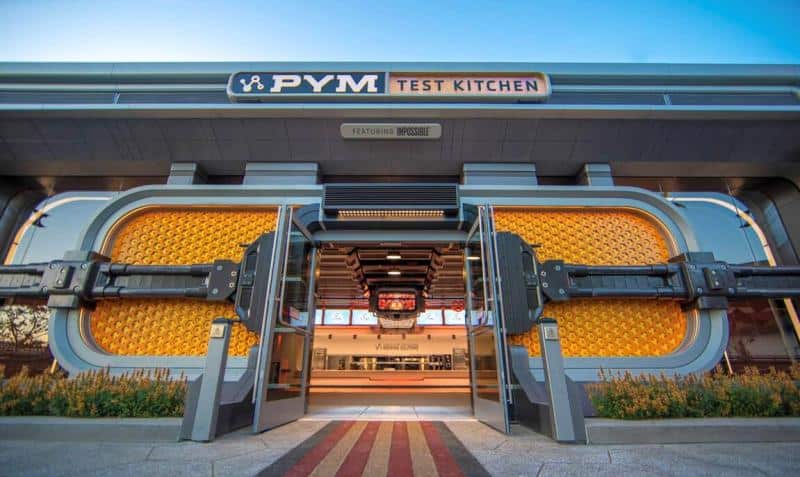 Breakfast
Calculated Breakfast = E x 2 + (B+P)/T – Eggs Two Ways with smoked bacon, crispy potato bites, and focaccia toast
Impossible Quantum Garden Breakfast – Plant-based folded omelet with Impossible breakfast sausage, crispy potato bites, and focaccia toast
Ever-Expanding Cinna-Pym Toast – Baked Pym particle bread and egg custard with cinnamon-sugar topping, a fried egg, smoked bacon, and maple syrup
Spoonful of Cereal – Bran flakes and raisins garnished with a yogurt-covered pretzel and served with reduced-fat milk and a ripe banana
Nano Eggs-periment 101 – Softly arranged eggs and turkey bacon with toast (for small beings ages 3 through 9)
Cinna-Pym Mini Toast – Warm toasted cinnamon Pym particle bread with turkey bacon and maple syrup (for small beings ages 3 through 9)
Snacks and Sips
Quantum Pretzel – 453.8 grams, Bavarian-style pretzel with sharp cheddar-beer sauce
Atomic Fusion Pretzel – Buffalo-style pretzel loaded with chicken, hot sauce, ranch dressing, blue cheese crumbles, celery, and dill-pickled carrots
Pingo Doce – Refreshing lemon-lime with a vanilla kick! This distinctly green beverage from Avenger lore available exclusively at Avengers Campus.
Proton PB&J Punch – Minute Maid Lemonade with peanut butter and strawberry flavors, PB-infused whipped cream, and PB pretzel spheres
Blue Particle Specials
Pym-ini – Salami, rosemary ham, Provolone, sun-dried tomato spread on toasted focaccia with marinara dipping sauce and arugula salad
Not So Little Chicken Sandwich – Fried chicken breast, teriyaki and red chili sauces, pickled cabbage slaw on brioche with crispy potato bites
PB3 Superb Sandwich – Warm PB&J with banana, candied bacon on Pym particle bread, with micro banana smoothie and crispy potato bites
Caesar Salad + Colossal Crouton – Hearts of romaine, Kalamata olives, pickled onions, Caesar dressing, garlic crouton and Parmesan crisps
Impossible Spoonful – Rigatoni and ditalini pastas, plant-based meat-balls, tomato sauce, dairy-free Parmesan, and micro basil
Choco Smash CANDY Bar – Dark chocolate, peanuts, caramel, nougat, and chocolate brownie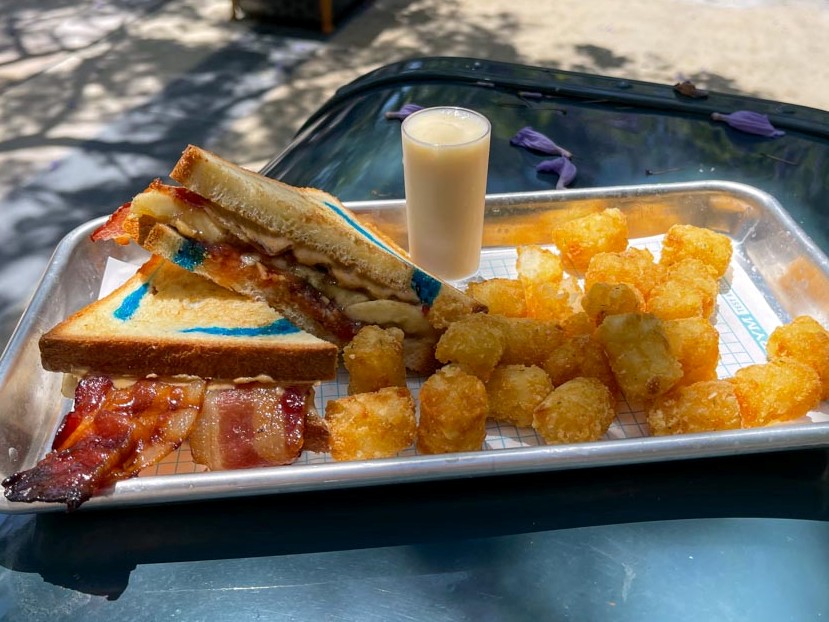 Red Particle Mini-Meals (for ages 3 through 9)
Teeny Pym-ini – Toasted ham and provolone sandwich with marinara dipping sauce
Subatomic Chicken Sandwich – Crispy breaded chicken breast on a soft roll
PB&J Flavor Lab: Assemble Your Own Experiment – Smooth peanut butter, strawberry jelly, and Pym particle bread
Mini Pasta & Impossible Meat-balls – Rigatoni and ditalini pastas, plant-based meat-balls, tomato sauce and dairy-free Parmesan served with coconut milk yogurt and small DASANI water
Is There Really a $100 Sandwich?
You may have seen some headlines about a new $100 sandwich being sold at Disneyland. Yes, it's true! This oversized Pym-ini sandwich can be found at Pym Test Kitchen and is recommended for a group of 8 guests (doing the math for you, that's $12.50 per person). Aside from 8 sandwiches, it comes with a side of arugula salad and a big bowl of potato bites.
Pym Tasting Lab – Right next door to the Pym Test Kitchen is the Pym Tasting Lab, where guests can quench their thirst after a tough day fighting bad guys. Disney promises unique beer taps that fill from the bottom up. I don't drink beer but it's fun to watch! I'm sure this place will be popular so mobile order well in advance.
Honey Buzz – Gin, lemon juice, and honey syrup with a honey straw
X-Periment –Tequila, Minute Maid Lime Juice, mango and habanero syrups with mango popping pearls
Honey Fusion – Gin, Minute Maid Lemonade, honey syrup, IPA, and a honey straw
Molecular Meltdown – Marshmallow milk stout and vanilla ice cream topped with miniature marshmallows
The Regulator –Tequila, Minute Maid Lime Juice, mango and habanero syrup, wheat ale, and mango popping pearls
Particle Fizz –Hard Seltzer with cherry pearls
Draft beer, hard seltzer, and wine
Snack Molecules – Mini pretzels, honey roasted peanuts, and sweet & spicy popped sorghum
Shawarma Palace – The Avengers favorite place for a snack comes to life with two locations!
New York's Tastiest – Chicken shawarma wrap, garlic spread, and coconut yogurt-tahini sauce with pickled vegetables
Impossible Victory Falafel – Plant-based-falafel and cauliflower wrap, garlic spread, hummus and coconut yogurt-tahini sauce with pickled vegetables
Terran Treats – Satisfy your sweet tooth with unique treats at this food stand near Guardians of the Galaxy – Mission: BREAKOUT!
Cosmic Cream Orb – Crispy cream puff with whipped raspberry cheesecake mousse
Sweet Spiral Ration – Churro spirals with unique flavors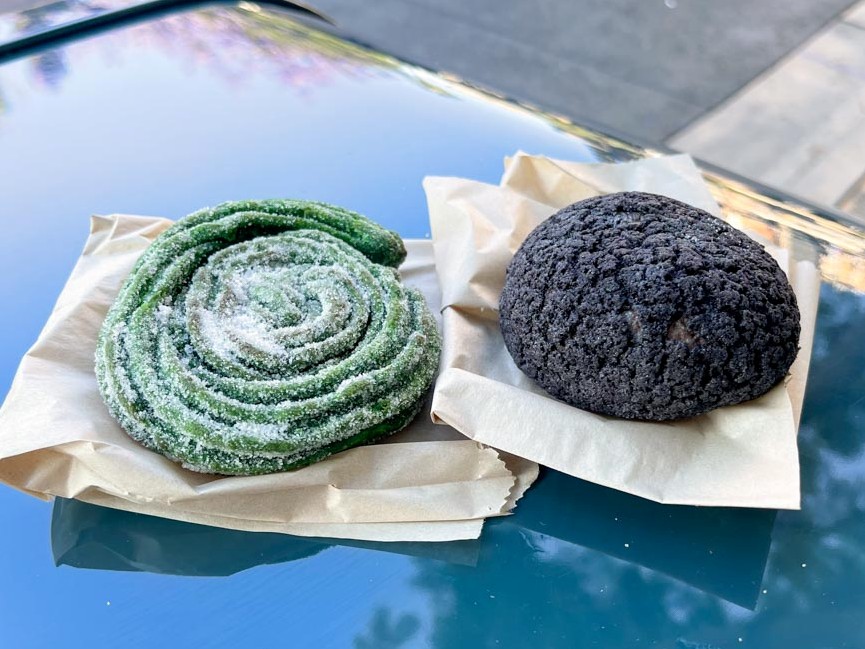 Merchandise
WEB Suppliers – Here's where you can purchase all the Spidey accessories your heart desires, including your very own Spider-Bot. Here is also where you'll get your WEB Power Band that interacts with the WEB Slingers: A Spider-Man Adventure attraction.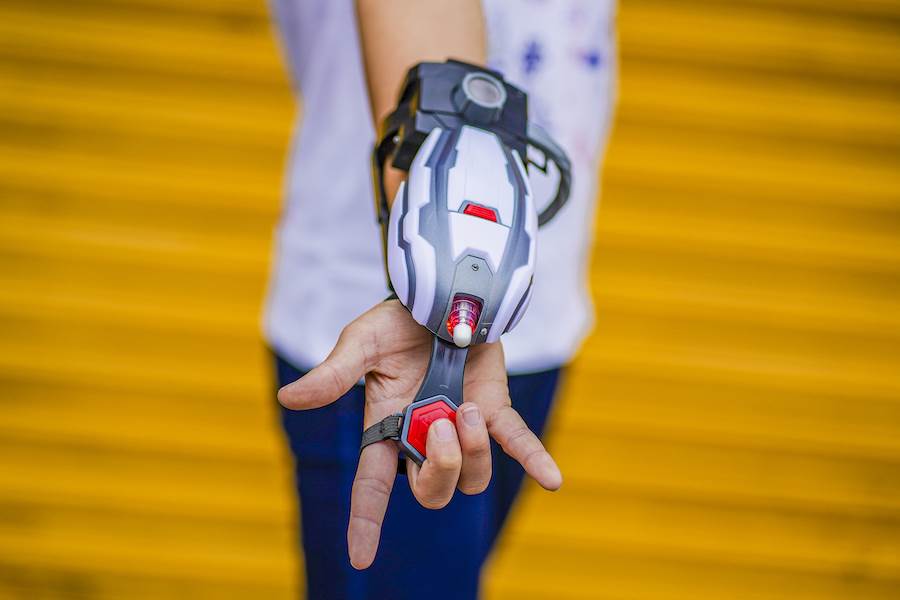 Campus Supply Pod – Here is where you'll find official Avengers Campus logo merch, such as t-shirts, hats, pins, and figurines.
The Collector's Warehouse – Walk through this shop after you exit Guardians of the Galaxy – Mission: BREAKOUT! for all your Guardians gear.
Backlot Premiere Shop at Stage 17 – This sound-stage turned mega-store is the official headquarters for all things Avengers Campus and Marvel merch. There are also a couple of fun photo ops inside.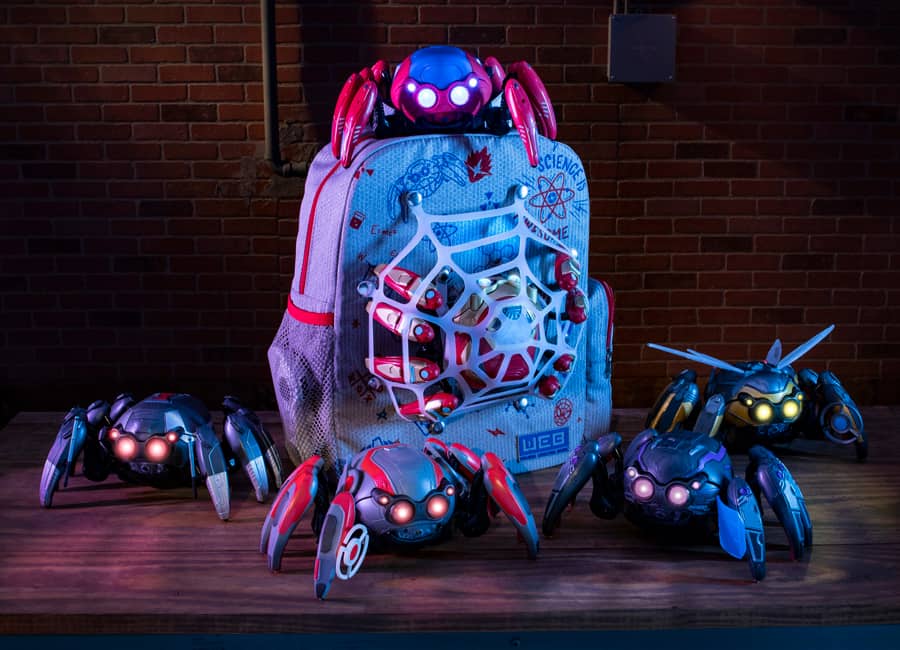 Avengers Campus Tips and Advice
Avengers Campus often gets busy and it's possible Disneyland may need to do some crowd control from time to time. Here are some tips to make your visit "super" – get it?
Avengers Campus is very small and demand for the land is very high, which means Disneyland may occasionally enact crowd control on extremely busy days. Therefore, unless you have a WEB Slingers boarding pass, you may need to wait in a standby queue to enter the land. The standby queue is "in person" – not virtual, so guests must physically wait.
Here are my suggestions on the best times to visit Avengers Campus:
In the morning – If you want to 100% guarantee you'll get into Avengers Campus, you should head there straight at opening.
2-3 hours before park closing – Demand for the land tends to lessen as the day goes on, so you can pretty much guarantee you can walk right in.
If you are interested in experiencing the WEB Slingers attraction, make sure everyone in your party is linked in your Disneyland app prior to the first 7:00AM virtual queue attempt. If at first you don't succeed, set an alarm so you don't miss the 12 noon attempt. Remember, for the 7:00AM attempt you can be anywhere (even at home!) but for the 12 noon attempt you must be scanned into the park prior to 12 noon. And don't forget to read my guide to the WEB Slingers virtual queue!
Use Mobile Order and plan ahead! Even if a standby line for food looks short, remember that priority is given to mobile orders. Right now, time slots for mobile ordering are released sporadically throughout the day. Keep refreshing the app and eventually a window will pop up. Also be aware that even with mobile ordering, the line to pick up food or drinks may be long.
Bring a phone battery charger!! You're going to be relying on your phone more than ever and you would hate for your phone to die right before your food order is ready. Read up on the Fuel Rod system here (according to the Disneyland map, there is a swapping station across from Hyperion theater INSIDE Avengers Campus) or bring your own from home.
If you are interested in merchandise (like the WEB Power Bands), head over to the Backlot Premiere Shop in Hollywoodland and avoid the crowds at Avengers Campus. There are also several merchandise stands selling Marvel products all across Disney California Adventure.
Be kind to Cast Members! They are opening a new land in the midst of a pandemic and things are bound to go wrong. Have patience and be kind!