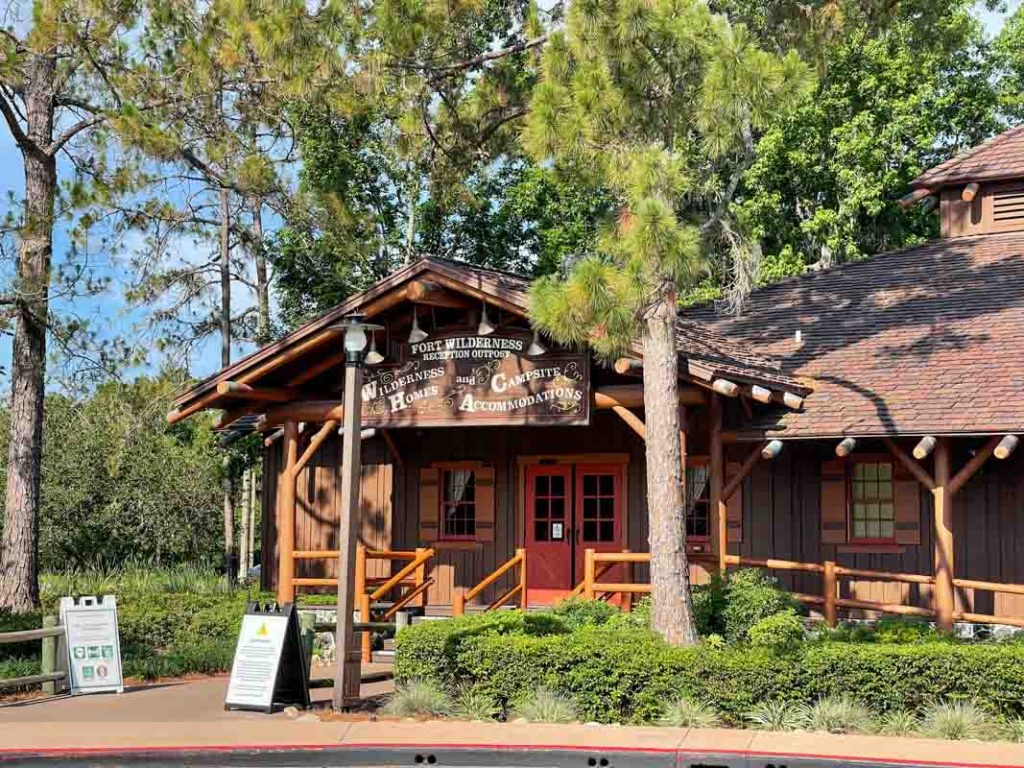 I never considered myself to be a rustic kind of gal, so a stay at Disney's Fort Wilderness Resort was never high on my list (despite my goal to stay at every Walt Disney World Resort at least once). But thanks to a global pandemic, suddenly the idea of a secluded cabin in the woods sounded mighty nice.
So I chose Disney's Fort Wilderness for my home base during my grand return to Walt Disney World in May 2021. And I'm glad I finally had a chance to experience this unique resort!
Fort Wilderness is unlike any other property at Walt Disney World. Located on 750 acres, the property boasts campgrounds and RV hook-ups, as well as prefab cabins, and plenty of rustic outdoor space. I even saw a family of deer when I was returning to my cabin late one night.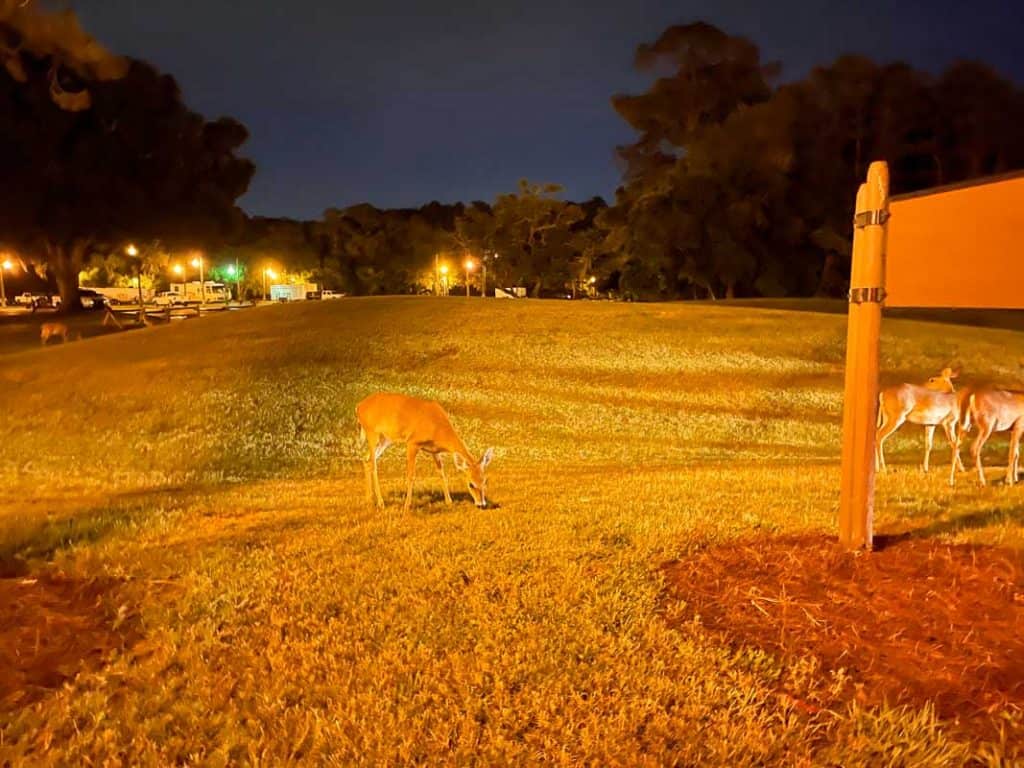 And while there are certainly pros to being out in the middle of nature, there are some cons as well. Expect a lot of walking to and from bus stops, as well as limited options for food and drinks.
The Cabins at Disney's Fort Wilderness Resort – Hotel Review
The Rooms
While Disney's Fort Wilderness offers campgrounds for RVs and tents, I opted for a more luxury experience in one of the cabins. Fort Wilderness offers 409 stand-alone one-bedroom cabins. Each cabin offers just about 500 square feet of space, split between a living area and a bedroom. The cabins also have their own private deck complete with picnic table and BBQ, as well as one parking space (however, there's enough space to park both a car and a golf cart, if you have both).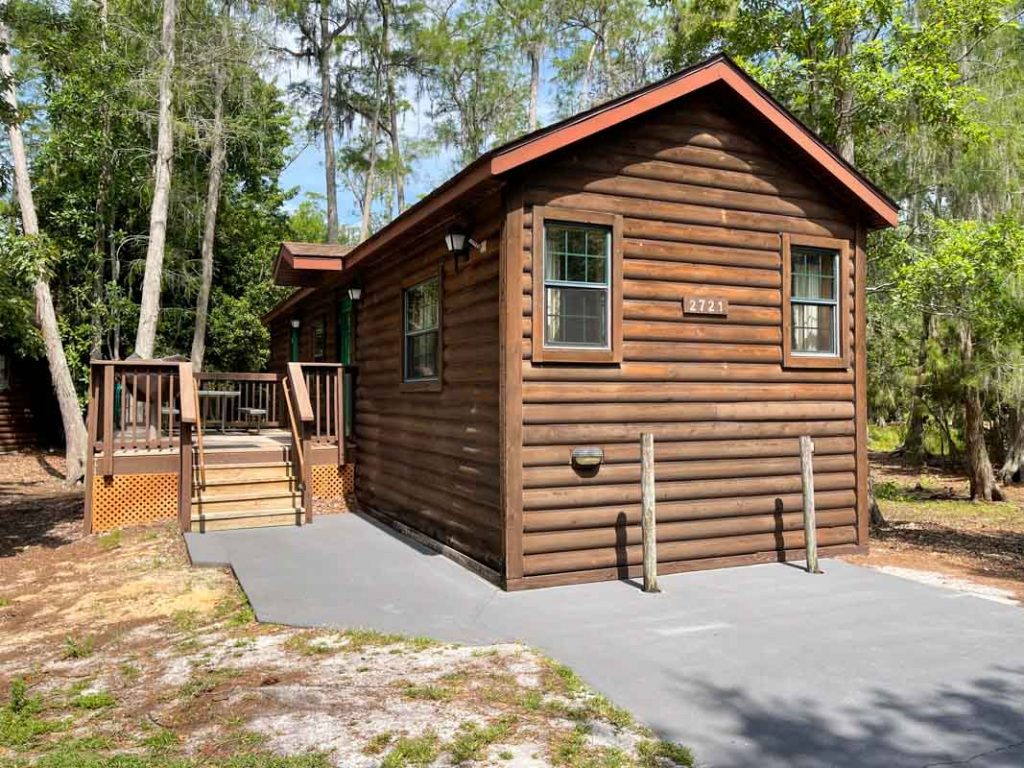 I chose to stay at the Cabins for my first trip back to Walt Disney World post-pandemic because I liked the idea of having a secluded cabin all to myself. That aspect of the resort did not disappoint. During my four day stay I hardly saw any other guests in the area of my cabin, and certainly could not hear any other guests while inside my cabin. I loved that I could play music or turn up the volume of the TV and not have to worry about disturbing guests on the other side of the wall.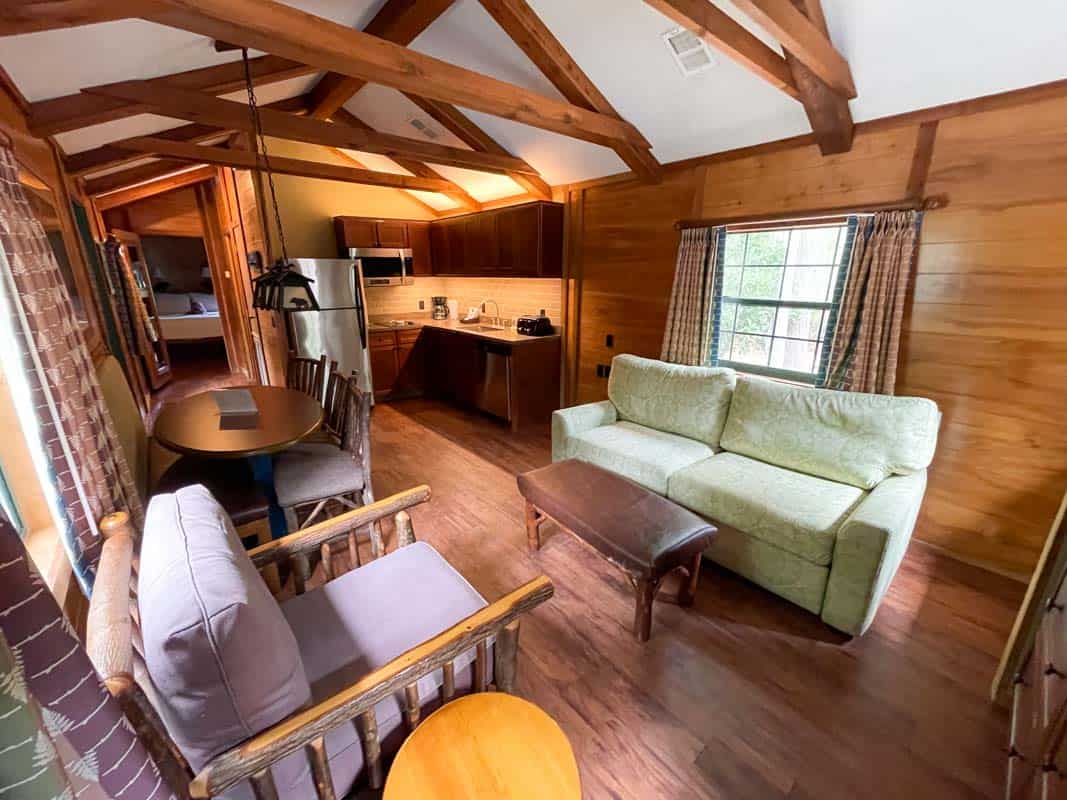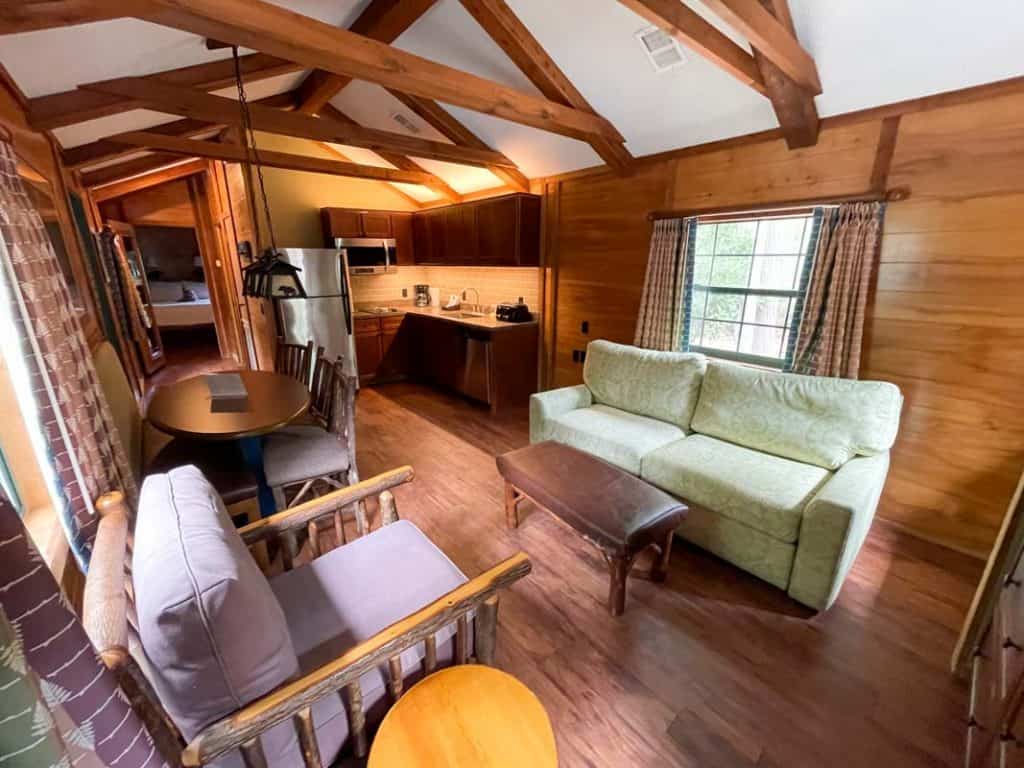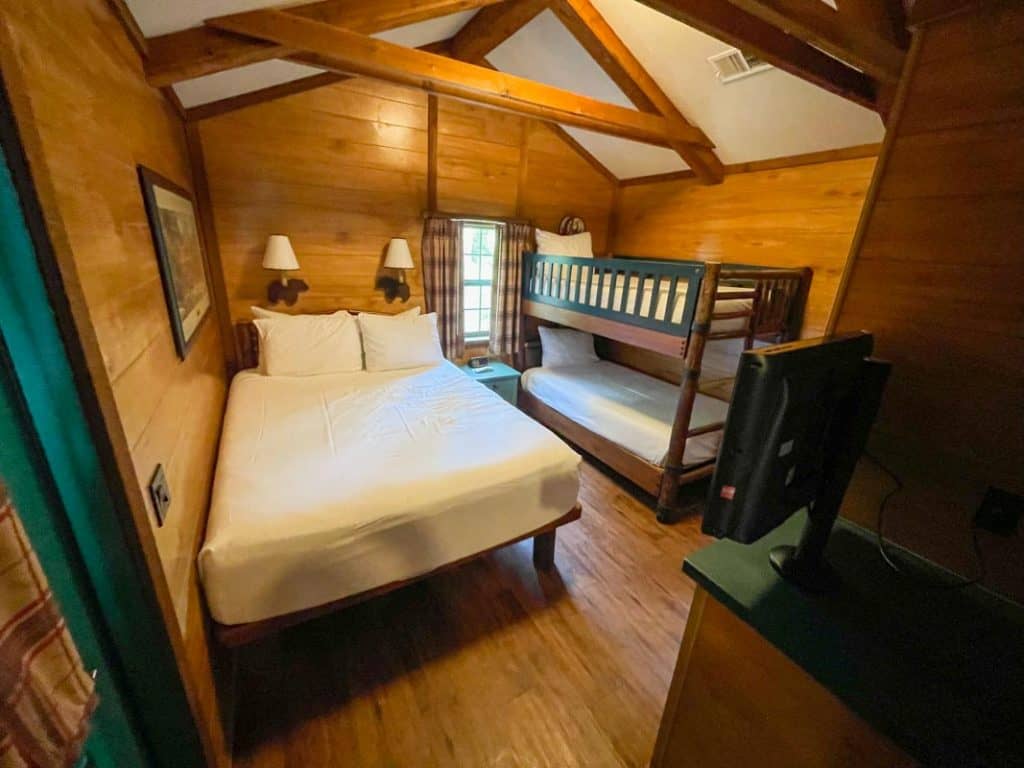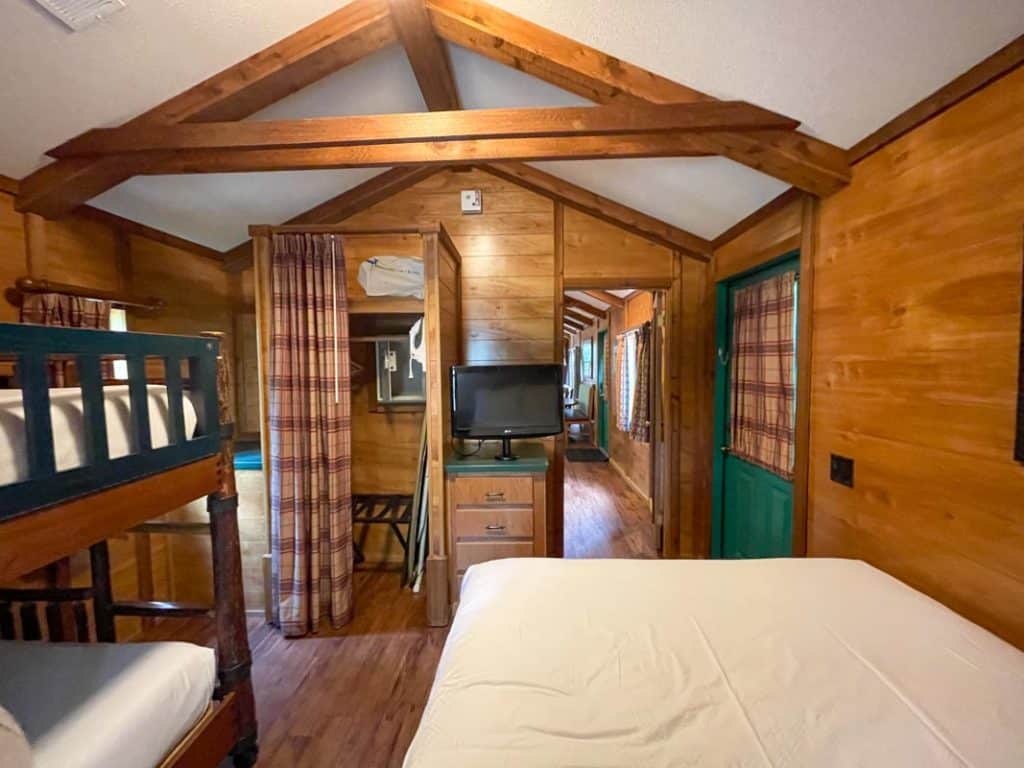 Having the extra space in the living room was nice, but I didn't utilize it much other than spreading out my stuff on the sofa and table. The cabin was mostly used for sleeping and I did very little "hanging out."
The queen bed was very comfortable and I slept well each night.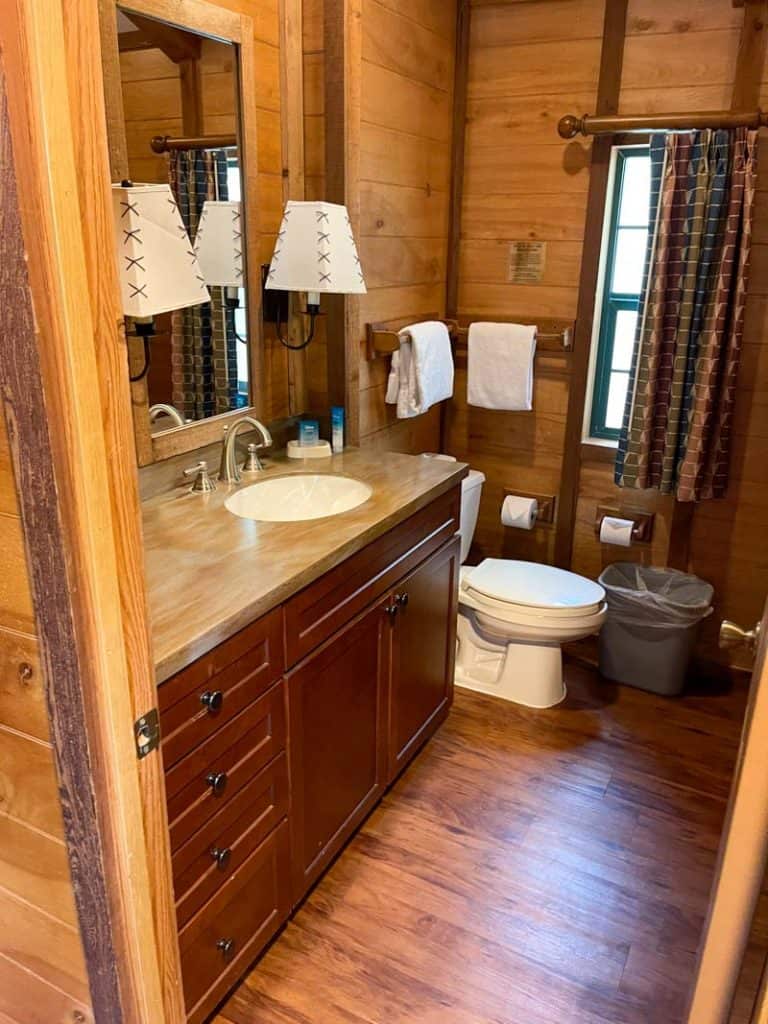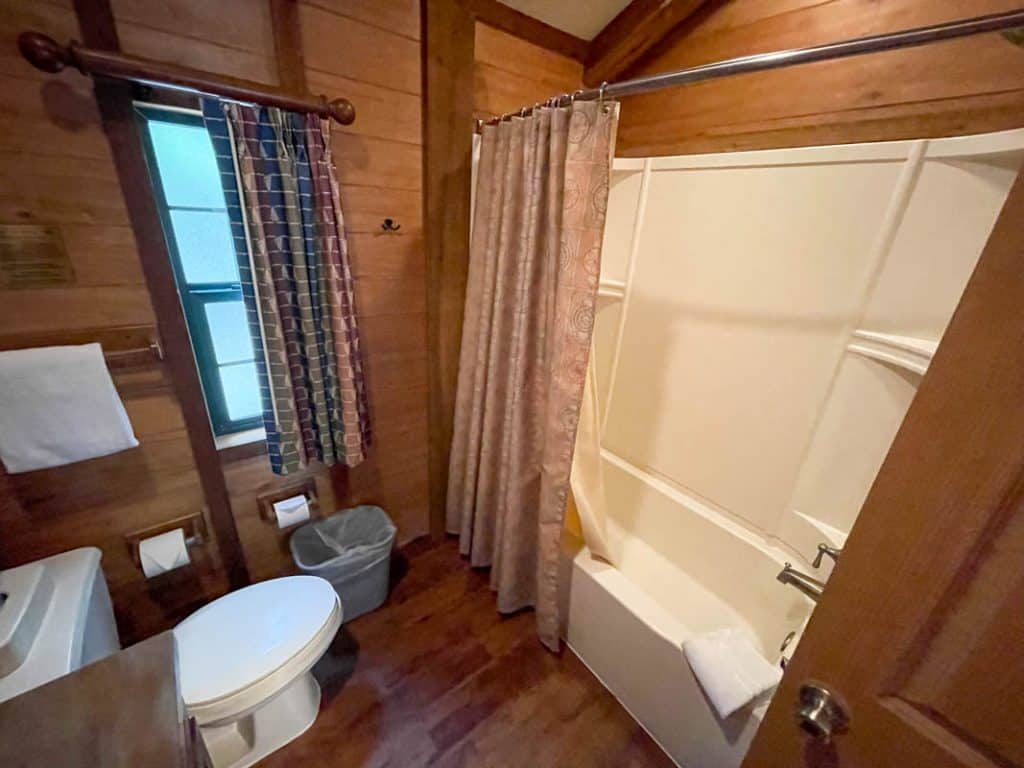 The bathroom was certainly adequate for just myself and would be fine for a couple. More than people sharing the bathroom seems like it would be crowded, in my opinion. But I appreciated the full bathtub and extra counterspace.
The full kitchen is another great perk, even though I didn't use it beyond storing water bottles and wine in the fridge. The kitchen includes dishes, mugs, and utensils, so you're all set for preparing a meal if that's your jam!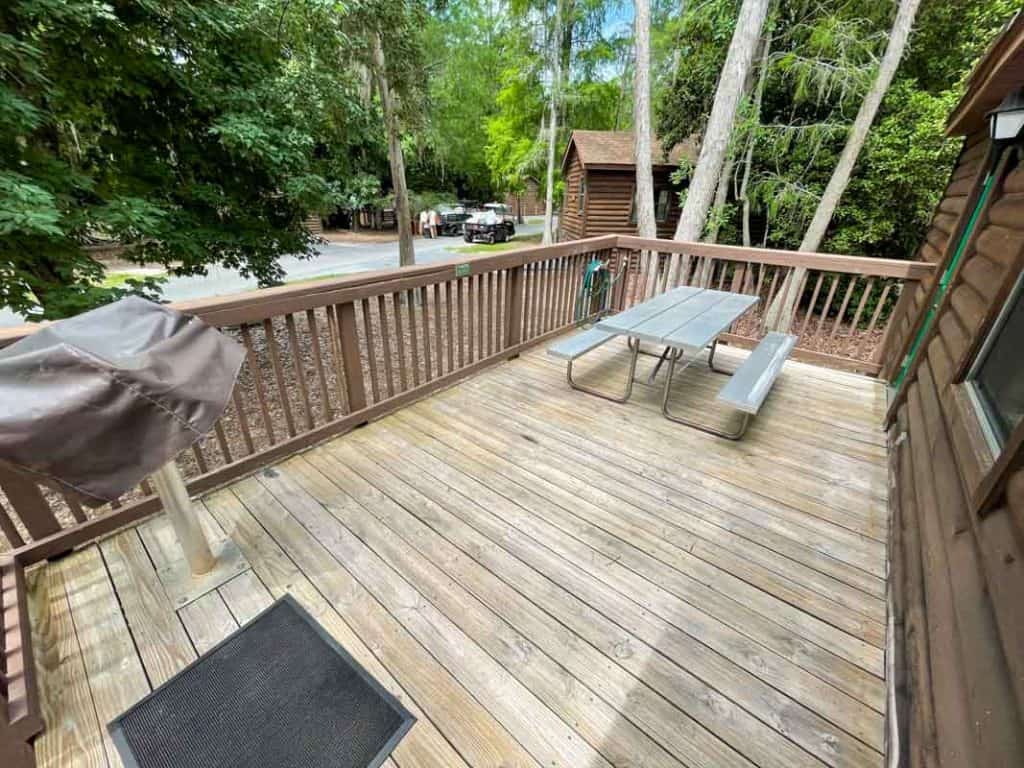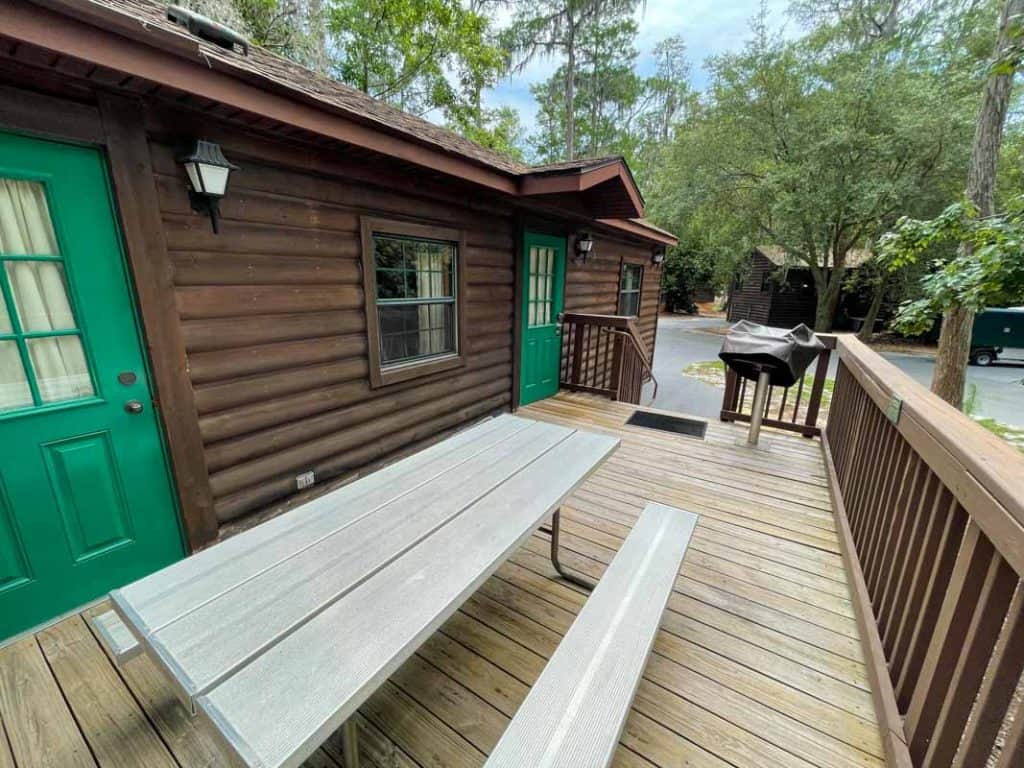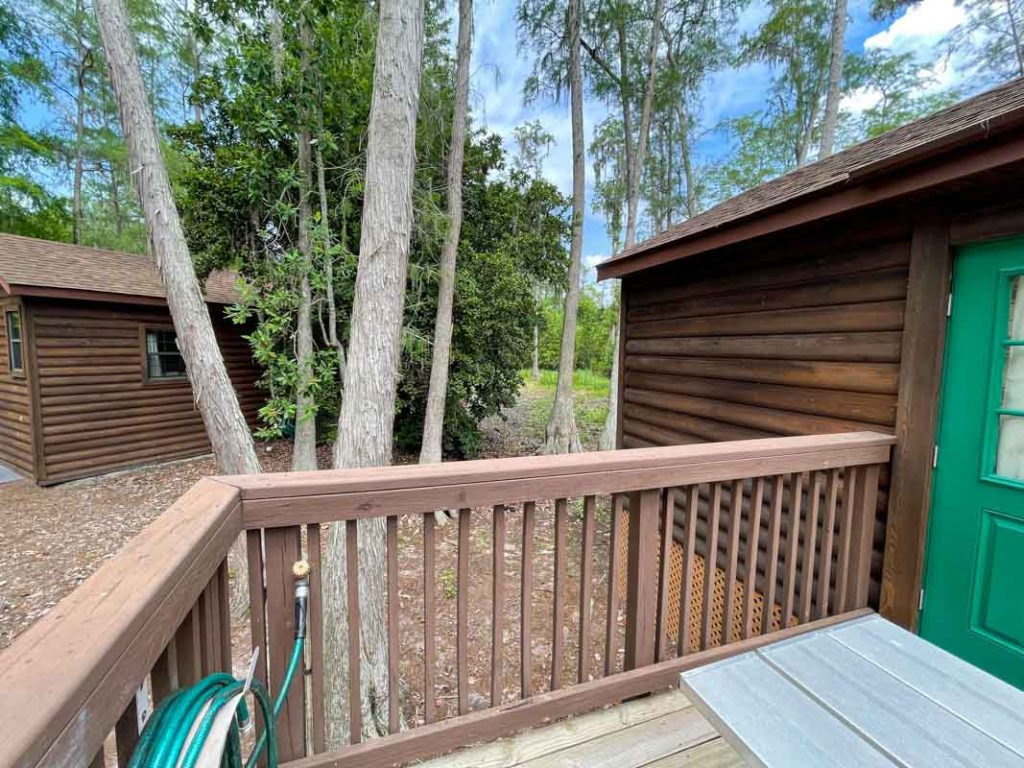 The Food
Food at Fort Wilderness was pretty limited during my stay. I tried P&J's Southern Takeout for breakfast the morning of my arrival and had a decent breakfast sandwich with a side of tater tots. The iced decaf mocha latte was pretty good, too! This quick serve location is open for breakfast, lunch, and dinner.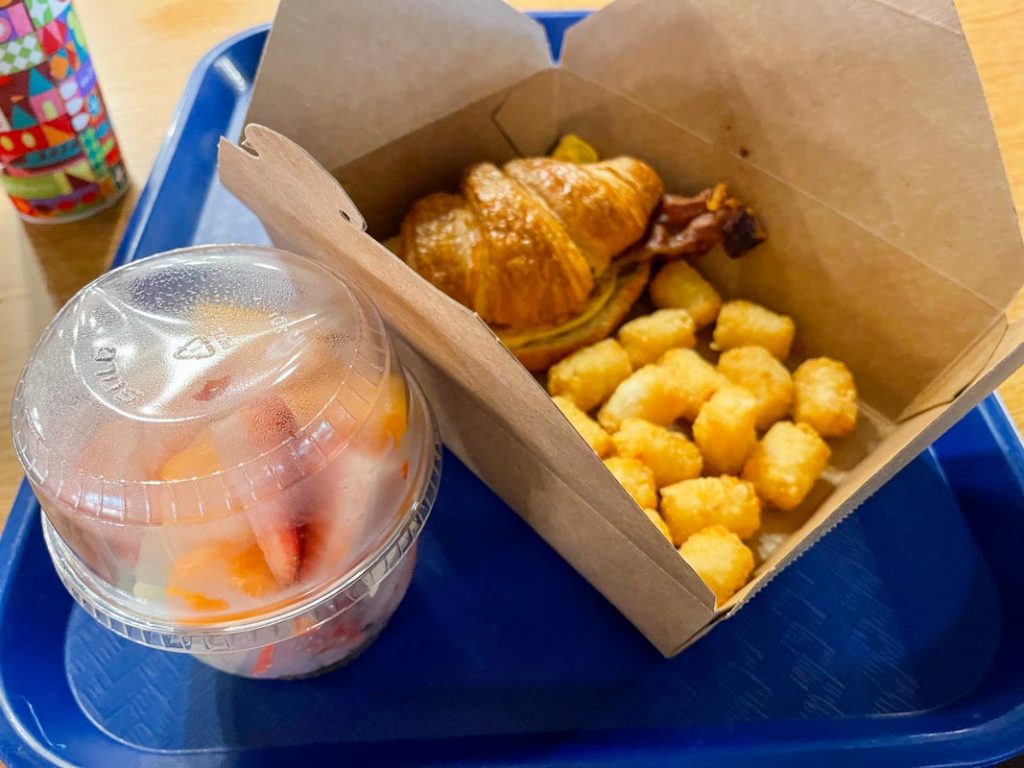 In the same building as P&J is Crockett's Tavern which offers alcoholic beverages in the evening. I never made it over here but their moonshine specialty cocktails didn't appeal to me, anyway.
Trail's End Restaurant and Hoop-Dee-Doo Musical Revue, also located at Settlement Outpost, were closed due to COVID restrictions.
The Transportation
With a resort as large as this one, transportation is incredibly important. The resort has an extensive bus system that runs every 20 minutes or so during the day. Guests can also rent golf carts or bicycles to get around the resort.
There are three main locations to know at Disney's Fort Wilderness: Outpost, Meadow Trading Post, and Settlement Trading Post.
Outpost is the "front" of the resort, where you check-in, rent golf carts, and catch the resort busses to Epcot, Disney's Hollywood Studios, Disney's Animal Kingdom, Disney Springs, or the water parks.
Meadow Trading Post is mid-resort, and has a snack bar and pool area.
Settlement is the "back" of the property. This is where you'll find restaurants, a gift shop, and the boat launch to Disney's Magic Kingdom. You can also take a bus to Magic Kingdom from here.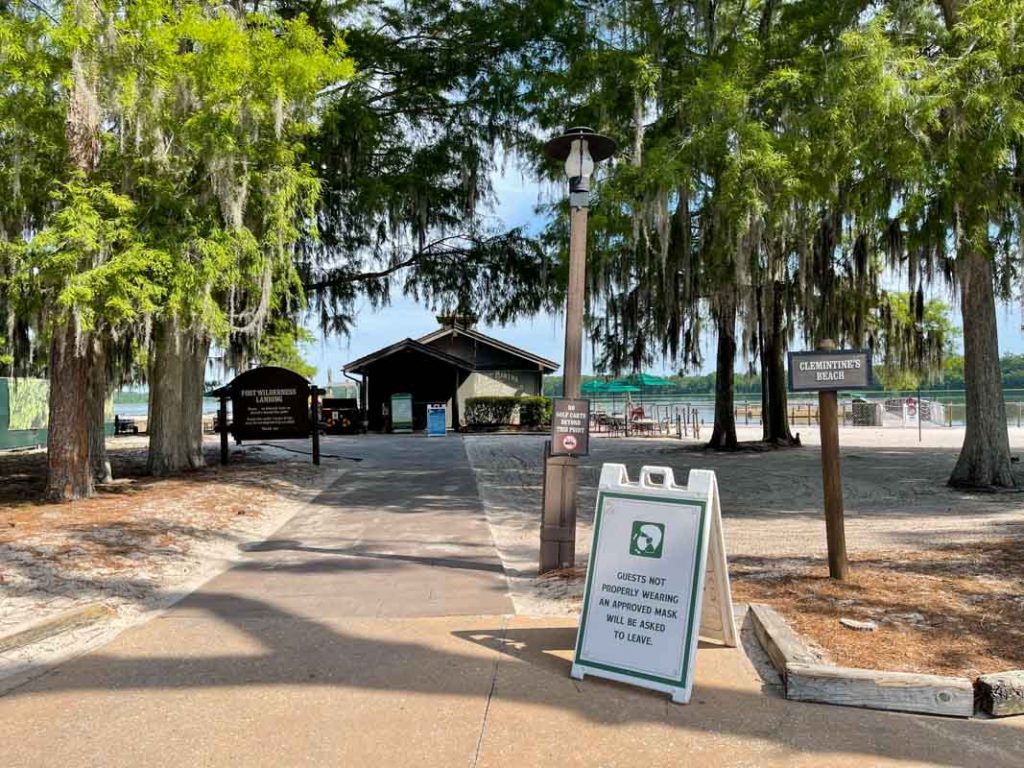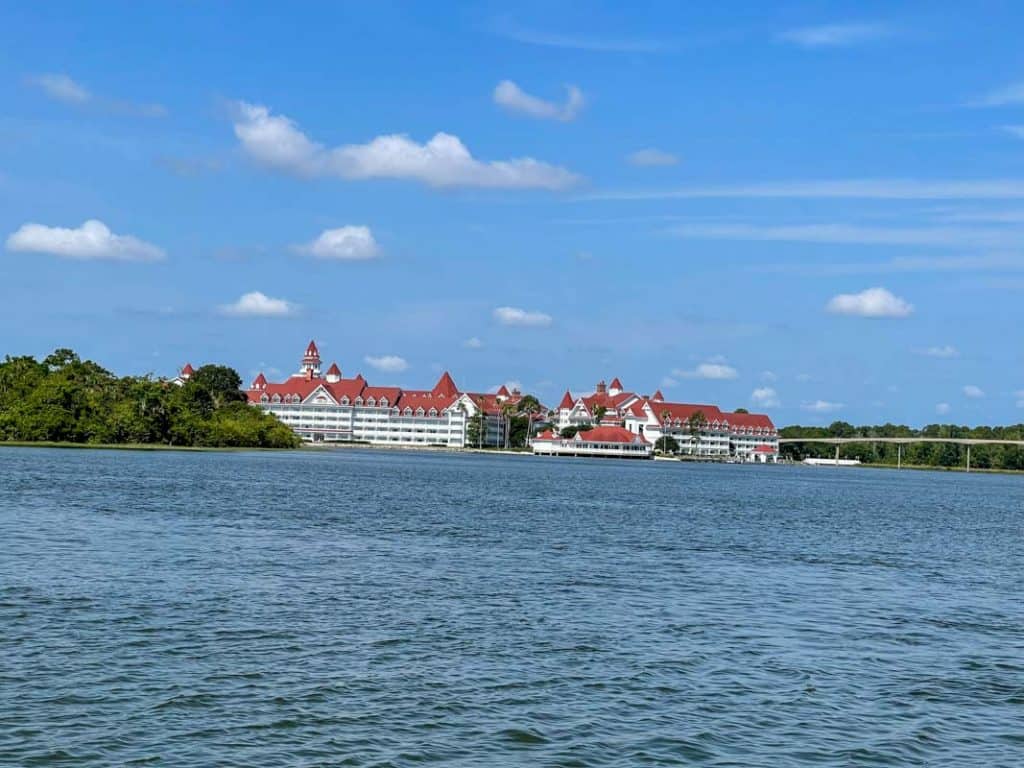 View of Disney's Grand Floridian Resort from the Fort Wilderness ferry.
The yellow line bus runs back and forth between Outpost and Settlement throughout the day. The purple/orange line bus makes several stops throughout the resort. You can get a paper map of the property by visiting the lobby.
My experience waiting at the bus stop was typical for any Disney Resort. Sometimes I was lucky and my desired bus showed up right away. For my Animal Kingdom day I waited 45 minutes for the bus, while during that time frame saw three buses for Epcot come and go.
The Amenities
Disney's Fort Wilderness Resort has two pool areas. There is a large pool at the Meadow Trading Post area, and a smaller pool near the cabins. I did not have a chance to visit either pool area during my visit but during quick glimpses from the bus, it seems the pool areas are pretty basic.
The resort has a playground area at the Settlement, adjacent to some picnic tables.
While I didn't use it, laundry facilities are available. Fort Wilderness does not have a gym but I encountered the occasional guest out on a jog while I was there.
Overall Thoughts
Disney's Fort Wilderness Resort is certainly the most unique hotel on Walt Disney World property. Perfect for guests who want to mix a bit of theme park adventure with quiet camping life. I can totally see the appeal for a large family who is traveling on a budget, or appreciates the space of the one-bedroom cabin but doesn't want to pay standard suite prices.
As for me, while I loved the cabin itself, the property is a bit too rustic for me. I admit I'm a bit of a princess who needs her luxury amenities such as a cocktail lounge that's open all day and a lobby area I can easily access.