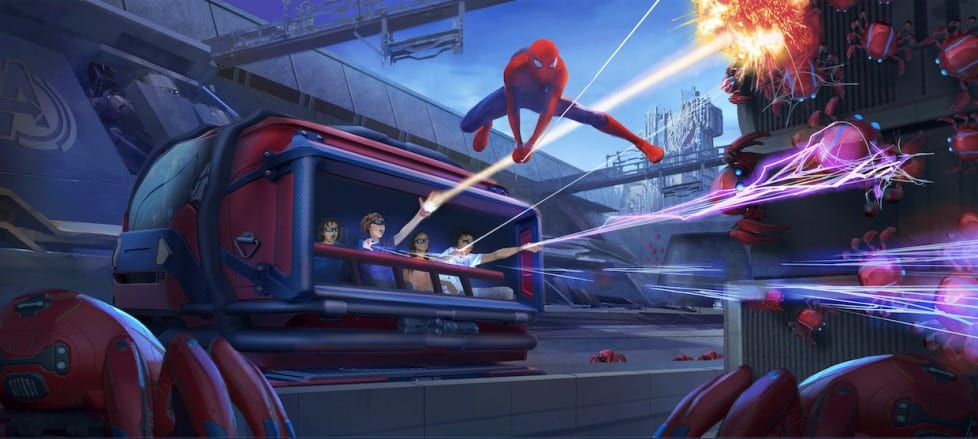 It's certainly a wonderful time for the Disneyland Resort in California! The theme parks recently reopened after a 14 month closure, AND we are celebrating a new land at Disney California Adventure … Avengers Campus!
Avengers Campus is going to be the home of all things Marvel – a "Marvel Land" if you will. And when you aren't busy interacting with Marvel characters or eating lunch at Pym's Test Kitchen, you'll want to experience the brand new attraction WEB SLINGERS: A Spider-Man Adventure!
Due to the popularity of WEB SLINGERS: A Spider-Man Adventure, Disneyland offers two different ways to experience this attraction. Guests can either wait in the regular stand-by line, or you can reduce your wait by using Genie+.
This article will explain the difference between the stand-by line and the Lightning Lane line, so you can choose the method that's best for you!
How to Ride WEB SLINGERS: A Spider-Man Adventure at Disney California Adventure
Stand-by versus Genie+ Lightning Lane
When WEB SLINGERS first opened, Disneyland used a virtual queue to manage the crowds. At certain times, Guests could request a spot in the virtual queue. If successful, Guests would be given a return time window.
Now that the hype has calmed down a bit, Guests don't need to worry about the virtual queue.
Instead, you have two options for riding WEB SLINGERS.
Stand-by
The stand-by queue is the regular line Guests can wait in to access the attraction. Generally for WEB SLINGERS the wait time ranges from 60 minutes to 90 minutes.
Lightning Lane with Genie+
New in 2022, Guests have the option of purchasing Genie+, which allows Guests to wait in shorter queues for several attractions. The cost of Genie+ is $25 per Guest, per day, if you purchase in advance. Guests may also purchase Genie+ the day of their visit, but the cost may be higher.
To learn more about Genie+, including how to purchase and use the app, please read this article all about Genie+ and Lightning Lanes.
Note that this is a very popular attraction and Lightning Lane access could book up very early in the day. I recommend arriving to Disney California Adventure at opening and using Genie+ to select WEB SLINGERS as your first attraction.
If you aren't already using the Disneyland app, follow the below instructions BEFORE you arrive at Disney California Adventure to save time:
1. Download the Disneyland app to your mobile device, or, make sure you have the most updated version of the app.
2. Link everyone in your group (via ticket or pass number) to your app AND/OR unlink anyone who will not be riding with you.
3. Turn on push notifications for the app, if you haven't already.
4. Make sure your mobile device is fully charged before you arrive to the theme park. Be sure to also bring a portable charging device, like Fuel Rod, with you.
If you do not have a mobile device or access to the app, please ask a Cast Member for assistance. (Recommend you do this ASAP once you enter Disney California Adventure.)
Remember: In order to enter the theme park you need a valid park ticket, and a theme park reservation for that day. If you need to catch up on Disneyland's current operating procedures, read this article: Everything You Need to Know About Visiting Disneyland in 2022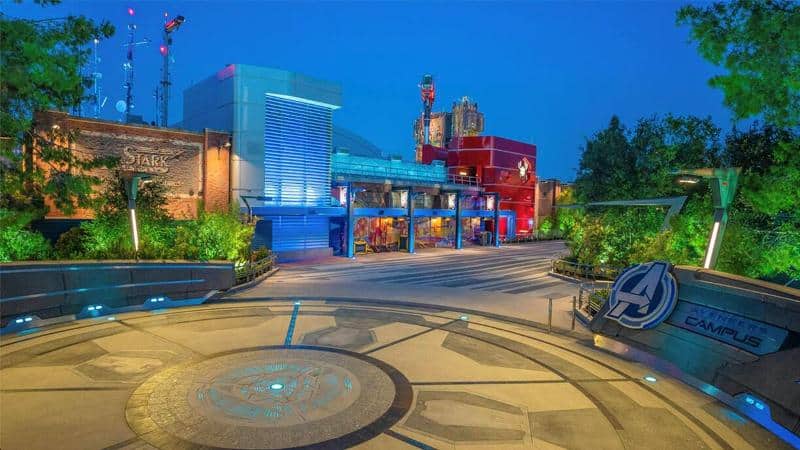 Frequently Asked Questions
Can I ride WEB SLINGERS multiple times in one day?
Yes! You may only use the Lightning Lane once per day, but you can wait in the stand-by line as many times as you like.
How does Disability Access Service pass work with this attraction?
Yes, DAS works like usual.
Is rider swap available?
Yes! Please speak with a Cast Member at the entrance to the attraction.
Is there a single rider line?
Not at this time.
Can I go on this attraction if I'm pregnant?
I would advise against it but you can seek the recommendation of a Cast Member.
What is the attraction like? Do I need to worry about motion sickness?
The attraction is similar to Toy Story Midway Mania, in that guests are seated in a vehicle that transports you from room to room. At time the vehicle moves quickly and spins around. The ride is recommended for all ages and there are no height restrictions.
If you have further questions about WEB SLINGERS: A Spider-Man Adventure, feel free to reach out to me on Instagram @fairytalemindy and I'll do my best to help!