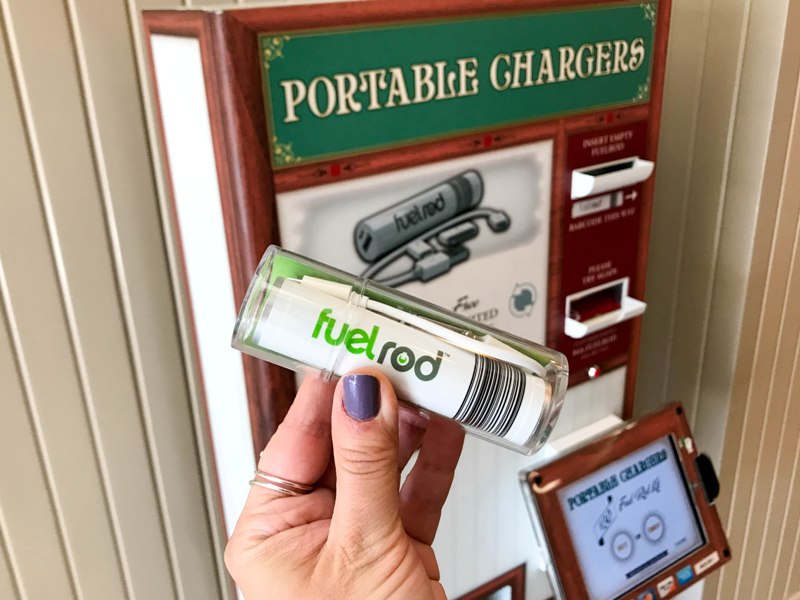 If you have a phone and you go to Disney, you need a Fuel Rod.
Fuel Rod kiosks started popping up at Walt Disney World and Disneyland in early 2017, but I dismissed them since I already had a portable charger that I carried around with me.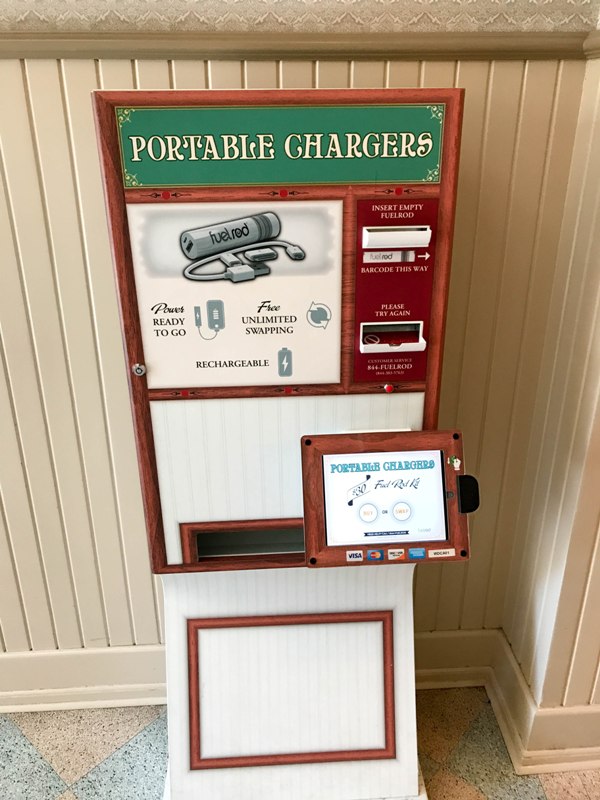 Then one day, while I was at Disneyland, I discovered my portable charger was …. *gasp* … not charged all the way! So I broke down and bought a Fuel Rod. And I'm so glad I did. Because with the Disneyland app and Instagram Stories and TikTok, my phone battery goes down FAST.
You'll find the Fuel Rod kiosks all around Disneyland, Disney California Adventure, and the resort hotels. At any kiosk, you can purchase a Fuel Rod or swap out a used Fuel Rod.
This kiosk is near the Main Street lockers, about halfway down Main Street USA on the right side. This is the closest kiosk to the entrance. (And actually, now there are two kiosks there!)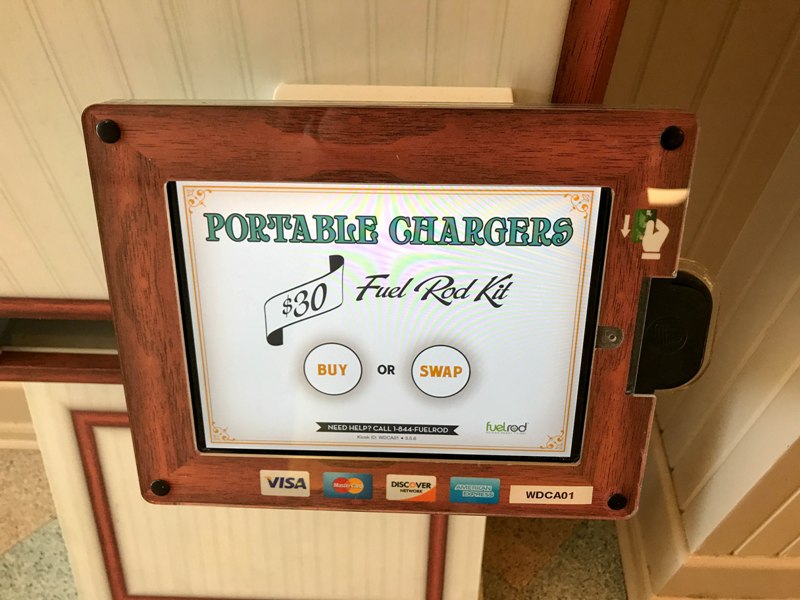 Fuel Rods cost $30 at Disneyland, but here's a tip – They are only $20 + $5 shipping if you buy it online via the Fuel Rod website. You can buy it online, have it mailed to your home, and swap it out at the Disneyland kiosks. Easy!
(If you do purchase it at Disneyland, do a quick Google search for a promo code. I was able to find a $2 discount code.)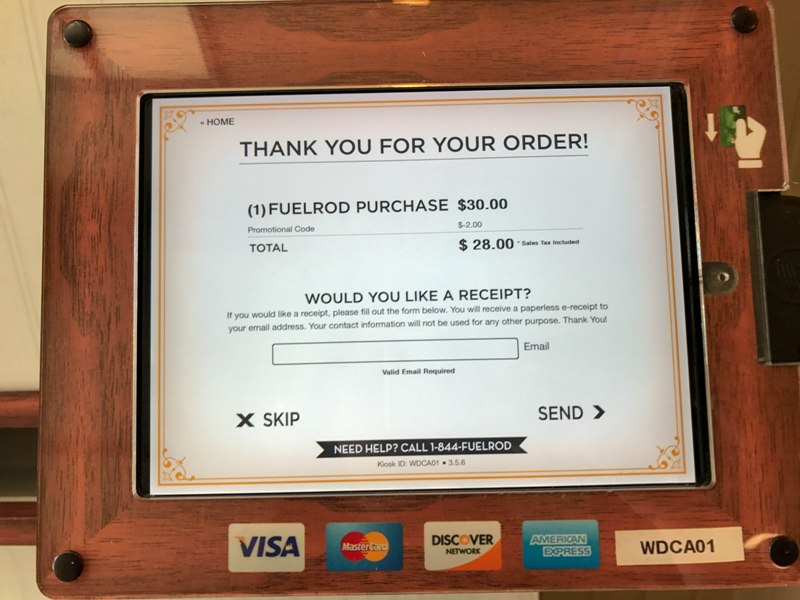 Your purchased Fuel Rod comes with everything you need – the charger, a USB power cord, and adapters for both iPhone and Android.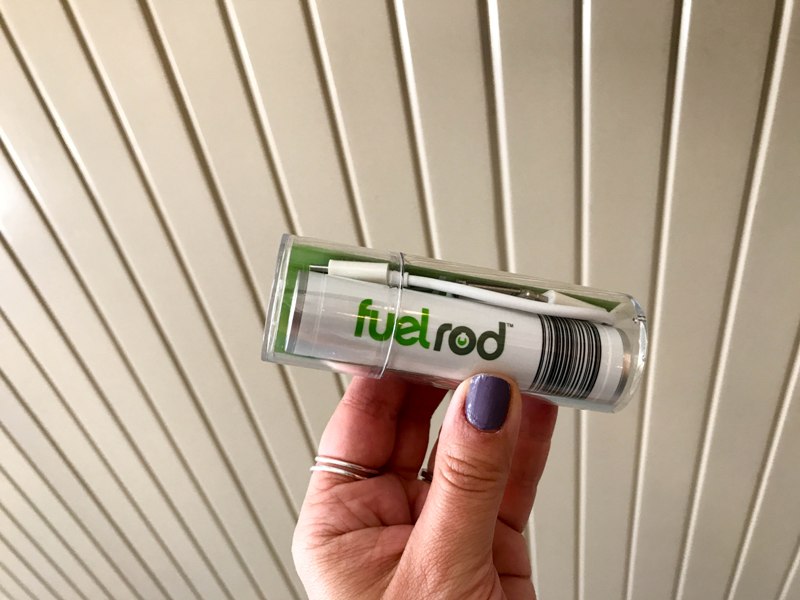 When the Fuel Rod charge runs out, you can swap it out for free at any kiosk. Press the "Swap" button, drop the used Fuel Rod in the slot, and a new charged Fuel Rod dispenses. It takes about 10 seconds.
*Note – For a while Fuel Rod was planning to charge $3 per swap, however they backed down after some internet outrage. It's possible they will add a fee for swaps at some point in the future.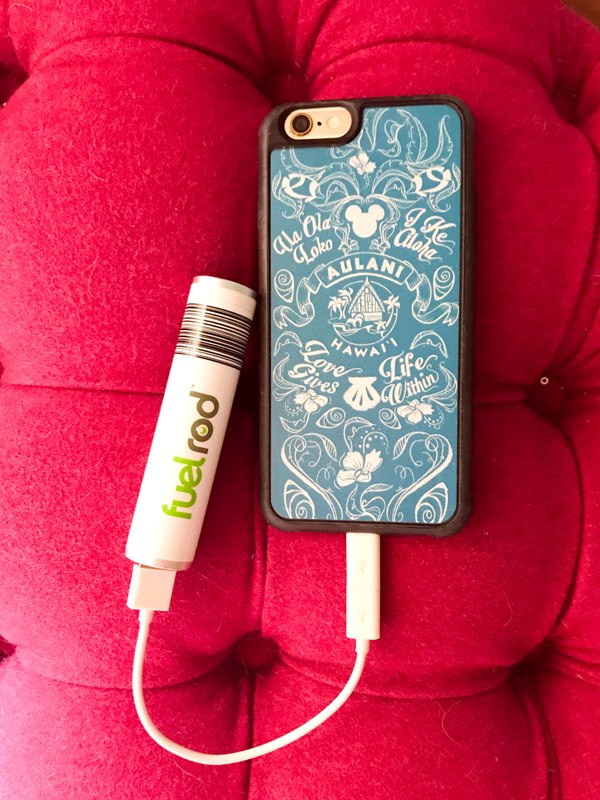 Now that I have had my Fuel Rod for a few months, I can share some personal thoughts about using them.
THE GOOD
– The Fuel Rod is super lightweight and small, especially compared to the bigger charger I used to carry around. The Fuel Rod easily fits in my pocket.
– You don't have to wait until your Fuel Rod runs out to swap it. I recommend just swapping it when you are near a kiosk, even if it's only partially drained.
– I was able to use it during my Walt Disney World trip, too! Walt Disney World parks have Fuel Rod kiosks as well.
– Fuel Rod machines aren't just at Disneyland and Walt Disney World. You can find them at various airports, malls, etc.
THE BAD
– The charge is not great. With my iPhone 12 I get around a 40% charge with the Fuel Rod, if I power down my phone. If I'm plugged in and using my phone, the power level just kind of maintains, until the Fuel Rod runs out. It's certainly better than nothing but don't expect a lightning fast recharge with this.
Even though the Fuel Rod isn't very powerful, I still recommend it. It's great that you can swap it out as many times as you need and keep it forever. You can also recharge it at home just like any other portable charger.
Adding these Fuel Rod kiosks to Disneyland was a really smart move, especially now with how heavily guests need to rely on the Disneyland app. So if you need a charge at Disneyland, invest in the Fuel Rod!
Fuel Rod Locations at Disneyland Resort
Here are all the current Fuel Rod locations at Disneyland. I recommend taking a screenshot of this list and keeping it in your Photos for easy reference. Also, my friend Casey at Disneyland Daily has an article with pictures of every single kiosk location so please check that out!
Disneyland:
Main Street Lockers
Frontierland – Pioneer Mercantile
Critter Country – Pooh's Corner
Critter Country – Near Hungry Bear restrooms
Fantasyland – It's a Small World gift shop
Tomorrowland – Near Star Trader gift shop
Disney California Adventure:
Buena Vista Street – Mortimer's Market
Cars Land – Ramone's
Pixar Pier – Bing Bong's Sweet Stuff
Hollywood Land – Gone Hollywood gift shop
Downtown Disney and Hotels:
Near Salt and Straw
Disneyland Hotel – outside of the Business Center in Fantasy Tower
Paradise Pier Hotel – Lobby near the gift shop
Disney's Grand Californian Hotel – Hallway near Brisa Courtyard
Be sure to check the Disneyland Fuel Rod website for the most up to date information about Fuel Rods.