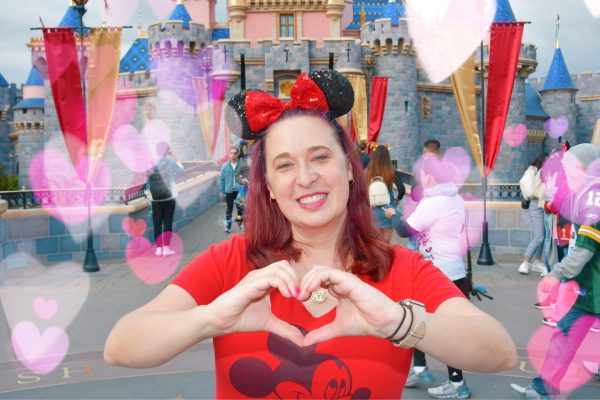 One of the all-time best Disney vacation souvenirs are Mickey Mouse Ears! They are iconic and unmistakable; a true Disney fashion necessity! And there are plenty of Mickey Ears at Disneyland to choose from. Minnie Mouse ears, too!
Whether you prefer the classic Mickey Mouse ear hat or the more modern Minnie Mouse ear headbands, this article will teach you everything you need to know about this Disney Style wardrobe staple.
Getting Mickey Ears at Disneyland
Disney Ear Hats Versus Ear Headbands
The first thing you should probably know is there are two kinds of Mickey Mouse ears. The classic ears hat, and the more contemporary ears headband.
Most Disney fans are familiar with the ear hat, as it became very popular with the classic Mickey Mouse Club TV show! These ears are still the most popular option and can be found at several shops in both Disneyland and Disney California Adventure, as well as World of Disney in the Downtown Disney District, and all three Disneyland Resort hotels.
Of course, I'm referring to the classic black ears hat made of a felt/polyester material as the base, and round plastic black ears attached on top. It has Mickey Mouse's familiar face on the front, outlined in red, and you can have your name embroidered on the back.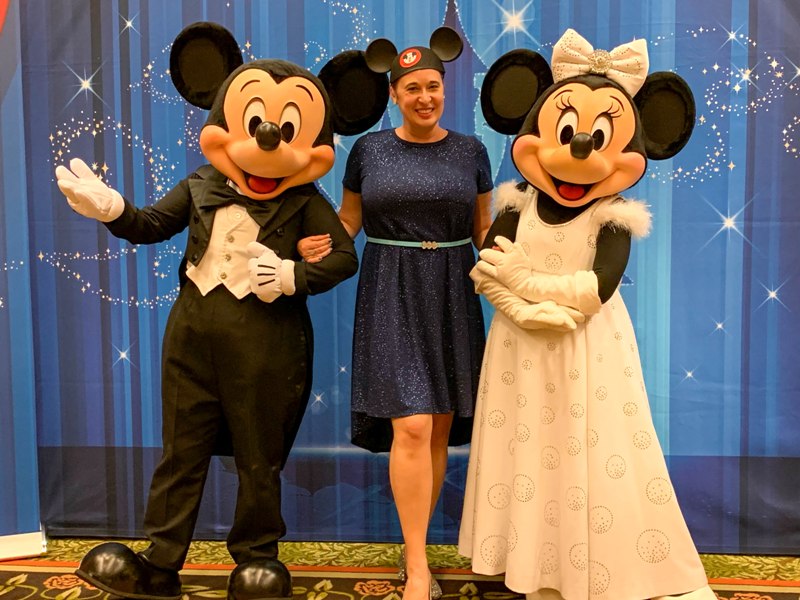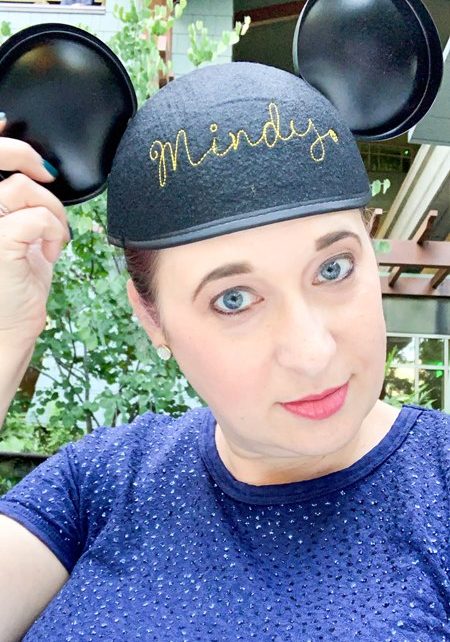 Aside from the classic black Mickey Mouse ears, there are a variety of ear hat designs and colors available at any given time. Usually there are ear hats celebrating the current year, birthday party ears, and graduation ears, among many others.
Minnie Mouse fans, Disney hasn't forgotten about you! Guests can show of their Minnie style with a stylish pair of Minnie Mouse ear headbands, complete with classic red bow.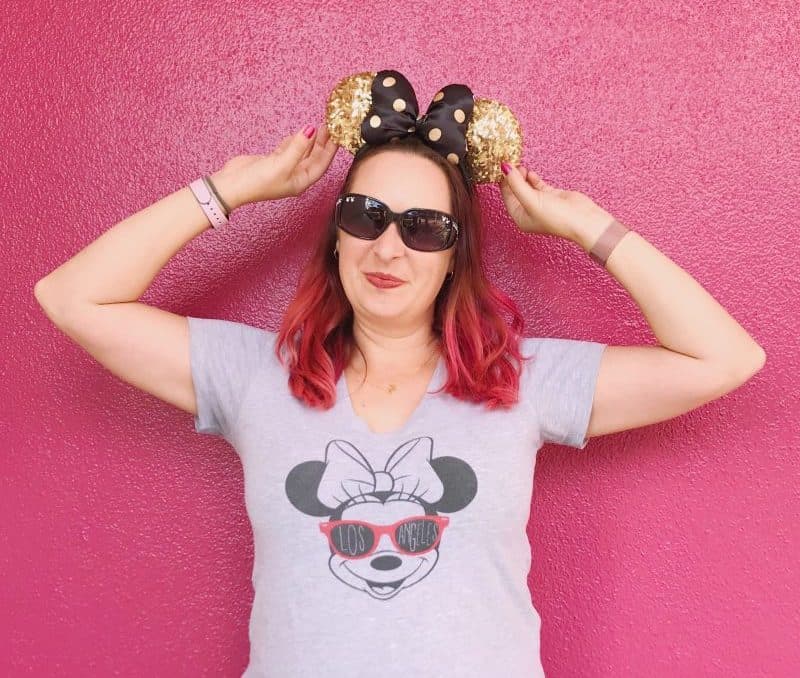 The ear headbands have become so popular in recent years (thanks to social media) that there are dozens of different styles of ear headbands available at any given time. The designs switch out, so if you see a pair you love, grab 'em because they may not be available next time you visit Disneyland! (However, a variation of the classic Minnie Mouse black ears and red bow headband should be available at any given time.)
Where to Purchase Mickey Mouse and Minnie Mouse Ears in Disneyland
When I tell you Disney makes it very easy to purchase Mickey and Minnie ears, I mean it! They are available pretty much everywhere!
Inside Disneyland Park, there are two shops dedicated solely to selling Mickey ears, Minnie ears, and other hats. The Mad Hatter shop is located on Main Street USA, next to the Great Moments with Mr Lincoln theater. A second Mad Hatter shop is located in Fantasyland, next to the Mad Tea Party attraction.
Aside from the two Mad Hatter shops, you can find ears at the Emporium on Main Street, and a small selection, themed to that area, at pretty much every merchandise shop in Disneyland.
Fun Fact: One place in Disneyland you won't find ears? Star Wars: Galaxy's Edge! That's because Star Wars: Galaxy's Edge is meant to be an off-planet world, and Mickey Mouse doesn't exist in that galaxy! So no Mickey Ears for purchase there. However, you can find Star Wars themed ears at Star Traders in Tomorrowland.
Over in Disney California Adventure, you can find Mickey and Minnie ears in two locations: Los Feliz Five & Dime and Kingswell Shop, both on Buena Vista Street. Elias & Company, at the very end of Buena Vista Street on the east side, will also have the newest, trendiest Minnie Mouse ear headbands (as long as they aren't sold out)!
Don't have park tickets? No problem! World of Disney in Downtown Disney carries plenty of Mickey ears, as well as The Dress Shop. Plus, all of the shops located at the three Disneyland Resort hotels sell a small selection of ears: Disney's Grand Californian Hotel, the Disneyland Hotel, and Disney's Paradise Pier Hotel.
And, if you can't get to Disneyland any time soon, many ears are available on ShopDisney online!
Personalize Your Mickey Mouse Ears
Embroidery
One of the best things about Mickey ears is you can personalize them! You can add your name and/or date to the back of the classic Mickey Ear hats in a variety of embroidery styles.
Right now, Guests can choose from three embroidery fonts: Basic, Script, and Fun. For Basic, the colors available are Gold, Black, or Dark Pink. For Script and Fun, the colors available are Gold, Black, Dark Pink, Light Pink, White, Purple, Red, Light Blue, and Dark Blue.
There are only a few places that offer embroidering. Inside Disneyland, you can visit either Mad Hatter location. In Disney California Adventure, you'll find embroidery stations at both Los Feliz Five & Dime and Kingswell Shop.
Outside the parks, you can get your ears embroidered at World of Disney in Downtown Disney District.
One important note about getting your ears personalized! You must leave the tags on before getting them embroidered! You cannot get embroidery done on used/worn ears. They must be new! If you purchased your ears at a different shop, simply leave the tags on and bring the ears and your receipt to the embroidery counter.
Ink Personalization
*NEW* Disneyland now offers the option to personalize Mickey ear headbands! This option was added in February 2022.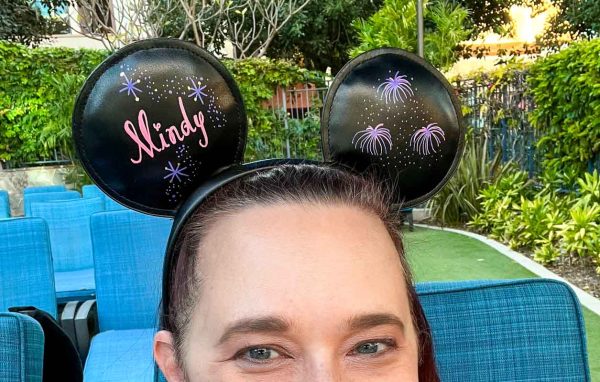 Only certain headbands can be personalized. Right now only the black Mickey Mouse Simulated Leather Ear Headband and the Mickey Mouse Balloon Light Up Ear Headband can be decorated.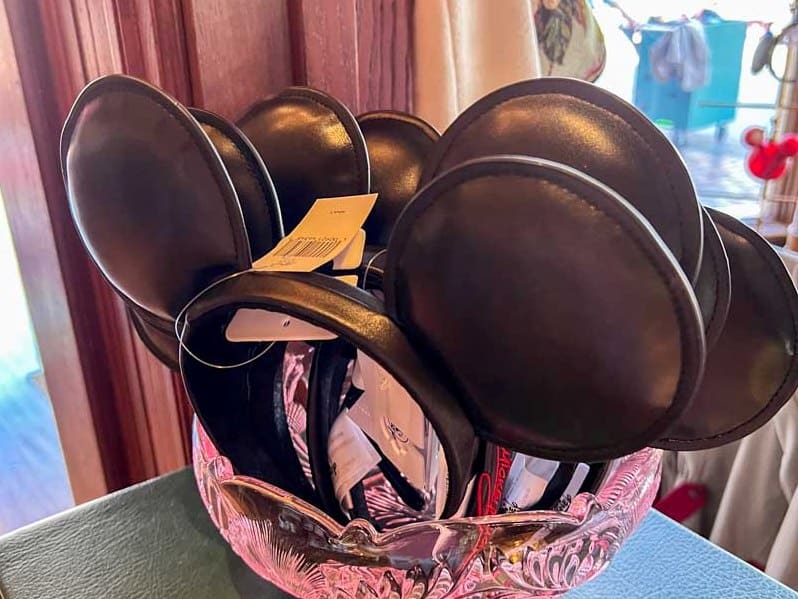 Personalization is only being offered in one spot at the Disneyland Resort: Plaza Point Holiday Shoppe on Main Street USA at Disneyland Park. This is the same place (and same personalization style) where you can get your holiday ornaments personalized!
You can choose from your name, a date, or other approved words and phrases. There are also free and premium designs to choose from. There are 10 ink color choices for your designs: Red, Blue, Green, Purple, Yellow, Pink, Light Blue, White, Silver, and Gold. You can pick one color for words, and two colors for designs.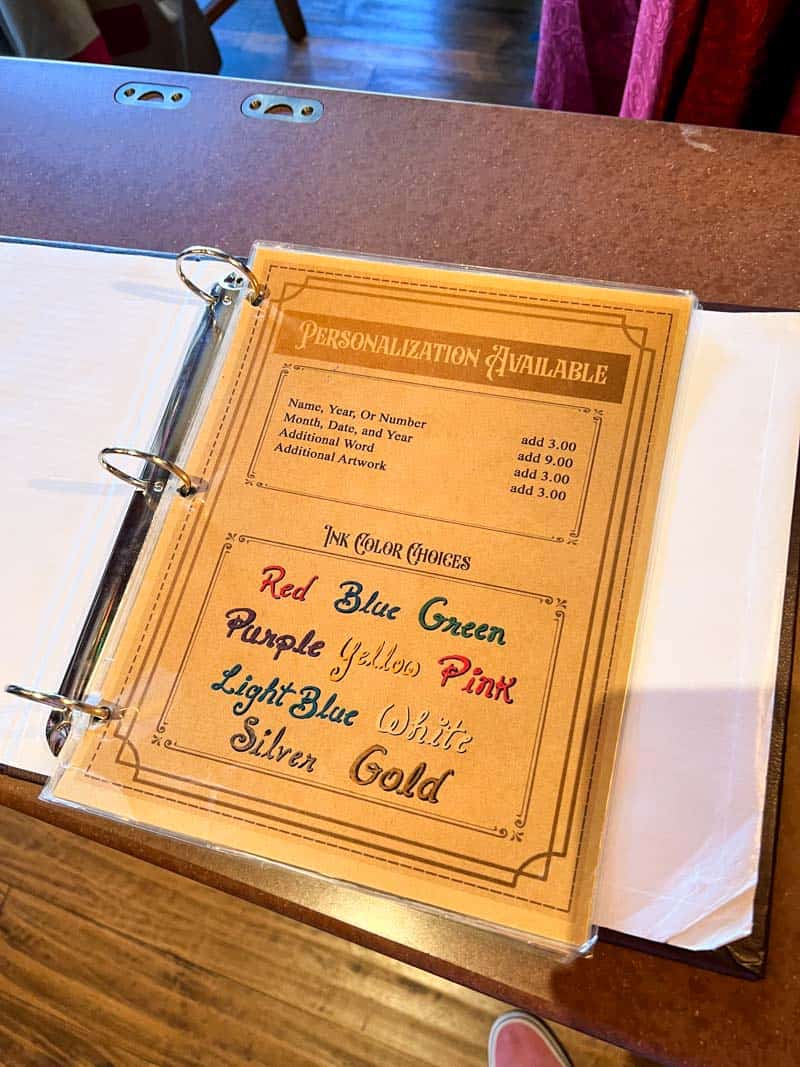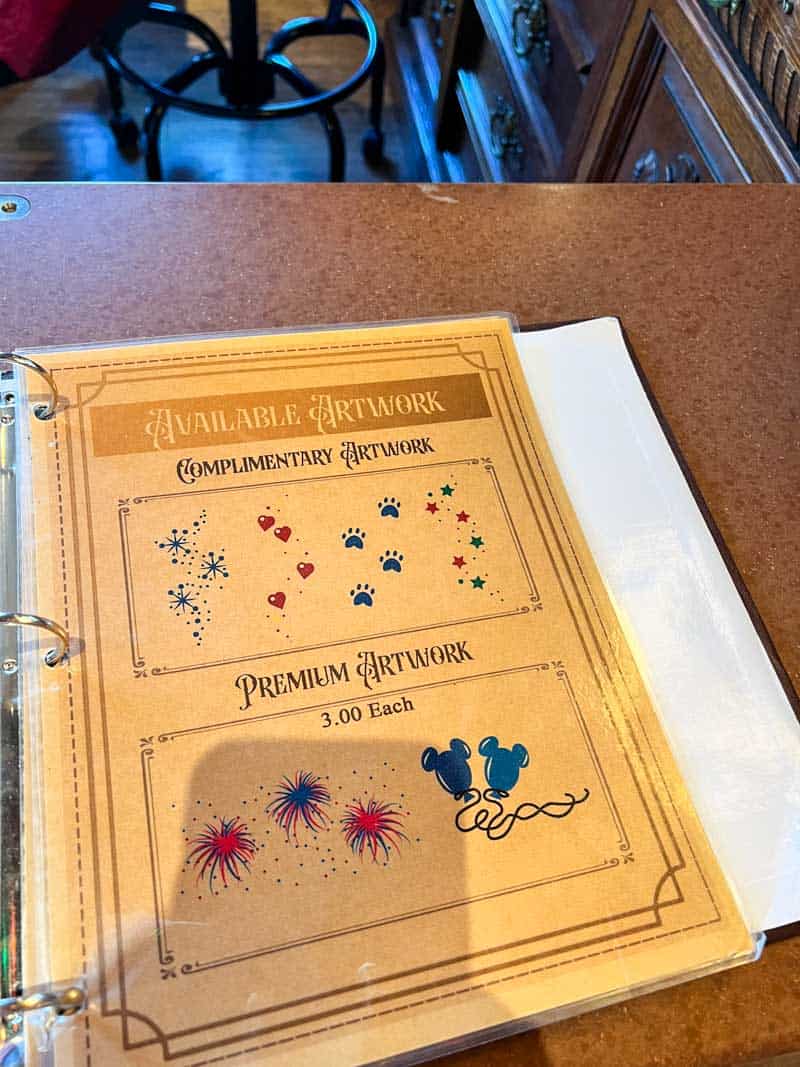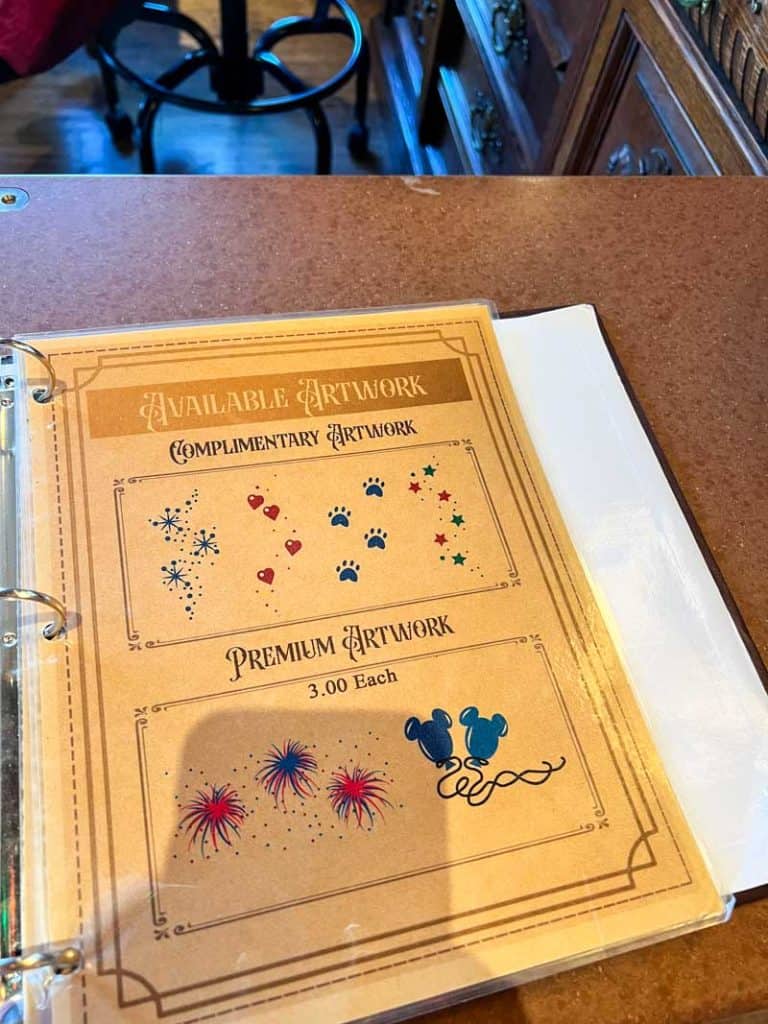 Can You Get Anything Other Than Names and Dates?
Right now Disney will only personalize ears with either a Proper Name or a date. Some people want to get cute phrases like "Just Engaged" or "First Visit" and those types of phrases are typically not approved. You can always ask the Cast Member working at the personalization counter and see what they say!
How Much Does Personalization on Mickey Ears Cost?
There is an additional charge for embroidery or ink personalization on top of the cost of the Mickey ears.
For embroidery, a name in Basic style is $4.99. Premium embroidery is $7.99 per line, up to two lines of 16 characters each.
Ink personalization is $3 per word, or $9 for a date (month, date, and year). Premium artwork is $3 each.