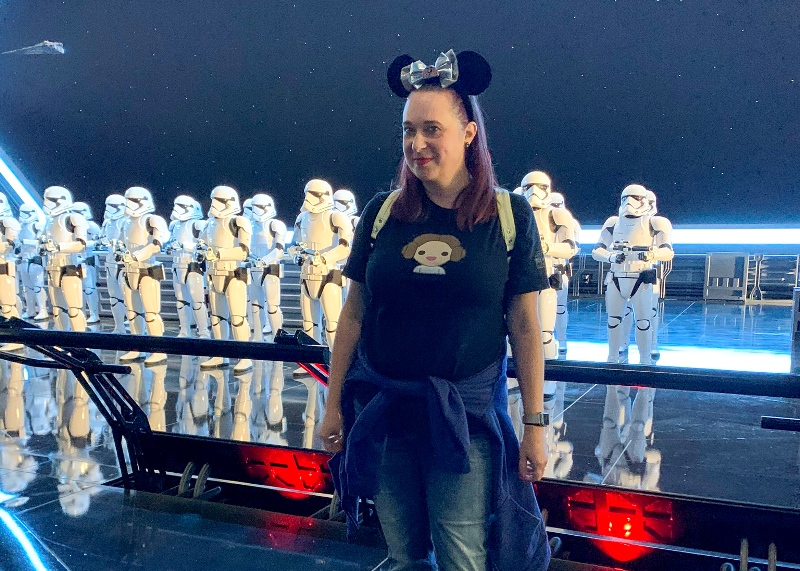 If Star Wars: Galaxy's Edge was the most anticipated Disneyland addition of 2019, Rise of the Resistance is certainly the most anticipated attraction of 2020! And as of January 17, it's finally open!
Due to the popularity of Rise of the Resistance, Disneyland uses virtual Boarding Groups to access the attraction. In this article I'll share how to prepare your Disneyland app to secure a boarding group, when to arrive at Disneyland Park, and how the Boarding Group process works. I'll also share some of my thoughts on the attraction and spoilers below (if you're into that sort of thing!).
Note – This article was originally published in January 2020 and was recently updated with new information in April 2021.
How to Ride RISE OF THE RESISTANCE at Disneyland
Boarding Groups
Boarding Groups are like a virtual queue for the attraction. Disneyland has implemented boarding groups to avoid having an hours-long wait for Rise of the Resistance. You can request Boarding Group access via the Disneyland app.
If you aren't already using the Disneyland app, follow the below instructions BEFORE you arrive at Disneyland Park to save time:
1. Download the Disneyland app to your mobile device. Make sure you have the most updated version of the app.
2. Link everyone in your group (via ticket or pass number) AND/OR unlink anyone who will not be riding with you.
3. Turn on push notifications for the app, if you haven't already.
4. Make sure your mobile device is fully charged before you get to Disneyland.
If you do not have a mobile device or access to the app, a non-technology option will be available at Buzz Lightyear Astro Blasters FastPass area, and Splash Mountain FastPass area.
In the past, you had to be inside Disneyland at opening in order to try for a boarding group. Now, once Disneyland reopens on April 30, 2021, guests will have two chances to join a boarding group – at 7am and at noon.
The 7am opportunity will allow guests to try for a boarding group while still at your home or hotel, as long as you have a valid park ticket and park reservation for the day you are making the boarding group selection. Remember, Disneyland and Disney California Adventure park hours will be 9am to 7pm when they reopen.
For the noon opportunity, guests must be inside either Disneyland or Disney California Adventure. (I'm not sure if Downtown Disney will work; I'll update once I know!)
Guests will access the virtual queue through the Disneyland app. If you are quick enough, you'll be assigned a boarding group. When your boarding group is called, you will have two hours to return to the attraction. (If it's late in the day, you may only have an hour to return. Pay attention to the time on your boarding pass.)
The virtual queue is nice because you have a place in line, but are free to roam around The Disneyland Park, or even go back to your hotel or home, and wait for your boarding time. Once your group is called, proceed to the front of Rise of the Resistance, which is located on the west end of Star Wars: Galaxy's Edge (near the Critter Country entrance).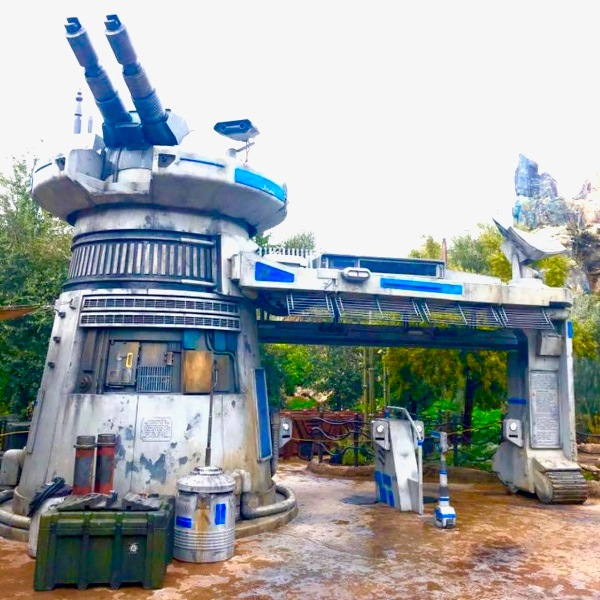 (Photo credit: Disneyland Daily), who also has a great article about getting on Rise of the Resistance.)
So how does it all work? Here's what I experienced on opening day of the attraction, January 17, 2020. This was back when you HAD to be inside the park at opening in order to have a chance to join the virtual queue. Now, guests have two chances: 7am (from anywhere) and 12 noon (from inside either park).
I arrived at the Esplanade around 5:30am. There was no wait at security at the east entrance. There were already long lines at the entrance turnstiles. In hindsight I absolutely did not have to be there that early, but you really never know how crowds and crowd control will be. Turns out there were much longer lines the next day.
At 5:45am, Disneyland started letting guests into the Park. Guests were led down Main Street USA and held there. (Yes, Starbucks was open and yes, it had a huge line!)
When walking into the Park, we were handed instructions on how the virtual queue will work.
Around 6:30am, Main Street USA and Town Square were getting pretty packed. Disneyland then let guests go from Main Street USA to the entrances to all the lands – Tomorrowland, Fantasyland, Frontierland, and Adventureland. The lands were roped off, but this move really freed up extra space as more guests kept coming in.
Throughout the morning, an overhead announcement played throughout the Park, telling guests that the Ride of the Resistance virtual queue would open at 8am. I kept checking the app in case the virtual queue opened early but no such luck.
Right at 8am, I tapped on the Star Wars: Rise of the Resistance "Find Out More" button on the front page of the app and then looked for the red "Join Boarding Group" button. (Screenshots below.) From there I selected my friends names from the linked tickets, and continued. I ended up in group 58. Groups 82 and above are considered "back up groups" and may not be called (and the "cut off" group number may be different on any given day).

(Some screenshots provided by Disneyland Daily)
Within a minute, all groups up to 82 were full. Within a couple more minutes all the "back up" groups were full and the app said boarding groups were done for the day. It all happens very quickly. (Note the time stamp and the message in this screenshot below.)
Many, many, many guests who were in the park before 8am and did everything right, did not end up getting a boarding group. For the first few days, maybe weeks, I don't think everyone who tries will get into a boarding group.
I had several friends who did everything right, but apps crashed or glitched or logged out, and they were unable to get boarding groups.
I also had friends who got a boarding group and the attraction broke down while they were in the queue and eventually were escorted out.
So here are some hard truths:
You might arrive super early and be totally ready and follow these instructions to the letter, and still not get a group.
You might hear people around you cheering because they got into a group while you're still struggling with your app.
You might get into a high number group that might not board until evening or not at all.
You might get into a group but the attraction might break down while in the queue (happened to me!).
You might get into a group and the attraction might break down while in the queue and you might get escorted out of line and told to try again later in the day.
You might get into a group and it's possible the attraction might not open at all that day.
It's not a perfect system. It's not a fair system, at all. It feels like those with the fastest phones and the clearest cellular data and the quickest fingers and the right amount of luck, will win out. But overall, I do think it's a better system than waiting in a 10 hour line.
Above all – Please be kind to Cast Members. They are doing their best.
As the day goes on, your status screen will be updated with a green bar. The green bar grows as you get closer until finally … success!
Group 58 ended up being called around 2pm. We noticed a few delays during the day, including a morning delay that resulted in the attraction opening 45 minutes late.
While in the queue, the attraction broke down and we ended up sitting in the queue for just over an hour before we started moving again.
Without the breakdown, the queue would have been about a 20 minute wait.
Frequently Asked Questions about obtaining a Boarding Group for Rise of the Resistance
What are some tips for getting a boarding pass?
Other than the tips I shared above, I would recommend the following:
– Skip the Disneyland WiFi, which is notoriously unreliable. Use your cellular data instead.
– Stand in an uncrowded area, away from other people using their phones. I also recommend standing at the top of the Train Station on Main Street USA since it's up higher and cell signal may be slightly clearer.
– Or, stand near the non-technology distribution areas (Buzz Lightyear AstroBlasters FastPass or Splash Mountain FastPass) so you can try to get assistance if your app doesn't work. (However – these areas will have long lines prior to park opening so know there's no guarantee of getting a boarding group if you try to jump in after opening.)
– If you do not see the Join Boarding Group red button right away, DO NOT OPEN AND CLOSE YOUR APP. Simply go back to the main screen and try again. Do not restart the app unless it freezes, or it will cost you valuable time.
– If you are in a group, put your faith in whoever has the newest, fastest phone with the best cellular connection.
Should I not bother with the app and just do the non-technology option instead?
If you have a reliable phone, I would recommend against this for the first few weeks. Boarding Groups will fill up very quick, and the non-technology option is slow. Using the app, even though it's not 100% reliable, is still the best way to obtain a Boarding Group.
Can I go to Disney's California Adventure and still get a Boarding Group?
No. You must be scanned into Disneyland Park.
Can I scan into Disneyland, then leave and go somewhere else (like back to my hotel or to Downtown Disney) and still join a Boarding Group at Park opening?
I have heard this works at Disney's Hollywood Studios in Walt Disney World. I have not heard if it works at Disneyland, and I would be too nervous to try it myself the first few visits! Hopefully we can confirm this soon.
How can you be inside Disneyland park before opening? I thought the gates open at the scheduled opening time?
Many people assume this, but the gates (where you scan your ticket/pass to enter) typically open 30 minutes before the scheduled opening time. Crowds are held on Main Street USA until the official scheduled opening time (except for guests taking advantage of Magic Morning, which I won't get into here). To help manage the crowds for Rise of the Resistance, the gates have been opening earlier. To ensure you get inside Disneyland Park with plenty of time, I recommend being in line at the gates one hour before scheduled Park opening.
I have Boarding Group number xx. What time will my Group be called?
Boarding Groups are not called at a specific time. Group numbers will be called as space in the physical queue becomes available. Also, if the attraction breaks down, this will affect when Groups are called.
As an example, the first day I had Boarding Group 58 and ended up going on the attraction around 3pm. The second day, I had Group 29 and ended up going on the attraction around 1pm. The attraction had much more downtime on the second day, delaying my group. So as you can see, there is really no way to predict what time your group will actually be called. You can keep an eye on the attractions status in the app, or just wait to get the push notification that your group has been called! You can also check the status board near Plaza Inn for the current groups being called.
How does Disability Access Service pass work with this attraction?
Everyone needs a boarding group, even if you are using the DAS pass. The queue is fully ADA compliant and a typical wait is between 20-30 minutes (without any break down delays). If you need additional assistance, please visit the guest services stand at the Frontierland entrance to Star Wars: Galaxy's Edge.
Is rider swap available?
Yes. Again, everyone in the party will still need a boarding group.
Is there a single rider line?
Not at this time.
Can I go on this attraction if I'm pregnant?
I would advise against it since I know nothing about being pregnant. But the choice is ultimately up to you.
What is the ride like? Do I need to worry about motion sickness? I heard there is a drop – how intense is it?
I had all these questions before I rode because I do not like roller coasters or fast rides or drops or anything fun! Motion simulator attractions (like Star Tours) make me queasy and I have to close my eyes. I even have trouble on Smuggler's Run. I hate drops like Tower of Terror and I won't even go on Guardians of the Galaxy.
(Very minor spoilers ahead.)
All that being said, I had zero motion sickness issues with Rise of the Resistance. The vehicle section of the ride is trackless and smooth. There are times when you are spun around or you go backwards suddenly, but it's not jerky or intense. It's similar to being whipped around on Toy Story Mania.
The drop – Yes there is a short drop that's over before you even know it. It's a straight down drop that lasts about a second. I had no issues with it. If you can handle the drops on Pirates or Indiana Jones, you can handle this.
The drop leads into a 30 second motion simulator sequence. Any longer and I probably would have had to start closing my eyes. It's quick and very smooth.
SPOILER ZONE!
The rest of the article contains spoilers for Rise of the Resistance. Please close this window or tab if you do not want to read about the attraction. If you have any questions that have not been covered yet, please reach out to me on Twitter or Instagram – @fairytalemindy
.
.
.
.
.
.
.
.
.
.
.
.
.
.
.
.
.
.
.
.
.
.
.
.
.
SPOILERS ARE COMING UP!
.
.
.
.
.
.
.
.
.
.
.
.
.
.
.
.
.
.
.
.
.
.
.
.
.
Okay, I feel like that's a good enough warning.
Rise of the Resistance is truly an immersive attraction unlike anything I've experienced anywhere else. It combines many elements of so many other attractions and it all works together.
The plot of Rise of the Resistance finds guests being recruited to assist Rey and the Resistance with battling the First Order. The attraction begins in a room where BB-8 is buzzing about, doing droid things. Soon a hologram of Rey appears, thanking us for our loyalty to the Resistance and explaining that our transport off Batuu is waiting.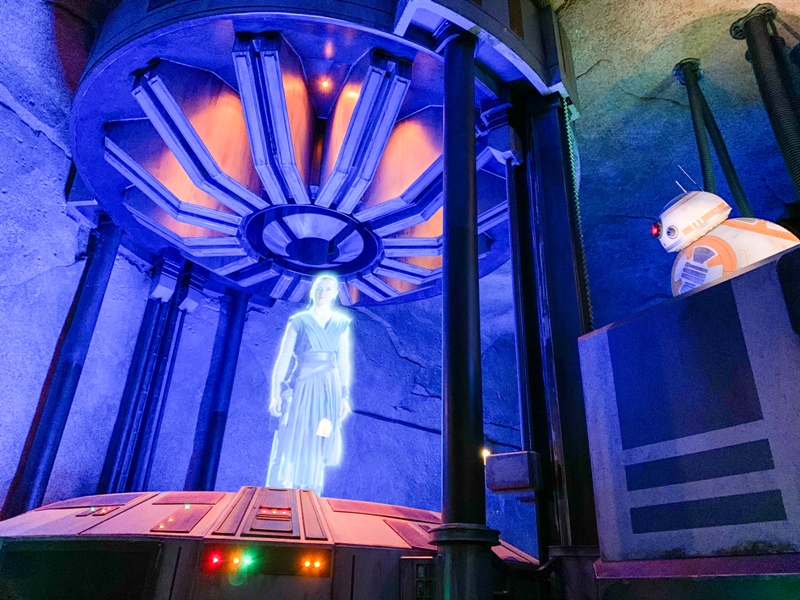 From this room, we are led to an outside area where we board a ship – the transport off Batuu, with Poe and BB-8 following behind us on their X-Wing.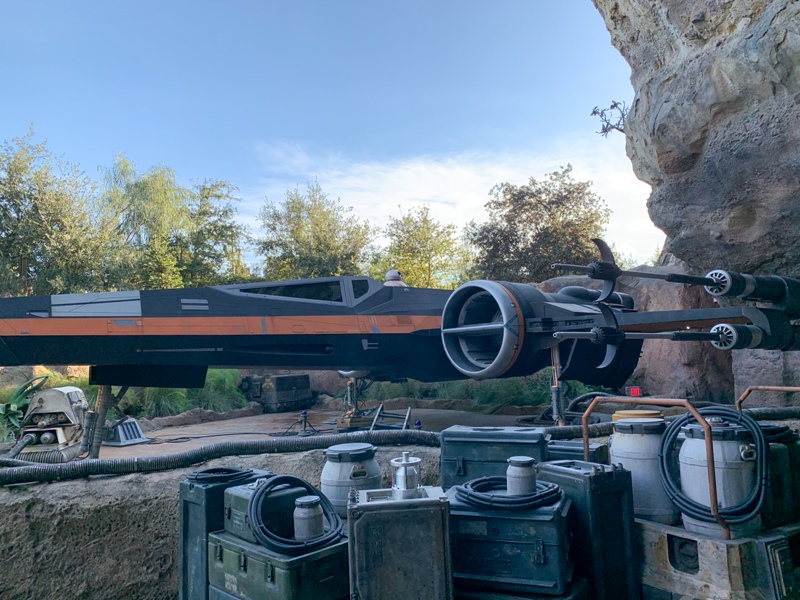 The transport is piloted by Lieutenant Bek, perhaps a Mon Calamari relative of the late Admiral Ackbar. While he is leading the way, the transport becomes under attack by the First Order. Guests are standing inside the transport and there is very mild movement, similar to riding on a subway or bus. Handrails are available to hold onto, but not really needed. There is a lot of look at on this transport.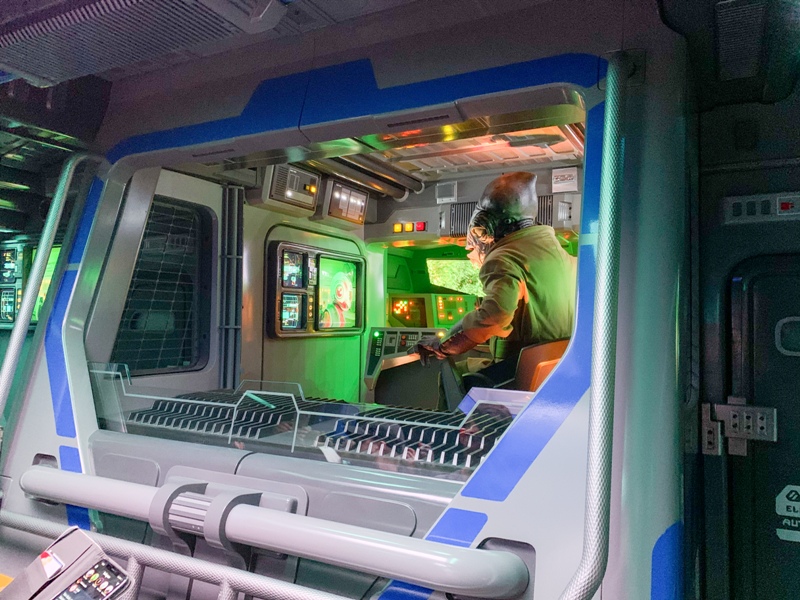 Once the First Order attacks, they use a tracking beam to pull our transport into their Star Destroyer. Suddenly the transport door opens and the First Order boards. They tell us we will be led to the interrogation room.
Leaving the transport, you are now in the "Stormtrooper" room you have probably already seen. The First Order encourages guests down the hall but feel free to take a quick photo here. This room is truly, mind-blowingly ENORMOUS.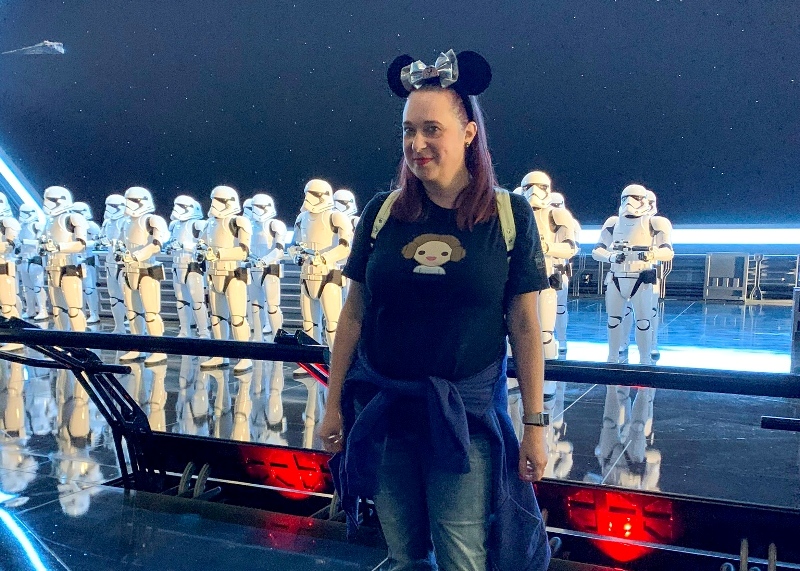 From here guests are led down a hallway and eventually split up into small groups for "interrogation." Guests are told to stand on a certain color floor, and then small groups of 16 are led into the holding area, where a Stormtrooper is keeping watch.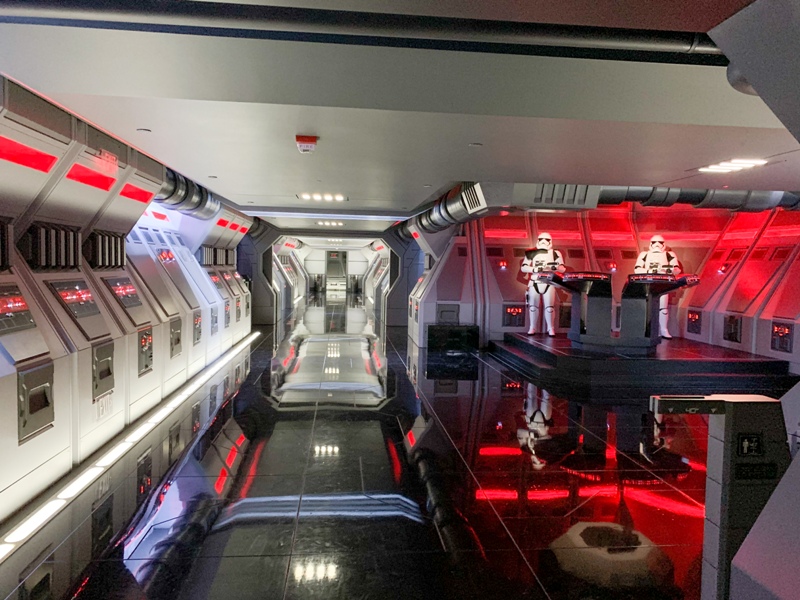 Suddenly, General Hux appears followed by Kylo Ren. Kylo knows we have seen the location of the Resistance base on Batuu and he tries to read our minds using the Force. They walk away and then suddenly, a loud noise comes from the other side of the wall. The wall splits and a member of the Resistance appears, saying we are being rescued. Groups of 8 are led to transports (ride vehicles) operated by a droid R-5. Cast members (Resistance fighters) assist guests with getting into the transport and safety procedures.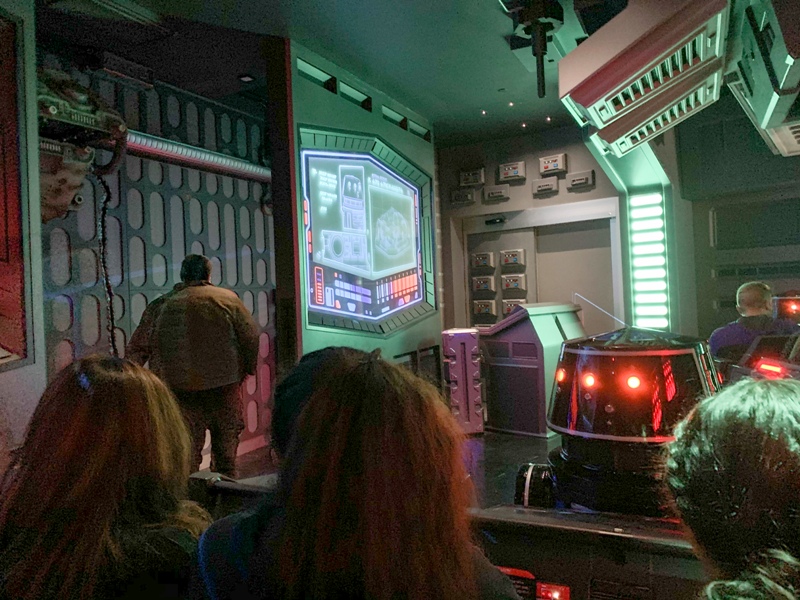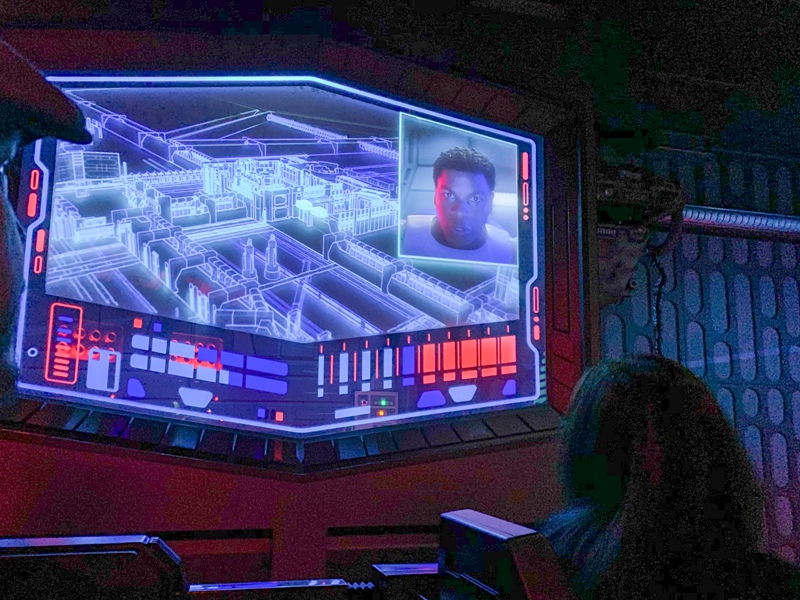 The rest of the attraction takes place in these escape transports, which are trackless ride vehicles. It goes by fast and there's a lot to look at! The transport zooms around, goes backward, and has sharp turns as we try to avoid capture by the First Order. There is a slight drop, about a second, and the attraction ends with a quick simulation experience similar to Star Tours that lasts about 30 seconds.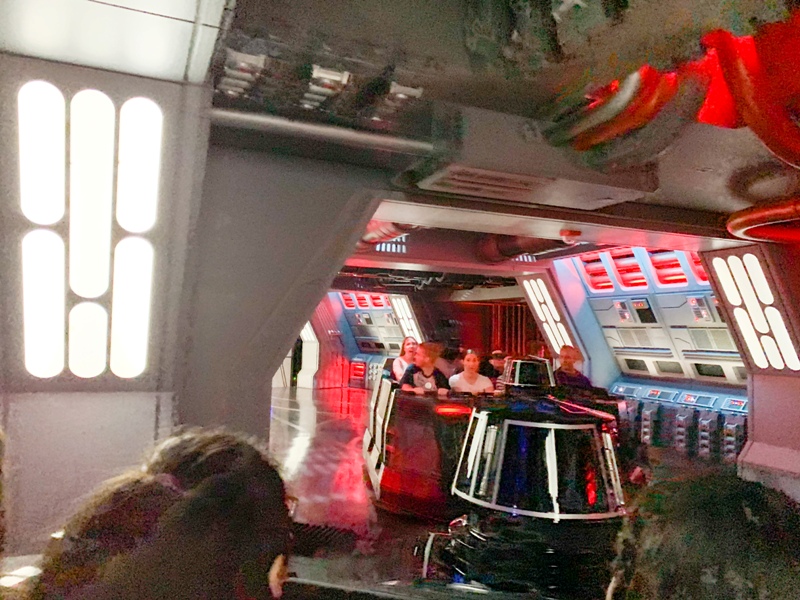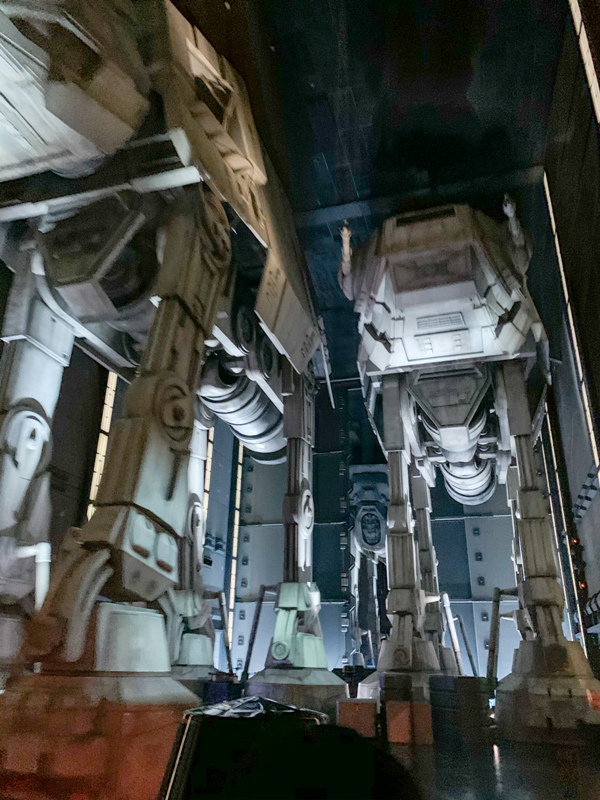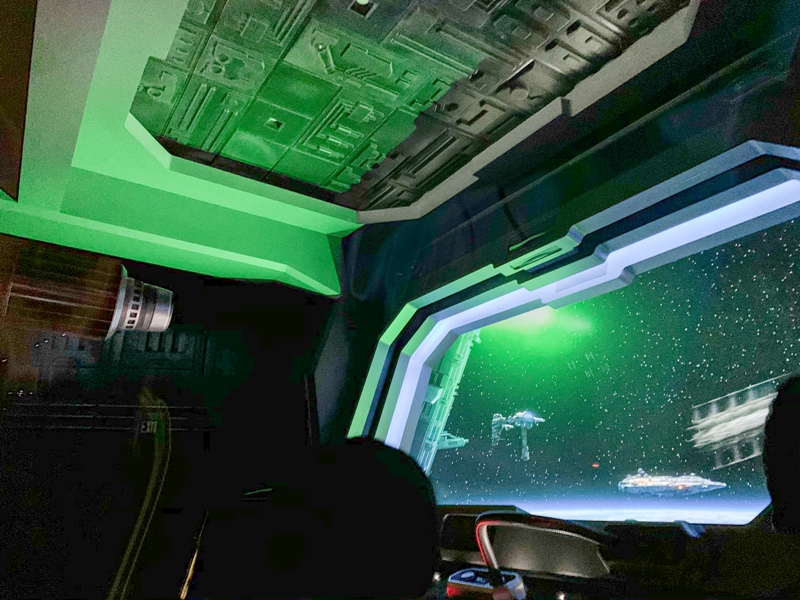 The level of detail is simply indescribable. Like nothing I've ever seen on any attraction.
Good news – you escape the First Order and end up back on Batuu where you exit your transport.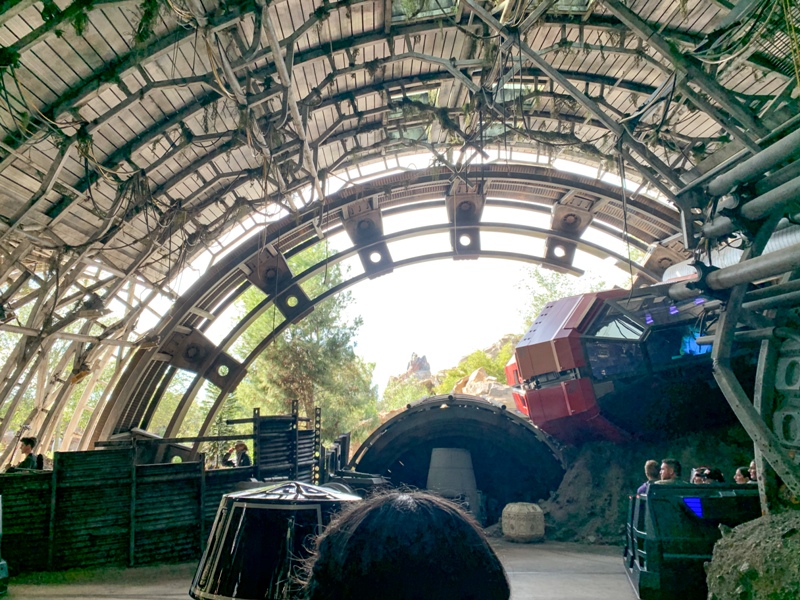 The whole experience takes about 20 minutes.
I truly love this attraction and I hope you love it too. If you're trying to join a boarding group soon, may the Force be with you!