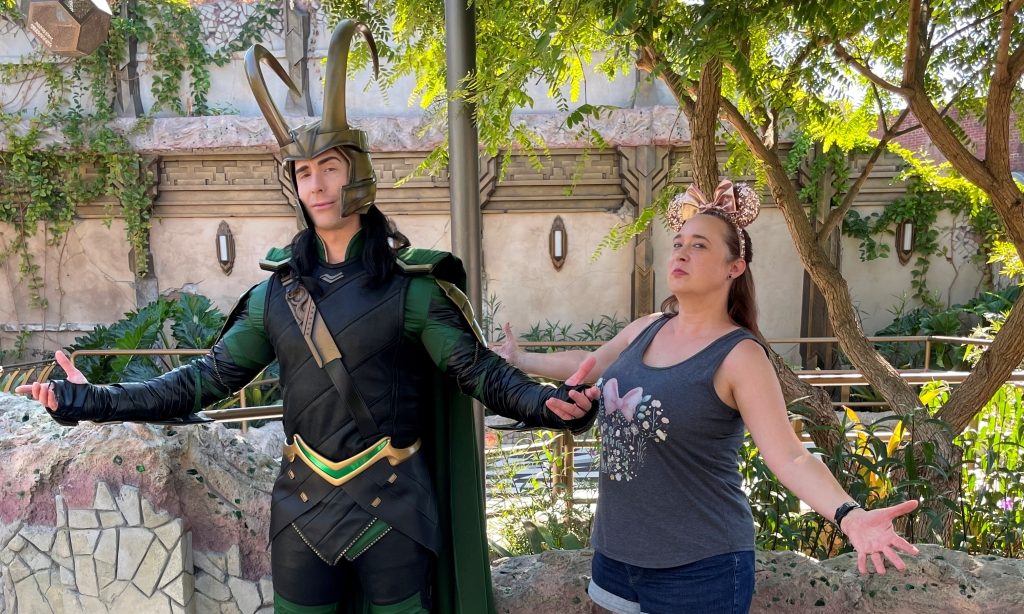 Marvel is known for its incredible and formidable superheroes, but there is one villain who has become a fan favorite: Loki. Of Asgard. Burdened with glorious purpose.
You've probably heard of him.
It has been fun to watch Loki's story unfold over the years, and see his impact on the Multiverse through the Loki series on Disney+ (with season 3 coming in 2023).
If you're visiting Disneyland in California, and you're a big Loki fan, you're in luck! Yes, Guests can meet Loki at Disneyland – the ONLY spot in the USA where you can meet the real Loki. (Loki also makes appearances at Disneyland Paris.)
Read on for all the details on finding Loki at Disneyland in Anaheim, CA!
Seeing Loki at the Disneyland Resort
The first thing to know is, Loki only appears at Disney California Adventure, which is across the way from the original Disneyland Park.
Disney California Adventure is home to Avengers Campus, where Earth's Mightiest Heroes (and redeemed villains) come to train and mingle with Guests.
There is no official character meet & greet schedule at Avengers Campus. If you ask one of the Cast Members in the area if Loki might be greeting Guests that day, they will simply tell you that Loki is a god and he comes and goes as he wants.
But as a frequent visitor to Avengers Campus, I can tell you that Loki is a creature of the night, and typically appears in Avengers Campus after 3pm through closing.
Because all heroes and villains need a break, characters at Avengers Campus will appear for only 30 minutes at a time. Don't be upset if you catch them as they are headed backstage! Simply ask a Cast Member if the character is done for the day and they will usually tell you 'yes' or 'no.'
Loki typically does not like to stand in one place, so look for him walking through the campus, stopping to chat with Guests when he can. Loki is happy to sign autographs and pose for pictures, and may even let you hug him if you ask nicely (Loki usually doesn't hug back; he is too conceited for such things!).
You might also catch Loki conversing with his brother Thor, or you may find Loki playing charades with Black Widow (of all people!); you may even spot Loki standing on top of the Avengers Campus building next to the Quinjet, using his magic to light fireworks in the sky! You never really know what kind of fun character interaction you'll experience at Avengers Campus. It seems to be different every time I visit!
Disclaimer: All character appearances are subject to change. Loki may not make an appearance at Avengers Campus every day. Inclement weather may also affect character appearances. Please be kind to Cast Members who are doing their best to make magic for us.
I really hope this guide helps you meet Loki at Disneyland! If you see him, tell him Mindy says hello!