This post contains affiliate links.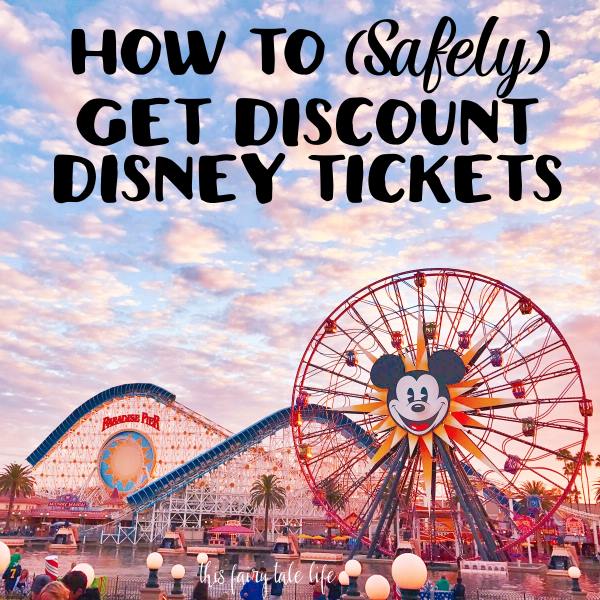 Since I am well known as a Disneyland connoisseur, I'm often approached by friends or blog readers asking me for advice on planning their trip. The one thing EVERYONE always asks me is, "How can I get discount Disney tickets?" And my answer has always been, well … you can't. Disney offers good seasonal discounts on their hotel rooms, and Walt Disney World offers Free Dining packages once in a while, but Disney doesn't really offer discounts on their Park tickets. Every now and then Costco might have a good deal on multi-day tickets. And for goodness sake, DO NOT buy tickets off of Craigslist!!
But all my previous advice has changed since I discovered Get Away Today!!

Get Away Today offers discounts on select Disneyland and Walt Disney World tickets, and has the BEST prices I have seen!
Here is some additional information to know about using Get Away Today to buy your tickets:
There are still no discounts on single day passes.
With multi-day passes, the more days you buy the better your discount!
You can also get tickets for Universal Studios, Sea World, and LEGOLAND.
With Get Away Today you can also add hotels, flights, and rental cars.
Get Away Today also partners with many of my favorite Disneyland Good Neighbor Hotels! Go to the Get Away Today home page and select "Hotels" at the top and then select "Disneyland Resort" to find the best prices on hotels in the area (including the official Disneyland Resort hotels).
If you have any questions or concerns about using Get Away Today, please reach out to me! I'm so happy I now have this resource to offer to you. I know Disney trips can be expensive, and every dollar you save counts!
Comments
comments