While The Disneyland Resort has been celebrating the Lunar New Year for a while now (the celebration used to be at the former Big Thunder Ranch Jamboree area), the last couple years Disney has taken it up a notch. Now the celebration takes place at Disney California Adventure with lots of activities and excitement throughout the day!
This year the Lunar New Year celebration takes place from January 17 to February 9, and takes place along the festival corridor (formerly known as the parade corridor), near the entrance to Pixar Pier, adjacent to the Golden Zephyrs and Boardwalk Pizza and Pasta.
In 2020 we are celebrating the Year of the Rat! Or at Disney it's the Year of the Mouse!
Meet & greets include Mickey, Minnie, Three Little Pigs, and Pluto in special festive attire, and Mulan and Mushu! Mulan is my favorite princess so it's always a treat to see her in the spotlight. The character meet and greet location is under the big gazebo in Paradise Gardens. (Tip- You can ask Cast Members when certain characters are expected to greet guests. Lines get long so plan ahead!)
Aside from the meet & greet, you can see Mulan and her friends during the Lunar New Year Procession performance, which takes place at various times during the day (check the app during your visit). The Procession starts at Goofy's Sky School and ends on the "stage" at Paradise Gardens Park.
I also enjoyed the activities, which are fun for kids and adults alike. I left a wish on the Lucky Wishing Wall, and face painting and kids crafts are available near Ariel's Undersea Adventure. All of these activities are free!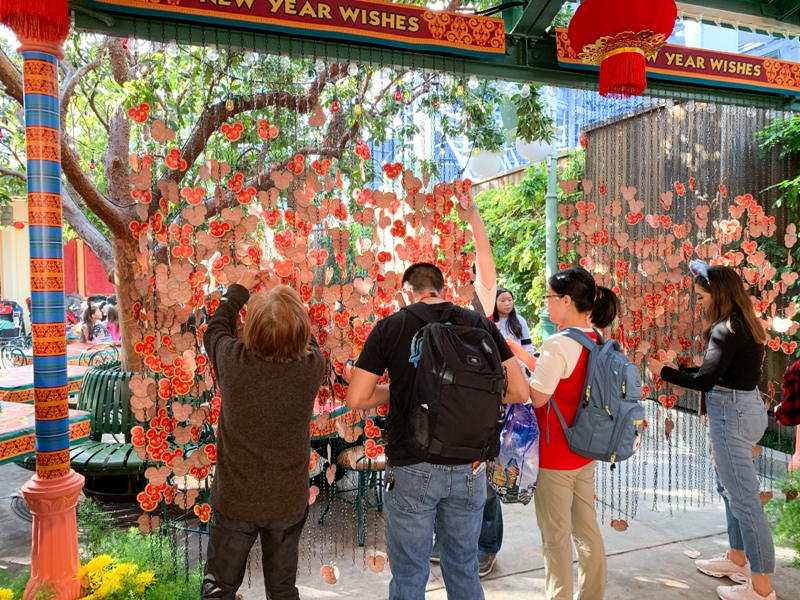 But my favorite part of the Lunar New Year celebration is the same as every holiday … the food! There are four food marketplaces set up this year, along with special dishes available at Paradise Garden Grill.
This year, the Sip and Savor Pass is back! Six tabs are included, and it costs $42 with a reduced price for Annual Passholders. Use the tabs on food items that cost $7 or higher for the best value (excludes alcohol). Purchase your pass at Kingswell Camera Shop on Buena Vista Street, Elias & Co., Festival Gifts (in Paradise Gardens), or at the Sip and Savor cart along the corridor.
New this year is MOBILE ORDERING for festival marketplaces! Not only is it handy to have the menus available through the Disneyland app, but if you plan ahead you can mobile order and skip all the long lines! (PS if you order alcohol you will have to show ID to pick it up.)
And if you do wait in line, you still have the option to pay for ALL your food at one register, and pick up your food at the corresponding marketplaces. This will hopefully cut down on waiting in lines and the hassle of taking out your credit card at every single marketplace.
Photo credit: The Healthy Mouse
Longevity Noodle Co. – Chicken Meatballs and Lo Mein Noodles, Vegetable Egg Roll and Chilled Sesame-Garlic Noodles, Black Sesame Mochi Donut, Vietnamese Cold Brew, and Tsingtao Beer.
The vegetable egg roll was good but the noodles were way way way too spicy for me! I'm bummed because I love chilled noodles. The donut was good, but didn't seem too fresh. I was hoping for a donut that melted in my mouth, and this one was a little dense.
Lucky 8 Lantern – Shrimp Fried Rice, Smoked Beef Bulgogi Short Rib, Mandarin Orange-Green Tea Tart, Peach Sojito, Hitachino Nest beer.
I got the beef bulgogi without onion, which left it a little plain but the beef was really tender and good! And I had the Mandarin Orange-Green Tea Tart last year and LOVED IT. Can't wait to get this one again.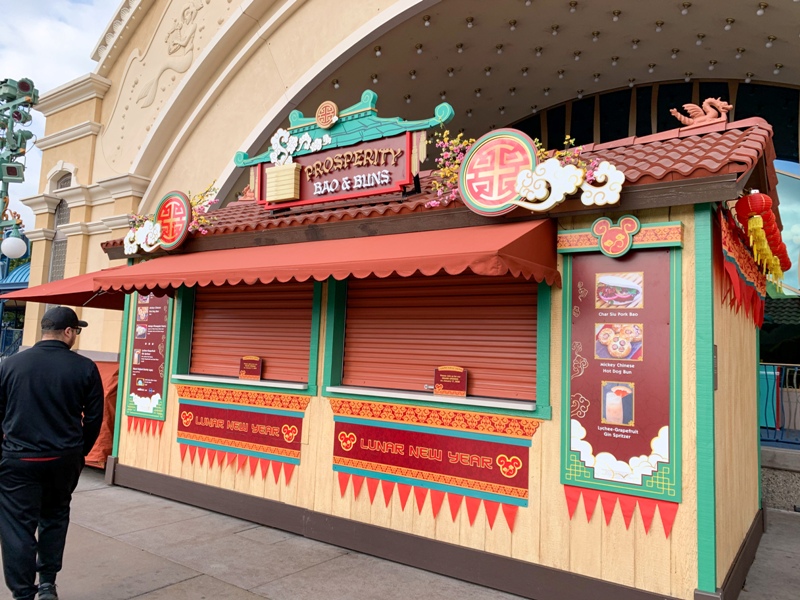 Prosperity Bao & Buns – Char Siu Pork Bao, Mickey Chinese Hot Dog Bun, Mango-Pineapple Pastry, and Lychee-Grapefruit Gin Spritzer.
My friends got the pork bao and said it was good. I also tried a bite of the Mickey Chinese Hot Dog Bun which tastes how you would think it tastes. The bread is soft and fluffy, like a hot dog bun. I got the Lychee-Grapefruit drink and due to the grapefruit it has a strong bitter taste. Not my cup of tea but my friend liked it so I gave it to her! Sharing is caring!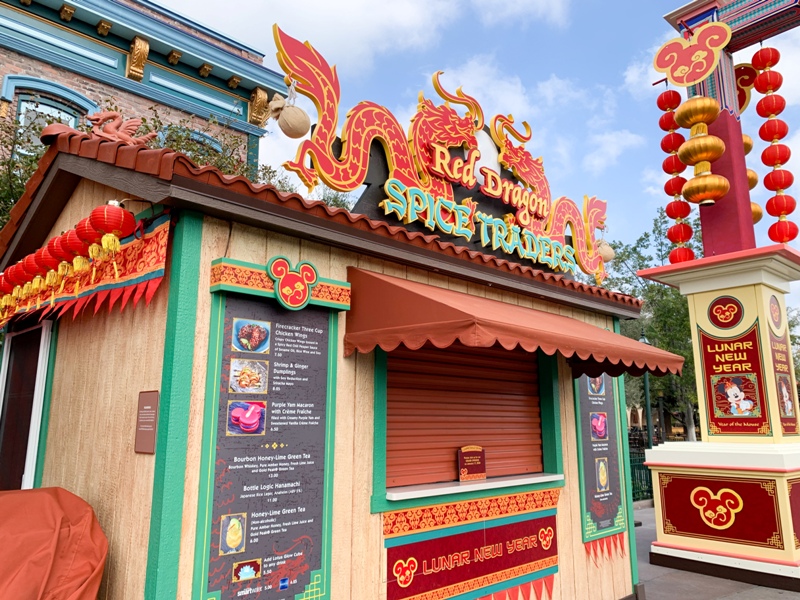 Red Dragon Spice Traders – Firecracker Three Cup Chicken, Purple Yam Macaron, and Honey-Lime Green Tea
The only item I tried here was the macaron. Highly recommend! Not only is it Insta-worthy but it's delicious.
Dishonor on Your Cow shirt (my design) from Teepublic
The production value on the marketplace signs is really improved this year! Everything looks so good.
The seasonal food available at Paradise Garden Grill includes Whole Deep-fried Tilapia, Korean Grilled Chicken, Plant-based Orange Tempeh, Pork Belly Banh Mi, Mango Mousse, plus Orange Blossom Cocktail, Almond Milk Iced Tea, and Kloud beer. Sip and Savor portions are available for some items!
Had the Orange Blossom Cocktail here and loved it! In fact, I had two! Hehe. It's made with gin, orange juice, and Cointreau, and it's all kinds of delicious.
When you're done eating, be sure to check out all the cute merch that's available this year, including a special Spirit Jersey (that was sold out already)!
It's a shame this festival only lasts for three weeks because it has become one of my favorites! So don't delay if you want to partake in the fun of Lunar New Year!