The festival for Lunar New Year at Disneyland is something you do NOT want to miss!
While the Disneyland Resort has been celebrating the Lunar New Year for a while now (the celebration used to be at the former Big Thunder Ranch Jamboree area), the few couple years Disney has taken it up a notch. Now the celebration takes place at Disney California Adventure with lots of activities and excitement throughout the day!
This year the Lunar New Year celebration takes place from January 21 to February 13, 2022, and takes place along the festival corridor (formerly known as the parade corridor), near the entrance to Pixar Pier, adjacent to the Golden Zephyrs and Goofy's Sky School.
In 2022 we are celebrating the Year of the Tiger! It's Tigger and Rajah's time to shine!
Guide to Lunar New Year at Disney California Adventure
Character Meet and Greets
Meet & greets include Mickey, Minnie, Three Little Pigs, and Pluto in special festive attire, and Mulan and Mushu! Mulan is my favorite princess so it's always a treat to see her in the spotlight. The character meet and greet location is under the big gazebo in Paradise Gardens. (Tip- You can ask Cast Members when certain characters are expected to greet guests. Lines get long so plan ahead!)
New in 2022, Guests can meet with Raya from Raya and the Last Dragon over in the Redwood Trail Challenge area. The queue to meet with Raya was very long on opening day, so Cast Members offered a "pass through" option where Guests could skip the line and just take a photo of Raya. I opted to save some time and do the pass through option, so I didn't get a photo with Raya or get to chat with her, but I'm hoping to do that before the Festival is over!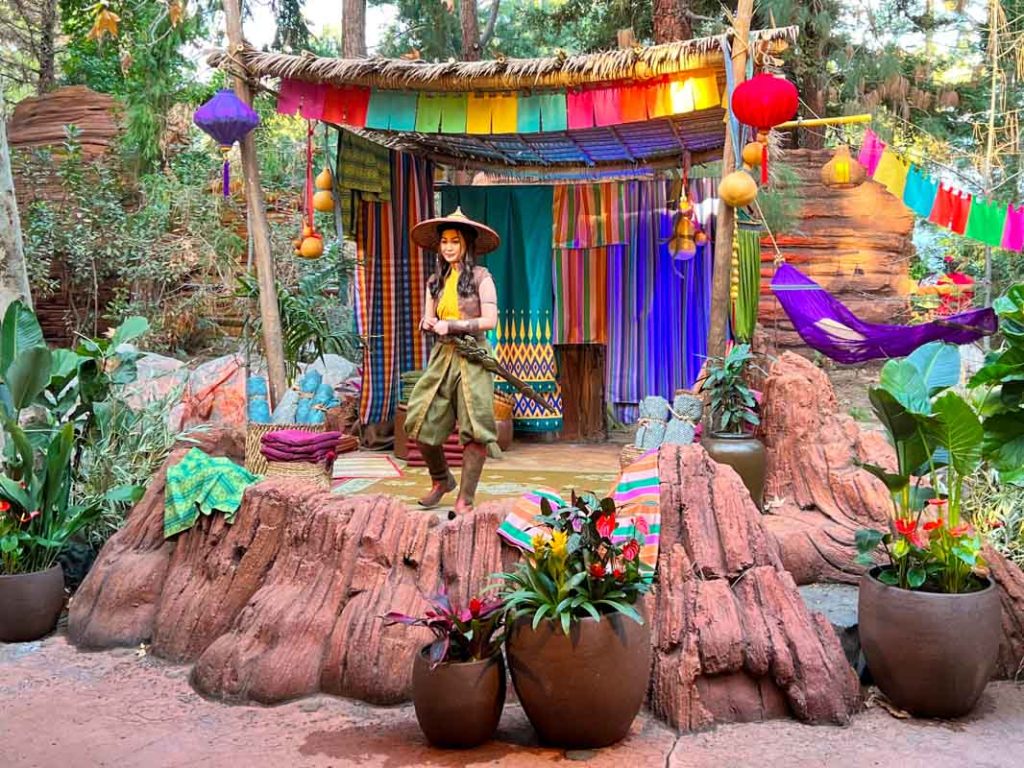 Mulan's Lunar New Year Procession
Aside from the meet & greet, you can see Mulan and her friends during the Lunar New Year Procession, which takes place at various times during the day (check the app during your visit).
The Procession starts across from Silly Symphony Swings and proceeds down the Festival Corridor before turning around and coming back. This year's Procession features dozens of talented performers, and Mulan and Mushu on their own beautiful parade float!
Activities
I also enjoyed the activities, which are fun for kids and adults alike. I left a wish on the Lucky Wishing Wall and picked up some lovely Chinese character art, and kids crafts are available near Ariel's Undersea Adventure. All of these activities are free!
While you're in the Paradise Gardens area, stop and enjoy the live performances happening on stage throughout the day.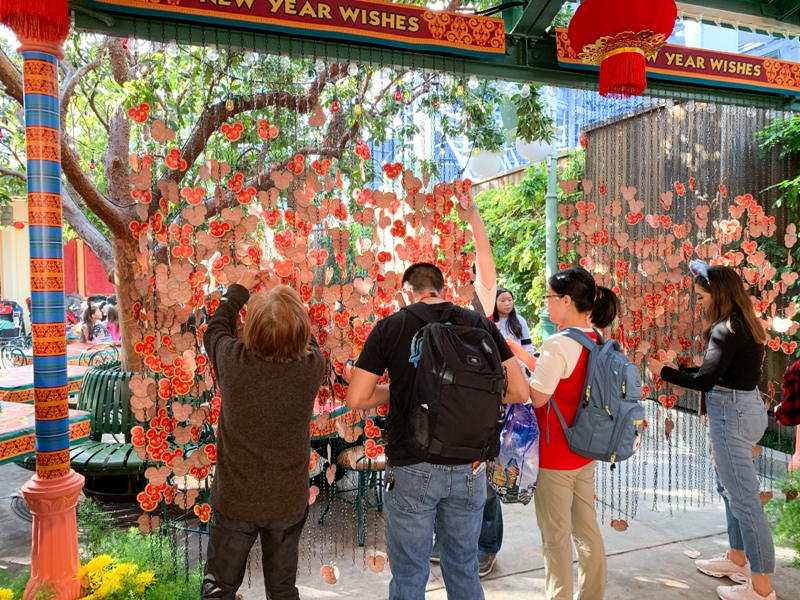 Magic Key Corner
Magic Key passholders can head over to Silly Symphony Swings for a free Lunar New Year button (while supplies last) and a photo op. There are also standing tables set up in the shade, if you're looking for a place to bring your snacks!
But my favorite part of the Lunar New Year at Disneyland celebration is the same as every holiday festival … the food! There are four food marketplaces set up this year, along with special dishes available at Paradise Garden Grill and other dining locations.
Sip and Savor Pass
This year, the Sip and Savor Pass is back! Six tabs are included, and it costs $43 with a reduced price of $40 for Magic Key passholders. Use the tabs on food items that cost $7 or higher for the best value (excludes alcohol). Purchase your pass at the Sip and Savor cart along the corridor.
Mobile Ordering
For past Festivals, Guests have been able to mobile order their items from the marketplaces.
Unfortunately this year, mobile ordering from marketplaces is unavailable.
You can still mobile order Lunar New Year selections from Paradise Garden Grill and Lucky Fortune Cookery.
One tip for maximizing your time: You can pay for ALL your food at one register, and pick up your food at the corresponding marketplaces. This will cut down your time in lines and the hassle of taking out your credit card at every single marketplace.
Lunar New Year Food & Drinks
Marketplaces
Longevity Noodle Co.
Garlic Noodles: Long noodles tossed in a zesty garlic butter with Parmesan cheese
Spicy Pork Dandan Noodles: Pan-fried noodles with ground pork and a spicy tri-chile blend sauce
Salted Pistachio Cold Brew featuring Joffrey's Coffee & Tea Co. French Bistro Blend Coffee
Pale Ale with mandarin and bergamot zest
Lotus Flower Glow Cube
I've had the Garlic Noodles in past years and they are delicious!
Lucky 8 Lantern
Shrimp Fried Rice with garlic bacon edamame
Beef Bulgogi Short Rib on rice with green onion salad
Peach Yuja-Ade: Peach syrup, yuja, dragonfruit, lemon, and butterfly pea flower tea
Soju Peach Yuja-Ade: Soju, peach syrup, yuja, dragonfruit, lemon, and butterfly pea flower tea
Lager
Lotus Flower Glow Cube
I really enjoyed the Beef Bulgogi Short Rib, and the Soju Peach Yuja-Ade is absolutely delicious!
Prosperity Bao & Buns
Char Siu BBQ Pork Bao: Pickled red onions and jalapeño
Mickey Chinese Hot Dog Bun: Brioche-style Mickey-shaped buns stuffed with hot dog and finished with sesame seeds and scallions
Prosperous Tiger: Vodka, cream of coconut, bitters, triple sec, mandarin purée, and vanilla bean paste
Lychee Celebration: Gin, prosecco, lychee purée, lychee syrup, grapefruit juice, and yuja
Bamboo Lager
Lotus Flower Glow Cube
My friends got the pork bao and said it was good. The Mickey Chinese Hot Dog Bun tastes how you would think it would taste. The bread is soft and fluffy, like a hot dog bun.
The two drinks here were good, but the Prosperous Tiger gets my vote for best cocktail of the festival!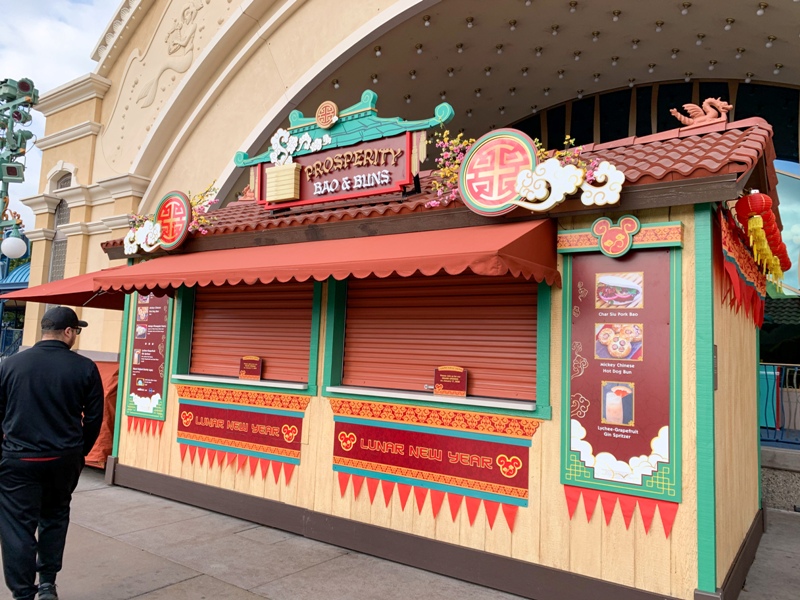 Red Dragon Spice Traders
Spicy Three-Cup Chicken served on a bed of jasmine rice
Impossible™ Lion's Head Meatballs: Mini plant-based pork meatballs served with cabbage and Shaoxing wine reduction
Mickey Purple Sweet Potato Macaron: Red macaron filled with purple sweet potato buttercream and crème fraîche center
Dancing Firecracker: Pineapple juice, guava purée, spicy honey syrup, hibiscus syrup, and lime juice
Jasmine Tea Lager
Lotus Flower Glow Cube
The macaron is a returning favorite! Highly recommend! Not only is it Insta-worthy but it's delicious. I also had a bite of the Impossible™ Lion's Head Meatballs and was so impressed – they REALLY taste like pork!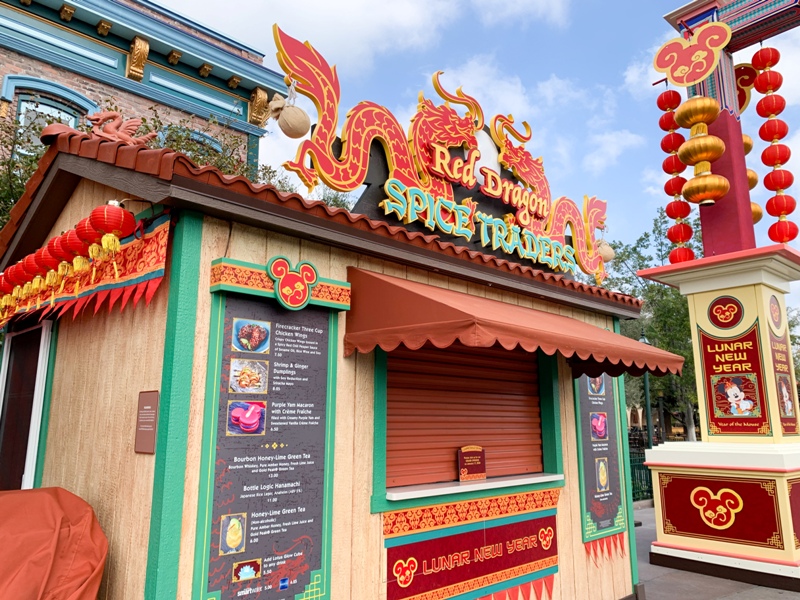 Paradise Garden Grill
Korean-style BBQ Chicken: Half chicken with steamed white rice, kimchi, pickled cucumbers, and sesame seeds
Pork Banh Mi: Grilled pork belly with pickled daikon, carrots, cucumber, jalapeño, cilantro, and seasoned mayonnaise on a crispy baguette
Spicy Kung Pao Tofu: Deep fried tofu with zucchini, yellow squash, broccoli, red peppers, peanuts, and fried rice garnished with garlic deep-fried chips
Whole Fried Fish: Crispy whole fish, sweet and sour sauce, steamed rice, stir-fried vegetables and chicken soup (serving for 2 or more)
Green Tea Raspberry Parfait: Green tea mousse, raspberry jelly, white sponge cake, white chocolate mousse, and candy pearls
Sides of steamed or fried rice
Tiger Milk Tea with brown sugar boba (non-alcoholic)
Soju Cocktail: Soju, ginger beer, lemon, basil, Fresno chile, lychee flavor-filled boba
Mulan Sipper with choice of fountain beverage
Lotus Flower Glow Cube
I had a few things here: The Pork Banh Mi is a returning item and it is absolutely delicious. And BIG. Big enough for two to share. (Note – I did not get the Sip and Savor portion.)
The Green Tea Raspberry Parfait is yummy; green tea is not my favorite flavor but if you love it, then you'll love this. (Note – I did not get the Sip and Savor portion.)
The Soju Cocktail was yummy without being overly sweet. Don't be put off by the Fresno chile – it's just a slice on top and is easily removed. The drink itself is not spicy at all.
If you're not using your Sip and Savor tabs, you'll definitely want to mobile order here. There is only one register and the line to order was very long!
Paradise Gardens Special Events Cart
Gochujang Wings: Chicken wings in spicy gochujang sauce
Asian-style Street Corn: Steamed corn on the cob rolled in spicy gochujang sauce
Korean-style BBQ Nachos: Bulgogi pork belly, cheesy corn sauce, gochujang crema, fresh radish, and spicy cucumbers on house-made chips
Orange-flavored Cotton Candy
Mango-Pineapple Pie: Mango and pineapple-filled pie
Mulan Sipper with assorted Coca-Cola, bottled beverage, or DASANI bottled water
Puffed Rice Pale Ale
Seasonal Cart in Redwood Creek Challenge Trail
Brown Sugar Steam Bun: Brown sugar steam bun topped with blue cream cheese icing
White Hot Chocolate: Blue white chocolate topped with toasted marshmallow whipped cream and purple sugar (non-alcoholic)
Warm Apple Cider Cocktail: Hot apple cider, spices, and cinnamon whiskey garnished with a cinnamon stick and a caramel rim
Studio Catering Truck
(available Jan. 10 through Mar. 01)
Hoisin Pork Sliders: Marinated pulled pork on Hawaiian rolls with apple slaw
Green Tea Slush: Almond milk, green tea, and vanilla (non-alcoholic)
Lemongrass-Ginger Lemonade: Lemongrass, lemon juice, ginger, and mint (non-alcoholic)
Lucky Fortune Cookery
Hong Kong-style Milk Tea: Black tea sweetened with condensed milk served over ice (non-alcoholic)
Mulan Sipper with choice of: Fountain beverage at time of purchase, Hong Kong-style milk tea, or Vietnamese iced coffee (non-alcoholic)
Lotus Flower Glow Cube
Cappuccino Cart
Baked Char Siu Bao: Chinese BBQ pork-filled baked bun
Mango-Pineapple Pie: Mango and pineapple-filled pie
Lamplight Lounge
Korean-style BBQ Nachos: Bulgogi pork belly, cheesy corn sauce, gochujang crema, fresh radish, and spicy cucumbers on house-made chips
Kung Pao Bao: Kung Pao-glazed crispy pork belly, chili peanuts, steamed bao bun, red pepper, and green onion slaw
Oolong Donut: Oolong-dusted beignet donut served with oolong crème anglaise, and orange soy pudding dipping sauces
Lunar Cocktail: Baiju Chinese liquor, smoked orange syrup, orange bitters and lemon juice garnished with orange peel
On opening day, only two items were available: The Nachos and the Cocktail.
The Nachos were a miss for us. We expected the pork belly to be fatty but the way it was cut up, you would get random bites of just fat on corn chips. The cucumbers on top were not spicy but instead marinated in a very salty solution. Perhaps this dish will improve over the course of the festival but I recommend just sticking with the Lobster Nachos here.
The Lunar Cocktail was very good; tasted a bit like a orange Mezcal margarita.
Disney's Grand Californian Hotel Holiday Cart
Lantern Whoopie Pie: Whoopie pie filled with vanilla buttercream and dipped in pearl sprinkles
Assorted Pretzel Sticks: Tiger-striped chocolate pretzel sticks
Mickey-shaped Tiger Sugar Cookie: Sugar cookie dipped in red chocolate with gold Mickey-shaped tiger
Mickey-shaped Tiger-striped Sugar Cookie: Sugar cookie dipped in red chocolate with gold tiger stripes
The GCH Holiday Cart will be selling a selection of Lunar New Year and Valentine's treats!
Merchandise
When you're done eating, be sure to check out all the cute merch that's available this year, including a special Spirit Jersey! Some merchandise may also be available at World of Disney in Downtown Disney District.
It's a shame this festival only lasts for three weeks because it has become one of my favorites! So don't delay if you want to partake in the fun of Lunar New Year at Disneyland!