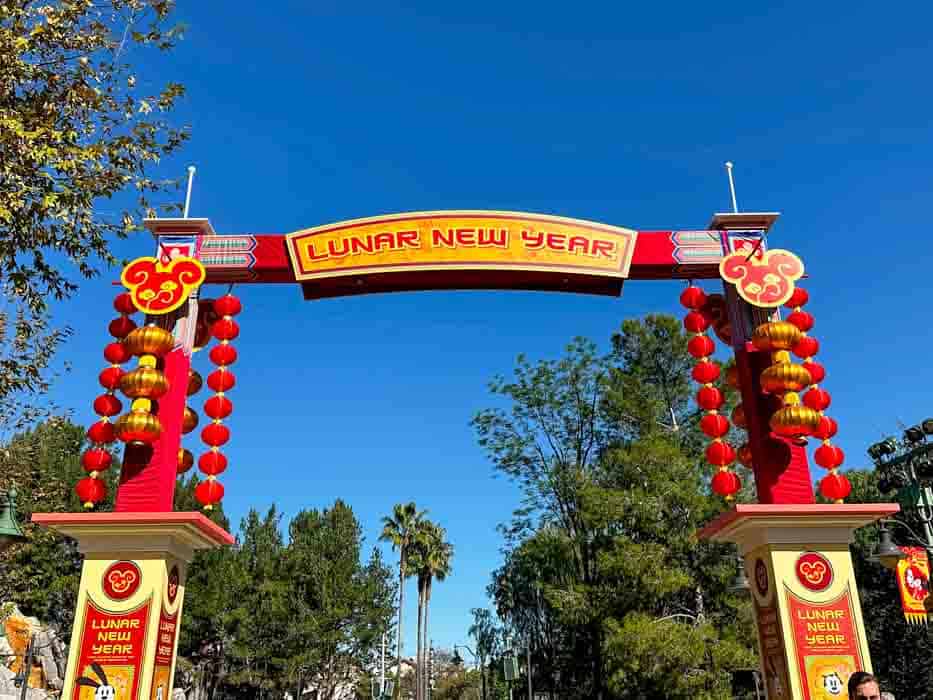 The festival for Lunar New Year at Disneyland Resort is something you do NOT want to miss!
While the Disneyland Resort has been celebrating the Lunar New Year for a while now, the last few years Disney has taken it up a notch. Now the celebration takes place at Disney California Adventure with lots of activities and excitement throughout the day!
By the way, you may already be familiar with Lunar New Year, also commonly referred to as Chinese New Year. But many Asian countries celebrate the Lunar New Year, and you'll find China, South Korea, and Vietnam represented at the Disneyland Lunar New Year festival!
This year the Lunar New Year celebration takes place from January 20 to February 15, 2023, and takes place along the festival corridor (formerly known as the parade corridor), near the entrance to Pixar Pier, adjacent to the Golden Zephyrs and Goofy's Sky School.
In 2023 we are celebrating the Year of the Rabbit in the Chinese zodiac, and the Year of the Cat in the Vietnamese zodiac! Guests will see both animals represented during the Lunar New Year festival at Disneyland Resort.
PS – If you love food festivals, you won't want to miss the Disney California Adventure Food and Wine Festival, and the Disneyland Festival of Holidays!
Guide to Lunar New Year at Disney California Adventure
Disneyland Lunar New Year Character Meet and Greets
Meet & greets include Mickey, Minnie, Three Little Pigs, and Pluto in special festive attire, and Mulan and Mushu! Mulan is my favorite princess so it's always a treat to see her in the spotlight.
In 2023, Guests will also have the chance to meet Oswald and Ortensia! The perfect couple to represent Year of the Rabbit and Year of the Cat!
The character meet and greet location is under the big gazebo in Paradise Gardens. (Tip – You can ask Cast Members when certain characters are expected to greet guests. Lines get long so plan ahead!)
Guests can also meet with Raya from Raya and the Last Dragon over in the Redwood Trail Challenge area. The queue area is beautifully decorated with colorful lanterns and is worth checking out! There's also a food booth tucked away back there that typically has no wait.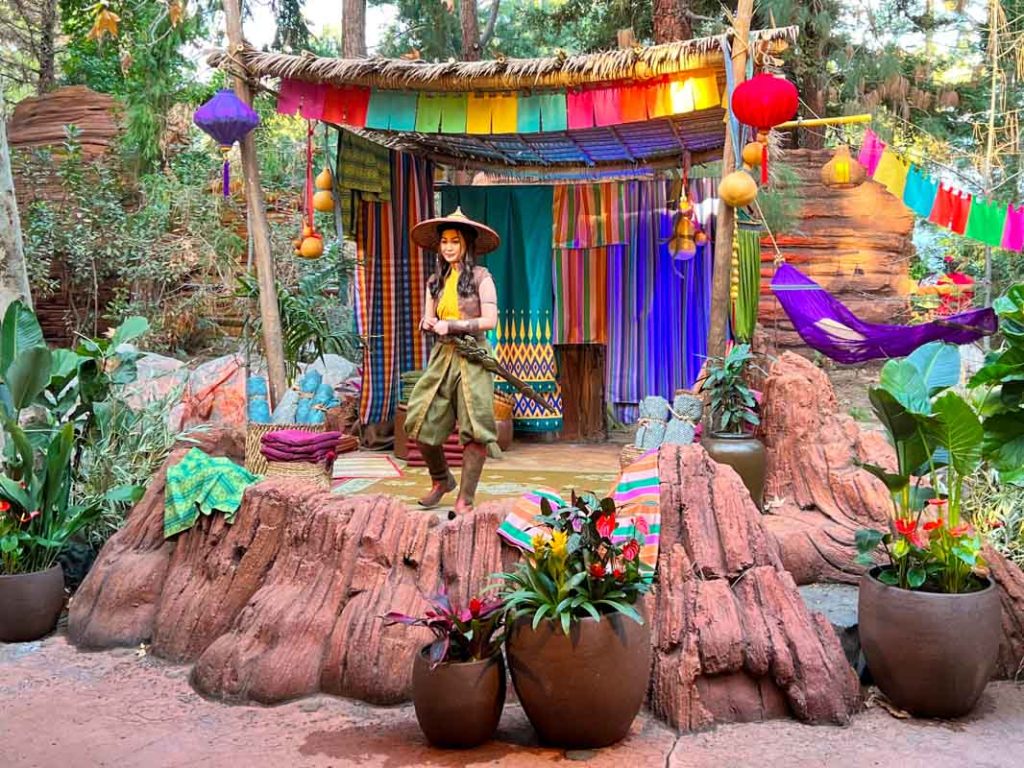 Mulan's Lunar New Year Procession
Aside from the meet & greet, you can see Mulan and her friends during the Lunar New Year Procession, which takes place at various times during the day (check the app during your visit).
The Procession travels from Silly Symphony Swings and proceeds down the Festival Corridor before turning around and coming back. This year's Procession features dozens of talented performers, and Mulan and Mushu on their own beautiful parade float!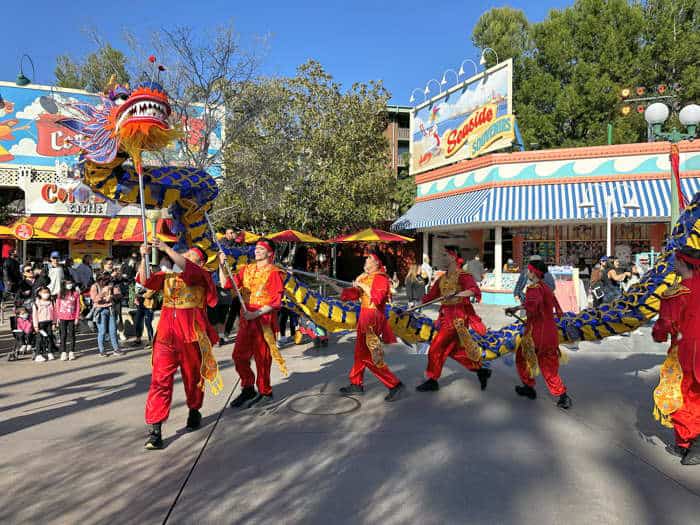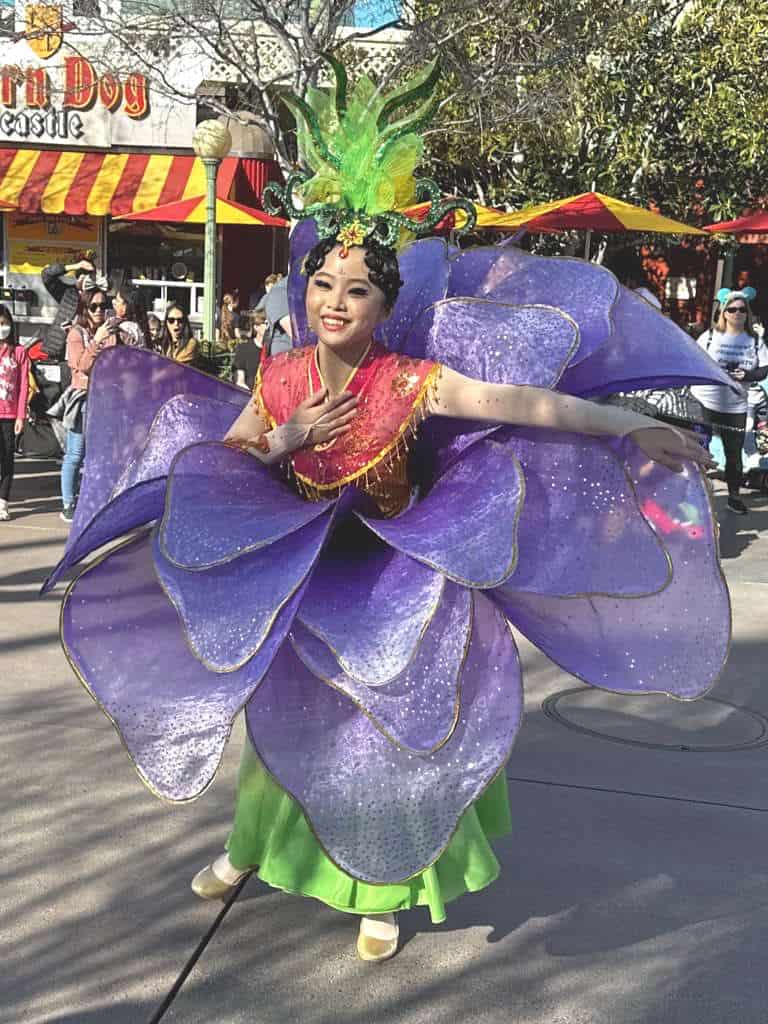 Disneyland Lunar New Year Free Activities
I also enjoyed the activities, which are fun for kids and adults alike. I left a wish on the Lucky Wishing Wall and picked up some lovely Chinese character art, and kids crafts are available near Ariel's Undersea Adventure. All of these activities are free!
While you're in the Paradise Gardens area, stop and enjoy the live performances happening on stage throughout the day.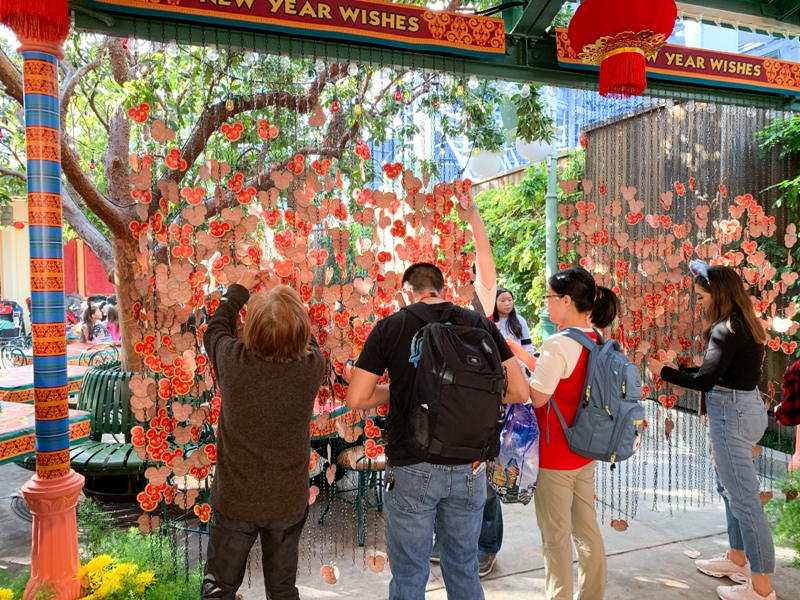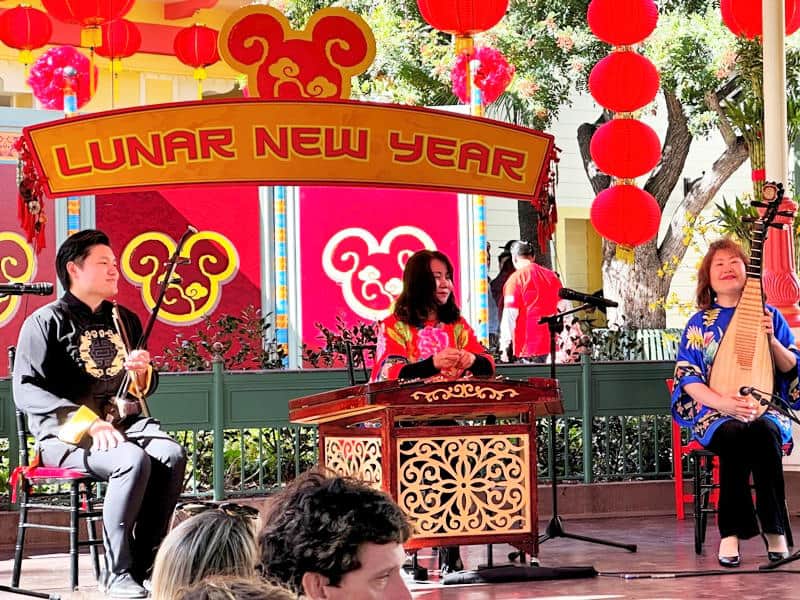 Disneyland Lunar New Year Magic Key Corner
Pick up an exclusive Lunar New Year pin featuring Oswald and Ortensia at Magic Key Corner, located near Silly Symphony Swings starting at 1pm through 5pm, while supplies last.
Disneyland Lunar New Year Festival Food
But my favorite part of the Lunar New Year at Disneyland celebration is the same as every holiday festival … the food! There are six food marketplaces set up this year, along with special dishes available at Paradise Garden Grill and other dining locations.
Disneyland Lunar New Year Sip and Savor Pass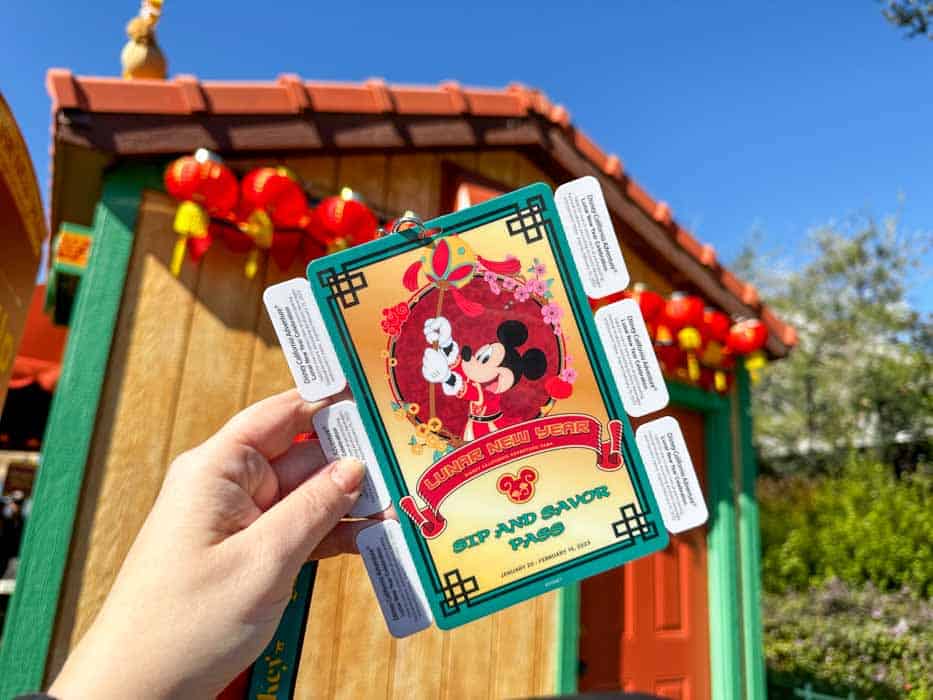 This year, the Sip and Savor Pass is back! Six tabs are included, and it costs $45 with a reduced price of $42 for Magic Key passholders. Use the tabs on food items that cost $7 or higher for the best value (excludes alcohol). Purchase your pass at the Sip and Savor cart or the merchandise cart along the corridor.
Mobile Ordering for Disneyland Lunar New Year Food
You can mobile order Lunar New Year selections from Paradise Garden Grill, Pacific Wharf Cappuccino Cart, Sonoma Terrace, and Lucky Fortune Cookery.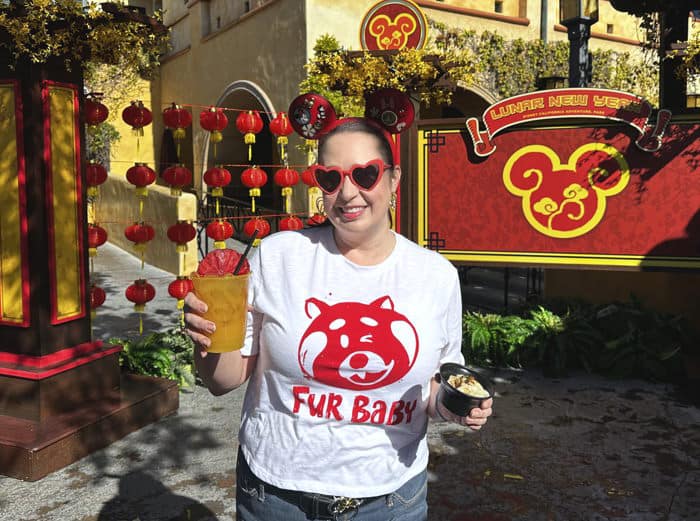 Disneyland Lunar New Year Food Menu
Lunar New Year Marketplaces
Bamboo Blessings (New in 2023)
The Mickey Chinese Hot Dog Bun is a returning favorite, and tastes how you would think it would taste. The bread is soft and fluffy, like a hot dog bun. The Macaron is another festival favorite, and I'm happy to see it's returning this year!
Mickey Mouse-shaped Hot Dog Bun: Brioche-style Mickey Mouse-shaped buns stuffed with hot dog and finished with sesame seeds and scallions
Mickey Mouse-shaped Purple Sweet Potato Macaron: Red macaron filled with purple sweet potato buttercream and a crème fraîche center
Young Master Brewery Pale Ale with mandarin and bergamot zest
Kloud Brewery Original Gravity Lager
Master Gao Brewery Baby Jasmine Tea Lager
Three Weavers Brewery Moon Rabbit: Golden stout with vanilla and Vietnamese cinnamon (New)
Stereo Brewing Co. Gingerine: Ginger wheat ale with tangerine, honey, and lemon juice (New)
Brewery X Green Tea Rice Lager (New)
Anderson Valley Brewing Co. Black Rice Ale (New)
Tsingtao Brewery Premium Lager (New)
Tsingtao topped with a frozen mango beer foam (New)
Lucky Flight: Tsingtao Brewery, Young Master Brewery, Stereo Brewing Co., and Three Weavers Brewery (New)
Prosperity Flight: 4Sons Brewing Co., Master Gao Brewery, Brewery X, and Anderson Valley Brewing Co. (New)
Lotus Flower Glow Cube
Wrapped in Love (New in 2023)
I tried the dumplings and enjoyed them! The two cocktails from this marketplace are also winners. I enjoyed the Grapefruit-Melon Wine cocktail a bit more than the other, which tasted like a basic tiki drink.
Pork and Shrimp Wontons with a black garlic sauce (New)
Bok Choy & Mushroom Dumpling with a black garlic sauce (New) (Plant-based item)
Pineapple Baijiu Cocktail: Dark Rum, baijiu, Allspice Dram, pineapple and orange juices, and falernum syrup garnished with a dried red pineapple chip (New)
Grapefruit-Melon Wine Cocktail: Sauvignon blanc, grapefruit liqueur, watermelon purée, rock melon syrup, and lime juice garnished with skewered grapes (New)
Lotus Flower Glow Cube
Longevity Noodle Co.
I've had the Garlic Noodles in past years and they are delicious!
Garlic Noodles: Long noodles tossed in zesty garlic butter with parmesan
Spicy Pork DanDan Noodles: Pan-fried noodles with ground pork and spicy tri-chile sauce
Raspberry Oat Milk Tea: Joffrey's Coffee & Tea Co. Ceylon Tea, raspberry and demerara syrups, and oat milk garnished with skewered raspberries (New)
Lotus Flower Glow Cube
Lucky 8 Lantern
I tried the Quesabirria Eggroll and was not impressed. It honestly tasted like just beef (no cheese) and was a small portion for $9. On the other hand, the Mandarin Mousse Cake was my favorite item from this year's festival! Not only is it lovely to look at, but had a great subtle orange flavor. Don't miss this one! (Note – this marketplace is back by Grizzly River Rapids and typically has a short line.)
Quesabirria Eggroll with Guajillo pepper consommé filled with Oaxaca cheese, beef birria, and a side of guajillo pepper consommé (New)
Mandarin Mousse Cake: Layers of mandarin mousse with vanilla cake and clementine compote finished with white chocolate crunch balls and a tangerine glaze (New)
Coconut-Lavender Matcha Foam Iced Coffee: Joffrey's Coffee & Tea Co. French Bistro Blend, coconut milk, coconut cream, and white chocolate sauce garnished with lavender matcha, coconut foam, sea salt, and purple sanding sugar (Non-alcoholic) (New)
Lotus Flower Glow Cube
Prosperity Bao & Buns
I was really unimpressed with the Pepperoni Pizza Bao Bun, I found it to be so bland that I ended up throwing most of it away. The Char Siu BBQ Pork Bao tasted fine but was dry. It could benefit from some kind of sauce.
The two cocktails here are returning favorites from last year, however when I tried them this year they were VERY syrup-y sweet and I didn't like them as much as I remembered.
Pepperoni Pizza Bao Bun served with marinara (New)
Char Siu BBQ Pork Bao with pickled red onion and jalapeño
Peach Yuja-Ade: Yuja-lemongrass purée, dragon fruit and peach syrups, lemon juice, and butterfly pea flower tea garnished with a lemon wheel (Non-alcoholic)
Soju Peach Yuja Ade: Soju, yuja-lemongrass purée, dragon fruit and peach syrups, lemon juice, and butterfly pea flower tea garnished with a lemon wheel (Non-alcoholic)
Lychee Celebration: Gin, prosecco, lychee syrup, yuja-lemongrass purée, and grapefruit juice garnished with an edible purple orchid
Lotus Flower Glow Cube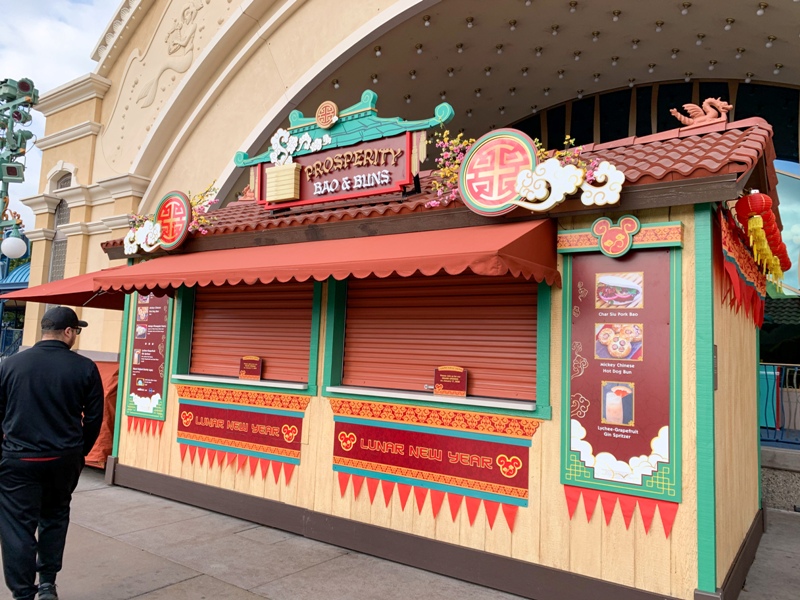 Red Dragon Spice Traders
I don't like spicy food so I always skip this booth! I did have a sip of the Guava Ginger Whiskey Cocktail and it was good; very whiskey forward.
Gochujang Elote: Steamed corn on the cob rolled in gochujang aїoli and cotija cheese drizzled with spicy gochujang sauce (New)
Red Spice Fried Chicken Bites: Fried chicken chicharrones in spicy red chile sauce (New)
Guava Ginger Whiskey Cocktail: Whiskey, ginger liqueur, guava nectar, coconut cream, and lime juice garnished with a lime wheel (New)
Dancing Firecracker: Pineapple and lime juices, guava nectar, spicy honey, and house-made hibiscus syrup garnished with a lime wheel (New)
Lotus Flower Glow Cube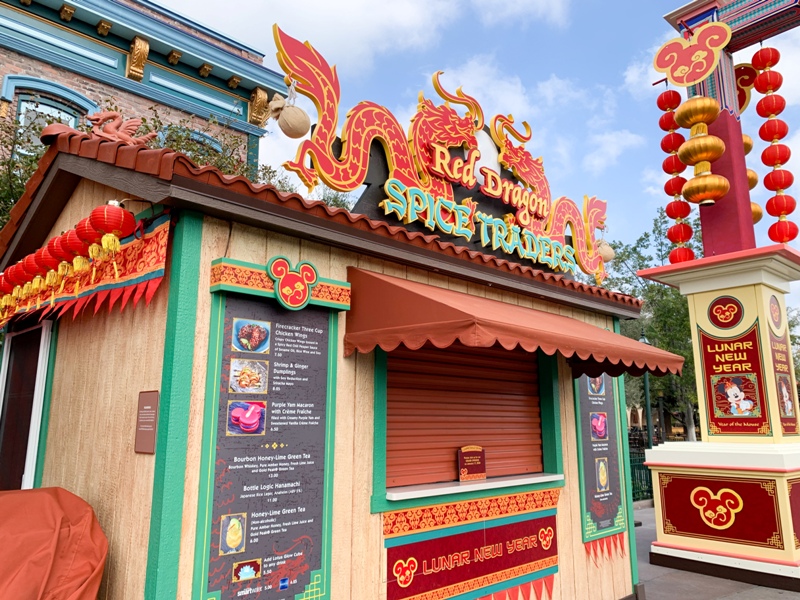 Paradise Garden Grill
I had a few things here: The Pork Banh Mi is a returning item and it is absolutely delicious. And BIG. Big enough for two to share. (Note – I did not get the Sip and Savor portion, which is considerably smaller.)
I also tried the Honeydew Parfait, which had great potential but unfortunately the flavor was overpowered by the intense amount of food dye.
And, I had a sip of my friend's Tiger Milk Tea, which was good! This one is for sure going to be a popular item this year.
If you're not using your Sip and Savor tabs, you'll definitely want to mobile order here. There is only one register and the line to order can be very long!
Kimchi Bokkeumbap: Kimchi, potato, carrot, and onion fried rice with egg and Korean chili paste topped with crispy sweet and sour tofu and black sesame seeds (New) (Plant-based Item)
Shrimp Lo Mein: Lo mein noodles tossed with shrimp, mushrooms, onions, carrots, and bok choy (New)
Dak Bulgogi: Korean BBQ chicken served with rice and kimchi
Bánh Mì: Grilled pork belly with pickled carrots, cucumbers, daikon, and jalapeños with a spicy mayo
Sweet and Sour Whole Fish served with steamed rice and stir-fried vegetables (served family-style for two) (New)
Tiger Milk Tea with BobaBam Brown Sugar Boba (Non-alcoholic) (New)
Hite Beer
Blackberry Soju Cocktail: Soju, blackberry purée, and lemon juice with a hint of ginger (New)
Lotus Flower Glow Cube
Paradise Gardens Special Events Cart
Gochujang Wings: Chicken wings in spicy gochujang sauce
Asian-style Street Corn: Steamed corn on the cob rolled in spicy gochujang sauce
Korean-style BBQ Nachos: Bulgogi pork belly, cheesy corn sauce, gochujang crema, fresh radish, and spicy cucumbers on house-made chips
Orange-flavored Cotton Candy
Mango-Pineapple Pie: Mango and pineapple-filled pie
Mulan Sipper with assorted Coca-Cola, bottled beverage, or DASANI bottled water
Puffed Rice Pale Ale
Lucky Fortune Cookery
Mango Sticky Rice: Taro and coconut sticky rice with mango gel, toasted coconut, and fresh mango (New)
Lotus Flower Glow Cube
Pacific Wharf Cappuccino Cart
Green Tea Horchata (New)
Dalgona Coffee Bundt Cake: Coffee Bundt cake filled with sweet milk and topped with dalgona foam (New)
Pacific Wharf Cafe
White Chocolate Apple Bread Pudding: Granny Smith Apples and white chocolate with crème anglaise and whipped topping (New)
Lamplight Lounge
I tried the Cocktail here and it was good; it mostly tastes like a blend of orange and carrot juice. Very refreshing.
Surf & Turf Fried Rice: Five Spice-rubbed New York steak, sautéed shrimp, fried rice, ginger pea purée, and chile oil topped with a carrot salad (New)
Sesame Seed Donuts: Donuts topped with sesame seed brittle and served with a kaya jam dipping sauce (New)
Three Weavers Brewing Co. Seafarer Kolsch-style (New)
Lamplight Lounge Lunar New Year Cocktail: Han Soju, Aperitivo Aperol, carrot and orange juices, and cream of coconut garnished with a raspberry and mint (New)
Lamplight Lounge – Boardwalk Dining
Pork Dumplings with Chinese broccoli, roasted mushrooms, Fresno chiles, and fried shallots (New)
Lamplight Lounge Lunar New Year Cocktail: Han Soju, Aperitivo Aperol, carrot and orange juices, and cream of coconut garnished with a raspberry and mint (New)
Sonoma Terrace
Pad Thai Spring Roll: Shrimp with scrambled eggs, noodles, crushed peanuts, and Thai basil served with tangy slaw and pad Thai sauce (New)
Magic Key Terrace
Pork Spare Ribs with peanut-chile sauce, Asian slaw, toasted peanuts, and crispy noodles (New)
Boardwalk Pizza and Pasta
Milk Tea Taro Cheesecake: Milk tea cheesecake with a taro mousse (New)
Goofy's Churro Cart
Almond Cookie Churro coated in cookie crumble and topped with almond icing (New)
Outdoor Food Carts (Available Jan. 19 through Feb. 12)
Chicken Bao: Steamed bao with chicken, butternut squash, and lime served with a spicy red curry sauce (New)
Teriyaki Turkey Leg (New)
Baked Coconut Almond Nian Gao: Baked sticky rice cake topped with coconut and almonds (New)
Purple Grape Cotton Candy
ACE High! Hard Cider Imperial Apple Cider
Master Gao Brewery Puffed Rice Chinese Pale Ale
Disney's Grand Californian Hotel Holiday Cart
Lunar New Year Cookie (New)
Assorted Pretzel Sticks
Hearthstone Lounge
Rabbit Firecracker: Spiced rum, orange brandy, lemon oil, honey, and black tea garnished with star anise and pink peppercorns (New)
Storyteller's Café and Goofy's Kitchen
Offering Lunar New Year-inspired offerings such as fried rice and spring rolls
Several locations in Downtown Disney will also have special offerings for Lunar New Year, including Black Tap, Catal, Tortilla Jo's, and Naples.
Disneyland Lunar New Year Merchandise
When you're done eating, be sure to check out all the cute merch that's available this year, including a special Spirit Jersey! Some merchandise may also be available at World of Disney in Downtown Disney District.
The Disneyland Lunar New Year Ears are always a hot item … grab a pair before they sell out!
If you can't make it to Disneyland Resort during the festival, there is Year of the Rabbit merchandise available at ShopDisney (while supplies last).
***
It's a shame this festival only lasts for three weeks because it has become one of my favorites! So don't delay if you want to partake in the fun of Lunar New Year at Disneyland!