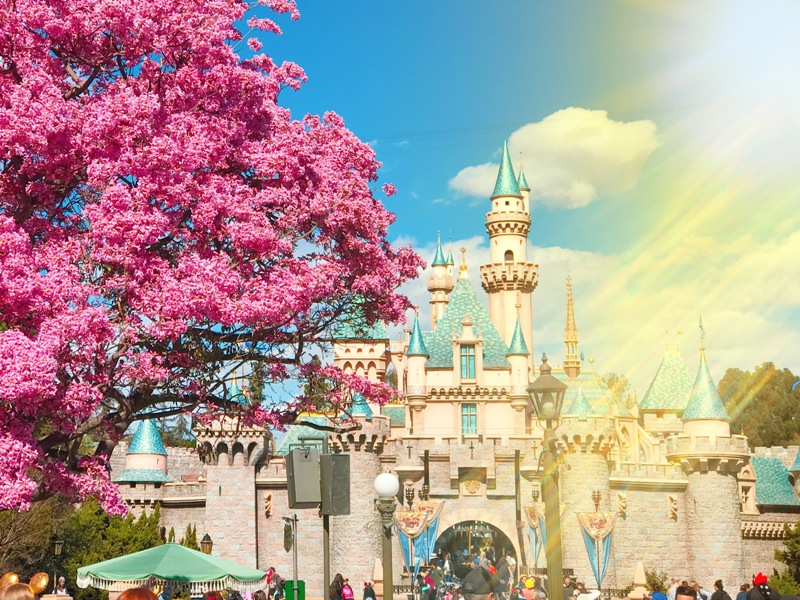 It's the start of summer and Southern California has been experiencing an early heat wave!
As a Magic Key holder, I admit my pass doesn't get much use during the summer. Not only is Disneyland more crowded, but the summer heat can be really uncomfortable.
But sometimes, you have a trip planned and you can't avoid the heat. The best thing to do is to be prepared!
Here are my best suggestions for surviving Disneyland when it's super hot outside.
Tips for Surviving Disneyland When it's Super Hot
Hydrate – This tip might seem obvious but when you're distracted by the sights and sounds of Disneyland, it's easy to forget to drink water. You can bring unopened bottles of water into the Park, or purchase water bottles while you're there and refill them from the drinking fountains.
On hot days, Starbucks on Main Street USA usually puts out a dispenser of ice water on their pick-up counter. Take advantage of it! You can also ask for a cup of ice from any quick serve restaurant. Be sure to specifically ask for a big cup of ice.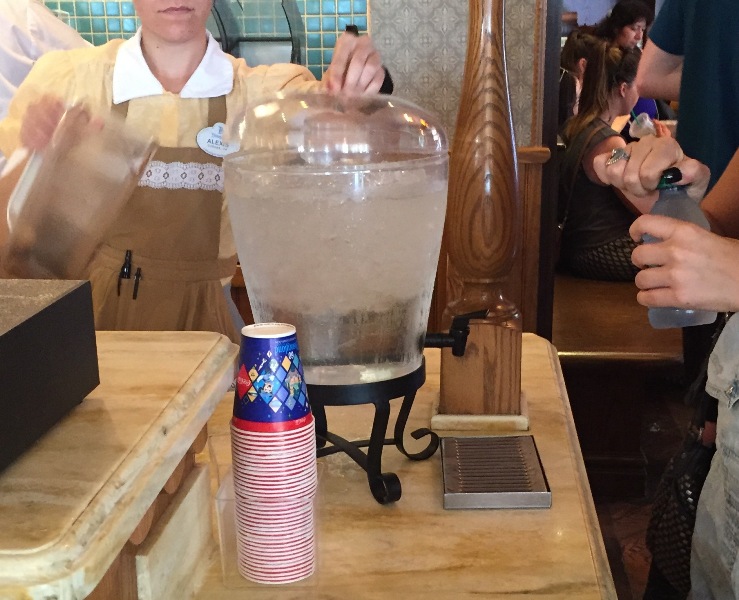 You can also look for the water bottle refill stations around the Parks! If you need help locating any of these, just as a Cast Member for assistance.
Fronterland – Near the entrance from Main Street USA, to your left side when you walk in.
Fantasyland – Inside Red Rose Tavern
Tomorrowland – At Galactic Grill and near Autopia
Star Wars: Galaxy's Edge – Near the restrooms at the Marketplace
Avengers Campus – To the left of the entrance to the Inner Sanctum.
Strategize Around the Sun – If you can, be at the gates right at opening. This will give you a couple hours where the sun is low and more bearable.
Take a break during the middle of the day, whether that means going back to your hotel or taking refuge at one of the Disney Hotel lobbies. The lobby at Disney's Grand California Hotel is one of my favorite places to relax and cool down, and they often have water dispensers available to the public (after 4pm when Hearthstone Lounge opens). Return to the Parks in the late afternoon and stay until closing.
Do "Inside" Attractions Mid-day – Most of Disneyland's attraction queues are outside (including much of Splash Mountain's queue, which doesn't seem fair). Here are a list of attractions that are great for mid-day:
Disneyland Park:
Indiana Jones Adventure
Enchanted Tiki Room
Roger Rabbit's Car Toon Spin
Star Tours
Great Moments with Mr. Lincoln
The following are inside attractions with partially outdoor queues:
Haunted Mansion
Pirates of the Caribbean
Splash Mountain
The Many Adventures of Winnie the Pooh
It's a Small World
Buzz Lightyear Astro Blasters
Space Mountain
Millennium Falcon: Smugglers Run
Rise of the Resistance
Indoor Restaurants:
Golden Horseshoe (my personal favorite place to hide on a hot day)
The Plaza Inn
Pizza Planet
Village Haus
Blue Bayou (reservations strongly suggested or check the app for walk-up availability)
Disney California Adventure:
Monster's Inc. Mike and Sulley to the Rescue!
Animation Academy
The following are inside attractions with partially outdoor queues:
The Little Mermaid
Soarin' Around the World
Frozen – Live at the Hyperion
WEBslingers: A Spider-Man Adventure
Guardians of the Galaxy: Mission Breakout
Indoor Restaurants:
Carthay Circle
Fidler, Fifer, and Practical Cafe (aka Starbucks)
Flo's V8 Cafe
Smokejumpers Grill
As far as the water rides (Splash Mountain and Grizzly River Rapids), I actually recommend doing these attractions as early in the day as possible. They both have mostly outdoor queues and the wait times will only get longer as the day gets hotter.
*A quick note about snacks – Disneyland offers a lot of yummy cold treats … Mickey ice cream bars, Dole Whip, Mint Julep drinks, etc. Not to mention refreshing adult beverages over at Disney California Adventure.
These are especially tempting on a cold day but remember sugar and alcohol can cause dehydration, so just be sure you're balancing out your yummy treats with extra water. Or go for snacks like watermelon slices or pineapple spears.
My best advice for surviving a hot day at Disneyland is to come prepared. I recommend stocking up on the following items on Amazon before you leave:
Cooling Towels – I first discovered cooling towels when I did my first half marathon at Walt Disney World. The temperatures were apparently "above normal" although they were nothing close to running a Labor Day weekend race in Anaheim. Still, I was impressed with how well they worked. They really do stay COLD. It's magic! You just soak it, wring it, snap it, and drape it around your neck to cool yourself down.
Small Soft-Sided Cooler – Unless you have a stroller or intend to get a locker, this might be a pain to carry around. But a small cooler can be a lifesaver on a hot day. Stock it with an ice pack, a couple water bottles, and your cooling towels.
Sunscreen – Another obvious suggestion, maybe, but one that most people forget to pack. And you can't just apply in the morning and think you'll be good. Bring it with you so you can reapply throughout the day. I recommend the spray sunscreen for easy application and the stick sunscreen for your face, neck, and ears. Forget your sunscreen? You can purchase some from select shops around the Resort. Ask a Cast Member for directions.
Visor – Okay, wearing a Minnie ears headband is cute but when it's 100 degrees out with high sun you're going to want comfort and protection. Wearing a hat is okay but I prefer a visor because it's lightweight. Luckily you can find some cute visors like this Minnie Mouse Bow Visor for adults or – my personal favorite – Sparkle Headsweats Running visor available in various glittery colors.
Misting Fan – Disney sells these in the Parks, but you can get a misting fan for much cheaper on Amazon. Amazon even has misting fans with Disney characters on them.
Additional items to consider bringing with you: Baby wipes, hair ties, deodorant, makeup for touch-ups, & lip balm. If you sweat a lot and easily (like I do), you may also want to also bring a back-up shirt.
Remember, don't over do it. Disneyland in the hot summer sun can be brutal. Don't try to stuff your day without taking a break. Remember to drink lots of water and take breaks in the AC. If you do become overwhelmed with the heat, visit the First Aid center for treatment and rest.
What are your additional tips for surviving Disneyland in the heat?
This article was originally published in July 2018 and has been updated.