Image source: Mousekechicks
I'm updating this post after visiting the Disneyland First Aid Center, again, in June 2017. Since my last visit to the First Aid Center in 2013 the center has been remodeled and is much more modern. I didn't take any pictures because I was too busy battling the stomach flu, but I wanted to share some additional information about the Disneyland First Aid Center.
When you arrive at the First Aid Center you will check in and let them know what's wrong. By the time I got to First Aid I had already barfed twice, so I told them I seemed to have some kind of stomach bug and was hoping to lie down for a bit. I signed in and the nurse led me to a cot.
The Disneyland First Aid Center has a room with about 8 cots where people can lay down and rest. There is a chair next to each cot. Blankets are available if needed. The room is different now from the one pictured below but the cots look the same. Between visitors the cots are wiped down and the paper pillowcases are replaced.
They also have two private treatment rooms that look like doctor exam rooms, and two large private restrooms.
I stayed in the First Aid Center for about an hour before I felt well enough to drive home. When I left, the nurse asked me if there was any resources I wanted to take with me. I asked for some Pepto and they provided some generic tablets. (However, Pepto doesn't do much to fight the stomach flu, it turns out.)
If you have any kind of ailment, don't hesitate to visit the Disneyland First Aid Center. It's available to guests to make your stay more enjoyable!
My Personal Review of the Disneyland First Aid Center
This is not the post I had scheduled for today.  But a few people have asked what caused me to end up in the Disneyland First Aid center yesterday, so I thought I'd turn my story into a little informational post.
A lot of guests don't even realize Disneyland has a top notch First Aid center, where you can pick up basic medical supplies or get treated for minor ailments by a registered nurse.  I have popped into the First Aid center several times before, to get medicine for a headache or my most popular request – bandages for blisters on my feet.  If you're not feeling well, they have cots where you can sit or lie down for a while.  During the summer months, I hear the First Aid center can get pretty busy with people overwhelmed by heat stroke.  And all of this service is free for guests.  The First Aid center is located between the baby center and the Plaza Inn restaurant on Main Street.  If you are walking down Main Street and looking towards Sleeping Beauty's Castle, the First Aid Center is at the "end" of Main Street on your right hand side.
Yesterday I was with my friends and we were walking through New Orleans on our way to get some clam chowder, when I missed a step and fell, twisting my ankle.  This isn't anything out of the ordinary with me.  I have a love/hate relationship with gravity.  When I was walking down the aisle on my wedding day, I was muttering "don't fall, don't fall" under my breath.  Then I almost fell on the stairs of our sweetheart table risers during the reception.  And I wasn't even drunk.  I just fall, a lot.
So anyway, I fell.  One of those falls where you don't realize what happened until you're on the ground.  Just, WHAM.  Then, ouch.  I got to my feet and realized my left ankle was not in a good way.  My friends tried to help me get to First Aid, but then I suddenly felt very faint.  You know in movies when someone is sick and they show their perspective – everything is blurry and the sound goes "wah wah wah wah" like the Peanut's teacher?  That's what happened to me.  I was sweating buckets and really thought I was going to pass out, but luckily I didn't.  My friend went to security to request a wheelchair, and my other friend got me water.  The nurse arrived and I was wheeled through Adventureland to the First Aid center.  Really not my proudest moment.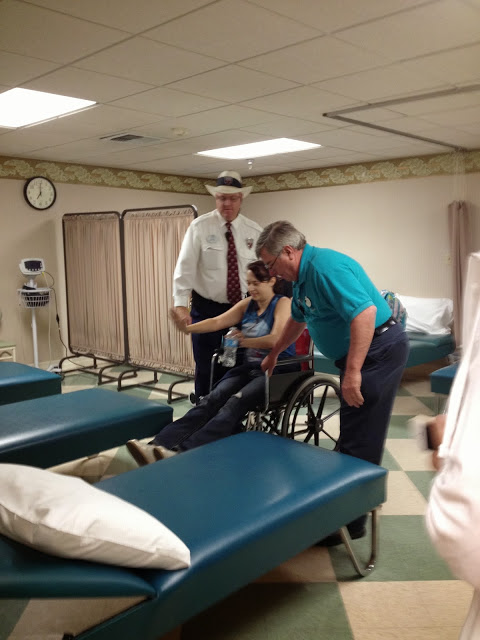 The wheelchair ride is my least favorite ride at Disneyland.
By the time we got to First Aid, I wasn't feeling faint anymore, but my ankle was throbbing.  They took my temperature and gave me an ice pack, and told me I could stay there as long as I needed "until we kick you out."  That was the nurse's idea of a "joke."  I iced my ankle for 20 minutes until they told me I needed to take it off … "20 minutes on, 20 minutes off."  At that point I tried to walk and realized I could hobble around.  They offered to get me a wheelchair voucher to use until the park entrance, but I felt I could manage.  Meanwhile, my kind friends were out getting the clam chowder I wanted!  We sat at the Plaza Inn and ate and watched the fireworks show.  Then I managed to limp back to my car in the parking structure and drive home.  It really could have been a lot worse and at least I could limp around enough to get myself home.  I would have hated if Mr. BFT had to somehow get to Anaheim to get my car and drive us home.
So now I'm at home, resting and icing my ankle as the nurse instructed.  I'm really happy Disneyland offers this kind of service because icing and elevating my ankle right away really lessened the swelling, and I would have been in a really bad spot without their help!  Also a special shout out to my friends for jumping into action and, most importantly, not laughing at me (or at least not in front of me).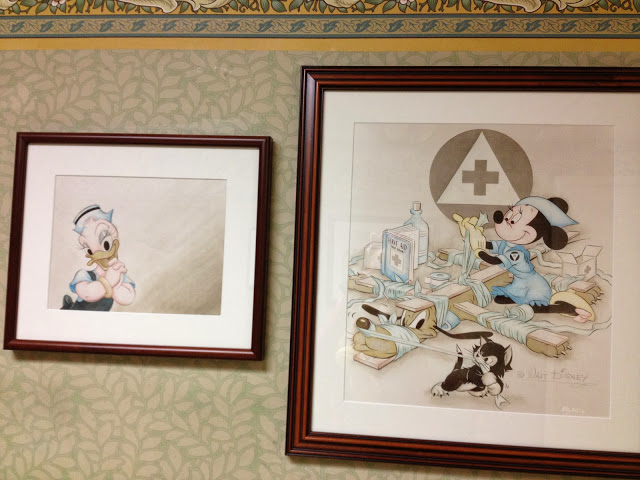 This article was originally published in November 2013 and has been updated with new information.