This post contains affiliate links.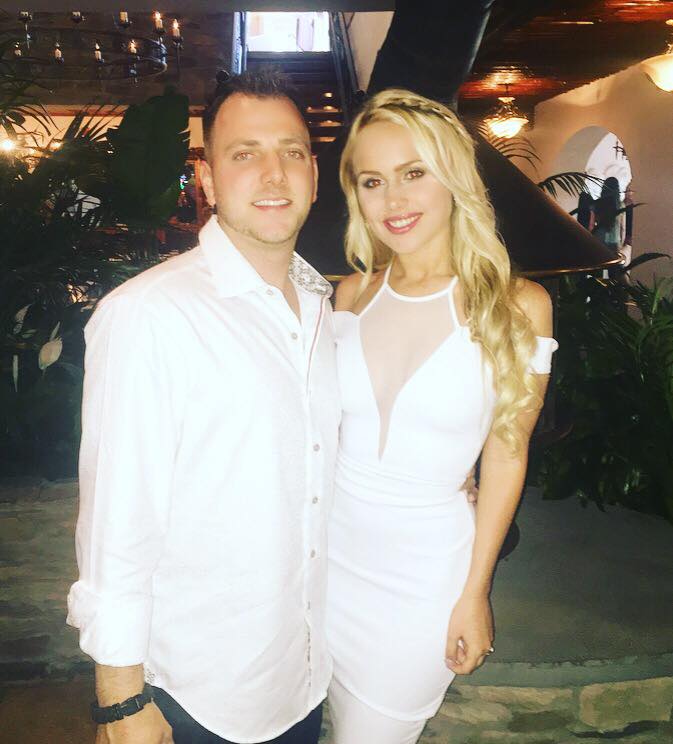 Disney Bride Nicole P is planning a Walt Disney World wedding at the Wedding Pavilion and Disney's Grand Floridan Ballroom for December 2017.
It definitely seems like these days there is a large group of newly engaged couples that opt out of the once customary engagement party. Being one who never passes up an opportunity to throw a great party, I am not at all a part of that group. With in-laws living in a different state and many friends and relatives living in various locations, it seemed like the perfect opportunity to get everyone together.
Selecting a theme for our engagement party was really easy. My fiancé and I love the Pixar masterpiece, "Up". I could watch that movie twice a day and still cry at the end. We both feel like we can identify with the couple in that film. Just like Carl and Ellie, my fiancé and I grew up together and truly are best friends.
The first thing we did was select the date, June 5th 2016, and the location, Sophia's Restaurant located in the Jersey Shore beach town, Margate.
We ordered a custom invitation from The Inked Leaf on Etsy, with an image of Carl and Ellie's house, complete with lots of colorful balloons coming out of the chimney, floating to Gravity Falls. The invitation asked our guests to join us as our adventure begins!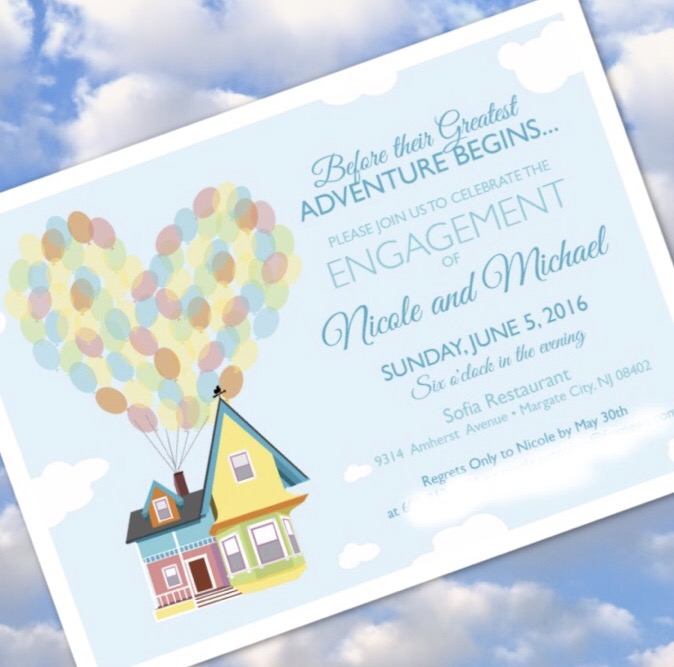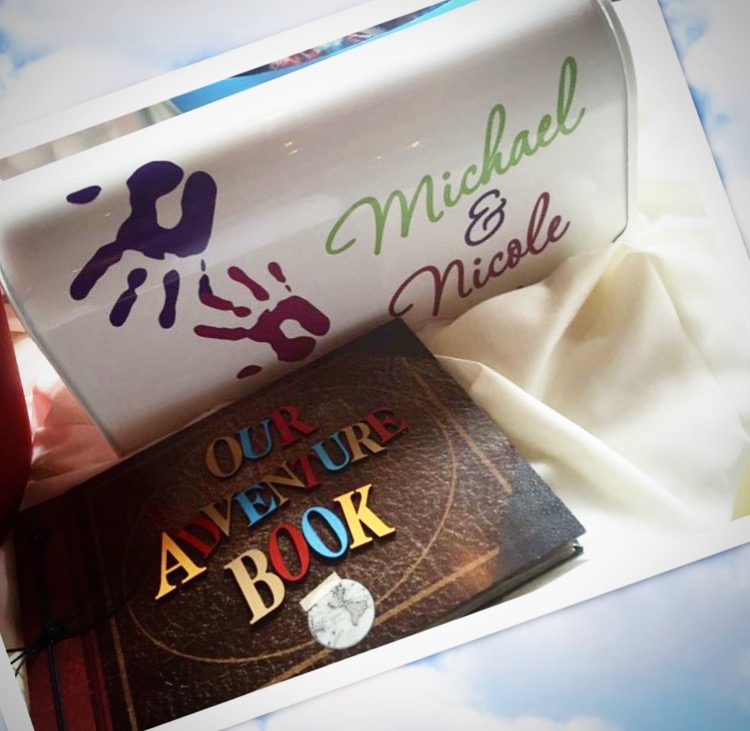 We selected our menu from hors d'oeuvres to main courses to sweets and drinks. I ordered a custom replica of Carl and Ellie's mailbox with our names painted on the side from One Hipsticker Chic on Etsy. This turned out to be the perfect place for guests to deposit their cards and well wishes! Also, on the table was our own adventure book filled with pictures of us throughout our 15 year relationship. I was able to order tons of primary colored balloons on colorful ribbons tied to decorated weights. These made the perfect, and yet very inexpensive, table center pieces. My fiancé, being the great guy he is, ordered two amazing cakes. One was perfect for the themed topper I had ordered from Cake Sparkle on Etsy saying "You Are My Greatest Adventure". The other cake was an incredible replica of Carl and Ellie's house!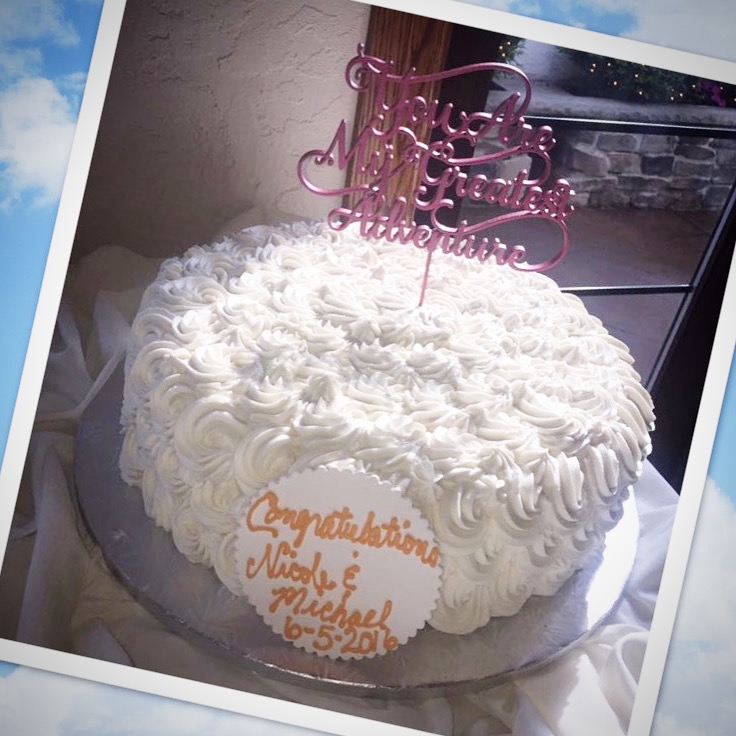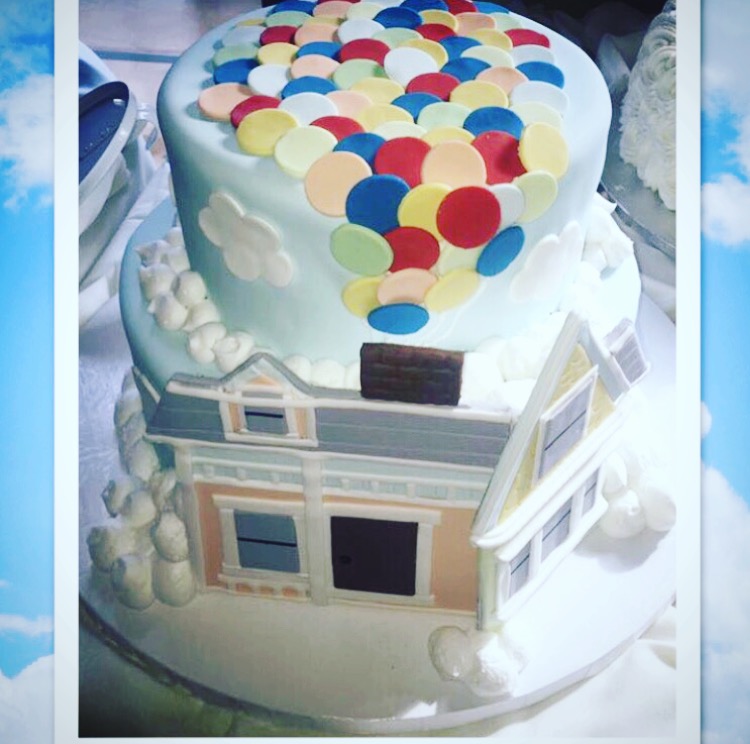 We rented a photo booth for our guests complete with silly props. Each strip of photos included a picture of the "Up" house, with our names and the date at the bottom. We even hired a balloon artist who was kind enough to dress as Carl. We ordered custom bags of colorful popcorn tied together with ribbon with a grape soda pin pinned on each and gave them out as favors.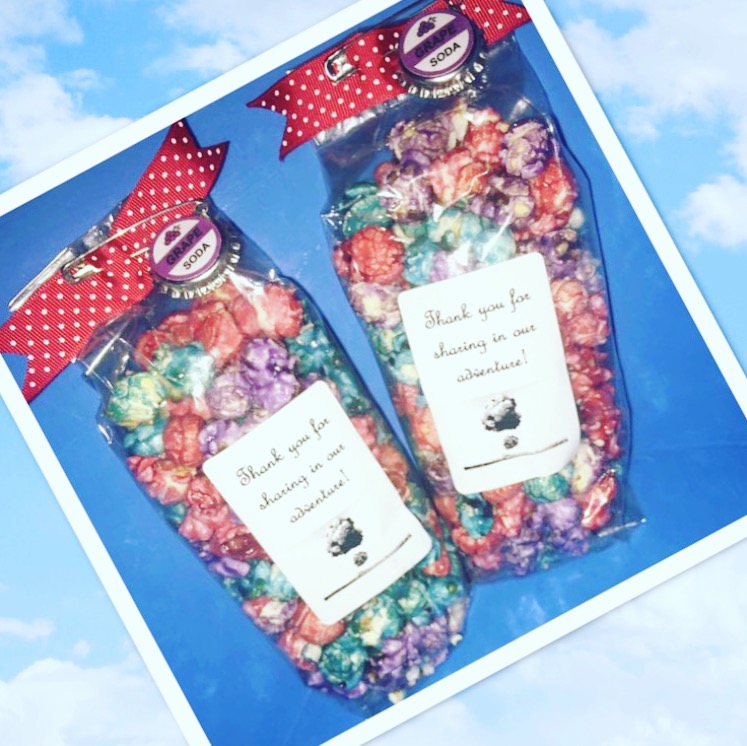 The night was perfect. We didn't get a band or DJ because we really wanted to encourage our friends and each of our families to take the time to talk and to get to know one another. I couldn't write about this party without mentioning how absolutely delicious the food prepared by Sophia's of Margate was. From perfectly roasted filet to salads and different flatbreads, the spread far exceeded anyone's expectations. It was one of those parties when no one really wants to leave. We talked, ate, drank, and just really enjoyed getting to know each other. The party went well into the night and ended with a toast to us.  It really was the perfect way for Michael and I to start our greatest adventure!