I can't believe it has been a full year since my first trip to Hawaii. It's about time I finished up our trip report, yes?
I already covered the first part of our Hawaii vacation – our stay at Disney's Aulani. You can click here to read those recaps!
After our amazing week at Aulani we took a cab to the Port of Honolulu to board our home for the second part of our trip: The Norwegian Pride of America. Click here to read all about the ship!
Boarding the ship was super easy; the port was huge and well organized. I remember embarkation for our Alaska cruise in Vancouver took hours of waiting in line; not so with this Hawaii cruise. Very quickly we were on the ship with drinks in hand! After a quick lunch at the buffet we found a spot outside to wait for our room to be ready. We were on deck 10 and they kept calling every other deck …. Deck 7, Deck 8, Deck 9, Deck 11 …. Deck 10 was the last deck to be called!
When we arrived in our room I noticed right away something was not right about our balcony view. It was obstructed! I was so disappointed but figured there was nothing we could do about it and started unpacking my things. However, we had just come from our Cruise Critic meet-up with the ship's officers, and Tim decided to call the hotel manager to complain about our obstructed view and see if there was anything they could do (we were thinking maybe some on-board credit or a free bottle of champagne to make up for it). The hotel manager said the ship was full but they could possibly move us the following day. That sounded like a hassle but we said "okay" and continued to unpack.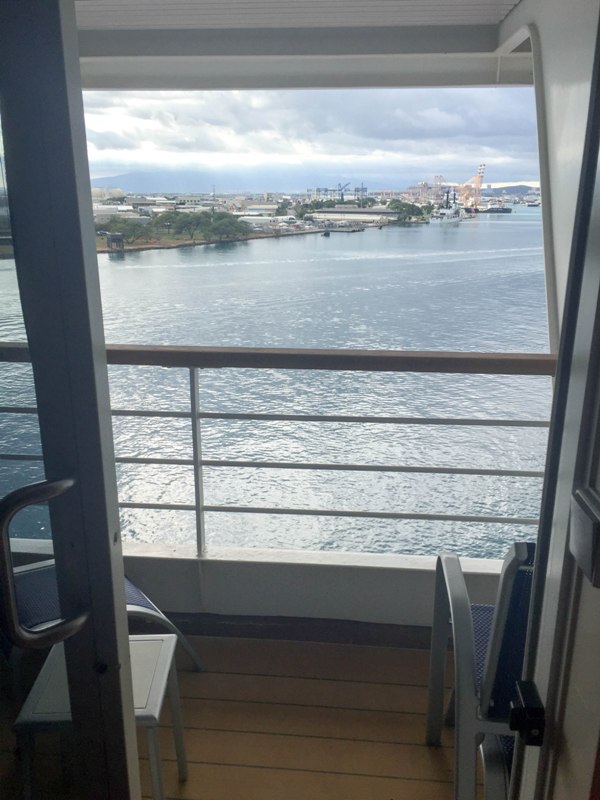 About 30 minutes later we received a call in our cabin – they had a new room we could look at! Deck 9, one deck below us but in a similar part of the ship. We met up with a ship representative who showed us the new room. Immediately I could see the difference with this balcony view and we agreed to switch rooms. We went back, packed up what was unpacked, and moved everything down one deck. It was a stressful way to start the cruise but I'm very grateful we got the cabin (and view) we really wanted and the rest of the cruise was – pardon my pun – smooth sailing.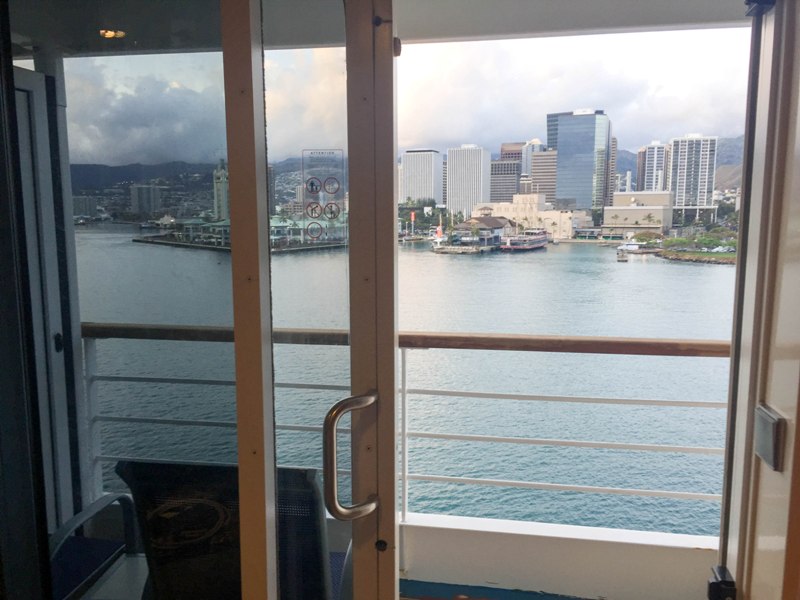 By now our ship was moving and we missed the Sail Away party on deck. I told Tim all I wanted to do was sit on our balcony (with the great view) and feel the ocean breeze as the sun set. Tim went to get drinks for us to enjoy and we spent the next hour or so watching the amazing Honolulu sunset. Then we had dinner at La Cucina restaurant, which was Italian food, and it was probably the best meal we had on the ship!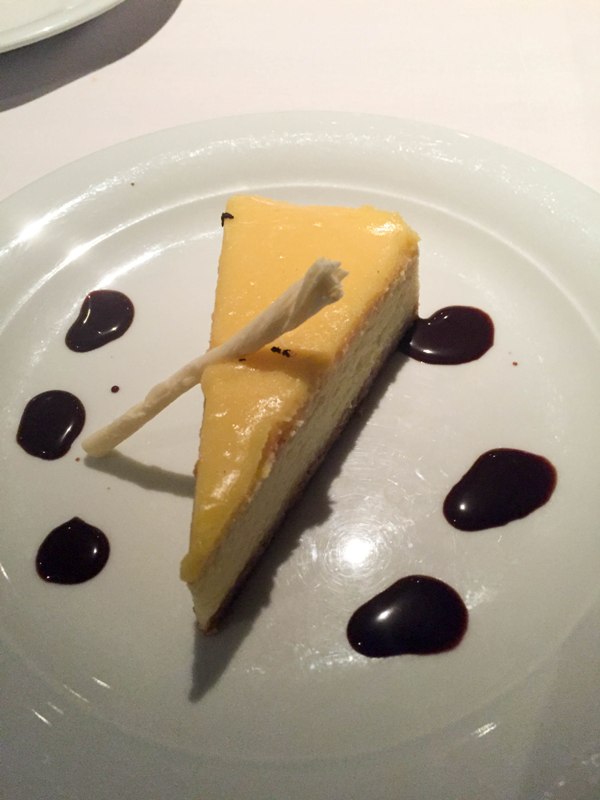 The next morning we docked in Kahului, Maui! We had two days on this beautiful island.
For day one we did a Road to Hana tour that lasted pretty much all day. It was so nice to take a tour and not have to worry about navigating the winding road. I wrote all about our Road to Hana tour with Valley Isle Excursions here.
For Maui Day Two we rented a car so we could drive around the west side of the island. For the record we scheduled our rental pickup for 7am but didn't get there until 8am or so and it was fine. I actually had called to change the time to later which they happily accommodated, but I was told at the desk it wasn't necessary.
We went through Alamo and waited for the shuttle at the dock probably 10 minutes or so. Alamo was great. We reserved the car through Discount Hawaii Car Rental and we were told at pick up that we got an amazing deal on a convertible – around $45 for the day. She said people were trying to upgrade their rentals to a convertible at pickup and the upgrade alone was $50-$100 on top of their original rental fee. So it pays to reserve, and you don't have to put any money or credit card down with Discount Hawaii Car Rental! I highly recommend them.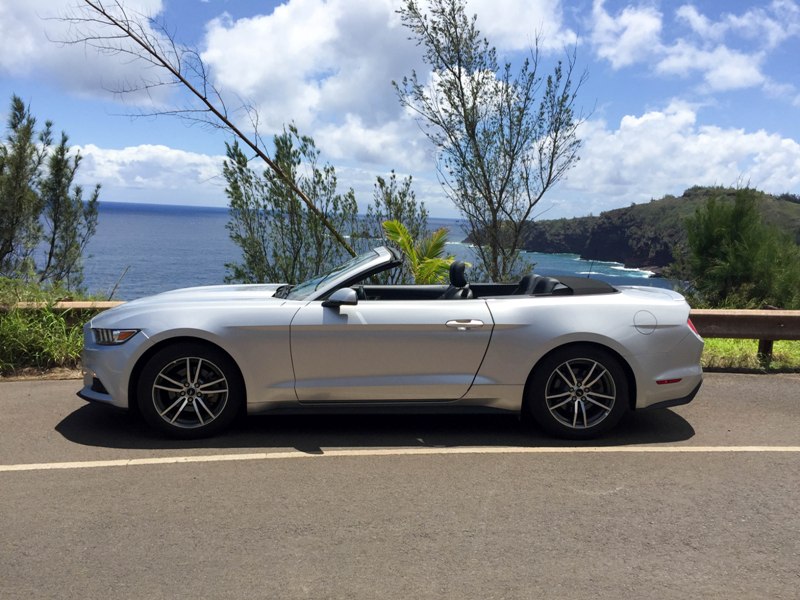 We had two "must dos" on our list, which was the Nakalele blowhole and the town Lahaina. Since the blowhole was as far north as we were going, we decided to go there straight away then work our way back down. This was a great plan – the only downside was we were at the blowhole during low tide and it was kind of a dud. The landscape is still spectacular but the few water spouts we witnessed were a bit lackluster compared to the amazing photos you see online. If you want to hike down to the blowhole, be prepared for a workout. Wear sturdy shoes and a hat or visor, and bring water.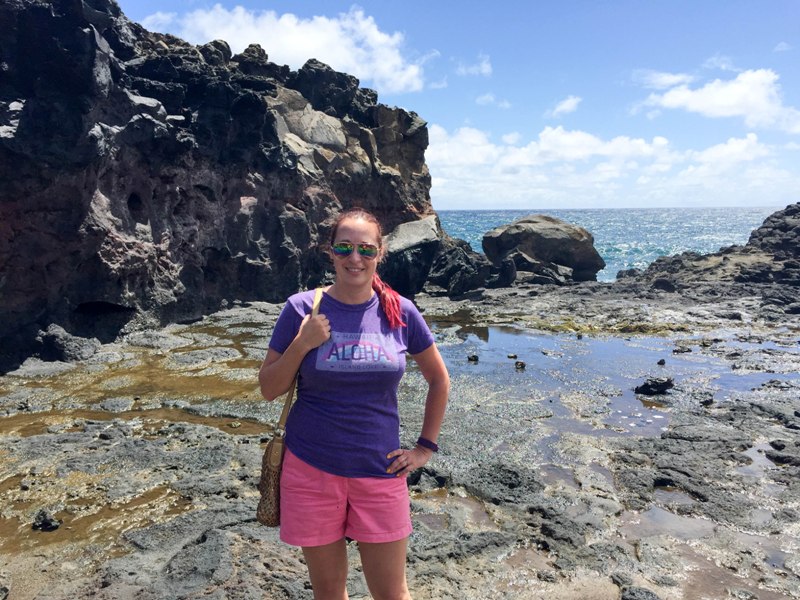 After an hour or so at the blowhole we headed back down the hill and stopped at a pretty little beach called Honokowai. We actually only stopped here to check our GPS (no cell service at the blowhole or most of the way up there) but it ended up being a picturesque spot. We looked up restaurants in Lahaina, decided on a place called Captain Jacks, and set the GPS.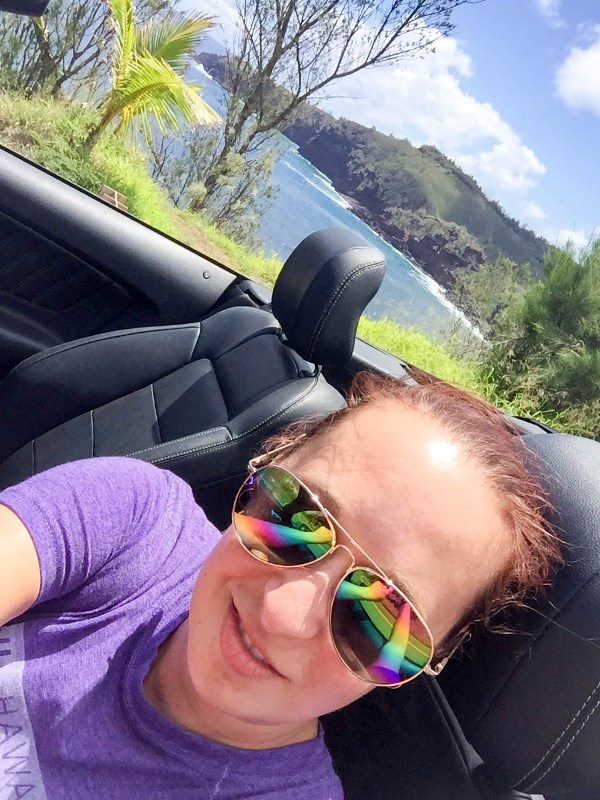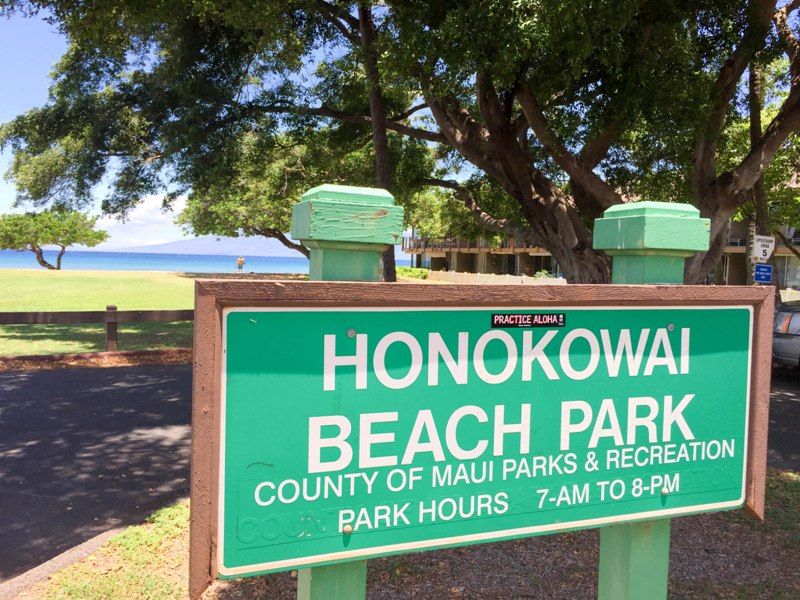 Once in Lahaina we parked a few blocks from the restaurant so we had an excuse to walk through town. The lot cost $10 for three hours; not sure if that's normal but we are not ones to circle endlessly to save a few bucks on parking. It was a quick walk to Captain Jacks, which was also across the street from the famous Banyan Tree so we stopped for a few pictures there as well. Captain Jacks was great; they sat us at a corner table on the second floor balcony with a great view and the food & drinks were excellent.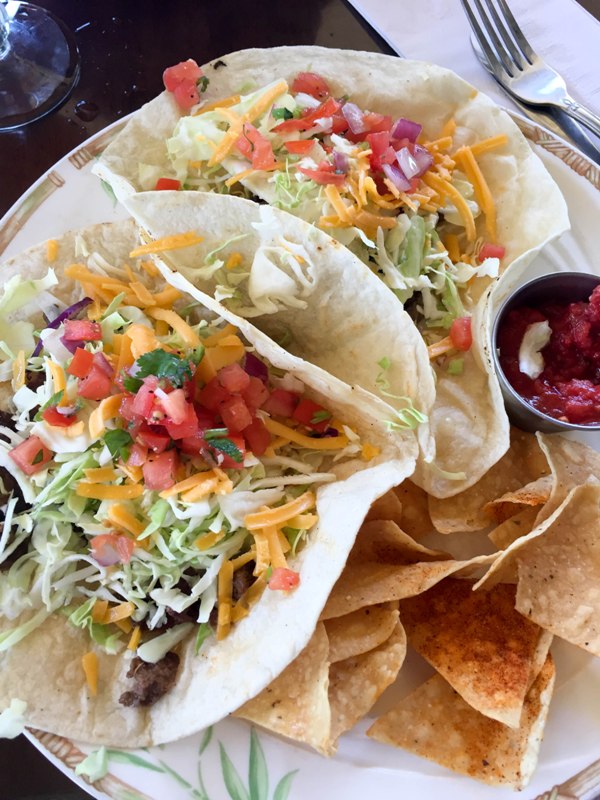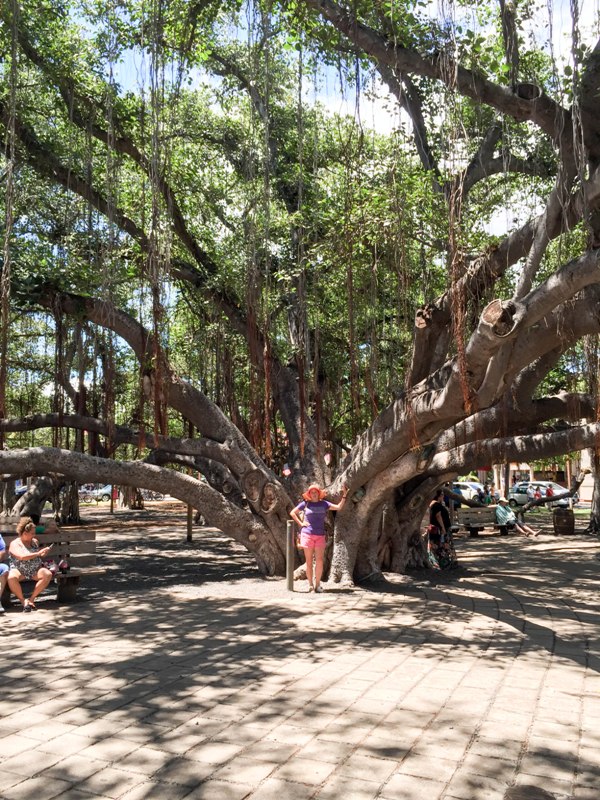 I was starting to feel sick from the high humidity so we cut our sightseeing day a bit short and started driving back towards the ship after lunch. We stopped at a little restaurant called Leoda's on a friend's recommendation and had some dessert. This place is well known for its delicious pies. I had the banana creme pie and Tim had pineapple macadamia pie. They are huge; we could have split one but couldn't agree on a flavor.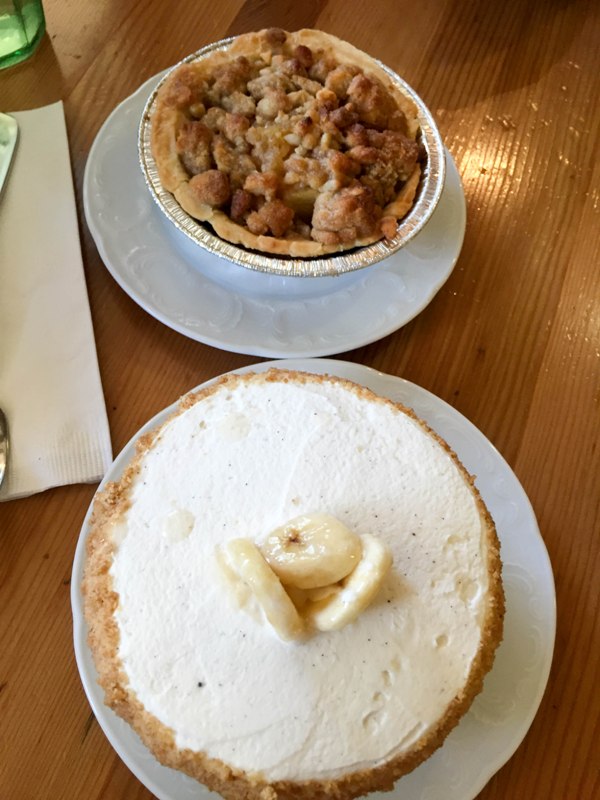 From here we headed back towards the ship, filled the car with gas, and returned the rental. Rental tip: Put the actual address from your rental invoice into the GPS. I just used Alamo at the airports and it took me to the wrong place. Luckily the correct place was right around the corner but save yourself a couple minutes of panic and put the correct address in from the start.
Back on the ship, we had about an hour of rest before our 5:30 dinner reservation at Teppanyaki. I highly recommend making a reservation here for dinner at some point during your cruise. The "show" is fun but the food was great on top of that. (The secret is the food is swimming in garlic butter. Sweet delicious garlic butter.) I could only eat about half of the gigantic meal we were served and I felt awful sending it away. Arrive hungry!
After dinner we did a couple laps around the Deck 6 walkway before I felt a bit queasy from the motion of the ocean and requested to go back to the room. Still full from dinner, we bummed around the room until we were tired enough to go to bed. We had another fun tour planned the following day – Hawaii Volcanoes National Park on the Big Island!