MagicBand+ is coming to Disneyland!
While we've know the plans have been in development for a while, in September 2022 Disneyland finally gave us some details about MagicBand+ coming to the Disneyland Resort this fall.
All About MagicBand+ at Disneyland
If you're not familiar with MagicBands, they have been in use at Walt Disney World since 2013. Version 1.0 MagicBands were given to hotel Guests for free to make their visit to the Parks easier.
The updated version, called MagicBand+, is no longer free but works basically the same as previous versions, with a few new features.
MagicBand+ is an optional wearable electronic device (a bracelet) that acts as a shortcut for many things. Your MagicBand+ is linked to your park ticket or Magic Key pass and eliminates the need to take your phone out to scan. Your MagicBand+ can be scanned as your park ticket, your Lightning Lane redemption, and your PhotoPass.
In addition to those features, MagicBand+ will also sync up and illuminate along with nighttime spectaculars such as World of Color.
AND, my personal favorite – Guests will be able to play an interactive game with their MagicBand+ in Star Wars: Galaxy's Edge, called Star Wars: Batuu Bounty Hunter. I can't wait to hear more details about this!
At Walt Disney World, MagicBand+ can also be used to open your hotel door and charge purchases to your hotel room. It seems like this technology won't be available when MagicBand+ launches at Disneyland at first, but will be a feature down the line.
So when will Disneyland Guests get their hands on MagicBands? The official launch date is October 26, 2022. Magic Key holders and Disney Vacation Club members can get early access to MagicBand+ at Disneyland starting October 19.
MagicBand+ bracelets will be available to purchase at a few locations around the Disneyland Resort, and are currently available to purchase on ShopDisney. They retail between $34.99 – $54.99.
At launch, there will be 5 MagicBand+ designs that are exclusive to Disneyland! And, Magic Key holders can get an exclusive MagicBand+ design!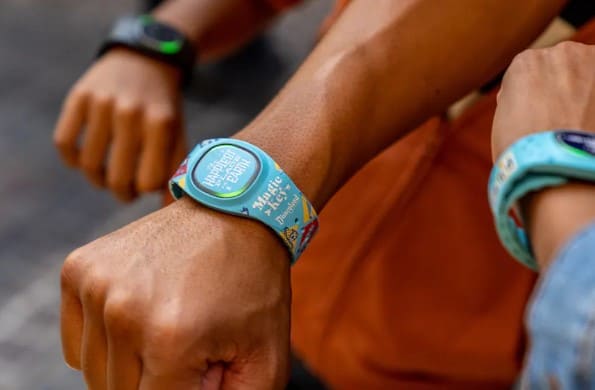 What is a MagicBand+?
MagicBand+ is wearable technology that makes your visit to the Disneyland Resort easier. The bracelet includes an RFID chip (similar to the "tap" chip in your credit card!) that allows for short-range and long-range sensor reading. The chip connects to your Disneyland account, which includes your tickets or Magic Key pass.
What does MagicBand+ do?
The MagicBand+ bracelet provides a hands-free way to enter the parks, check in for Lightning Lane entrances, and link photos to your Disneyland account. A MagicBand+ simply adds a bit of convenience to your day, reducing the need to use your mobile phone for some tasks.
MagicBand+ also will sync to some entertainment shows, such as Fantasmic! and World of Color. The bands will light up and vibrate at certain parts of the show.
And over in Star Wars: Galaxy's Edge, the MagicBand+ will allow Guests to play the Star Wars: Batuu Bounty Hunters quest, which also uses the Play Disney Parks app's augmented reality feature.
When will MagicBand+ be available?
MagicBand+ are now available to purchase at Disneyland Resort!
Where will MagicBand+ be sold?
MagicBand+ will be sold in the following locations:
Downtown Disney District: World of Disney, Disney's Pin Traders
Disneyland park: Emporium, Pioneer Mercantile, Tomorrow Landing
Disney California Adventure park: Elias & Co., Trolley Treats, Oswald's, Seaside Souvenirs
Hotels of the Disneyland Resort: Disney's Fantasia Shop, Mickey in Paradise, Acorns Gifts & Goods
There is also a kiosk set up right before you go through security at the Mickey & Friends and Pixar Pals parking structures. You can purchase your MagicBand+, set it up while waiting for the tram, then go straight to the entrance gate!
You can also purchase MagicBand+ on ShopDisney.
Setting Up Your MagicBand+
Connecting your MagicBand+ to your Disneyland account should be a breeze. Once you have purchased your MagicBand+ (or if you already have one from Walt Disney World), here's what you do:
Step 1: Power on MagicBand+ by pressing on the button on the back once and tap the band to the back of your phone.
Step 2: You'll be directed to open or download the Disneyland app.
Step 3: Follow the instructions in the Disneyland app to link the MagicBand+ to your Disney account, assign it to your ticket or pass, and pair it to your smartphone.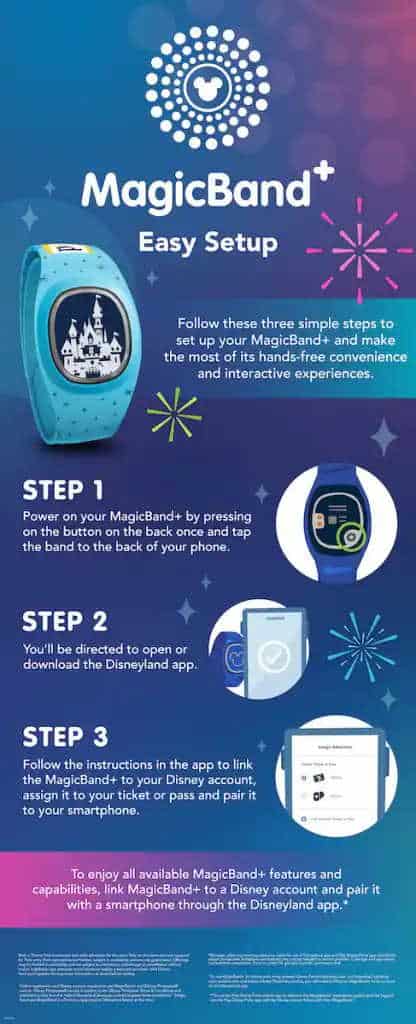 As for me, I'm really excited for MagicBand+ at Disneyland. Yes it's an extra expense but I'm totally over having to take my phone out of my pocket or backpack for every little thing. I'll happily pay $35 for the convenience of the band, especially as a frequent visitor!
Frequently Asked Questions about MagicBand+ at Disneyland
Does the MagicBand+ contain GPS? Is Disney tracking my location?
MagicBand+ does not contain GPS, and Disney does not use a MagicBand+ to track Guests location. However, if you have location services active on your phone, Disneyland may make recommendations through it's Genie service via the Disneyland app based on your location.
Do you need to buy a MagicBand+ to go to Disneyland?
No. MagicBand+ is an optional device you can choose to use or not use.
Do you need to buy a new MagicBand+ each time you visit Disneyland?
No! You can use your MagicBand+ over and over. Each band comes with a charging cord so you can charge it between visits.
Will the same MagicBand+ work at both Walt Disney World and Disneyland?
Yes! If you already own a MagicBand+ from Walt Disney World, you can link the same band to your Disneyland account and use it at Disneyland. Disneyland does not support the old versions of MagicBands.
Is MagicBand+ waterproof? Do I need to worry about it getting wet on water attractions?
MagicBand+ are waterproof and will withstand getting splashed!
How much will MagicBand+ cost?
MagicBand+ will retail between $34.99 and $54.99. Magic Key holders may apply their usual merchandise discount. There is no functionality difference between all the bands. The price difference correlates to the design on the band, or if the band is a limited edition.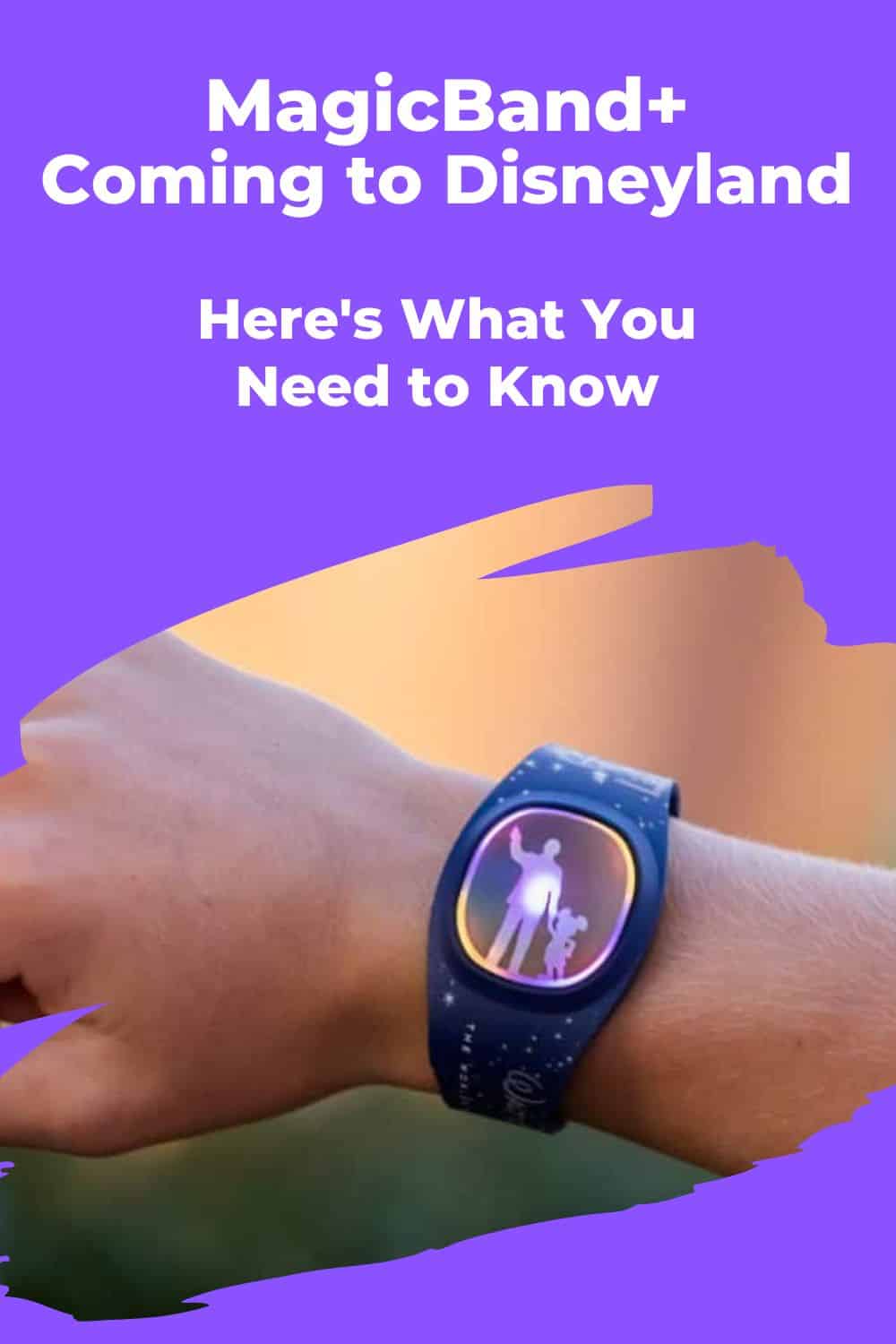 ***
Have you noticed the Thank with Google button at the top and bottom of my articles? I was invited to be a paid early tester for their new Thank with Google pilot program, which gives readers a way to easily say "thank you" to their favorite creators!
Thank with Google is an experimental feature that allows you to send me virtual stickers – either free or paid. If you choose to send a paid sticker, you can include a personal message for me! I love hearing from you and knowing that my article helped you in some way.
Be sure to look for the Thank with Google button on your favorite creators' websites, and consider sending a sticker to show your support for our content!