Depending on where you grew up, you probably frequented either Disneyland OR Walt Disney World as a kid. Since I was born in raised in Southern California, my family would go to Disneyland once or twice a year. It didn't make much sense for my family to travel across the country to a different Disney Park when we had one practically in our backyard!
I did not visit Walt Disney World until I was an adult, and prior to my first visit, I really had no idea just how drastically different Walt Disney World is when compared to The Disneyland Resort.
I really thought my vast knowledge of everything Disneyland was good enough for visiting Walt Disney World.
I was … VERY wrong.
Walt Disney World is an entirely different beast. And if you're a Disneyland regular who is going to Walt Disney World for the first time, there's a lot you need to know.
In this article I'm breaking down all the major differences between Disneyland and Walt Disney World, from the perspective of someone who grew up with Disneyland as my home park.
I hope my advice helps some other Walt Disney World first-timers out there!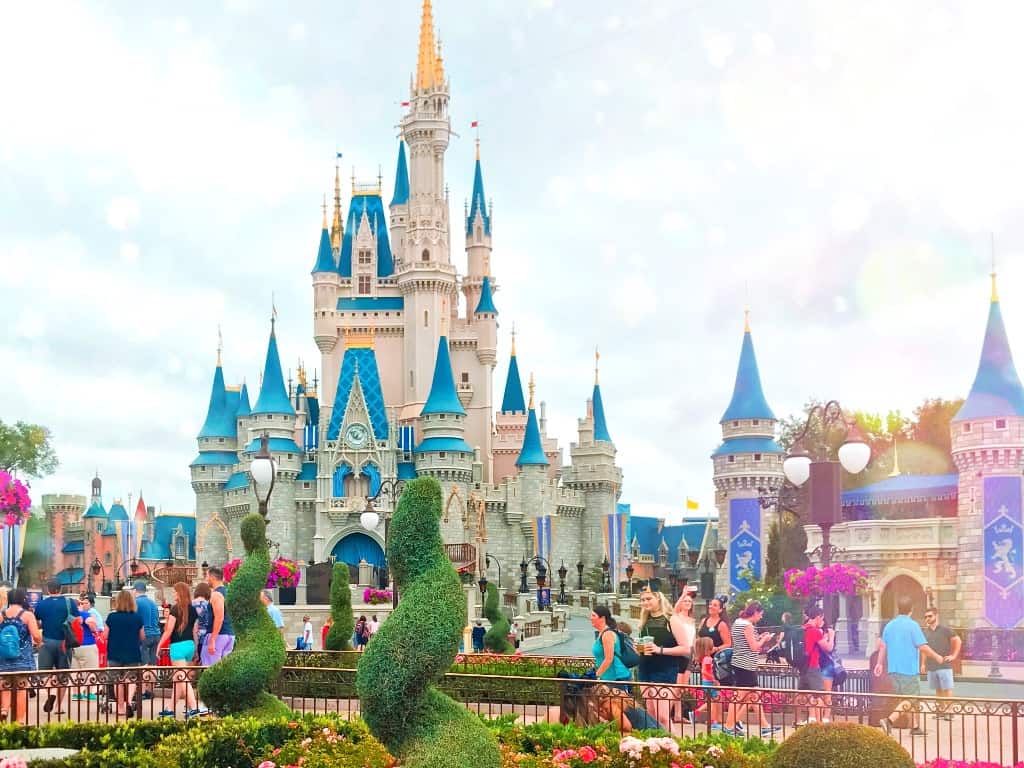 Major Differences Between Disneyland and Walt Disney World
1. Walt Disney World is big. (Like really, really big.) If you haven't actually been there, it's difficult to describe just how huge Walt Disney World property really is. It's basically it's own city – in fact, it's the approximate size of San Francisco.
Looking at images or a map of the Walt Disney World parks really doesn't prepare you for the vast expanse of the parks compared to Disneyland's parks. Because everything is more distanced, you simply need to plan for more walking time between attractions and restaurants.
Think you can't visit all four Walt Disney World parks in one day?!? Think again! World Family Travel blog got it done! Read their itinerary: Visiting Four Disney Parks in One Day
2. Dining reservations are really important. If there's a restaurant you really want to dine at, I recommend making reservations as early as possible. Depending on your time zone, that may mean setting an alarm for the middle of the night. Yes, for real.
Dining reservations open 60 days in advance between 5:45am and 6:00am Eastern Time, which is 2:45am – 3:00am Pacific Time.
Current popular restaurants are Topolino's at Disney's Riviera Resort, Be Our Guest at Magic Kingdom, and Tiffin's at Animal Kingdom.
3. Magic Bands really are magic. Disneyland locals will never know the power and ease of the Magic Band, an RFID waterproof bracelet that combines your park tickets, hotel room key, and credit card in one handy place. Need to get into your hotel room? Just tap your band. Entering Epcot? Just tap your band. Paying for a snack? Just tap your band! Tap, tap, tap. It's so easy, you'll miss having a Magic Band during every other vacation.
4. The Disney Dining Plan may be a good deal for you and your family, or might be more trouble than it's worth. The Dining Plan is a unique aspect of Walt Disney World, allowing guests to essentially pre-pay for a set number of meals during your visit. Guests can choose between several levels of plans, including Disney Quick-Service Dining Plan, Disney Dining Plan, and Disney Deluxe Dining Plan.
The downside? If you are traveling solo, don't want to schedule every meal, or tend to snack more than eat actual meals, the Dining Plan may not be for you. I have visited Walt Disney World several times for solo trips and have never used the Dining Plan, since I like my meals to be more spontaneous.
Dining Plans can be added to your vacation package, either when booking your hotel and buying tickets, or adding to an existing upcoming trip. Occasionally, Walt Disney World may offer a "free Dining Plan" promotion, which as you can imagine is very popular!
For more information regarding the types of Disney Dining Plans and the costs involved, please visit the Walt Disney World Dining Plan website.
*Note – the Disney Dining Plan is not being offered since Walt Disney World re-opened in 2020 after closing for COVID-19. There has been no announcement about when the Disney Dining Plan may return.
5. The hotels are attractions within themselves. For as big as the Walt Disney World parks are, the Resort hotels are mind-blowingly expansive as well. And with over 25 Resort hotels to choose from, there's a spot for everyone.
Truly some of the best meals I've had at Walt Disney World weren't at Epcot, but were at Resort hotels! Some highlights include Toledo at Disney's Coronado Springs Resort Gran Destino Tower, and Citricos at Disney's Grand Floridian Hotel and Spa. And anyone can visit! You don't have to be a guest at the hotel in order to eat there or just visit the grounds.
6. Plan time for transportation. Going from The Disneyland Resort, where everything is within walking distance, to Walt Disney World is a bit of a shock. You need to take transportation everywhere, sometimes even within your own hotel.
Walt Disney World has an extensive bus system to transport guests between the Resort hotels and Parks, but the timing can be hit or miss. Sometimes you get lucky and you walk up to the bus stop as your desired bus is pulling up. Sometimes you just miss the bus and need to wait up to 30 minutes for the next one.
My best advice when it comes to the bus system is to add plenty of transportation time to your schedule. If you are going from your hotel to a park for a dining reservation, keep in mind the time waiting for the bus, travel time, walking from bus drop off to the front gate, time waiting in security line and entrance, and walking to your destination. However much time you *think* that might take, add an additional 30 minutes.
If the bus system doesn't sound fun, there are other options. Many guests choose to rent a car so they can have complete control over their travel. Ride share is also popular at Walt Disney World. And, of course, if you're staying at one of the three hotels along the Monorail route, you can take the Monorail to Magic Kingdom and Epcot.
7. Plan time for rest and recovery. Remember when I said Walt Disney World is huge? Expansive parks and hotels means you spend a lot of time walking. Couple that with waiting in attraction queues in the Florida heat and, well, you're going to be exhausted. The best way to combat overexertion is to schedule in time to rest. Depending on how long your trip is, you may want to block off an afternoon at the pool or a lazy morning in your hotel room. Or even plan an entire day mid-trip to just rest. You will be so glad you did.
Walt Disney World pros – what else would you add to this list?