Disney Bride Stephanie M planned a Walt Disney World wedding at the Wedding Pavilion and California Grill in July 2018.
It's known as the BIG day. It's called one of the BIGGEST moments of your life. Many fear the BIG budget. However, let's think small for a moment. Let's focus on the little wedding details, those small items that add an intimate and personal touch to the BIG day.
Wedding details are fun additions whether you're the bride or the groom. While not everyone will notice them on the day of your wedding, they're fun Easter eggs for those who do, and most photographers will make sure they're highlighted in at least some of your pictures.
How to Add Personalized Details to Your Wedding Day
All photography is provided by Jess Collins Photography
This article contains affiliate links which means we may earn a commission when you make a purchase.
The obvious and more traditional details start with your person. For the groom, you'll want to consider cuff links, socks, handkerchief, and tie/bowtie. At our wedding, Patrick had a few hidden Mickeys in his outfit, both with his cuff links and in his boutonniere.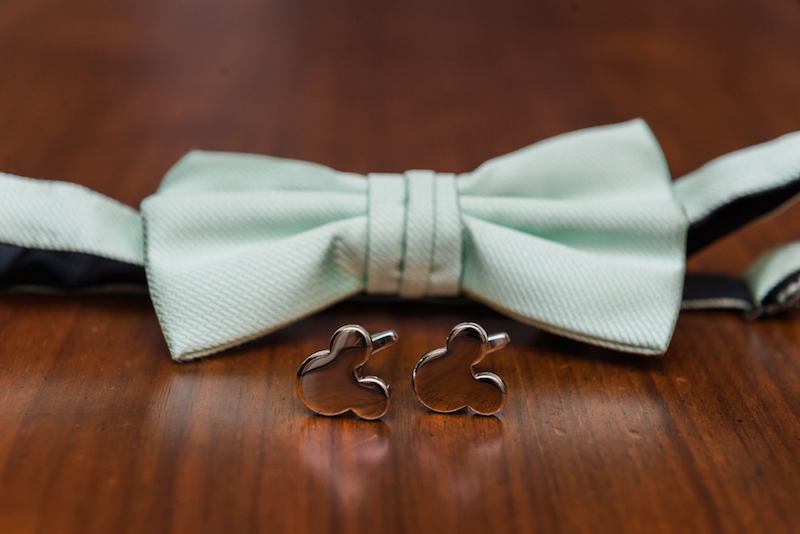 Brides can always fall back on the "something old, something new, something borrowed, something blue" or they can shake it up for their own unique styles. Steph's outfit included gifts that represented the love of the women from her family (a ring from her mother and pearls from her grandmother). Then, her bouquet featured a Disney wedding pin Patrick gave her when they went to Disney to celebrate their new engagement. While there is nothing wrong keeping things straight forward and standard, it's fun to personalize the little touches in order to represent special moments, people, or tastes.
You don't have to stop at your outfits, though. Our day included plenty of small details that made us smile seeing them in action and were fun to point out to friends later. Some of our details weren't so secret like naming our reception tables after Disney dogs and then including our own dogs in the seating chart display. Others were intended to be a little more subtle like Spider-Man climbing the back of our wedding cake.
Details get to be what you want to make them. They provide the opportunity to express yourselves, like we did with our love of dogs and comics. They also give your guests a chance to see you even more on a day that is designed to emphasize your relationship and personalities.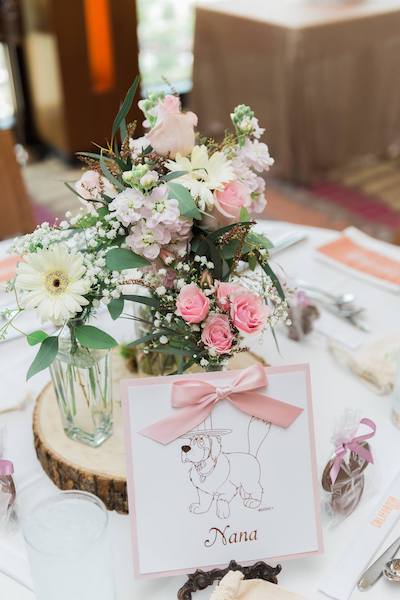 Each wedding should be one-of-a-kind so it wouldn't be fair of us to tell you exactly where to place your details where they're not needed. It will all depend on how much thought you want to put into different aspects and where you have more control with planning. Some fun places to consider sneaking in your detail Easter eggs are music, favors, flowers, and foods.
The majority of couples will have pictures of their first dance, cake cutting, and families. Each of those are special and to be cherished, but the details are where you get to stand out a little bit more, where the occasion goes from a wedding to a wedding that is yours and only yours.
As always, have fun with it and enjoy the moments when your friends and family start to notice your details and appreciate the little magic that adds up to something BIG!
This article was originally published in November 2018 and has been updated.
Shop Disney Wedding Favorites: