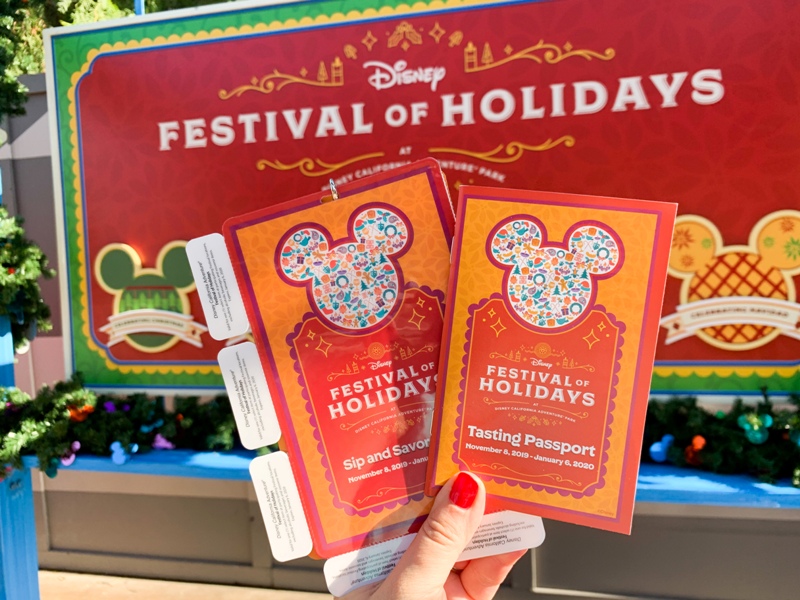 After a year off, I'm happy to share that Festival of Holidays is BACK at the Disneyland Resort this year! This is a really fun holiday celebration that takes place inside Disney California Adventure and includes music, dancing, shows, and lots and lots of food & drinks!
For 2021 we are seeing a lot of our favorites returning, plus some exciting new offerings. I visited on the first day of the Festival and I obviously wasn't able to eat everything in one day, but I've shared my opinions on what I ate below. But first, a quick introduction to Festival of Holidays if you're not familiar with it.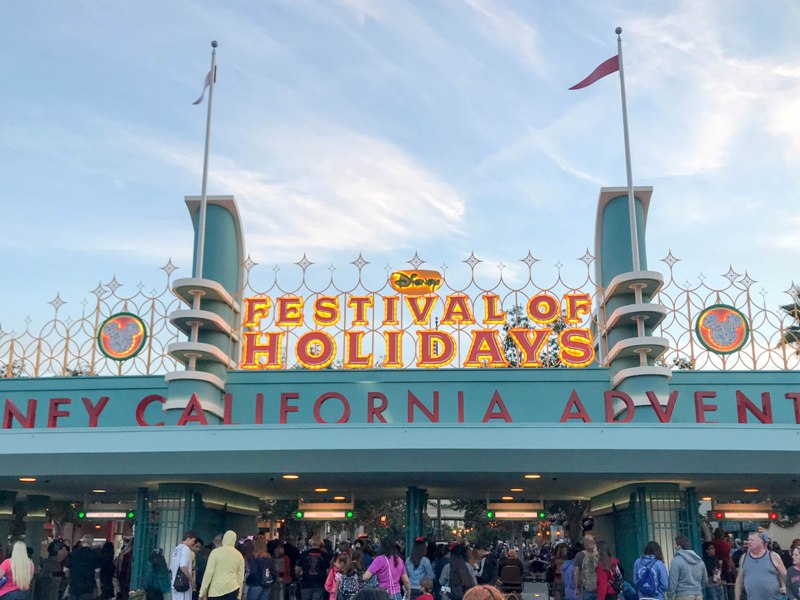 Festival of Holidays 2021 at Disney California Adventure
What and When is it?
Disney Festival of Holidays is a celebration of the cultural diversity of Southern California, and features music and dance performances, crafting for kids and adults, Disney character interactions, and, of course, a visit with Santa!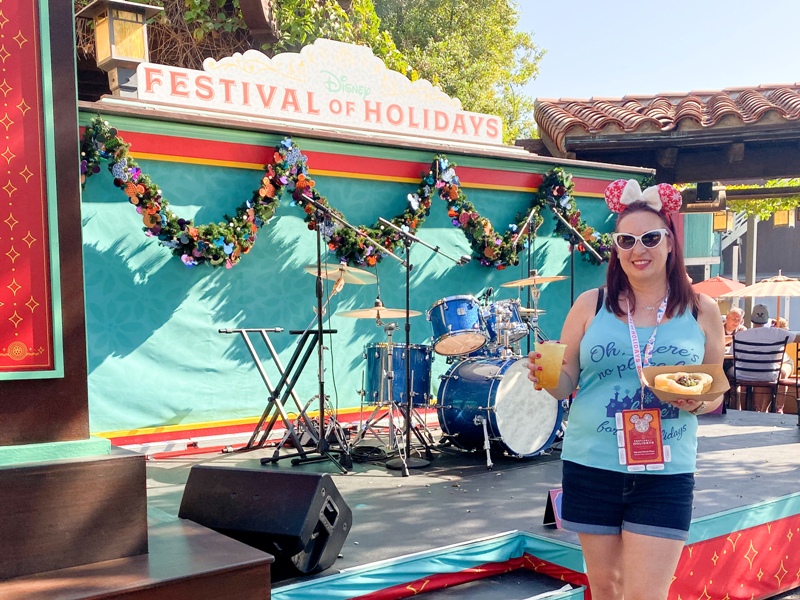 For this guide, I will mostly be focusing on the amazing Festival Foods Marketplaces, which showcases delicious foods and spirits of the holiday season from around the world. Guests can purchase small plates of a variety of delicious foods, wines, beers, and other drinks.
Festival of Holidays is being offered every day between November 12, 2021 and January 9, 2022. Regular Park admission for Disney California Adventure PLUS a park reservation is required, and food and drink items are an additional cost. Food Marketplaces open at 11am.
Need Disneyland Tickets?



Get discount Disneyland or Walt Disney World tickets from my recommended travel partner, Undercover Tourist! Click here to check prices for your trip!
Where to Go
Festival of Holidays takes place at Disney California Adventure. Once inside the park, make your way to the Festival Corridor, starting adjacent to Carthay Circle Restaurant and ending at Paradise Gardens.
There is a fun photo op right at the festival entrance.
There are 8 Marketplaces along the Festival Corridor, with 3 or 4 food items and 2 or 3 drink options at each. Adjacent to each Marketplace are cocktail tables where you can stand and eat your food.
Utensils and napkins are available from self service dispensers.
There are also several tables with chairs and cocktail tables set up along the corridor. In between Marketplaces you'll also find kiosks selling official event merchandise, as well as some third-party products.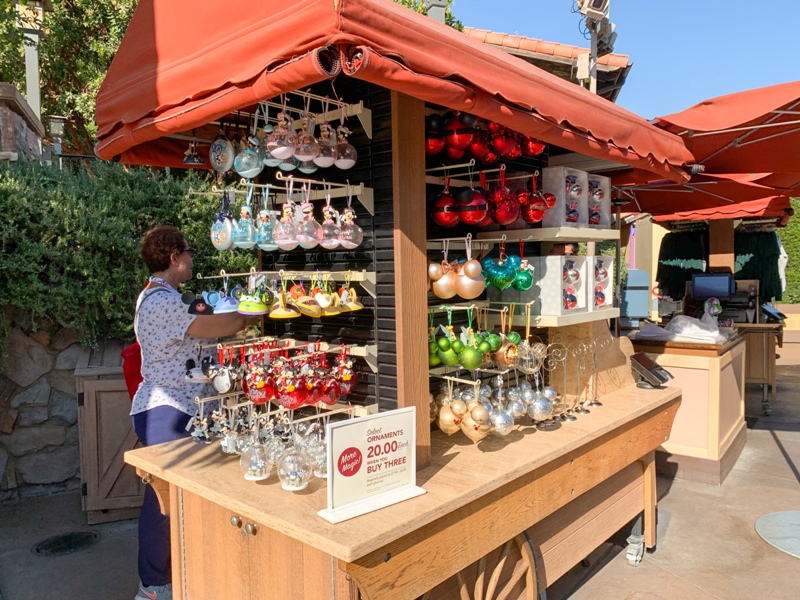 How It Works
Tasting Passport
When you first enter the Festival Corridor, grab a paper map and "Tasting Passport." These Tasting Passports are also available at every Marketplace in case you miss grabbing one when you first arrive.
The Tasting Passport shows you the location of the marketplaces and the list of foods. When you order from a Marketplace, they can stamp your Passport. When you collect all the stamps, stop by the Holiday Central Pergola located near The Little Mermaid – Ariel's Undersea Adventure) to receive a completion stamp.
Allergy Info
The Passport is also very handy because you can check off items as you go and also make tasting notes in the back of the book. The last page of the book also indicates which items are "kid friendly," vegetarian, and "plant-based."
For more allergy information, ask at a Marketplace register for an allergy guide. You'll find food lists for gluten-friendly, dairy-friendly, and other common food allergens.
How to Order
To order food and drink items, approach the registers next to the Marketplace, pay for your order, then take your receipt to the window of the Marketplace. Your food and drink items will be prepared quickly, and you'll be given a cardboard tray if available. You can take your food to a nearby table. Don't forget to grab napkins and utensils!
**Note: Know what you want ahead of time? You can order all the food items you want from ONE register, and then take the receipt straight to the pick-up window of the corresponding Marketplace. So look for the shortest register line! Based on my observation, it's usually the Grandma's Favorites marketplace.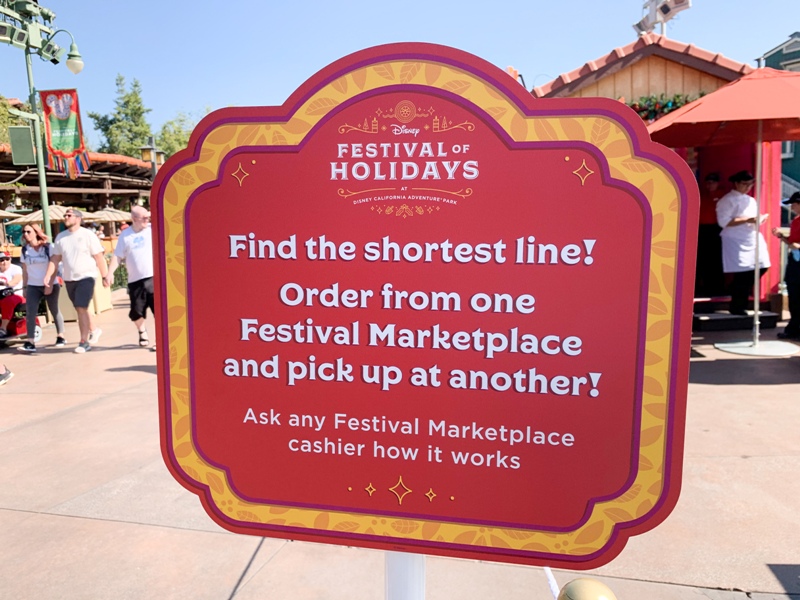 Mobile Order
This year, *select* offerings will be available via mobile order in the Disneyland App. Check the app before ordering because using mobile ordering makes life so much easier!! (Note – You can not use Sip and Savor tabs via mobile ordering.)
Sip and Savor Pass
Keep an eye out for the "Sip and Savor Pass" lanyards, which can be a great deal if you use them wisely. Each tab (8 of them) on the lanyard can be redeemed for one food item at any of the kiosks (excluding alcohol). The lanyard has eight tabs and costs $52 for Magic Key holders, and $57 regular price. That makes each tab worth $6.50 for APs, or $7.13 for non-APs. Food prices range between $5 to $8.50, so if you use the tabs on the right items this can a good deal. (Tip – tabs can be shared among multiple people or multiple visits, BUT you must keep the tabs attached to the lanyard until you pay!)
This pass can be purchased at various locations throughout the park, including Festival Merchandise Carts, Seaside Souvenirs, Kingswell Camera Shop, and Rushin' River Outfitters.
***NOTE – If you have unredeemed Sip and Savor tabs from the 2020 Food and Wine Festival (which was happening when the Parks closed due to COVID), you can redeem those during the 2021 Festival of the Holidays! Again, tabs must be attached to the Sip and Savor pass to redeem them.
What to Eat
Obviously I recommend trying everything! This year there are eight marketplaces along the Festival Corridor, and additional items available in the Paradise Gardens area.
1. Holiday Duets – I didn't try anything here yet but I have my eye on that pork belly adobo.
Braised Pork Belly Adobo with Garlic Fried Rice
Shrimp & Grits with Andouille Sausage
Pabana Cachaça Colada – Cachaça, passionfruit, banana, mango, coconut cream, and lime
Calamansi Melon Lemonade – Calamansi, cantaloupe, and house-made lemonade
2. Brews and Bites – Always a popular spot! Here you can order glasses of beer, or flights, as well as the popular returning favorite Chorizo Fundido with chips.
Chorizo Fundido – Served with House-made Tortilla Chips
Hangar 24 Craft Brewery, American Light Lager – $11.75
Cerveza Rrëy, Kölsch – $11.75
SLO Brew, Cali-Squeeze, Blood Orange Hefeweizen – $11.75
Two Pitcher's Brewing, Nordic Jam, Berry Lager – $11.75
The Bruery Or Xata, Horchata Blonde – $13.25
Einstök Beer Company, Arctic Pale Ale – $11.75
Lost Winds Brewing Company, Reddy or Not, Amber Ale – $11.75
Alaskan Brewing, Winter, English Olde Ale – $11.75
Sierra Nevada Brewing Co., Celebration, IPA – $11.75
Saint Archer Brewing Company, Mosaic, Double IPA – $11.75
Karl Strauss® Brewing Company, 10 Beers for Breakfast, Maple Stout – $13.25
Festive Progressive Beer Flight – Rrëy Kölsch, Einstök Arctic Pale Ale, Alaskan Winter English Olde Ale, and Sierra Nevada Celebration IPA – $15.50
Flavors of the Season Beer Flight – SLO Brew Cali-Squeeze Hefeweizen, Two Pitcher's Nordic Jam Lager, The Bruery Or Xata Blonde, and Karl Strauss 10 Beers for Breakfast Stout – $16
3. Winter Sliderland – Lots of fun stuff here! I tried the Turkey Slider and liked it, but it was a little dry and tough to eat. Definitely want a knife and fork for this one! Friends got the Bourbon Cranberry Cocktail and liked it.
Nashville Hot Turkey Slider with dill pickle
Bourbon Cranberry Cocktail – Bourbon, cranberry, orange, and cinnamon
Prickly Pear Tea Lemonade – Joffrey's Coffee & Tea Co. Ceylon Black Tea (cold brew), prickly pear beverage syrup, and house-made lemonade
4. Grandma's Recipes – This is the booth for vegetarians!
Impossible Arepa Encantada
Gingerbread Mickey
Berries 'n' Crema – Huckleberry, strawberry, and raspberry house-made syrup, condensed and whole milk, and fruit-flavored cereal topped with house-made strawberry whipped cream
5. A Twist on Tradition – The best booth! The Beef Wellington is getting rave reviews from everyone and I understand why! First of all, this snack is HUGE and certainly shareable or could be your whole meal! It's really, really good. The Reuben Potato Tots is a returning favorite and I get it every year. And the Churro Toffee Cold Brew Latte is a returning favorite from last time.
Reimagined Beef Brisket Wellington
Reuben Potato Bites with Russian Dressing & Rye Toast Crumble
Churro Toffee Cold Brew Latte – Joffrey's Coffee & Tea Company Mexico Origin-blend Coffee, Demerara and cinnamon sugar, vanilla bean and almond milk topped with whipped cream and churro toffee pieces
Red Sangria
Sauvignon Blanc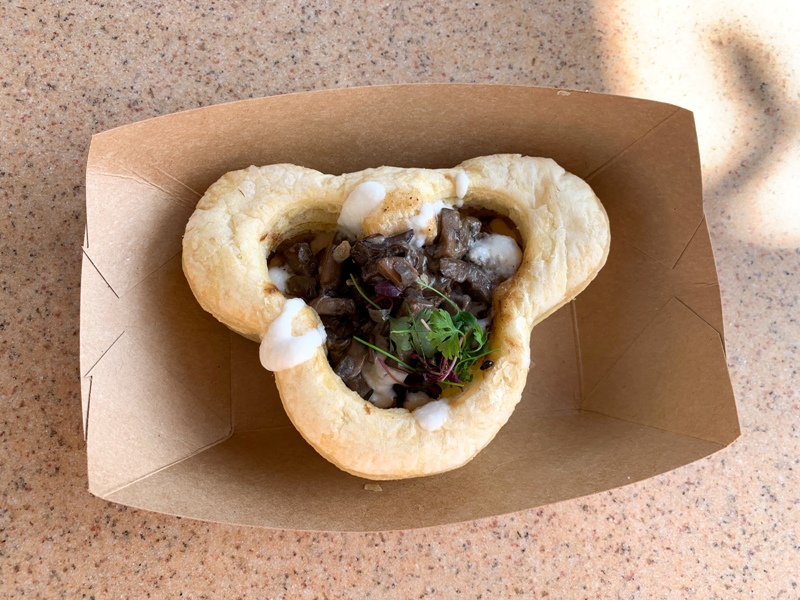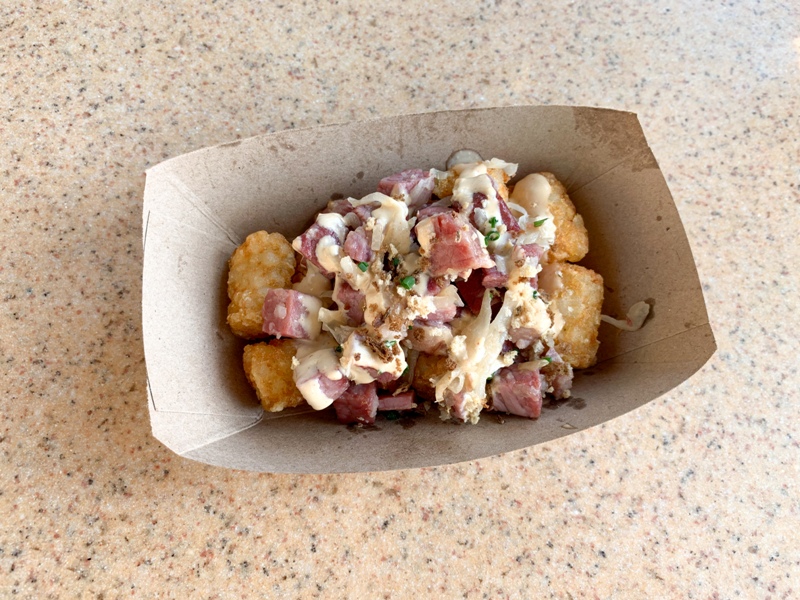 6. Making Spirits Bright – This is the spot where you can order a wide variety of wines and sparkling wine. The Hot Cocoa Macaron is a repeat from last year and I consider it a "must have!"
Cinnamon & Sugar Holiday Tart
"Hot Cocoa" Marshmallow Macaron
Maple Hazelnut Hot Buttered Rum – Rum and maple syrup with flavors of hazelnut, cinnamon, nutmeg, and clove topped with house-made salted caramel whipped cream
White Wine Flight
Red Wine Flight
Grgich Hill Estate, Sauvignon Blanc, Napa Valley – $15
William Hill Estate, Chardonnay, Napa Valley – $15
Gérard Bertrand Côte Des Roses, Rosé, France – $12
Klinker Brick Old Vine Zinfandel, Lodi – $12
Louis Latour, Pinot Noir, Bourgogne – $12
Austin Hope, Cabernet Sauvignon, Paso Robles – $16
Apple Mimosa – $15
Pomegranate Mimosa – $15
Cran-Blackberry Mimosa – $15
Chandon, Sparkling Wine – $15
7. Favorite Things – The mac & cheese is always a hit and this year it's topped with crunchy breadcrumbs. So good! I've also got my eye on that Mule!
Holiday Stuffing Mac & Cheese
Chana Masala with Grilled Garlic Naan
Hibiscus Ginger Mezcal Mule – Mezcal, house-made hibiscus syrup, ginger, lime juice, and Topo Chico Mineral Water
Selection of Pale Ales and Stouts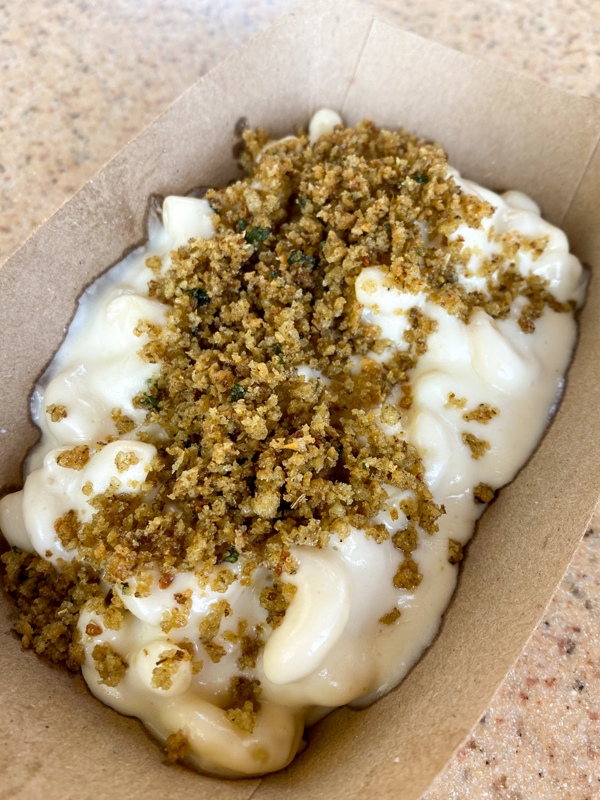 8. Merry Mashups –
Esquites Carnitas Mac & Cheese featuring Oaxaca and Cotija cheeses with spiced puffed rice
Holiday Spiced Wings with citrus cranberries
Holiday Mix
Honey Guava Pisco Punch – Pisco, guava, spicy honey syrup, ginger, and lime juice
The "Treats for Santa" marketplace is back this year, but it is not an official marketplace. You can find it at Redwood Creek Challenge Trail, where you can also get a picture with Santa!
Mickey Snowman Cookie Decorating Kit
Holiday Mix
Maple Hazelnut Hot Buttered Rum – Rum and maple syrup with flavors of hazelnut, cinnamon, nutmeg, and clove topped with house-made salted caramel whipped cream
There are also some seasonal offerings at Paradise Garden Grill, celebrating Viva Navidad! with traditional items such as Chile Relleno and Pozole.
Chile Relleno Plate – Roasted poblano stuffed with veggie stew topped with roasted tomato sauce and tofu crema served with Spanish rice and black beans (plant-based)
House-made Pozole – Mild red chile and pork stew with hominy topped with shredded cabbage, onions, radish, lime, and oregano served with tortilla chips (Sip and Savor Pass portion eligible)
Torta al Pastor – Soft telera roll, chorizo beans, pork al pastor, cabbage, guacamole, and crema served with tortilla chips and molcajete salsa (Sip and Savor Pass eligible)
Street-Style Tacos – Three corn tortilla tacos filled with carne asada, carnitas, and chicken with white onion and fresh cilantro served with Spanish rice and black beans topped with queso blanco (Sip and Savor Pass portion eligible)
Pineapple Tres Leches Roulade – Vanilla sponge with layers of pineapple filling and cinnamon buttercream finished with white chocolate mousse and tres leches soak
Kids' Street-Style Tacos – Corn tortilla taco filled with choice of carne asada, carnitas, or chicken served with Spanish rice and black beans topped with queso blanco and choice of small lowfat milk or small DASANI Water
Kids' Cheese Quesadilla – A whole-wheat tortilla with melted cheese served with a mandarin orange and choice of small lowfat milk or small DASANI Water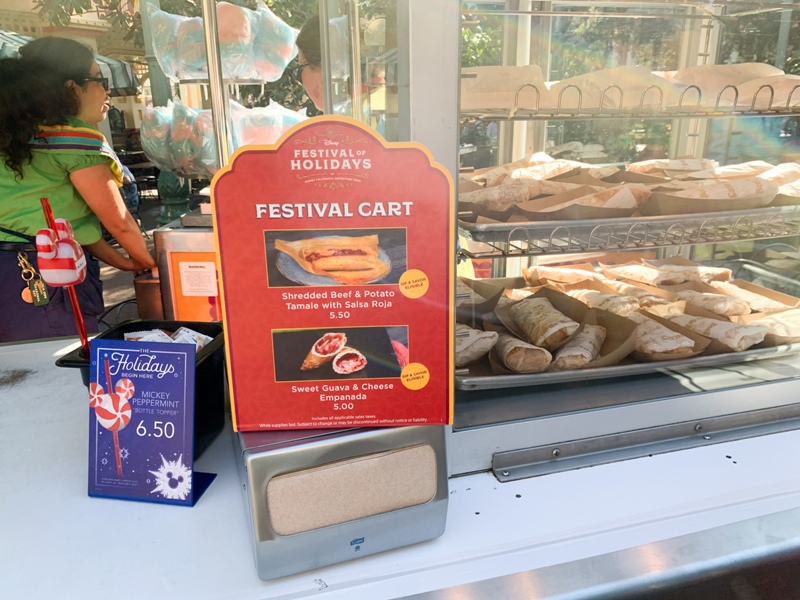 Paradise Gardens Seasonal Cart
Beef Tamale with Red Sauce
Guava and Cheese Pan Dulce – Guava and cheese pan dulce finished with a colorful chocolate sarape
Maple-Hazelnut Hot Buttered Rum – Rum, maple syrup, and flavors of hazelnut, cinnamon, nutmeg, and clove topped with a house-made salted-caramel whipped cream
You can also visit these additional locations for special Festival of Holidays treats!
Willie's Churro Cart
Chocolate-Pecan Churro – Classic churro topped with maple glaze, toasted pecans, and chocolate drizzle
Grizzly Peak Churro Cart
Peppermint Churro – Churro coated with crushed candy canes and drizzled with chocolate and vanilla icing
Hollywood Churro Cart
Chocolate-Hazelnut-Strawberry Churro – Classic churro drizzled with chocolate-hazelnut and strawberry sauces
Lucky Fortune Cookery (mobile order available)
Bao Bun with Seasonal Fruit – Crispy bao bun filled with seasonal fresh fruit tossed in a berry sauce and dusted with powdered sugar
Pacific Wharf Café (mobile order available)
Apple Fritter Bread Pudding – Warm apple-cinnamon bread pudding served with whipped cream and warm salted caramel sauce
Smokejumpers Grill (mobile order available)
Holiday Shake – Spiced shake garnished with green whipped cream and a red wreath donut
Loaded Latke – Traditional latke loaded with smoked brisket topped with soy yogurt-horseradish sauce and scallions
Sonoma Terrace (mobile order available)
Avocado Cheese Steak – Thinly sliced steak with grilled onions, bell peppers, jalapeños, avocado spread, and melted jack cheese
Peppermint Cold Brew Cocktail – Cold brew with coffee liqueur, a splash of crème de menthe, and crème de cacao garnished with a miniature candy cane
Cranberry Mule – A twist on a classic mule with cranberry juice and agave garnished with a sprig of rosemary and a cape cranberry
Studio Catering Truck (mobile order available)
Deconstructed Carnitas Tamal – Rajas con queso tamale, carnitas, salsa verde, avocado salsa, crema, and queso fresco
Pym Tasting Lab (mobile order available)
Holiday Snack Molecules – Gingerbread and Mexican hot chocolate caramel corn, mini pretzels, honey-roasted peanuts, dried cranberries, and popped sorghum
Terran Treats
Pineapple-Coconut Ration – Pineapple-flavored spiral churro dipped in a coconut-flavored glaze and sprinkled with toasted coconut
My Favorites This Year
These are my recommendations!
Reimagined Beef Brisket Wellington
Reuben Potato Bites with Russian Dressing & Rye Toast Crumble
"Hot Cocoa" Marshmallow Macaron
Holiday Stuffing Mac & Cheese
Guava and Cheese Pan Dulce
Also be sure to visit with Mickey and friends in their festive Viva Navidad outfits and see the little parade they do! It's really cute.
The Festival of Holidays is a fun addition to Holidaytime at Disney California Adventure. If you're a foodie like me, you won't want to miss it!