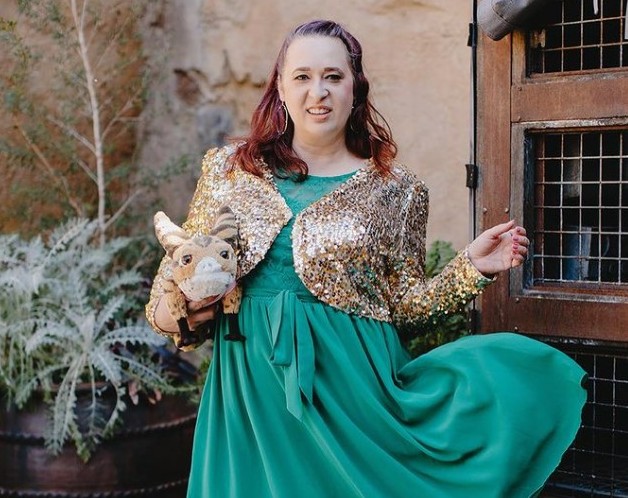 Have you attended a Dapper Day? This unofficial, fan organized event happens twice a year at Disneyland and Walt Disney World. Guests are encouraged to dress up in vintage fashion, as guests used to do when Disneyland first opened in 1955!
Aside from wearing vintage clothing, guests will often "DisneyBound," which is slang for choosing an outfit and accessories inspired by a Disney character. One of the most fun I've ever had at Dapper Day is when my friends and I DisneyBounded as characters from Alice in Wonderland!
If you're looking for some fun and affordable vintage clothing for Dapper Day, I highly suggest checking Amazon! I purchase the majority of my dresses and skirts from Amazon because they have really cute styles, are size inclusive, and with a Prime membership there's a great return policy.
Below I'm sharing some of my favorite clothing items I've actually purchased and worn, so I can personally vouch for them! I've also included some DisneyBound ideas for each piece. I hope it inspires you!
Vintage Style Outfits for Dapper Day at Disneyland
As an Amazon Associate I earn from qualifying purchases.

BeryLove Women's Floral Lace Short Bridesmaid Dress Cap-Sleeve Wedding Formal Party Dress
Grey – Dumbo, Tramp, Baloo
Blush – Aurora, Marie, Piglet
Lavender – Rapunzel, Miss Piggy

Nemidor Women's Scooped Neckline Floral lace Top Plus Size Cocktail Party Midi Dress (Shown above)
Black – Mickey Mouse, Steamboat Willy, Joe (Soul)
Wine Red – Iago, Mother Gothel, Jasmine
Green – Peter Pan, Gamora, Yoda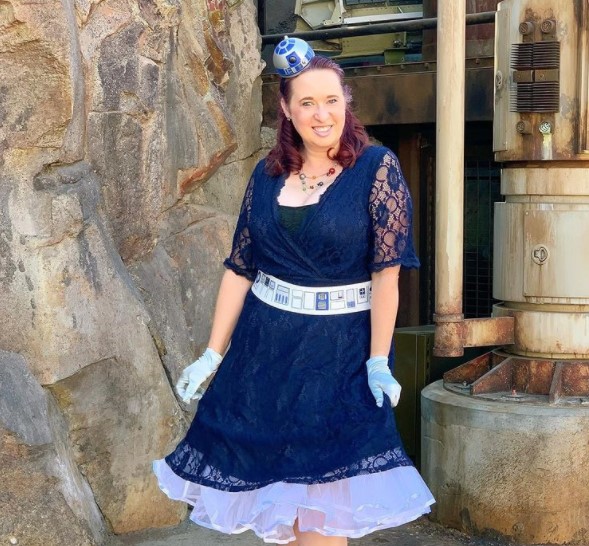 Women Lace V Neck Plus Size Half Sleeve Knee Length Cocktail Wedding Guest Swing Dress
Mustard Yellow – Dole Whip, Flounder, Snow White, Winnie the Pooh
Yellow – Jane (Tarzan), Belle
Blue – R2D2, Genie
Purple – Izma, Ursula

GRACE KARIN Women's Sequin Glitter V-Neck Party Dress Winter Velvet A-Line Dress Lace Evening Dress
Gold Sequin – Genie's Lamp, Simba
Blue-Green Velvet – Merida
Sky Blue Sequin – Cinderella, Elsa

VIISHOW Women's Loose Casual Short Sleeve Chiffon Top T-Shirt Blouse
I own this top in two different colors and thinking about getting more! You can see me wearing it in lavender (on the website it's listed as "pink" but it's actually light purple) here on my Paris article.
Orange – Orange Bird, Simba, Nemo, Tigger
Leopard Yellow – Disney's Animal Kingdom
Green – Disgust, Mike Wazowski, Toy Story Alien

GRACE KARIN Womens Casual High Waist Pencil Pants with Bow-Knot Pockets for Work
The absolute BEST "vintage style" pants I've found!!! These are so flattering and comfy! I'm apple shaped so it's tough to find pants that are flattering but these do the trick! And they are available in pretty much any color you can think of.

Romwe Women's Plus Elegant Pearls Beaded Long Sleeve Blouse Top
Very pretty beaded top that can be paired with cute shorts or a nice skirt.

Romwe Women's Summer Short Sleeve Mock Neck Casual Blouse Tops
The polka dots on this black blouse are perfect for a Mickey or Minnie inspired outfit. Also looks really cute with the pants posted above!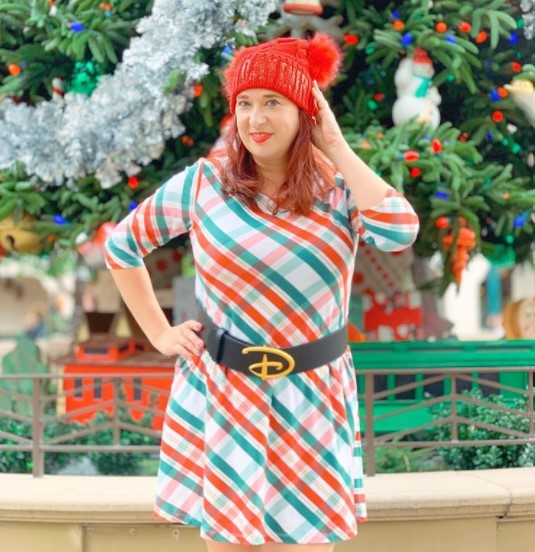 Women's Printed Crew Neck A-Line Dresses with Pockets Casual Tropical Floral Novelty Animal Christmas Patterns
Not really a vintage style, but a fun, flattering dress in cute patterns! Also pairs beautifully with the Buckle-Down cinch belts. And … it has pockets.