This post contains affiliate links.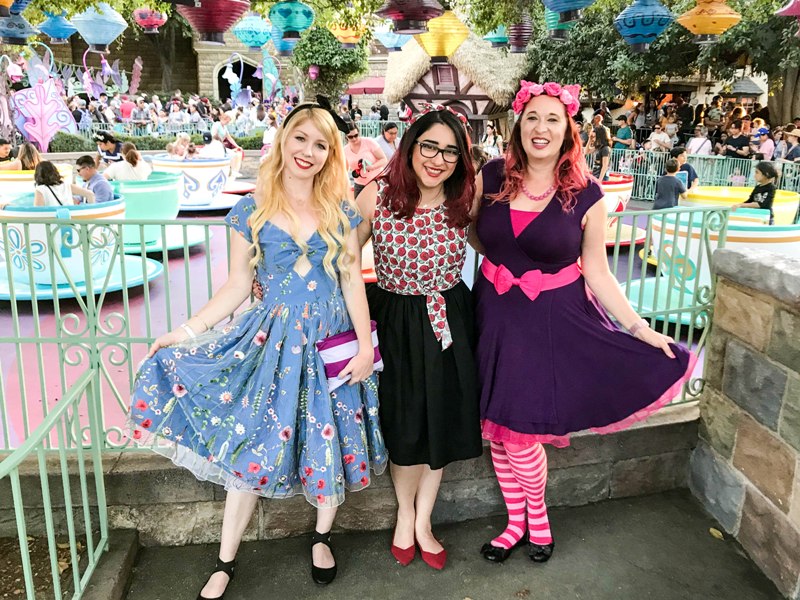 I always love Dapper Day, the unofficial Disneyland event where guests are encouraged to dress up. It's so much fun to see the clever outfits people put together. Plus there seems to be some extra magic in the air during these biannual weekends … people are just so friendly and polite! Maybe it's just impossible to be rude when you're wearing high heels and a large hat.
For the Spring 2018 Dapper Day, I did something I've never done before … I was part of a group DisneyBound! My friends Katie and Anita were planning to dress as Alice and the Queen of Hearts and asked me if I wanted to join them. This was an easy one to say "yes" to, since I already had most of the style items for a dapper Cheshire Cat DisneyBound!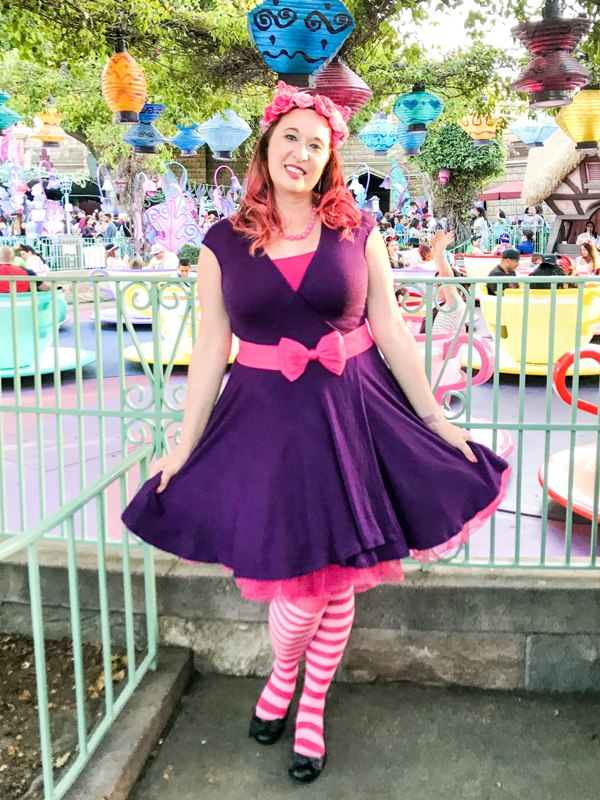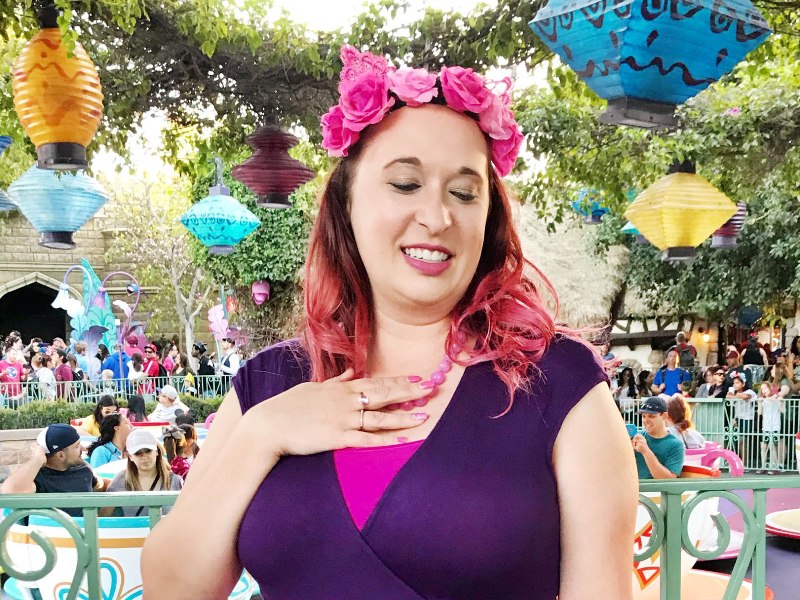 My outfit:
– This purple wrap dress was a Stitch Fix item that is still one of my favorite pieces several years later. I have worn it to a few weddings even. Since it's a wrap dress it can grow and shrink with my fluctuating weight, and IT HAS POCKETS. I added the hot pink camisole for modesty.
– I ordered a hot pink petticoat from Amazon (color is "rose red") since my light pink one just wasn't cutting it. It's a good staple piece that I can pair with many of my dresses.
– The pink bow belt I've had for a couple years now and I wear it often. It's available on Amazon.
– The striped pink socks (they go just above the knee) were a random find several years ago. I saw them in the window of a store and immediately wanted them. I bought them not really knowing when I would wear them, but they sure were cute. Over the years whenever I cleaned out my closet I just couldn't bear to part with them. They finally served their purpose!
– My black flats were a lucky find at a Pinup Girl Clothing garage sale a few years back.
– The necklace I've also had for years. I actually ordered this three strand necklace for my wedding day, but when I received it I felt it was too heavy. So I removed the longest strand and turned it into its own necklace (and I wore the other two strands on my wedding day). Even though I didn't wear this exact necklace at our wedding it certainly reminds me of that special day.
– The flower crown I bought from the clearance section at Hot Topic last year. I knew I would get use out of it someday.
– I purchased the pink lace cat ears headband from Amazon as the finishing touch to my outfit.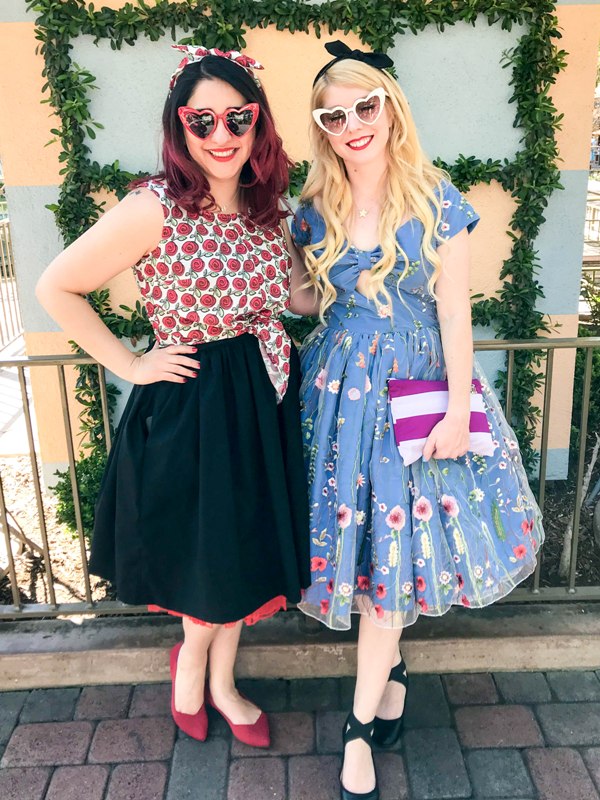 While I'm pretty proud of how my outfit came together, can we just talk about my friends for a minute? Both of them MADE their outfits! Katie sewed this blue floral dress that was the perfect dapper embodiment of Alice. Anita sewed her own dress, top, and headband. Like, WOWZERS! I was so honored to walk alongside these talented peeps all day.
– Anita's dress and the skirt portion of Katie's dress are Butterick Pattern B6453.
– The top part of Katie's dress is Butterick Pattern B6413.
– Katie's fabrics were lucky finds on eBay!
– Anita's black dress is made with a black Kona cotton from Fabric.com.
– Anita's top was made with The Hunter Tank pattern by Jennifer Lauren.
– Anita's top and headband were made with a Deco Rose Red pattern from Spoonflower.
– Their adorable cat eye heart sunglasses are from Amazon.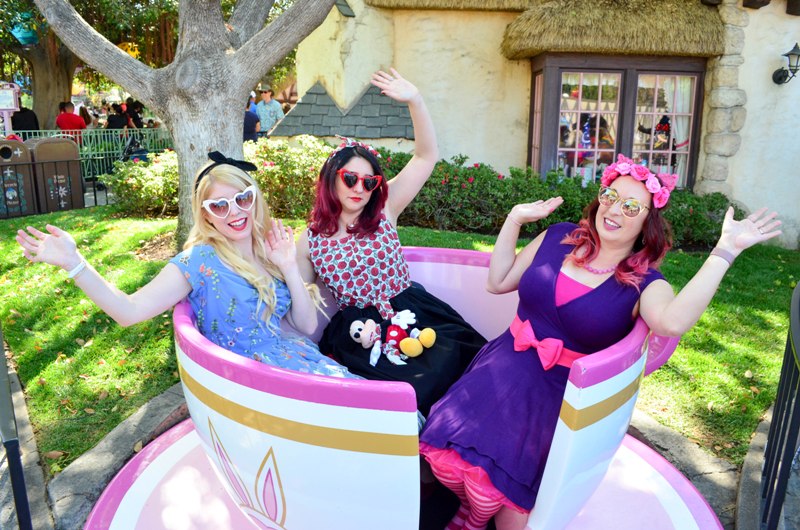 We had a blast – thanks to everyone who stopped to chat with us or take our photo. It really was a magical Dapper Day!